The queen of the meadow. A delicious plant steeped in history and lore, Meadowsweet flowers are mostly known for meadowsweet tea. There's a lot more to using this sweet herb, and the dried flowers can be used as a substitute for almond flavoring in the kitchen. Read on and I'll explain the fascinating history, traditional uses, and how you can use it at home.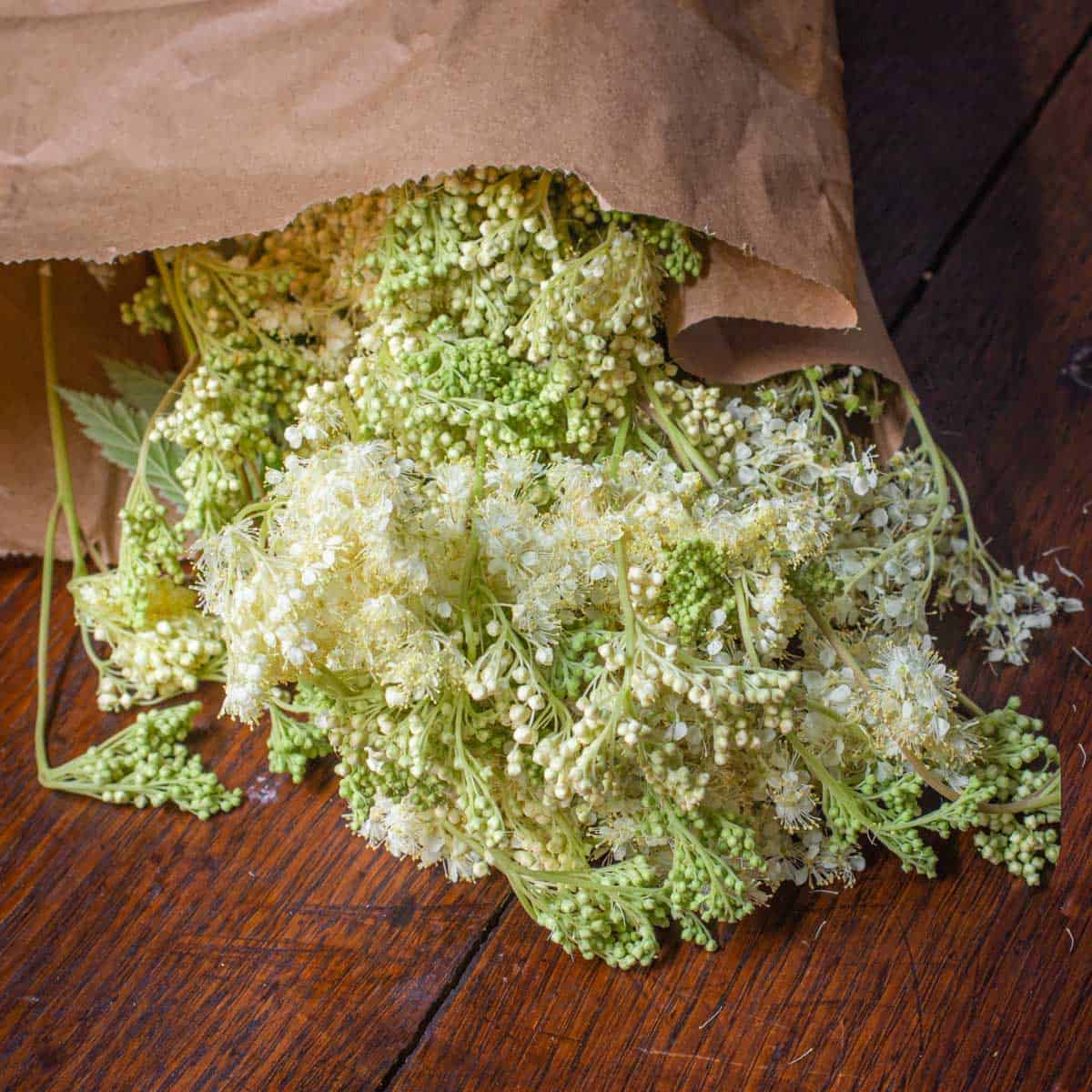 Meadowsweet Identification
Meadowsweet (filipendula ulmaria, formerly Spiraea ulmaria) is an herbaceous perennial plant in the Rosaceae or rose family. Native to Europe and the Near East, it's a garden escapee, introduced and naturalised in North America.
Often mistakenly described as a wild flower, the plant is technically a shrub. They appear as a singular, tall plant with clusters of white flowers ranging around 3-6 feet in height. The small, white flowers appear during the summer, eventually giving way to tell-tale green seeds.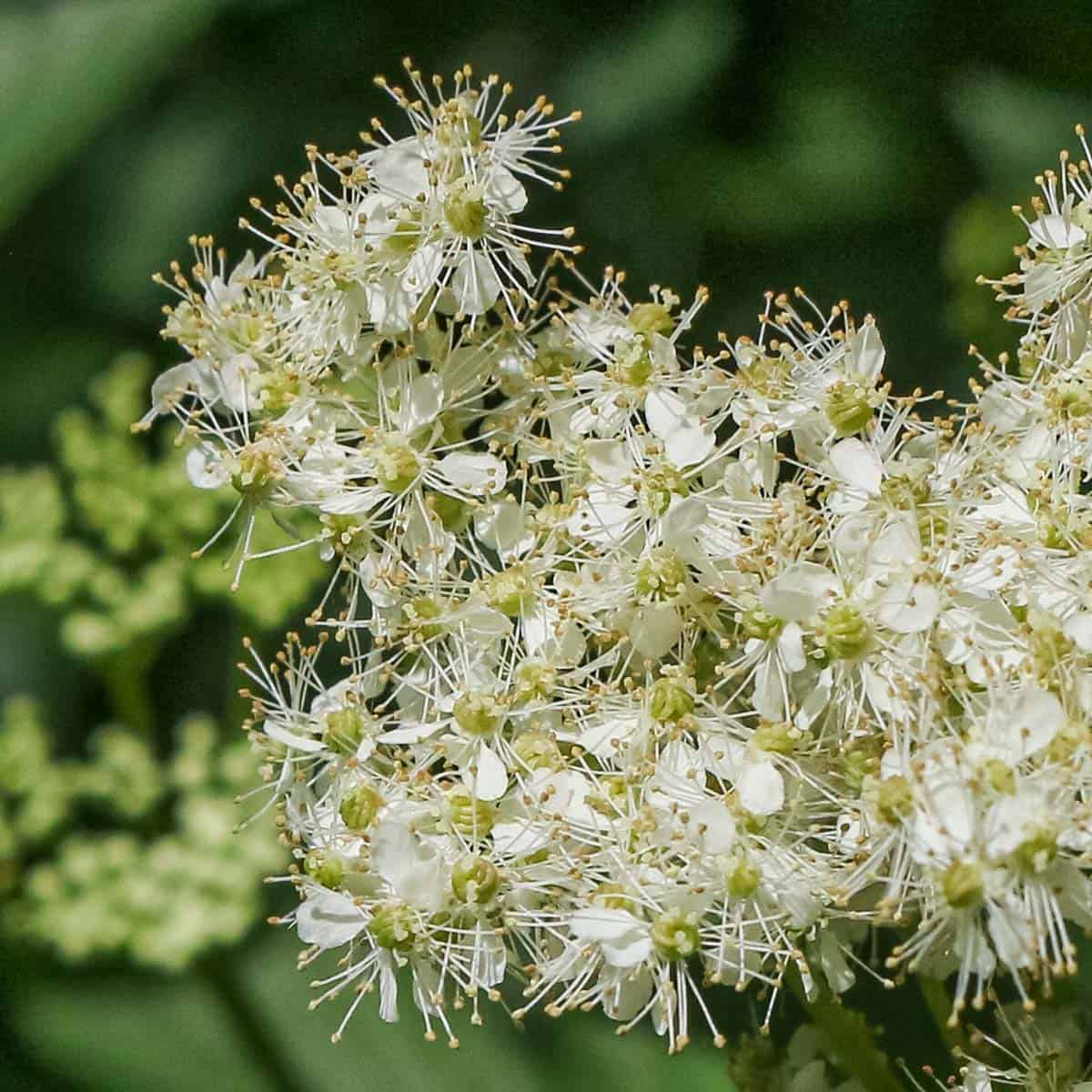 For me, the long, ropey and pinkish red flower stalk void of blotches, long distance between the leaves on the stem, and irregularly shaped flower clusters that aren't in an umbel shape like wild carrot are dead giveaways.
Identification to species can be difficult as F. ulmaria has hybridized with native species like Spirea alba, which is also edible, medicinal, and can be used as I describe here.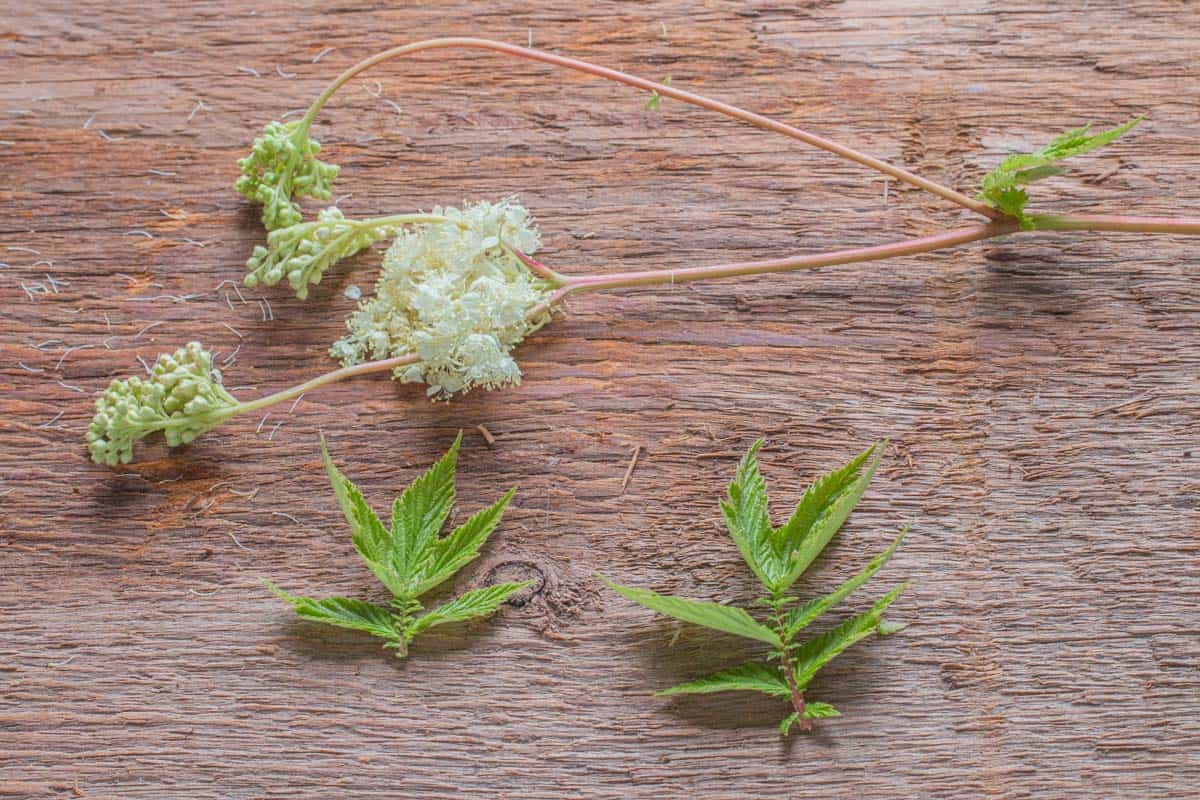 For identification, pay attention to the shape of the light green leaves, the ropey, evenly pink stem, and the shape of the flowers. The flowers smell very sweet, and strongly of almond when used in cooking.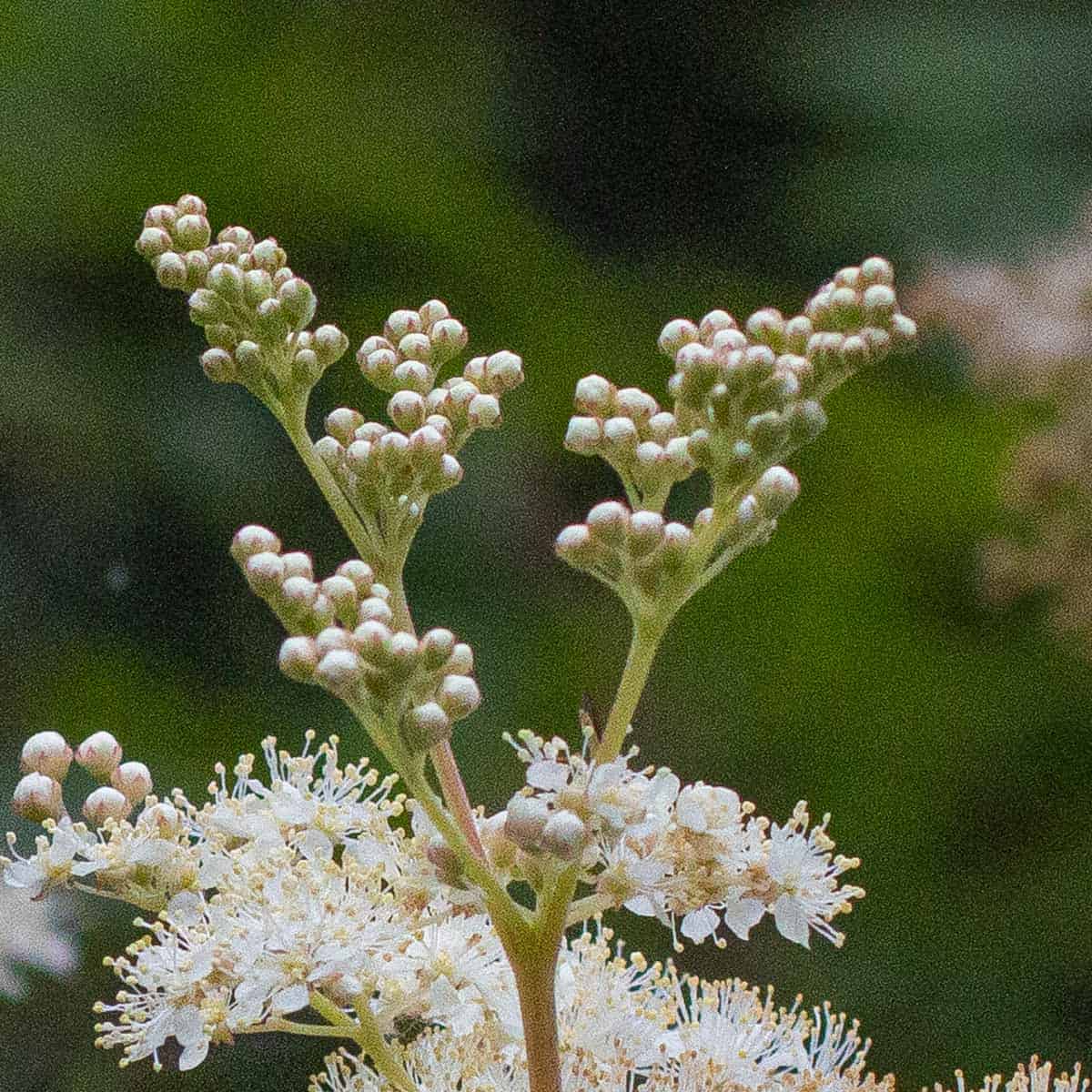 Where is Meadowsweet Found?
Meadowsweet grows in damp meadows and areas near water, as well as wet woods like fens, and near lakes and rivers. In Minnesota I commonly see it on the North Shore in large colonies on roadsides, along rocky coasts, and tree lines filled with pine and birch.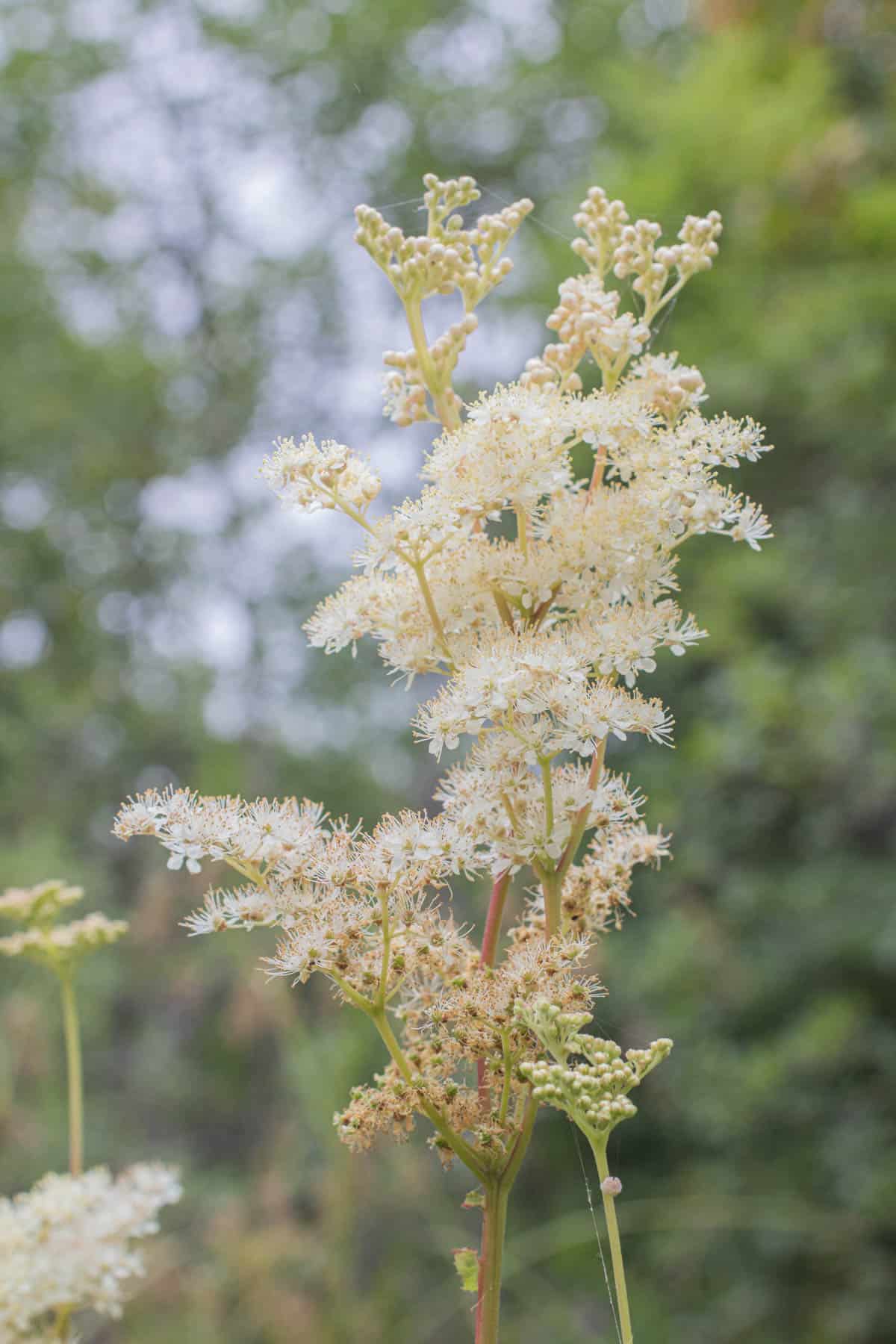 One of the best ways to identify the plant is meadowsweet's aroma. The smell of the flowers in bloom is intensely sweet with notes of almond and can be smelled carried on the wind.
Common Names
Alluding to it's illustrious history, the plant has many names, including:
Bridewort
Meadow queen
Lady of the meadow
Dollof
Meadow-wort or mead-wort
Pride of the meadow
Meadowsweet History
The name is derived from from the Anglo-Saxon word 'meodu-swete', translating to 'mead sweetener' as it's been used to flavor mead, wine, vinegar and beer since ancient times. According to Catriona Stewart PhD MSc, the plant has been used for over 5000 years in Scotland to flavor cordials, herbal teas, and mead.
It's reputed to be the favorite flower of Queen Elizabeth 1, and apparently she, like many others, enjoyed the plant strewn in her house and bed chambers as a sort of pot-pourri. It was also used in bride's bouquets, and flower arrangements. I used to gather the flowers for table settings when I was the chef of Lucia's restaurant.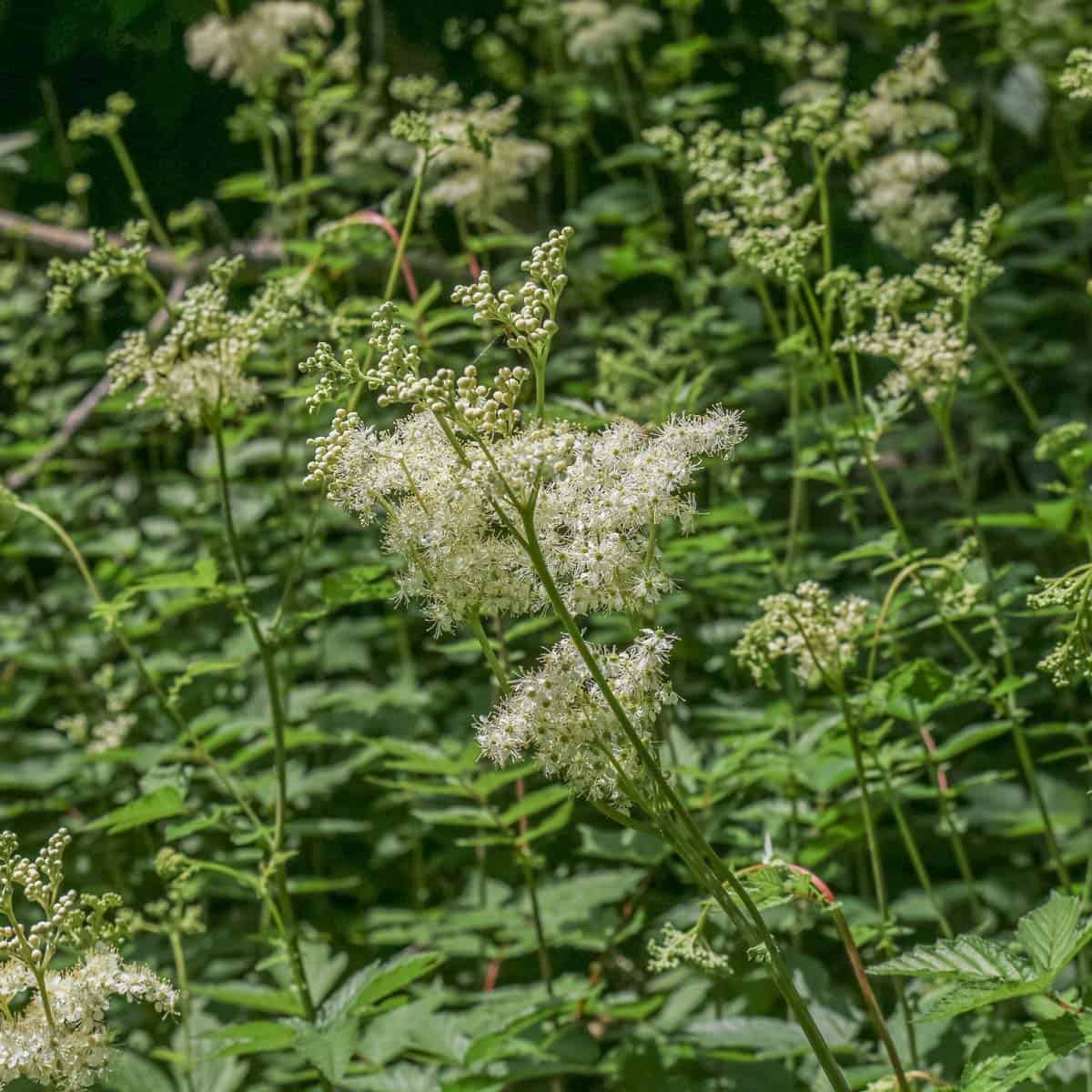 In the book Britain's Wild Flowers: A Treasury of Traditions, Superstitions, Remedies and Literature the author mentions meadowsweet was a sacred druidic herb, noting that, in folklore, the sweet aroma granted the power of second sight and, the ability to speak with fairies. There's also accounts of the plant being used in traditional burials across Wales, Ireland, and Scotland.
Chaucer, in the book "A Knight's Tale" described the plant as "medwort"-one of many ingredients in the drink known as "save".
Traditional Meadowsweet Uses and Benefits
As a medicinal plant, F. ulmaria has a long history of use as a homeopathic, and has been used to help with:
Joint pain, gout, and arthritis
Calm upset stomachs
Bladder and urinary tract problems.
As a general anti-inflammatory.
Encourage perspiration and break fevers with common colds and flus.
It goes without saying that people with an aspirin allergy should avoid the plant. I also consider most medicinal plant evidence to be anecdotal. While I don't doubt the efficacy of medicinal plants, using them as medicine should be done in collaboration with your general practitioner or family doctor.
Salicylic acid
Meadowsweet, wintergreen, slippery elm, willow and birch bark contain the compound salicylic acid, which is the compound responsible for aspirin. According to the academic research paper Hormone Metabolism Signaling In plants:
"In 1897 Felix Hoffmann working in the Bayer pharmaceutical company synthesized acetyl salicylic acid (originally produced by a French chemist, Charles Frederic Gerhardt, in 1853), which became known as Aspirin, to reduce the side effects."
Salicylic acid is also used in dermatological products to treat psoriasis and other conditions. While I can't speak to the other benefits of the plant, this one I can as I personally use some products containing the compound.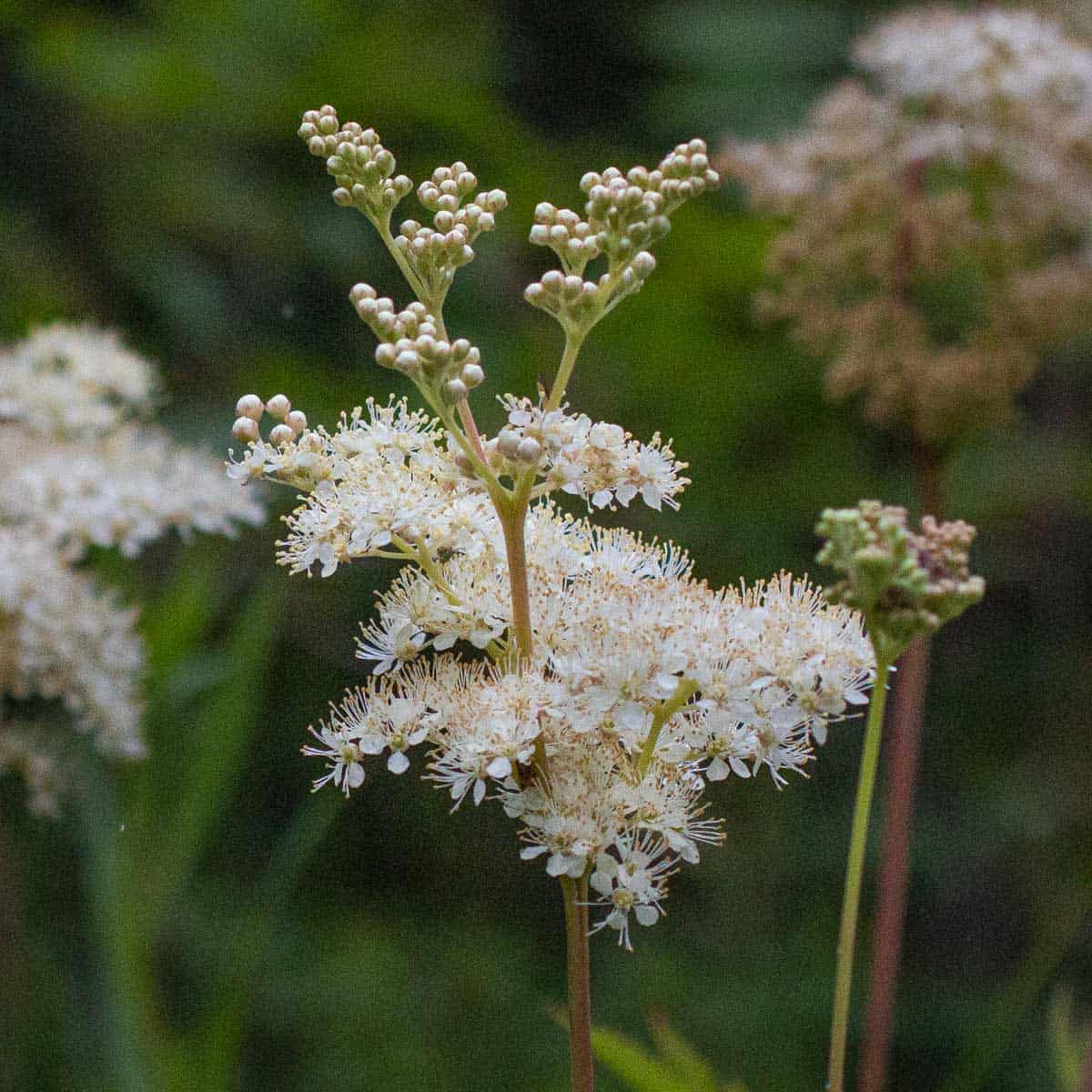 When to Harvest Meadowsweet
In the Midwest, the flowers will be ready to harvest from mid to late July. To harvest, cut fresh flowers and put them in a zip-top bag and refrigerate. Meadowsweet flowers will stay fresh for a week.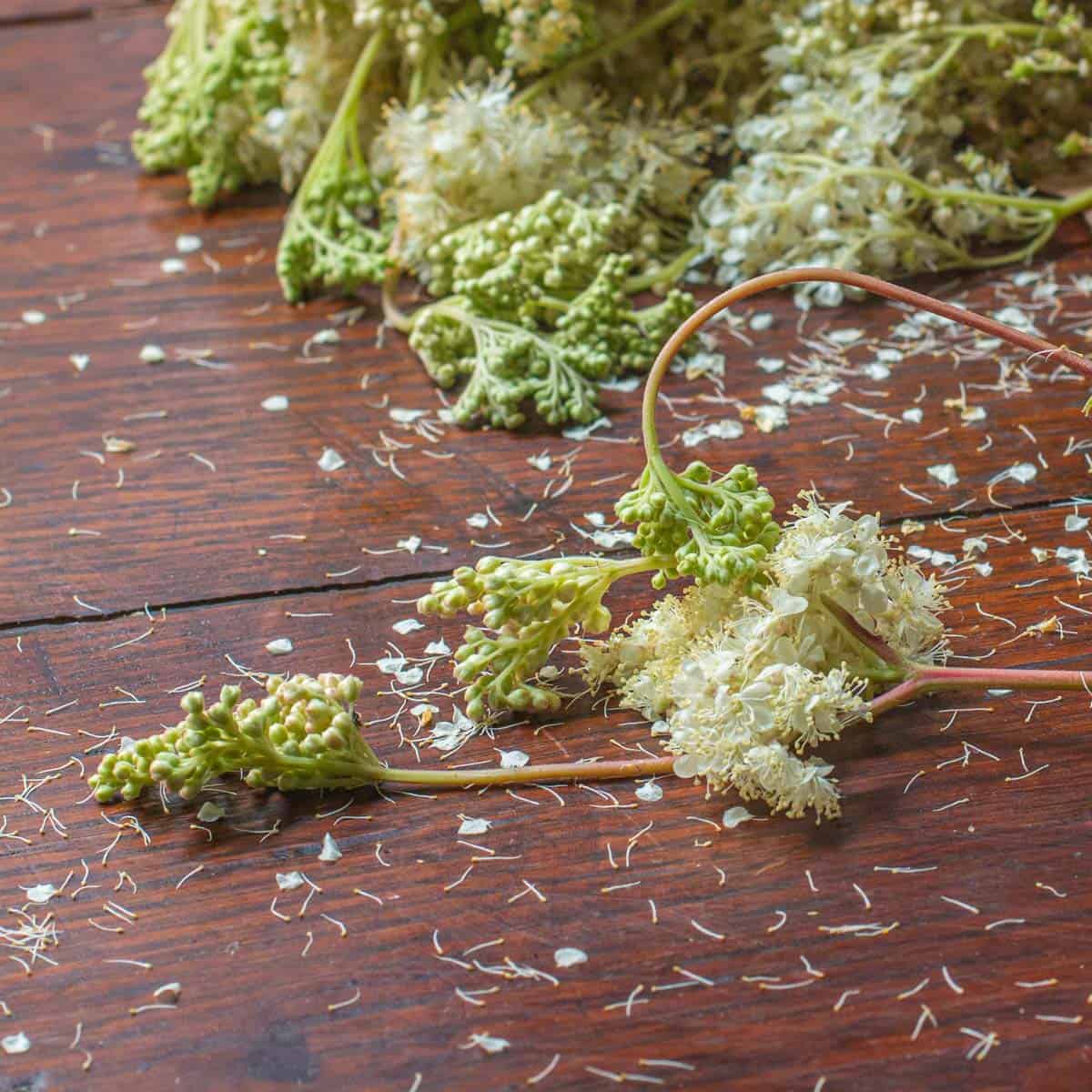 I typically dehydrate mine for future use which works well. Dried meadowsweet flowers will seem crumbly and brittle, but there's a lot of flavor in them.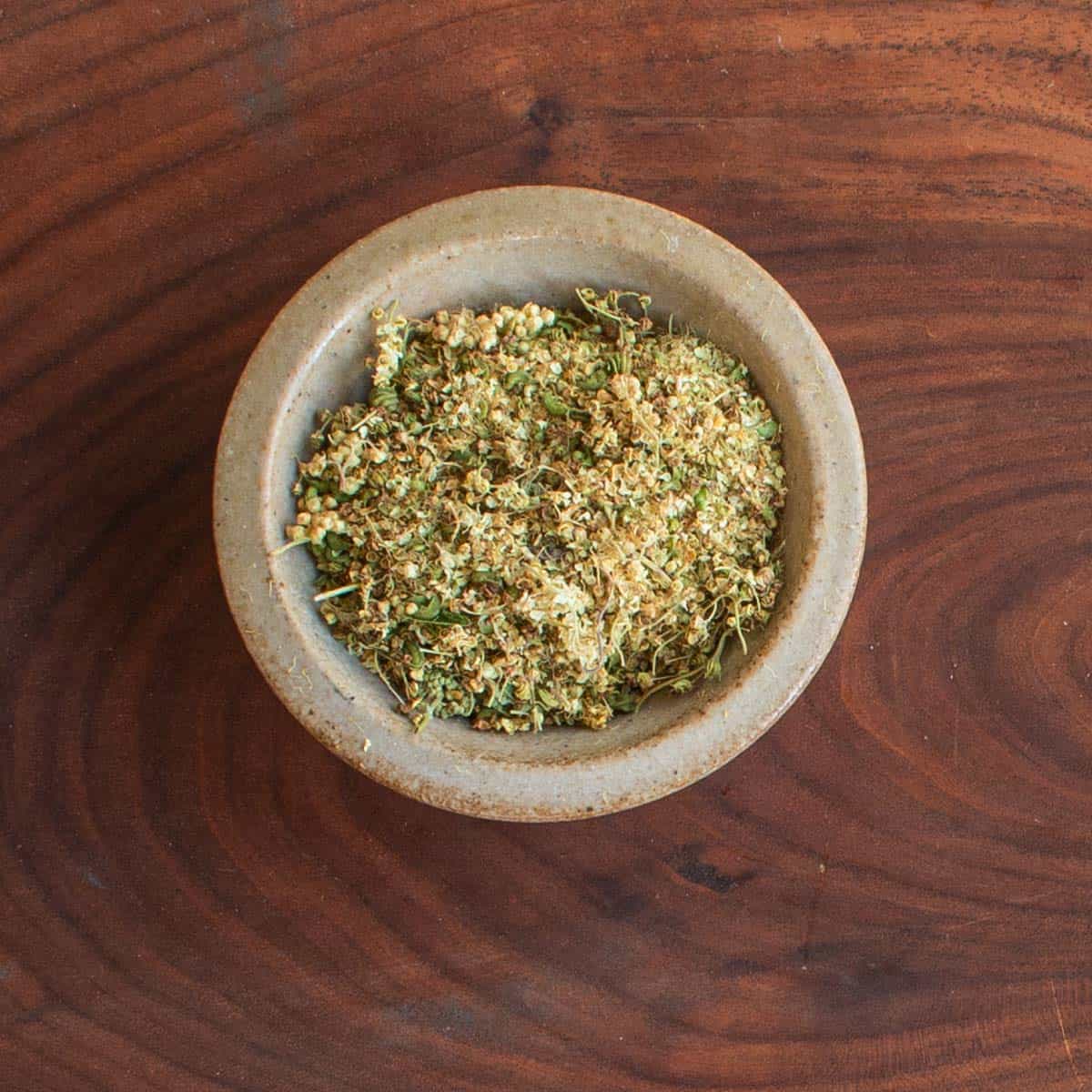 Cooking with Meadowsweet
Traditionally the plant is used to make tea and flavor liquids. The flavor of meadowsweet is excellent, and I find it slightly reminiscent of elderflower, but with almond tones which I assume are from it's rose-family heritage.
This is similar to how apple seeds, rowan buds, and cherry stones have an almond flavor. You can read more about that in Cherry Pits: A Traditional Almond Seasoning.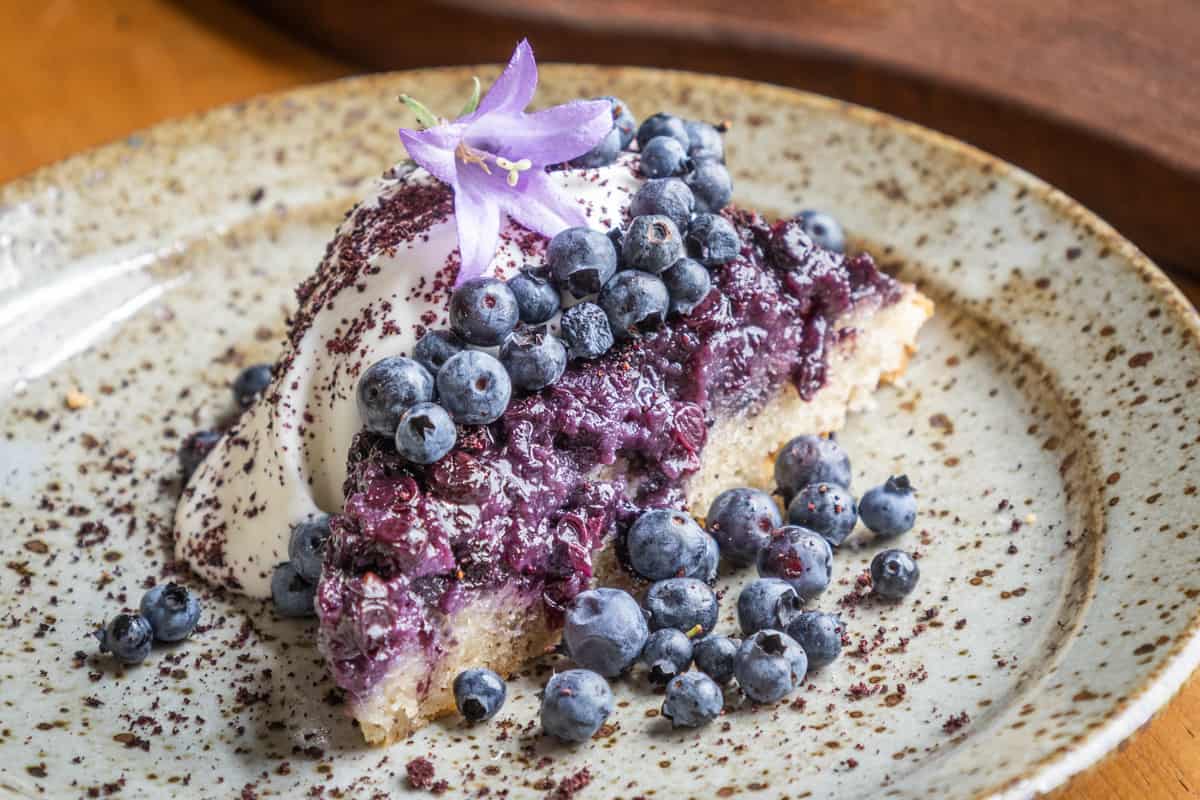 In the kitchen the flowers can be used in any recipe that calls for elderflowers. I typically use it to infuse cream-based desserts. It's use in tea insinuates the flavor is water soluble, and I've read in Europe jams may be flavored by adding some of the flowers wrapped in cheesecloth while cooking.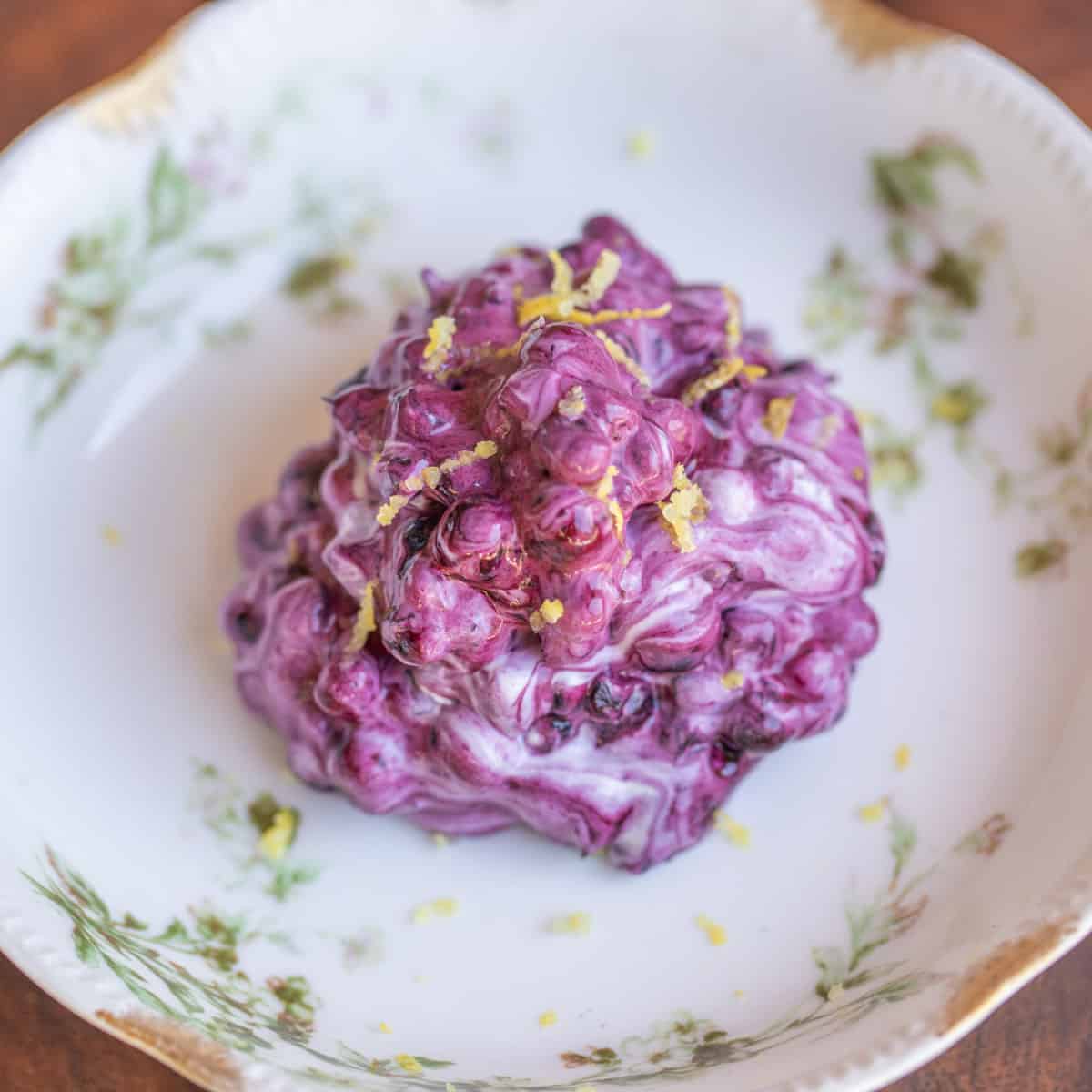 Chef Magnus Nilsson cooks with meadowsweet flowers to make a candy used as a mignardise, a small candy served after dinner. In Europe, the plant was often used to flavor mead, which is where the name mead-wort comes from.
Meadowsweet Recipes
You can infuse the incredible almond aroma of the flowers into simple things like panna cotta and ice cream using a meadowsweet-infused cream.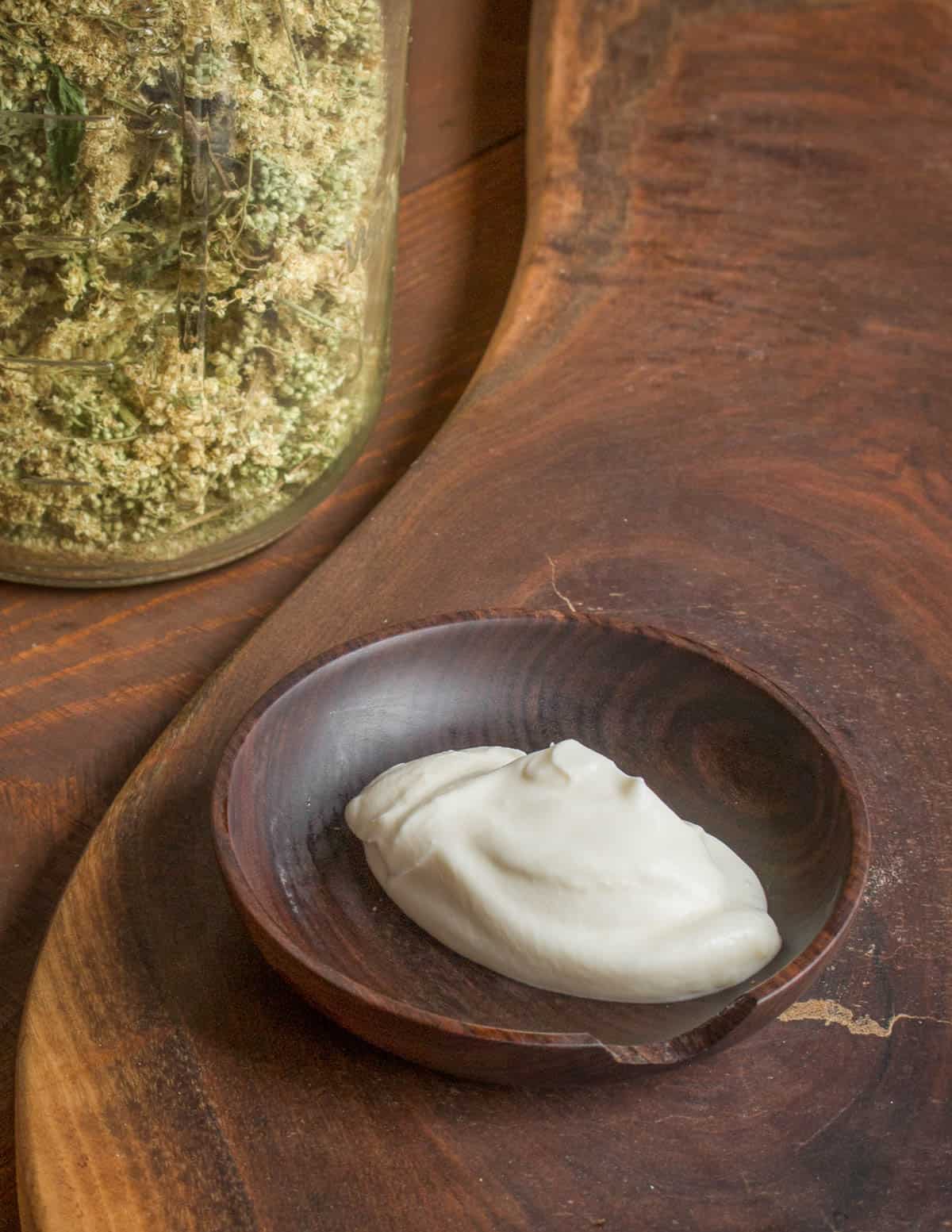 To make meadowsweet cream, warm some heavy cream, then mix in dried meadowsweet flowers (roughly 1-2 ounces per qt) and chill. Strain the next day and proceed with your recipe.
To make meadowsweet tea, combine 2 grams (1 tablespoon) of dried flowers for every cup of boiling water. Allow the tea to steep for 5 minutes, then strain.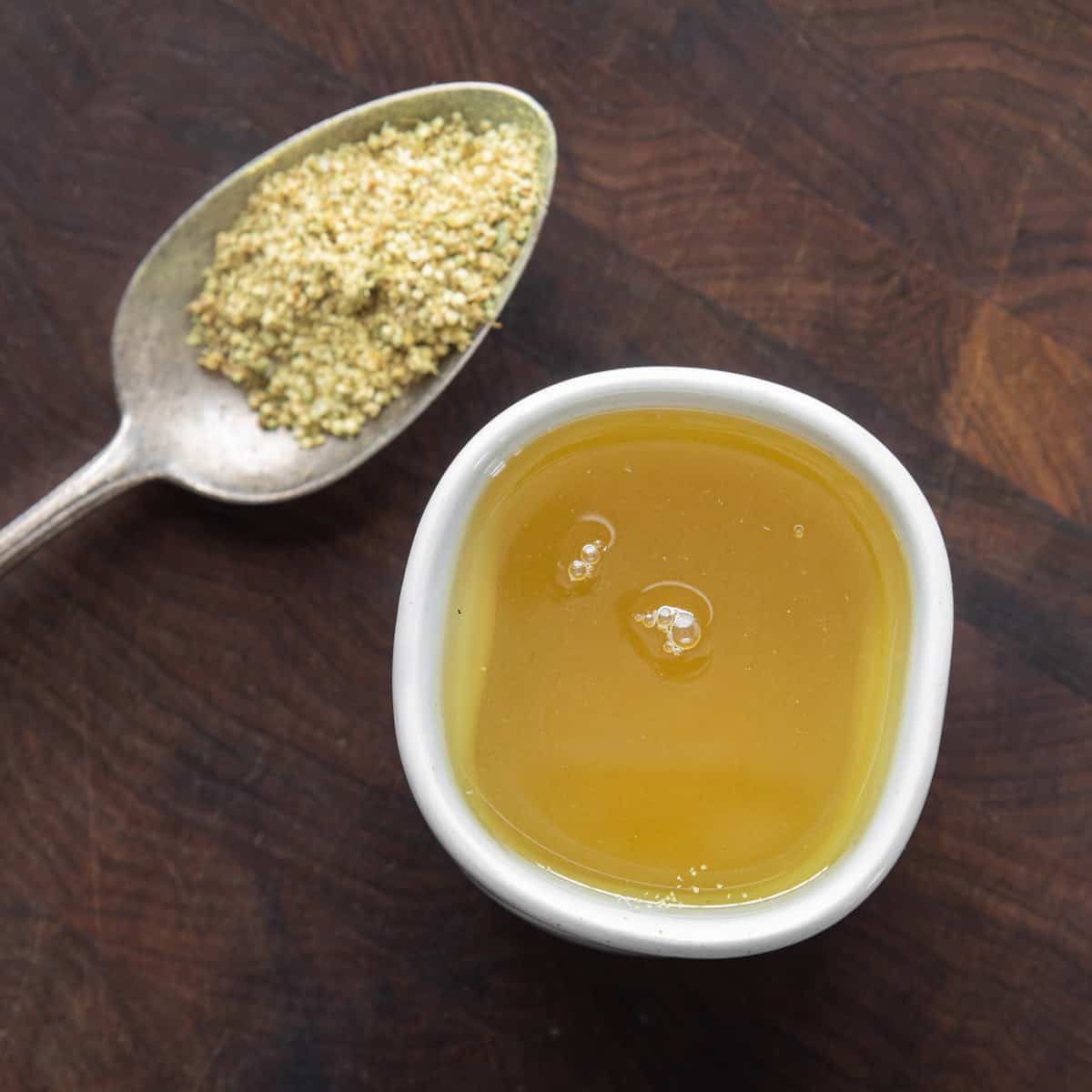 References
A Modern Herbal | Meadowsweet: Brittanica.com
Britain's Wild Flowers: A Treasury of Traditions, Superstitions, Remedies and Literature
Hormone Metabolism Signaling in Plants: Jiayang Li, Chuanyou Li and Steven M. Smith
Science Direct: Salicylic Acid