Wild blueberry upside-down cake made with hazelnut meal, finished with a spoonful of meadowsweet infused cream is a dessert focused on combining acidic soil-loving ingredients of Northern Minnesota and Wisconsin. Soaked in wild blueberry juice, the cake tastes like summer at it's peak.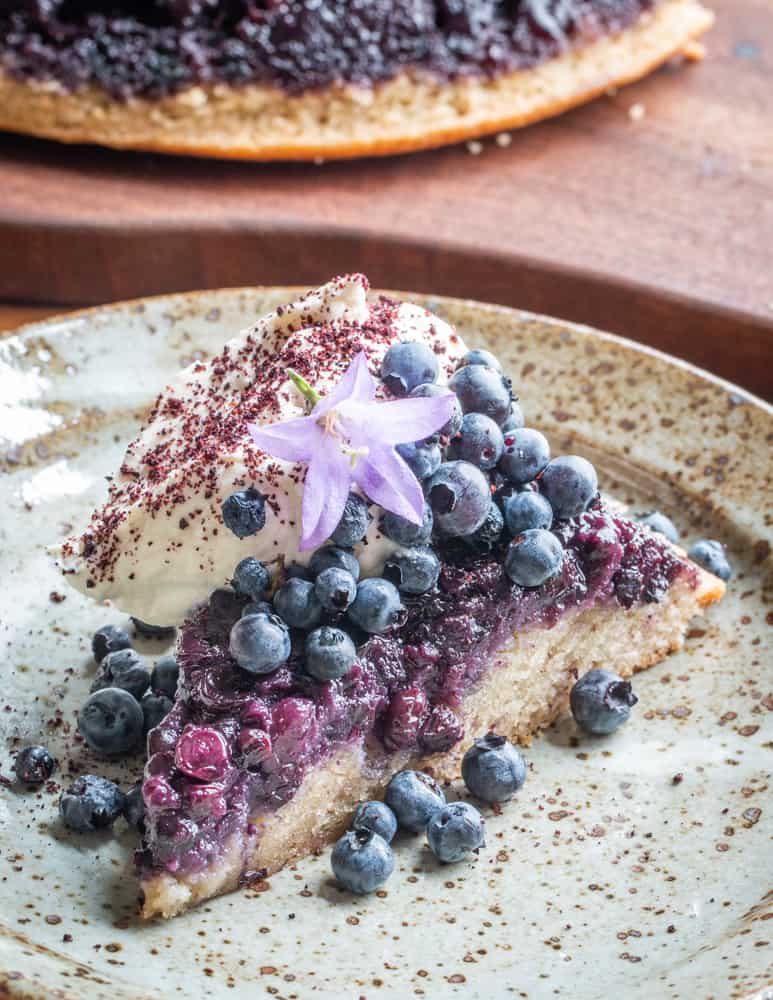 This was the finale of the meal I cooked for an upcoming episode of Daniel Vitalis's show Wild Fed on the Outdoor channel last month.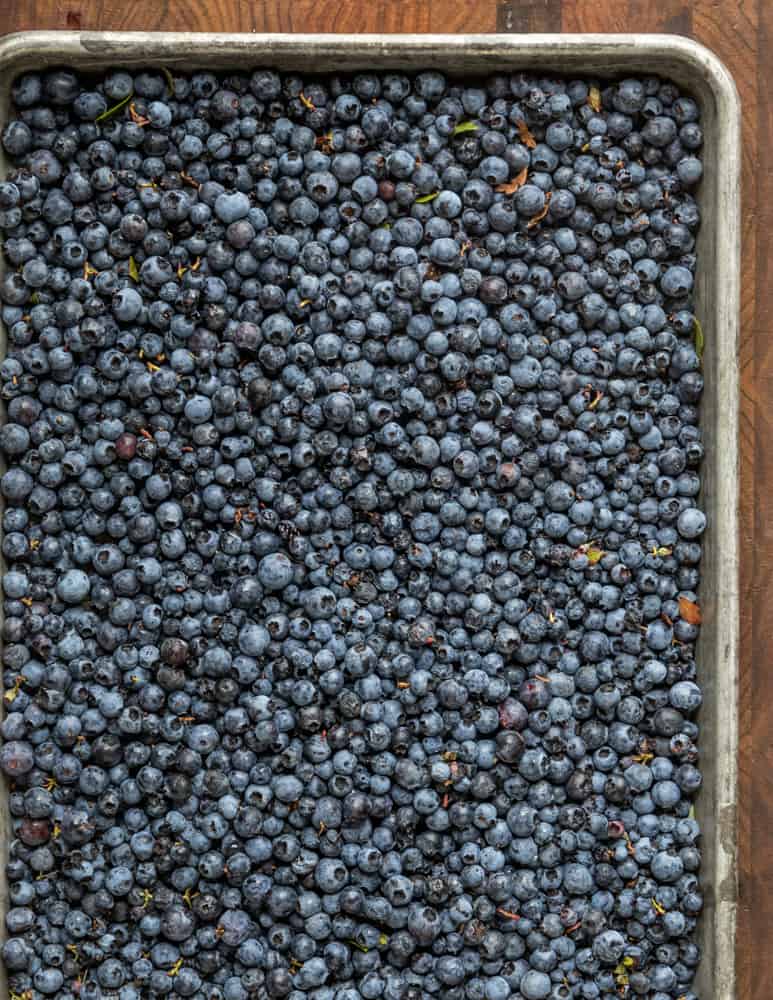 Combining ingredients from a landscape
If you watched episode 4 of Field Forest Feast (formerly The Wild Harvest) you might remember the beauty of the pine barrens. Picking wild blueberries, smelling the aroma of sweet fern as I walked one day, I remember noticing hazelnuts, sweet fern, blueberries all within arms reach.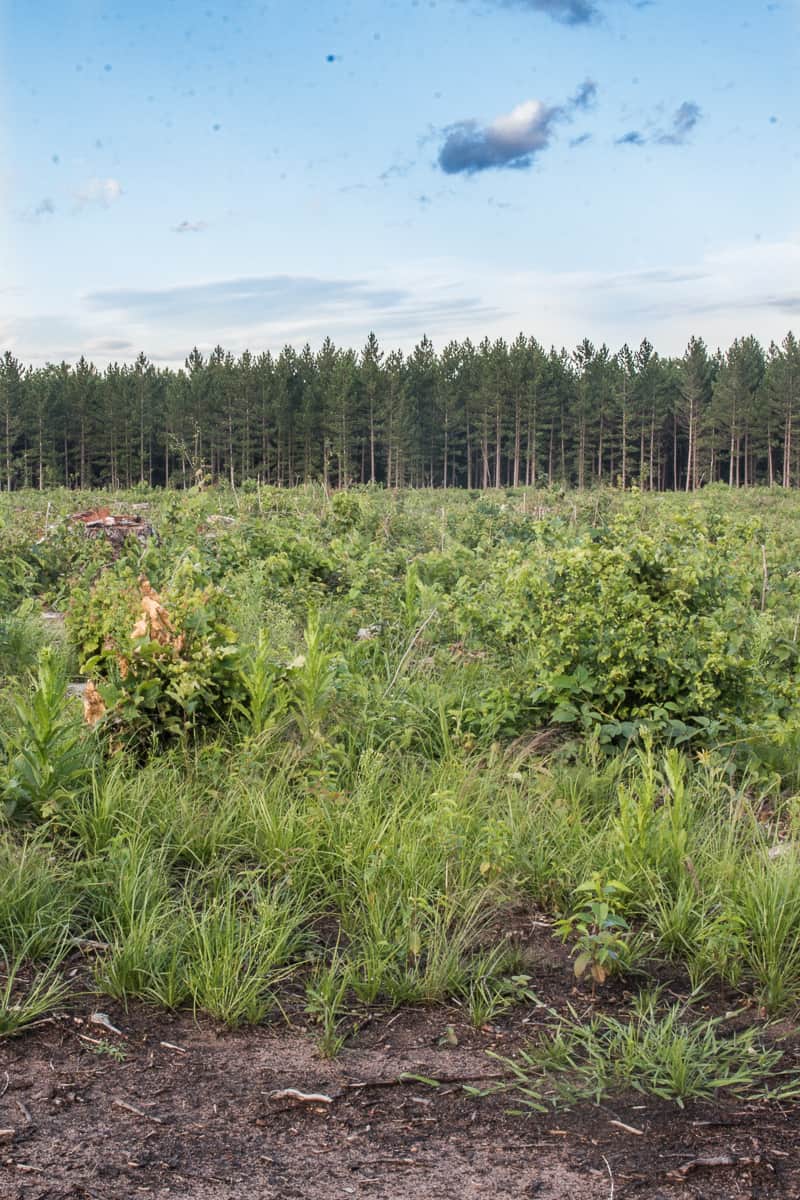 A starch, fruit, and aromatic are plenty of components to build a dish around. The dessert I made for the show, along with the blueberry, hazelnut and local aromatic combo became a favorite of mine. I like to describe it as an educational dessert showing how you might combine edibles from a landscape together.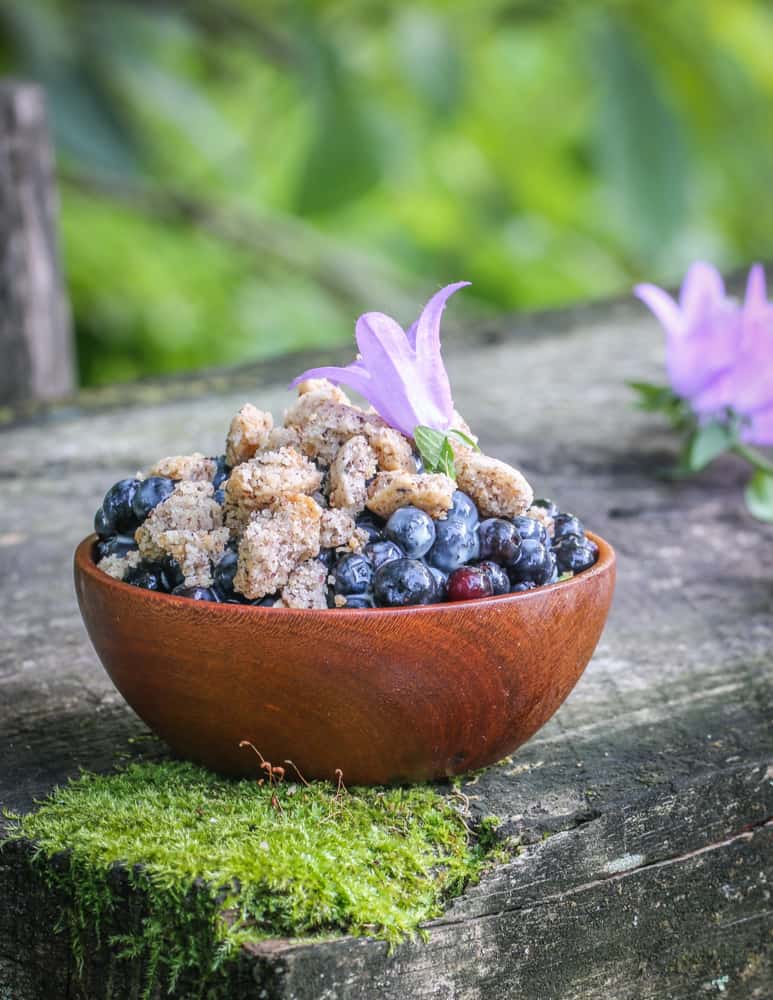 Meadowsweet
Sam Thayer and Daniel were picking blueberries in the Barrens for the show, so I thought it would be fun to do another variation on the same theme I did before.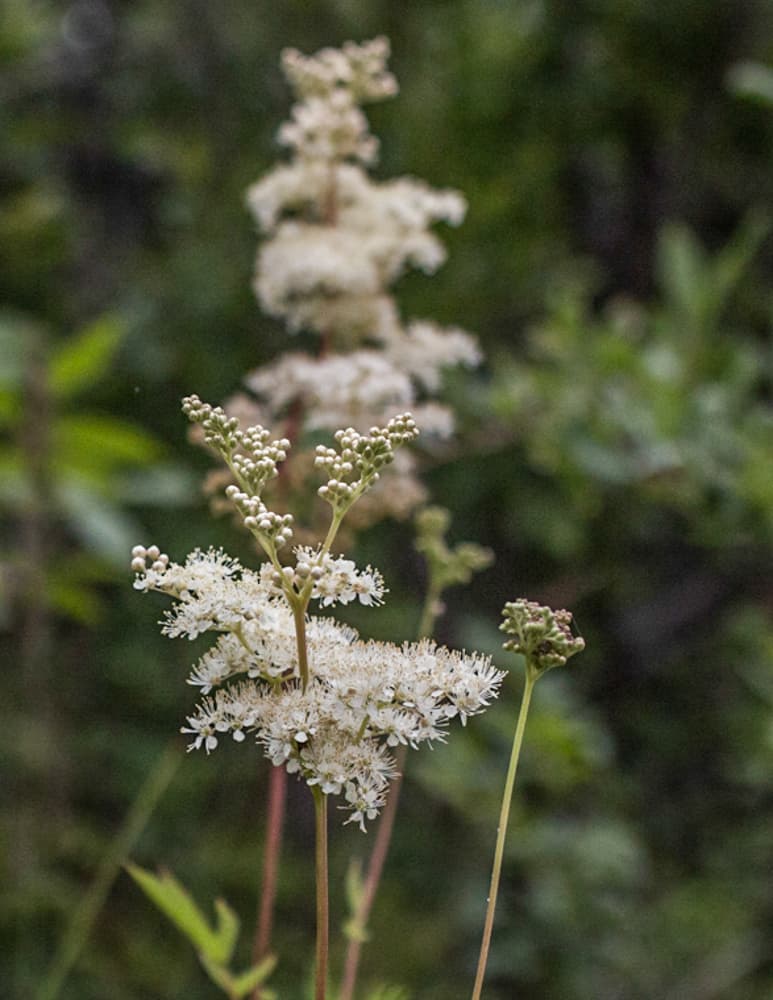 The only difference is that instead of sweet fern, I used meadowsweet. If you have my book, you'll know how much I like that plant.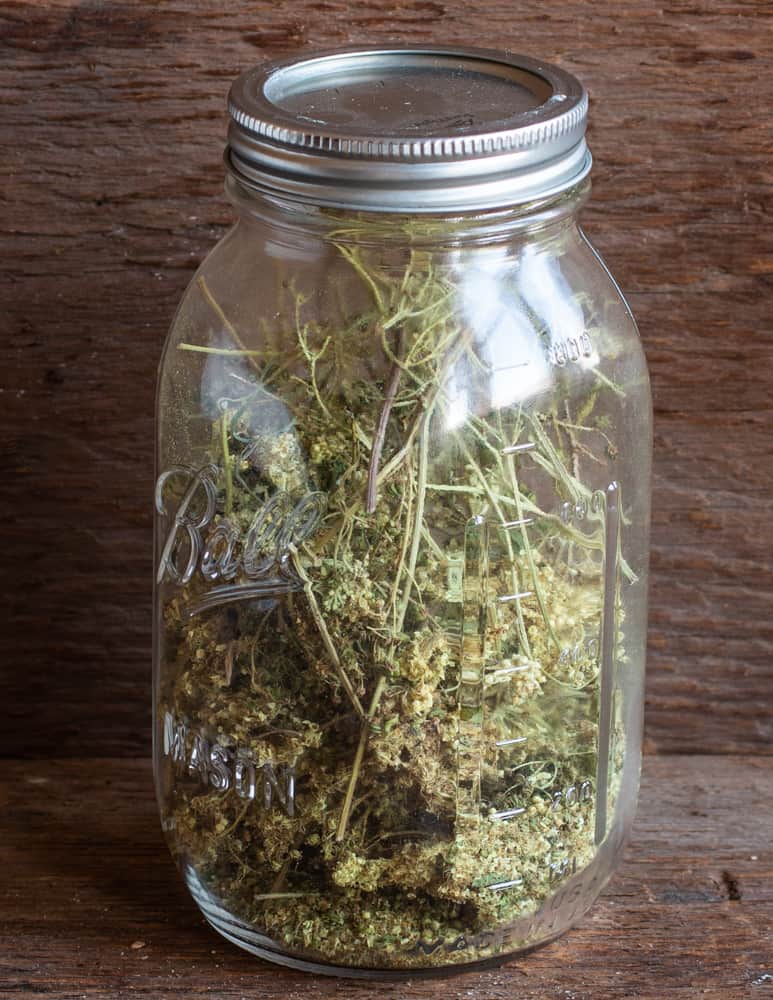 Meadowsweet flowers aren't used much by foragers in North America, but they are in Scandinavia, and I had a great discussion about them this past week while I was in Finland with Chef Sami Tallberg who used the dried flowers in a tea blend he served a group of us who were there for a foraging excursion.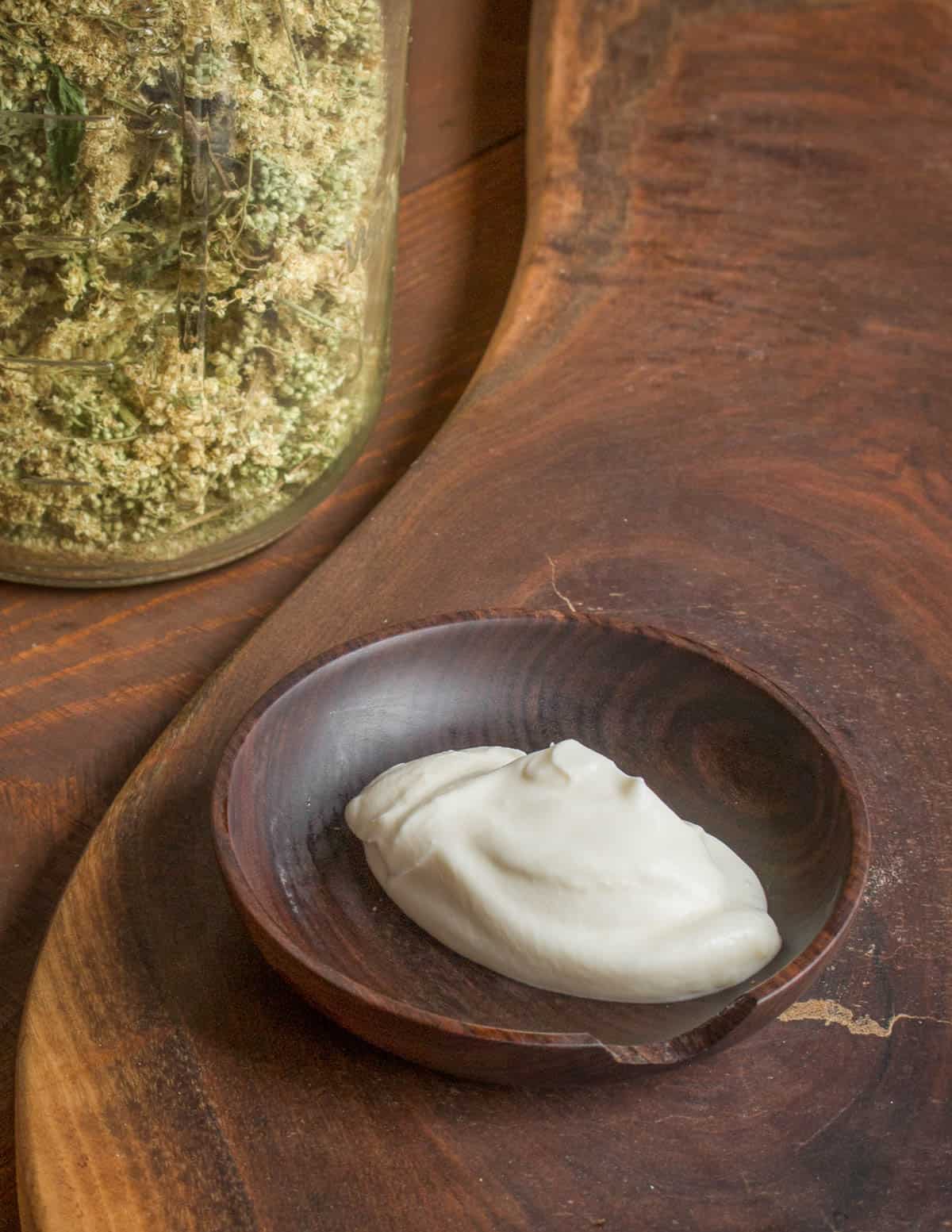 If you're not familiar, the flowers remind me slightly of elderflower, but better. Instead of just a floral perfume, they also have a strong taste of almond from their relation to cherries, apples, roses.
Making Homemade Hazelnut Meal
Using half hazelnut meal and half flour decreases the gluten in the cake, which makes it a little more shelf stable and gives it a rich texture. Hazelnut meal (flour) is available online, but it's pricy. If you can't find any it's fine to use almond meal.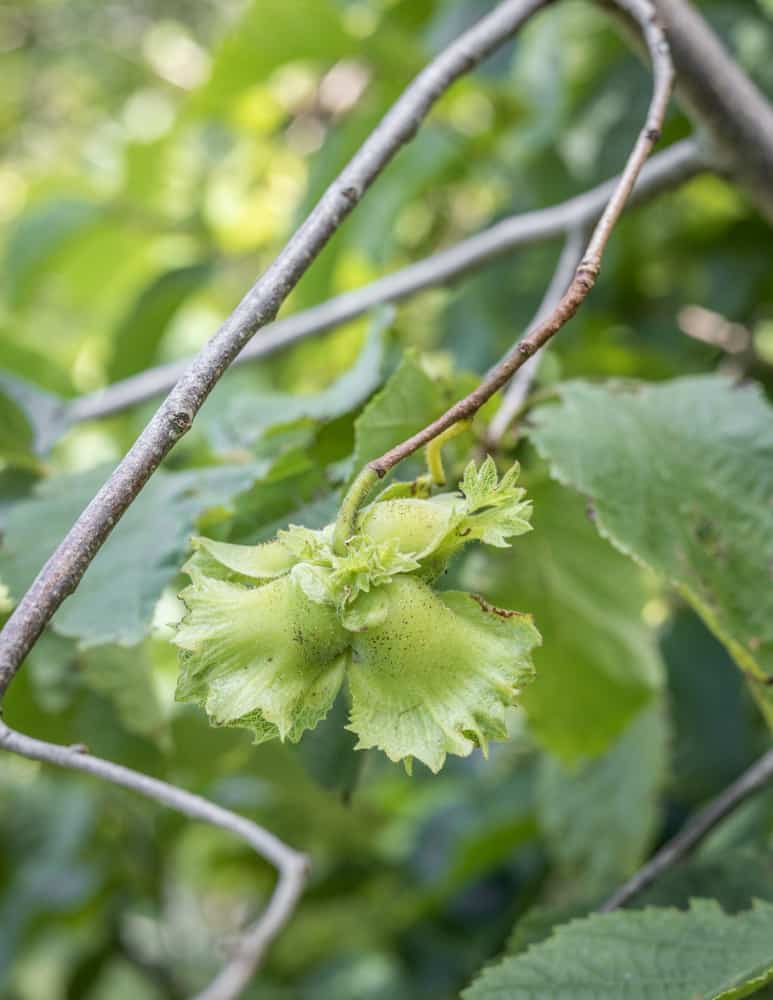 If you want to make your own hazelnut meal take some hazelnuts (either blanched or skin-on is fine) and crush them on a tray with the bottom of sauté pan or by improvising your own method. Pulse the crushed nuts in a spice grinder in small batches until it turns to powder, picking out any chunks or sifting it for the finest quality.
I've also used a rotary cheese grater that shreds nuts into feather light curls which works great too, although I've only used that method on pecans and hickory nuts personally.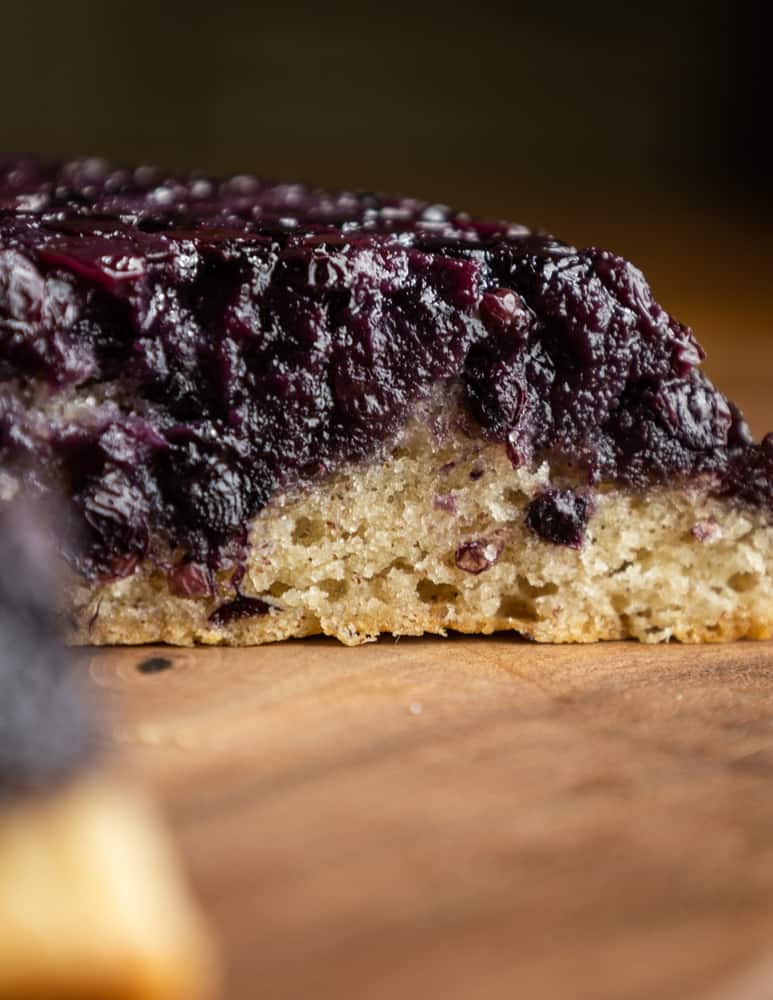 Related Posts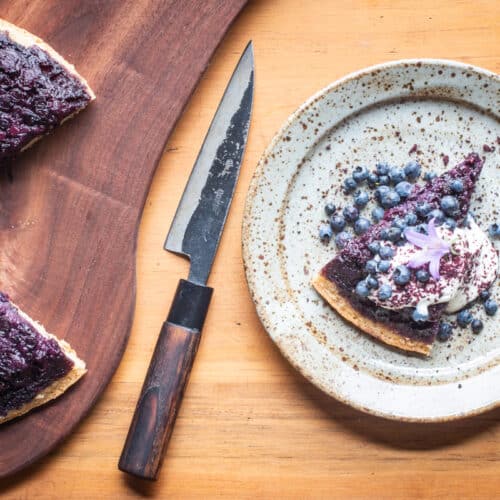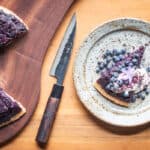 Print Recipe
Wild Blueberry-Hazelnut Meal Upside-Down Cake
A rich, tender upside down cake made with wild blueberries and hazelnut meal inspired by ingredients of Northern Minnesota and Wisconsin. It's served with an almond-scented Meadowsweet flower cream.
Ingredients
Wild Blueberries
2

cups

wild blueberries

at room temperature

4

tablespoons

maple sugar

2

tablespoons

butter
Cake
¾

cup

hazelnut meal

¾

cup

flour

⅛

teaspoon

cinnamon

¼

teaspoon

ground ginger

2

large eggs

½

cup

hazelnut oil, grapeseed oil, or

You can use just about any cooking oil. For the show I used Sam Thayer's hickory nut oil.

¾

cup

sugar

1

teaspoon

vanilla

1

Teaspoon

baking powder

½

teaspoon

salt

¼

cup

crème fraiche or sour cream
Serving
Meadowsweet cream (Optional)

see recipe

Campanula flowers (Optional)

Optional, I like these as they're mild tasting and blue.

Dried blueberry powder (Optional)

This is mostly to make it easier for me to take pictures of whipped cream.

1

cup

fresh wild blueberries, to garnish (Optional)
Instructions
Lining the cake pan
Heat the maple sugar, butter and a pinch of salt until melted and pour into the bottom of a buttered 9 inch pie pan or similar. Add the wild blueberries and shake the pan to help them settle into a relatively smooth layer.
For the cake batter
Mix the hazelnut meal, flour, cinnamon, baking powder, ½ teaspoon of kosher salt and reserve. Whip the sugar, vanilla and eggs until pale, add the sour cream and whip.

Drizzle in the hickory nut oil. Fold in the flours with a spatula by hand until completely combined.

Pour the batter on top of the blueberries.
Baking
Bake 350 F for 30-35 minutes or until just set and a toothpick inserted in the center comes out clean.
Serving
Allow to cool completely before slicing. For the most dramatic presentation, unmold it onto a platter as pictured. Cut the cake into slices and serve with the meadowsweet cream (optional-recipe follows).

Garnish with a few flowers, a few wild blueberries and a sprinkle of wild blueberry powder, if using.

After cooling, the cake can be stored, covered in clingfilm in the refrigerator. It will last up to a week but will lose some of it's luster over time. I like to reheat it a bit before serving to refresh it.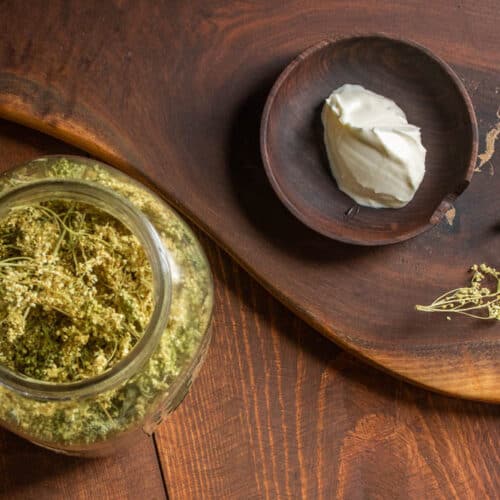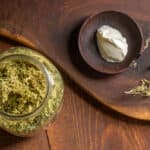 Print Recipe
Meadowsweet Whipped Cream
Simple whipped cream infused with the irresistible almond aroma of meadowsweet flowers. You can use fresh or dried flowers for this.
Ingredients
1

cup

Heavy Cream

2

Tablespoons

Dried meadowsweet flours (it's ok if there's a few stems)

you can also use a small handful of fresh meadowsweet or elderflowers.

1

Tablespoon

maple sugar or a drizzle of maple syrup to taste

or confectioners sugar
Instructions
Infusion
Tie the meadowsweet flowers in a small piece of cheesecloth.

Warm the cream and sugar in a small pot such as a butter warmer, or in the microwave until it's hot or roughly 150F.

Add the flowers and allow to cool to room temperature, then refrigerate overnight.

The next day, remove the sachet of flowers, squeezing out any cream the cloth has absorbed.
Whipping
Pour the cream into a metal bowl of about 2 quart capacity. Preferably using a hand-beater, whip the cream until soft peaks form. I like to do this with the metal bowl placed over a larger bowl with ice mixed with a good pinch of salt.

Do not overbeat the cream-it should be soft, pillowy and should gently cascade off of the cake as it's spooned on. Refrigerate the whipped cream until needed. If it loosens as it sits, beat it lightly again to fluff it up before serving.
Stabilized whipped cream
If you really want to get professional and make whipped cream that holds it's shape for days, warm ¼ cup of the cream with ½ teaspoon of gelatin until dissolved, then mix into the cold cream before beating it in a metal bowl placed on top of another bowl filled with ice.

I like to keep this in a pastry bag with a fluted tip. Stabilized whipped cream will keep for a couple days in the fridge.