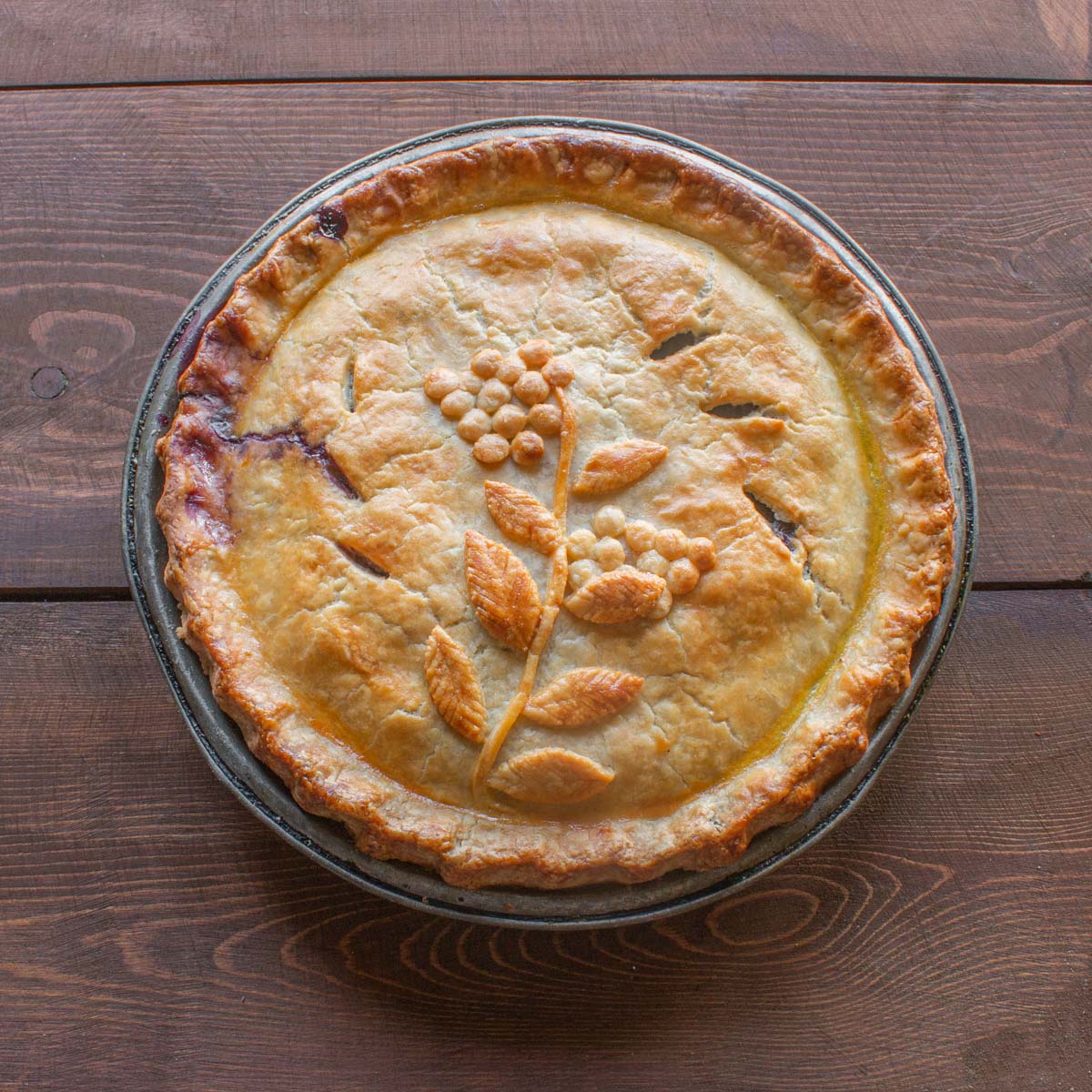 Wild blueberry pie. Is there any better example of the height of summer? Ok, maybe blackcap raspberries, gooseberries, aronia berries and wild cherries too where I live, but blueberry pie is, without a doubt, an American dessert, as they're native to the New World, and as it's the state dessert of Maine.
The first time I served blueberry pie, I was just itching to switch up the dessert menu and have my pastry chef make something new. I knew frozen "wild blueberries" were available through a broadline purveyor, and obviously they would taste better than getting a flat of commercial blueberries, right? Wrong. The "wild" blueberries weren't as good as commercial, fresh blueberries, they were bland.
The pies needed work too. Besides the blueberries being extremely bland, my pastry chef put way too much cornstarch in the pies and they were rock solid, gummy, a lot different from the vision I had in my head of a mountainous filling of deep blue berries, gently cascading out as you touch the flaky crust with a fork. Pastry chefs being a rare and valuable asset, I made sure to tip-toe around the issue, but eventually I gave up, and we just changed the menu. I was not inspired.
A couple years later, I was invited to pick wild blueberries with some friends of mine-my first time. The terrain was beautiful, a different world hiding in Northern Minnesota and Wisconsin I'd never dreamed of: the jack pine barrens. The barrens are filled with low-growing plants, miniature oak trees, sweetfern, and all sorts of things that thrive in acidic soil, especially blueberries. It's a beautiful terrain, and a different universe from what I was used to seeing.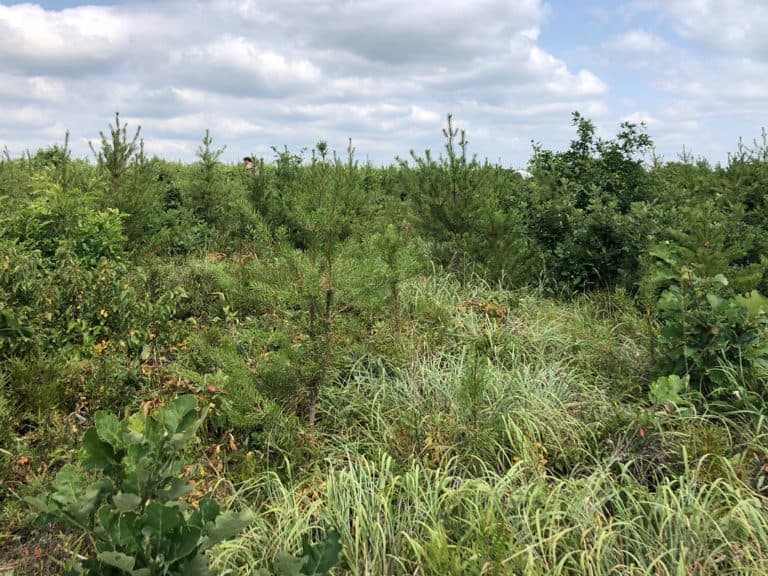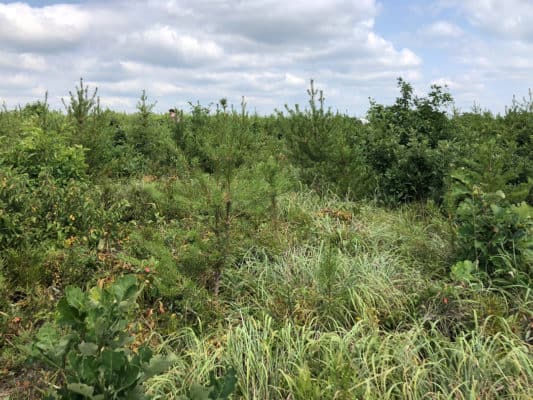 Different too, was the taste of the blueberries. Picked in the midday sun, the truly wild blueberries tasted like sunshine. We moved, hunched over with our rakes, picking, picking, picking, until once in a while, say every hour or two, when the tempation was overwhelming, we'd take a break, gorging ourselves and eating handfuls of blueberries at a time, then back to harvesting.
I got a lot of blueberries that year, and I carefully winnowed, washed and froze them for the winter. I knew I was going to need to see if my wild berries could make a pie better than the tasteless "wild blueberries" I'd had before.
I knew I wanted to keep the recipe traditional-no funny stuff: 100% blueberries, as little cornstarch (a concession, I know) as possible, and as little sugar as I could. Oh, and, instead of using commercial sugar, I blew the last of my maple sugar stash on developing this recipe, and it was well worth it.
I made sure to look around at older recipes for blueberry pies too, and was surprised to see that some of them talk about molasses in the cooking process, or preserving blueberries in molasses for the off-season. I didn't want to add any more liquid to the pie than I needed too, and I thought molasses might cover up the flavor of the berries too much, but it was an interesting thing to notice from a historical perspective. I did however, season the berries overnight with a good dash of my homemade black walnut liquor, or nocino, just a bit.
It took me two tries, and I still have some work to do on my pastry crust and decorating, as I wanted a garnish of pastry leaves that resembled the wild blueberry plants, but the second pie one was spot on. The maple sugar is amazing as it doesn't over-season food with sweetness, it's a natural, gentle flavor, and, in my neck of the woods, a natural pairing.
Crimping the pie crust
The edges of my first wild blueberry pie were not properly crimped. Make sure to crimp your edges so the filing doesnt come out while it bakes, which can soften your crust and give it an amatuer look. My second time around I got some advice from a baker, and I started crimping by making the top crust a little larger than the bottom and folding the crusts together. It worked like a charm.
If you find yourself with a nice wild blueberry harvest, you might try it sometime. I'm not including a crust recipe, as I borrowed one from here, but the filling is rock-solid, and could be modified to use other berries, although those with seeds (raspberries) have more natural pectin and can make a bit of a stiffer set, which isn't necessarily bad, especially if you want to serve it warm.
Another version I did included 2 cups of diced apples for 2 cups of blueberries to stretch it, and because I was honestly still skeptical if my berries would taste as good as I hoped, and apples are a great equalizer. The apple-hybrid was fine, but I like the pure flavor and look better of the 100% wild blueberries better.
Oh, one last thing. Make darn sure to pick your wild blueberries over for sandcherries, as they look alike, and have hard pits. My pie was freaking delicious, but two guests got a single sandcherry pit.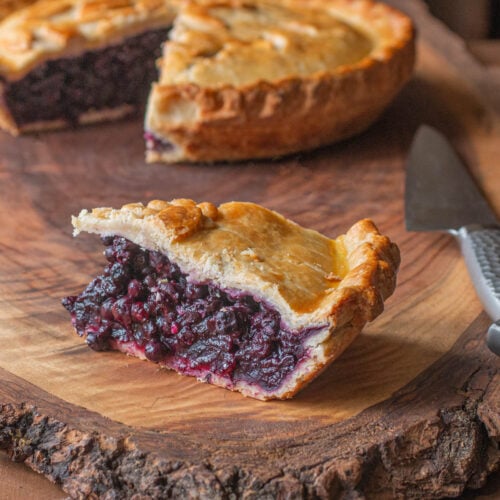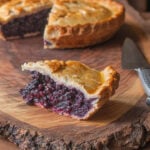 Print Recipe
Wild Blueberry-Maple Sugar Pie
A rich pie made with wild blueberries sweetened only with pure maple sugar
Ingredients
7

cups

frozen or fresh wild blueberries

¼

cup

cornstarch

or an equivalent, like acorn starch

½

cup

maple sugar

or substitute brown sugar

½

teaspoon

cinnamon or a combination of warm spices

like pumpkin pie spice or baharat

5

Tablespoons

fresh lemon juice

Ten scrapes of fresh lemon zest

2

tablespoons

black walnut liquor/nocino

optional

1

whole egg beaten very well

without water, for brushing the crust
Instructions
Toss the berries and with the sugar, zest, nocino, and cornstarch, then allow to macerate for an hour or two, but preferably overnight to let the flavors marry.

Roll out your pastry crust, put the filling in, then top with the lid, crimp the edges well, cut a few slices in the top for steam, decorate with cut out pieces of dough if desired, brushing cut pieces of garnishing dough with water to help them stick.

Preheat the oven to 375, brush the pie with the egg wash and bake on a low rack of the oven for 45-60 minutes, or until bubbly and golden.

Allow the pie to cool for 20 minutes before serving. From here the pie will last in the fridge for 5 days, or can be frozen whole, then thawed and served if you want to make it ahead. If baking ahead, make sure to bring the pie to room temperature or warm in an oven before serving.