I've been getting questions about if you can ferment ramp bulbs, if leaves or bulbs are better, if brine is good, or pounding with salt. The answer to all of your burning questions about ramp fermentation is that yes, ramps make a wonderful ferment. In this post I'll tell you about a few versions, and how to do it yourself.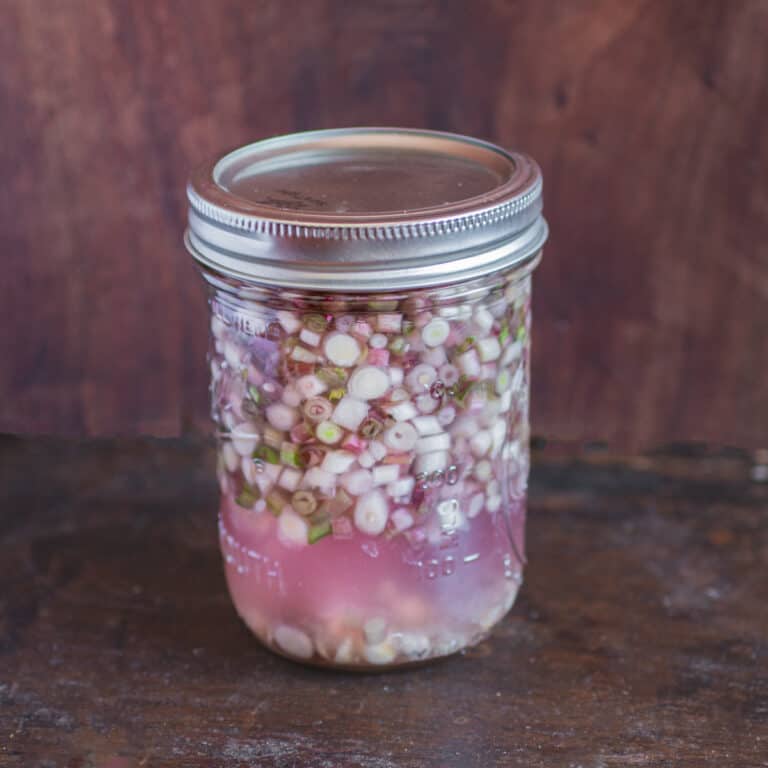 Ramp Fermentation
People have been fermenting ramps and their cousin onions like Allium ursinum for a very long time--especially in delicacies like Siberian Fermented Wild Onion Leaves (Cheremsha) a ferment made from Allium victorialis. Allium ochotensis is fermented in Korea into Myoengi.
For the purposes of this post, I'm speaking specifically about ramp bulbs, not the leaves. Generally I don't recommend people harvest ramp bulbs off of public property, but there's plenty of people who have access to them, and understand how bulbs can be harvested sustainably.
If you don't have access to many ramp bulbs, you can also make Fermented Green Ramp Seeds.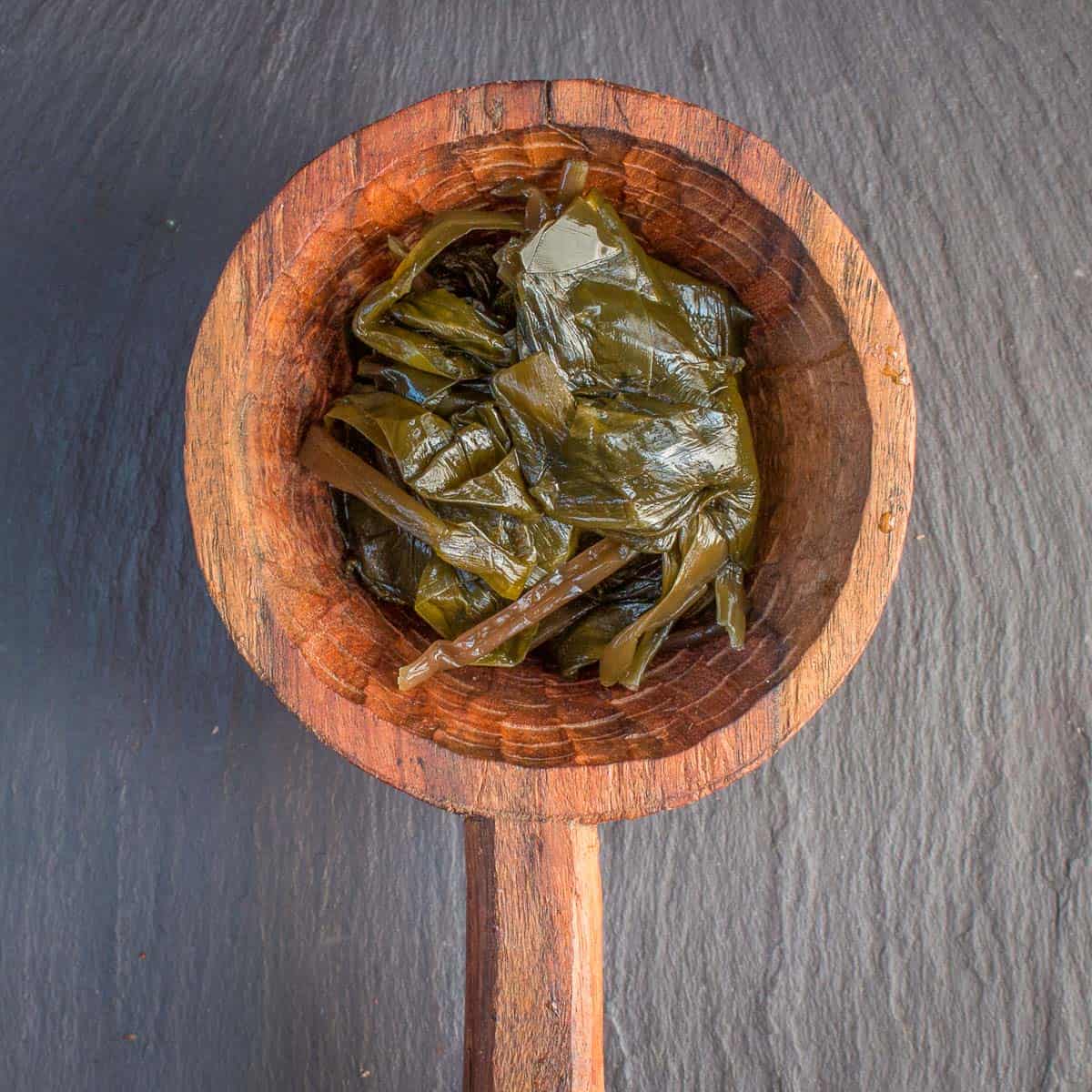 Brine vs Dry Fermentation
Ramp bulbs are great fermented, but you want to use brine for a few reasons (unless you have a vacuum sealer, then just follow my directions in the recipe below in the notes). First, brine makes it so that you don't have to mash or crush the ramp bulbs.
Crushing them up will work, but you worked hard to dig those bulbs so it's a waste-mushing up the leaves is a different story though. Secondly, it's just easier. Make some salt water, pour it over your ramp bulbs and shake the jar once in a while, wait a week or two and they're done--that's it. If you were to pack them down with salt, you'd have a much better chance of getting mold, which can give off flavors to your ramps.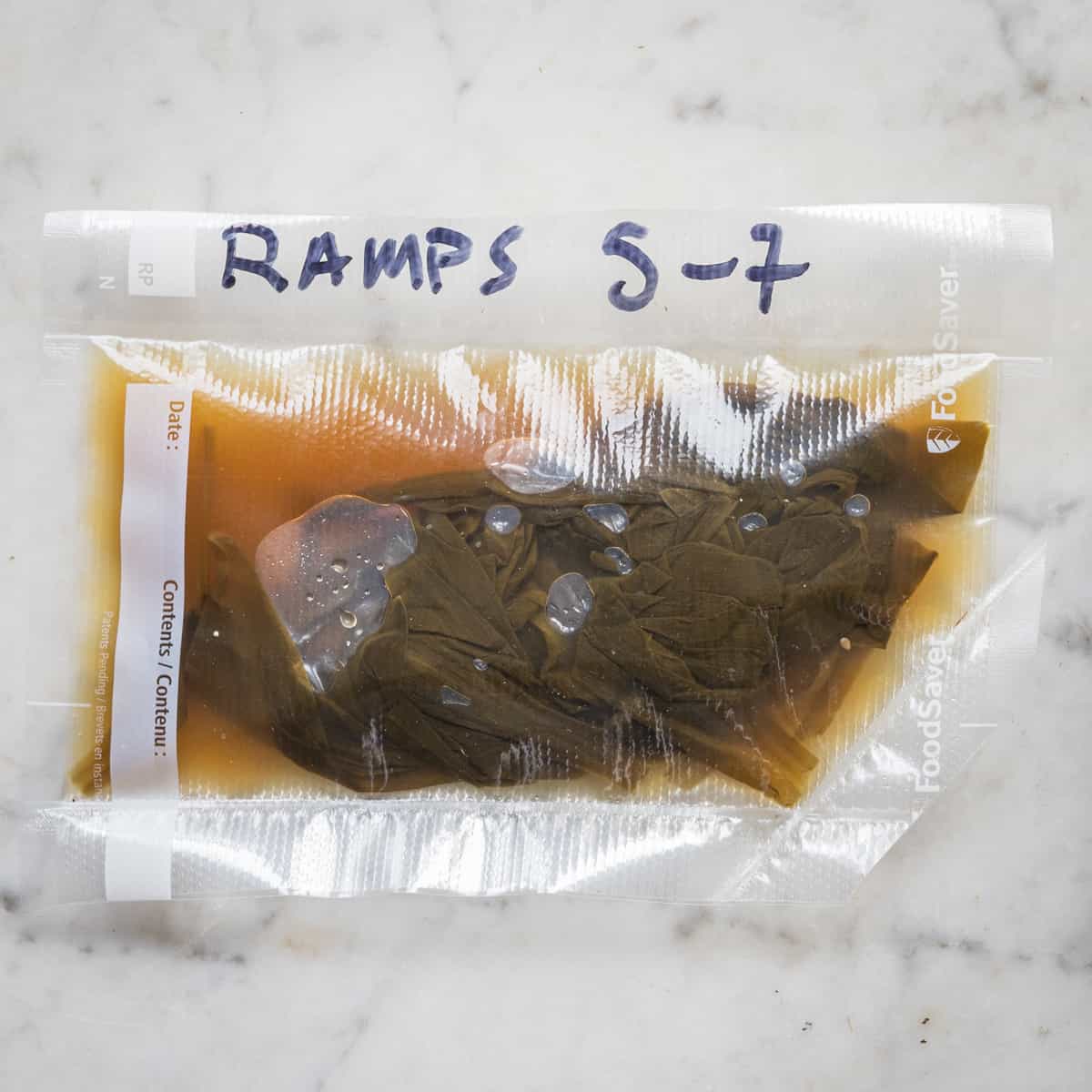 How to use the Ferment
Now, as far as using them, I have some good advice for you. First, this stuff is strong, and I mean really strong. If you haven't fermented wild onions before, you, and especially your spouse, partner, or whoever you live with, are in for a treat, or, if you like, a divorce. They smell to high heavens.
Personally I get kind of giddy as a chef. Strong flavors are special, and fermented ramps are no different. Here's a few ideas for how to use them besides offending your friends and family by cracking open a jar in the same vicinity or post code. If the smell offends you, don't worry, it will grow on you, and the incredible taste is worth it.
Use Ideas
Tzatziki or any yogurt sauce. It's hard to describe, but fermented ramps love dairy and fatty things--it helps smooth out their flavor. Tartar sauce or any cream sauce will be great too.
Marinades and dressings. Again, mixing with fat here to help calm them.
Cheese dips, all the dips.
Cook with the brine and bulbs. For example, use the ramps and brine to season soup--especially in the winter when fresh onions may be scarce.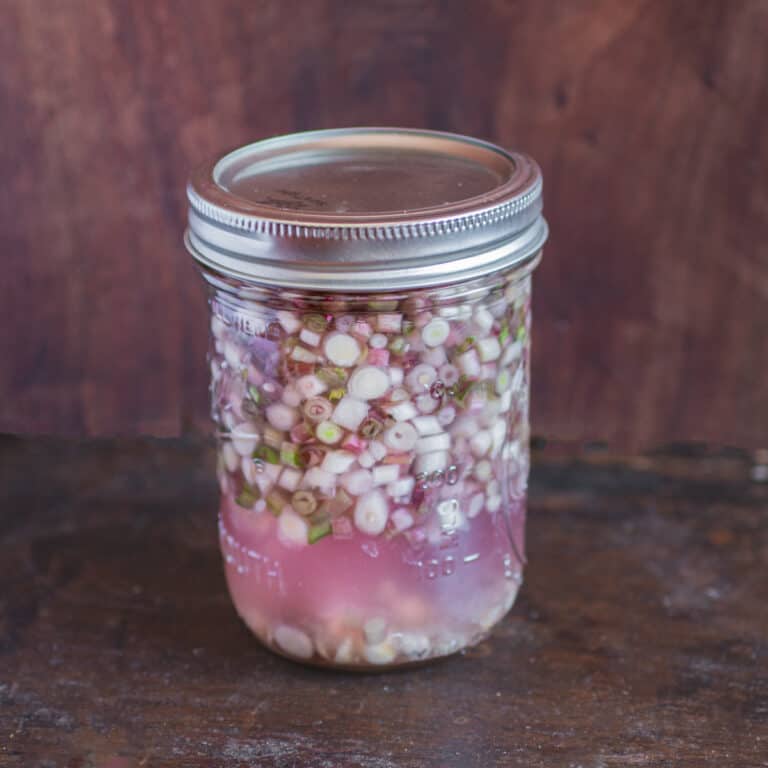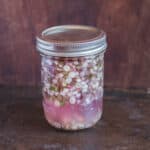 Print Recipe
Brine Fermented Ramps
A simple "kosher pickle" style preserve made with ramp bulbs and brine
Ingredients
6

oz

ramp bulbs sliced ¼ inch to yield 1 ¾ cups

1

cup

250 grams filtered water

2

scant teaspoons salt

12 grams

½

teaspoon

whey from yogurt

sauerkraut brine, or another inoculate (optional)
Instructions
Combine all ingredients in a jar, and leave out at room temperature for 4-5 days, shaking the jar every day and opening it once in a while to release carbon dioxide, then refrigerate.

The ramps will continue to ferment slowly in the fridge (see note)

Once they're soured to your liking, they're ready. Typically I like them anywhere between 7-14 days.
Notes
Fermenting whole bulbs 
I slice young ramps for this recipe, but you can also ferment whole bulbs. Slicing beforehand makes them easier to portion. 
The most sour 
The way to get the ramps the most sour the fastest is to leave them out at room temp for 7-14 days. Slow fermenting in the fridge is more gradual and stable. Either way works. 
Dry Fermenting in a Vacuum Bag 
The most potent aroma will come from fermenting ramps either whole or cut in a vacuum bag. To do that, weigh the ramps in grams, then multiply that number by .03 for 3%. Toss the ramps with the salt, vacuum seal, and leave them out for 7-14 days, or until they're sour to your liking. If the bag inflates dramatically, cut the corner to let out air, then reseal. 
Nutrition
Serving:
1
oz
|
Calories:
62
kcal
|
Carbohydrates:
13
g
|
Protein:
5
g
|
Fat:
0.5
g
|
Saturated Fat:
0.1
g
|
Polyunsaturated Fat:
0.1
g
|
Monounsaturated Fat:
0.1
g
|
Cholesterol:
3
mg
|
Sodium:
805
mg
|
Potassium:
476
mg
|
Fiber:
4
g
|
Sugar:
4
g
|
Vitamin A:
1701
IU
|
Vitamin C:
32
mg
|
Calcium:
129
mg
|
Iron:
3
mg
More