One of my favorite summer treats is this simple berries and cream dessert. I learned the recipe working for Master Chef Rino Baglio, the former personal chef for Princess Caroline of Monaco.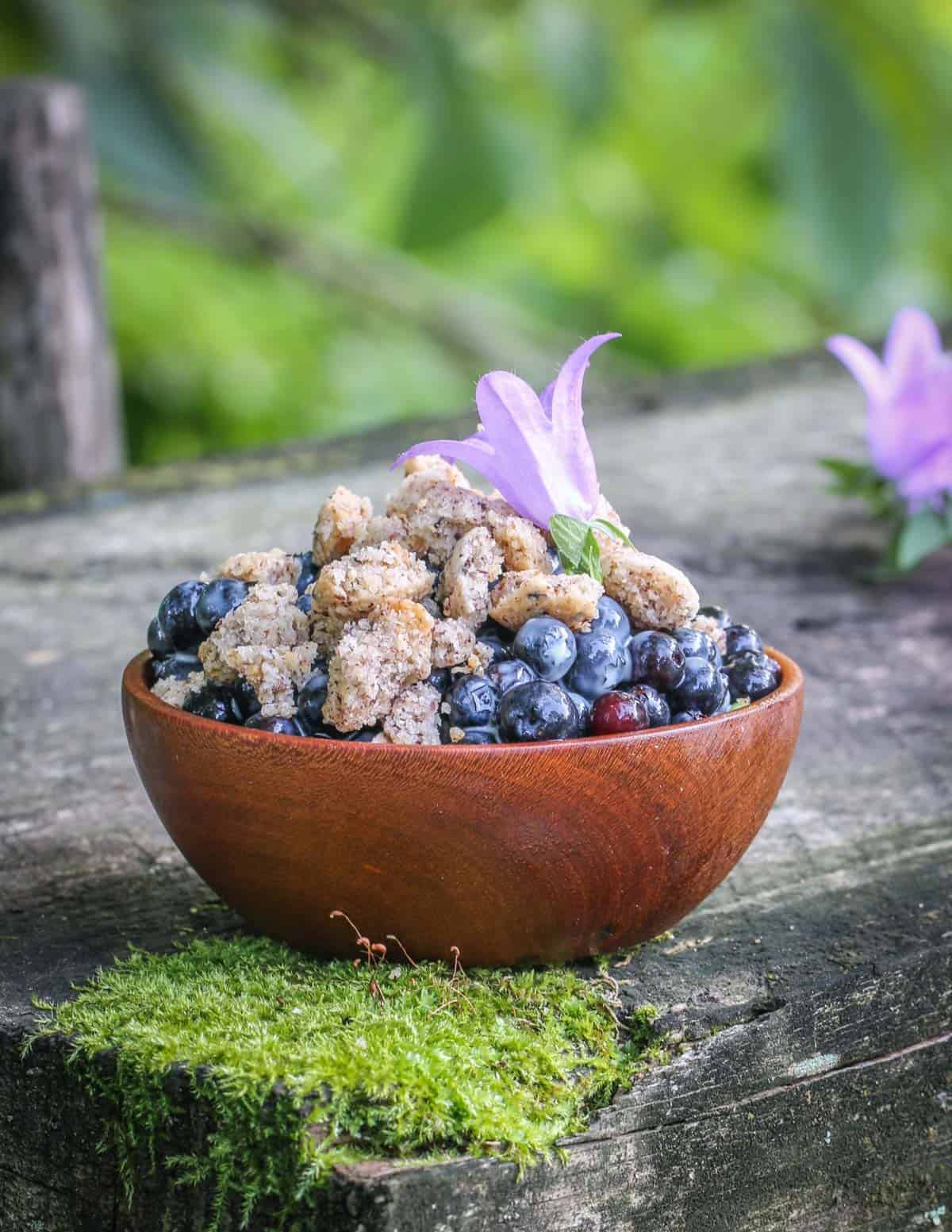 Think of it as a grown-up cousin to the famous strawberries and cream for Wimbledon. I use some special ingredients here that I'll describe, but this is easy to make with whatever you have on hand.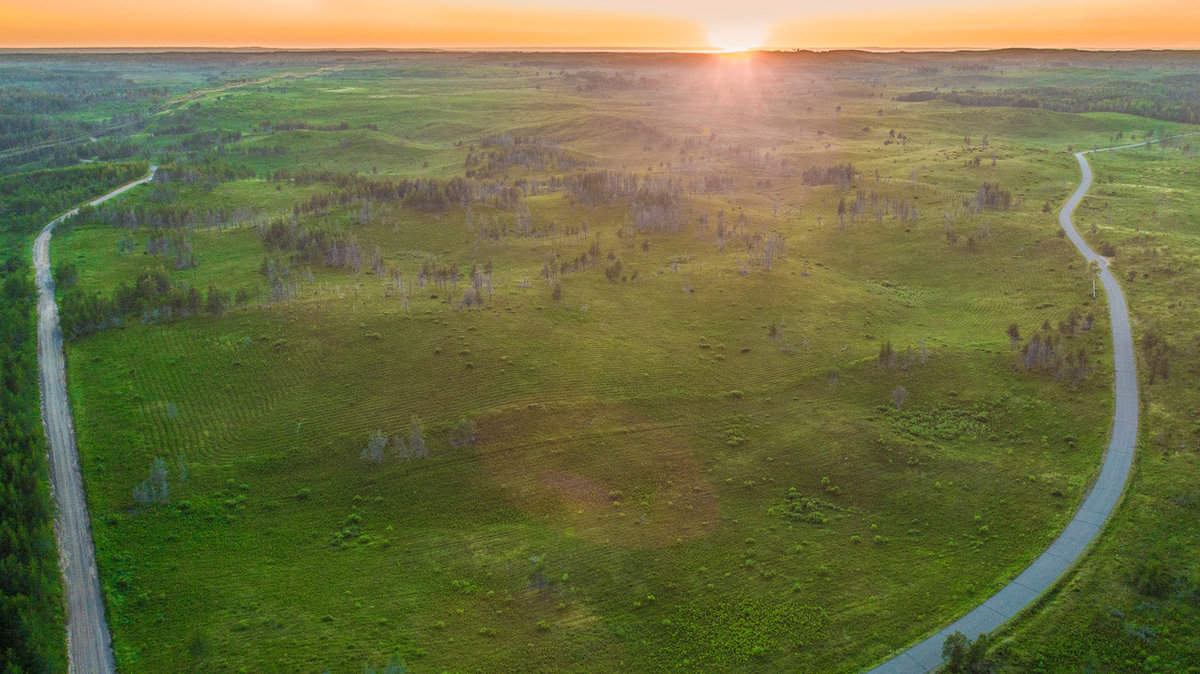 Using three local ingredients
While I was picking wild blueberries in the Pine Barrens I noticed wild blueberries, sweetfern, and hazelnuts growing together. I thought they would be perfect together in a dessert.
This is an easy recipe. Put fresh berries in a dish, pour the custard sauce over them. Sprinkle crushed amaretti cookies on the top to lend some texture.
To celebrate the Pine Barrens I make hazelnut amaretti, and infuse the sauce with sweet fern seeds. That being said, if you only make the sauce and want to use amaretti cookies from a store, go ahead. No one will notice.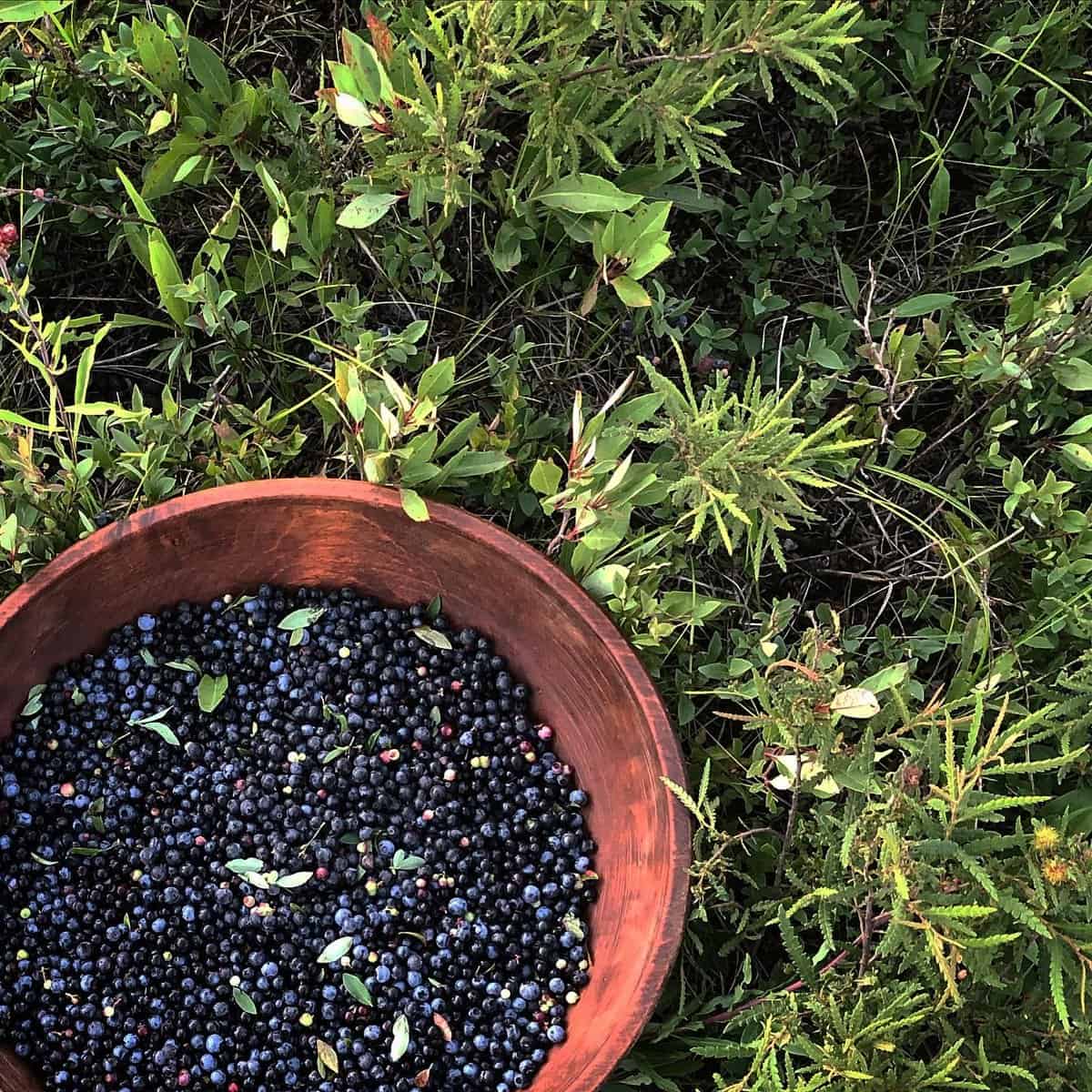 Hazelnut Amaretti
Amaretti are often crumbled and added to desserts and pasta fillings. They're easy to make, and only require 4 ingredients: egg whites, sugar, and hazelnut meal. Traditional versions get their almond flavor from almond extract. I don't use almond extract as it's too strong for my taste.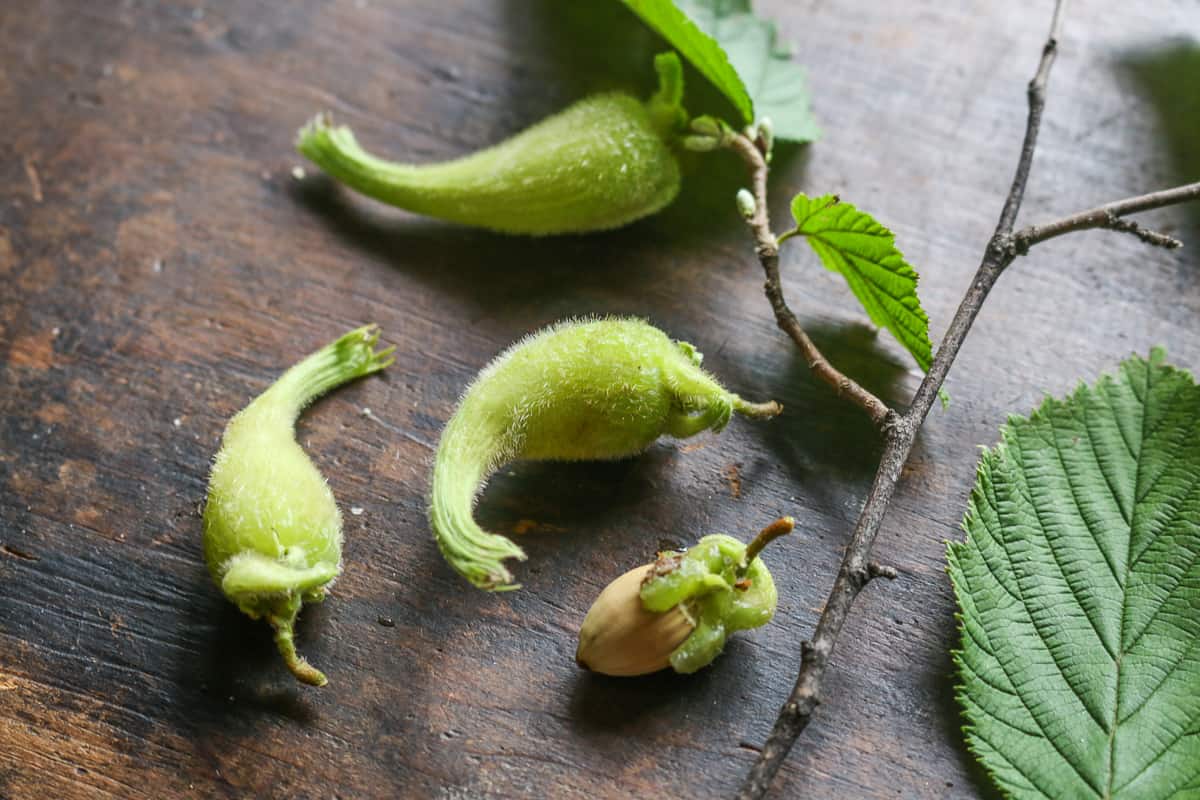 You can make the amaretti cookies out of any nut meal or nut flour. Hazelnut flour can be difficult to find. You can make hazelnut meal at home, too. To do that, pulse raw, blanched hazelnuts in a food processor until finely ground and sift them to make a flour.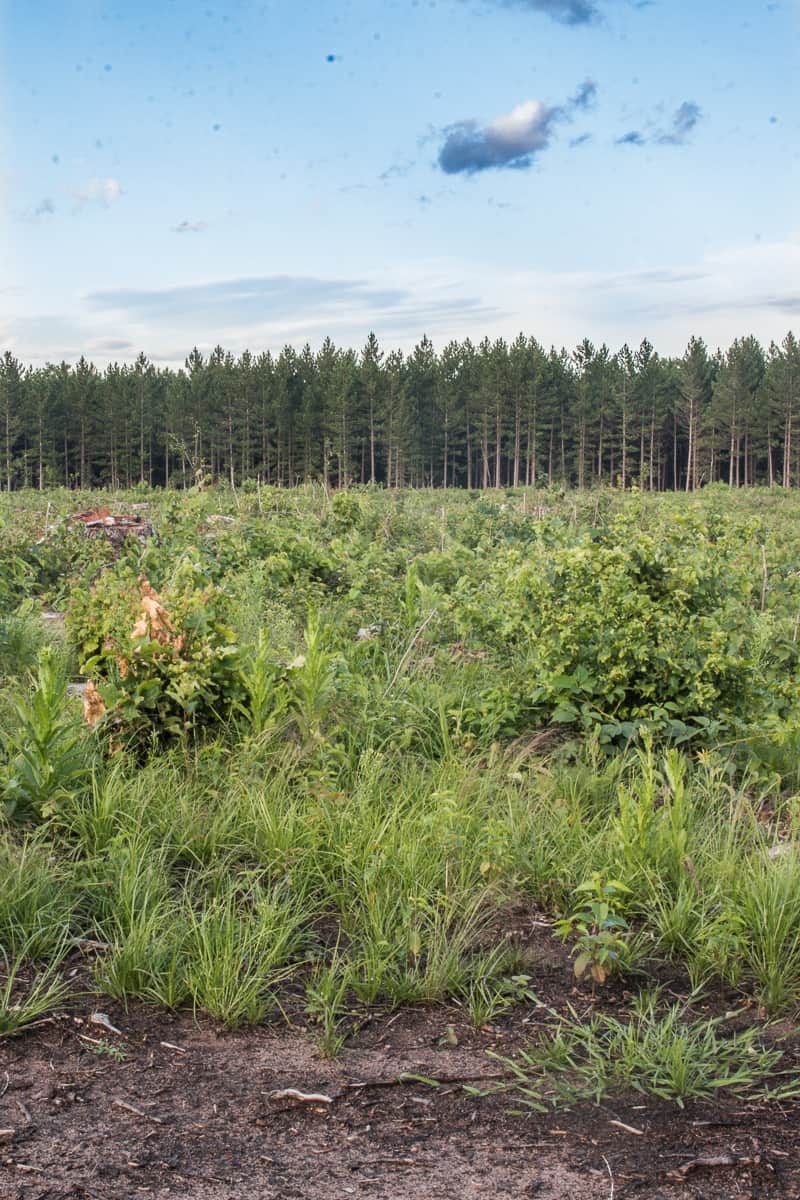 Custard sauce
To make the cream for the berries, heat some heavy whipping cream and stir in egg yolks beaten with sugar.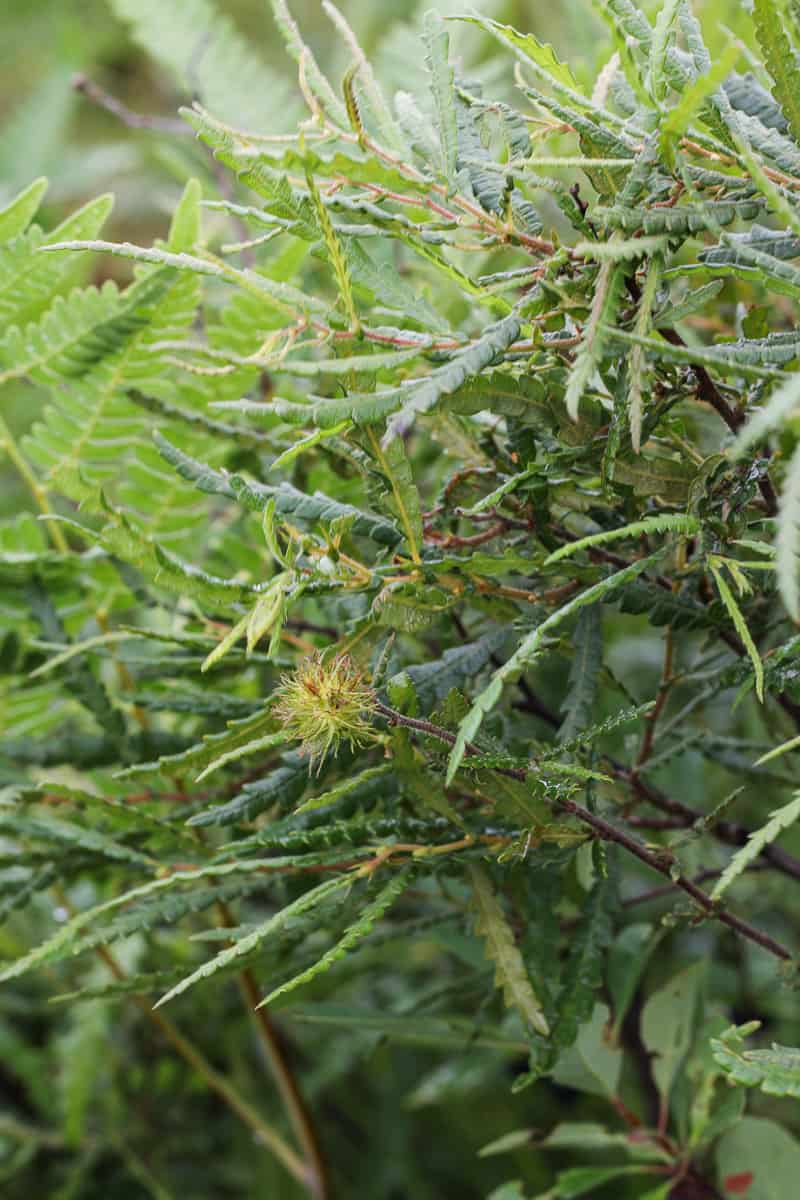 I infuse the cream with crushed sweet fern seeds, but you can use vanilla extract. As the sauce cools to room temperature it gets just thick enough to coat the berries. The simple custard is also known as English cream or creme anglaise.
Variations
This is a classic berries and cream dessert recipe you can make with just about any fruit you have. Just make sure to use fresh berries. Frozen berries won't work.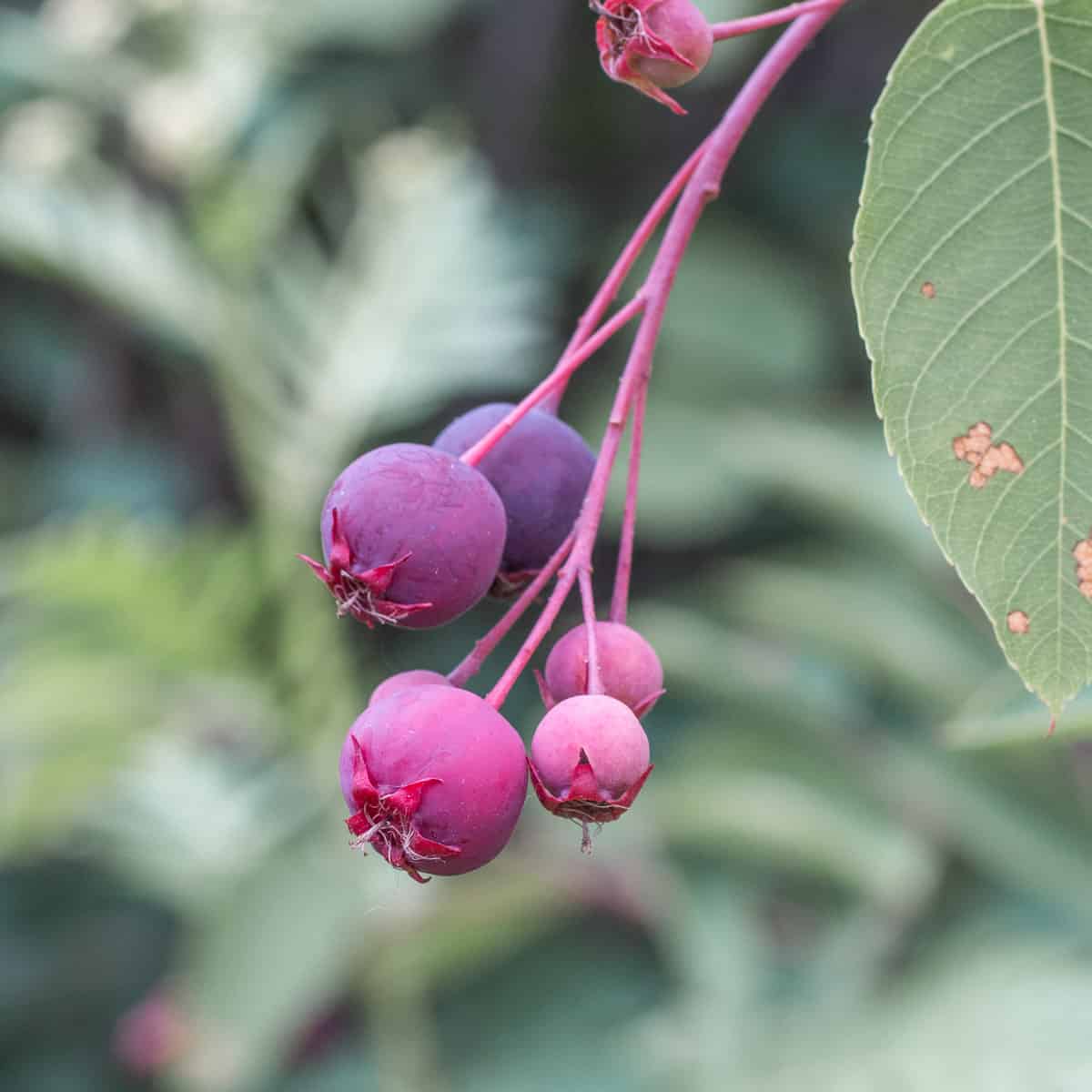 Strawberries, black berries and raspberries are traditional. Depending on the season you could make different versions with fruits like grapes or pieces of cooked apples or pears.
Wild blueberries will be the best, but serviceberries also grow nearby and are delicious too.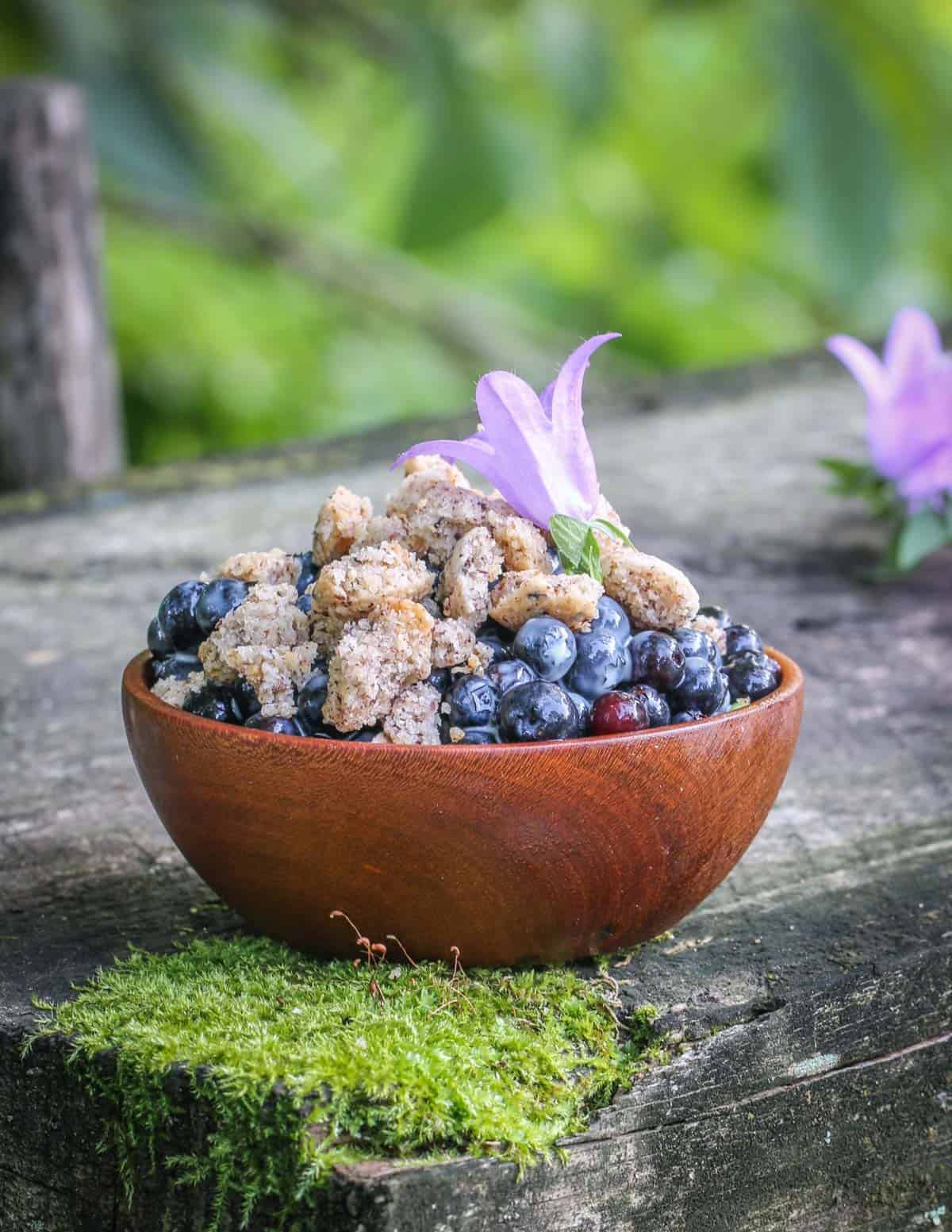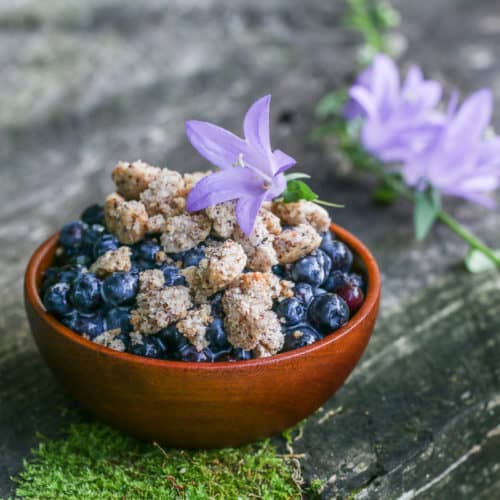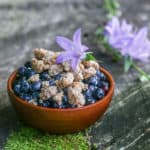 Print Recipe
English Cream for Berries with Amaretti
Fresh wild blueberries or other fruit with custard sauce and crushed amaretti cookies. Custard sauce recipe makes about 1.5 cups
Equipment
1 small sauce pot

1 Whisk

1 strainer or fine mesh sieve

1 baking sheet

if making your own amaretti cookies
Ingredients
4

cups

fresh berries

such as wild blueberries or serviceberries, or raspberries and strawberries

½

cup

crushed amaretti cookies

about 2 tablespons of crushed cookies per serving.

Fresh lemon juice

a few dashes to taste
Custard Sauce
¾

cup

heavy whipping cream

¾

cup

half and half

3

large

egg yolks

Save the whites for making amaretti if you like

1

tablespoon

ground sweet fern seeds (optional)

you can substitute 2 teaspoons vanilla extract

⅓

cup

maple syrup

or ⅓ cup sugar
Instructions
Cookies
Crush the amaretti into pieces, assuming about 2 tablespoons per person (save some cookies to eat whole!).
Crème Anglaise
Tie the ground nutlets in a cheesecloth packet for easy removal.

Heat the cream, half and half, and dried sweet fern nutlets until steaming and cool. When the sauce tastes pleasantly of sweetfern, discard the packet of nutlets.Meanwhile, bring the maple syrup to a boil and cook for two minutes, then pour into a mixing bowl and allow to cool for a few minutes.

While the syrup is still warm, beat it with the egg yolks until light in color. if you want to use sugar instead of maple, beat the sugar and egg yolks now, then proceed.

Whisk ⅓ of the cream mixture into the egg yolk-maple mix, then whisk in the rest. Transfer the mixture back to a saucepan and cook on low heat, stirring constantly with a spoon, until the mixture barely coats the back of a spoon, about 15 minutes.

It's important to take your time cooking the crème anglaise, as if the heat gets too hot it will curdle the yolks and make the sauce chunky.

Even if you do curdle the yolks though, you can strain it and it will be ok. Chill the sauce completely before serving to give it time to thicken. If you're in a pinch, stir it over a pan of ice.
Serving
Toss the blueberries with the lemon juice, then divide the blueberries between 6 serving bowls drizzling each serving with 2 tablespoons of the sauce. Sprinkle the crushed amaretti over the top and serve.
Notes
Optional Homemade Hazelnut Amaretti 
It's fine to use premade cookies here. If you want to make your own they're very easy though. 
1.5 large egg whites
¾ cups sugar
1.5 cups hazelnut meal
Pinch of finely ground salt
Instructions
Do your best to measure 1.5 egg whites, it's not an exact science, It's just hard to make small batches of these cookies as you don't need a lot of moisture to hydrate the dough (you can also double the recipe and use 3 eggs).
Mix all ingredients until a dough forms, then allow to rest for 15 minutes to hydrate.
Preheat the oven to 300, and drop generous teaspoons of batter onto a baking sheet.
Roll each teaspoon into an even ball, then bake for 25-30 minutes, or until lightly browned, then remove from the oven to cool.
Nutrition
Serving:
4
oz
|
Calories:
273
kcal
|
Carbohydrates:
29
g
|
Protein:
4
g
|
Fat:
17
g
|
Saturated Fat:
10
g
|
Polyunsaturated Fat:
1
g
|
Monounsaturated Fat:
5
g
|
Cholesterol:
136
mg
|
Sodium:
33
mg
|
Potassium:
194
mg
|
Fiber:
2
g
|
Sugar:
23
g
|
Vitamin A:
720
IU
|
Vitamin C:
10
mg
|
Calcium:
88
mg
|
Iron:
1
mg