Once I started reading about traditional ways to preserve mushrooms around the world, one of the first ones I came across was salted wild mushrooms, an old stand-by used in plenty of places, but most notably Eastern Europe.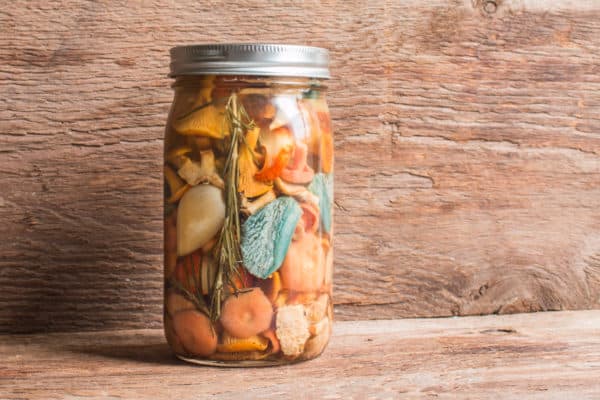 It's not that popular in America, but one trip to a market with an Eastern European ownership or customer base will show you plenty of jars of salted mushrooms in brine, from porcini, to milkcaps, to mixes, slippery jacks--all kinds of stuff. If you're in the Twin Cities, Paradise Market in Maple Grove is a good example if you want to see for yourself.
I'd made salted mushrooms before, but my first attempt was, not good, and, if you've tried the method yourself, you may have had a similar experience. I took a few cases of fresh oyster mushrooms, layered them generously with salt and herbs according to some random recipe online, pressed them with a weight, and put them in the fridge.
After a few weeks, I tasted the finished product, and they went quickly, silently to the pig bucket so I could hide my failure and wasted product from the rest of the staff. It was awful, if you've ever tasted something so salty it makes tap water taste sweet, you'll know what I mean.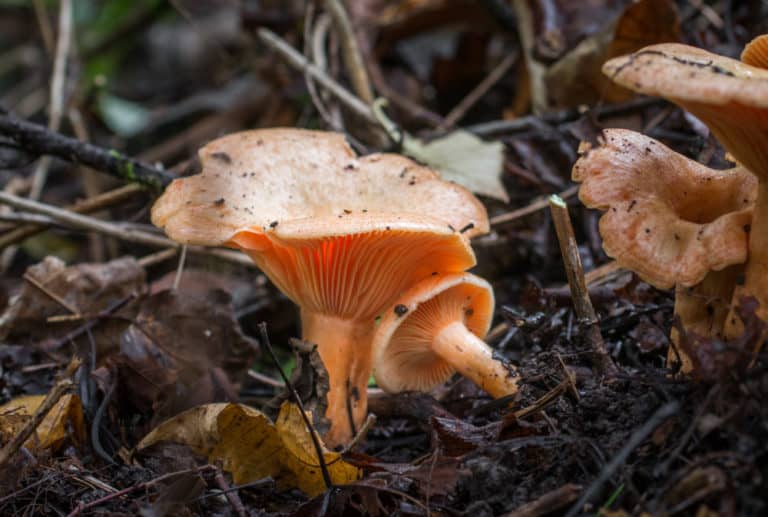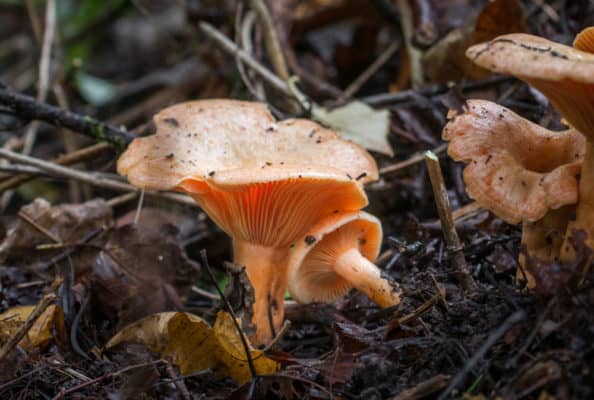 If you've tried to make salted mushrooms before and hated them, it's probably not your fault, or the mushrooms fault, for that matter. In hindsight, I know now, ten years later that I might've saved my oyster mushroom experiment by rinsing or submerging them in water a couple times as you might with sauerkraut, but that's another piece of knowledge that comes with experience, and relies a bit on personal taste.
There was a question that still bugged me though too: if salted mushrooms taste so bad, why are they widely known and referenced by people from Eastern Europe I know, and sold commercially? (The short version is that it's a good way to preserve the texture of fresh mushrooms, just like with mushroom conserve and pickles, just with no acid).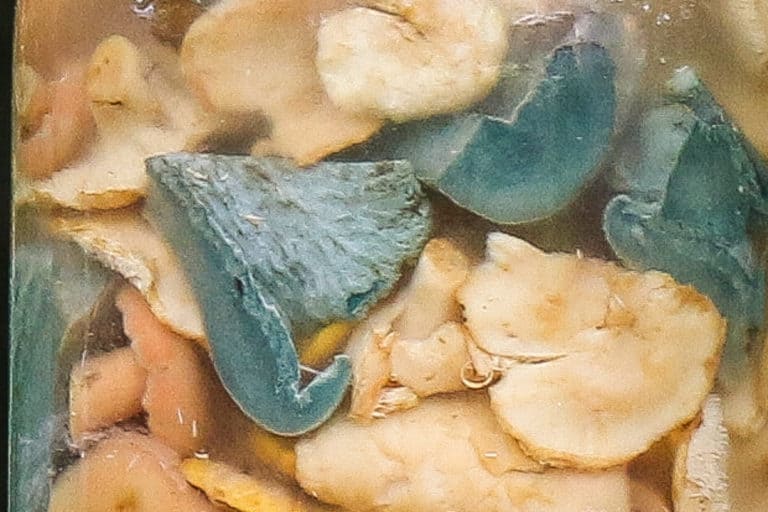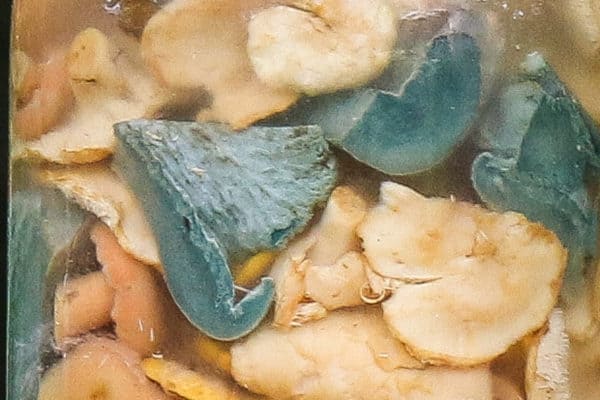 The key: Measuring your salt
The real disconnect, as I see it, is that salted mushroom recipes, at least the ones I see, generally don't use exact amounts of salt. Additionally, there's a subtle distinction to make between salting mushrooms (what I would call dry salting) and preserving them in brine.
To further complicate things, phrases like "use a handful" or "sprinkle salt over each layer" can be interpreted in wildly different ways from person to person, and the failures on either end of the spectrum can result in either dangerous or near inedible results, from too little salting or over-salting, respectively.
Now, It's unlikely someone could under-salt salted mushrooms, but hey, I've seen people do some weird things over the years, and I've botched plenty of things myself. Either way, measuring your salt in a brine instead of relying on the natural water content of mushrooms (which is highly variable) and using an exact percentage like I recommend here removes any guesswork from the final product.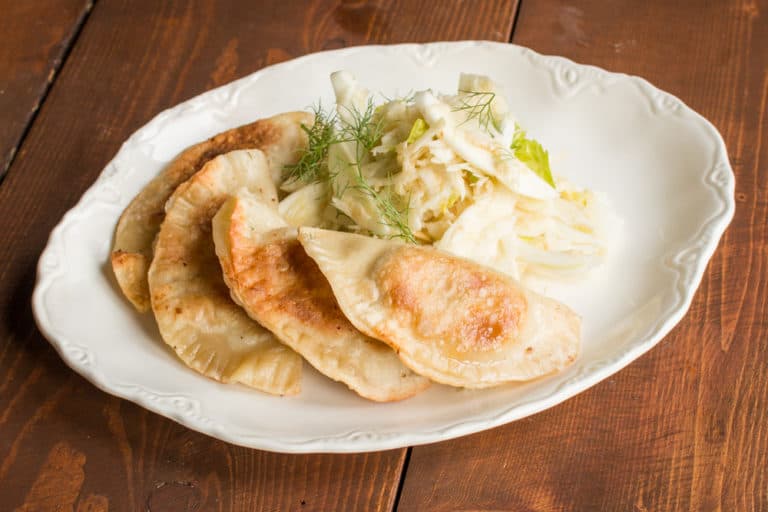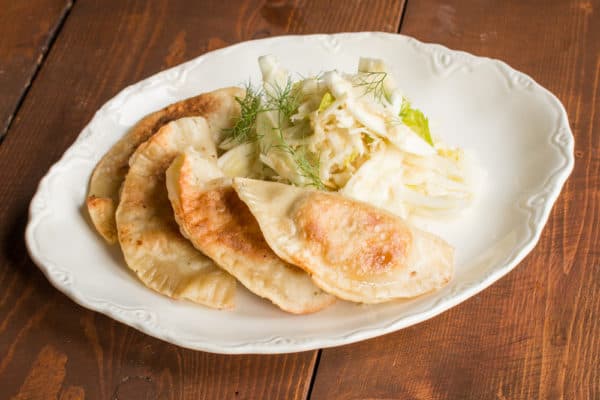 How much salt is safe?
When I made my salted oyster mushrooms, oh, say ten years ago, I had no idea how much salt to add, or rather, how much salt is needed for something for it to be shelf-stable in a pantry along with other canned goods. In short, the most well documented answer is a fully saturated brine, or something very close to it, fully saturated just referring here to water saturated with salt until it can't take anymore.
There's a little wiggle room, with the threshold around 20-26%, or 20-26 grams of salt for every hundred grams of water. I'm recommending a brine concentration of 20% here as a place to start, including some citric acid or lemon as an additional preservative.
As an aside, over the 2 years I played with this recipe, I made a few jars with 15% brine, and while the lower salinity was nice, and I'm still alive, I'd like to see some case studies, journalistic articles or similar references specifically on lower salt ranges as they pertain to mushrooms before I recommend decreasing the salinity to others.
Cooking
What to do with salted mushrooms? Eastern Europeans are said to eat them straight-up, cold with vodka or alcohol, and although I appreciate the ascetic purity, it's a little hard core for me.
Since they're very salty, I'm much more inclined to use them in a place where they're seasoning can be diluted and smoothed out. There's plenty of ideas online to look at, (googling in Russian is helpful) and from what I can see, they're often part of cold winter salads, and added to soups, the latter being the first thing I tried.
Probably the best idea though, came from my friend Mathew Normansell, (who also gave me the idea to iron out the details in this post), is adding them, rinsed and chopped, to pierogi with some kind of mild cheese and/or cabbage filling.
Whatever you do, I find it very helpful to soak and rinse them until I feel like they're ready to add to something.
If anyone's out there with Eastern European background or knowledge of other traditional recipes using salted mushrooms, reach out so I can add them here.
Caution: This is extremely salty
Salted mushrooms are salty. Really salty, which is why they should be rinsed or soaked until you find them palatable before adding to a dish. That being said, I know a good handful of people who regularly prepare mushrooms just like this, and enjoy them, with well-known mushroom hunting chef Chad Hyatt being one of them who told me that it is one of his go-to methods for preserving hot and spicy milkcaps, rinsing them after cooking before pureeing them into hummus.
I've gotten some messages from people claiming "mushrooms are never salted like this in my country!" or "Your salt ratio is wrong/too much". Here's the deal. People preserving mushrooms like this a long time ago wouldn't have measured their salt, so, at least here there's a template that makes sure people know what they're eating is safe.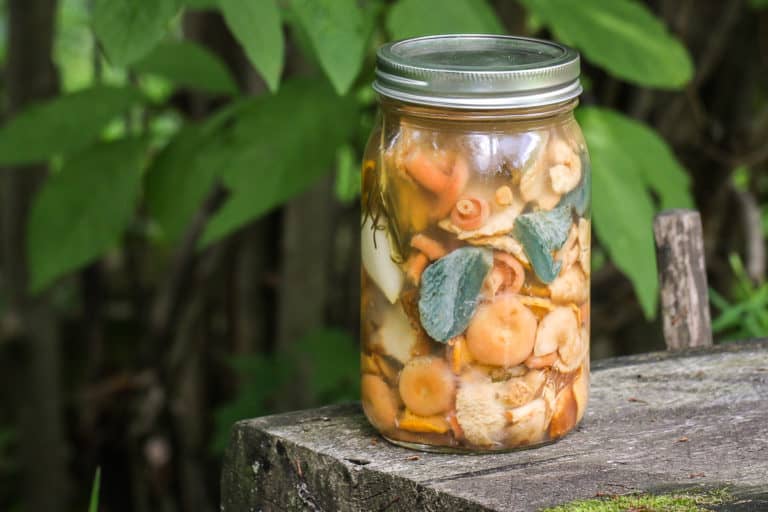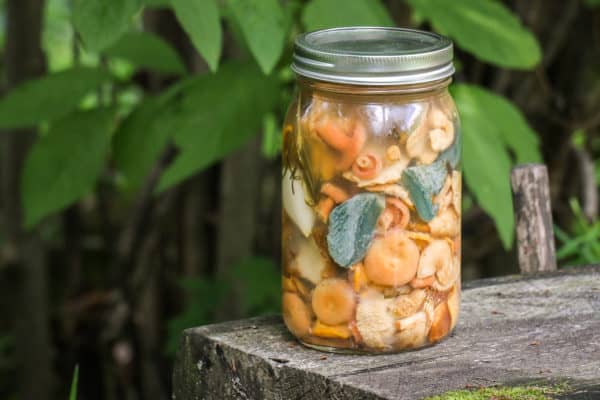 More
Vegetarian or Vegan Mushroom Recipes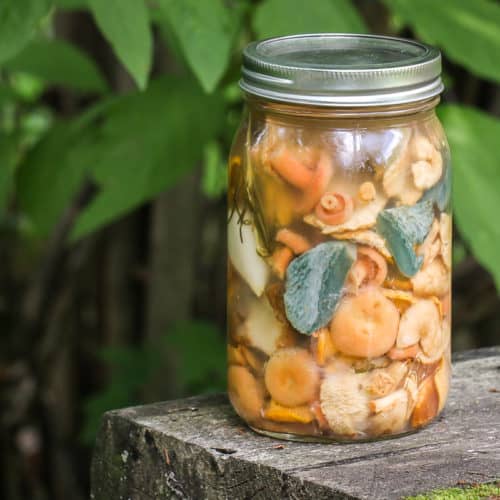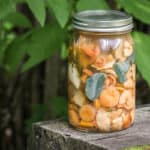 Print Recipe
Salted Wild Mushrooms in Brine
A basic, shelf stable recipe for salted wild mushrooms in brine. Makes 1 quart jar.
Ingredients
800

grams

(Scant 2 lbs) wild mushrooms, especially milkcaps and other firm mushrooms like chanterelles

350

grams

water

or as needed to fill the jar

70

grams

kosher salt

1

large clove garlic

1

dried bay leaf

1

dried hot chili, such as Thai

or equivalent (optional)

1

teaspoon

black peppercorns

1-2

sprigs fresh rosemary thyme, or savory

⅛

teaspoon

citric acid

as a preservative, or a dash of lemon juice
Instructions
Blanch the mushrooms in unseasoned, rapidly boiling water until completely cooked and wilted, about 4-5 minutes. Remove the mushrooms, drain and cool. Save the mushroom blanching liquid for making soup, or freeze for another purpose, etc.

Pack the hot mushrooms into a wide mouth quart mason jar.

Meanwhile, bring the remaining ingredients to a rapid boil. Pick out the aromatics and stuff in the jar with the mushrooms, then pour the boiling liquid over the mushrooms and fill up the jar to cover the mushrooms completely, wiggling a chopstick or other utensil around to remove air pockets.

Screw the lid on tight, then turn the jar upside down to seal. Alternately, process the jar in a waterbath for 15 minutes.

As long as they form the hermetic seal, the salted mushrooms are shelf stable, but should be refrigerated after opening.

To use the mushrooms, soak or rinse them (generally 20-30 minutes of soaking is good for me) before using.

As they'll still be a little salty, I've enjoyed them in fillings, sauces, and places where they can be mixed with other things that can absorb salt. You will not be sauteeing them like fresh, but, rinsed and dressed with some oil they make an decent snack and conversation piece with cold spirits, salami, cheese, olives, etc.
Notes
A note on the herbs
Fresh herbs (rosemary is pictured) are optional here, but they add a great flavor to the mushrooms that will stay. Whatever herbs you add, a little goes a long way. Rosemary, thyme, and savory are what I'd recommend to start with, and give a flavor reminiscent of cured olives to the finished product.
Nutrition
Serving:
14
grams
|
Calories:
19
kcal
|
Carbohydrates:
3
g
|
Protein:
3
g
|
Fat:
0.3
g
|
Saturated Fat:
0.05
g
|
Polyunsaturated Fat:
0.1
g
|
Monounsaturated Fat:
0.003
g
|
Sodium:
2719
mg
|
Potassium:
262
mg
|
Fiber:
1
g
|
Sugar:
2
g
|
Vitamin A:
3
IU
|
Vitamin C:
2
mg
|
Calcium:
8
mg
|
Iron:
0.5
mg