Wild Blueberries with Crème Fraîche is a love letter to one of the best summer desserts of all time: berries and cream.
One night during the winter, my girlfriend and I were sitting beside the fire. She was feeling snackish and asked if there was anything I could throw together quick. I went over to the freezer and rambled off what was in there: a couple pigeons, a frozen pizza, and, a big bag of fresh-frozen blueberries from the previous season.
She turned me down on the pigeons and pizza, so I poured a few handfuls of frozen blueberries into bowls and brought them over. I don't know if it's just me, but when I was a child I had a thing for eating frozen food, specifically peas. It was a textural thing as much as the flavor and I loved how the sweet peas would crunch and give as I ate them. Sitting in front of the fire, eating frozen blueberries with my hands brought back fond memories, and I couldn't help but think: "Damn, these are actually pretty good".
Wild blueberries freeze like a dream
Now, I'm not going to have people over and serve them a bowl of frozen blueberries to eat with their hands like a toddler. What I'm trying to get across is really just the fact that wild blueberries are one of the best fruits you can flash freeze and enjoy throughout the year. Freezing on a tray, then packing into bags is what is known in my world as "IQF" freezing, or the method applied to frozen berries and things sold in bags, translating to "individually quick-frozen".
Most of the time these berries and other things like mushrooms that may be sold frozen are frozen using a blast freezer, but it's hardly necessary for fruit and you can mimic it easily at home, just spread your fruit out on a tray, freeze them, then transfer to a bag.
A study in wild blueberries
The dessert I highly suggest you try is a sort of study in blueberries. You take some blueberries and cook them down until their juices concentrate into a syrupy compote, then, to add texture and freshness, you lighten it by tossing in, yes, you guessed it, a good cup of still-frozen wild blueberries, which help tighten the cream so it doesn't get too loose, too fast.
After you mix the berries up you toss them ever so gently with a good spoonful of fermented creme fraiche you've flavored with herbs like meadowsweet or angelica whipped with maple sugar, taking care not to mix it too much to give it a beautiful marbled look. A few scrapes of lemon zest brings it all together. It's a nice way to enjoy your wild blueberries in the winter, or really anytime.
Flavoring fermented Crème Fraîche
I've talked about this a number of times (there's also a couple great examples in my book: The Forager Chefs Book of Flora). Basically cream is an aroma sponge and you can flavor it with all kinds of things. Meadowsweet is a great thing to use that will give the finished cream a flavor of almond, and angelica will give it an herbaceous note. There's all kinds of things you can use. The basic recipe follows the one for the blueberries.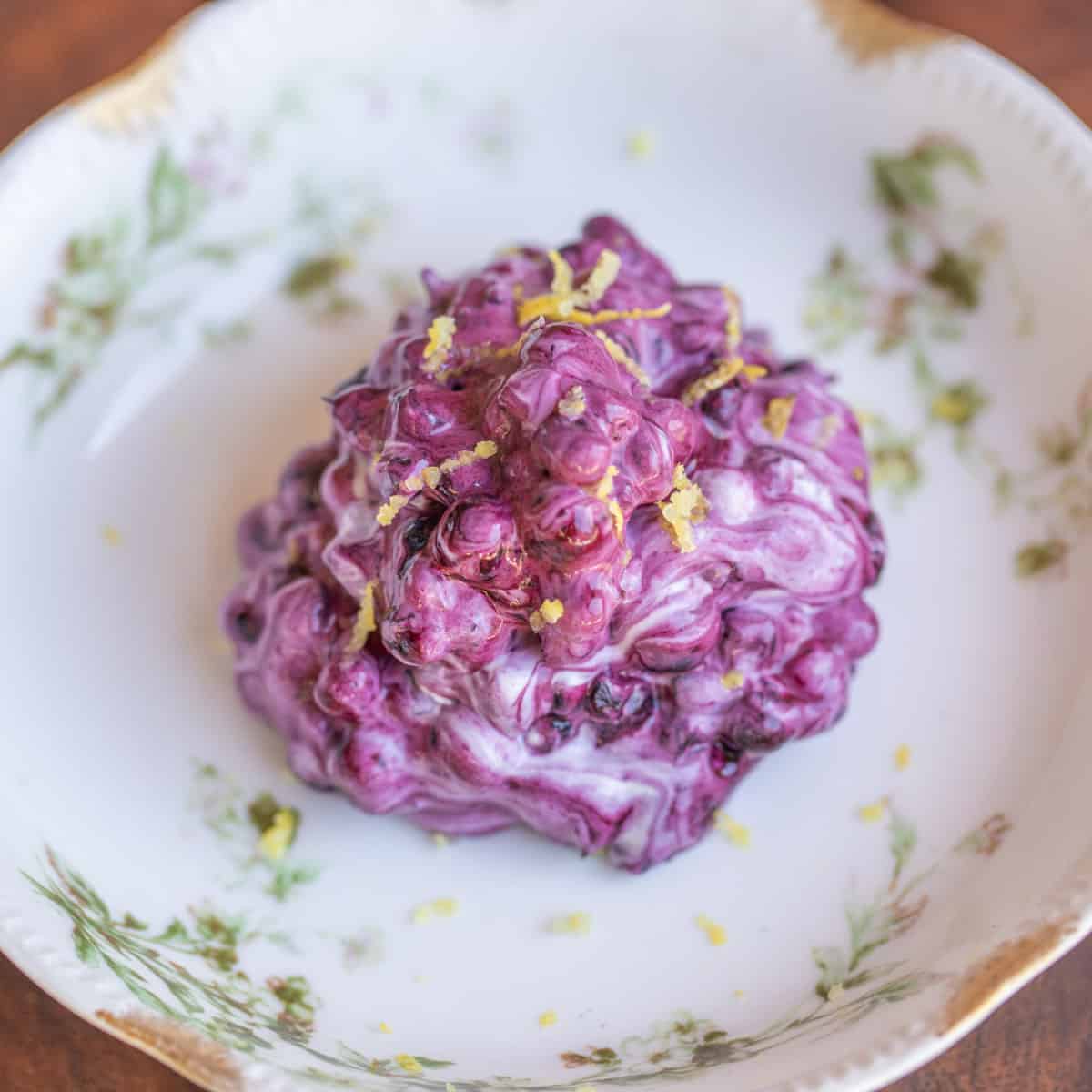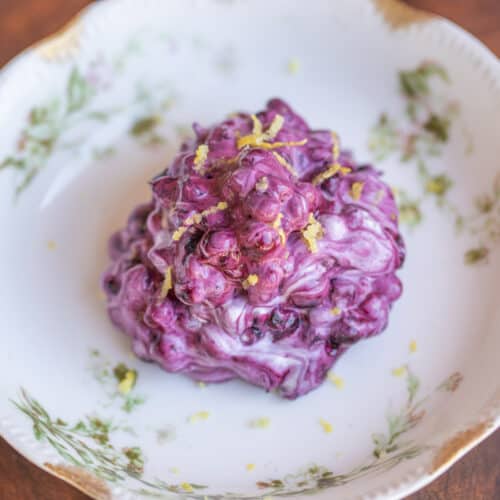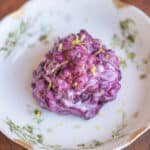 Print Recipe
Wild Blueberries with Crème Fraiche and Meadowsweet
Cooked wild blueberries, fresh frozen wild blueberries, and thick creme fraiche flavored with wild herbs and maple sugar makes for a refreshing dessert.
Ingredients
2

cups

plus 1 cup frozen wild blueberries

¼

cup

thick crème fraiche flavored with meadowsweet or another herb like sweetfern

See recipe

1.5

tablespoons

maple sugar

A few scrapes of lemon zest

Tiny pinch of kosher salt
Instructions
Put the 2 cups of blueberries in a small sauce pan and cook over medium heat with the pinch of salt until the pan is nearly dry and the berries are syrupy, about 15-20 minutes. Chill the berries completely, and keep the other 1 cup frozen.

Meanwhile, whip the crème fraiche with the maple sugar to soft peaks.

From here, the cooked blueberries and whipped crème fraiche can be chilled until serving time.

To serve, transfer the cooked blueberries and their juice (scraping the container out with a spatula) into a bowl.

Mix the berry compote with the still frozen wild blueberries, then very gently fold in the cream. Do not completely mix in the cream, as the dish should have a marbled effect.

Spoon the berries and cream into small mounds on 4 small, chilled dessert plates, garnish with a few scrapes of lemon zest from a coarse grater, and serve.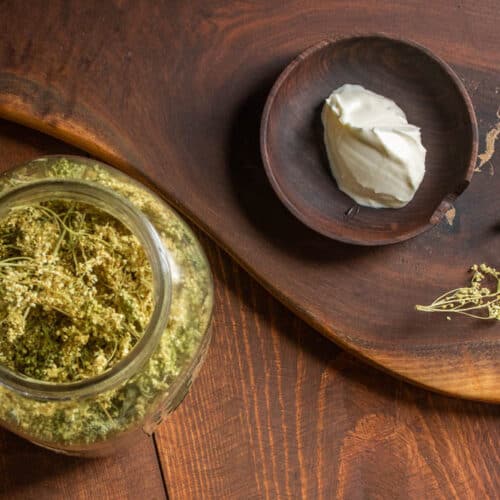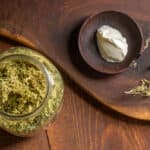 Print Recipe
Flavored Creme Fraiche
A basic recipe
Ingredients
2

cup

cream

¼

cup

thick greek yogurt of butter milk

Aromatics, as needed, wrapped in a bundle of cheesecloth for easy removal*

See note
Instructions
Combine the cream and yogurt or buttermilk, whisk, add the herb bouquet, and store, covered with cheesecloth in an airtight container like a mason jar, pushing the bouquet to the bottom of the jar ensure proper infusion at room temperature for 72 hours, or until creamy and thick, like sour cream.

Cover with a screw on plastic lid (this prevents corrosion) and refrigerate until needed. The creme fraiche will tighten as it chills.
Notes
On the aromatics
Dried meadowsweet flowers, vanilla bean, lemon zest, spicebush berries, black locust flowers, rose petals, ginger, etc would all be great here. The only thing to know is that you'll need to vary the amounts slightly depending on the ingredient in question. Flowers can be up to ½ oz or roughly ¼ cup dried or crumbled flower by volume for the proportions listed. Spices like spicebush berries or sweet fern could be cut down to 1 tablespoon or less. Use your imagination and experiment.