With the heat wave baking most of the U.S. this week, I reached for a tried and true, but most importantly, icy cold summer berry dessert to end a couple meals. Frango is a sort of half-frozen, old-timey dessert made from yogurt and cream, traditionally flavored with maple syrup. It's a fantastic black cap raspberry recipe, if you can find some.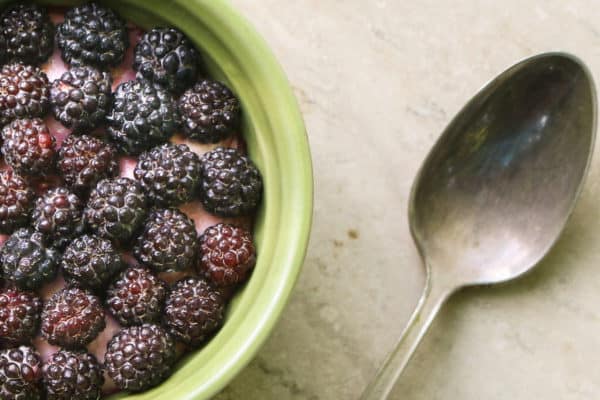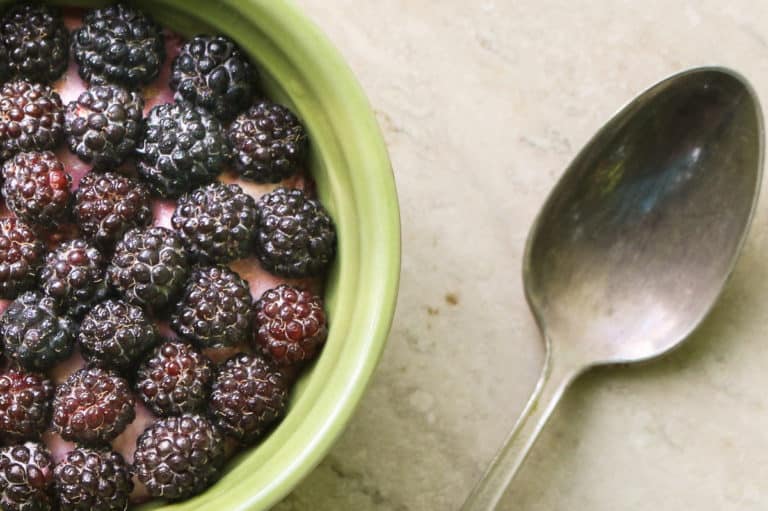 It's a great thing to make if you don't have an ice cream maker and are craving something cold, slightly sweet and refreshing. The traditional recipe only used maple syrup, but berries and cream is a combination that never tasted bad, so they're easy to work into the mix.
Wild black raspberries, or blackcaps (Rubus occidentalis) are peaking right now, and if there's a berry that screams summer more than them, I don't know it. They're one of my favorite berries, and probably the first berry that's really worth picking in quantity if I had to rank them.
Black raspberries also beautiful and delicious, much lower in acid than red raspberries. They have dark berry tones that, when perfectly ripe, are one of Nature's perfect creations.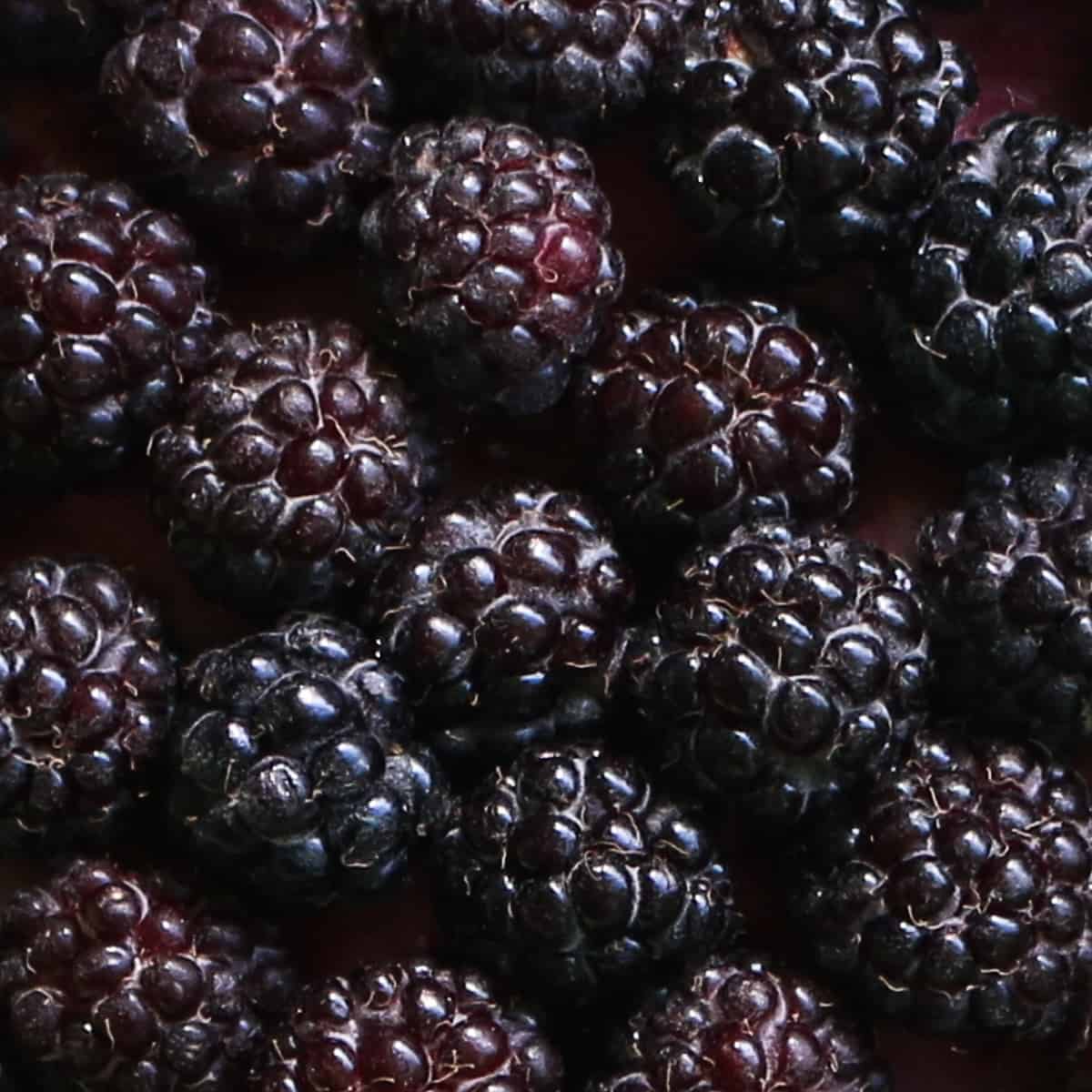 But, alot of you around the country might not have access to black caps, so, just to be clear, you could use just about any berry you like here, which is why the title of the post and recipe reflects that. Raspberries and strawberries are great choices, but you can use a blend too--there's really no wrong berry here.
One thing to talk about as an option though, is seeds. Blackcaps have seeds, just like other rapsberries, and I know some people (children) don't care for them. With this recipe I like leaving the berries whole to give burst of flavor and color as you eat, but you could strain them out by pressing the yogurt mixture through a strainer.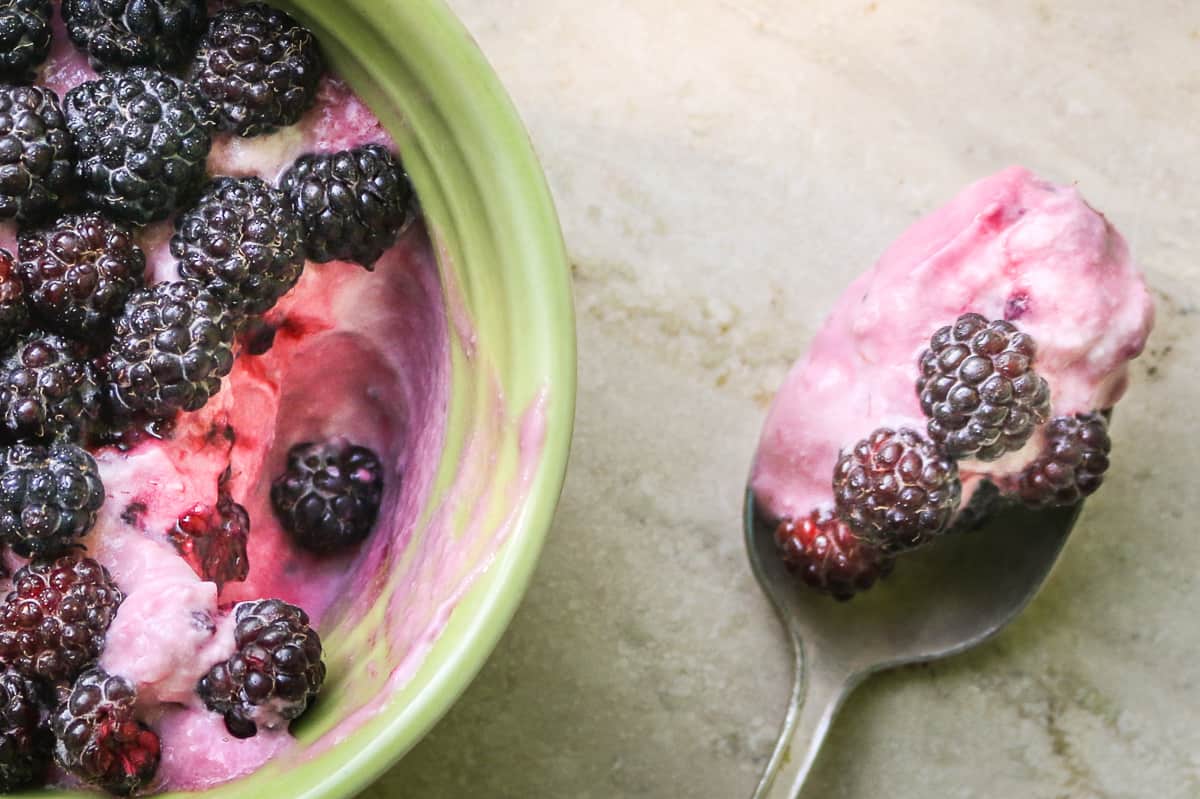 Crystalization is natural and part of the recipe
A final note on the texture of the berry frango. Since this isn't churned, and is doesn't include a liaison of eggs, cornstarch, or something similar, it's going to crystalize a bit, which is natural, and the way it's traditionally eaten. It is not meant to be eaten straight from the freezer though, it must be tempered for a bit to soften before eating. I think it's about perfect when the edges start to melt, but the center is still firm.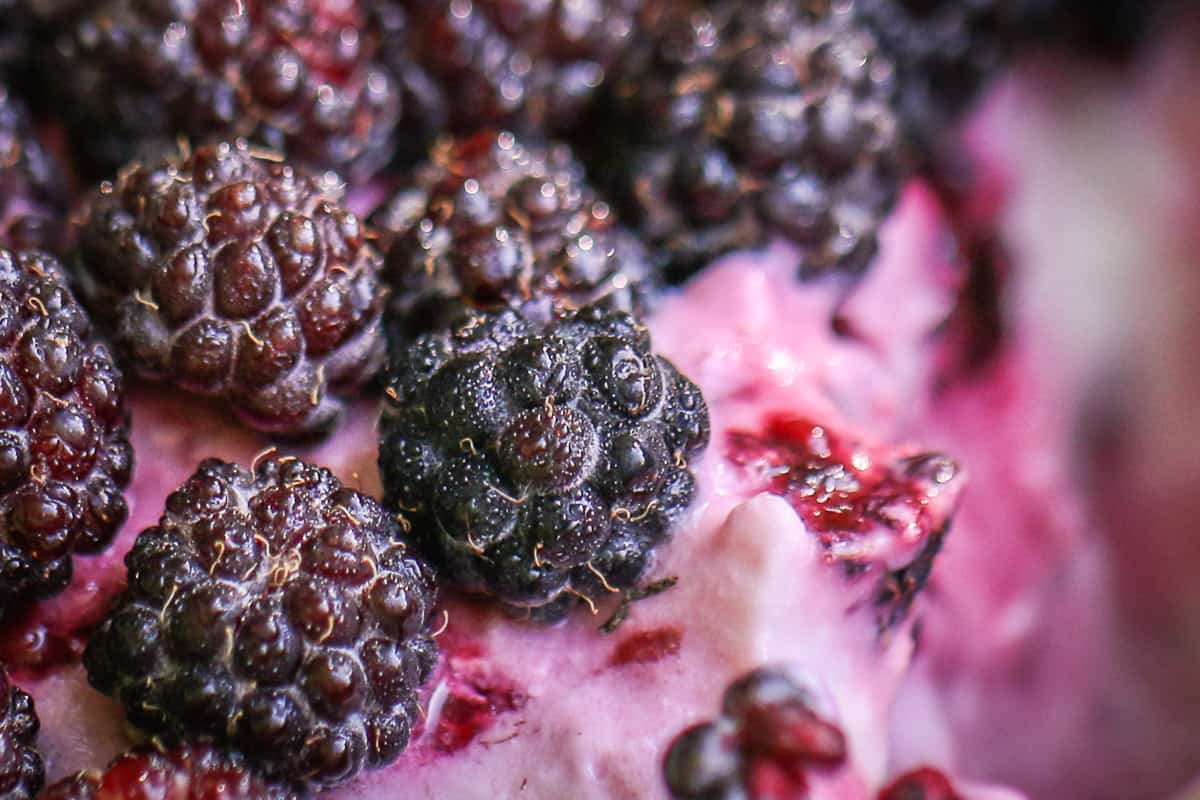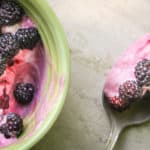 Print Recipe
Wild Berry Frango
A simple frango made from wild blackcap raspberries or other berries Makes 5 ½ cup ramekins
Ingredients
1

cup

thick Greek yogurt

like Faye brand

1

cup

heavy cream

1

heaping cup blackcap raspberries

4

oz

honey

Fresh lemon zest

to taste
Instructions
Put the black raspberries or other berries in a small pan with half of the honey and simmer until they've given up their juice and it's reduced by half, a few minutes.

Pour the liquid into a bowl, cool, then mix in the yogurt.

Chill the berry-yogurt completely.

Season the cream with lemon zest to taste, along with the rest of the honey. Whip the cream to soft peaks, then gently fold in the yogurt mix, which should be very cold.

Spoon the mixture into ramekins, it should be marbled and not completely even. Freeze the ramekins for at least 30 minutes- but don't freeze them solid. You can also just chill them in the fridge too.

Garnish the top of each frango with a few berries, or a handful if you have them.
Notes
Black cap raspberries are my favorite to use here, but any juicy fruit will work. Wild blueberries, serviceberries, or just plain raspberries are all good. 
Nutrition
Serving:
1
ramekin
|
Calories:
1304
kcal
|
Carbohydrates:
112
g
|
Protein:
16
g
|
Fat:
94
g
|
Saturated Fat:
60
g
|
Polyunsaturated Fat:
4
g
|
Monounsaturated Fat:
24
g
|
Cholesterol:
301
mg
|
Sodium:
182
mg
|
Potassium:
668
mg
|
Fiber:
0.4
g
|
Sugar:
112
g
|
Vitamin A:
3742
IU
|
Vitamin C:
4
mg
|
Calcium:
461
mg
|
Iron:
1
mg