A rich, chewy fruit leather is one of my serviceberry recipes. It's a traditional method of preserving the fruit, and has a subtle almond flavor to it that's irresistible.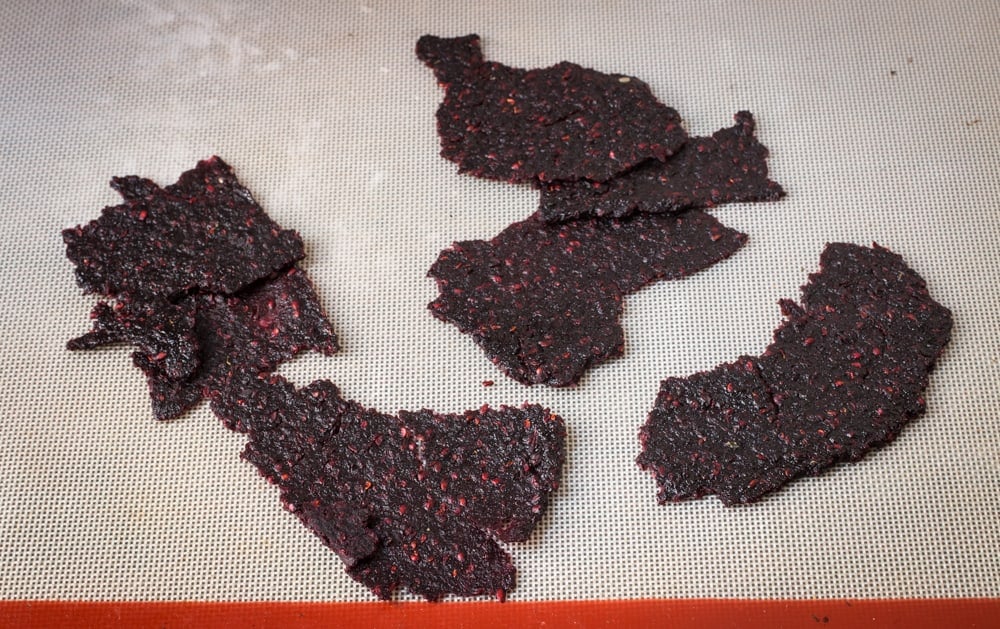 It took me years to really get a handle on harvesting serviceberries. First I had to find places I could go around the Twin Cities to harvest them, get permission from the land owners, and show up at the right time. Then, even when I did show up when the berries were ripe, bucket in hand, I could flip a coin to figure out if the birds had beat me to the patch first. I had basically given up.
The second time I got to pick serviceberries, and I mean really pick, I went with some professionals. We started out early on a Sunday morning and drove up the barrens in Northern Wisconsin from around Menomonie, blueberry rakes were the first thing we used, afterwords they gave me a blickey to borrow for the serviceberries.
The blueberries were easy, the serviceberries required a lot more work. Without the blickeys wrapped around your waist freeing both hands to pick, serviceberry picking is just as tedius as other berry picking if not more, considering how you need to gently bend and finesse the branches to strip the funky-multi-colored blueberries off the branches.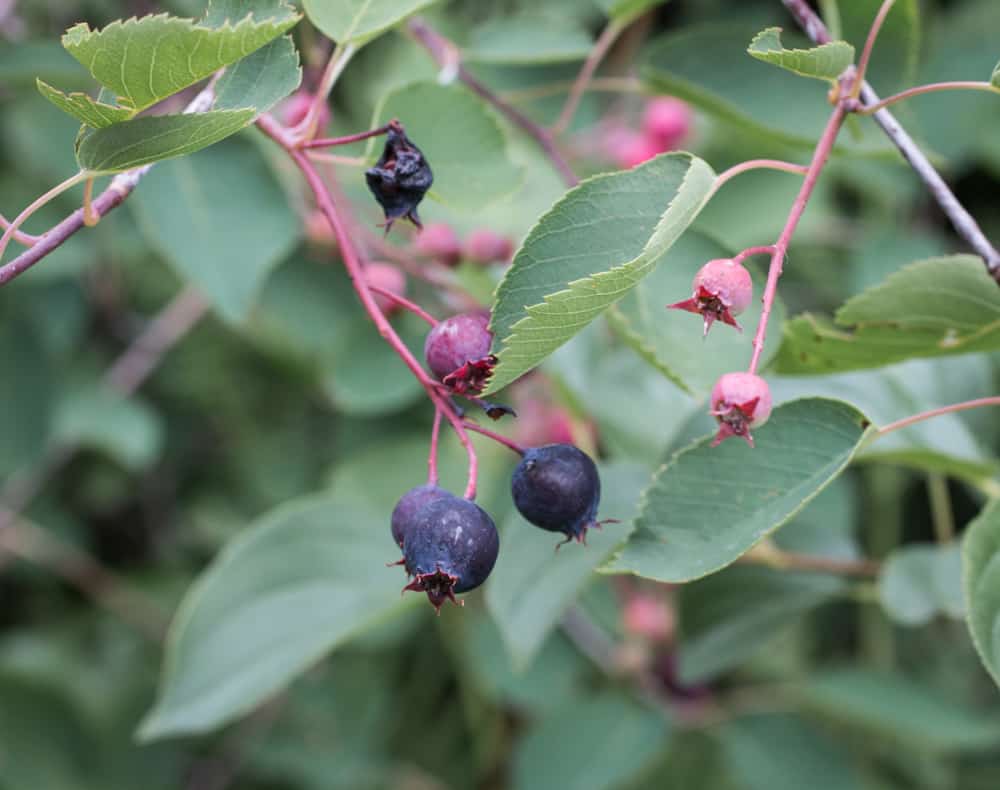 After the day was done, I got in the car with a cooler filled to bursting with wild blueberries, and a nice albeit smaller bag of serviceberries. My friends went into the ouse when we got back from picking and gave me some leather she'd made out of her last serviceberry pick: I could tell it was special.
She held out a few purple shards to me and knowingly gave me the run down on the texture of the fruit leather, explaining that the seeds were important in the finished product, and that they gave a special touch to the leather. She said the seeds in serviceberry leather have a function too: ensuring a proper set in the leather, and by the same token, trying to pass the fruit puree through a strainer would make a sub-par leather.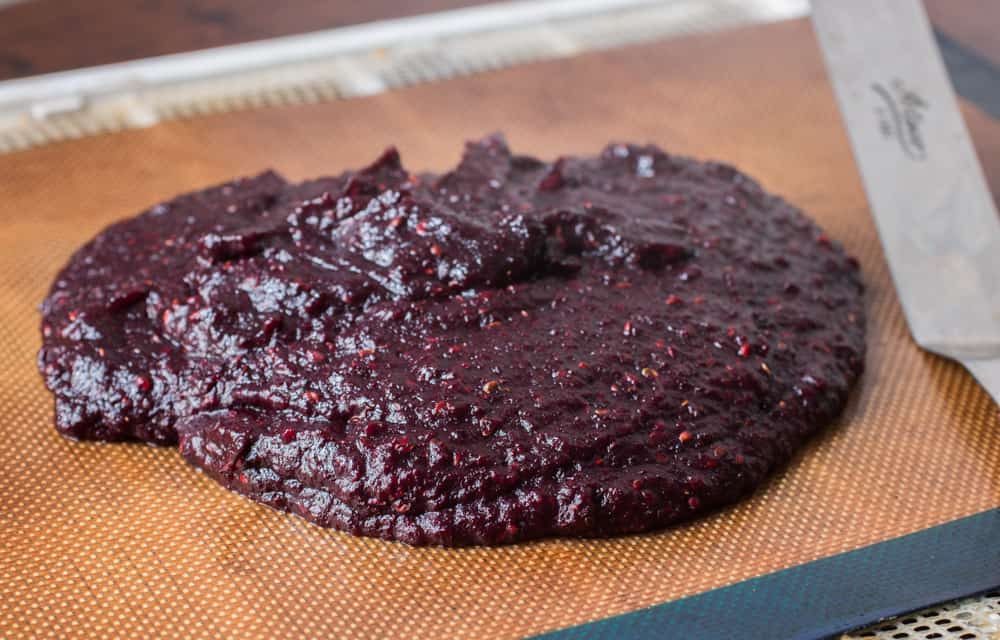 I bit into a piece and loved the rich, jammy flavor, punctuated with a little crunch here and there. It's not the sort of seed crunch you notice with something like raspberries, more along the lines of a sesame seed. The flavor and texture combo is really nice, a deeper layer of fruit leather than I'd had before.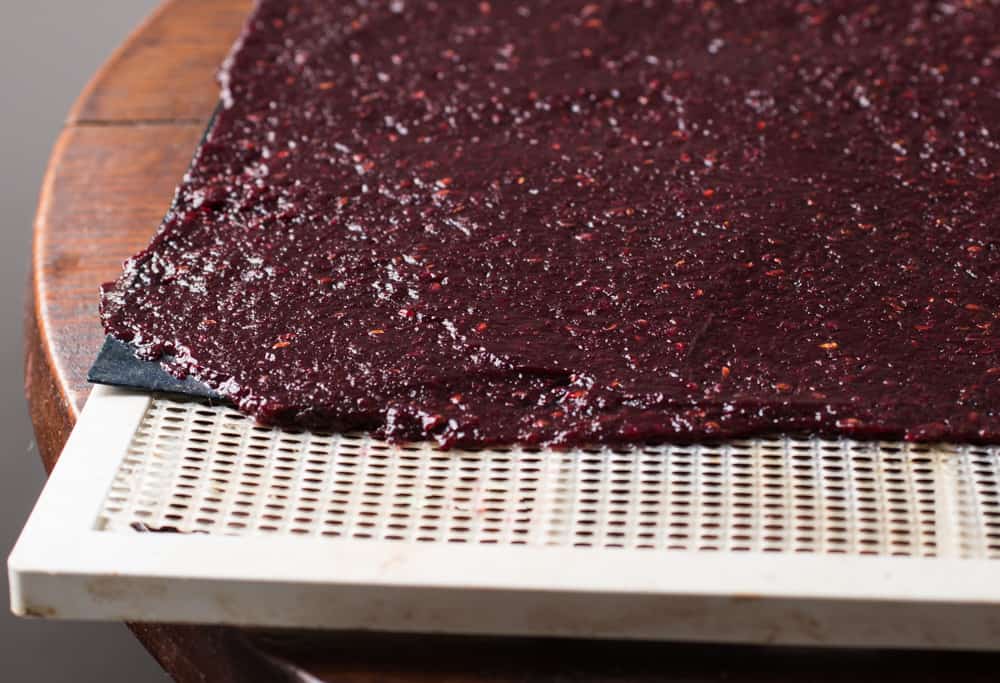 My friends wife also said it was traditional, from who I don't know, and out of shyness didn't ask, but I suspect it's a Native American tradition as most things were dried or preserved with much more of an eye for efficiency than we're used to now. Sometimes exaclty where something came from or the precise origins aren't the most important thing though. The most important thing was that this was a fruit preserve that tastes like history and character, and was completely new to me. I don't know whose tradtion is was to make it, but I know it's mine now.
The following is my rendition. Origal leathers probably only included cooked or pounded serviceberries and possibly water and a strong arm, but mine uses a little maple too. The maple is there as much for the sugar content, functioning both as preservative and flavor, as for the water it adds to help ensure smooth, easy to puree leather.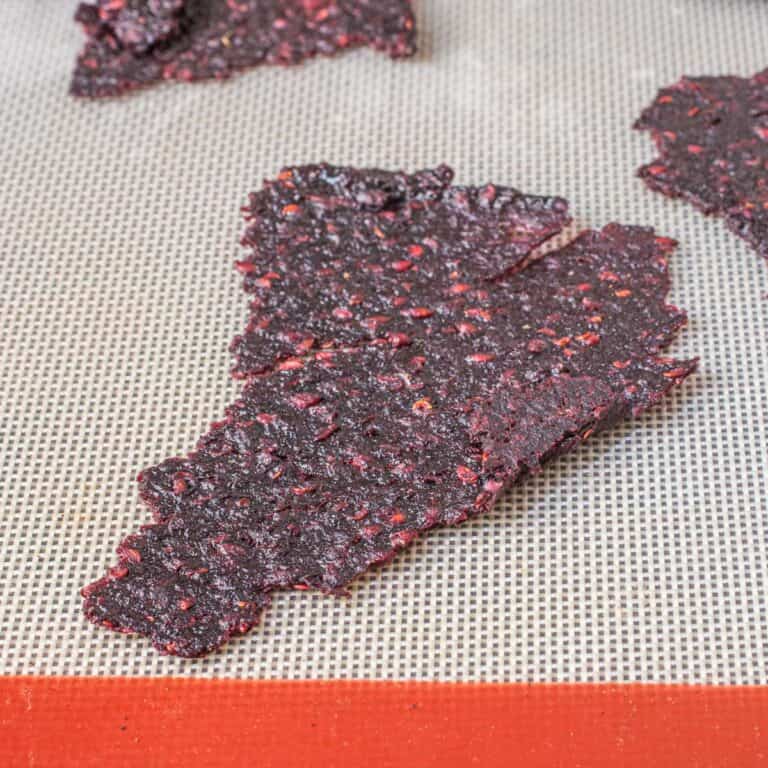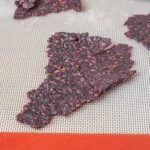 Print Recipe
Serviceberry-Maple Leather
A traditional leather preserve of serviceberries flavored with maple syrup. Part of what makes this special is the crunch of the seeds in the leather.
Equipment
1 Dehydrator

1 blender or food processor
Ingredients
1

lb

serviceberries

roughly 4 cups

½

cup

maple syrup

Pinch

of kosher salt

about ¼ teaspoon
Instructions
In a small saucepan, heat the serviceberries, maple and salt. When the berries are hot and bubbling, puree the mixture with a handblender or in the bowl of a blender.

If using a highspeed blender like a vitamix, make sure not to puree the mixture so hard that it purees the seeds.

You should have a thick puree.

Spread the mixture on a silpat or nonstick baking sheet, or even wax paper, then dehydrate at 135 (fruit setting) for about 8-9 hours, or until the leather is dried, but still slightly pliable.

There should be visible chunks of seeds in the leather, which add a great texture.
Notes
The original recipe is all serviceberries, but if you only have a few, you can mix serviceberries with other fruit and it will still be very good. 
Nutrition
Serving:
1
oz
|
Calories:
173
kcal
|
Carbohydrates:
44
g
|
Protein:
1
g
|
Fat:
0.4
g
|
Saturated Fat:
0.03
g
|
Polyunsaturated Fat:
0.2
g
|
Monounsaturated Fat:
0.1
g
|
Sodium:
5
mg
|
Potassium:
178
mg
|
Fiber:
3
g
|
Sugar:
35
g
|
Vitamin A:
61
IU
|
Vitamin C:
11
mg
|
Calcium:
51
mg
|
Iron:
0.4
mg