It's easy to ferment your own grape leaves at home, and I've done it for years. Read on and I'll explain how to make the best pickled grape leaves you'll ever taste.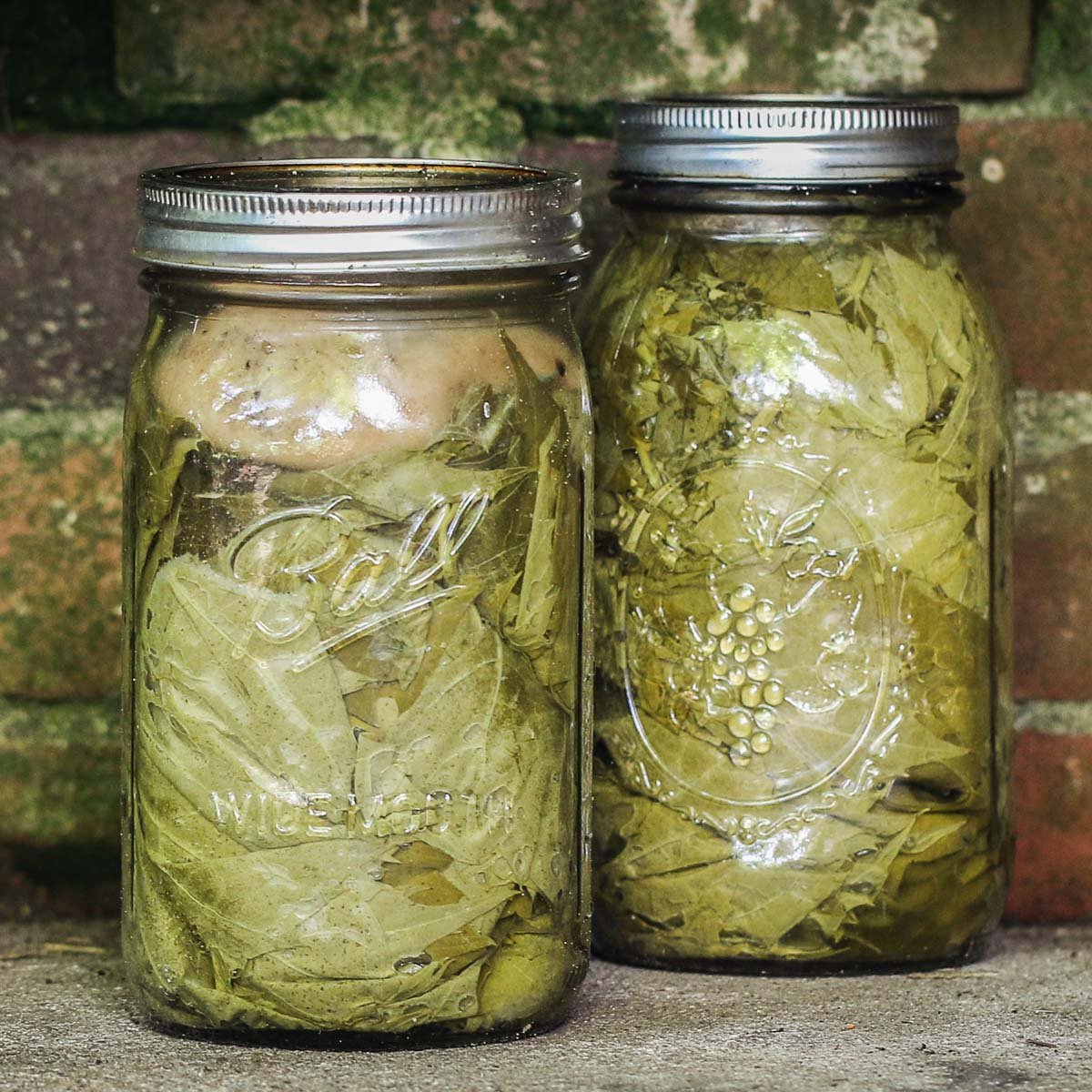 Have you ever had commercially pickled grape leaves? If you haven't, don't bother, I'm pretty sure they're the reason some people claim not to like grape leaves, or things made with them like dolmades.
Like plenty of commercial pickled things, I usually find grape leaves from a store shelf overly acidic, like the processor is trying to assassinate the grape leaves with vinegar. This pickled grape leaf recipe is the original one, and an ancient tradition you need to try if you have access to fresh grape leaves.
Sure, you could rinse or soak them, but, it's just not the same. If the companies that sell pickled grape leaves would go back to the old way, lacto-fermenting grape leaves with salt and water, I think a lot of people would enjoy them more. Fresh or frozen can work too, but there's something nice about having a few witchy jars around at the ready.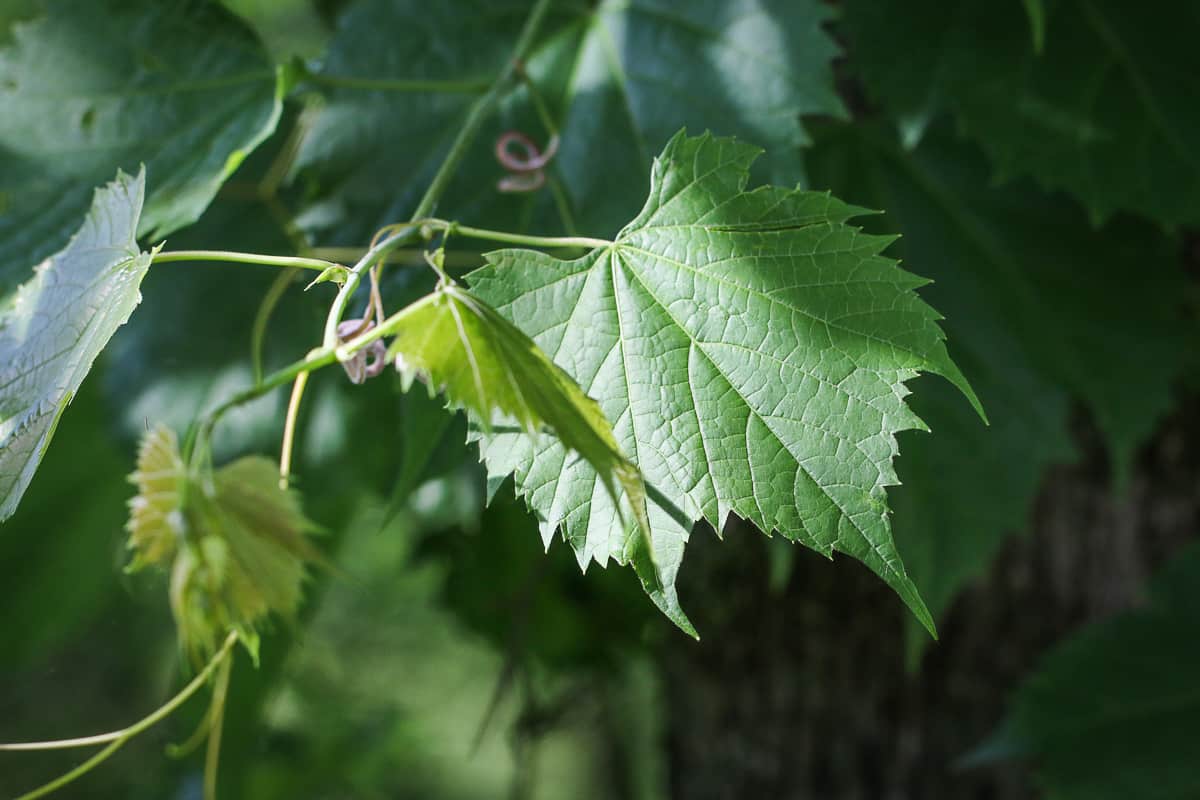 Naturally fermented grape leaves are one of the easiest projects I make this time of year, and the leaves are just prime for picking right now. They seem to be just about everywhere I go, and I'm lucky enough to have some right in the backyard about the size of a dinner plate. Absolutely huge.
As a bonus, picking grape leaves is a great reminder for me to check on the vines that I should come back to in about a month or two to pick wild grapes, the jelly they make being one of the best there is.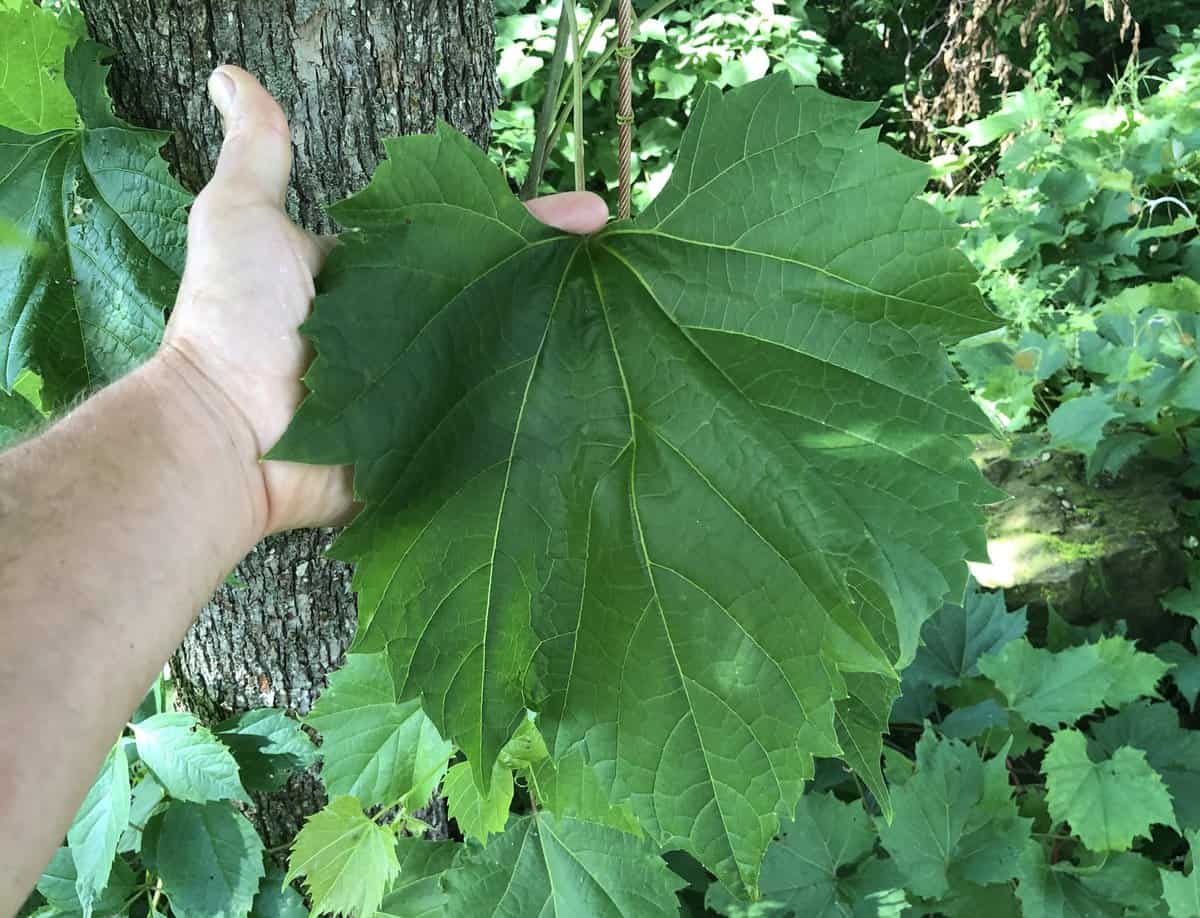 Stuffed, fermented grape leaves make such a good portable, easy-to-transport appetizer, this year I'd planned to serve some at the Midwest Wild Harvest Fest.
Unfortunately (and rightly so) the festival's been cancelled. The good news is, it gave me a chance to perfect my technique on the grape leaves. I tell you what, the amount of leaves you can fit into a quart jar is really impressive. I fit at least 100 big grape leaves in each one, which means that two humble quart jars of leaves will be enough to make a small appetizer for roughly 170 people in 2021. That's a good yield.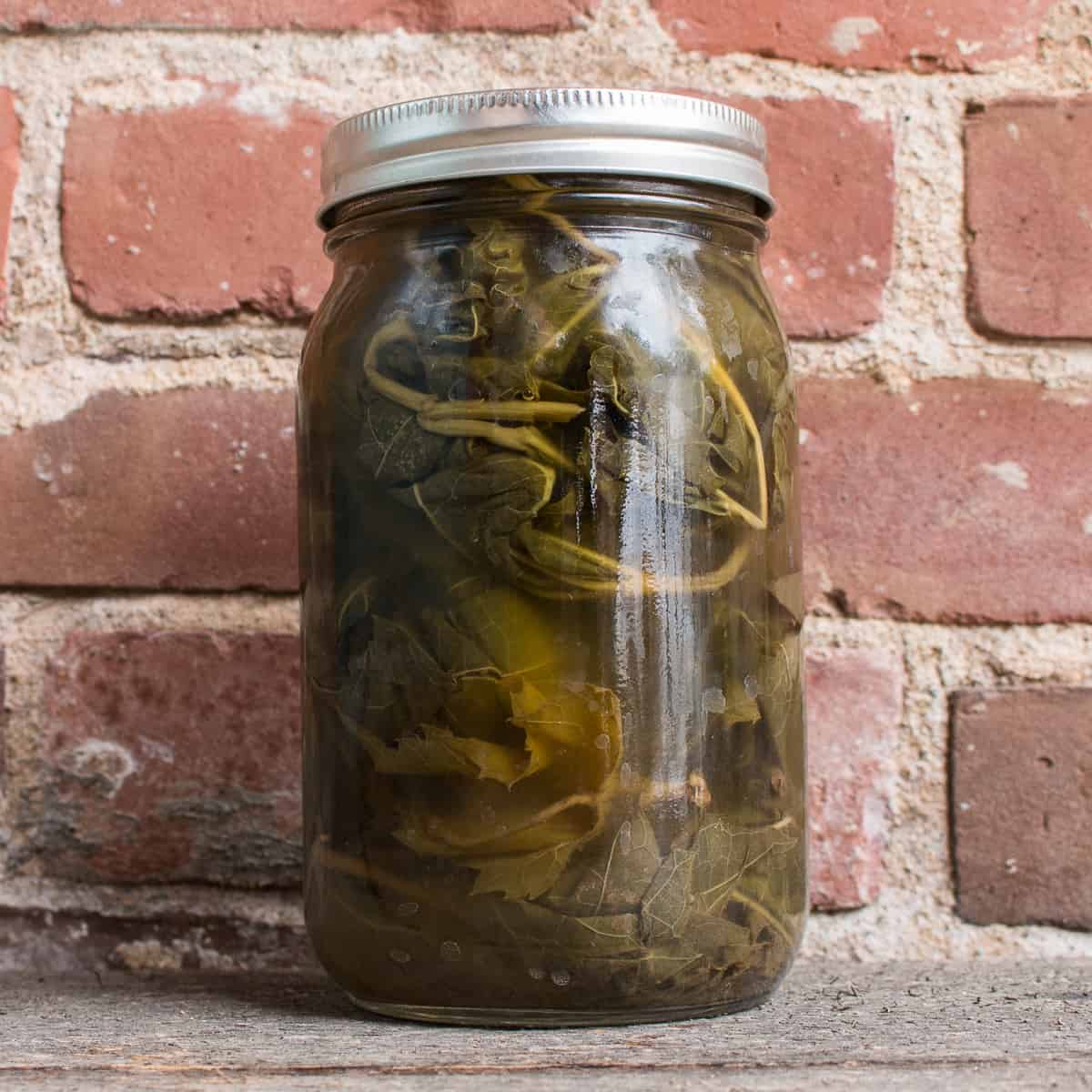 The key: removing stems and packing leaves in tight
The key to the recipe, if it can even be called that, is packing the leaves on top of each other and removing any stems that take up valuable real estate (see my improper technique from 2016 above).
Afterword, you wrap a handful of leaves up in a packet, stuff them in the jar, eventually helping them keep their place by stuffing in another pack of rolled leaves. After the jar is stuffed, I put a clean stone in the top, add water to cover, and add the salt, either 3% of the total weight of water and leaves, or 1.75 tablespoons per quart jar. From there, they sit outside and do their thing until I need them.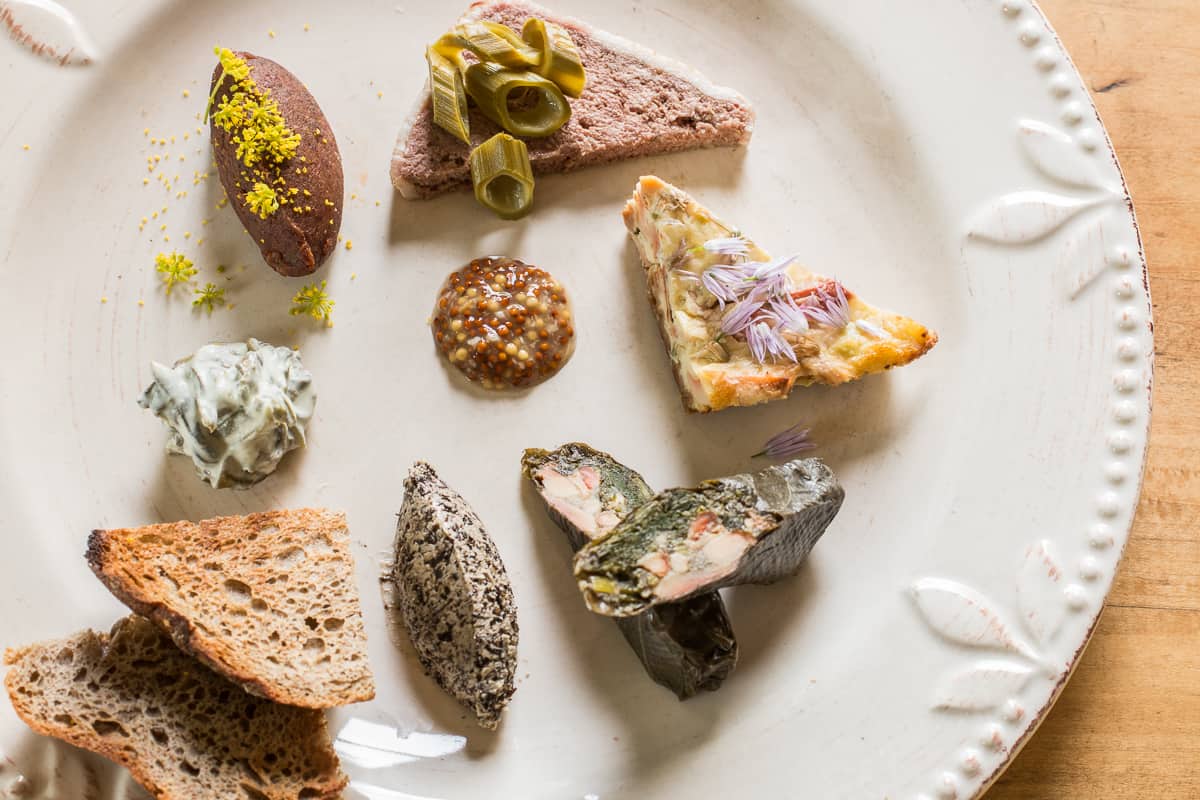 After the fermentation stops at about 2 weeks, the pH has plummeted so the leaves are shelf stable and don't need to be refrigerated. From there, you can take them out of the jar and use them whenever. They're a great thing to have around, especially in the summer when I crave eating cold, pre-prepared vegetable sides and snacks.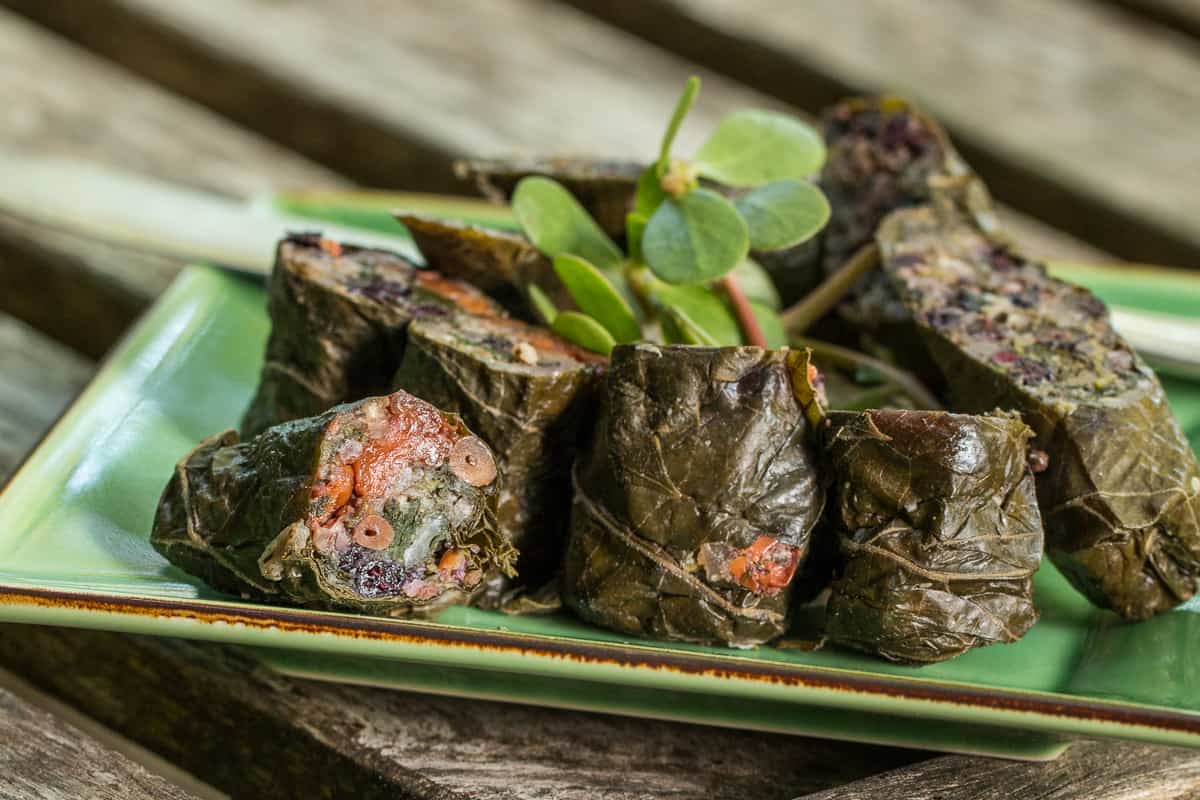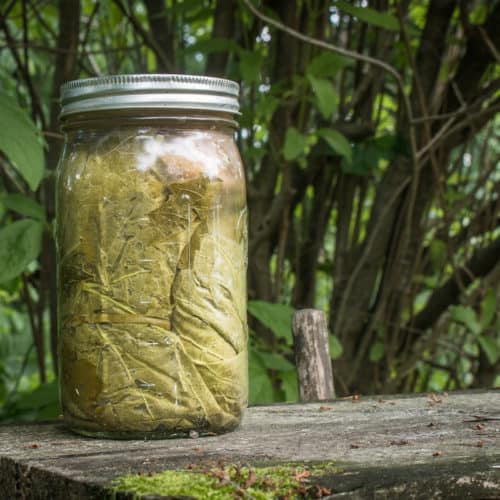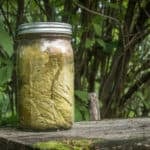 Print Recipe
Fermented Grape Leaves
The original pickled grape leaf is the lactofermented one. These will make the best stuffed grape leaves.
Equipment
1 qt mason jar, a small clean stone
Ingredients
Fresh grape leaves, as needed

large, clean leaves without bug holes and damage

1

Tablespoon

Pickling salt

you can sub kosher salt, sea salt, or another salt you like, preferably ground fine for easy dissolving. Use 1 Tablespoon salt per wide mouth quart jar.

Filtered Water

as nneded
Instructions
Harvesting
When harvesting the grape leaves, be mindful to remove them at the stem so all you have is leaf. Choose clean grape leaves without any foreign matter on them (bird poo, insect eggs, spider webs, etc).

Make a stack of grape leaves in your palm until it gets large, then fold them firmly into a roll or packet and stuff them into a quart jar.

Repeat this process, stuffing the jar full until the jar is ¾ full. Put a clean stone on top to hold the leaves in place, then cover completely with water.
Make the brine
Pour out the water, mix with the salt to dissolve, then pour back in the jar. (You can also just pour the salt into the jar and shake it, but it takes longer to dissolve.)

For a more exact ferment using a scale, see note below.
2 Week Fermentation
Put the jar(s) on a cookie sheet or other small tray to catch any brine that may migrate out and allow to ferment at room temperature.

Open the jar occasionally to allow carbon dioxide to escape.

Ferment the leaves for 1-2 weeks, depending on your taste. Store the jars in a place out of direct sun with a stable temperature, such as a pantry.

Finished fermented grape leaves can be stored, always underneath their liquid, in their jar at room temperature, or they can be water bath canned and stored in a pantry. You can also keep them in the refrigerator where they will last near indefinitely, and don't run the risk of developing pesky kahm yeast.
Cooking with your leaves
Your home-fermented grape leaves will be less salty and tart than commercial grape leaves stored in vinegar brine. But, if you want, you can rinse them before using them to make grape leaf rolls, etc.
Notes
Use Filtered or Boiled Water 
Do not use tap water, which can be chlorinated and can kill your ferment. If you must use unfiltered water, bring it to a boil to remove chlorine, then cool to room temperature before proceeding.
Measuring your salt to 3%
For a more exact ferment, weigh the empty jar, write down the weight, then weigh the jar full of grape eaves and water in grams. Subtract the weight of the empty jar, multiply the weight by .03, and add that many grams of fine salt. Shake the jar to distribute the salt a few times, then allow to sit out and ferment until sour to your liking.
Storing at room temperature 
If you don't water bath-can the leaves, you can develop kahm yeast. To prevent kahm yeast, you can bring the liquid to a boil after fermenting, then pour it into the jar, screw on the lid and turn it upside down until cool. The jars should seal and will be shelf stable just like water bath-canned jars.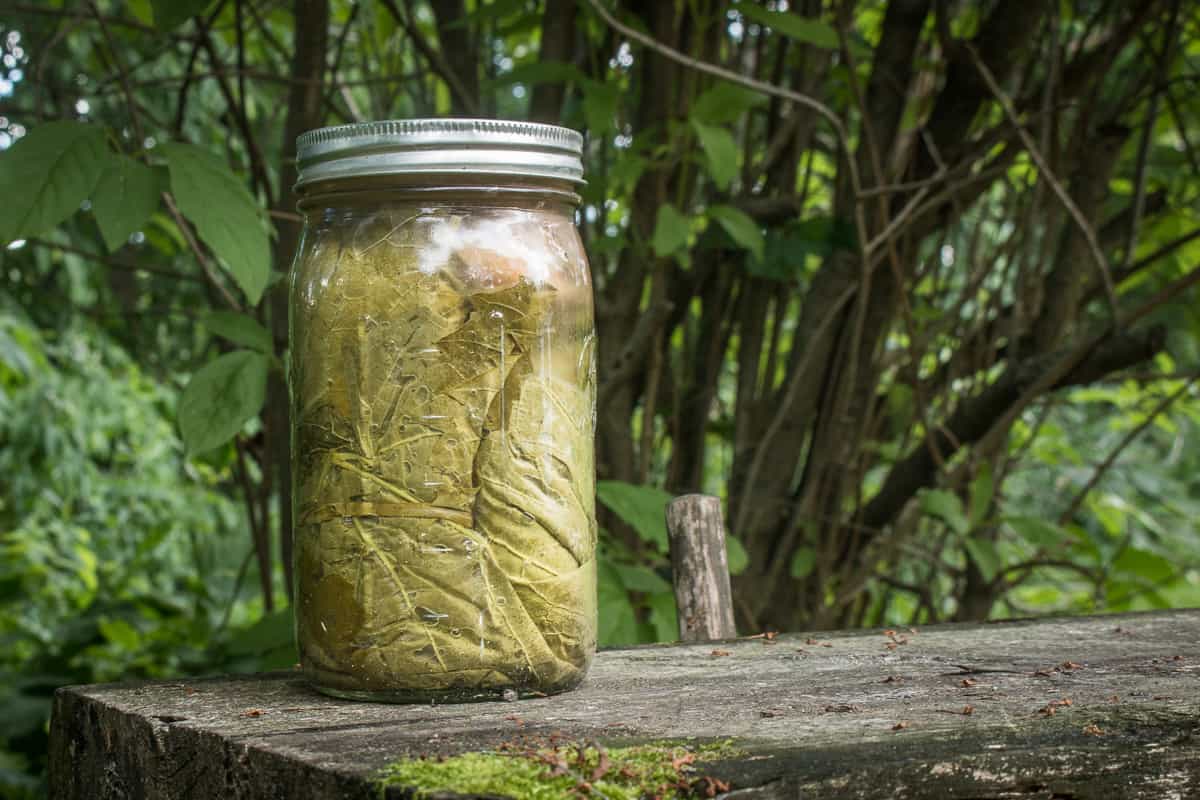 Related Posts