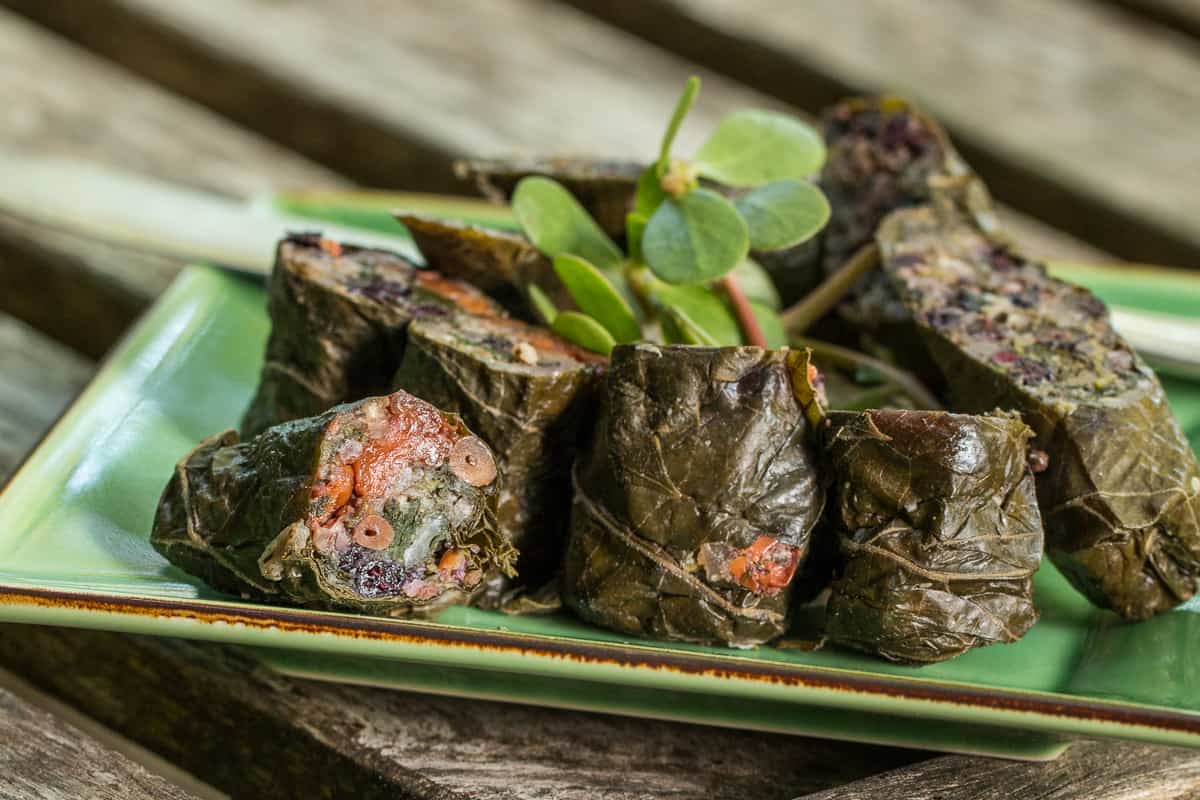 There's dolmas, dolmades, dolmasi dolmathakia, dolmathes, sarma, sarmasi, and probably a few other names I haven't seen them travel under. Whatever you call them, if you put some in front me I'm going in for more than my share, because I love a good stuffed grape leaf. They may be small nibbles, but they're rich and filling, especially made and seasoned with purpose, something that can be more difficult to do when you're making the lesser-known stuffed grape leaves without meat, often made from dried fruit, rice, and other things.
These specifically I had to make after one of my friends on Instagram sent me a few recipes from Kuhtaya, Turkey. She said her favorite was a version made with soft-cooked lamb brisket, but that she sometimes made a version with rice and sour cherries for vegetarians. I love grape leaves stuffed with meat, but these I developed specifically for a foraging walk and talk followed by some wild nibbles with Sam Thayer. I already had a few meat components, but also had plenty of lacto-fermented grape leaves, since they make such a great nibble for outside outings as they don't need to served hot, are dense and filling, are easy to make ahead, transport, and serve at the drop of a hat.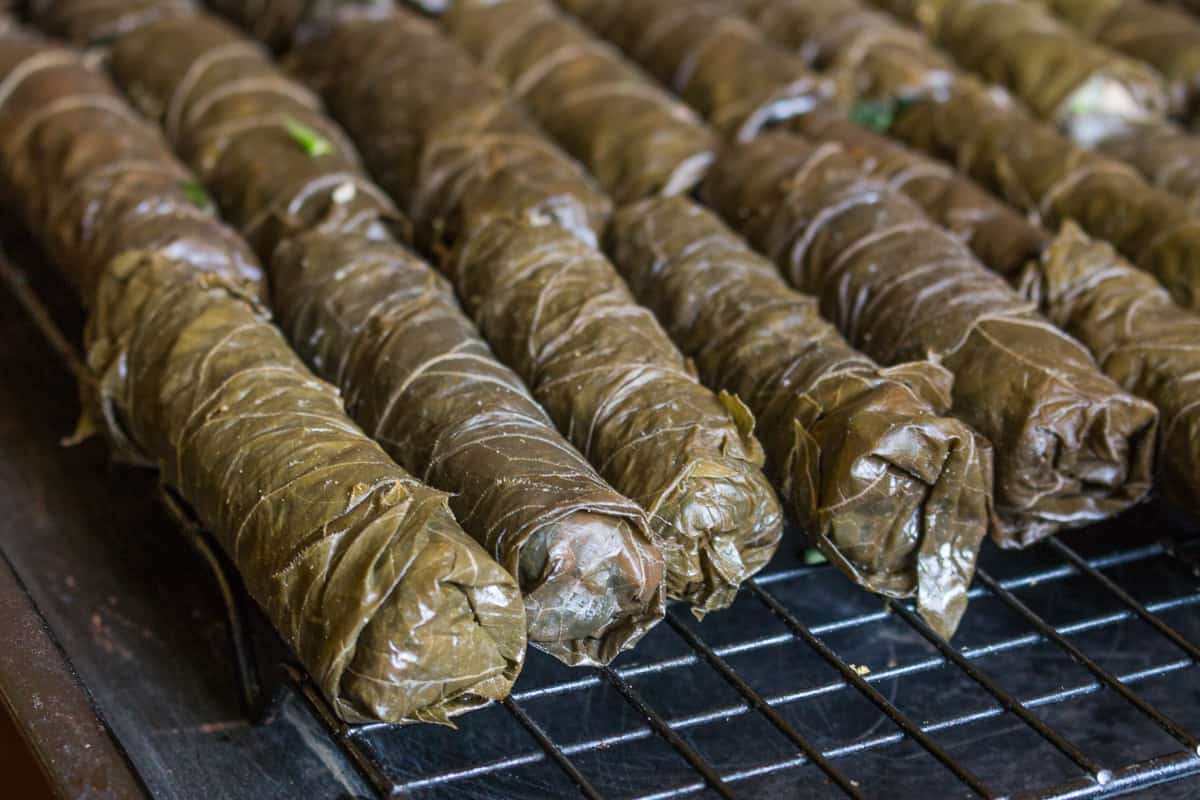 The filling is Midwestern, but adaptable to anywhere. Following with tradition, I do use some rice, but it's wild rice, wild rice flour to be exact, (to function as a binder) leaving me room to stuff other tasty things in the leaf rolls like wild greens, sun dried wild blueberries and serviceberries, pine nuts or sunflower seeds.
The key the lynch-pin, is carefully tasting and seasoning before calling the filling done. It's pretty simple to make meat taste good with salt, and maybe a sauce to dip it in, but these compact, one-bite deals,, as they're made from plants, fruit and nuts, need a little extra attention, which comes from alliums, and a good pinch of baharat seasoning, which you can mock up with some pumpkin pie spice and ground cumin.
I know I mentioned it too, but if you haven't tried making your own fermented wild grape leaves, it couldn't be easier, and I highly recommend it, especially if you're used to pickled grape leaves being too sour.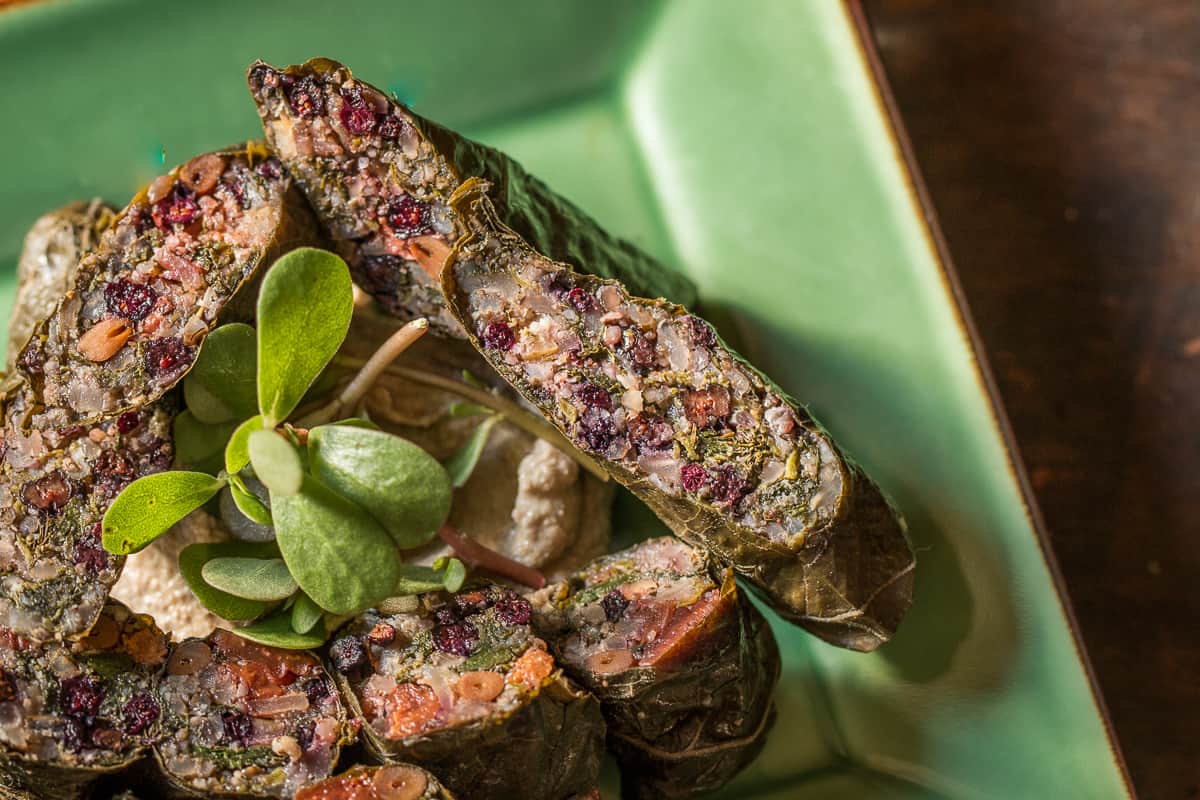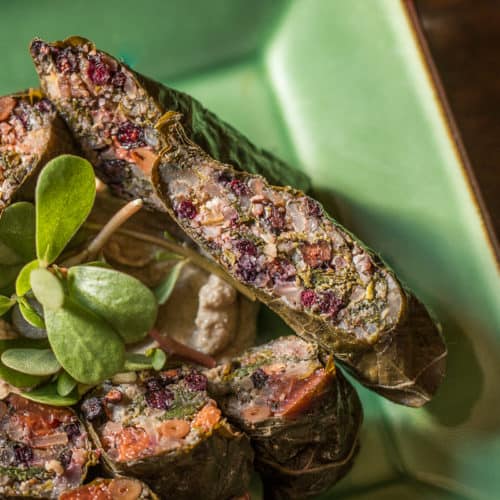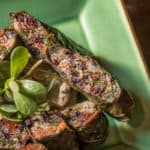 Print Recipe
Stuffed Grape Leaves with Fruits and Nuts
Fermented grape leaves filled with wild fruit, wild rice, and pine nuts or sunflower seeds. Makes about 20 fat grape leaves or 30 smaller.
Ingredients
1

cup

cooked wild rice

1

small onion

finely diced or chopped

2

large garlic cloves finely sliced

3

Tablespoons

cooking oil

¾

cup

dried fruit

your choice, sour cherries and cranberries are good as they're not too sweet, or use naturally dried wild fruit like blueberries or serviceberries

½

cup

toasted pine nuts or other nuts or seeds

6

oz

1 heaping cup wild greens, blanched, shocked, and chopped

½

cup

fresh dill

mint or cilantro

⅓

cup

wild rice flour or another grain flour

2

Tablespoons

finely diced preserved or fermented lemons

(optional, but a great way to make a cold appetizer pop!)

Kosher salt and pepper

to taste

¼

teaspoon

Baharat spice

pumpkin pie spice, or a mix of cumin, cinnamon, nutmeg, and black pepper

20-30

lacto fermented grape leaves

pg tk
Instructions
Sweat the garlic in the oil until golden in the oil, then add the onion and cook for 10-15 minutes or until tender.

Toss the garlic and onion with the remaining ingredients, season to taste with salt and mix well, double check the seasoning, adjust as needed, then mix again. The mixture should be heavily seasoned.

Stuff each grape leaf with a tablespoon or so of the stuffing, then wrap tightly, pack into a pot with a steamer insert, or vacuum seal and poach in a pot of simmering water for 30 minutes.

Cut into 1 inch rounds and serve as a snack or appetizer. They're great with sunflower nut and seed sauces like tahini sauce, or eaten by themselves as part of a mezze.