Filling enough to be an appetizer or part of an entrée, everyone should know a good vegetarian (vegan) stuffed grape leaves recipe. They may be small nibbles, but meatless stuffed grape leaves are rich and filling.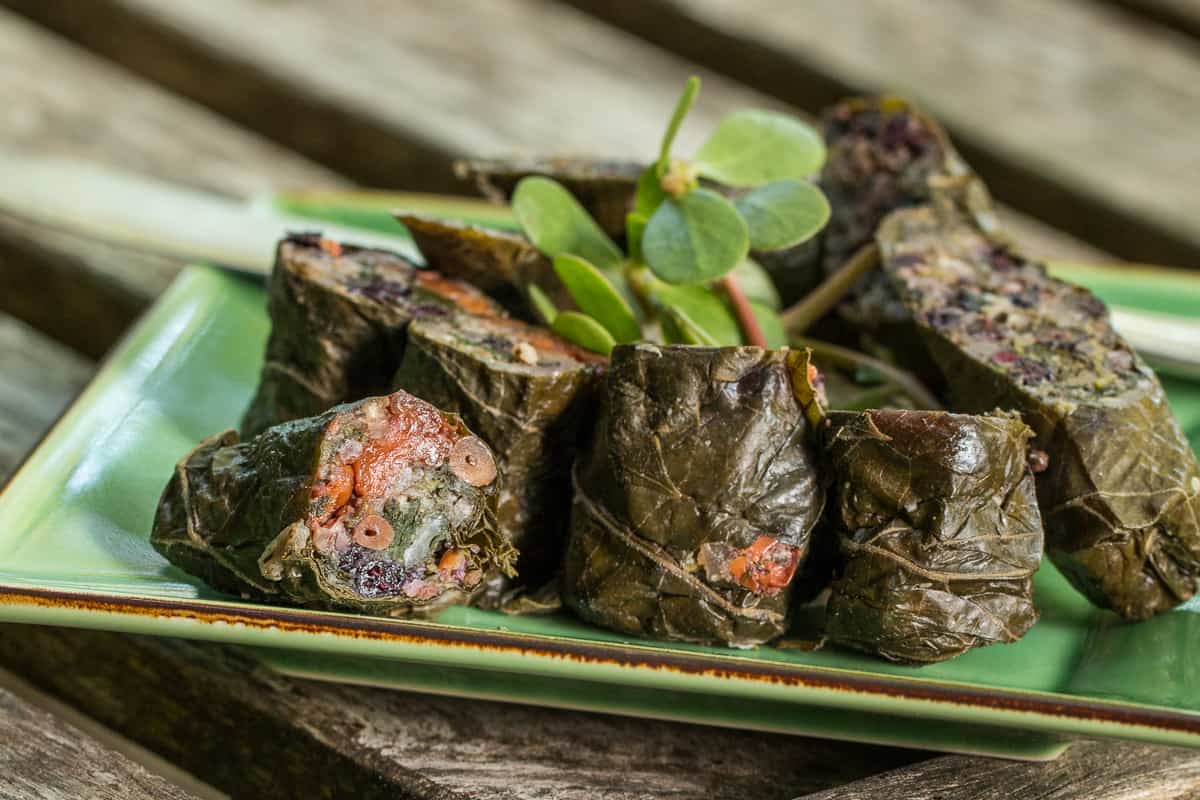 Instead of meat these have a stuffing made from cooked greens, dried fruit and pine nuts.
A popular recipe from the Middle east
These are based on a traditional recipe from Turkey, but Lebanese vegetarian stuffed grape leaves are similar. There's also Armenian, Syrian, and Persian versions.
There's many names for them, and they might be called sarmasi, dolmas, dolmades, or yabrak. Some are vegetarian, some may include lamb.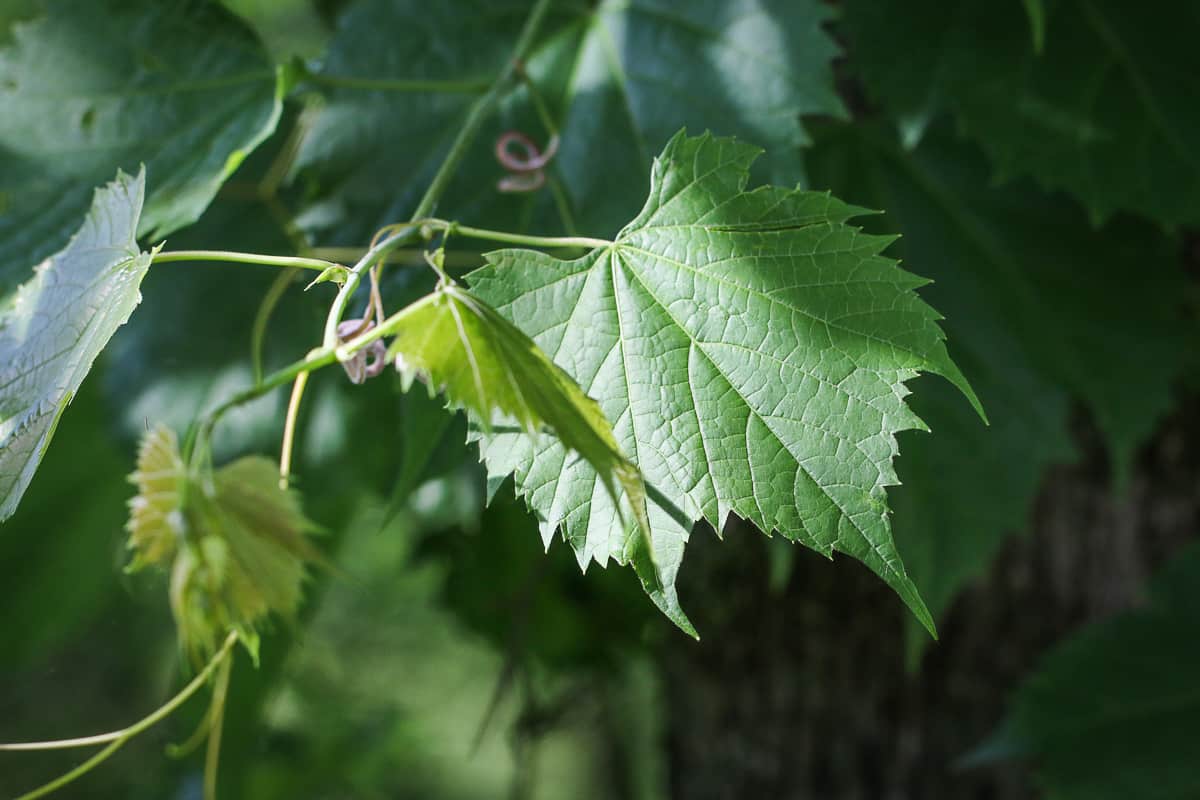 These I had to make after one of my friends on Instagram sent me a few recipes from Kuhtaya, Turkey. She said her favorite was a version with rice and sour cherries for vegetarians.
They're great for picnics and potlucks since they don't need to served hot. They're dense and filling, easy to make ahead, transport.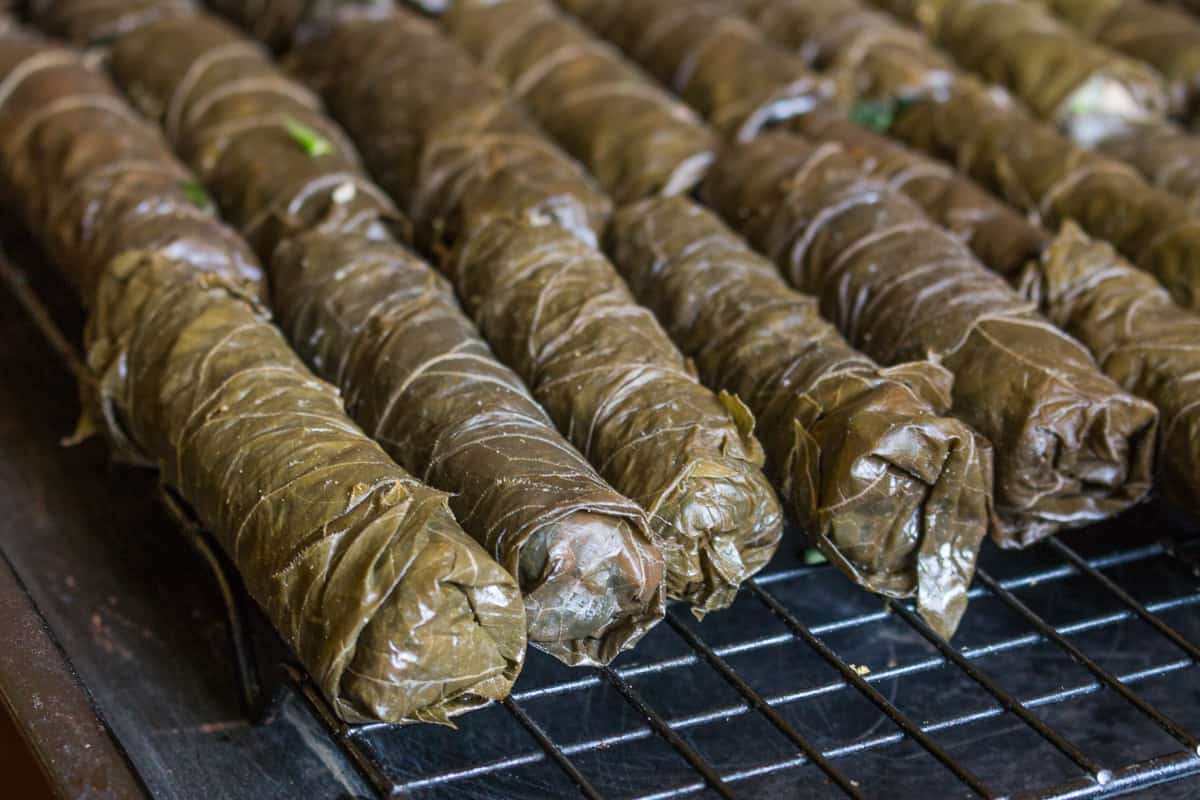 The filling is Midwestern, but is adaptable to anywhere. Following with tradition, I do use some rice, Instead of whole rice, I use rice flour. This leaves more room for additional ingredients cooked greens, sun dried fruit, pine nuts or sunflower seeds.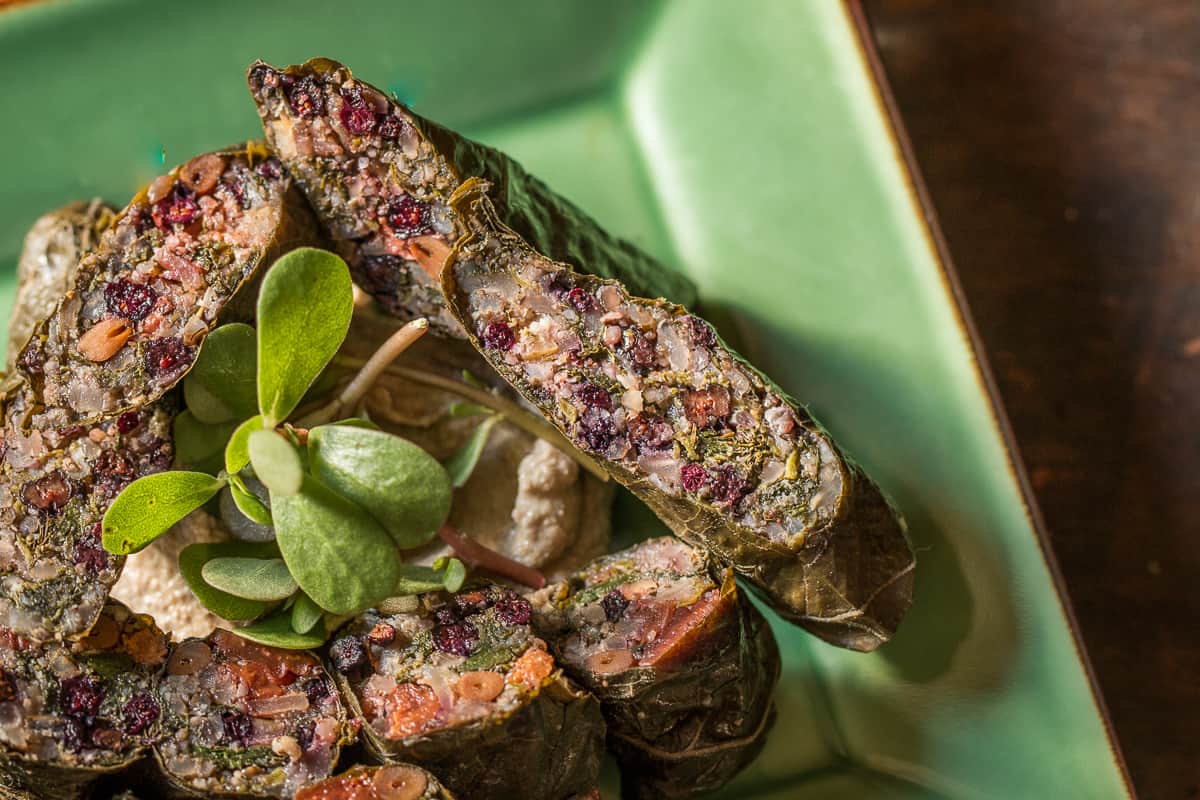 Chef's Notes
Here's a few tips to keep in mind.
Fermenting (Pickling) Your Own Grape Leaves
If you haven't tried making your own fermented grape leaves it's something you need to try. Especially if you're used to pickled grape leaves being too sour. If you want to make your own, make sure to try my Pickled Grape Leaves Recipe.
Using Fresh Leaves
You can make this with fresh grape leaves instead of pickled ones. If you want to do that, harvest the leaves in the summer. Make sure to harvest the largest leaves possible.
If you're new to wild grape leaves, please read The Forager's Guide to Wild Grapes. In that post I go over look alike plants, as well as how to process the fruit into juice and cook with the leaves.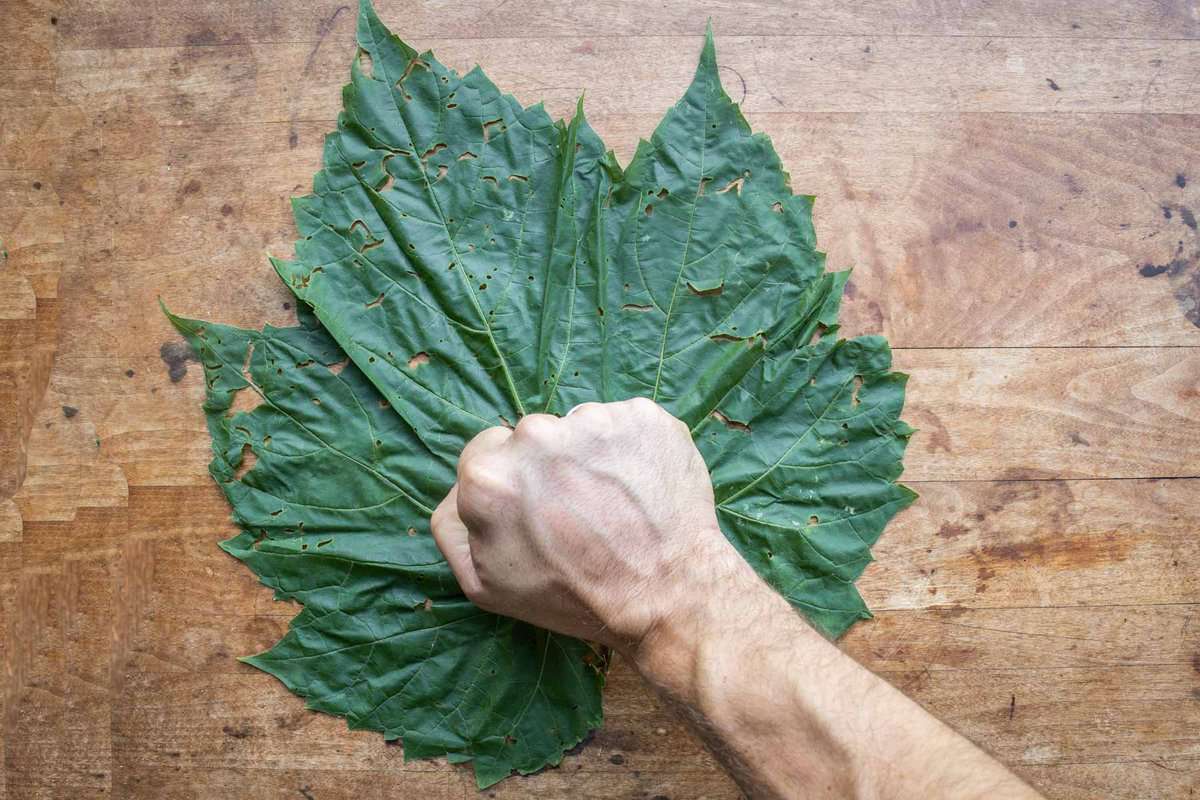 The leaves should be fresh and clean without holes from bugs or insect damage. To prepare raw, wild grape leaves for stuffing, cook the leaves in boiling water for a minute until they wilt, then cool and proceed with the recipe as directed.
Other leaves you can stuff
Grape leaves are one of many leaves you can stuff like this. Here's a list of some I use. All of the below leaves I blanch in water, and do not ferment.
Squash leaves
Hollyhocks
Dock leaves
Mallow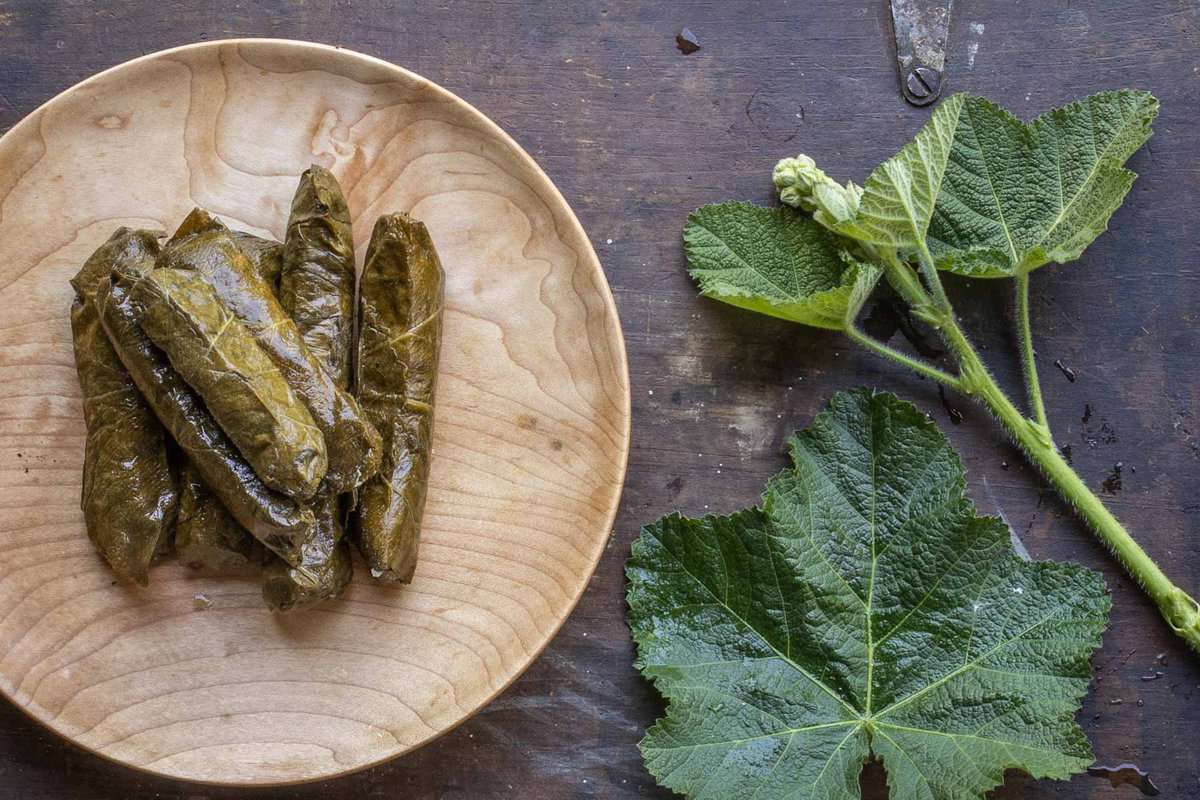 Making Ahead
I usually make these ahead of time. Stuffed grape leaves can be frozen raw or cooked, and served hot or cold. They're a traditional, portable food and easy to serve since you don't have to heat them.
Vacuum sealing
I often vaccum seal these and freeze them raw so I can quickly thaw and cook them.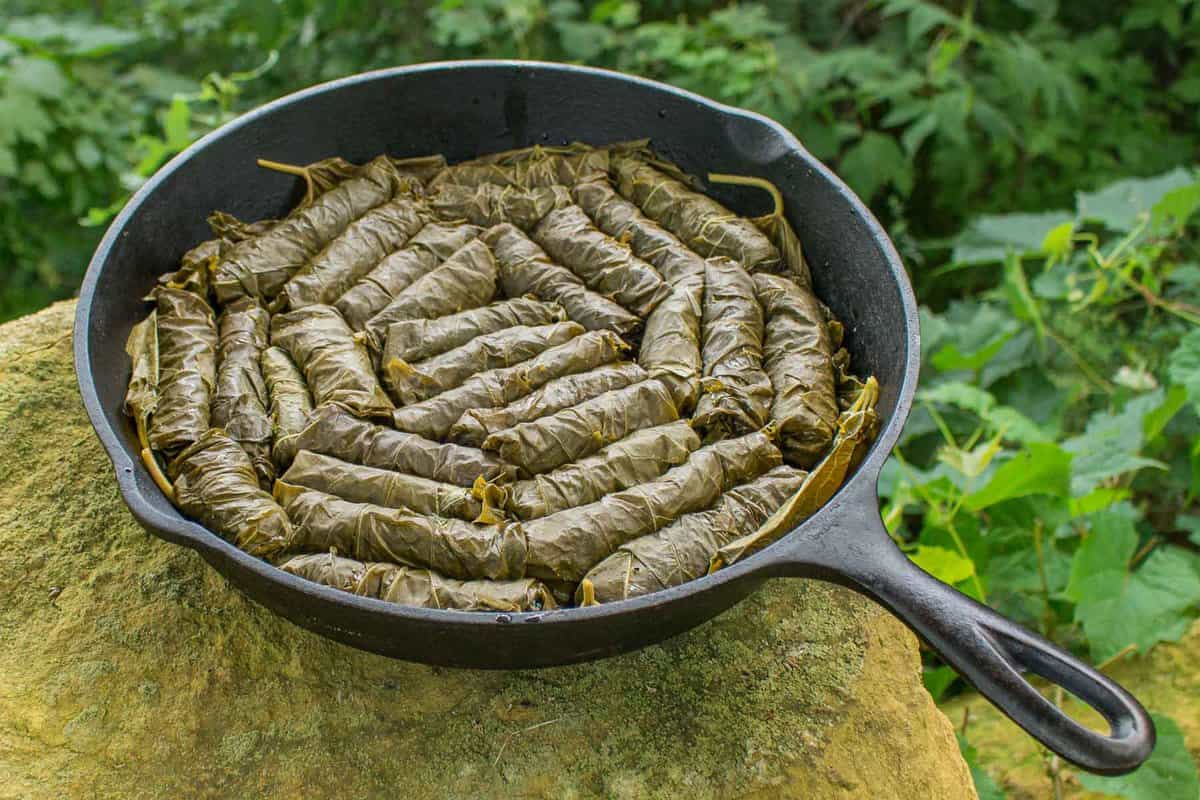 Variations
Instead of the fruit, sometimes I add mushrooms to the filling. You can use an equal volume of cooked, chopped mushrooms as a substitute if you want.
Serving
Dolmas are often served with a sauce lemon and olive oil, or an egg-lemon sauce. one of my favorite variations is serving them with olive oil and pomegranite molasses or a syrup made from cooked wild grape juice.
Balsamic vinegar is a good substitute. Refer to the image below for an example of that.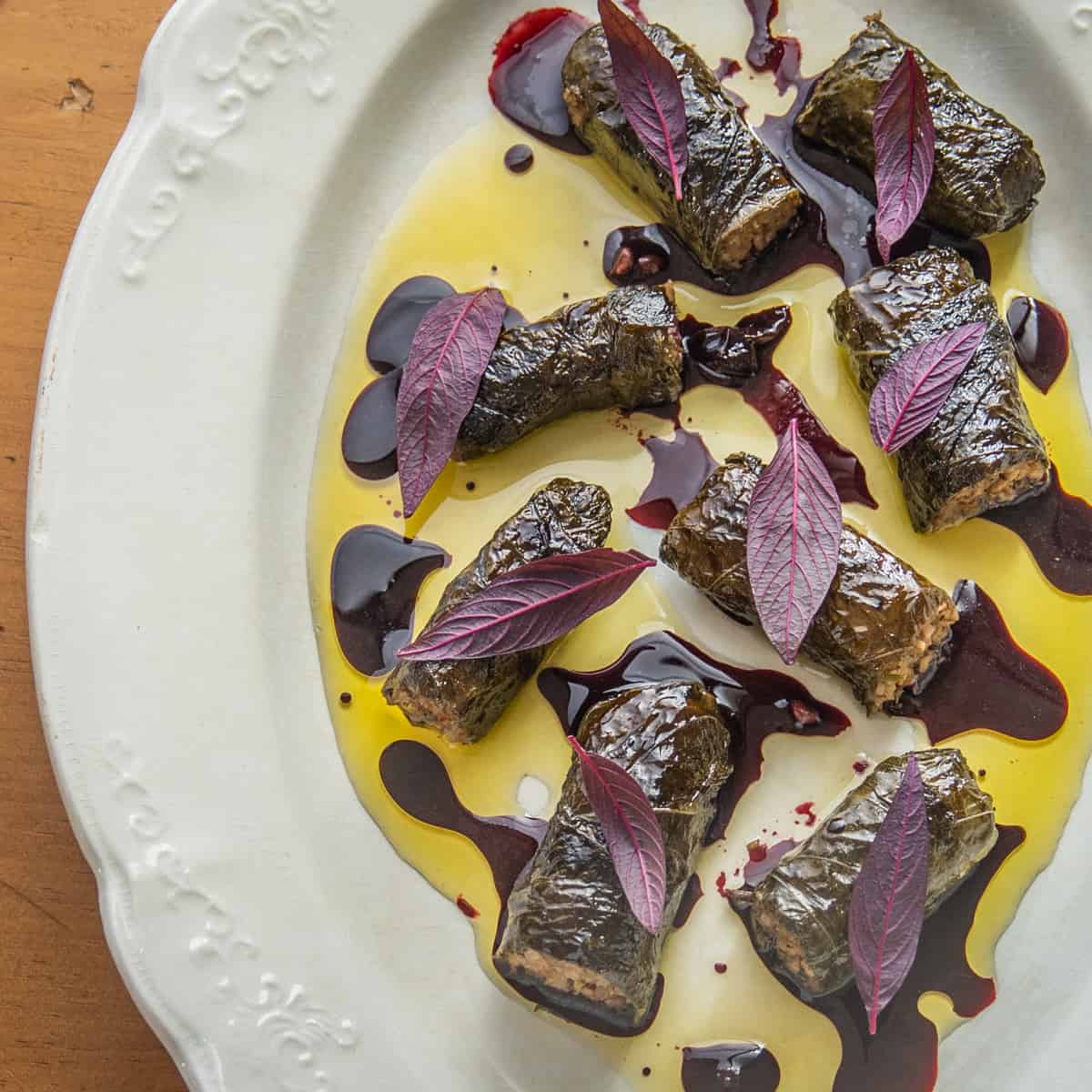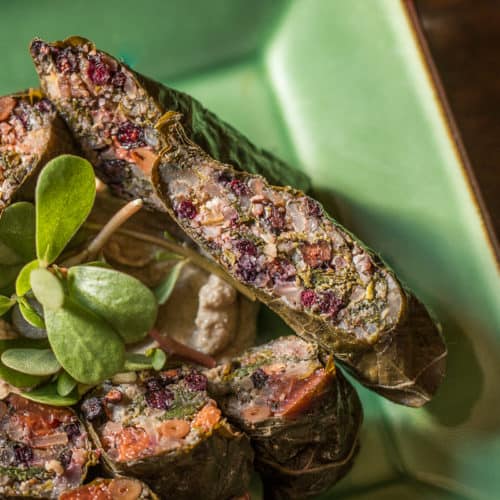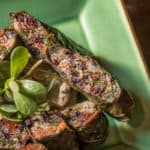 Print Recipe
Vegetarian Stuffed Grape Leaves
Fermented pickled grape leaves filled with fruit, rice and pine nuts or sunflower seeds. Makes about 20 fat grape leaves or 30 smaller.
Equipment
1 12 inch cast iron skillet or baking dish
Ingredients
½

cup

short grain rice

4

oz

green onions

Sliced and roughly chopped

2

large garlic cloves sliced

2

Tablespoons

cooking oil

¾

cup

dried fruit

such as sour cherries

½

cup

toasted pine nuts or other nuts or seeds

6

oz

1 heaping cup greens such as kale, blanched, shocked, and finely chopped

½

cup

fresh dill

mint or cilantro

⅓

cup

rice flour

2

Tablespoons

finely diced preserved or fermented lemons

(optional)

Kosher salt and pepper

to taste

¼

teaspoon

Baharat spice

pumpkin pie spice, or a mix of cumin, cinnamon, nutmeg, and black pepper

20-30

lacto fermented grape leaves
Instructions
Soak the rice
Soak the rice in water for an hour. Then drain.
Make the Stuffing
Sweat the garlic in the oil until golden in the oil, then add the green onion and cook for 5 minutes or until tender.

Toss the garlic and onion with the remaining stuffing ingredients including the soaked rice. Season to taste with salt and mix well (start with ½ teaspoon salt). taste a bit of the filling and check the seasoning, adjust as needed, then mix again. The mixture should be heavily seasoned since it will be served cold.

Rinse the grape leaves in warm water. If your grape leaves are pickled from a store, you may want to soak them for 30 minutes to remove some of the salt and vinegar. Dry the grape leaves.
Stuffing and cooking
Stuff each grape leaf with a tablespoon or so of the stuffing. Roll the grape leaves up loosely as the rice will expand. Line the bottom of a pot with a few extra leaves to prevent the stuffed grape leaves from sticking.

Arrange the stuffed grape leaves on top in a single, tight layer. Pour ½ inch of hot water into the pot. The stuffed leaves should be about ¾ covered with water.

Cover the pot, bring to a simmer over medium heat. Reduce the heat to low and cook until the grape leaves are plumped and the water is absorbed.

Test a grape leaf to make sure the rice is tender. If it isn't, add a splash of water and continue cooking on low heat until they taste good to you.
Serving
Cut the grape leaves into 1 inch rounds and serve as a snack, appetizer, or part of a mezze platter. They're great with seed sauces like tahini sauce, or the traditional avgolemono sauce made with eggs and lemon juice.
Notes
Using Fresh Grape Leaves 
To make this with fresh grape leaves, cook the grape leaves in boiling water for 30 seconds, stirring until they wilt. Drain the leaves and cool and proceed per the recipe instructions.