Verdolagas and sweetcorn salad isn't a traditional Mexican recipe, but it might as well be. An homage to Mexico, and it's love of quelites, a sort of catch-all term for edible wild plants, it's a generous dose of the famous edible garden weed mixed with roasted sweet corn, charred tomatoes, and simple Mexican seasonings and herbs.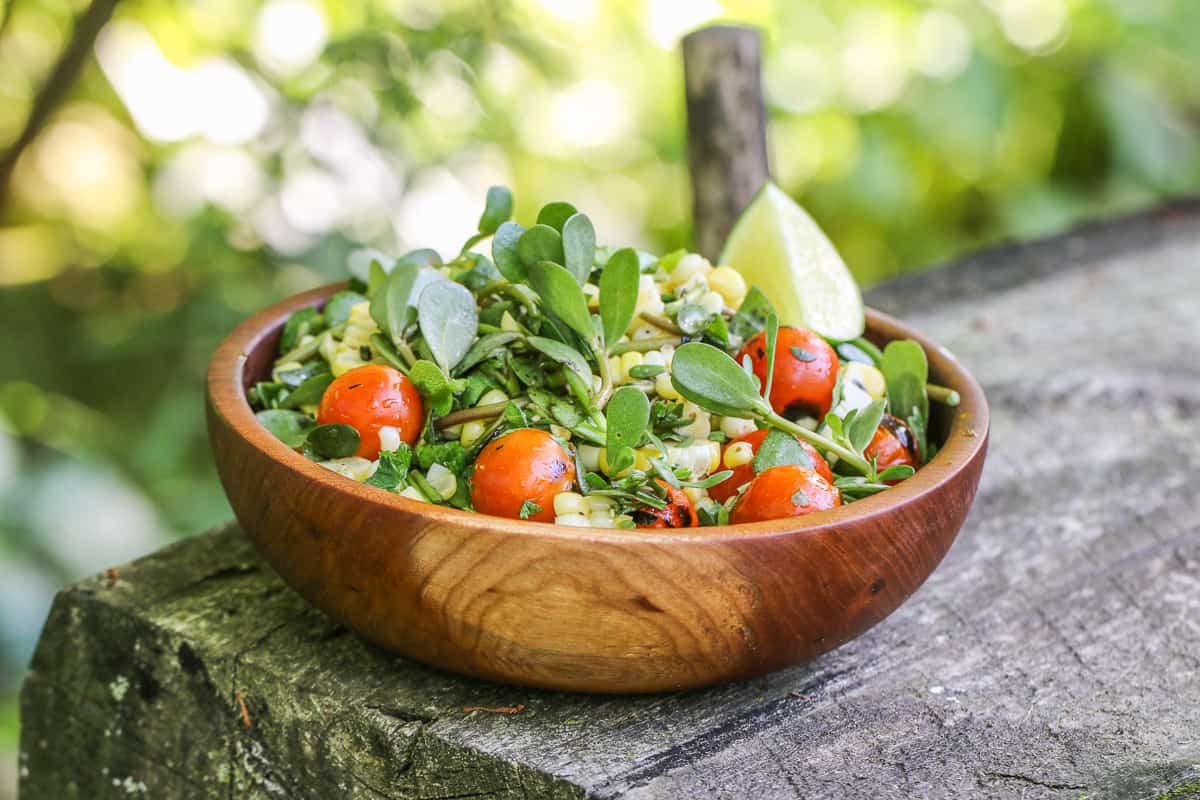 Lamb's quarters, amaranths, galinsoga, and others often fall into the quelites camp, but verdolagas are arguably one of the best known.
Also known as verdolagas in South America, I can recall plenty of times where I've mentioned the name to employees I've had from Mexico, El Salvador, Puerto Rico, and the like, knowing it will give them a good dose of nostalgia, since it's a common food in South America. It's rarely used in the United States though, except by those who eat weeds, or come from a culture where wild edibles are enjoyed.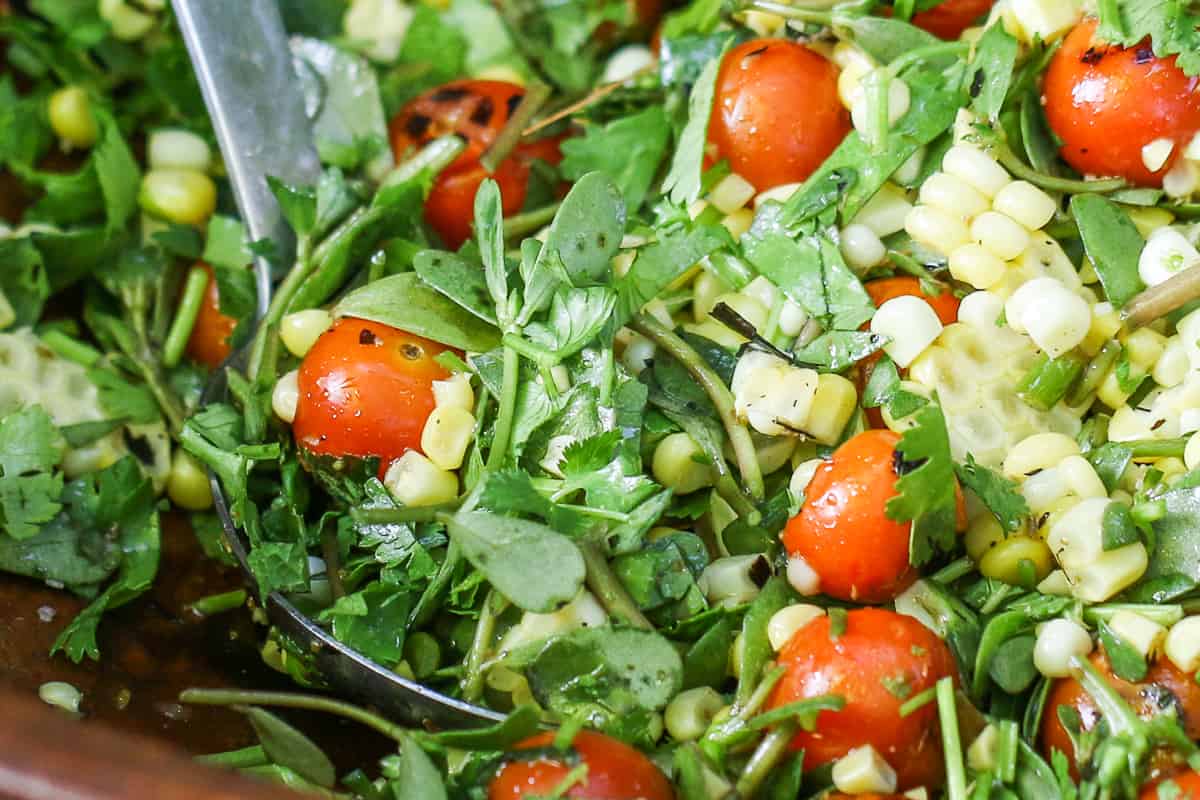 Purslane is cooked in South America any number of ways, and it can be very good like that, especially if it's older. When the tender sprouts come up in the garden, I love to give them a snip, and toss them into fresh salads.
Sometimes the purslane is just a few leaves here and there, especially when there's lots of fresh salad greens to harvest, but when the garden really gets going, I might make salads out of mostly purslane all by itself.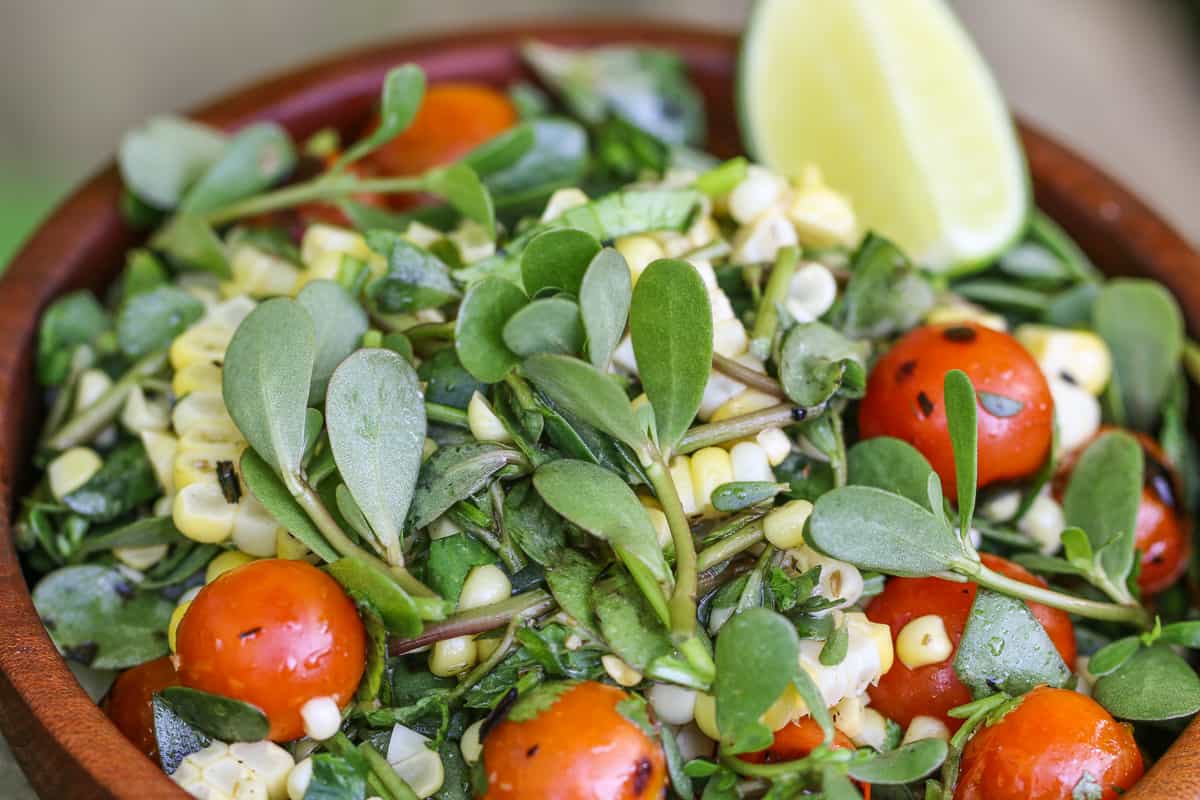 Here's the quick and dirty version: take a bunch of purslane, wash and dry it, then cut into 1 inch pieces. Mix that with some roasted sweet corn cut off the cob and some tomatoes you've blackened a bit in a skillet (peppers are good too), then season everything with ground cumin, chopped cilantro, lime juice, and oil.
It's a refreshing summer salad to keep around if you like to go foraging in your garden. It's also great made ahead of time, and it travels well.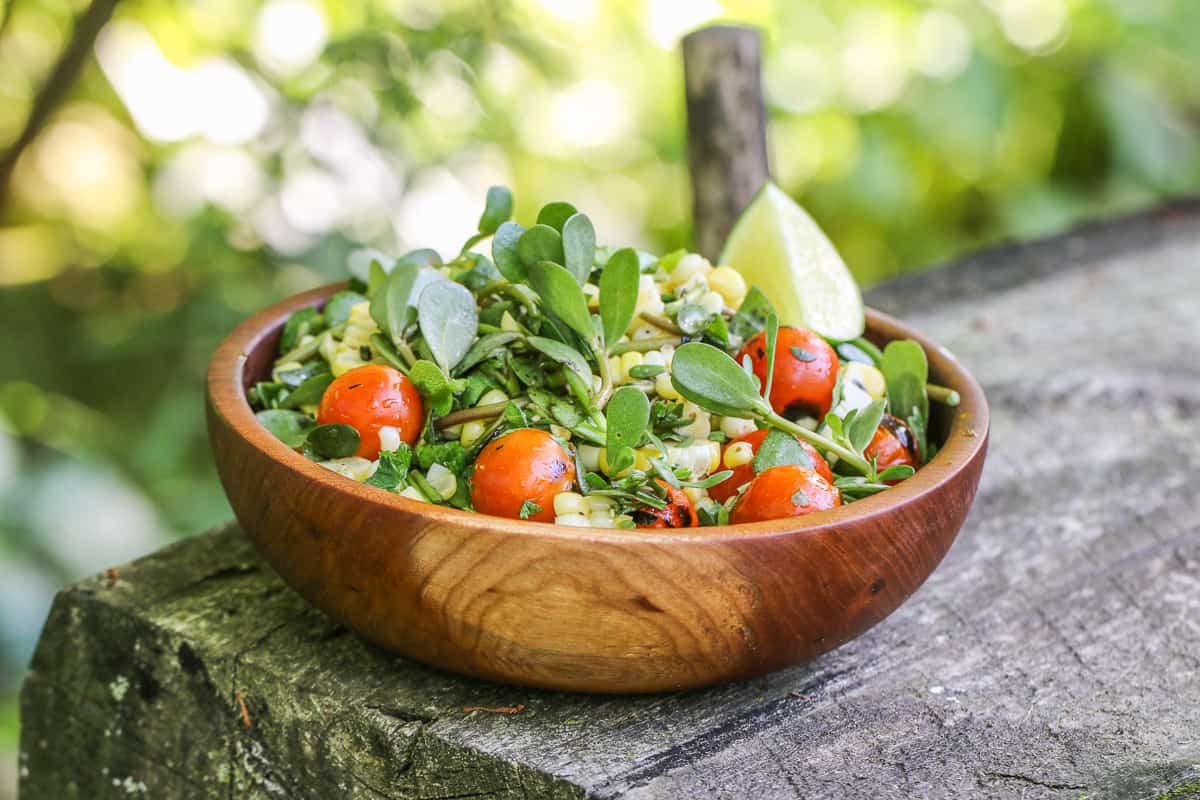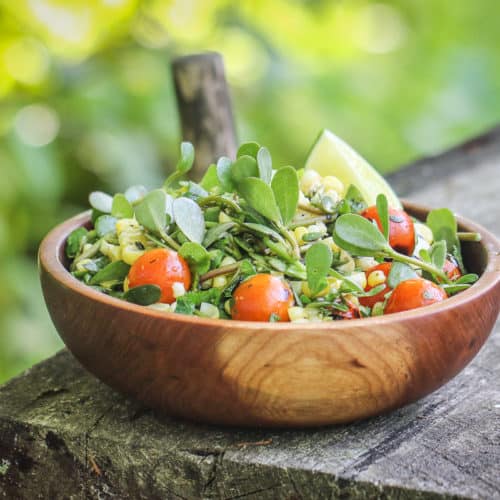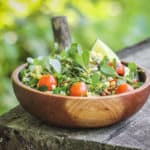 Print Recipe
Purslane and Sweet Corn Salad
A salad of purslane and roasted corn with Mexican flavors.
Ingredients
4

oz

2 cups tender purslane +
extra sprigs for garnishing

rinsed well and dried, cut into 1 inch segments, any tough stem portions removed *see note*

1.5

8 oz cups sweet corn

roasted in the husk for 15 minutes @350, cooled, and cut off the cob

½

teaspoon

freshly toasted, ground cumin seed

Extra virgin olive oil

to taste

Fresh lime juice

to taste (See note)

A few handfuls fresh cherry tomatoes

Kosher salt and pepper to taste

Method

Fresh chopped cilantro

to taste

Fresh chopped mint

to taste (optional)

A few garlic scapes or scallions, to taste
Instructions
While you wash the purslane and roast the corn, char the tomatoes and scapes or scallions. Heat a cast iron skillet on high until smoking (turn on an air vent or fan) then add the tomatoes to the skillet dry.

Cook the tomatoes until they develop black char spots and are hot throughout, about 5-10 minutes. Remove the tomatoes and reserve. Repeat with the scapes or scallions, cutting them into large pieces that can fit into the pan as needed.

Slice the scapes into ¼ inch slices and reserve.

Rinse and oil your cast iron skillet. (Traditionally this would be done on a comal, hot plate, or a hot stone.)

Mix all the ingredients together and season aggressively. It should be sweet, barely tart, well seasoned and herby. Taste and double check the seasoning until it tastes good to you, then garnish with a few extra purslane sprigs and serve.
Notes
Tough Purslane 
If your purslane is larger or seems a little tough, blanch it for a few seconds to tenderize it, then refresh in cold water, drain very well or spin dry and go from there. There will be a color change, but it's worth it if the purslane is tough. 
Making ahead 
This is a good salad to make ahead, but if you want to do that, don't add the lime juice until just before serving since if held for an extended period it will discolor the greens. 
Add some heat
Fresh or roasted jalapeno is a good addition here, if you like it hot.
Nutrition
Serving:
4
oz
|
Calories:
42
kcal
|
Carbohydrates:
9
g
|
Protein:
2
g
|
Fat:
1
g
|
Saturated Fat:
0.2
g
|
Polyunsaturated Fat:
0.3
g
|
Monounsaturated Fat:
0.1
g
|
Trans Fat:
0.003
g
|
Sodium:
27
mg
|
Potassium:
204
mg
|
Fiber:
2
g
|
Sugar:
2
g
|
Vitamin A:
2944
IU
|
Vitamin C:
12
mg
|
Calcium:
54
mg
|
Iron:
1
mg