A rich, Italian-style ragu made with chunks of meaty lobster mushrooms instead of meat. This lobster mushroom bolognese may not be traditional, but it's great with gnocchi!

When I was dreaming up of what to make for my dinner with the writers of Untamed Mushrooms to celebrate their book release, I knew I wanted to do a few courses of mine and a course or two inspired by the book.
If you're a mushroom hunter and you haven't grabbed a copy order one and support some real mushroom-hunting artists, one of which I hunt with just about every year.
I already had an idea to do some mini egg-rolls with mushroom ketchup, a pork creppinette with dried black trumpet mushrooms, and a cake soaked in candy cap milk, I just needed a pasta course to fit in there.
Flipping through the book to the winter section I found a great recipe for dried mushroom bolognese made with porcini powder and I got to thinking: lobster mushrooms are coming up in Minnesota like gang-busters. What if I just made a bolognese with straight lobster mushrooms? After that I was off to the races.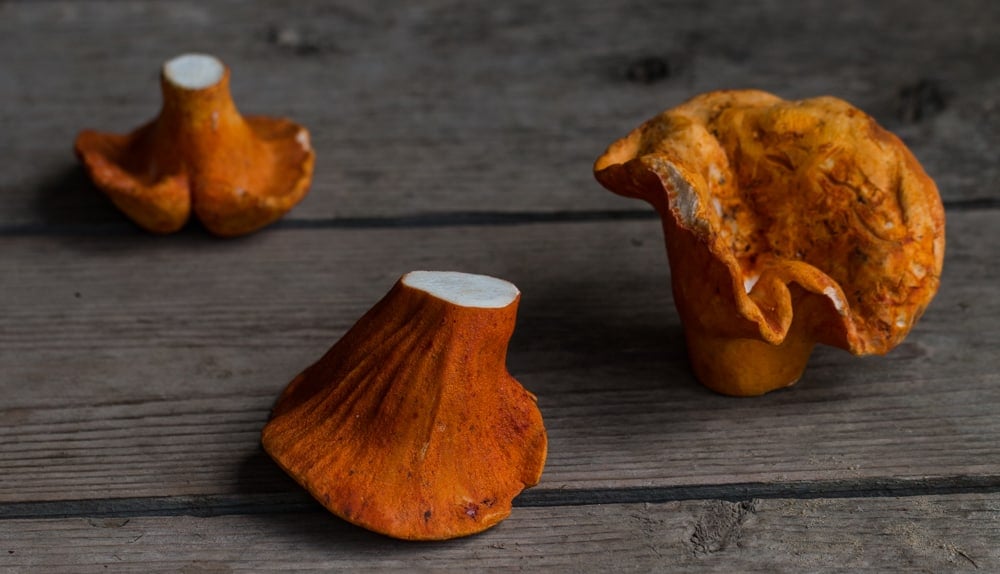 It took a couple variations (and a lot of lobster mushrooms) to make a version I was happy with, but the end result was a fun way to showcase the mild taste of lobsters in a mushroom-centric dish. There are a few key points to making a good one that I'll go over with you though.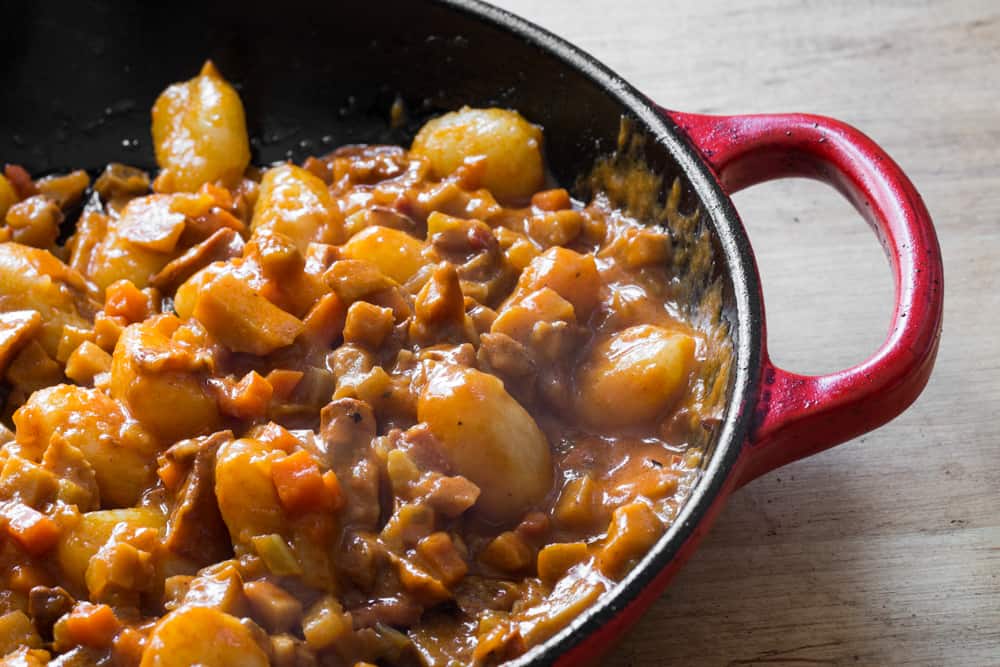 Tips for a great sauce
First, lobster mushrooms have a mild flavor, and stewing them without browning makes it even tougher to bring out their qualities.
They just don't have a ton of "oomph" to them. Adding meat would take away from the mushroom-centric quality of the dish, so I didn't want to add too much, but I knew a little pork could help supply some undertones to support the final dish, specifically some concentrated porky proscuitto.
Making this sauce without at least some kind of pork product, like proscuitto or even just bacon, will not make a head-turning dish. Good, strong chicken stock was important too. Vegetable stock could work, but it really isn't the same.
Lastly, how the dish is executed at the end is important, specifically the adding a small amount tomato to the finished dish before the final tossing with gnocchi and seasoning. A little splash of tomato just adds a little something, it really needs it, and it's how I typically finish bolognese when I serve it at a restaurant.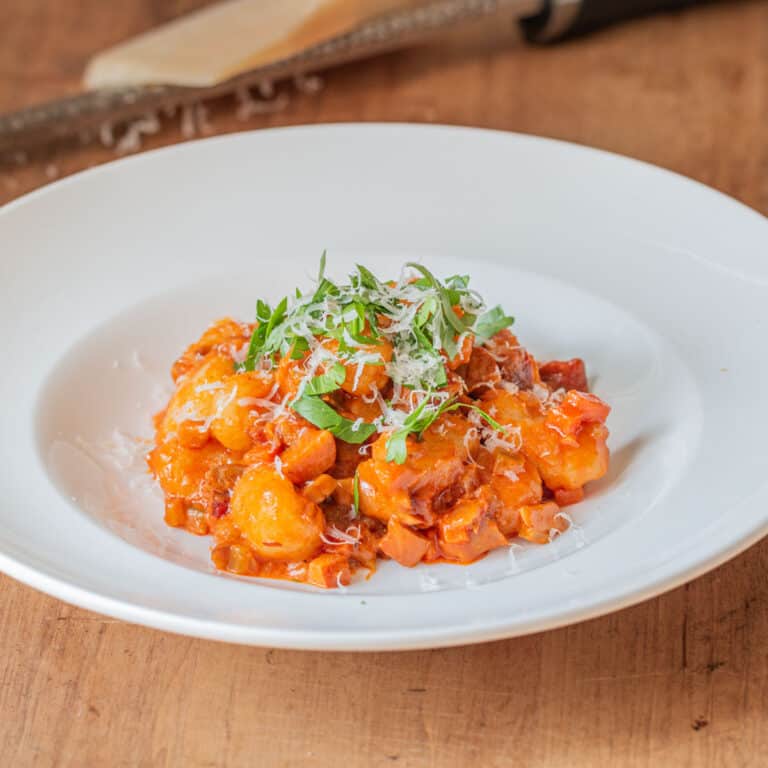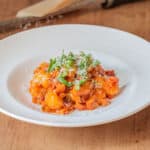 Print Recipe
Lobster Mushroom Bolognese
Lobster mushrooms simmered with wine, dairy, and tomato, in the style of Italian bolognese sauce. Yield: 3 cups/6 appetizer portions
Ingredients
1

tablespoon

chopped garlic

1

cup

dry white wine

1

cup

milk

⅓

cup

tomato paste

2

cups

vegetable stock or chicken stock

preferably homemade

6

cups

½ inch cleaned diced fresh lobster mushrooms

or substitute chicken of the woods

1

teaspoon

chopped fresh thyme

or to taste

⅓

cup

diced prosciutto

optional for vegetarians

3

cups

total

roughly diced carrot, onion and celery

Kosher salt

to taste

2

tablespoons

unsalted butter

2

tablespoons

powdered

dried lobster mushrooms (optional)
Bouquet garni (optional)
2

dried bay leaves

1

sprig of rosemary

Small piece of good parmesan rind
For serving
High quality parmesan

grated

Seedless tomato puree

take a can of whole peeled tomatoes, puree them, pass them through a food mill

Chopped Italian parsley

Cold unsalted butter

about 1 tablespoon/person

2

ounces

fresh gnocchi

pappardelle, or fettucine/person
Instructions
Pulse the mirepoix until it's coarse/fine in the bowl of a food processor. Sweat the lobster mushrooms in the butter until wilted and starting to brown. Add the garlic and prosciutto and cook for 3-4 minutes more. Add the lobster mushroom powder and cook for a minute more until you can smell it. Next add the mirepoix and and season lightly.

Cook the mixture for a few minutes, then add the tomato paste, stir to coat and cook 2 minutes more. Add the bouquet garni, milk, wine, and stock and bring the mixture to a simmer and cook until reduced by half, about 30 minutes on medium heat.

Stir in the chopped fresh thyme then double check the seasoning, adjust as needed, discard the bouquet, chill the sauce down and refrigerate until needed. Consume within 4 days.
To Reheat and Serve
This is the most important part, without proper seasoning "on the pickup" as we say in kitchen parlance, this just won't taste right, it really needs a little refreshment of some tomato, butter and parm.

Warm 2 tablespoons of tomato puree per person in a saute pan, add ½ cup of the lobster mushroom bolognese/person and stir to combine.

Taste the sauce, and adjust the seasoning gently if you like.

Meanwhile, cook the pasta of your choice and toss with the sauce and 1 tablespoon unsalted butter/person. Finish by stirring in some parmesan, and parsley righ before serving. Divide the pasta evenly between warmed serving bowls, pass some parmesan alongside.
Notes
1 light entrée/appetizer portion of the Bolognese is ½ cup after cooking, to be re-heated with a small amount of seedless tomato puree, a good knob of butter, fresh chopped Italian parsley and grated parmesan.
Nutrition
Serving:
5
oz
|
Calories:
254
kcal
|
Carbohydrates:
22
g
|
Protein:
12
g
|
Fat:
12
g
|
Saturated Fat:
5
g
|
Polyunsaturated Fat:
2
g
|
Monounsaturated Fat:
4
g
|
Trans Fat:
0.2
g
|
Cholesterol:
26
mg
|
Sodium:
599
mg
|
Potassium:
1262
mg
|
Fiber:
5
g
|
Sugar:
13
g
|
Vitamin A:
11309
IU
|
Vitamin C:
13
mg
|
Calcium:
116
mg
|
Iron:
2
mg