Whenever I find saffron milkcaps, I tend to look to Spain for inspiration, since no other country I know of has such a visible affection for any sort of milkcap, sans the growing interest in using candy caps in the U.S. Finding recipes isn't that difficult, as long as you know a few interchangeable terms: setas, (mushrooms) and rovellons or niscalos (saffron milk caps).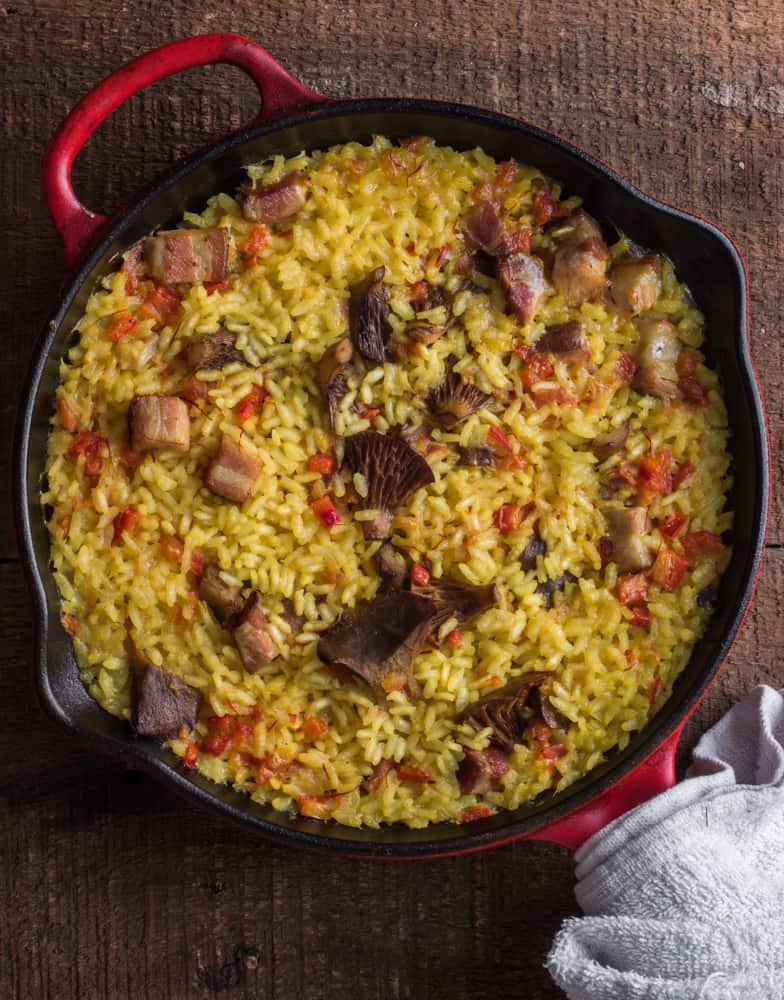 A lot of older recipes like the one I based this paella from originally contained saffron milkcaps but have gradually seen the word rovellones or niscalos, which directly refers to saffron milkcaps changed to the word setas, which represents mushrooms in general, typically button mushroom.
My bet is that over time interest in the old ways of hunting mushrooms has waned, and the recipes that used to contain Spain's treasured rovellon, in order to not be lost, have been converted to use conventional mushrooms you can hunt in a grocery store.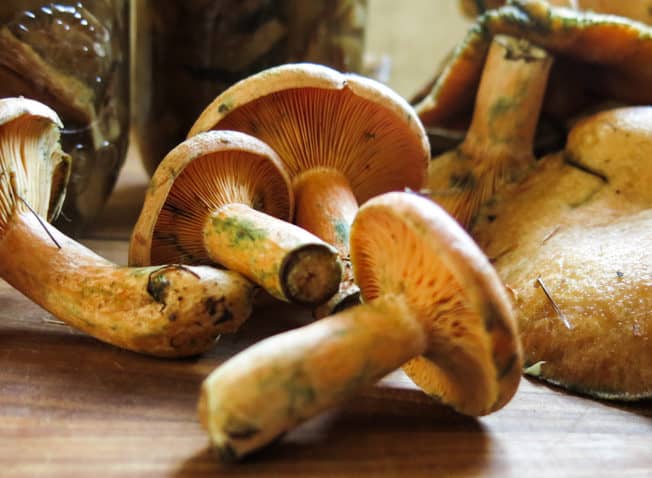 My paella is really simple, meant to highlight the mushrooms with just a little good stock, and some smoked pork. I wouldn't use American style-sliced bacon though, the shape is not the same, and it's generally too smoky for my tastes in general cooking. I would substitute ham if slab bacon isn't around, or blanch your bacon in unsalted water for a minute and dry before cooking.
There isn't any built-in-stone template either, a lot of traditional paella recipes contain chicken, crayfish, shrimp, sausage, all kinds of stuff. Using a blend of a few different meats is great, but requires a little more planning.
I designed this to be a very simple into paella that's all about the saffron milkcaps. Most paella recipes feed a crowd too, this one is a small batch, meant for a couple people, since I didn't have a crowd to feed at the time.
If you have some extra time, or want to impress some people, you can fire up a wood grill outside and cook the paella on top of that, which is more traditional than my stove/oven combo outlined here. Until I get a house with a yard though, this is how I'll be making mine.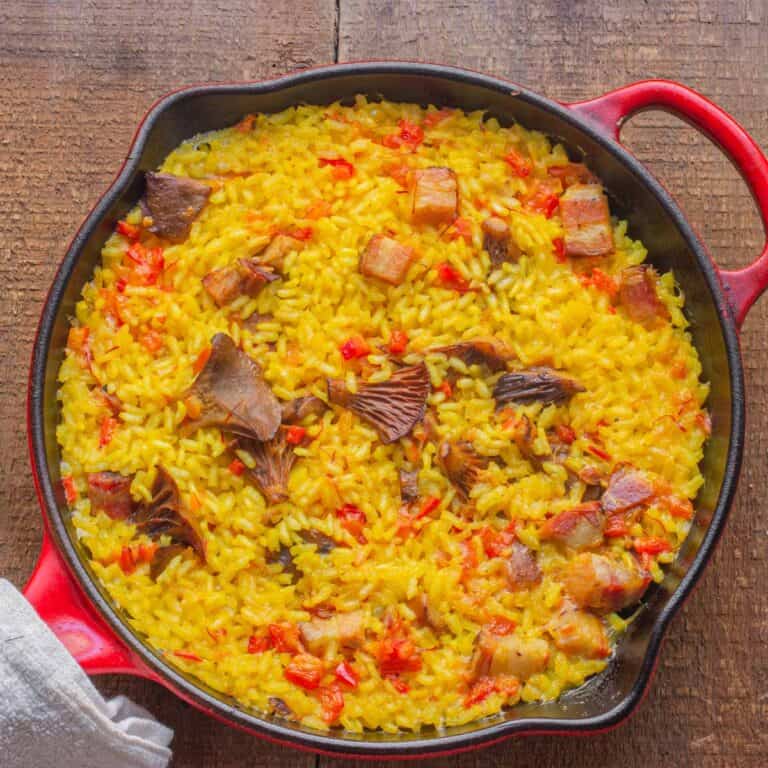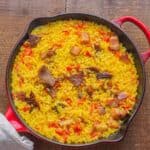 Print Recipe
Saffron Milkcap Paella (Paella de Rovellones) 
A small batch paella made with saffron milkcaps


Equipment
8 inch wide saute pan, or cast iron skillet.
Ingredients
3

cups

chicken stock

preferably homemade

1

cup

short grain rice

like arborio

3

ounces

fresh saffron milkcap mushrooms

cleaned and cut into 1 inch pieces, or left whole if small

¼

large yellow onion

grated

1

small roma tomato

2

ounces

smoked slab bacon or pork belly

diced 1 inch

Pinch

of saffron

1

small red pepper

Kosher salt and fresh ground black pepper

to taste

2

tablespoons

flavorless oil

like grapeseed, or lard
Instructions
Char the pepper over a burner, then put into a plastic bag or bowl, allow to cool, then peel and remove the seeds, dice the pepper ¼ inch and reserve.

Preheat the oven to 350F. Warm the stock with a pinch of saffron and set aside.

Sweat the slab bacon in the oil on medium heat in the pan, when the meat is lightly browned and some of the fat has rendered, add the mushrooms and cook until lightly browned. Add the onion season with a pinch of salt and cook for a few minutes more. Add the rice and cook for 2-3 minutes, stirring occasionally, then add the stock, tomato, and bell pepper. Taste the stock in the pan and adjust with a little salt or pepper to taste, then bring the mixture to a simmer and turn the heat off.

Using tongs, arrange the chunks of bacon and mushrooms so they're evenly distributed and attractive looking, then put the pan in the oven and cook for 30 minutes, or until the rice is just done. When the rice is done, remove the pan from the oven and allow to rest on a rack, covered, for 5-10 minutes so the rice can rest and absorb any additional stock at the bottom of the pan, then serve immediately. This is great with a green salad.

Traditionally, paella is cooked outside over an open fire, which is even better. I live in an apartment though, so the stove/oven combo had to work for me. If you have access to some outdoor cooking, you might try your hand cooking it over the fire.
Notes
You could also double the recipe and use a 10 inch pan, or a paella pan. I developed this as a small batch, since I often may only find a handful of saffron milkcaps.
Nutrition
Calories:
741
kcal
|
Carbohydrates:
95
g
|
Protein:
21
g
|
Fat:
30
g
|
Saturated Fat:
7
g
|
Polyunsaturated Fat:
11
g
|
Monounsaturated Fat:
10
g
|
Trans Fat:
0.1
g
|
Cholesterol:
30
mg
|
Sodium:
706
mg
|
Potassium:
665
mg
|
Fiber:
3
g
|
Sugar:
7
g
|
Vitamin A:
22
IU
|
Vitamin C:
3
mg
|
Calcium:
20
mg
|
Iron:
5
mg
More