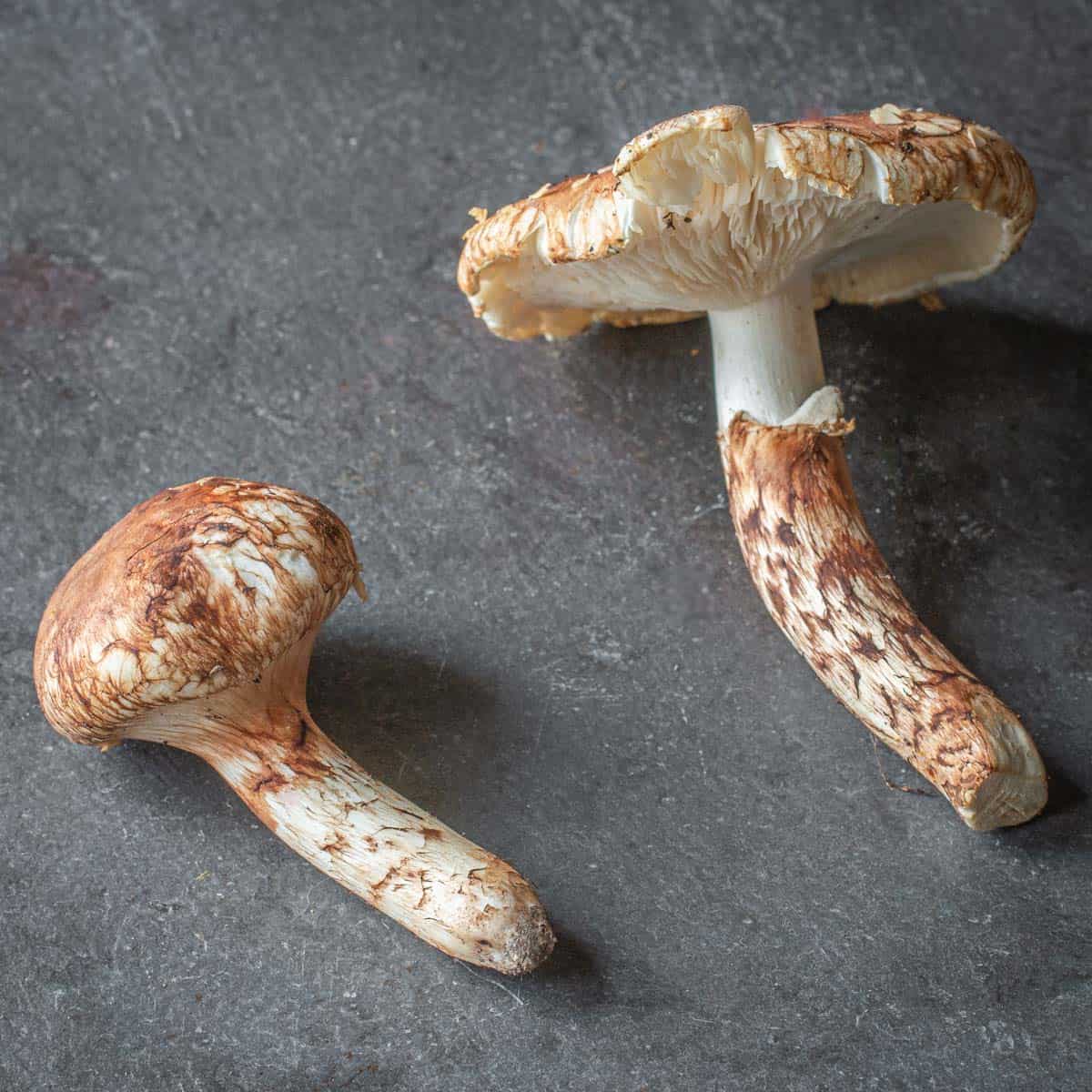 Oh my god! I found one! IT'S A MATSUTAKE!
No, no it's not. The good news: is if you've found these mushrooms, you're on the right track. Be happy that you've come far enough that you can differentiate something in the field that *looks* like a matsutake, and grows right around the same. Unfortunately they grow in completely different habitats (for the most part) and the flavors are a world apart.
After I wrote about foraging matsutake (Tricholoma magnivelare) in Minnesota and Wisconsin back in 2016, I got a smattering of emails and messages online about these mushrooms. A number of them were asking for locations (do your own homework) a few others had pictures of Tricholoma caligatum (consolation prize) and one lucky person had found the real deal, holy grail mushroom.
Enough about matsutake though, you can look at pictures of them in my previous post. This post is about their edible cousin: a dead ringer for matsutake if you've never eaten or smelled them before.
Like I mentioned, Tricholoma caligatum, (formerly known as Armillaria caligata) is an absolute dead-ringer for matsutake if you've never had the real deal. There are a few characteristics that give them away though, and they're really easy to pick out. The good news is both mushrooms are edible, albeit with very different flavors. Here's the jist as I see it:
False vs True Matsutake
Tricholoma caligatum (false matsutake) grow symbiotically with deciduous trees, especially oak in Minnesota and Wisconsin where I hunt. Similar-looking mushrooms may grow with pine trees around the country.
True matsutake are symbiotic specifically with conifers (red pine and jack pine are where mine grow). I have never heard of them growing with oak or hardwoods, but I've heard they may in some areas.
False matsutake do not have a strong smell. True matsutake (in my opinion) have the most unique mushroom smell in the world: a spicy, funky aroma with hints of cinammon. False matsutake smell like any other run-of-the-mill mushroom, and are mild and non-descript.
The matsutake I pick in Minnesota and Wisconsin are generally very large, heavy, and dense. I've picked some mushrooms that weigh over a pound each. False matsutake are smaller, lighter, and less dense.
The brown colorations on false matsutake I've collected seem to be a deeper brown color that's more pronounced than the colorations in true matsutake.
Is Tricholoma caligatum bitter?
Things get tricky here, so keep in mind I'm a professional chef, not a mycologist. In a nutshell T. caligatum is likely part of a complex of mushrooms (a large group) that needs to be fleshed out with D.N.A. sequencing for us to understand and pick out particular species, some of which could look identical. So, the Tricholoma caligatum I pick, might taste different than ones collected in Costa Rica, Pennsylvania, or California.
None of the false matsutake I've picked have had bitterness to them in the typical sense of how I would describe mushroom bitterness. The specimens I've eaten have a mild mushroom flavor.
There is a bit of a taste alongside the mushroom flavor though, and while I wouldn't call it bitter, some others might. It is not the mouth-puckering bitter of a Tylopilus felleus, or other bitter boletes. The best I can describe is that it's a very, very slight undertone to them, but I haven't found the flavor disagreeable at all in collections I've sampled.
That being said, bitterness and an overall foul flavor in collections of T. caligatum seems to be pretty well documented. The best advice I can give is to chew a tiny amount and spit them out in the field, making sure that you know what you're eating (generally speaking) and have ruled out Amanita species.
More