Every thing that's edible has different stages of growth, and some stages are better than others. Broccoli, cauliflower and romanesco for instance, get very bitter after they've bolted and gone to flower. If they're not harvested young enough, chickens tend to get tough, and need to be marinated and cooked low and slow for good results.
The same rule applies to chanterelles, and with most mushrooms I've cooked. After the margin of a chanterelle's cap has turned upwards, they start to get floppy and flaccid and lose their chewy texture, which is one of their strongest points. Of course the larger mushrooms can always be made into duxelles, or soup, but there's something about the shape of the perfect button that gets me and the whole kitchen staff excited.
This recipe is a means of preserving those perfect little buttons. The idea is borrowed from the old English method of serving potted shrimp preserved under a layer of clarified butter, very similar to rillettes-a sort of meat spread made from confit poultry or pork.
The method couldn't be easier, slowly cook some chanterelle buttons with shallots, garlic and herbs in clarified butter, then pack them into a small terrine or container and wait a few days. That's it.
This method would also be great with older chanterelles that are finely chopped, or made into duxelles, which will make it more of a spread.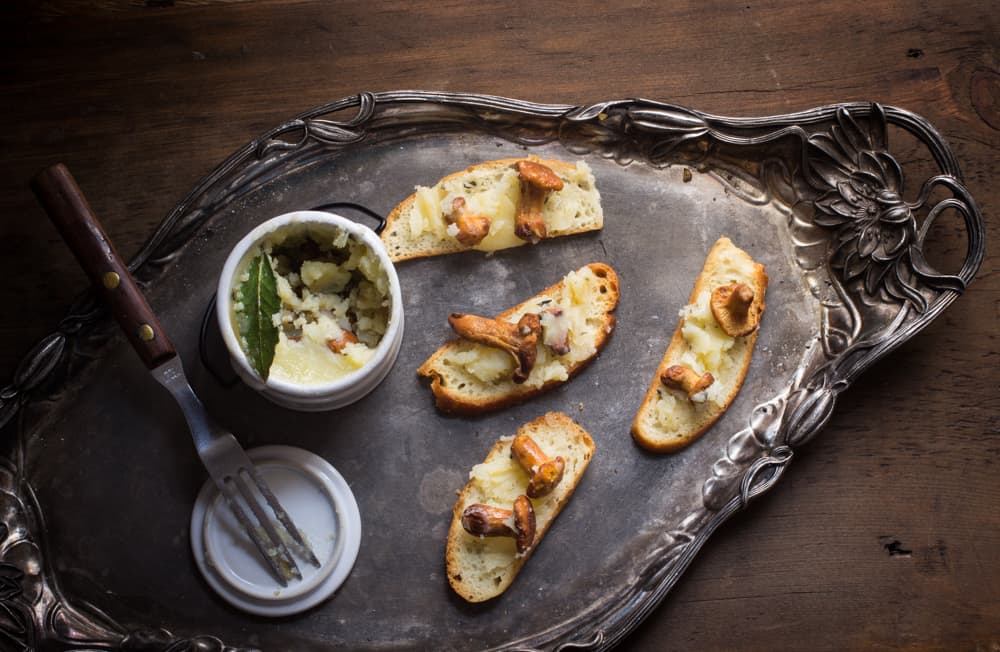 Print Recipe

Potted Chanterelles

Ingredients

4

oz

young chanterelle buttons

1

tablespoon

shallot

diced ¼ inch

1

garlic clove

lightly crushed with the back of your hand

1

tablespoon

chopped fresh thyme

Kosher salt and fresh ground black pepper

to taste

Clarified butter

as needed, about 1 cup, plus a little extra for browning the mushrooms

1

fresh bay leaf

Instructions

Heat a tablespoon or so of clarified butter in a saute pan. Brown the chanterelle buttons slowly over medium heat, until thoroughly cooked and browned. Add the shallot, garlic, bay leaf, and thyme to the pan and cook for a few minutes more. Finally, season the mixture to taste with salt and pepper. Discard the garlic clove.

Pack the chanterelle-shallot mixture into a small crock or other non-reactive container, cover completely with melted clarified butter, top with the bay leaf, then chill until the butter is set. Allow the chanterelles to age under the butter for a few days before eating.

To enjoy the chanterelles, allow the crock to come to room temperature before digging in, since it's much easier to spread the butter on toast to go along with the mushrooms.

Notes

Your proportions will vary according to the size of the container you use to store the chanterelles, as long as they're completely covered with clarified butter, you're good to go.

You can vary this plenty of ways, using animal fats like duck fat or lard would be great, switching up the herbs and using something like summer savory would be good too. The chanterelles can be switched out for whatever you like too, but I definitely recommend the youngest possible buttons of whatever species you're using.

This is great served on toast-make sure to smear the mushroomy-herb butter all over it!