Puffballs, the other, other white meat. Even if you haven't ever thought about eating one, you've probably seen these around, and likely kicked them as a child, I know I did growing up in the windy plains of Midwestern Minnesota.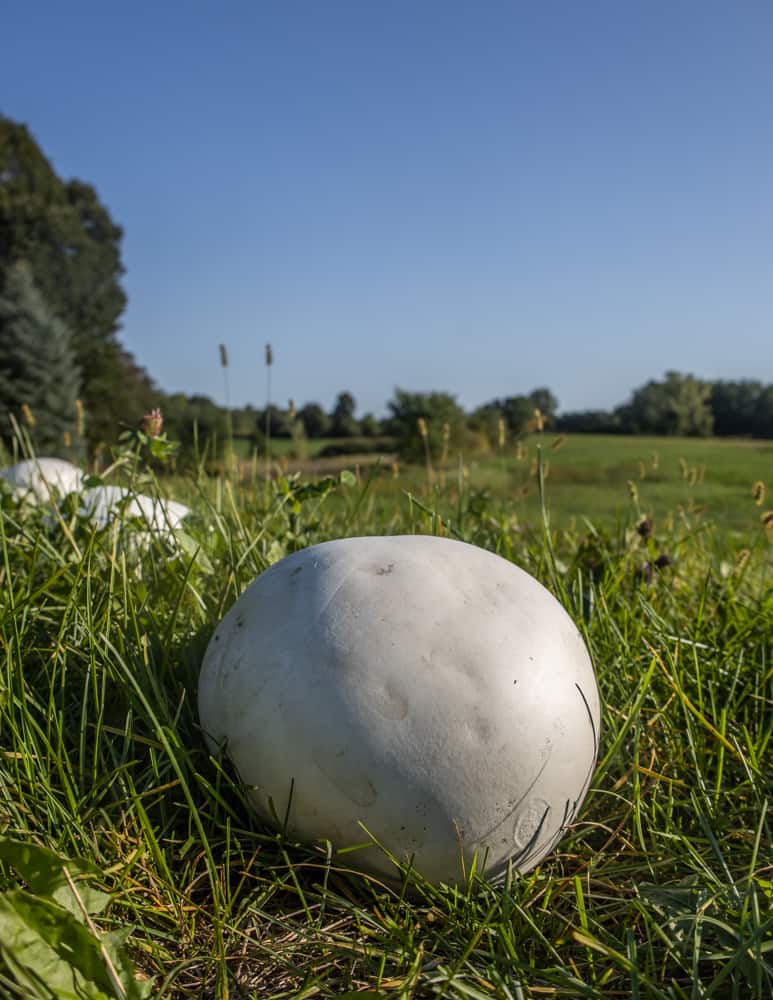 They're easy to spot, generally very large, and pretty versatile in the kitchen. They also don't have poisonous look a likes, if you pay attention. If it's solid, lacks gills, and is shaped like an ovoid blob, you probably have yourself a puffball.
Habitat
Puffballs grow anywhere that their spores have landed, so unlike mushrooms like chanterelles or hen of the woods where they come up exactly in the same spots, puffballs can move around a bit as they're not bonding with a particular tree.
That being said, I do have puffball patches where I see them every year, and once you find a dependable spot, it can give large amounts of mushrooms annually, if you get them at the right time.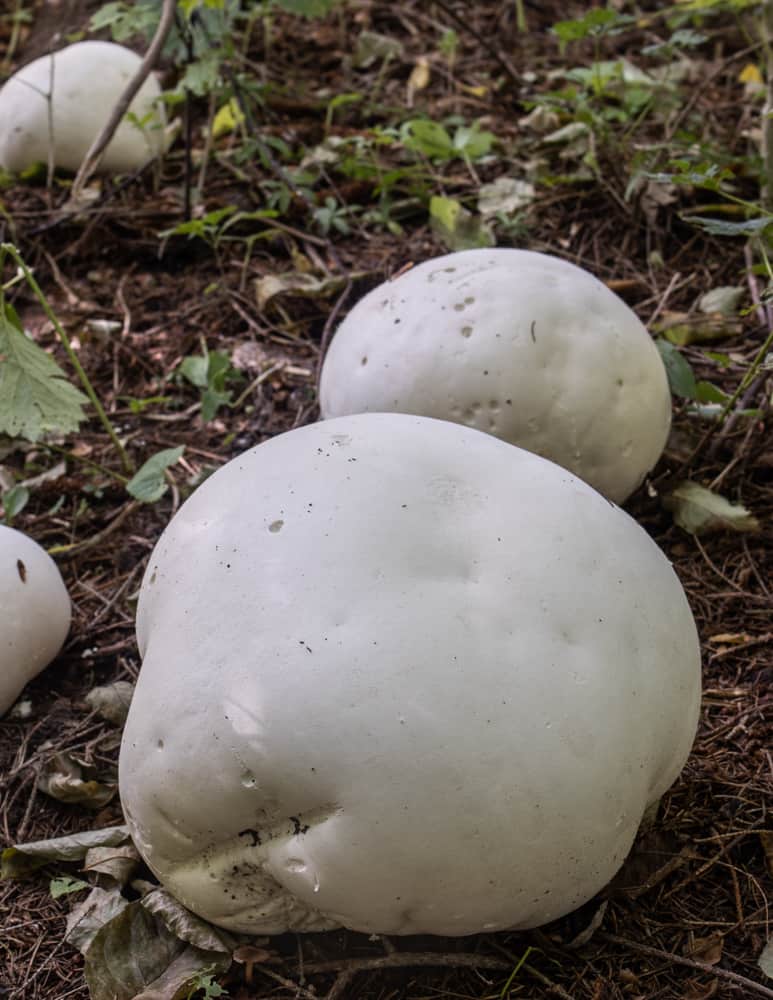 I have seen them in fields, in the deep woods, and directly on trails. This is because, unlike many other mushrooms that are parasites, or live in harmony with specific trees, puffballs are just huge spore factories and after they mature, they let their billions of spores fly on the wind.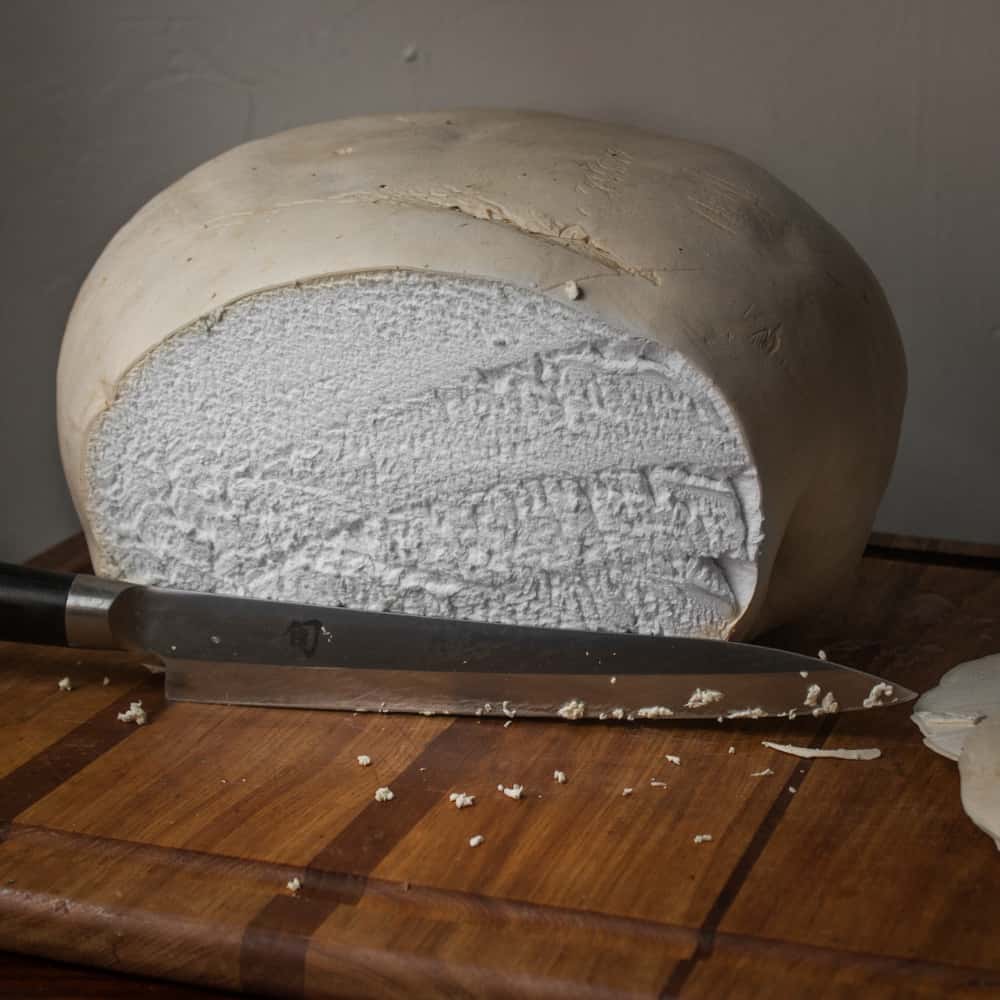 Multiple Species
Most people know the large, field dwelling alien soccer ball, but there's a couple other puffs out there that I like, and to sweeten the deal, I think the others are better than the big white guys. Heres a few I've picked, eaten, and enjoyed.
My measly 3 species on this page doesn't even scratch the surface of unique, individual puffballs you can eat, but, I would say they're probably my favorites (especially the little brown ones).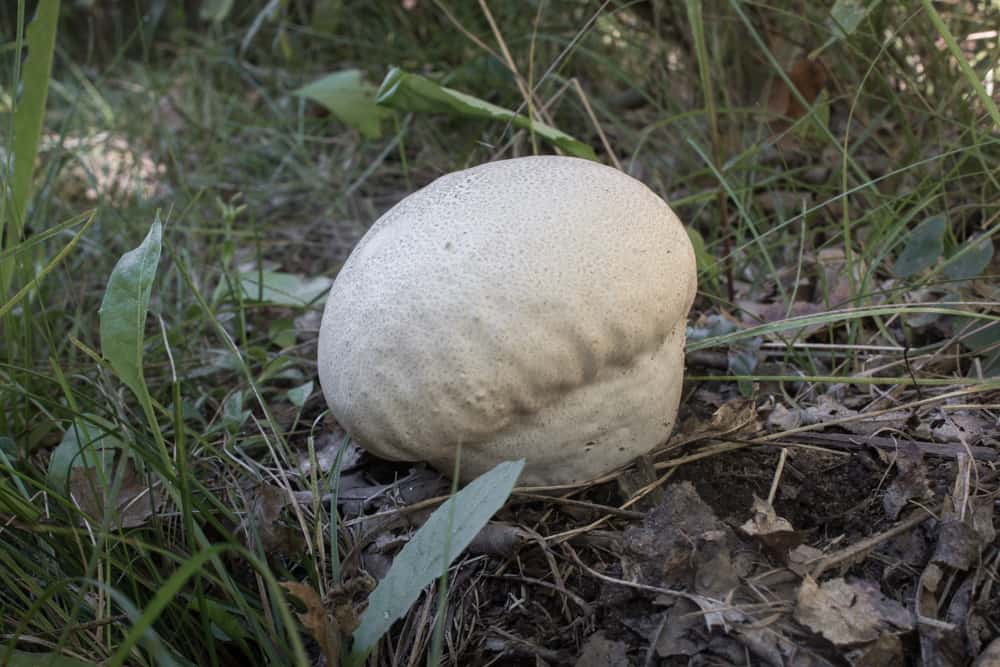 Harvesting

First things first, when you find a puffball, no matter what size, turn it over and inspect where it attaches to the ground.
Cut away the flesh with dirt attached, then inspect the mushroom for color: it should be absolutely, perfectly white. If it's at all yellow or greenish, it's too old, look for another one or use it as an excuse to kick it like a soccer ball and not feel bad about it.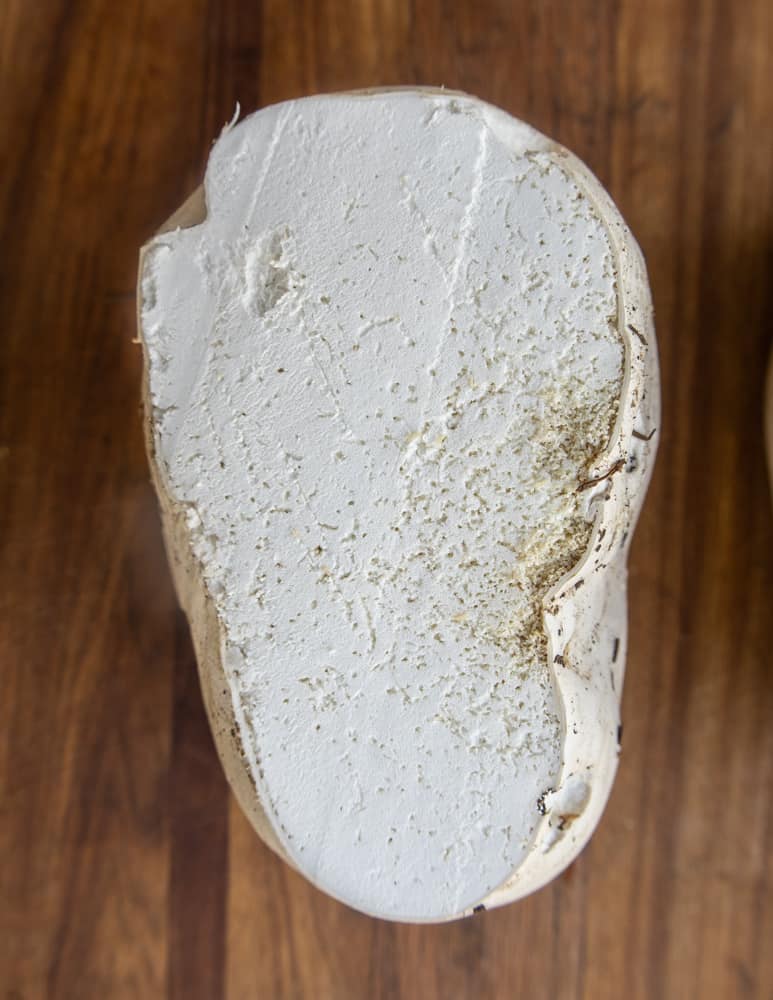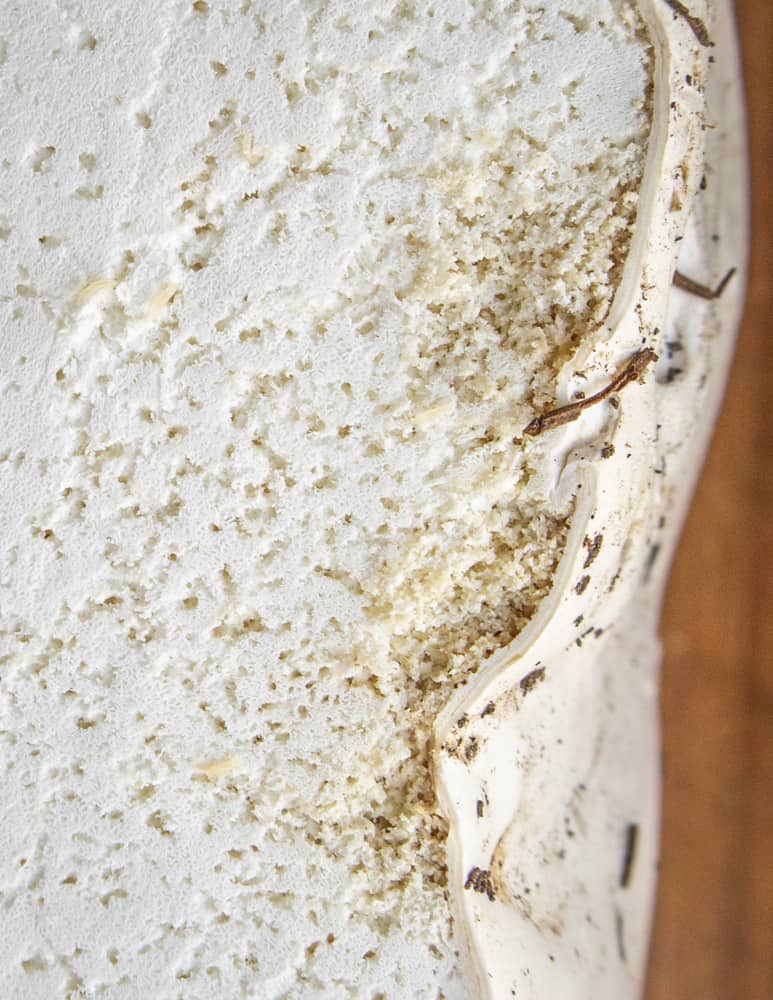 If you see tunneling which can mean worms, cut away the mushroom flesh to see if you can remove any sign of tunneling, if you can remove any tissue with holes in it, and the rest is still perfectly white and firm, you should have removed the bugs and they won't continue to eat the mushroom.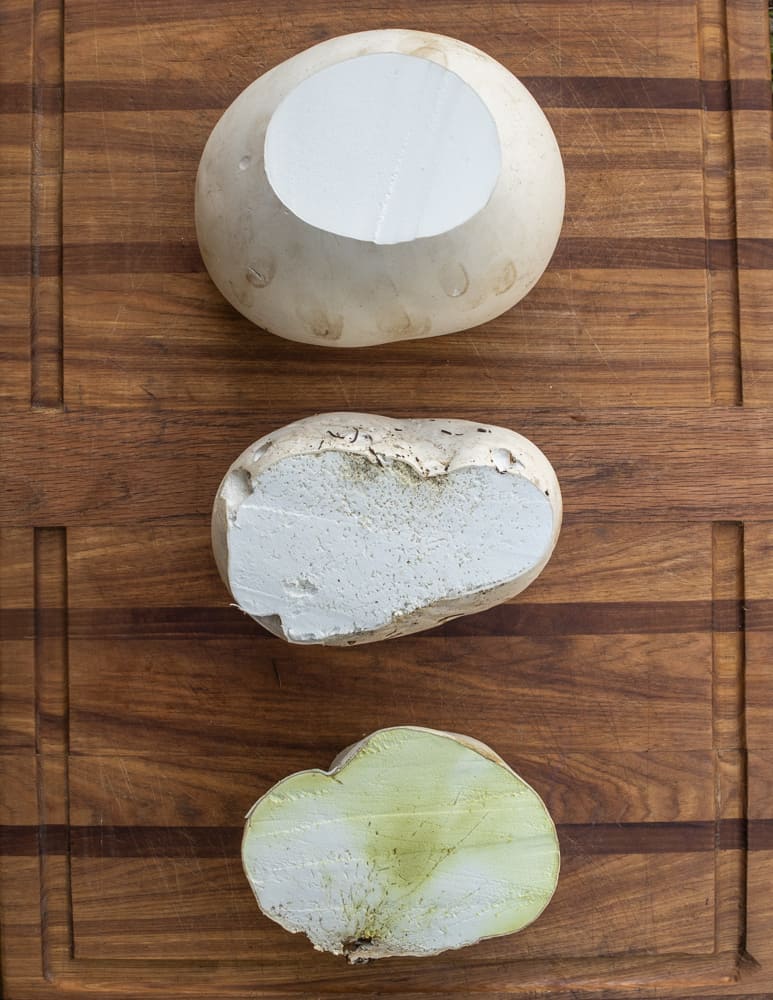 Chill that puffball!
My grandmother mentioned a while ago that she and grandpa enjoyed the puffballs they'd picked in the back 40, but after a few days they started to smell where they were sitting on the counter.
Puffballs, like meat, are basically pieces of protein material, and if you leave them on the counter, they're going to go bad just like meat, and they will stink, bad. Puffballs, just like any other mushroom, must be refrigerated as soon as possible after picking.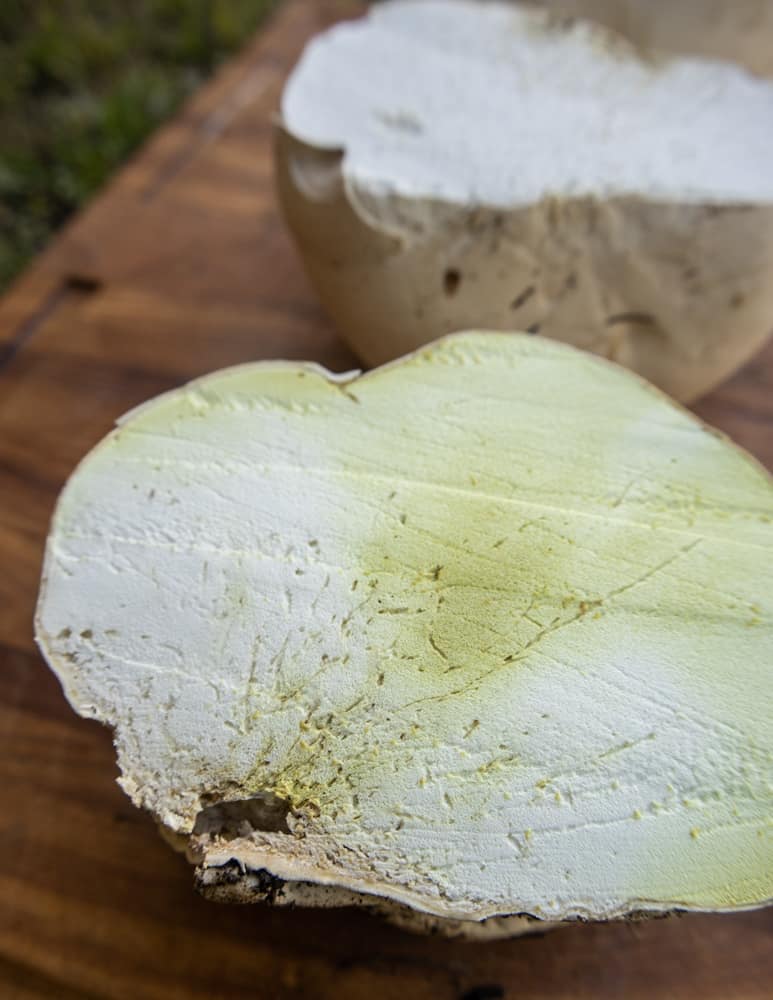 Just like harvesting a wild animal, chilling the mushroom down as fast as possible is one of the first lines of defense to ensure you get a great shelf life out of your puffballs. There's a problem though: puffballs can be very large, and can be impossible to fit in your fridge.
You have a few options here, and it's really up to you. For cooking fresh, you can cut the mushroom into hunks that will fit in the fridge, chill them, then rotate in any others until they're all cooled down.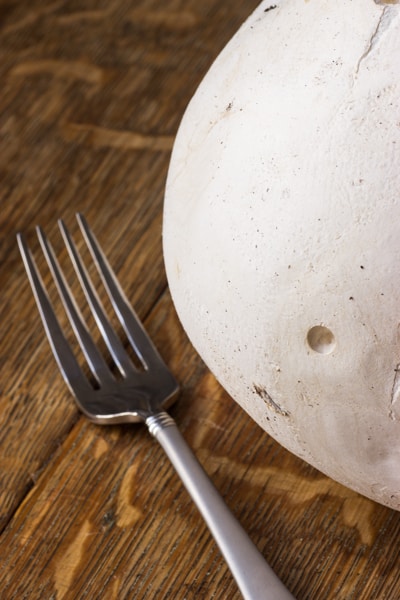 What I usually do is dehydrate or make some into space saving puree or hummus (recipes at the bottom of this post) —all good examples of what you can do with the excess puffball that can't fit in the fridge in its raw form.
The fresh puffballs will get cooked a few different ways, over the next few days, or some of them might get sliced, cooked, and then frozen to make something like lasagna in the winter (recipe at the bottom of the post).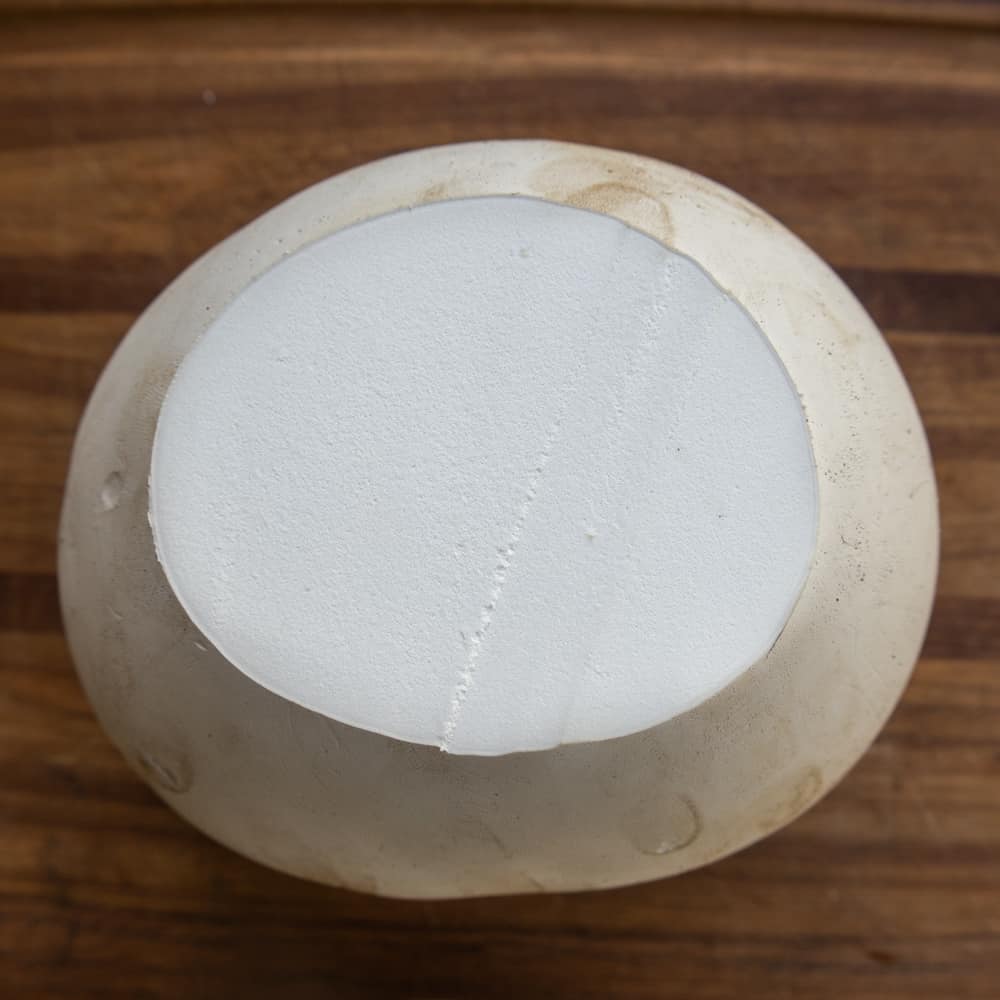 Look a likes
Puffballs do have some look a likes to know, but, if you're harvesting giant puffballs, as the majority of people are, they're nothing to really worry about, as the look a likes are typically much smaller. They are important to know though. Here's what to look for.
Avoid any round similar mushrooms that
Are black inside (earthballs/Scleroderma)
Are small, egg shaped, and/or when cut in half, show undeveloped gills and cap (amanita buttons, potentially fatal)
Scleroderma / Earthball / Pigskin Poison Puffball
Scleroderma mushrooms or common earthballs are a very common mushroom that come up around the same time as puffballs.
It's easy to tell them apart from edible puffballs in that they are mostly very small, around the size of a golf ball, and the inside of them, even when young and firm is dark purple to black, they are never white inside as a true puffball should be at the edible stage.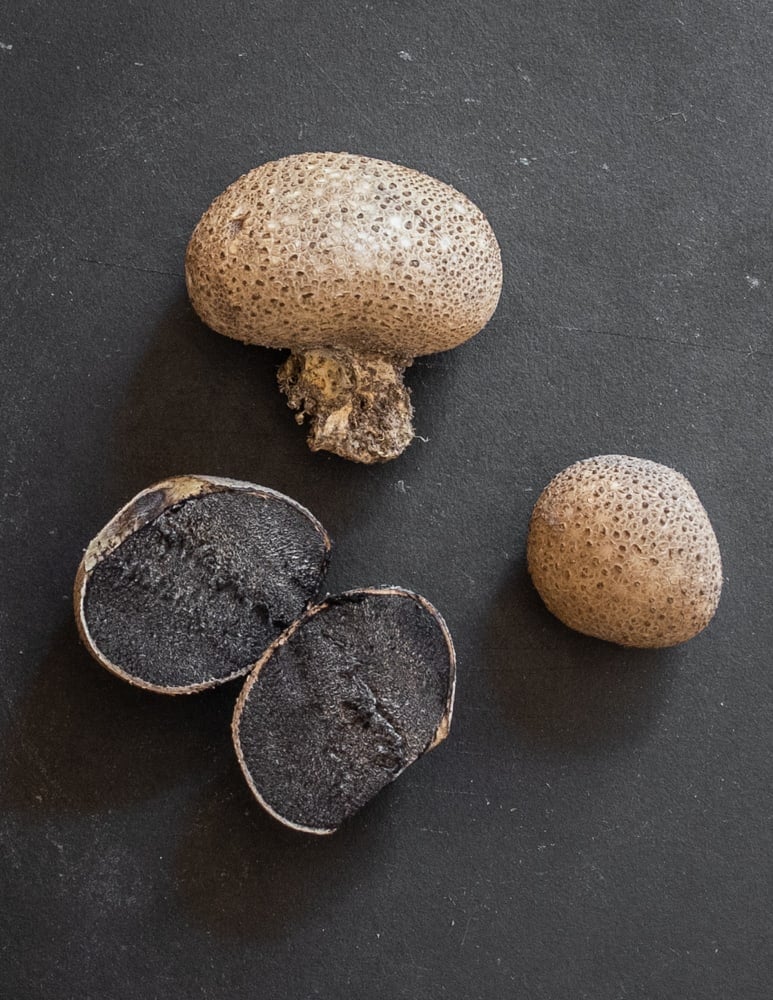 Amanita Buttons
As you can see below, very young amanita mushrooms may resemble small puffballs, but, just like with common earthballs, it is easy to tell the two apart with a simple understanding of mushroom structure.
Amanita buttons (the pic below is actually one I cooked, but you can see the resemblance) will reveal the shape of an unfurled, tightly coiled mushroom when cut in half, where small puffballs will be pure white fluff when harvested at the proper edible stage.
That being said, I rarely harvest very young puffballs for the table, so confusing these with the more commonly harvested giant puffball is going to be pretty tough, since amanita buttons will be about the size of a golf ball to a tennis ball depending on the species. If you stick to giant puffballs, you're going to be just fine.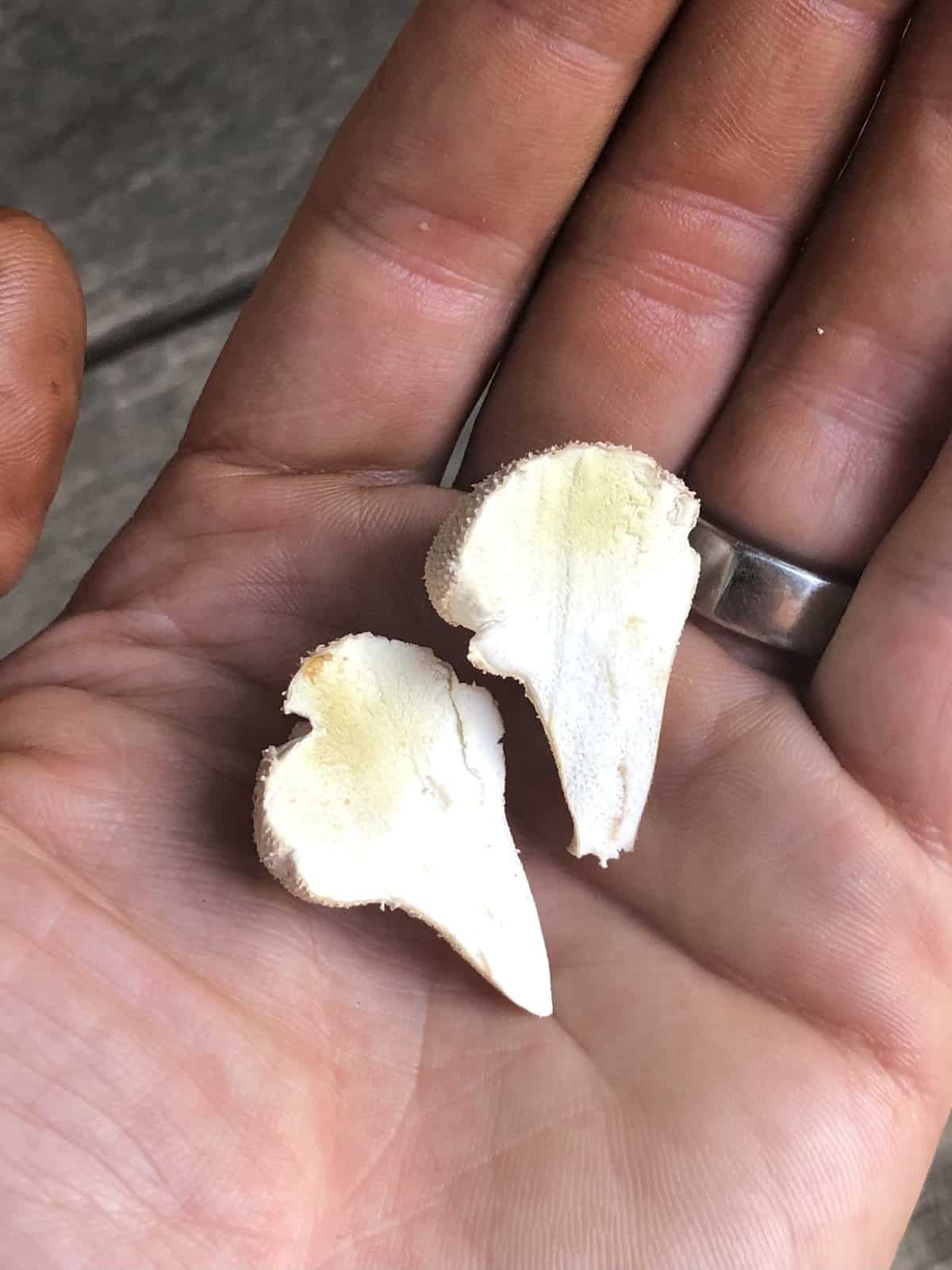 Cleaning
Cleaning is relatively easy with these guys, compared to most other wild mushrooms you'll find. They're covered with a leathery protective coating that keeps dirt out of the part of the mushroom you want to eat, which is pretty convenient.
In a restaurant setting, I keep the skin on the mushroom until I'm ready to cook them, since it keeps the mushroom flesh inside moist, while still allowing it to breathe. The skin peels off easily by using your fingers or a decent paring knife.
Can I eat puffball skin?
Yes, you can eat puffball skin, just make sure you brush it clean so you don't get dirt and twigs in your mouth. For the first few years I always peeled puffballs I picked, and I told other people to do it too.
As I've picked them more over the years I changed my mind, slightly. Here's my thoughts: peel the puffballs if they need to be peeled for cleaning, or if you've been keeping them in a cooler and using the skin as a natural shield to preserve freshness.
Otherwise, wipe them dry and cook the whole shebang. The outer crust isn't bad at all, and it's part of the mushroom. The texture is good too, giving a different texture than the inside, which can be sloppy and soggy if not properly cooked.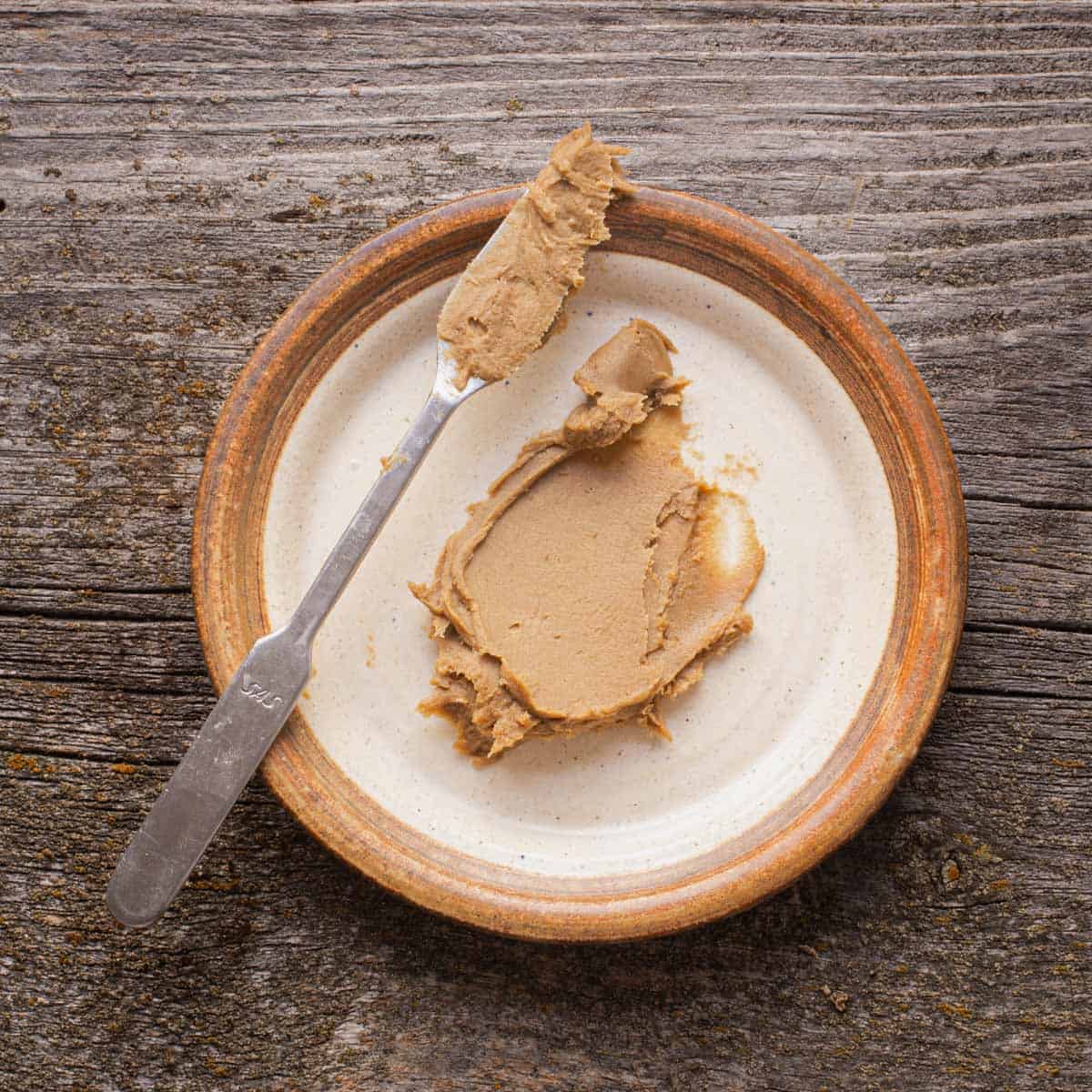 Cooking
There's a couple different ways to approach these. most people will batter and fry puffballs, and that's fine, I do too. I don't eat fried food all the time though, and sometimes I need something lighter.
Without a breading, the biggest thing to know, unless you want to put them in soup where they become a bit like mushroom marshmallows, is that puffballs like to be browned, they love it.
Greasing them up and then baking or putting in a large skillet until golden will unlock real flavor in these, flavor you wouldn't expect each slice to have from something that can be so massive.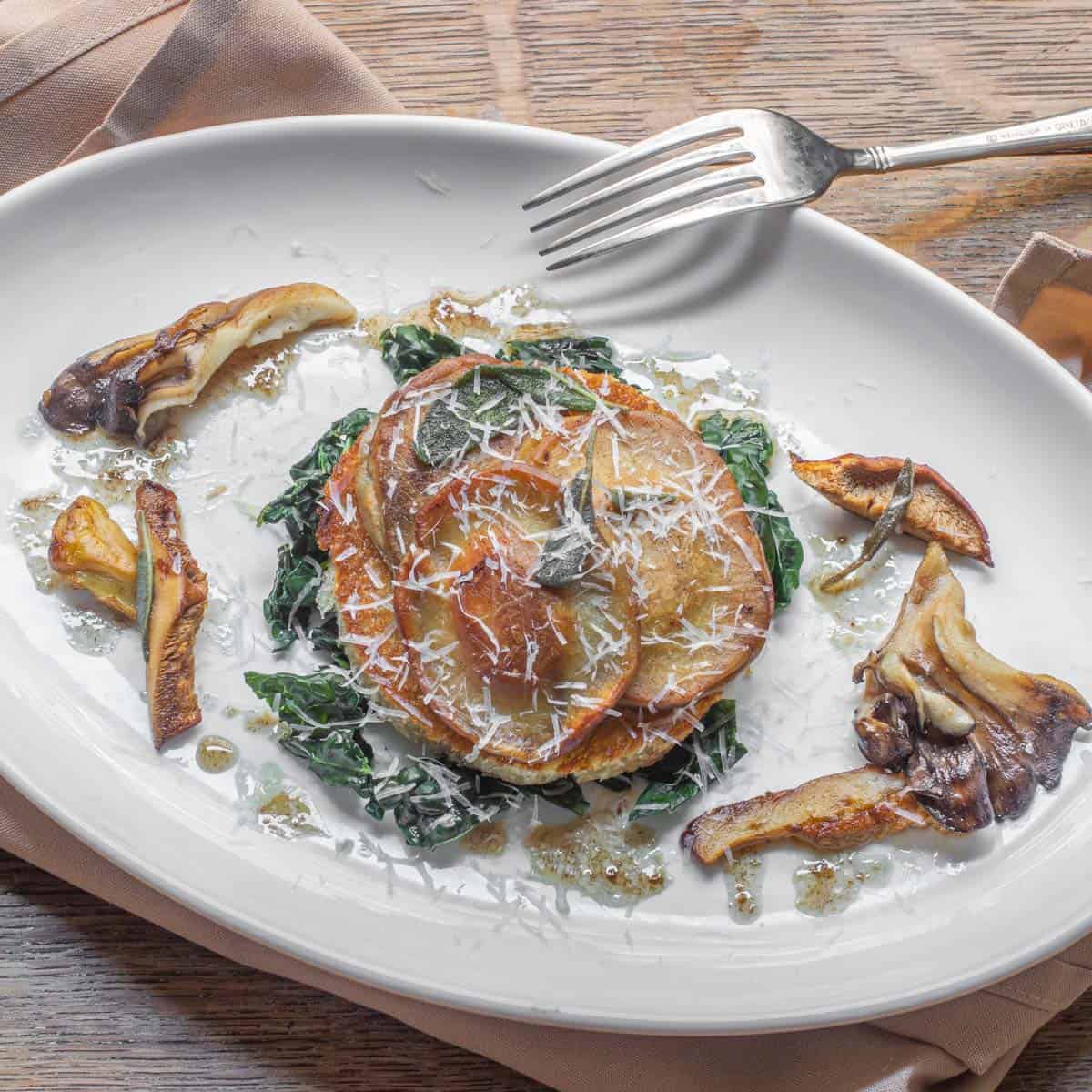 Cooking Puffballs as a Tofu Substitute
This is a great idea, and to be honest I feel slightly better about eating puffballs like tofu than eating tofu like tofu. Sear them and put in a stir-fry, cut tiny chunks and float in miso soup, grill them and toss in teriyaki-whatever your tofu poison, puffballs will probably do it for you.
Generally when I cook these, I peel, then slice or cut into chunks. Afterword, I saute in oil or fat until they're golden brown, lightly seasoning them with some salt and pepper to draw out their nutty-cheesy flavor.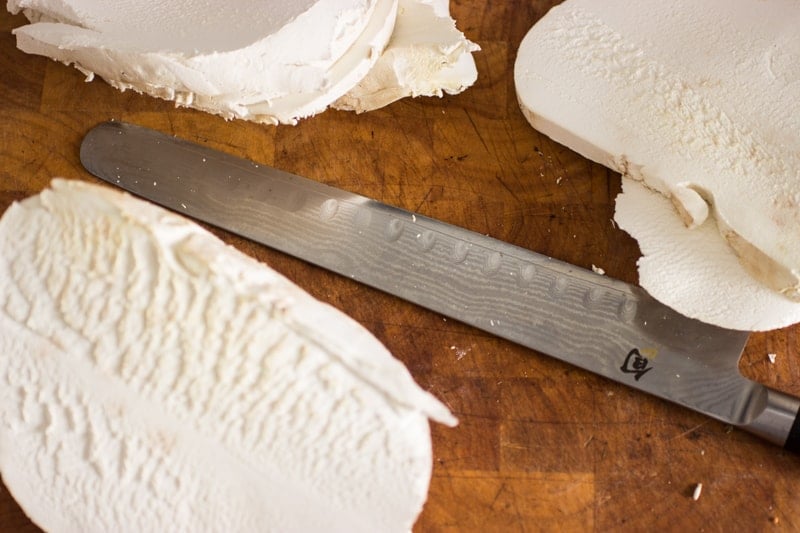 Puffballs as a GF noodle substitute
Slices of puffball, especially after they've been flattened with a rolling pin or compressed (see my notes on freezing below) make a very interesting, tasty substitute for sheets of pasta.
I wouldn't use them in place of something like spaghetti or fettuccine, but using them in place of sheets of pasta for lasagna or cannelloni can work. The finished dish will be much richer than if you used pasta, so it can be a good way to stretch a small amount of food to feed a hungry crowd.
Classic fried puffballs
Breading and frying slices of puffball is a tradition in rural areas of the Midwest where I live.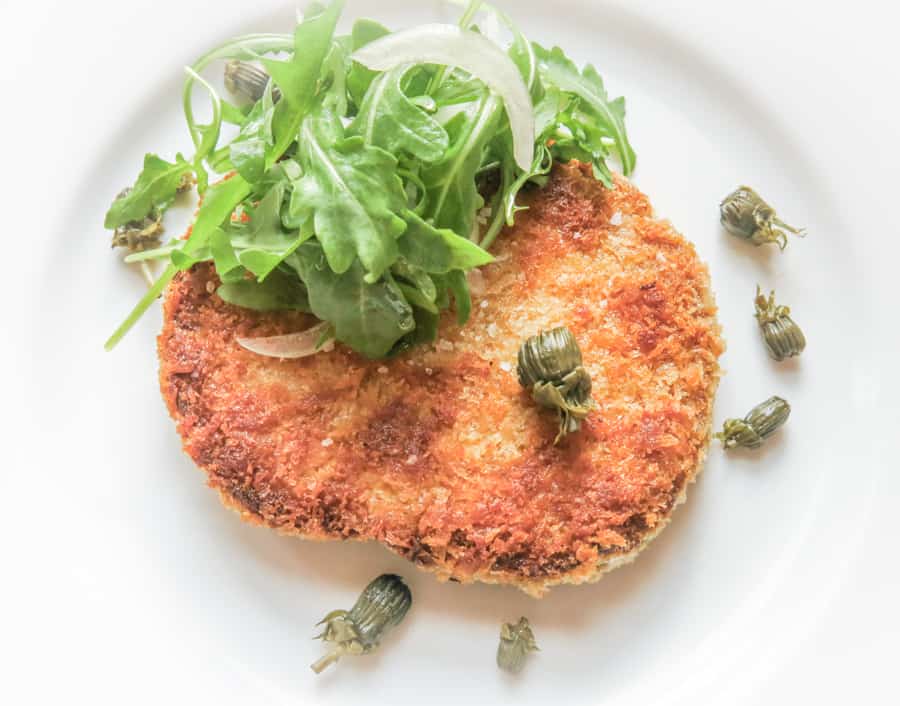 Preservation
Dehydrating
Puffballs dry well. To dehydrate them, peel and slice as thin as possible, then place them in a dehydrator (145-150F for roughly 24-48 hours or until cracker dry).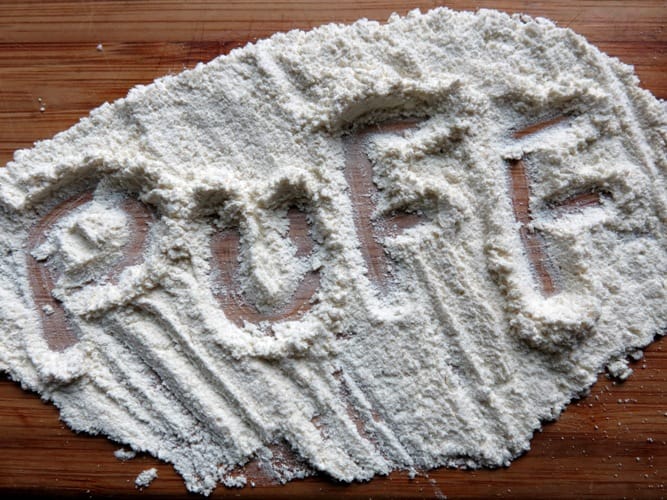 Strangely enough, even after a good run in the dehydrator, the fluffy, poofy composition of these things can be hard to get cracker dry after dehydrating. To get your puffballs cracker dry, I press down firmly on the slices of mushroom with my hand all over to compress them lightly before dehydrating.
A bit of warning: dehydrating puffballs will make your kitchen stink, and pureeing/grinding them up will fill the air with puffball powder, which is sticky stuff.
Open a window or puree dried puffballs into flour in wide, open areas, or bring the blender outside with an extension cord, and consider wearing a mask. I process all my mushrooms in my garage with the door open.
After dehydrating, you can grind the dried mushrooms to a meal, or, you can just break them into chunks and store in a jar, which means you'll have to grind the dried puffballs whenever you use them. Both ways work fine, and dried puffballs will last for a long time after proper dehydrating.
Freezing
Freezing puffballs can work, but they must be cooked first. Puffballs can be frozen whole, and raw, without loss of color or texture, but freezing causes them to release water, that is a very stinky puffball nectar.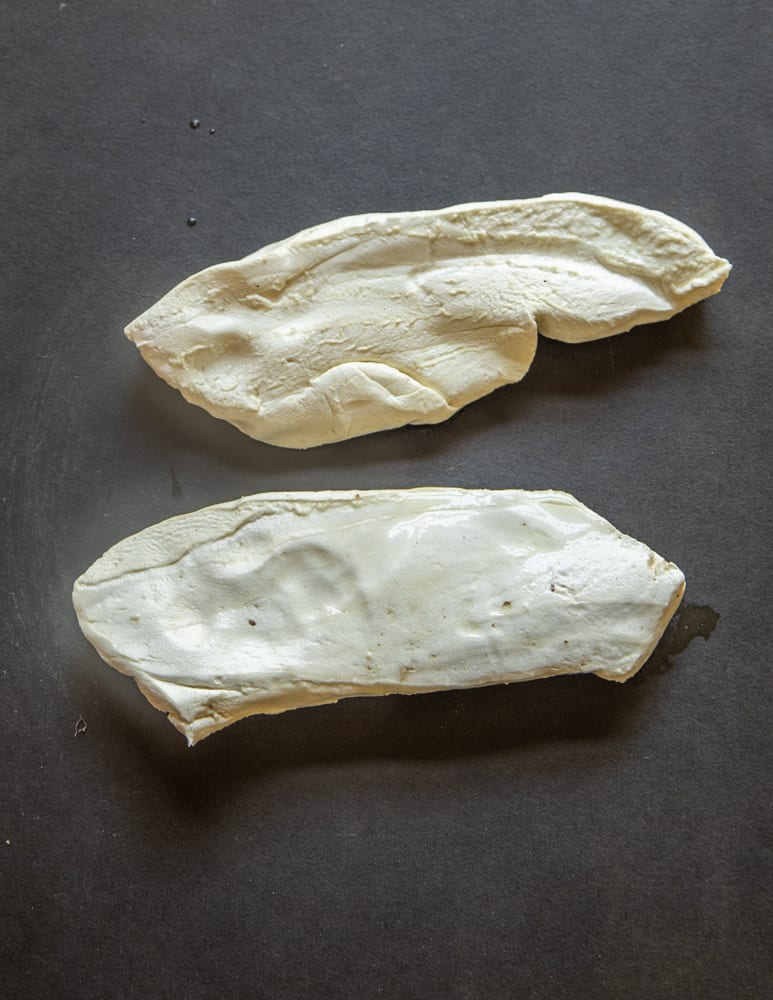 Freezing cooks puffballs in a way. Fresh from the field, puffball flesh will be crumbly and difficult to work with and cut into pieces. If the mushrooms are frozen fresh, they'll release an awful liquid when thawed. For the best finished product, you want to remove this beforehand by cooking and then re-freezing.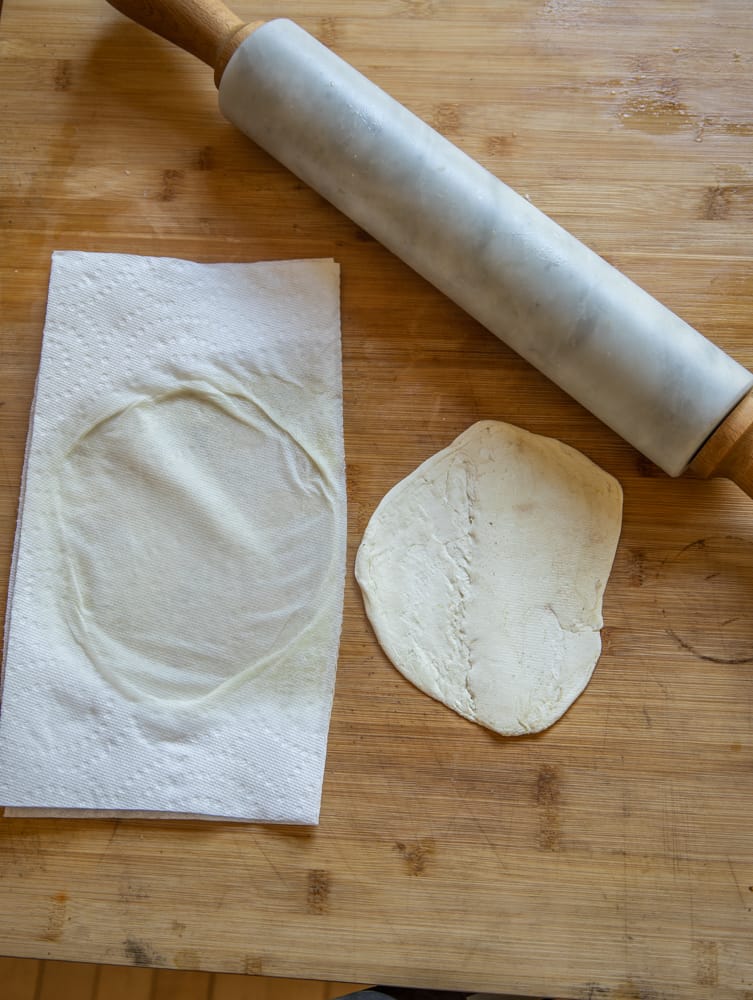 To remove the water from cooked puffballs, I like to put slices of them between paper towels and press a rolling pin of them, which helps absorb the water as well as flatten and compress them into a nice, firm-ish puffball pancake.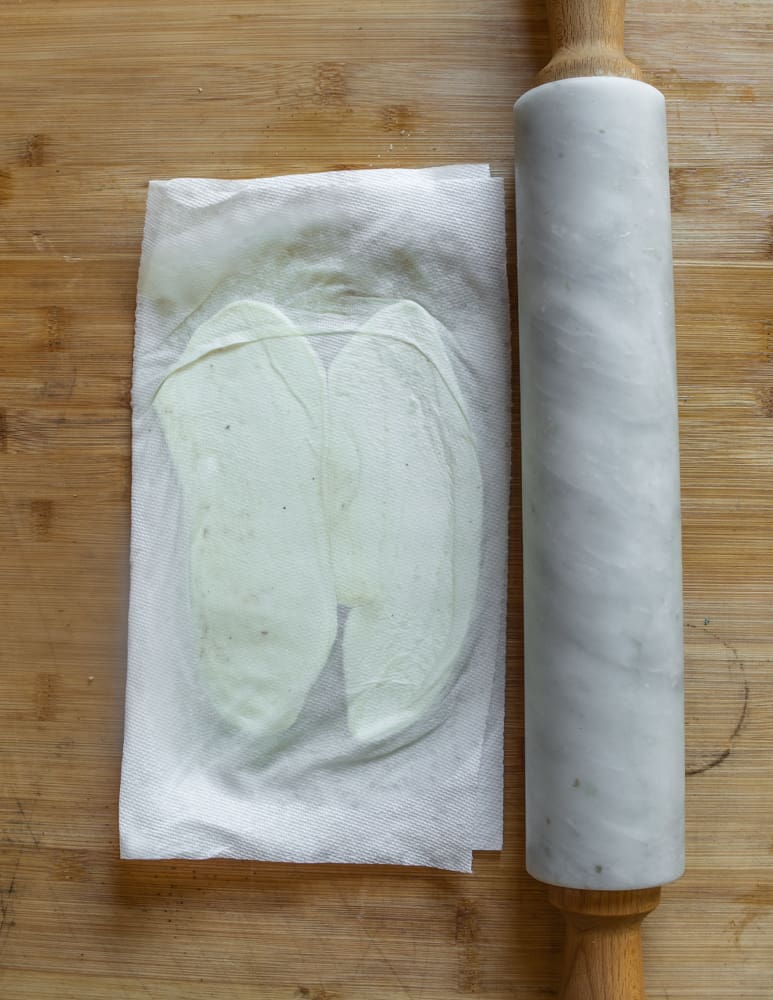 From there the puffballs can be vacuum sealed and frozen, preferably with a couple layers of absorbent paper towel at the top of the vacuum bag to encourage a tight seal. I try to not let the towel touch the mushrooms too much, as it can disintegrate a bit upon thawing.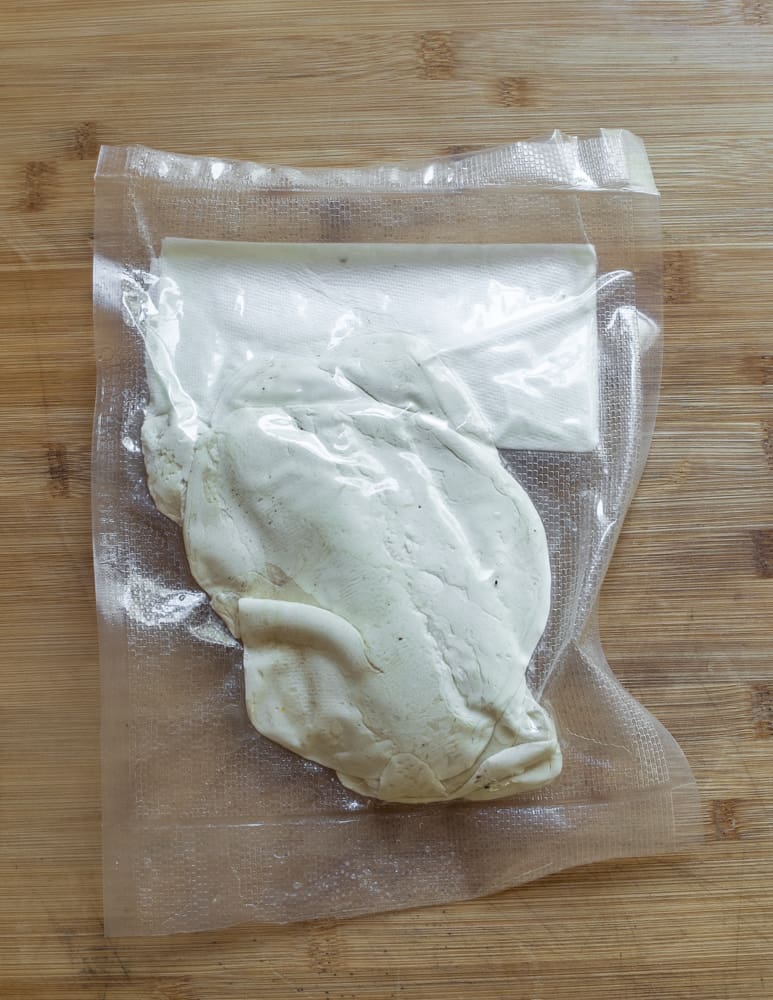 After freezing as above, the puffballs can cooked thawed or straight from the freezer, and are an ok substitute for fresh. They're fine for making something like my caramelized puffball puree.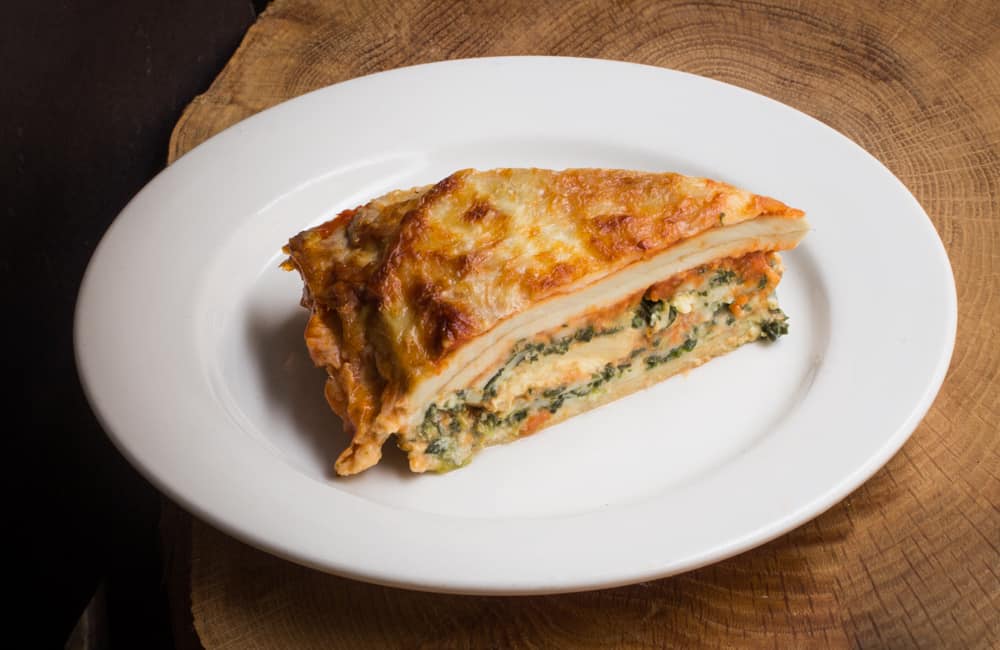 Recipes
One of my favorite ways of preserving these is a conserve, or type of pickle. The only thing you really need to know is that they have to be browned first, otherwise they will be soggy and...not good. Here's a shabbily shot home video, it may be old, but you'll get the jist.
Puffball Conserve