Puffball mushrooms can be huge. One way to preserve puffballs is to cut them into slices, dry and grind to a powder. It has a very fine consistency and can make good gravies and dumplings.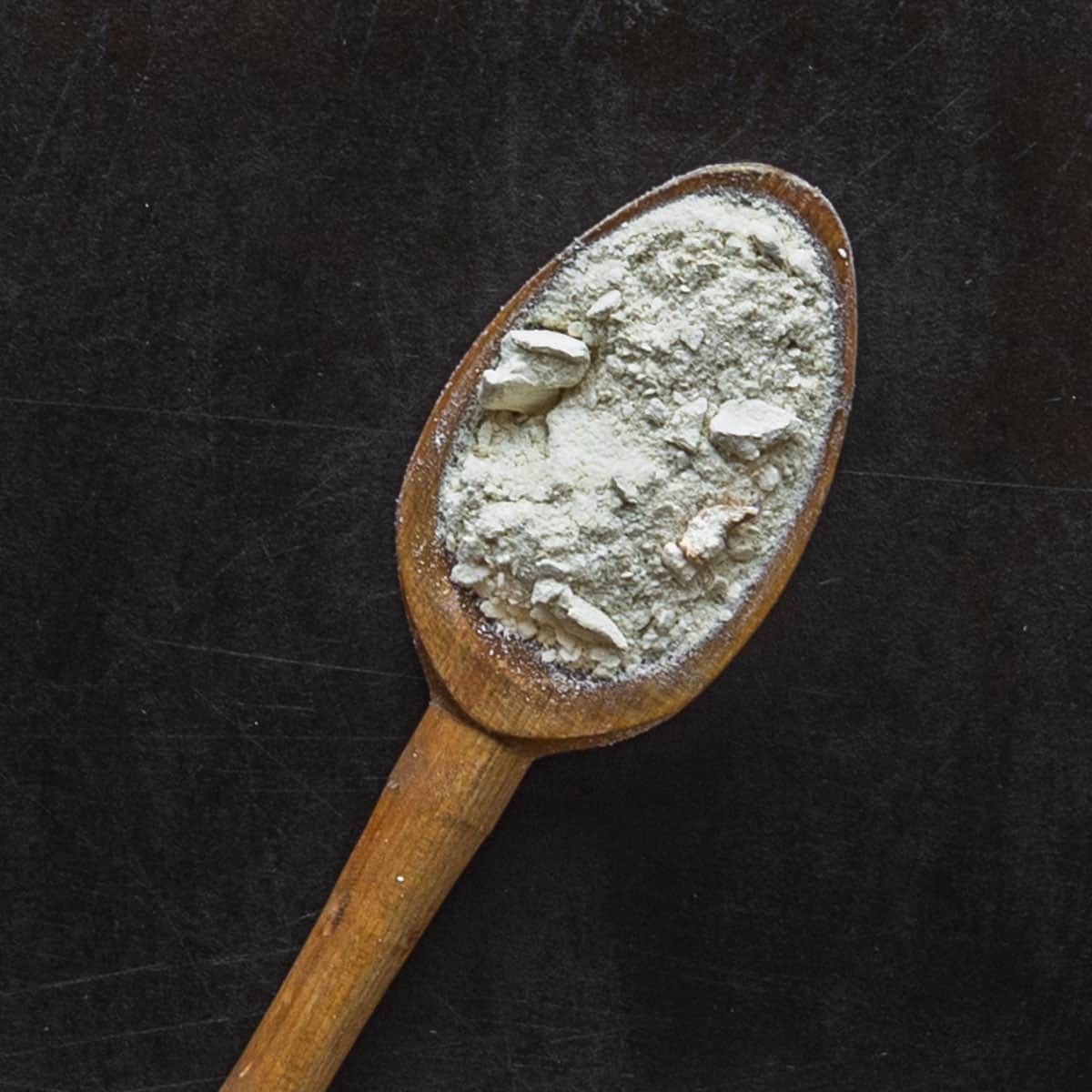 It was a great year for puffballs, right after it started to get cool we had a nice rainy spell and…POOF!, puffballs everywhere. One day of lucky hunting brought me around 30 lbs of perfect puffballs, with many more left in the woods since they were past their prime.
I like eat puffballs fresh, and find them very tasty, but a while ago I wondered what would happen if I dried and ground them into powder. I had read before that in the pioneer days of the Midwest, people would gather giant puffballs, dry them, and then use as a sort of flour to make bread. I didn't know if I wanted to make bread, but I knew that I would have to experiment with dried puffballs this year.
Now at home, storing 30+ pounds of puffballs is quite a trick, I mean how many basketball sized items could you fit in your fridge? Luckily It was cool enough that I could leave some of the really large ones outside overnight while I sliced and dried the others over a period of a couple days.
Even with the dehydrator going full speed night and day, I still needed more room to dry the mushrooms. I started to put them on baking sheets in a large oven with only the pilot light going, and that really sped things up. Nearly overnight the puffball slices were dry and crispy, but not colored or toasted at all, perfect.
Toasting the powder
The flavor of the puffball powder as is, will be good, and mushroomy, but toasting the powder by putting on a cookie sheet and baking until golden will give you even better results, or you could add oil or liquid and caramelize using a method similar to what I did with caramelized puffball puree.
So what the heck can you do with puffball powder?
Cooking with the stuff is, interesting. The first thing that I noticed is that puffball powder is so airy that it's volume is misleading. 1 qt of puffball powder is probably around the density of ½ cup of flour, if I were to guesstimate. Other mushrooms are more dense, and when dried and pulverized they have nearly the same density of flour. Puffballs though, just do not.
The misleading weight aspect of the puffball powder means you cannot just substitute it for regular flour or gluten free flour in a recipe. Although you can fill a measuring cup with it, the actual weight of it is much less than the weight of the flour you are substituting it for.
Taking into account those couple aspects of puffball powder, it is much easier to think of it as purely a flavoring agent or seasoning as opposed to a flour substitute. It may not look like much, but It's flavor when used as a seasoning is very strong, it can take the place of many, much more expensive mushrooms used dried for broths and sauces, like porcini or morels.
I will re-update this post as I continue experimentation, but for now here are some basic tips and recipe Ideas I have dreamt up and used for the puffball powder.
Puffball pate a choux dumplings are excellent, just toss a few tablespoons into a small batch of pate a choux. These are then poached and then fried golden brown. Follow my recipe

HERE

, just substitute triple the amount of puffball powder for the wild rice flour, the regular flour already in the pate a choux with stabilize it.
Adding puffball powder to any gravy or sauce is very good, it can be added to taste. When you are adding the powder to sauces though, you need to make sure that the puffball powder is incorporated with a whisk in a roux in the beginning of cooking, stirred in as part of a cornstarch slurry, or simply just puree whatever mushroom sauce you are making. The reason for this is that puffball powder gets very clumpy when simply added to boiling stock or water, like flour does.
Seasoning the onions at the beginning stage of making a mushroom risotto with a couple large doses of puffball powder would be great.
Adding a couple of tablespoons to a biscuit or savory pancake mix would also work very well.
Stir a couple tablespoons of puffball flour into polenta to give it a rich mushroomy-ness.
A reason puffball powder is unique because it is pure white. I have made tasty mushroom duxelle mashed potatoes before, but they turn brown and look like piles of poop. Infusing some dairy or cream with puffball powder before mixing into mashed potatoes would keep them white, while adding a load of flavor. Blend the infused cream or dairy mixture in the blender or with an immersion blender before mixing with the potatoes to avoid clumps.
3 star Michelin restaurant Arzac in Spain uses a technique where ingredients are seasoned partly with a dehydrated and powdered mixture of themselves. Imagine taking a slice of fresh puffball, dipping in egg, and then into a seasoned mixture of 50/50 flour and puffball powder, then frying golden brown.
Puffball mushroom fritters could easily be made by seasoning pate a choux dough with puffball powder, then deep frying small balls of batter, scooped out with two spoons. You could add cheese, herbs, green onions, or anything you like to your fritter batter. If piped into a deep fryer in long, thin streams, this would create a sort of puffball funnel cake.
One could easily fashion puffball spaetzle by adding a couple tablespoons of puffball powder to a spaetzle dough, if the dough gets too thick to easily go through the spaetzle tool or cheese grater, just moisten with a little water.
Add some puffball flour to the roux of a homemade macaroni and cheese, or other Midwestern casserole, like the classic green beans and onions.
A type of gluten free puffball noodle could be fashioned by simply pureeing eggs in a food processor with puffball flour until the mixture gets thick enough to squirt through the tip of a plastic bottle into simmering salted water. Neither the eggs or powder contain gluten, so there would be no risk of creating an overly chewy noodle through over processing. After poaching the "noodles" until they float, they should be removed and allowed to cool on an oiled cookie sheet. Once the noodles are cool they could be fried in a Teflon pan until golden brown.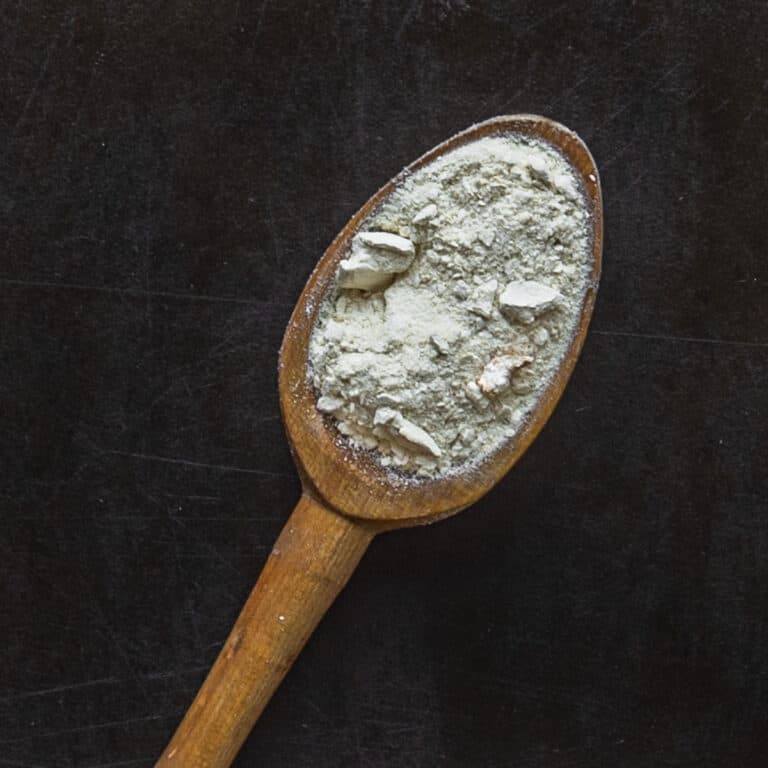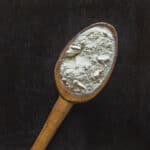 Print Recipe
Dried Puffball Powder
Dehydrated, powdered puffball flour can be used as a seasoning, and added to dredges, sauces and soups.
Equipment
Highspeed blender or food processor and spice grinder, dehydrator
Ingredients
Fresh

perfectly white puffballs, peeled of their skin and sliced as thin as possible, they can also be diced into small cubes.

An oven and a few cookie sheets

or dehydrator
Instructions
Place the puffballs on cookie sheets or the drying racks of a dehydrator. If you're using an oven, put in on the lowest setting possible, and put the puffball pieces on some wax paper on the cookie sheets so they don't stick.

Allow the puffballs to dry completely, until they're cracker dry. If you're questioning if they're dried enough, dry them longer, I usually do it overnight. (make sure to crack the window or do it in a garage or outside because your house will reek of puffball.

Once the puffball slices are completely dried, they may be powdered in a vita-mix or other dry-capable blender. If you don't have a blender that can powder things, you can use a coffee grinder, but that will take a very long time. For added depth of flavor, you can toast the slices of puffball in an oven (325 F until barely golden) before grinding.

When ground, the puffball powder is lighter than air, so much so that it's culinary properties were very deceiving at first.

After the puffball powder is ground, it can be stored indefinitely in a labeled, dated, air-tight container in a pantry or away from sunlight, then used as needed.
Notes
General notes 
When poured out of the vitamix blender this flows like water, and then after it is poured into a container, air trapped underneath will find it's way out, making the puffball powder move and swirl like quicksand. Also, when you're grinding the puffballs up, a little puffball powder will likely spill into the air and completely coat anything in the immediate vicinity leaving sticky white residue. Wear a mask, don't wear a black shirt, and consider doing it in a garage. 
More