I have plenty of experience accommodating gluten free diners and those with celiac disorder, as well as vegans, vegetarians, pescetarians, and various other eating preferences. These gluten free Pariesienne style gnocchi made from pate a choux (eclair dough) are a great example.
Wild rice flour is an odd  ingredient. As it is not a grain, but rather the seed of a wild grass, it doesn't contain the glutinous stretching properties of bread flour. This means that if you try to make fresh pasta with it (as I tried to do once) the pasta will crumble and break into dry shards.
It is impossible to use wild rice flour as a substitute for glutinous flour in recipes but you can generally just substitute ¼ wild rice flour in any recipe that uses regular flour and achieve something very close to the usual result, such as wild rice flour pancakes. Recipes that include eggs, like basic pancakes and these parisienne gnocchi I'm about to share with you are much more forgiving in that the utilize not only glutinous flour, but the protein coagulation properties of eggs to bind them.
Wild rice flour has a very strong flavor. If you substitute all wild rice flour in a gluten free recipe, it will be too strongly flavored, best to mix it in combination with another gluten free flour, such as millet or rice flour. Using a proportion of 50/50 will be fine. If you find the flavor of wild rice flour too strong for your and your friends and families liking, simply cut down the proportion of wild rice flour to 25%.
In the pictures, I have put the wild rice gnocchi in pastry bag with a fluted tip, which makes for very attractive ridged gnocchi, in the bottom picture, there is a selection of two different shapes you could make with this dough. The ovoid shape, or quenelle, is made by using two spoons, if you make larger dumplings, make sure to double the poaching time.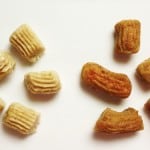 Print Recipe
Wild Rice Gnocchi Parisienne
Ingredients
½

cup

wild rice flour

2

large eggs

1

cup

milk or water

½

stick of butter

¼

teaspoon

salt

2

tablespoon

parmesan cheese

grated (optional)
Instructions
Heat the water in a small pan with the butter and salt.

When the water boils, add the mixed flours all at once, turn the heat down to low and stir rapidly for about 2 minutes, until the mixture in the pan forms a sticky dough.

Mix in the grated parmesan let this cool for five minutes and them beat the eggs into the dough one at a time with a wooden spoon until the dough comes together, it will be sticky still.

Put this mixture into a pastry bag with a ½ inch icing tip. Boil a pot of lightly salted water, and start to squeeze the dough out of the pastry bag into the water, using a scissors to cut the dough that comes out into ½ inch dumplings. Cook the dumplings until they float.

You will probably have to make two batches. once the gnocchi float, let them cook for 2 minutes longer and then remove to a cookie sheet that has some oil on it, so they don't stick. Repeat with the rest of the dough.

Cover the cookie sheet with the dumplings once they are cooled, they will keep in the refrigerator for 3-4 days.