Puffball mushroom hummus is a great way to transform puffball mushrooms into a creamy dip or spread you can use for all kinds of things. Read on and I'll explain how to make it.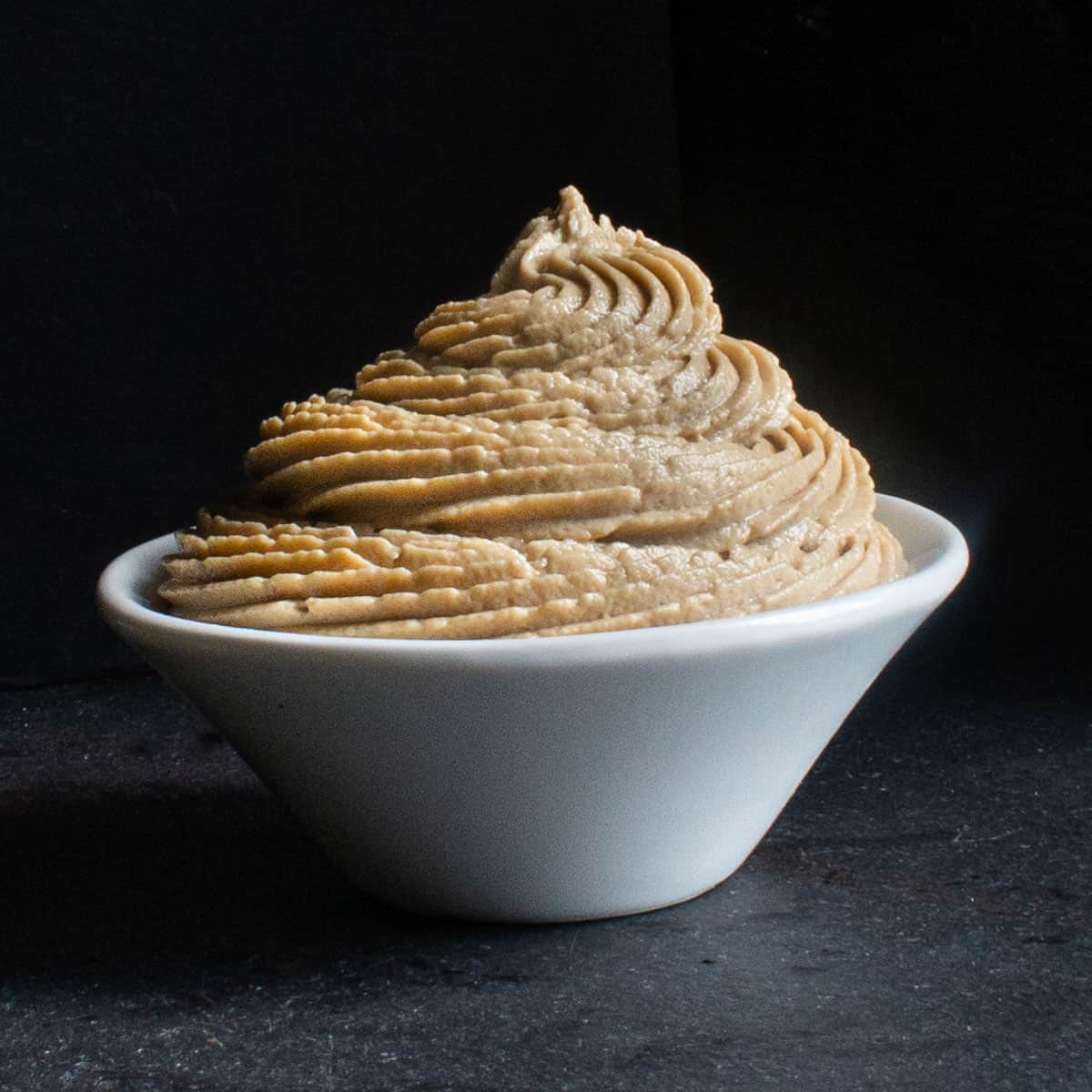 Last year I shared a recipe for a caramelized puree of puffballs that allows you to concentrate their flavor and compress them into a small size that's easy to freeze and store for the off season, since, unless you have walk-in coolers like a restaurant, keeping puffballs around can be really space-challenging.
I was surprised at how much people liked it, since a lot of hunters pass puffballs up (It was featured in the NAMA newsletter, and was a requested recipe for my Chef's mushroom discussion for the Minnesota Mycological Society this past October, as well as garnering a lot of questions and discussions on here and social media.)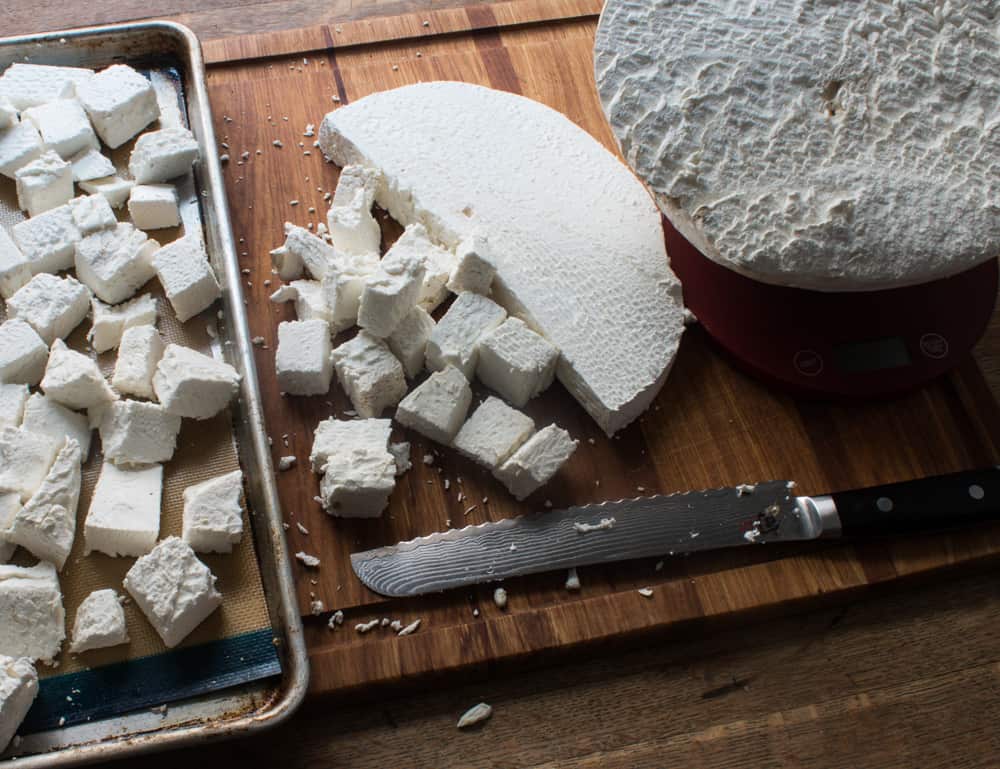 The puree is a great concentrate, but it's just that, a concentrate. It's got a powerful flavor that needs to be tamed by mixing or diluting it with other things, it also takes a long time to make and requires plenty of attention.
Baking puffballs in the oven
While most of the cooks and especially chefs were really interested in the process, which I borrowed from the gradual caramelization of Spanish dulce de leche and Indian milk curd used to thicken curries, I could tell some people thought it was too complicated for them to try.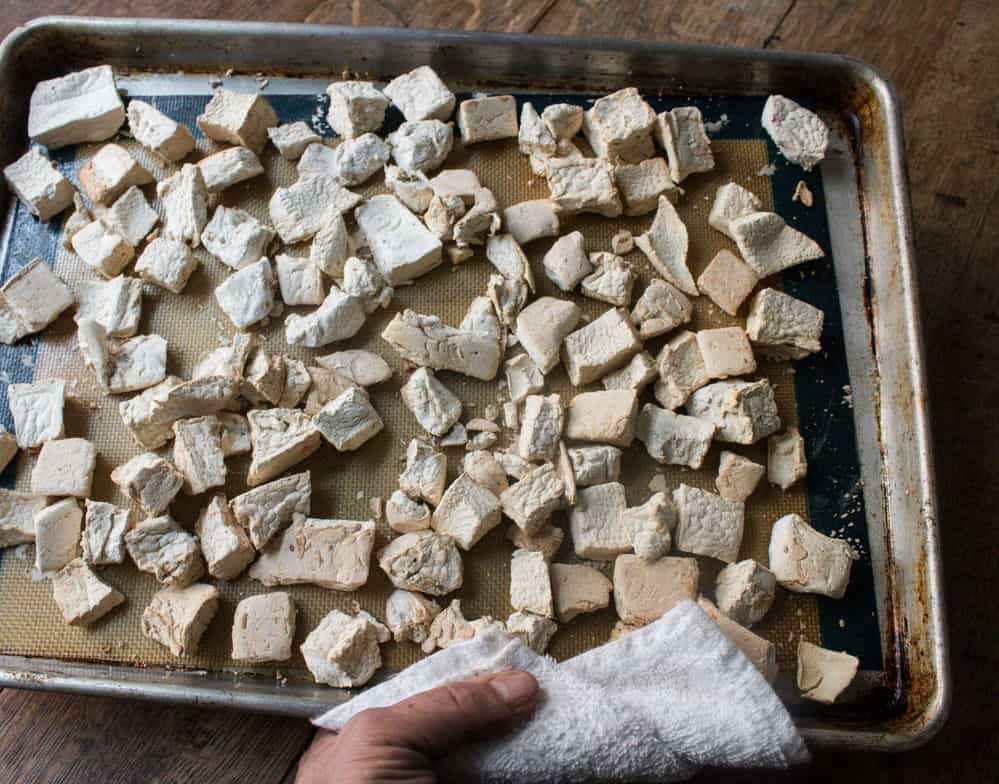 The basic method of making a toasted puree of the mushrooms is really useful though, and I thought it would be good to show a basic recipe using the puffballs that doesn't take so much time to have some variation.
How to make it
Our hummus here follows the same formula as the caramelized puree, just on a smaller scale and without the lengthy baking at a low temperature to remove water weight from the mushrooms.
Puffballs are first skinned, then diced and baked until their flesh toasts and gets nutty brown. Afterwords, then mushrooms are pureed in a food processor or high-speed blender, substituting the mushroom for chickpeas, yielding a creamy, nutty dip with plenty of possibilities.
Here's a couple ways I would try using it
Spread on a plate like thick sauce, then top with some cooked vegetables and meat like chicken or fish it would make a great summery garnish, drizzled with a little lemon juice and olive oil to finish.
It would love to be layered with eggplant and tomatoes and baked as a casserole like moussaka
Working some eggs into the mixture, or just a high amount of yolks and baking it could make a great mushroom cake as the basis for a good ovo-vegetarian entree
My favorite way to enjoy hummus is as part of a mezze plate, get some of your favorite olives, raw scallions, marinated vegetables like zucchini, peppers, eggplant or artichokes, heirloom tomatoes, olives of your choice, and of course, some nice feta you've purchased in it's juice, then drizzle the whole thing with olive oil.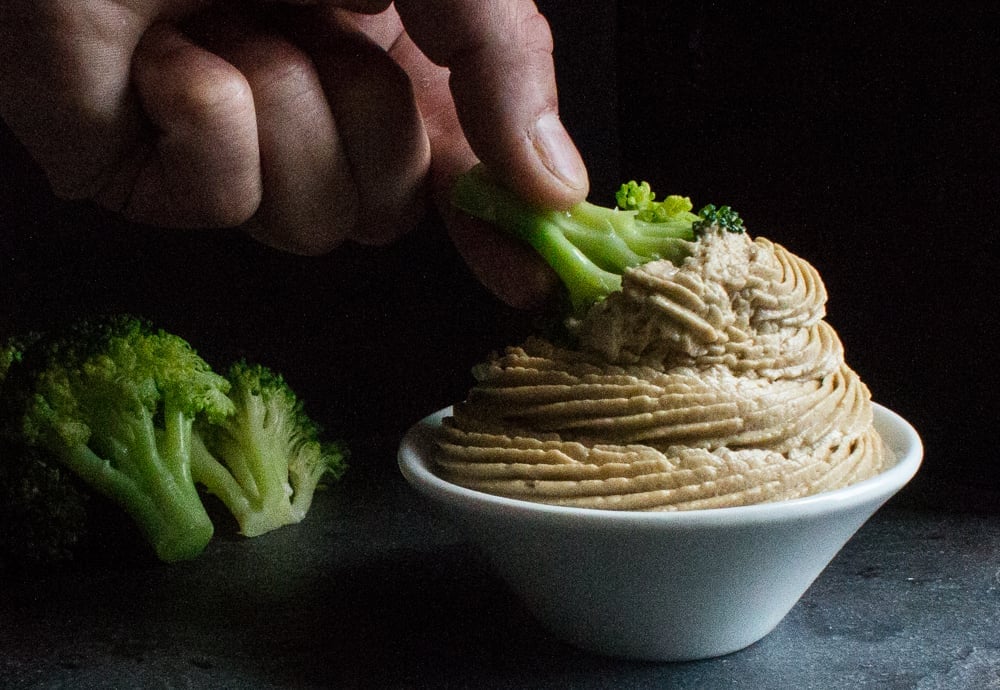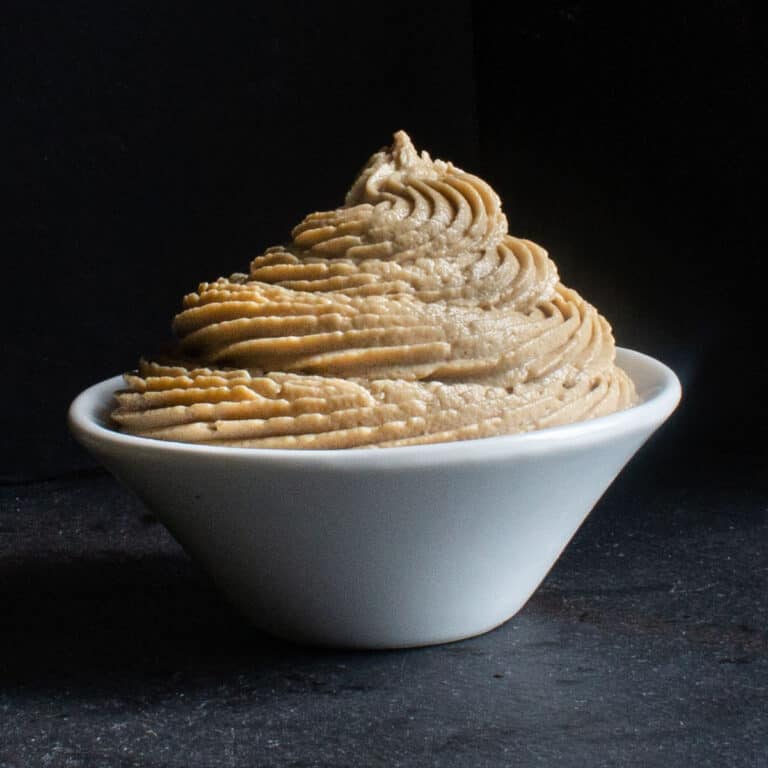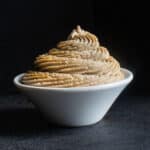 Print Recipe
Puffball Mushroom Hummus
Hummus made from puffball mushrooms. Yield: Roughly 2.5 cups
Equipment
1 Highspeed blender or food processor

1 baking sheet
Ingredients
1

lb

fresh

white puffball mushroom, diced 1 inch

1

tablespoon

tahini

¼

cup

olive oil +2 tablespoons flavorless oil

like grapeseed

Juice of ½ a lemon

plus more to taste

½

teaspoon

garlic

or more to taste

¼

cup

water

1

teaspoon

kosher salt

plus more to taste

Fresh ground cumin

to taste
Instructions
Spread the puffballs out on a non-stick baking sheet and cook at 275 for 30-45 minutes, or until toasty brown and completely cooked.

Squeeze the puffballs chunks a bit to compress them (this should end up being around 2 packed cups), then place in the bowl of a food processor (or a highspeed blender like I use in the pictures, which will give the smoothest result).

Add the garlic, lemon, cumin, salt, tahini, and water and puree the mixture until smooth, then start drizzling in the oils slowly like you're making mayonnaise, which is the key to making the velvety-smooth hummus pictured. If the mixture seems difficult to purée, add a splash of lemon or water until the blades of the processor move. Use your instinct to make a smooth purée.

When all the oil has been added, double check the seasoning for salt and lemon, adjust as needed, then transfer to a labeled, dated container and refrigerate until needed.
Notes
Improvising 
If you don't have a highspeed blender, use a food processor, just be patient and drizzle in the oil slowly to make a thick puree. You may need to add a splash of water to help it come together. 
Nutrition
Serving:
3
oz
|
Calories:
120
kcal
|
Carbohydrates:
6
g
|
Protein:
2
g
|
Fat:
11
g
|
Saturated Fat:
1
g
|
Polyunsaturated Fat:
2
g
|
Monounsaturated Fat:
7
g
|
Sodium:
396
mg
|
Potassium:
242
mg
|
Fiber:
2
g
|
Sugar:
2
g
|
Vitamin A:
2
IU
|
Vitamin C:
0.2
mg
|
Calcium:
6
mg
|
Iron:
0.5
mg
More