It may not look like it, but this is a study in giant puffball mushrooms. Typically you see puffballs breaded and fried, but you can't always have them fresh, so here is a fun recipe I dreamed up using powder made from their dried slices.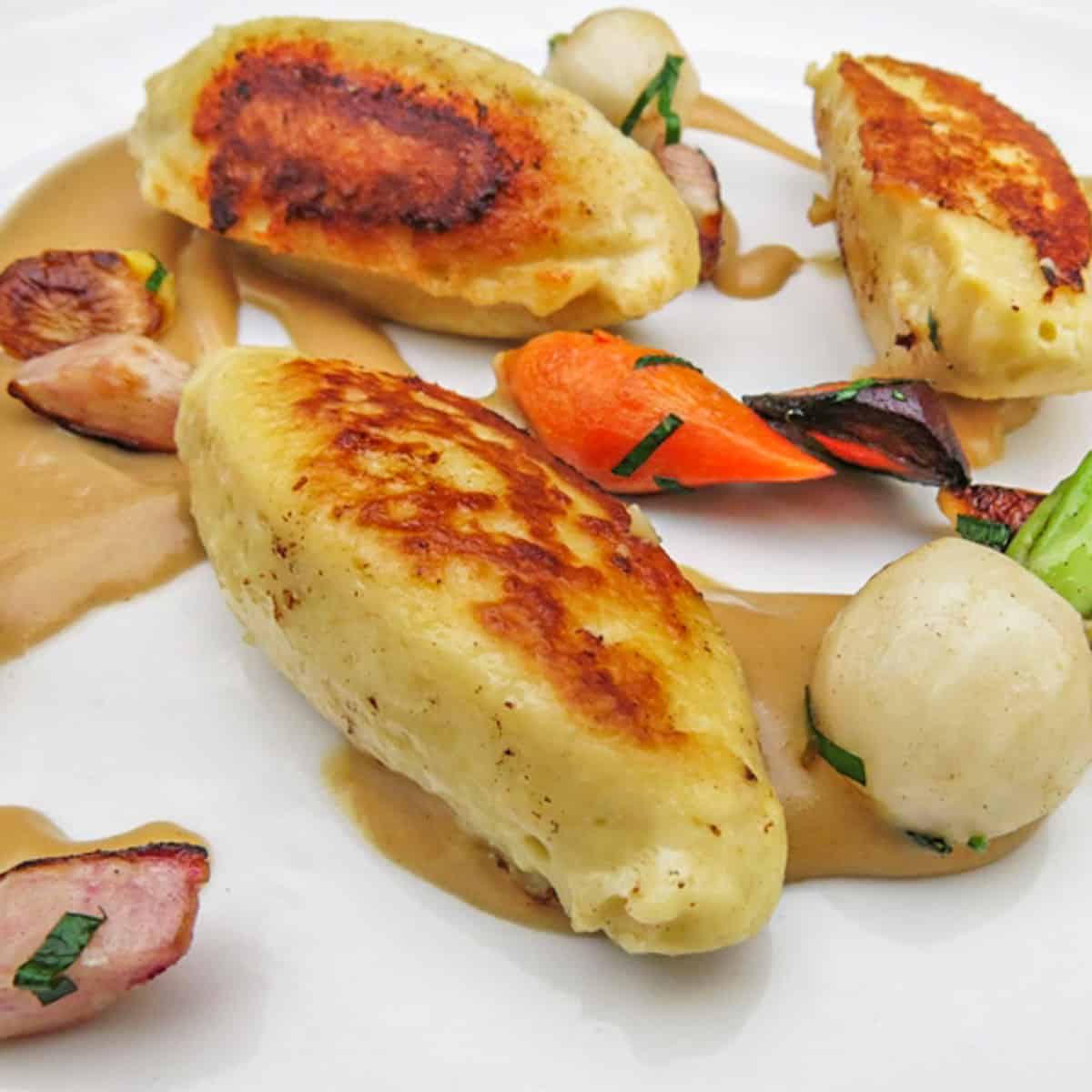 Essentially, these are just puffball flavored dumplings made from a modified eclair dough, with a sauce made from caramelized, dried puffball powder, all accompanied by some cooked winter vegetables to round out the dish.
I played around with more of the puffball mushroom flour a few weeks ago, trying to deepen my understanding of how it can be used. Its a bit difficult to wrap your head around it's properties since it deflates when it touches heat, losing much of it's volume. The only way to figure it's culinary uses is to just mess with it and see what works.
One thing I knew that would be easy to improvise, even with the flour's strange properties is a small gnocchi like dumpling called a parisienne, which I utilize often. Parisiennes are different from potato gnocchi in that they are made from eclair dough, otherwise known as pate a choux (pot-ah-shoe). I knew that the dough would be easy to make since the flour mixture is cooked through with a bit of butter on the stove top, which I knew would allow the puffball flour to show its true volume.
Instead of cooking potatoes for typical gnocchi, you can just cook these over the stove and the dough comes together easily in a small pot, no kneading or peeling of potatoes required. Parisiennes are also different in that they are typically fried golden brown after they are cooked in water until they float, where traditional Italian potato gnocchi are cooked in water and then tossed with a sauce immediately.
I tend to not like searing potato gnocchi golden brown, I think it makes them overly chewy. I should mention though that the typical potato gnocchi I make are egg-less utilizing only flour and timing to create the dough. Gnocchi made with egg in them can be seared and caramelized a bit better.
I make parisienne dumplings out of everything, the pate a choux is very flexible as far as what you can incorporate into it, much like spaetzle.
Since the dough gets whipped with eggs after is it mixed, and the eggs are the bulk of what make them float when they are poached, you can also substitute gluten free flour such as millet or wild rice flour.
In all reality though this is essentially two recipes in one, the puffball gnocchi and the puffball sauce don't have to be served together at all, you could just take your pick of one, instead of attempting the entire dish. The puffball sauce would be a shoe in for some pasta, kind of like a puffball alfredo, just add a little water as needed to thin it.
The gnocchi fried by themselves are wonderful with fresh vegetables, or as an accompaniment to meat. after the gnocchi are poached in water they can also be baked with a little cheese on top until brown. Just remember that parisienne gnocchi don't like to touch wet ingredients after they have been fried, steam will make them limp and soggy.
Anyone else have some unique ways they cook puffballs? I'd love to hear them.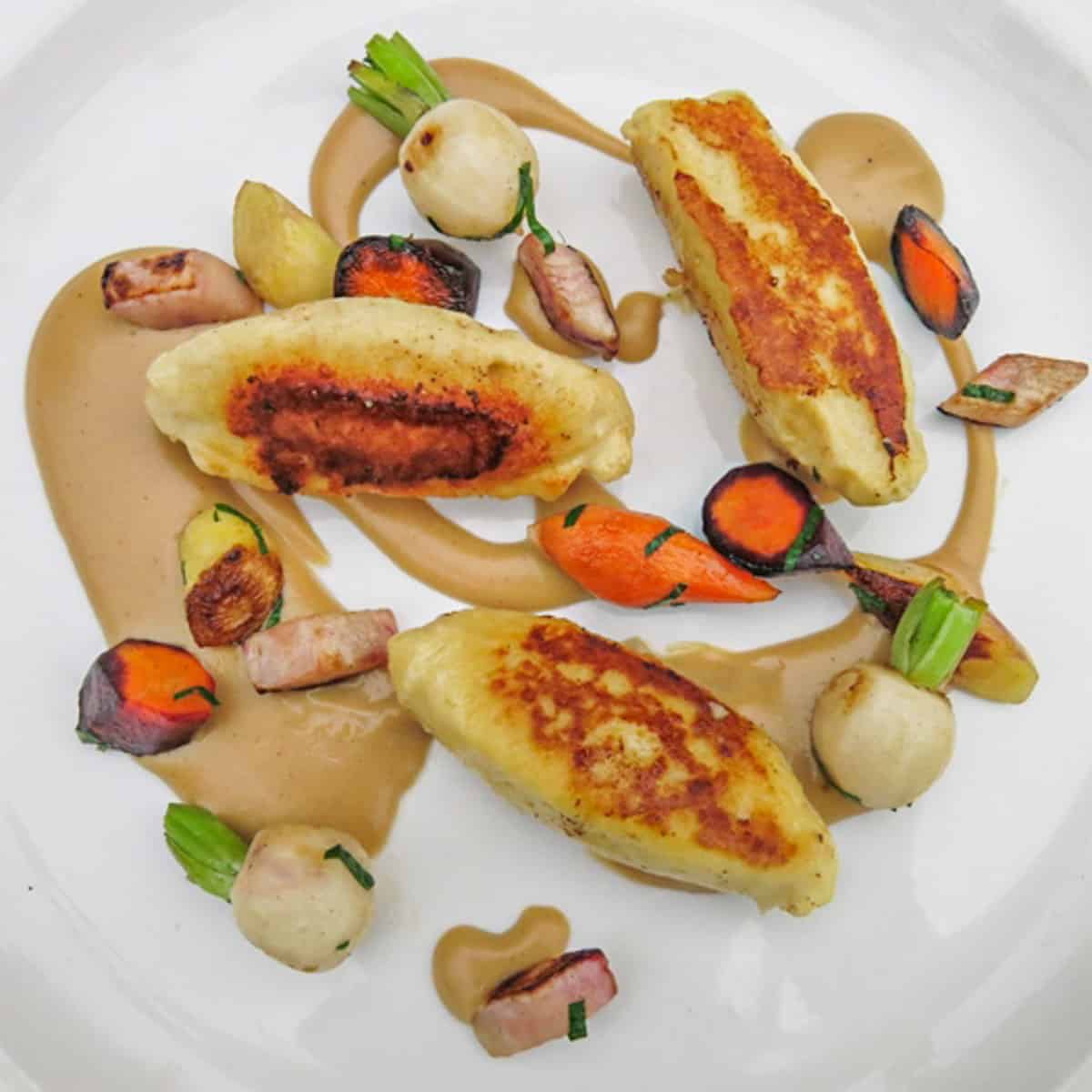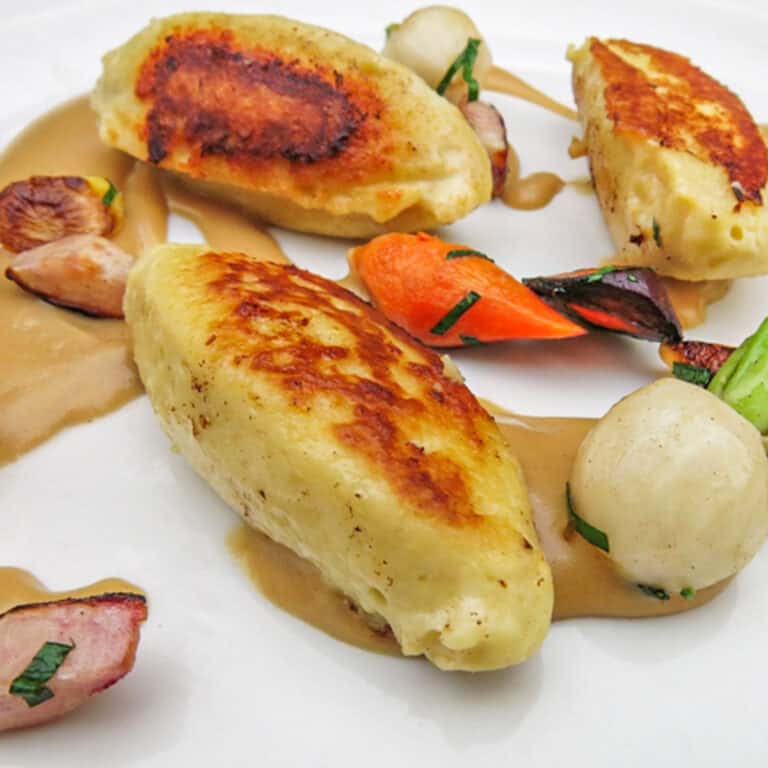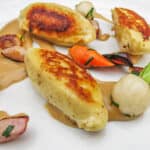 Print Recipe
Puffball Mushroom Parisienne Gnocchi
Classic Parisienne gnocchi, with a puffball twist.
Equipment
1 Stand mixer

1 Pastry bag

1 2-3 quart sauce pot
Ingredients
1

cup

dried puffball mushroom flour

1

teaspoon

salt

3

large eggs

¾

cup

cold water

¾

cup

plus two tablespoons white a.p. flour

2

tablespoon

unsalted butter
Instructions
Mix the puffball flour and regular flour. Heat the water, butter and salt in a small sauce pan until the butter has totally melted and the mixture comes to a boil. Whisk the flour into the water until the mixture comes together in a mass.

Stir the mass of flour in the pan with a wooden spoon for about 5 minutes slowly, turning down the heat if needed until some of the water has evaporated and the mixture thickens slightly.

Remove the piping hot dough mixture to a stand mixer and then, one at a time, beat in the eggs with the paddle attachment, waiting until each egg is completely absorbed before adding the next one.

When all the eggs have been added, transfer the dough to a pastry bag with a plain, circular tip and pipe the mixture into simmering, lightly salted water, cutting each dumpling off with a pairing knife at about 1inch lengths.

Once the bottom of the blanching pan is covered by dumplings, you must stop filling the pot and wait for the dumplings to float. After the dumplings have begun to float, cook for two-three minutes more until all the dumplings have risen.

Once all the dumplings have risen, cook for another minute or two to ensure they are set all the way through, then remove them to a greased cookie sheet using a slotted spoon. Chill the dumplings until ready to use.

To serve the gnocchi, brown them in an oiled pan until golden on each side.
Notes
Adding herbs 
Often this is made with chopped herbs in the dough. If you have some tarragon or basil it can make a nice addition. 
Nutrition
Calories:
203
kcal
|
Carbohydrates:
23
g
|
Protein:
7
g
|
Fat:
9
g
|
Saturated Fat:
5
g
|
Polyunsaturated Fat:
1
g
|
Monounsaturated Fat:
3
g
|
Trans Fat:
0.2
g
|
Cholesterol:
138
mg
|
Sodium:
630
mg
|
Potassium:
180
mg
|
Fiber:
1
g
|
Sugar:
0.3
g
|
Vitamin A:
353
IU
|
Vitamin C:
0.2
mg
|
Calcium:
25
mg
|
Iron:
2
mg
Caramelized Puffball Sauce
A caramelized sauce made from puffball mushroom flour
Ingredients
1

cup

dried puffball mushroom flour

3

tablespoon

butter

1

tablespoon

shallot chopped lightly or diced ¼ in

½

cup

dry white wine

¼

cup

cream

¼

cup

vegetable or meat stock of your choice

preferably homemade

¼

teaspoon

salt

Pinch

white pepper
Instructions
In a two quart sauce-pot, gently cook the butter, salt, and shallots and cook for 5 minutes until the shallots are translucent and softened, this will remove their hot-raw aroma and flavor.

Add the puffball flour and cook, until the puffball flour loses it's volume and begins to cook. Cook the puffball flour for five minutes on low-medium heat, stirring occasionally until it darkens in color slightly.

Now deglaze with the wine and cook until the wine has almost evaporated entirely.

After the wine cooks off, add the cream, stock, and white pepper. Bring the mixture to a simmer and then puree in a highspeed blender. When the sauce is pureed and very smooth, strain it through a chinois or other strainer. Alternatively you could use a hand blender to puree this, they work great too.

Reserve the sauce until needed. When reheating, whisk occasionally to prevent lumps.
More