Probably my favorite way to serve medium-sized puffball mushrooms like Calvatia cyathiformis. These ravioli use slices of cooked puffball mushroom instead of pasta.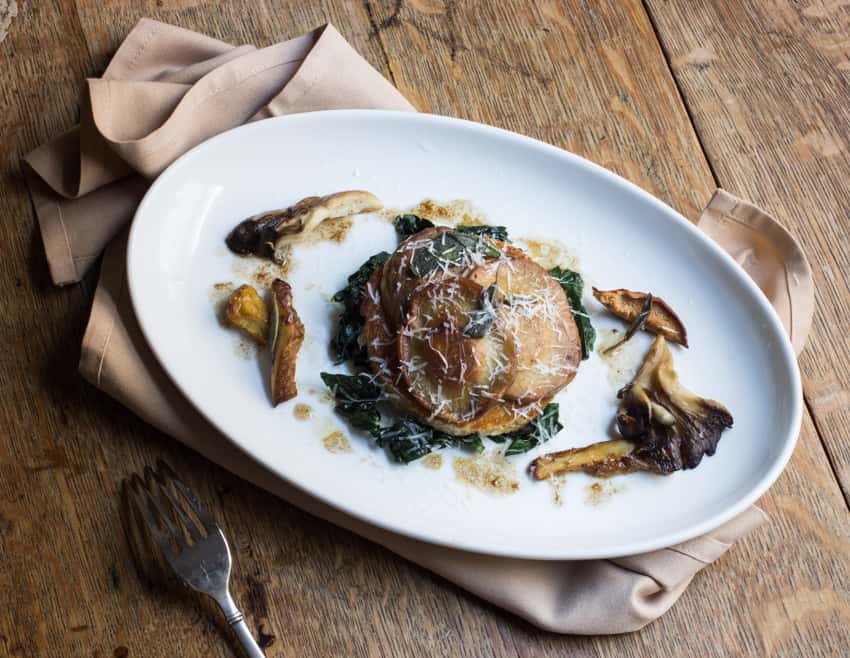 With a fun mushroom and wine pairing tv segment coming up the next week, this was all I was going to get to come up with a new recipe. As I drove home with my consolation puffball and precious ounce or two of mixed shrooms I had an idea: what If I used sliced puffballs like sheets of pasta?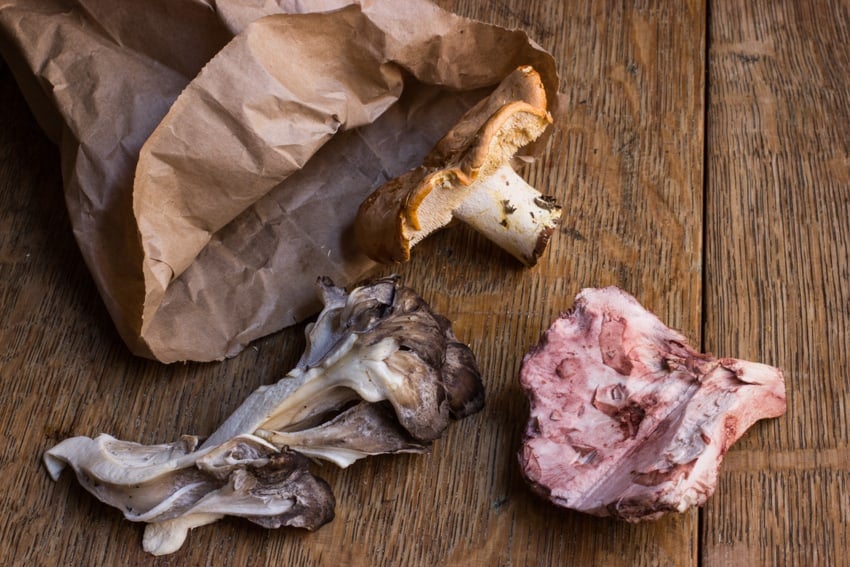 I knew the puffball noodle idea would work, but I also know that puffballs require browning to taste good. Puffballs couldn't be shaped or filled raw either, since they would be crumbly-they would have to be cooked beforehand, then cooled slightly and shaped. Aside from that, I didn't expect there to be much difficulty to it, and I was right.
All I did was cut rounds out of slices of puffball, fry them, brush with egg, and fill them as I would ravioli. They turned out really, really good, and they're pretty darn creative if I do say so myself.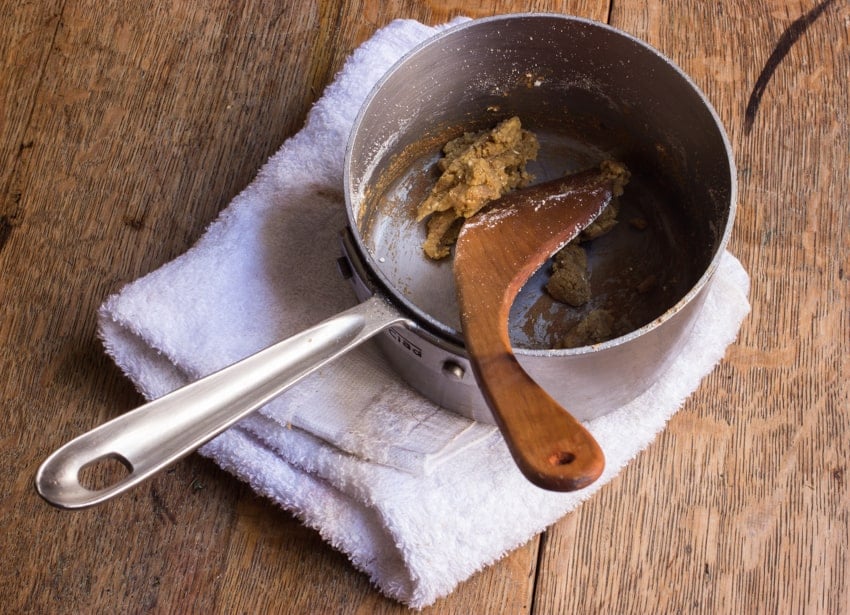 The filling
As far as the filling, you could put whatever you want in them, but puffballs have a rich, mushroomy flavor, so I wanted something with a bit more zip than your basic cheese filling. Some roasted red peppers minced in the filling stand out just enough, but not so much that they steal the show.
Of course I couldn't just do a post on ravioli either, I wanted to show a fun way to enjoy them too. Your mind might drift to tomato sauce right away with the thought of pasta, and that would be fine. Since puffballs have a soft texture though, I thought I would share a way to serve them that compliments that, since their softness is one of the attributes people mention when they say they dislike them, from my experience.
Serving on toast for extra texture
What I ended up doing Is browning the ravioli a second time to coagulate the egg that holds them together, adding some other seasonal mushrooms, and making a little pan sauce with white wine and sage.
The part of the recipe that helps the texture of the puffballs is that the ravioli are served on toast-a technique I like to use for serving foie gras, which has similar textural properties. Some wilted greens thrown in the mix helped me forget I was eating mushrooms stuffed with cheese fried in butter on buttered toast. Happy hunting.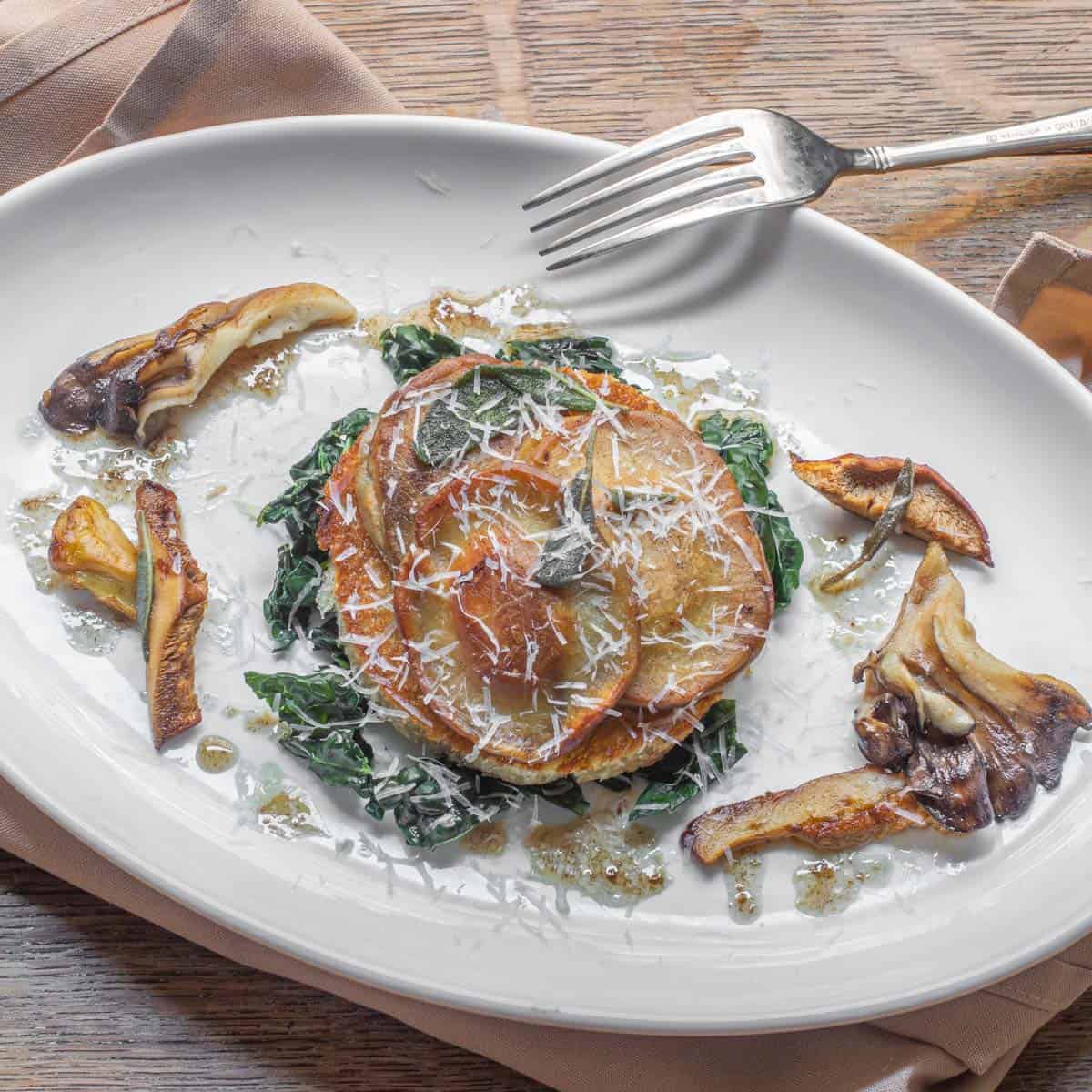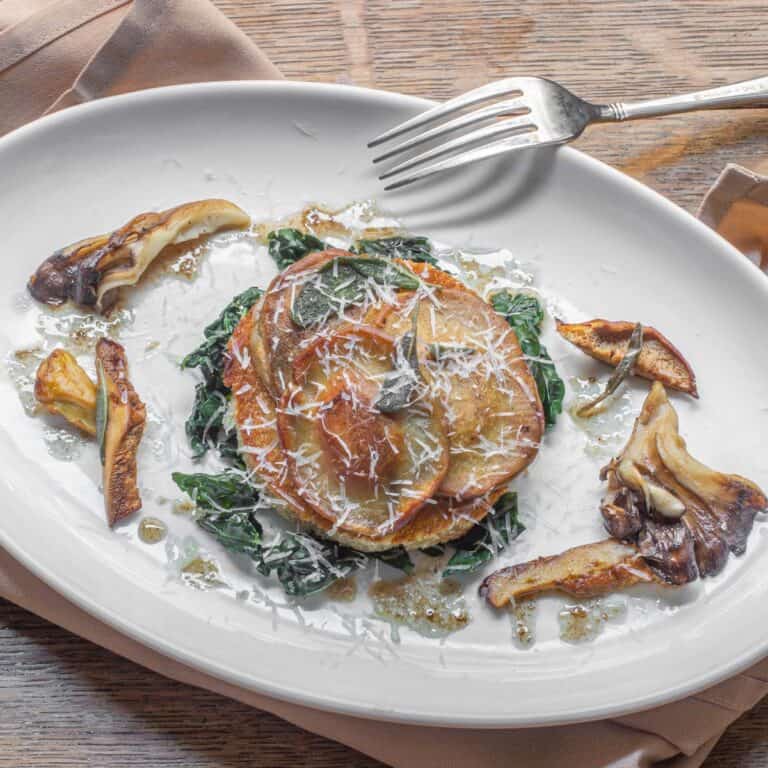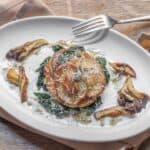 Print Recipe
Puffball Ravioli With Kale, Mushrooms And Sage Butter
Serves 4 as a vegetarian entrée
Ingredients
1

large puffball mushroom

about 3-4 lbs, skin peeled and cleaned

½

cup

dry white wine

Cooking oil

such as canola or grape seed, as needed for frying (you will need at least a cup)

2

eggs

beaten with 1 tablespoon water

12

leaves

of fresh sage

1

recipe puffball mushroom

bell pepper, and ricotta stuffing (follows)

Unsalted butter at room temperature-as needed for toast

Kosher salt and fresh ground black pepper

to taste

8

ounces

mixed fresh wild mushrooms

8

ounces

fresh lacinato kale

Four pieces high quality bread

sliced ½ in thick, and cut into circles with a ring mold or glass

Parmigiano reggiano

grana padano or other parmesan, for serving
Instructions
Using a long, sharp knife, slice the peeled puffball into 1 inch slices. Using a drinking glass or ring mold, cut 24 rounds of puffball. Fry each puffball round in oil on each side until golden in a pan on medium high heat, making sure each slice is completely cooked. Cool the mushroom slices on paper towels to weep excess oil. Place the cooked mushroom slices between two pieces of plastic or parchment and press them to flatten them a bit, it will help when forming the ravioli.

Arrange the mushroom slices on a cutting board in groups of two. Brush each slice lightly with egg wash, then place ½ tablespoons of filling one of each slice as if making ravioli. Press the slices of mushroom together to seal in the filling, then reserve.

To serve the dish, heat a few tablespoons of butter in a very wide pan, then add the mushrooms and puffball ravioli, fry the mushrooms and ravioli until gently browned, then add the sage and cook 1 minute. Add the wine to the pan and cook for 2 minutes. Meanwhile, wilt the kale in a tbsp. of butter, and season with salt and pepper, keep warm until ready to serve.

On each of four preheated dinner plates, arrange equal mounds of the kale, with a piece of toast on top, then some ravioli. Arrange the mushrooms and drizzle some sage butter over each dish. Grate some parmigiano over the whole thing and serve immediately.
Notes
Since the puffball mushrooms are cut out using a glass or ring mold, you can use larger or medium sized puffballs for this. 
Nutrition
Calories:
70
kcal
|
Carbohydrates:
3
g
|
Protein:
5
g
|
Fat:
2
g
|
Saturated Fat:
1
g
|
Polyunsaturated Fat:
1
g
|
Monounsaturated Fat:
1
g
|
Trans Fat:
0.01
g
|
Cholesterol:
82
mg
|
Sodium:
36
mg
|
Potassium:
248
mg
|
Fiber:
1
g
|
Sugar:
2
g
|
Vitamin A:
119
IU
|
Vitamin C:
1
mg
|
Calcium:
17
mg
|
Iron:
1
mg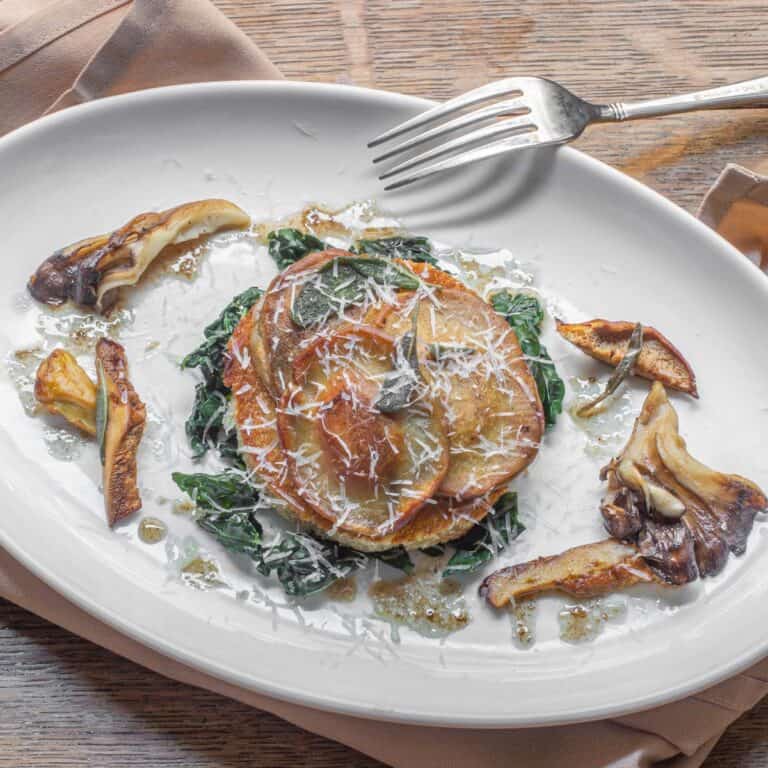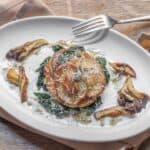 Print Recipe
Puffball Mushroom, Bell Pepper, And Ricotta Stuffing
Yield: 2.5 cups -enough to make ravioli to serve 6
Ingredients
2

cups

ricotta cheese

¼

cup

grated parmigiano reggiano

grana padano, or other parmesan

1

red bell pepper

1

cup

dehydrated puffball flour

1

tablespoon

unsalted butter

Kosher salt and fresh ground black pepper

to taste
Instructions
The night before assembling the stuffing, drain the ricotta by allowing it hang in a colander or strainer overnight in the refrigerator. Don't skip this step, otherwise your filling will be too wet.

Place the bell pepper directly on a grill or gas burner, char the skin, but don't allow the flesh to burn. When the skin is evenly charred, place the pepper in a plastic bag or other sealed container and allow to cool.

When the pepper is cooled, remove the skin and seeds, then reserve until needed.

Melt the butter in a small saucepan, add the puffball mushroom powder and cook until combined with the butter. Continue to cook for 5 minutes more on medium heat, stirring occasionally.

In the bowl of a food processor, combine the drained ricotta, ¼ teaspoon kosher salt and pepper, cooked puffball flour, parmigiano, and roasted bell pepper. Puree the mixture on high speed until evenly combined. Double check the seasoning for salt and pepper, then reserve until needed.
Notes
This recipe uses dried puffball powder, made from the powdered, dried trim from cutting the puffball slices into rings. If that sounds a bit laborious, omit it-it'll still taste good.
More