Brilliant yellow butter infused with the color and subtle aroma of fresh lobster mushrooms is a good way to get the most out of your mushrooms, or even just some scrap and trim.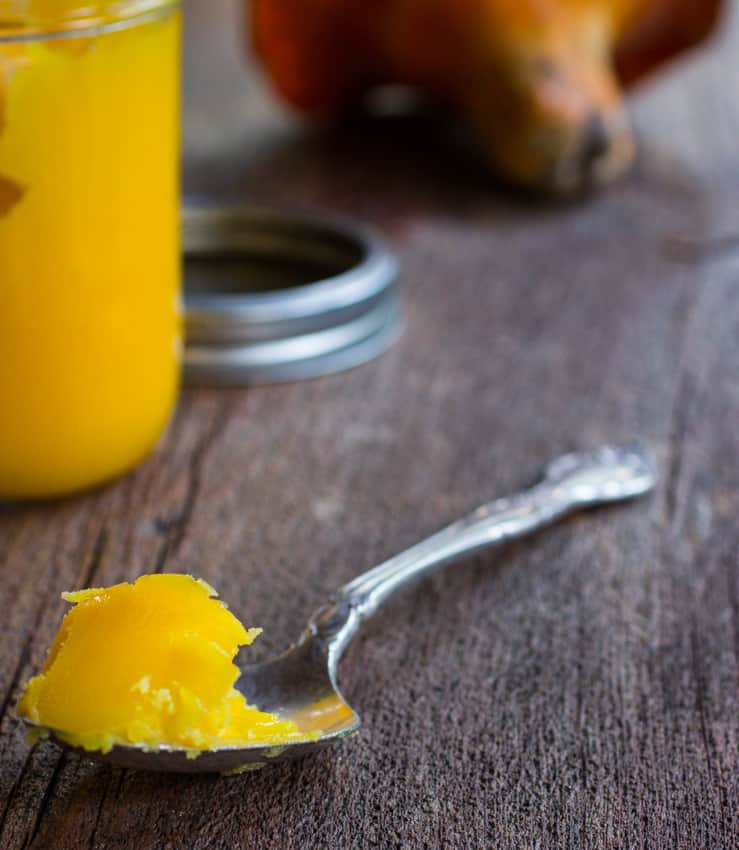 This is hands down one of the coolest things I discovered cooking with lobster mushrooms. Here's the story.
I was on the line at Heartland one evening. It wasn't so busy that I couldn't work on some projects in my spare time, so I set about trying to preserve some of the haul of lobster mushrooms that had come in recently. We had plenty of lobster mushroom pickles and conserve already, so I wanted to preserve them a different way.
Thinking about the affinity for lobster and butter gave me the direction I was looking for. I took twenty pounds or so of whole lobster mushrooms, put them in a large hotel pan, and then covered them with butter and a sprinkle of salt, a couple garlic cloves, and some herbs.
I put the whole thing in the oven and cooked it slow, until the lobster mushrooms were completely done-the intention being to keep them preserved underneath the butter after it solidified in the cooler, like you would duck confit.
When I took the pan out of the oven, I noticed something interesting-all the butter had turned brilliant orange, and the whole pan reeked like lobster mushrooms.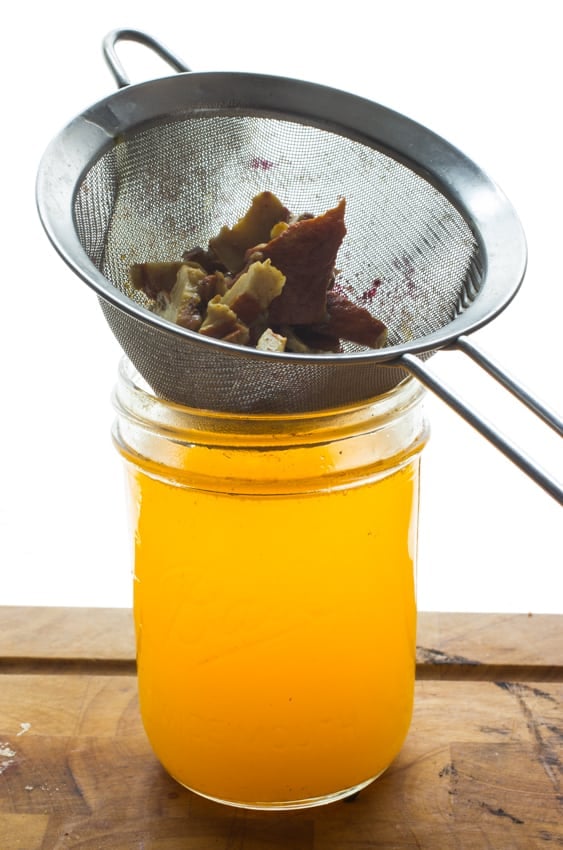 Now, if you know a thing or two about butter, you know that it takes on the flavor of what it comes into contact with. To clarify a bit too, "contact" doesn't have to be physically touching or cooking. In fact, butter takes on flavor so well that you have to be careful, storing it in a fridge with unwrapped, sliced onions will make your butter taste like onions; the same will happen if butter is stored next to any ingredient that's aromatic or has a strong smell.
The butter turning orange is something I had noticed with lobster mushrooms before, while making little batches of risotto a couple years back.
The red fungal coating on the outside of the mushroom acts like saffron when it comes into contact with heat and fat. You don't have to use the whole mushrooms for this either, I've done experiments just scraping the red coating off or using trim, and it works just fine.
This time though, I had a lot of the orange butter, and with the multitude of lobster mushrooms cooked in it, it tasted just like them: sublte shrimp and mushroom flavor, all at the same time.
Everyone on the line was intrigued, and after that I remember forgetting about the lobster mushrooms. I moved on to experimenting with just the butter itself, I felt like I'd discovered something; unlocked a secret no one knew.
Here's some ways the butter is fun to use:
Use it just like clarified butter....
You could cook lobster mushrooms in the lobster mushroom infused butter to really layer the flavor.
If you make a big batch of the stuff (the recipe below yields 8 cups, which is ample) you can poach things in it, chicken, fish or vegetables, like cauliflower are great.
This year I planned on doing more experiments with the lobster butter. I wrote down some proportions that work great, and the best part is that you don't have to sacrifice any of your lobster mushrooms to make it.
Like I mentioned before, the color and flavor transference is locked in the red coating of the mushroom, so all you really need is some scrap and trim. Afterwords, you can cook with the butter just like you would clarified butter. There are some really cool recipes we've come up with over the years for using this funky stuff-I'll share some with you soon.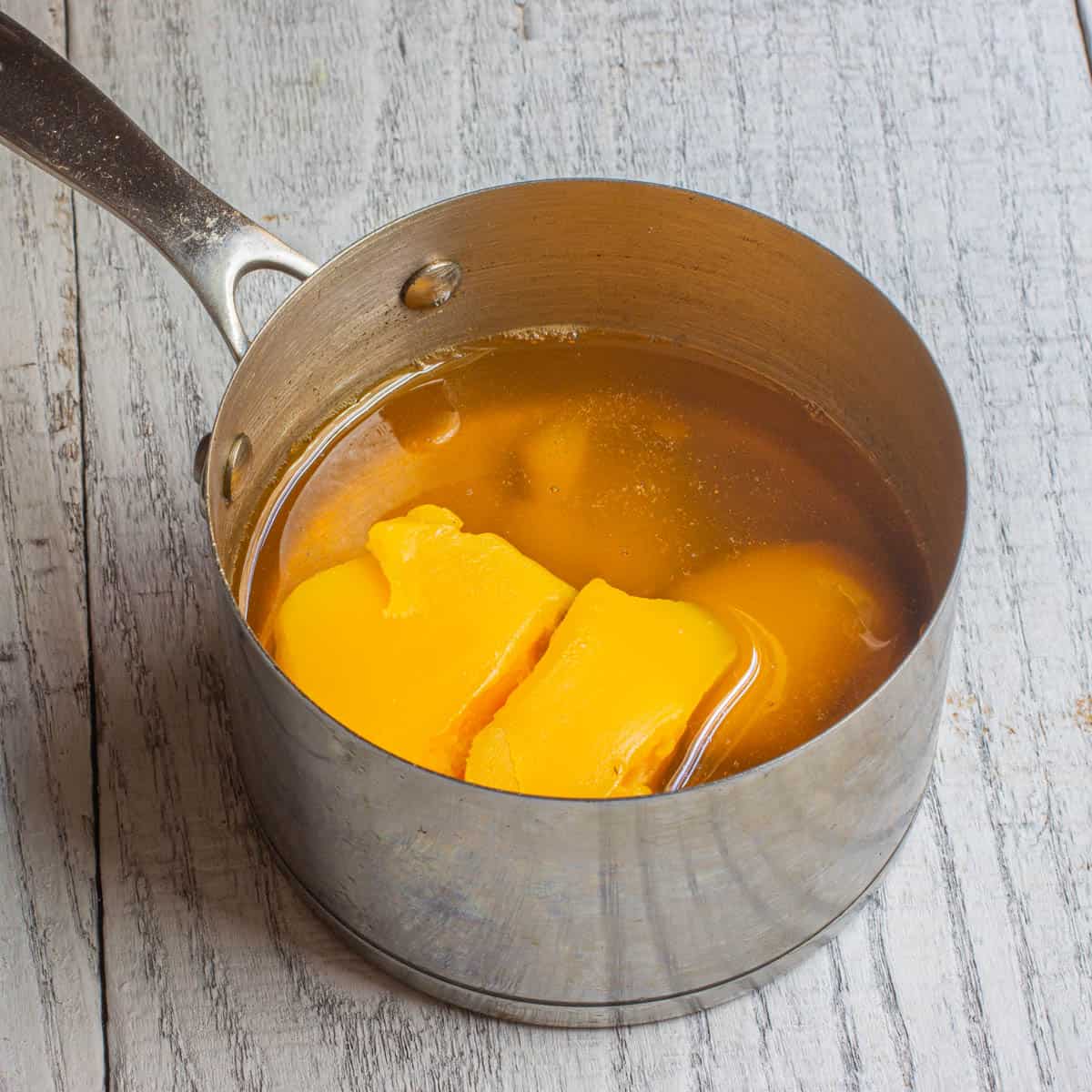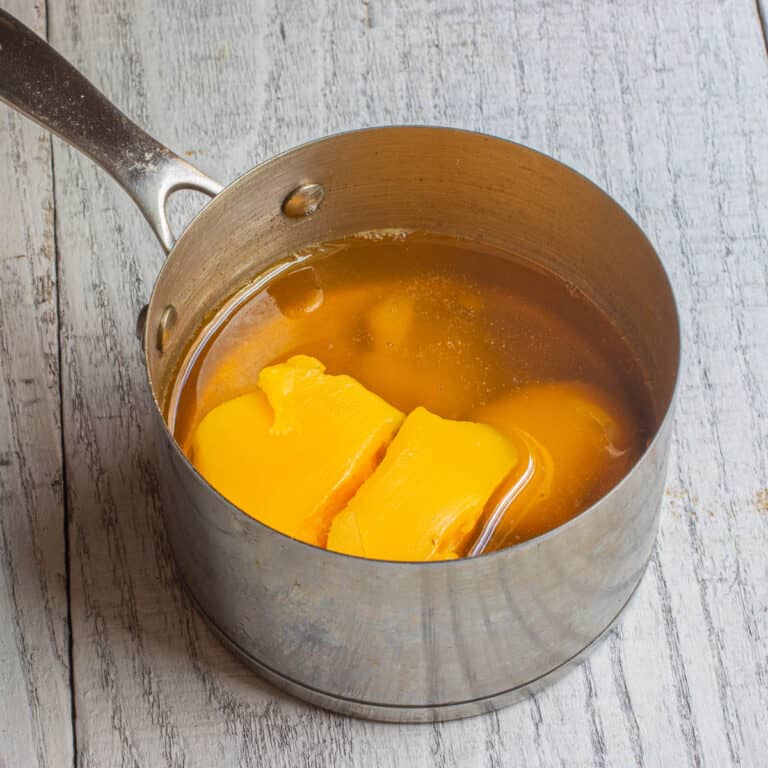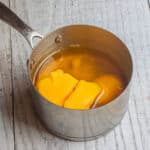 Print Recipe
Lobster Mushroom Infused Butter
Yield: roughly ¾ lb of lobster mushroom flavored butter, scale the recipe up as needed.
Ingredients
1

lbs

lobster mushroom scrap and trim

roughly chopped

1

lbs

unsalted butter

1

cloves

of garlic

lightly crushed with the back of a knife

Sprigs of fresh thyme

2

fresh bay leaves

2

teaspoon

kosher salt
Instructions
Melt the butter in a small stock pot or sauce pan, add the lobster mushrooms, salt, and remaining ingredients and cook the mixture on very low heat for 1 hour, or until the butter is aromatic and it's color is a dramatic orange. Skim the creamy milk solids that rise to the top of the butter occasionally and discard.

Strain the solids from the butter and discard, then refrigerate until needed, I like to store it in mason jars, since glass won't transfer the flavors of other things to the butter.

It can be frozen for a long time, I've cooked with some that was nearing two years old and it hadn't seemed to have lost any of it's potency.
Notes
Safety and Shelf Life 
The water in the lobster mushrooms will be released as they cook, which will be hidden under the solidified fat after it cools. You want to remove the juice since it won't allow the butter to be used as you would fat for cooking (it will cause splattering, and it could spoil). To remove the juice, just dislodge the giant chunk of butter from whatever pan you cooled it in, drain off and discard the juice from the bottom of the pan, wipe any remaining sediment away with a towel, and then refrigerate again.
Nutrition
Calories:
420
kcal
|
Carbohydrates:
2
g
|
Protein:
2
g
|
Fat:
46
g
|
Saturated Fat:
29
g
|
Polyunsaturated Fat:
2
g
|
Monounsaturated Fat:
12
g
|
Trans Fat:
2
g
|
Cholesterol:
122
mg
|
Sodium:
300
mg
|
Potassium:
196
mg
|
Fiber:
1
g
|
Sugar:
1
g
|
Vitamin A:
1418
IU
|
Vitamin C:
1
mg
|
Calcium:
16
mg
|
Iron:
0.3
mg
Related Posts