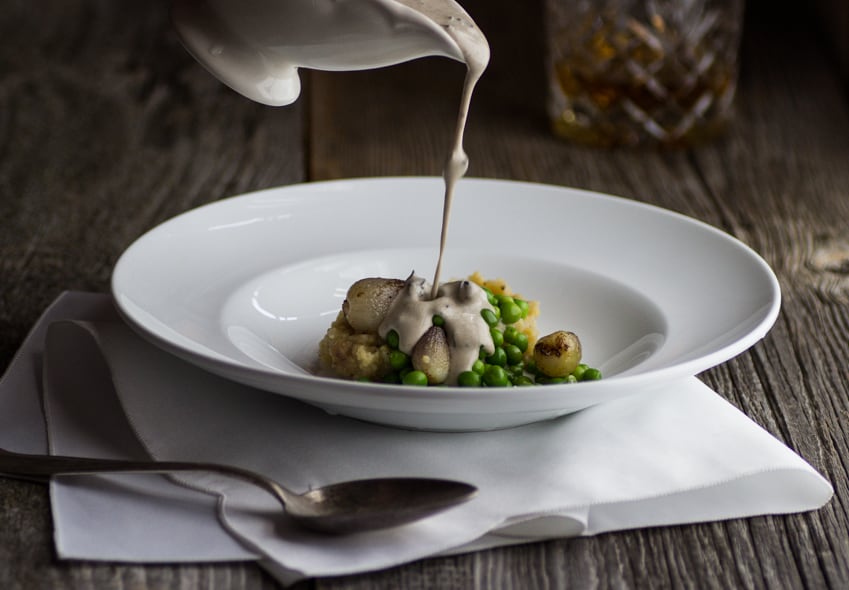 After the recent "Hunt 'N' Munch" event in Minneapolis I cooked there were a lot of requests for this recipe, so here you go.
Originally the "Hunt 'N' Munch" was supposed to be a mushroom centric, low key appetizer cookout in a parking lot. Sometimes the woods doesn't give you exactly what you are after though, and instead of lobster mushrooms, about 10lbs of black trumpets showed up.
Now lobster mushrooms are a cinch to cook, they are so big that you can basically just throw them on the grill and call it a day, and that's what I had planned to do. Black trumpets are much smaller, they would be a waste of time to grill, and you can't just throw them in a saute pan and have people serve them selves with toothpicks (as I had planned for the lobster mushrooms). Trumpets need to be incorporated into larger dishes that will spread their flavor. Stand by's are soups, sauces, risotto, and it goes without saying: anything with cream or a dairy based sauce.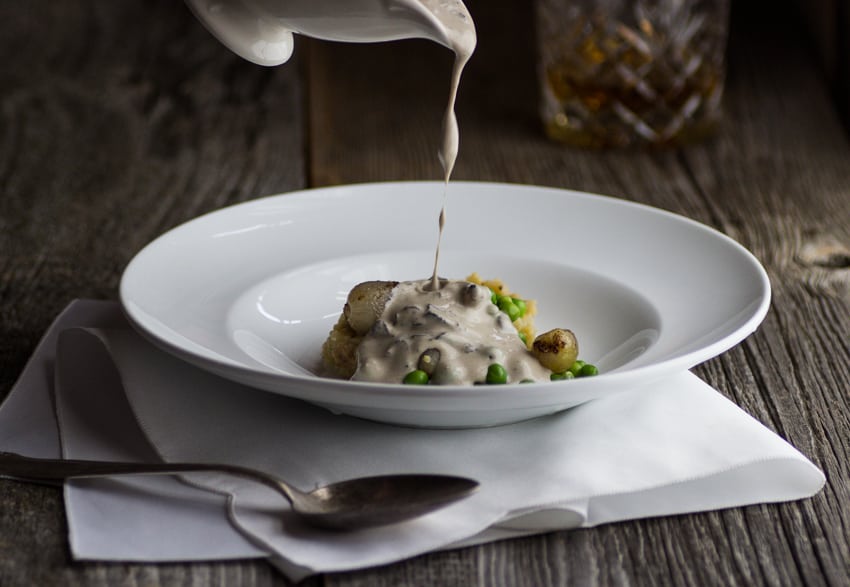 10 lbs of black trumpets is a LOT of trumpets. Not wanting to waste any, I decided that the star dish of the upcoming even should be an all out trumpet overload. It needed to be something that could be easily made and served (I was told 50-100 people could be showing up), and it needed to showcase the trumpets in all their glory.
What I came up with was cooking polenta in meat stock pureed with black trumpets, then topping the polenta with a ladle of sweet cream sauce made from reduced milk pureed with trumpets, with fresh chopped trumpets added to the sauce before serving.
The result was one of the richest things I've made. I hate to rely on cream to make things taste good, but it is one of the best ways to amplify the flavor of mushrooms. So If you find yourself with a boatload of fresh black trumpets, give this one a shot, its rich beyond belief.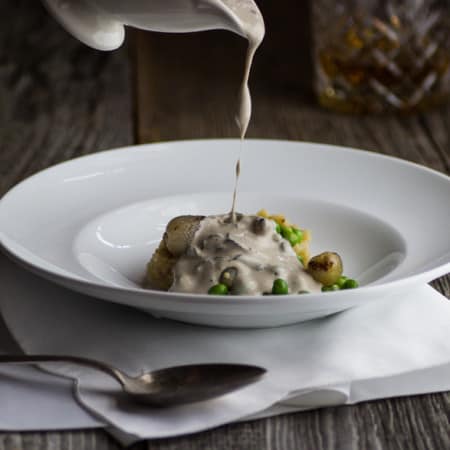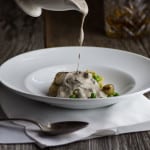 Print Recipe
Triple Black Trumpet Polenta
 Serves 6 as a gloriously gluttonous entree
Ingredients
1

cup

coarse polenta

3

cups

meat stock

like chicken, preferably homemade

2

cups

fresh black trumpet mushrooms

4

tablespoon

unsalted butter

1

cup

shell peas

½

cup

small shallots

trimmed and peeled

Kosher salt and pepper

1

recipe black trumpet milk reduction

follows
Instructions
Bring the chicken stock and 1 cup of the black trumpets to a boil. Season lightly with salt and pepper. Puree the stock and trumpets, then return to the pan and add the polenta, whisking to prevent lumps from forming. Cook the polenta, stirring occasionally until it thickens, switch from the whisk to a wooden spoon after the mixture begins to thicken so you don't kill your arm. When the polenta is thickened, and is completely cooked (which can take up to 2 hours depending on the grind of your corn) whisk in 2 tablespoon butter, season it lightly to taste with salt and pepper and set aside until needed.

To cook the peas and shallots, trim the ends off of each shallot and peel. Heat a saute pan with 2 tsbp of the butter and gently brown the shallots, seasoning with salt and pepper. Cover the shallots and cook on low-medium heat for 10 minutes, or until the shallots are soft and tender. If the pan starts to get to dark, add a couple tablespoons of water to the pan to prevent burning. When the shallots are tender, add the peas to the pan and cook, covered  for 5 minutes or until tender adding a little water or stock if you have it to keep them moist and prevent burning.

To serve, divide the polenta evenly between 6 preheated bowls. Top each pile of polenta with some of the peas and shallots, then ladle on as much of the trumpet sauce as your conscious will allow. Grate some cheese over each dish if using and serve immediately.
Notes
I added some peas and small gray shallots to make vegetarian entree here, but any type of green vegetable will make you feel less guilty for eating something like this
Black Trumpet Mushroom Milk Reduction
Yield: About 3 cups, enough to generously garnish 6 entrees.
Ingredients
½

gallon

whole milk

1

cup

dry white wine

2

cups

fresh black trumpet mushrooms

Kosher salt and pepper to taste

2

tablespoon

unsalted butter

2

cups

meat stock

like chicken, preferably homemade
Instructions
Roughly chop the black trumpet mushrooms.

In a wide saute pan with high sides, (you may need to use a stock pot) melt 1 tablespoon of the butter and saute the trumpets until wilted, about 3 minutes. Season the trumpets with salt and pepper and then add the wine. Reduce the wine until the pan is nearly dry, then add the milk and stock.

Bring the mixture to a boil, then turn the heat down to a simmer and reduce the mixture until only 25% remains, about an hour or so. Make darn sure that you whisk the reduction as it cooks, the curdles formed by heating the milk will tend to sink to the bottom and stick to the sides of the pan. If they burn there's no going back. After a while the solids will rise to the top and you can let it bubble away without much attention.

When the milk is reduce to 25%, puree the mixture in a blender. The curdles that have formed will emulsify and create a delicious, sweet, creamy sauce. Clean the pan quickly and then add the remaining tablespoon of butter, melt and add the remaining black trumpets.

When the mushrooms are wilted, add the reduced cream to the pan and stir to incorporate. Season the sauce with salt and pepper to taste, then reserve until needed. The sauce will keep in the refrigerator for a week, no prob.
More