A rack of venison or lamb crusted with dried mushrooms is a great way to serve one of the finest cuts of deer I know. Read on and I'll explain the details.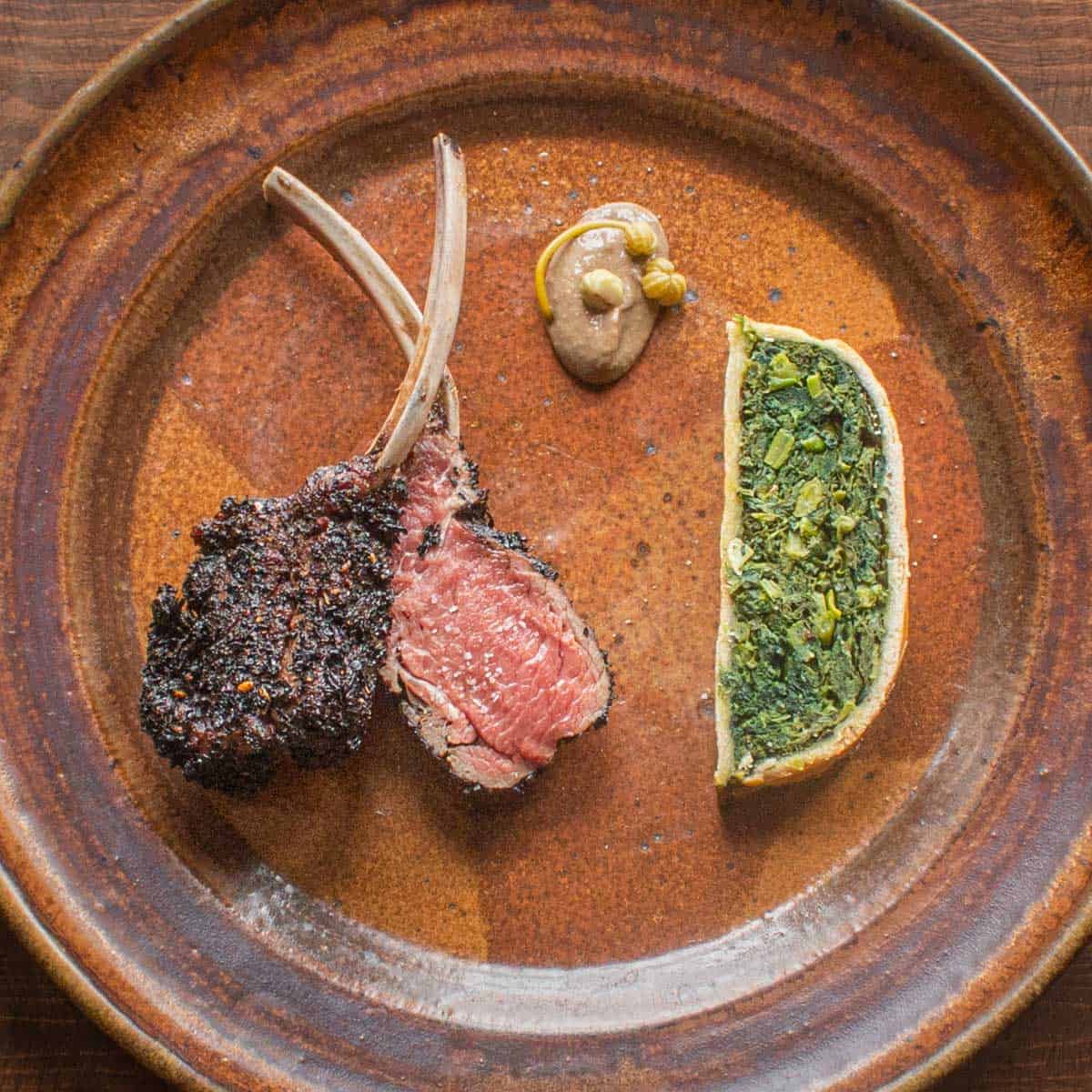 The best part of butchering your own animals is the creativity, giving you the ability to make all sorts of things, and one of the grand daddy's of them all is a rack of venison.
Prions
If you want to know how to cut a rack, just search you tube, there's lots of info out there. If you're scared about prions or live in a CWD area, feel free to use lamb chops here.
I had a really nice, young buck here, a yearling, with fat so mellow I rendered it all for cooking. With such a good cut of meat, you really want to do as little as possible to it, some simple seasoning, and perfect cooking, that's it.
A favorite of mine that's a great flavor, but also won't hide the meat's taste, is a crust of mushrooms. Black trumpet mushrooms make a great one, but you could use porcini, morels, or whatever else you have.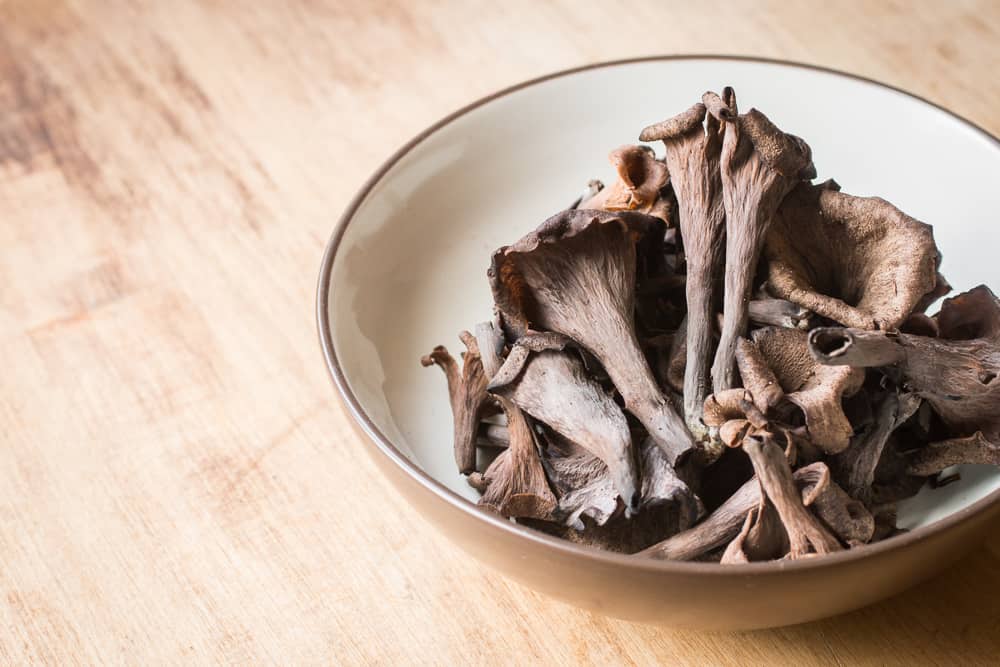 Portioning a rack of venison into 2-bone chops
A note on the fabritating/portioning. You'll get two whole rib racks from a deer, and if you're used to just peeling off the backstraps, burning through a whole rack of deer at a time might seem like a lot to commit to.
What I did was portion my racks into two bone chops, and then freeze the chops in packs of two, stretching those 2 deer racks into 4 meals for two people each, a modest portion, and even more, if you leave the rib meat attached.
In the photos here, I've Frenched the ribs for a clean look, but you don't have to at home. Frenching is good for having company though, or if you want to impress your hunting buddies, or say, a father in law.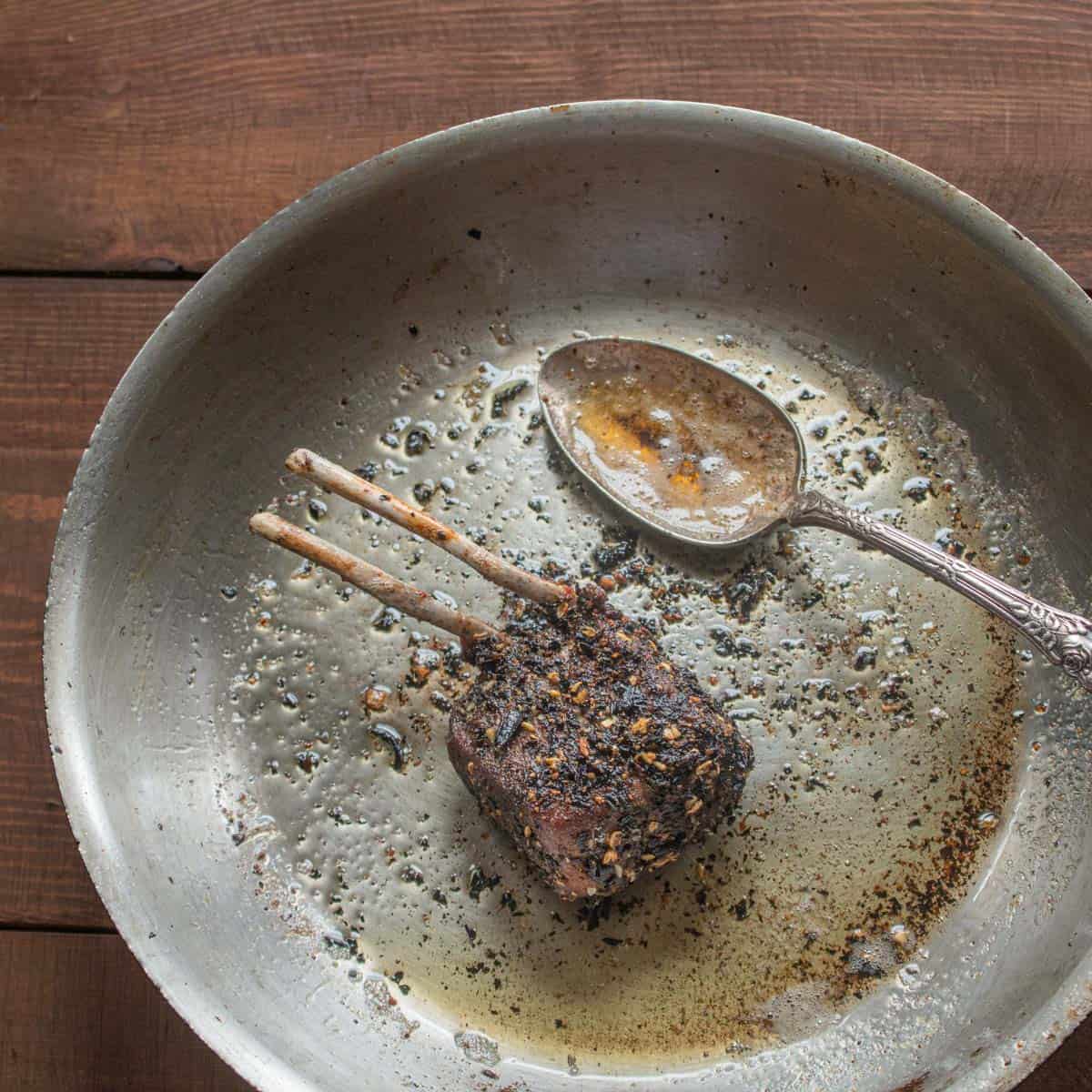 Your mushrooms must be clean, before drying
The only key for a great crust is making sure your mushrooms were clean when they were dried, because, if they weren't, and your not 100% sure there's no grit, you could run the chance of botching one of the greatest cuts of meat known to man.
Other than that, the method couldn't be simpler: grind some trumpets to powder, season the deer rack with beaten egg white, salt, pepper, and thyme, then roll it all over and crust it with the trumpets, sear, rest and eat.
Using beaten egg white for a thick crust
This is a good chef trick for adding a crust for a showy dinner, or when you really want something to stick to a piece of meat. You don't have to brush the meat with egg white, but if you do, it will get a wicked crust.
If you don't, it will still crust ok, but, you should try it sometime. It's especially good for making seed crusted fish, or where you only want to heavily crust a piece of meat on one side, typically the top.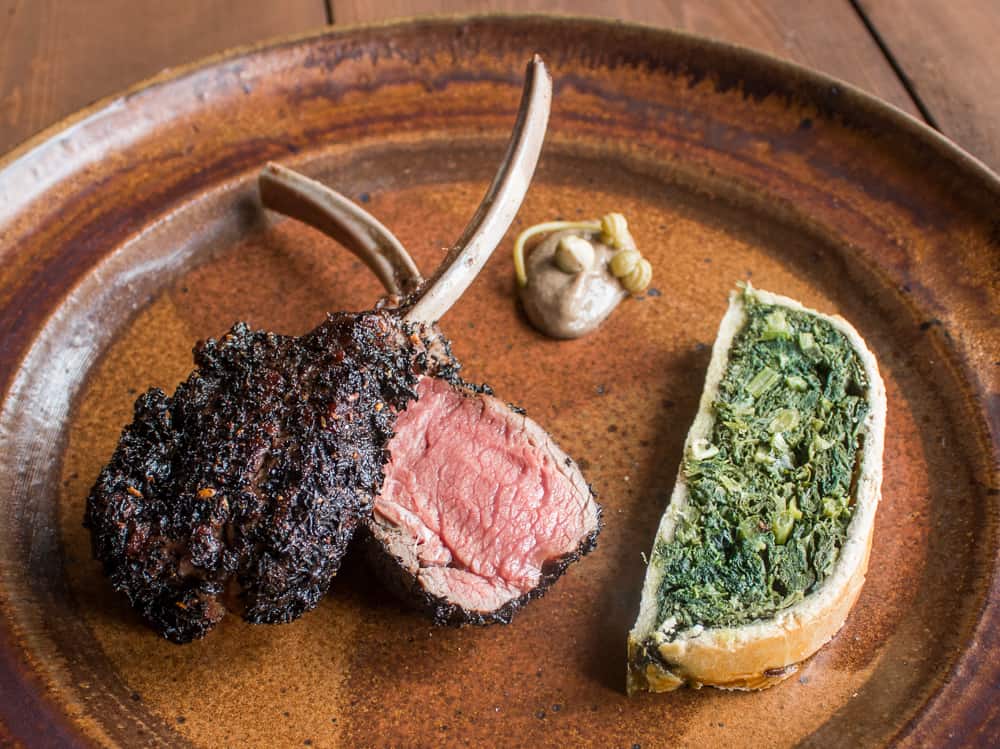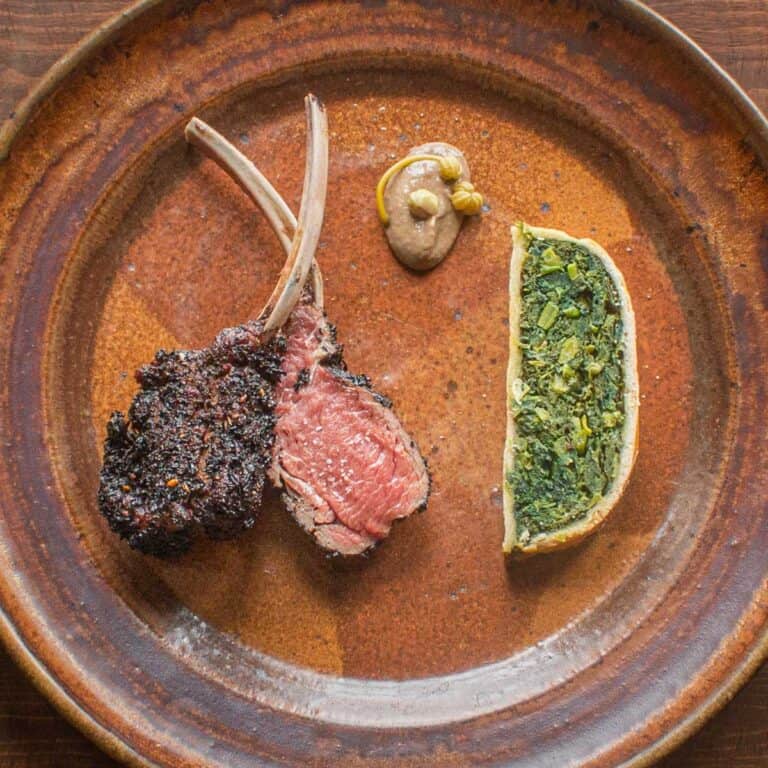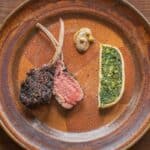 Print Recipe
Rack of Venison with a Black Trumpet Crust 
A great twist on a rack of venison: crusted with black trumpet mushrooms
Equipment
1 12 inch cast iron skillet or similar
Ingredients
1

egg white

beaten with a bit of water until smooth

3

Tablespoons

Ground black trumpet mushrooms

about 1 tablespoon per serving

Kosher salt and fresh ground black pepper

Fresh chopped thyme

about ½ teaspoon per serving

Venison lard

duck fat, or high heat cooking oil, for searing

4

venison rib chops

or lamb chops
Instructions
French the venison rack by scraping with a paring knife to clean the bones of meat and then polishing the bones by scraping with a scrubby, or small piece of steel wool. This is optional.

Cut the rack into double chops with two bones each.

Brush the venison rack with the beaten egg white, season liberally with salt and pepper, a healthy pinch of fresh thyme, then roll all over in the ground black trumpets. Meanwhile, heat the cooking oil in a cast iron or heavy pan on medium high heat.

Brown the rack well on one side, then the other. Continue searing all over, being careful not to break the crust, until rare-medium rare, Take your time and be careful not to burn the mushrooms. Allow the chops to rest for a few minutes while you heat up some vegetables or any accompaniments, and serve.
Notes
Substitutions 
You can substitute lamb chops for the venison chops, since I know some people won't be able to butcher deer like this because of CWD. 
Mushrooms 
For the mushrooms, lots of different dried mushrooms can be used. Chanterelles or porcini will be my first choice. 
Nutrition
Serving:
2
chops
|
Calories:
779
kcal
|
Carbohydrates:
0.2
g
|
Protein:
94
g
|
Fat:
42
g
|
Saturated Fat:
15
g
|
Polyunsaturated Fat:
4
g
|
Monounsaturated Fat:
17
g
|
Cholesterol:
298
mg
|
Sodium:
375
mg
|
Potassium:
1247
mg
|
Sugar:
0.2
g
|
Calcium:
56
mg
|
Iron:
8
mg
More