Black trumpets are one of the best mushrooms for candying. This is my favorite way to do it. Read on and I'll explain the basics.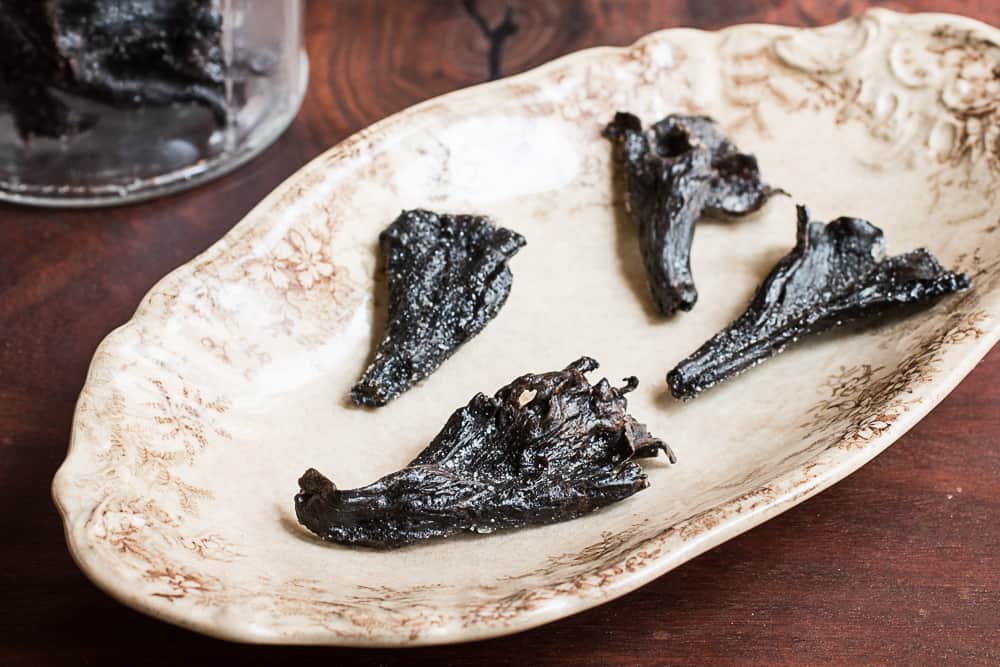 Candied mushrooms? Like, with sugar? Hard pass.
Candied mushrooms are the sort of frou-frou B.S. I'd expect 15 year old me to try making, or a young cook still trying to figure out what a palette is. Honestly, I found the idea so annoying it was nearly offensive. These are mushrooms we're talking about, I mean I do make desserts with candy caps, but even with them I usually puree or use the mushroom as an infusion since the texture, is, still a mushroom. My opinion changed when I took a trip to France.
It was about 4 years ago we went on a walking trip in Provence (we did it with VBT, and it was so great. I was picking white chanterelles off the trail!). While we planned out our two week stay, Pilar asked me if there was anything I'd like to do specifically, or anywhere I'd like to go, or eat. I remember reflexively saying "Jacques Chibois and la Bastide Saint Antoine"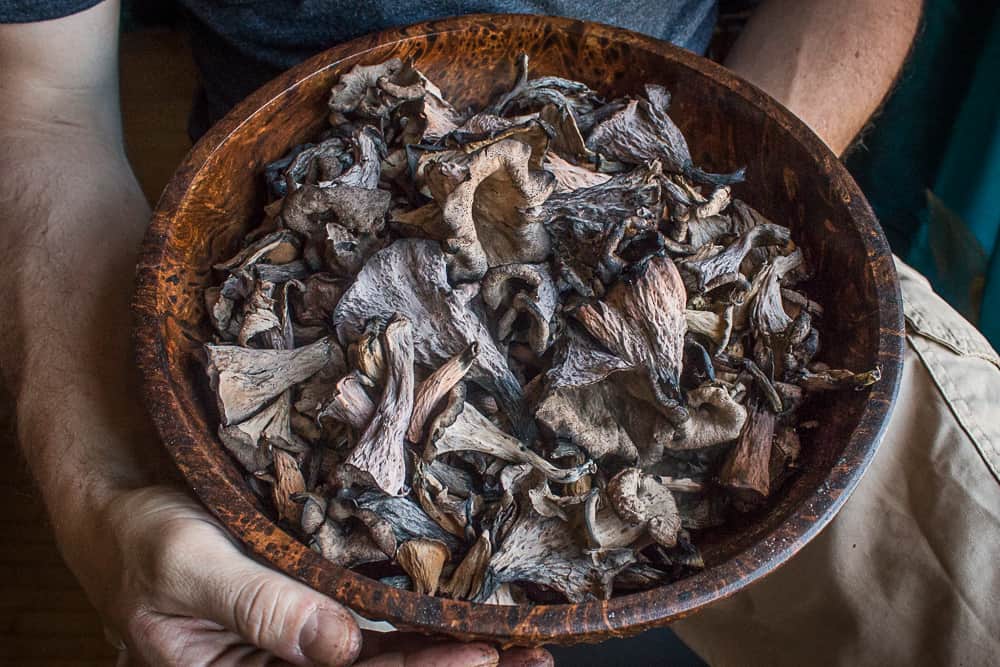 Chibois was one of the chefs who molded my style and sensibilities from across the pond. His first book Provence Harvest (the only one like it he's made) introduced me to things like militant seasonality, and, strangely enough, Japanese knotweed, which he grows (I hope in a concrete pot), before I ever saw it in a field guide.
We hired a driver to take us from St. Remy to Grasse (a.k.a the perfume capitol from the film Perfume) and Chibois. We walked through the old Roman olive orchard the Hotel was built on before dinner--another thing I'd always wanted to do. Dinner was incredible to say the least, and I was surprised it only had two Michelin stars instead of three. There were truffles, langoustines, wild duck, and plenty of other fun things, but the dessert, the dessert was unlike anything I'd ever seen.
La table de l'automne et les garçons rêvent des bois
The waiter brought us large round plates. It wasn't a dessert, it was a sort of composition of multiple desserts. There was a stripe of chocolate on the plate, and around it were three mushrooms the size of medium shiitakes, standing upright. Around the mushrooms were a few paper thin, chocolate oak leaves I can only assume the pastry chef made by dipping actual leaves in ganache.
Each mushroom was stuffed/made from a different autumnal flavor. One was soft hazelnut butter enrobed in paper-thin ganache, another was made from frozen chestnut ice cream.
There were other things, too, that I can't recall, but the one thing I really noticed was the candied, tender yellowfeet scattered here and there around the plate. The candied yellowfeet were great, tender little bouncy things. Naturally, Chibois had a name for the plate, and a server stepped up to the table, took a breath, and pronounced to us:
La table de l'automne et les garçons rêvent des bois
"The table of autumn, and a boy's dream of the woods"
It remains the most inspiring dessert I've ever tasted.
I tried candying black trumpets afterwords by dipping cooked black trumpets in beaten egg, then rolling in sugar and drying, but they weren't that good, and I ended up tossing them and forgetting about it for a while.
Then someone reminded me this year by insisting I try cooking golden chanterelles in syrup. I picked the candied black trumpet project back up, looked over my notes from years past, and cooked them this time in heavy syrup, heating, cooling, and repeating the process three times, along with a handful of wild aromatics like meadowsweet, galium, and a stripe of lemon peel. Then I dusted them with sugar and dried them on low heat (100-115F or so) to avoid them getting too brittle).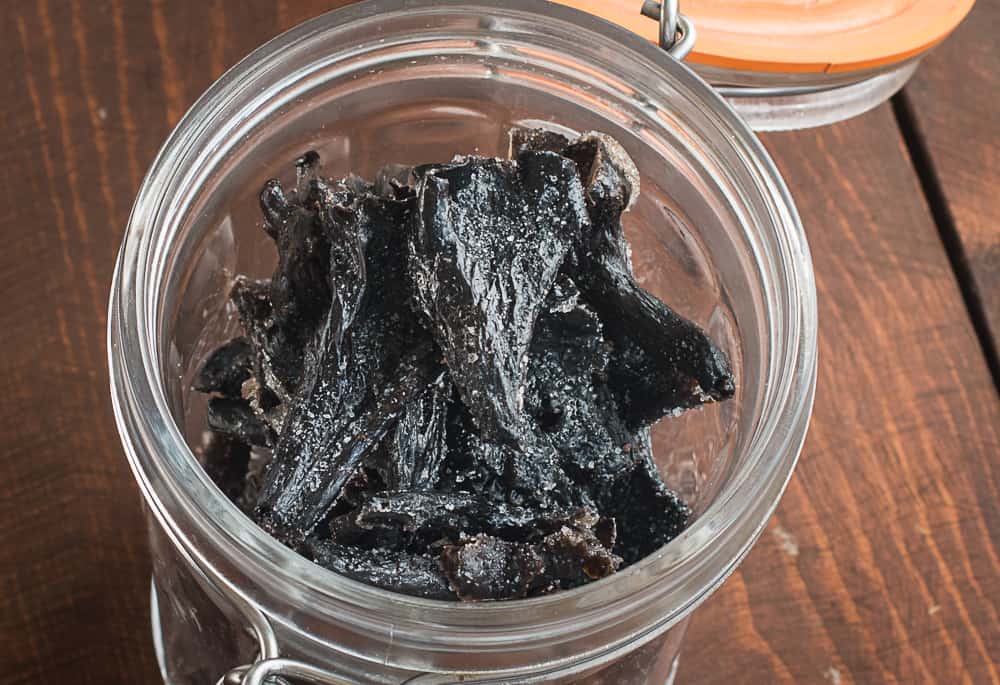 The candied yellowfeet (cooked in syrup I assume) were good, and I still want to try them too, but trumpets are even better. Black trumpets take to this treatment really well, since they're hollow. That thin structure means the sugar penetrates really well, and even if you dry them a little too hot, or forget about them, they'll be pretty forgiving.
The taste is excellent. The first thing you taste is black trumpet--a lot of black trumpet. The mushroom flavors sweet notes are accentuated by the aromatics, and the texture, slightly chewy, but not mushroomy (due to the sugar saturation) is really addictive. If you can stop eating them out of the jar, they'll be the perfect garnish to a dessert made from pumpkin.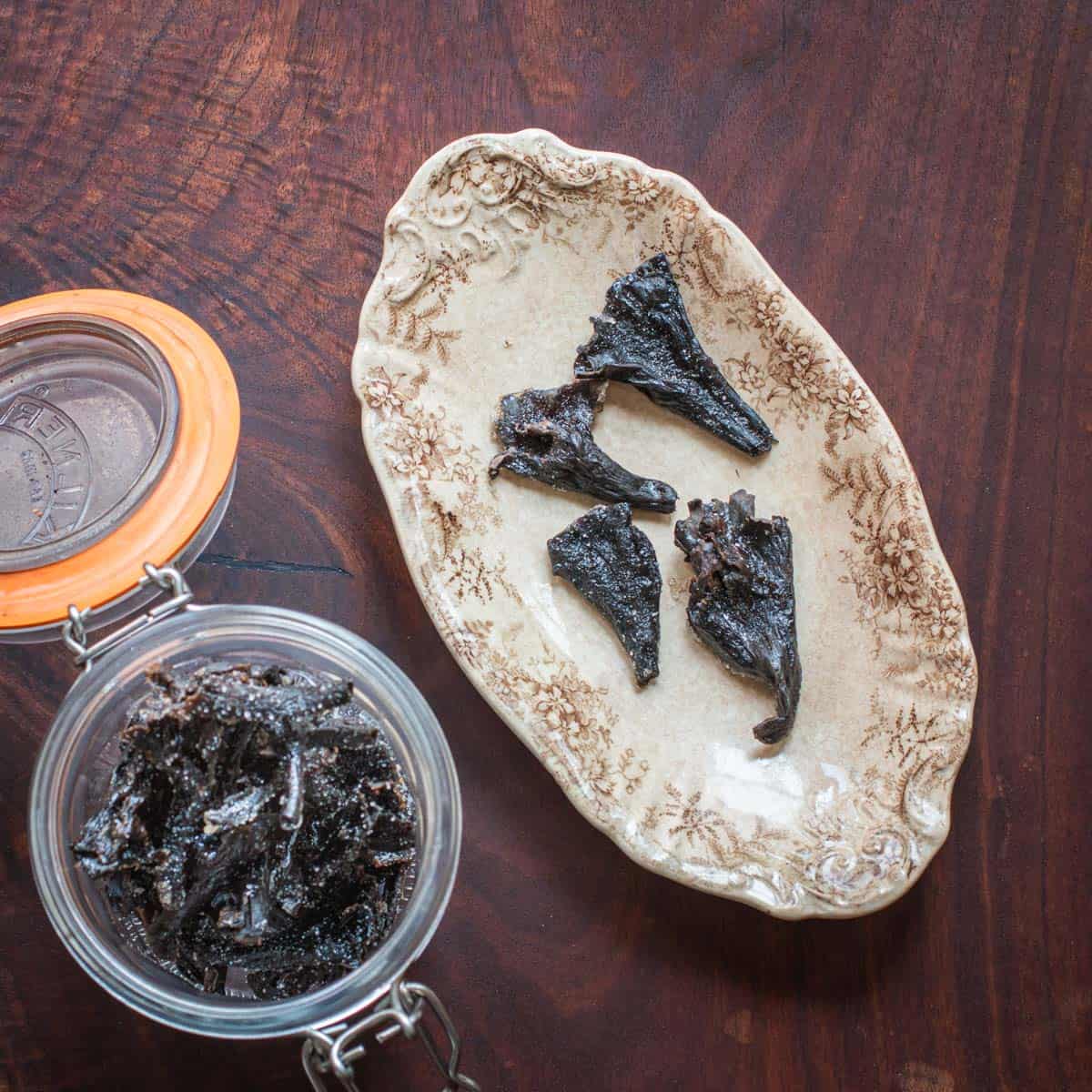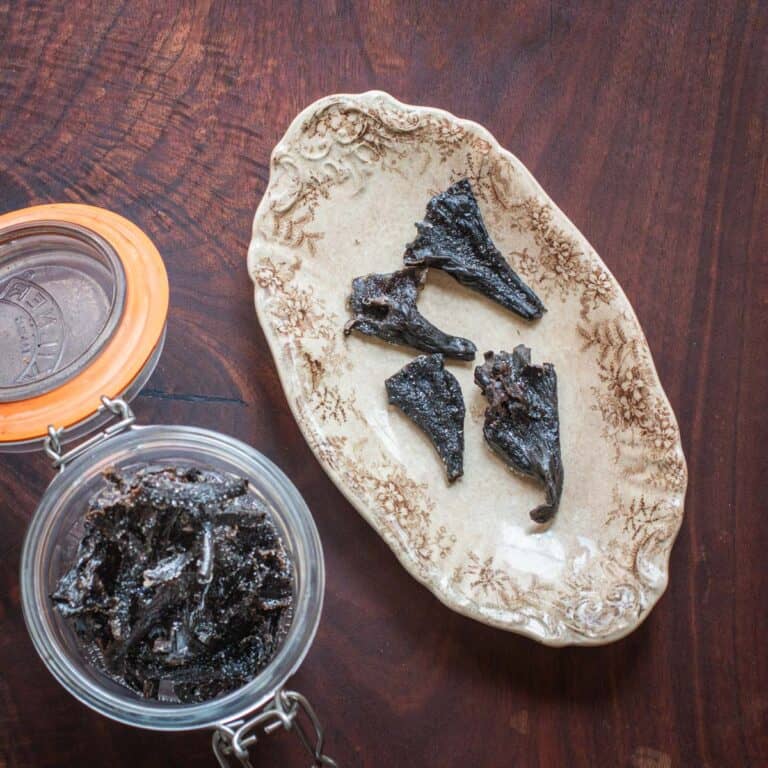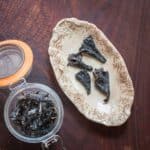 Print Recipe
Candied Black Trumpet Mushrooms
Candied black trumpet mushrooms make a delicious snack or garnish for dessert. Makes enough to garnish a few desserts, and some extra to snack on.
Equipment
1 Dehydrator

1 2 quart sauce pot
Ingredients
2

cups

sugar

plus more for dusting

3

oz

fresh black trumpet mushrooms

Pinch

salt

1

cup

dry white wine

Aromatics

see note

A few inches of dried Galium triflorum

or ½ teaspoon vanilla extract

1

few dried meadowsweet flowers

about ½ tablespoon

1

inch

piece of lemon zest
Instructions
Tie the aromatics in cheesecloth if using.

Bringthe sugar, bouquet, wine and black trumpets to a boil in a covered 1-2 quart sauce pan, then turn off the heat and cool, with the cover ajar.

The syrup will be thick.

Remove the mushrooms and pat dry, then lay on a silpat or place in a dehydrator, being prepared to clean up any drips.

Sprinkle the mushrooms with sugar, then dry on a low setting (100-115F) for 6-8 hours or until dried, but still slightly pliable. Store in an air tight container in the fridge.

They'll last for a long time, and can probably be stored at room temperature in a jar, but I habitually refrigerate or freeze candied things personally, since it keeps the flavor better.
Notes
If you don't have the aromatics listed, I'd resist the urge to get creative. Cinnamon, cloves and allspice, in my opinion, are too strong here. If you have limited pantry items, just add a dash of vanilla and the strip of zest.
Nutrition
Serving:
0.5
oz
|
Calories:
434
kcal
|
Carbohydrates:
101
g
|
Protein:
0.04
g
|
Fat:
0.3
g
|
Sodium:
4
mg
|
Potassium:
45
mg
|
Sugar:
5
g
|
Calcium:
6
mg
|
Iron:
0.2
mg
Related Posts