Wild berry and or grape cider panna cotta is a long name for dish that's a study in a few different things. Panna cotta is nothing new, and nothing revolutionary.
But, it's easy, approachable, most importantly for our purposes here, infinitely adaptable and dependable crowd pleaser. Everyone likes panna cotta, which is part of why I filmed this recipe for my TV show.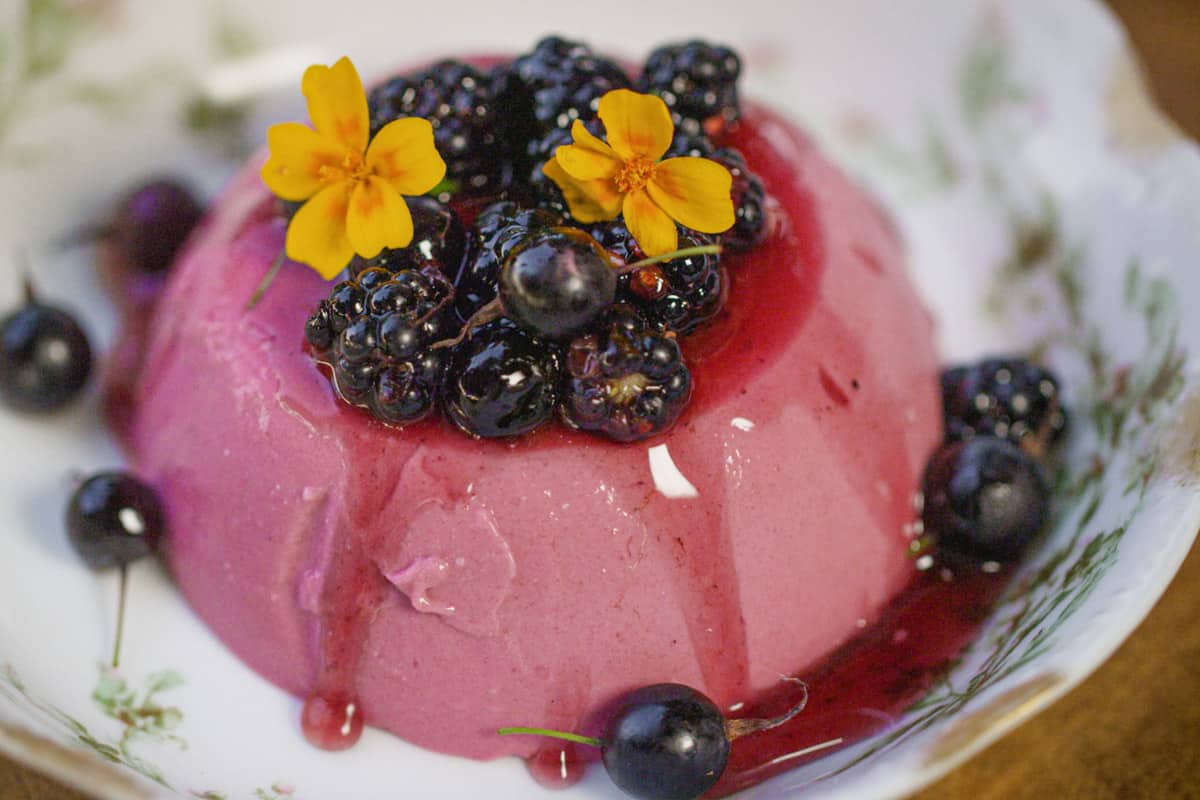 Infinitely adaptable
The adaptable part is what I'm focusing on here. I've made panna cotta out of so many different things I've forgotten plenty of them. Buttermilk, yogurt, cream, half and half, creme fraiche, fruit purées like paw paw.
Savory ones too: mushroom, ramp, cheese like quark and gruyere, etc. This one's different. Fruit is one of the best foils for rich cream, but most of the time it's just raw on top, or in the form of a coulis. Wild fruits often have great flavors, but many have small or awkward pits or seeds that can make them tricky.
Here's the basic idea: bypass stones or seeds of whatever fruit you can find by simmering them with water or apple cider. To the berries you add some crushed aromatics, things that would go well with dark fruit. Cinnamon, clove and or allspice are nice, and give a good, dependable backdrop.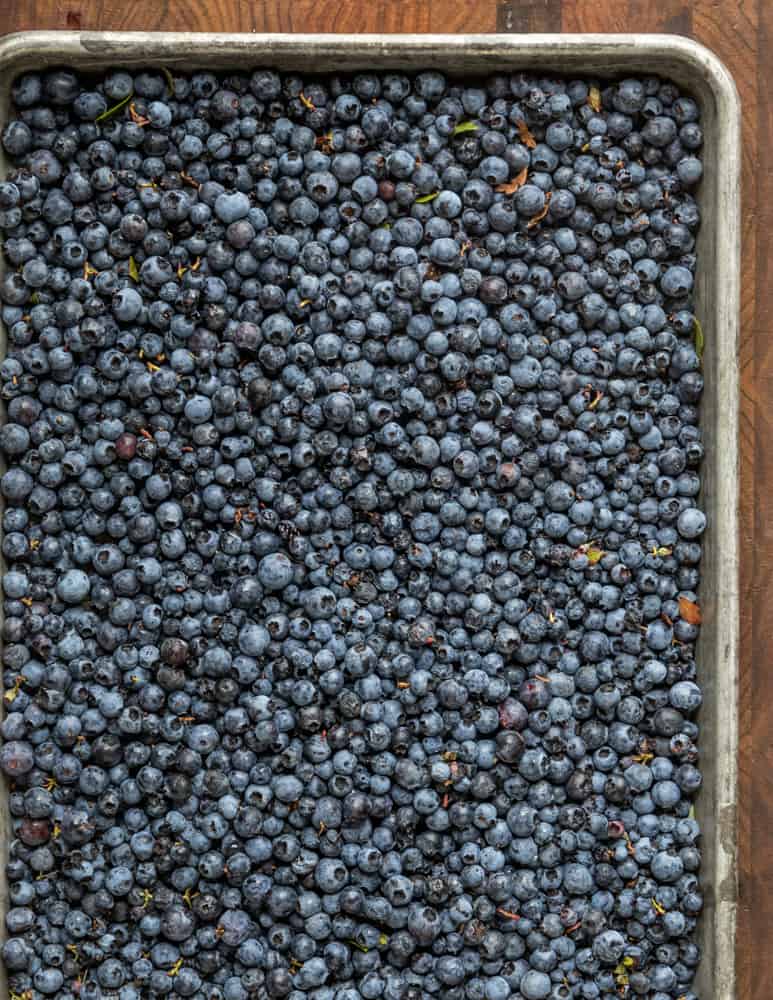 On the backdrop of cinnamon and clove, you can add your wild things, or if you prefer, keep it all wild, especially if you have something like spicebush berries, which can hold their own.
Mash up your aromatics in a spice grinder, then add them to berries that are simmering with water or apple cider to cover, let the mixture infuse and cool, then strain it and reduce it down, down down. Take that concentrate, mix it with cream and gelatin then puree in a blender, and you're good to go. Here's a few ideas for your aromatics.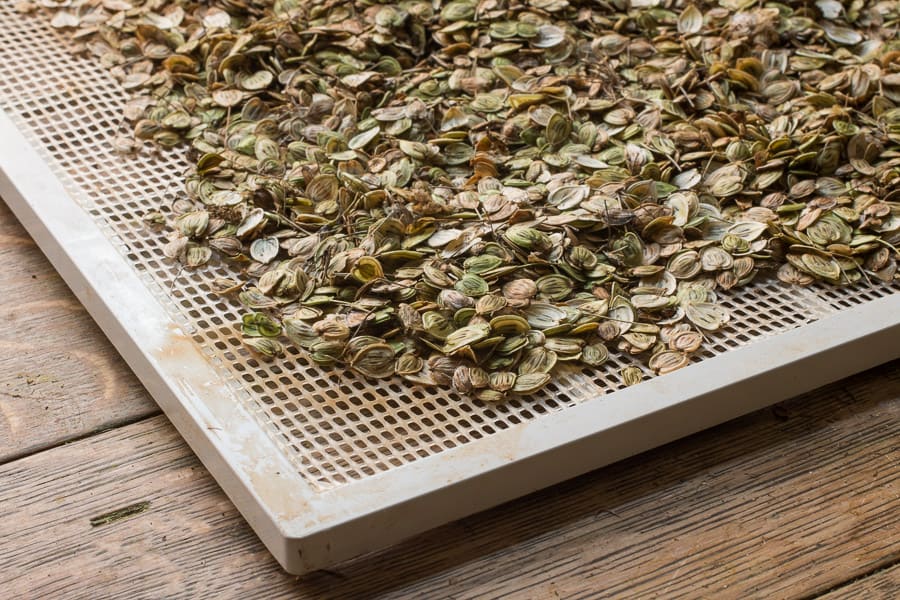 Wild aromatics
Spicebush
Sweetfern nutlets
Wild ginger
Cow parsnip seed
Juniper
Cedar cones
Finally, I top off the panna cottas with a few fresh berries macerated with maple syrup, a dash of berry vinegar, and a few signet marigolds.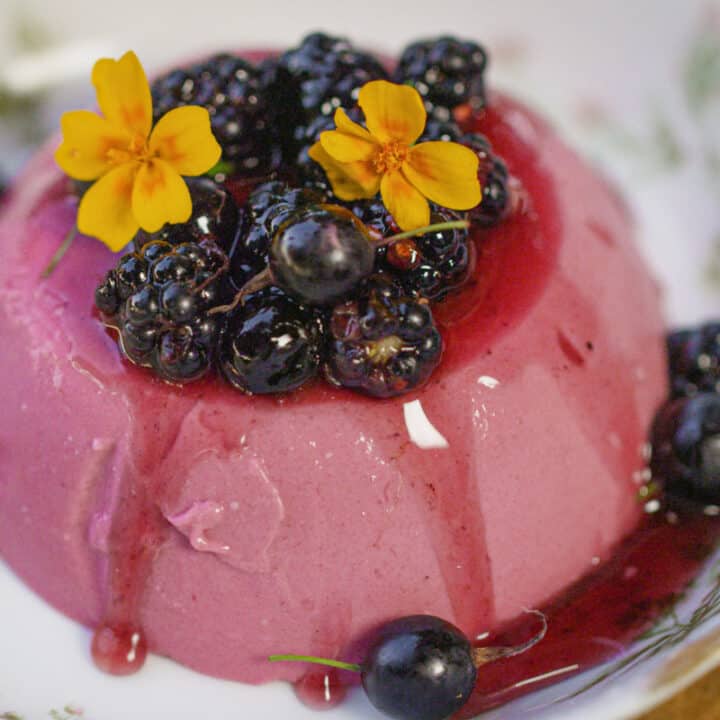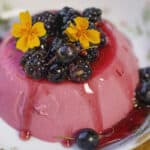 Print Recipe
Blueberry Panna Cotta with Edible Flowers
Panna cotta infused with aromatic wild fruit cider.
Ingredients
4

oz

fresh or frozen berries

especially berries and grapes (see note)

2

sheets gelatin or 2 teaspoons gelatin powder

90

grams

⅓ cup maple syrup

Tiny pinch salt

1

cup

water or apple cider

1

cup

heavy cream
Aromatics (see note)
1

inch

piece of cinnamon

3

cloves

1

inch

piece of wild ginger or ½ inch piece of cultivated ginger

6

dried cow parsnip seeds

1

inch

piece each orange zest

3-4

dried sweet gale fruit or sweetfern nutlets

½

teaspoon

vanilla extract
For Serving
A few spoons of maple syrup

Fresh lemon juice

Small handful of fresh berries per person

I used blackberries and currants

Signet marigold flowers

optional
Instructions
In the pan you will simmer the berries, bring the maple syrup to a simmer and cook until reduced by half.

Crush the spices roughly in a mortar and pestle. Add the berries, spices and water to the pan with the maple syrup and bring to a boil, then turn down the heat and simmer for 20 minutes, mashing the fruit up occasionally with the back of a spoon.

Add the gelatin and mix until dissolved (if you use powdered gelatin, add it to the berry juice after you strain it while still warm, then puree with the cream).

Allow the mixture to cool naturally, then strain, pressing down to extract as much juice as possible from the gelatin mixture. Measure the liquid you extract from the fruit, then reduce to exactly 8 oz (1 cup).

Mix the cream and tepid fruit cider, then blend with an immersion blender or equivalent.

Pour the mixture into custard dishes, or ramekins and refrigerate until set, covered, preferably overnight. You can also serve it in wine glasses.

Run a knife around the edge of the panna cottas to unmold them, sometimes I have to lever them a bit with an offset spatula to get air into the mold if they don't want to release right away.

Before serving, toss the berries with some maple syrup and lemon juice to taste, just enough to make a thin sauce while it macerates for, say, 30 minutes before you serve. Spoon the berries and a drizzle of juice over each panna cotta after you've unmolded them, garnish with a marigold flower, if using, and serve.
Notes
The fun part is that you can infuse this with whatever you like. Only have cinnamon? No prob. want to use a bunch of things like I do here? Just make sure not to go too crazy, but, the recipe mechanics are designed to help you be creative, without too much chance of you making something you'll want to throw away, which can happen with freestyling. If you only pick one wild aromatic to add, consider wild ginger or cow parsnip seed. 
Nutrition
Serving:
1
panna cotta
|
Calories:
294
kcal
|
Carbohydrates:
22
g
|
Protein:
2
g
|
Fat:
22
g
|
Saturated Fat:
14
g
|
Polyunsaturated Fat:
1
g
|
Monounsaturated Fat:
5
g
|
Cholesterol:
67
mg
|
Sodium:
22
mg
|
Potassium:
175
mg
|
Fiber:
1
g
|
Sugar:
18
g
|
Vitamin A:
890
IU
|
Vitamin C:
3
mg
|
Calcium:
71
mg
|
Iron:
0.3
mg