It's that time of year again, time for a nice mushroom with a generally horrible name to start oozing and popping it's way out of the Earth. A play on classic shrimp scampi is a good shrimp of the woods recipe.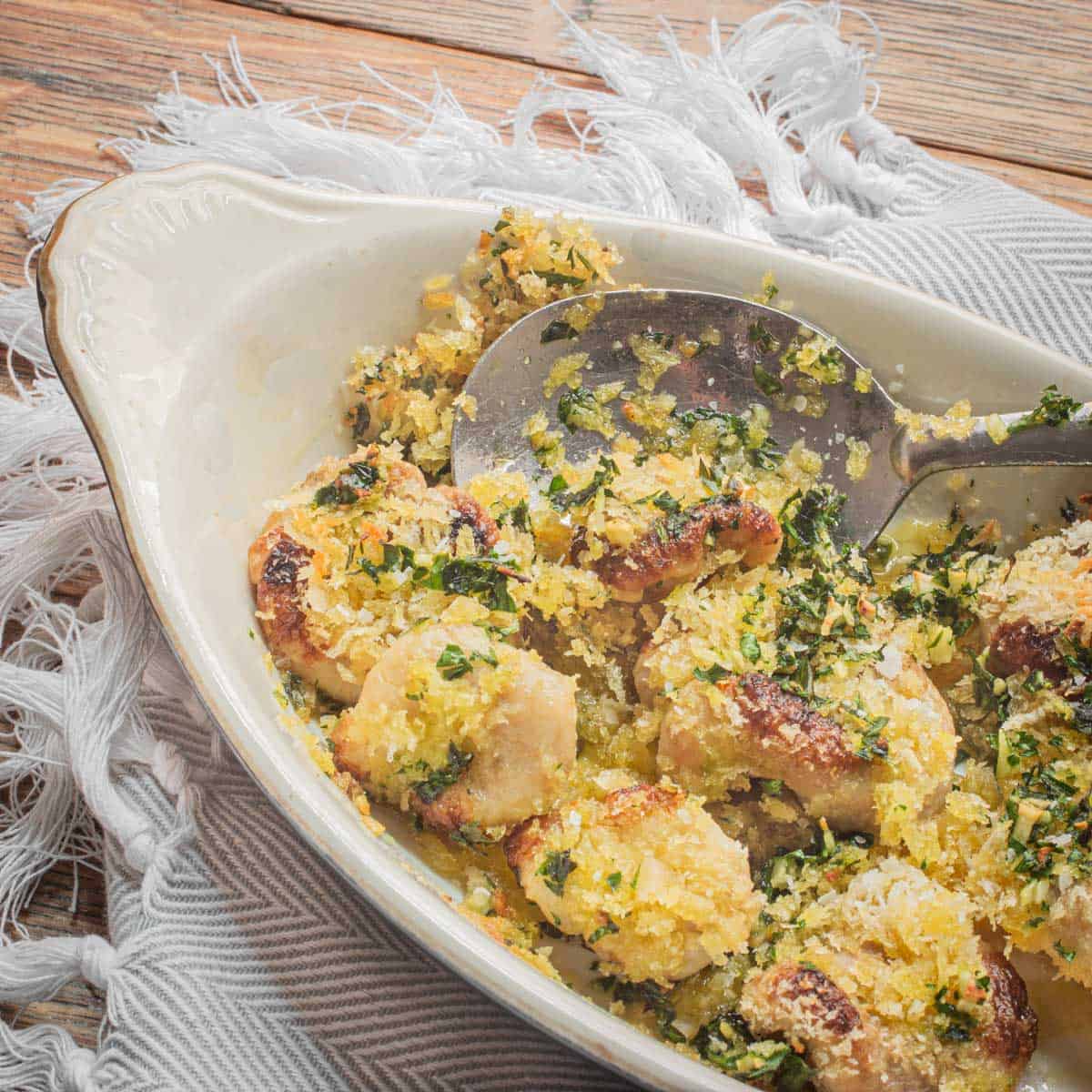 I like to use the name shrimp of the woods as their texture is slightly similar, but, the majority of people are still going to know them by their most often-use common name: aborted entoloma, which, does make sense as it's a direct translation of their Latin name, Entoloma abortivum.
Anyway, shrimp of the woods is a better name, but it hasn't exactly caught on yet. Either way, I cook these like shrimp, and a great, tried and true method of cooking shrimp is the good ol' scampi, also known as baking something with garlic butter and eating it, which, honestly never made anything taste bad.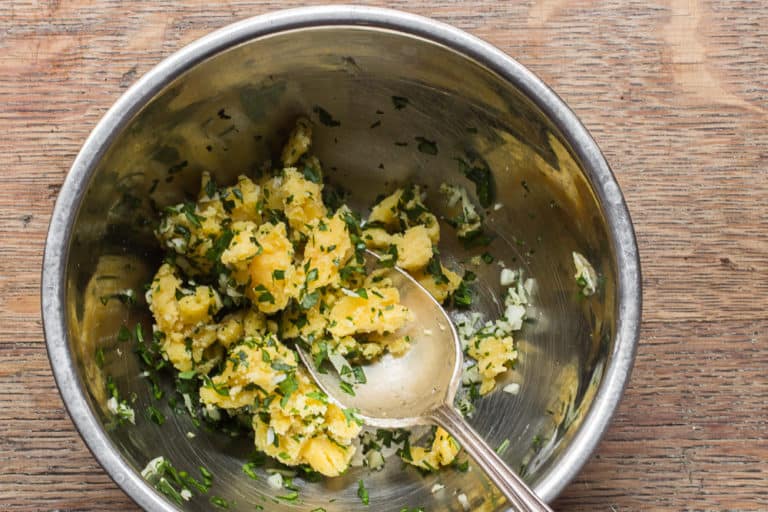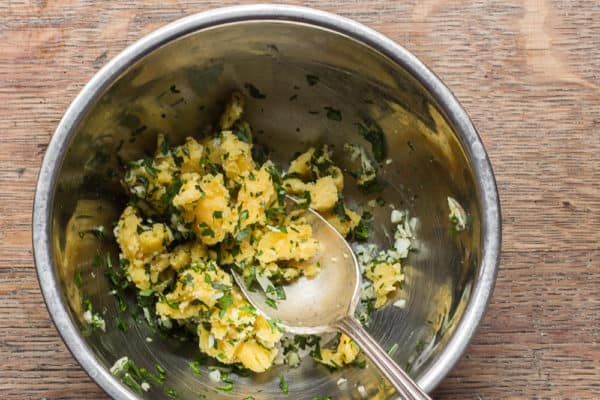 Of course, there's some differences in cooking an aborted entoloma mushroom in our scampi prep, and a regular shrimp. The biggest issue here is avoiding a bland-tasting result. Regular shrimp, from a reputable supplier, will taste great simply baked. Shrimp of the woods mushrooms, will not taste good unless they've been exposed to heat of some kind to caramelize them. So, in a nutshell, the only real difference is that for mushroom scampi, you want to brown the mushrooms before you bake them, other than that, it's just a simple recipe substitution.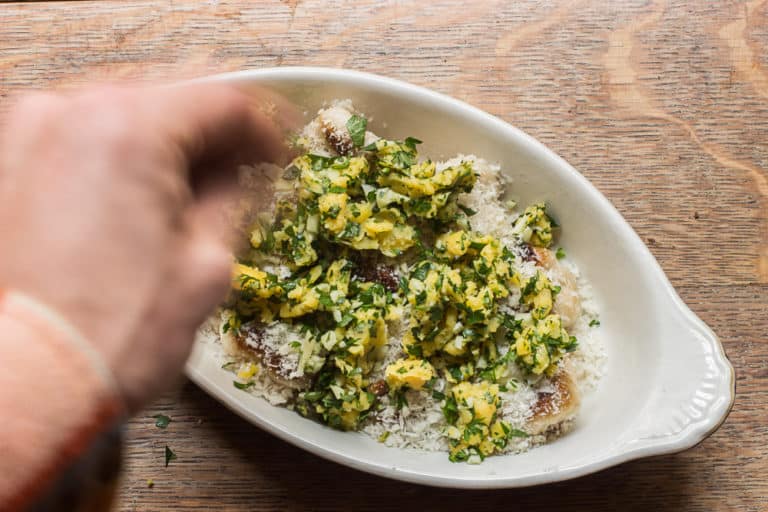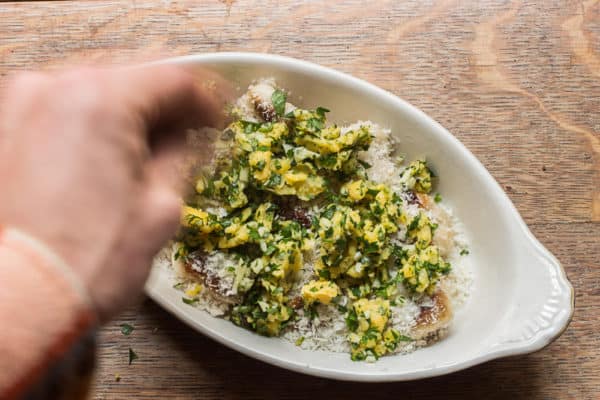 Ok, there's one more thing I substituted, but it's optional: lobster mushroom infused butter. I love how the color of lobster mushrooms permeate any sort of fat they're cooked with, and the seafood similarities in both make for a great combination. Also, they often fruit at the same time in my region, so their pairing is a natural one. Of course, you can always just use regular butter, but it must be butter, not lard, and especially not vegetable oil.
Remember it the next time you go on a hike and come back with some aborted entolomas/shrimp.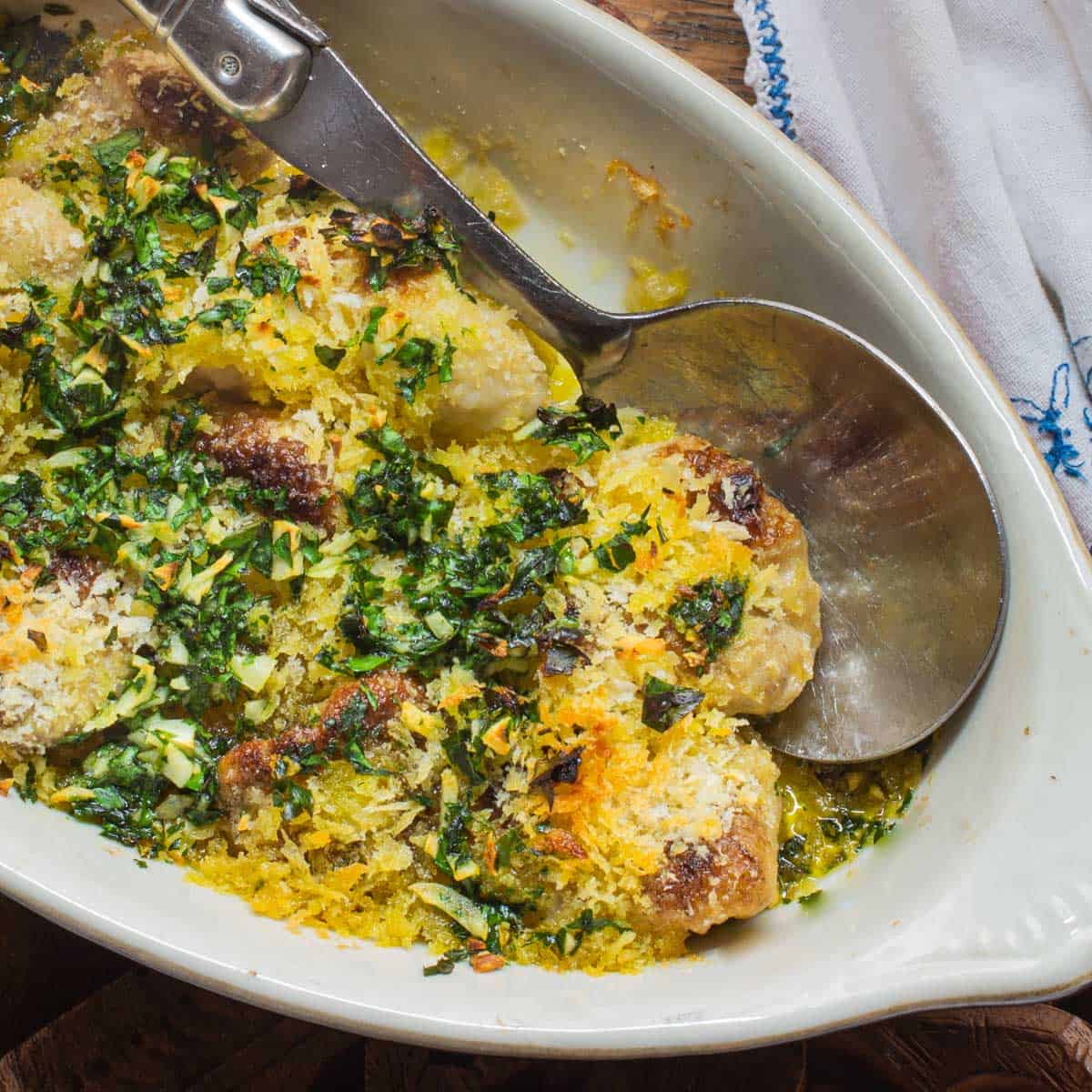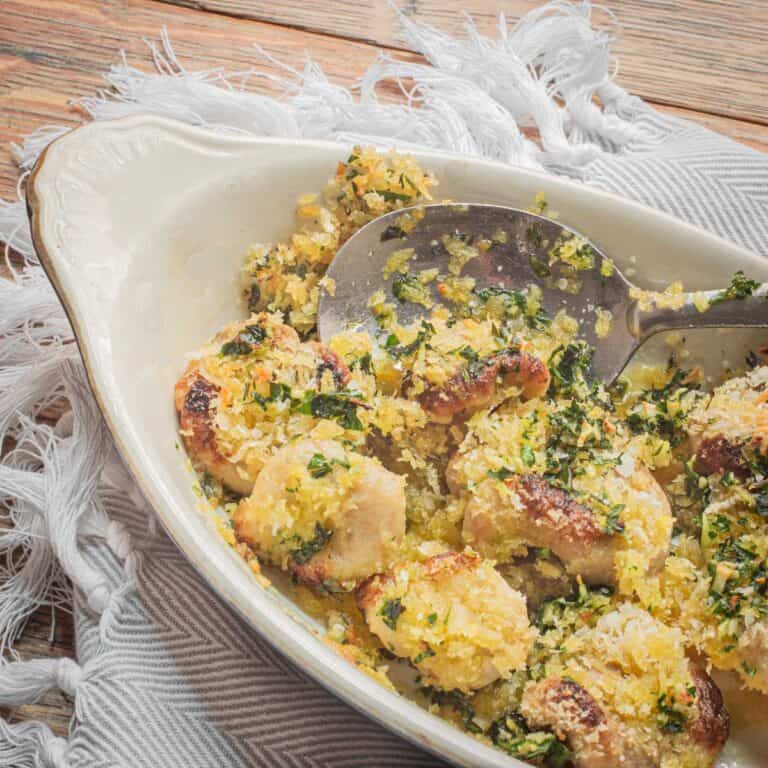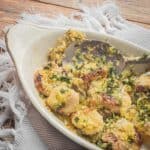 Print Recipe
Shrimp of the Woods Scampi
Entoloma abortivum mushrooms browned and baked with garlic, butter, parsley and breadcrumbs.
Ingredients
8

oz

fresh Entoloma abortivum

Shrimp of the Woods

3

Tablespoons

lobster mushroom infused butter

or unsalted butter

2

tablespoons

lard

unsalted butter or other cooking oil, for browning the mushrooms

1

teaspoon

minced fresh garlic

1

Tablespoon

chopped Italian parsley

3

Tablespoons

panko breadcrumbs

lightly toasted

Kosher salt and fresh ground black pepper

Lemon wedges

for serving, optional
Instructions
Mix the lobster mushroom butter with the minced garlic and reserve.

Heat 2 tablespoons of the lard or butter in a pan and brown the entolomas lightly, then season with salt and pepper and reserve.

Transfer the mushrooms to a baking dish, top with the breadcrumbs and parsley, and then the garlic butter.

Bake the mixture for 15 minutes at 425, or until the breadcrumbs are golden and the mixture is bubbling hot. Serve immediately with lemon wedges on the side and small toast points.
Notes
This is good way to prepare shrimp of the woods, but other mushrooms can be good too. Lactarius mushrooms, which some people don't like for the texture can be a good substitute. 
Nutrition
Calories:
239
kcal
|
Carbohydrates:
15
g
|
Protein:
6
g
|
Fat:
18
g
|
Saturated Fat:
11
g
|
Polyunsaturated Fat:
1
g
|
Monounsaturated Fat:
5
g
|
Trans Fat:
1
g
|
Cholesterol:
45
mg
|
Sodium:
253
mg
|
Potassium:
427
mg
|
Fiber:
2
g
|
Sugar:
3
g
|
Vitamin A:
1267
IU
|
Vitamin C:
8
mg
|
Calcium:
70
mg
|
Iron:
1
mg