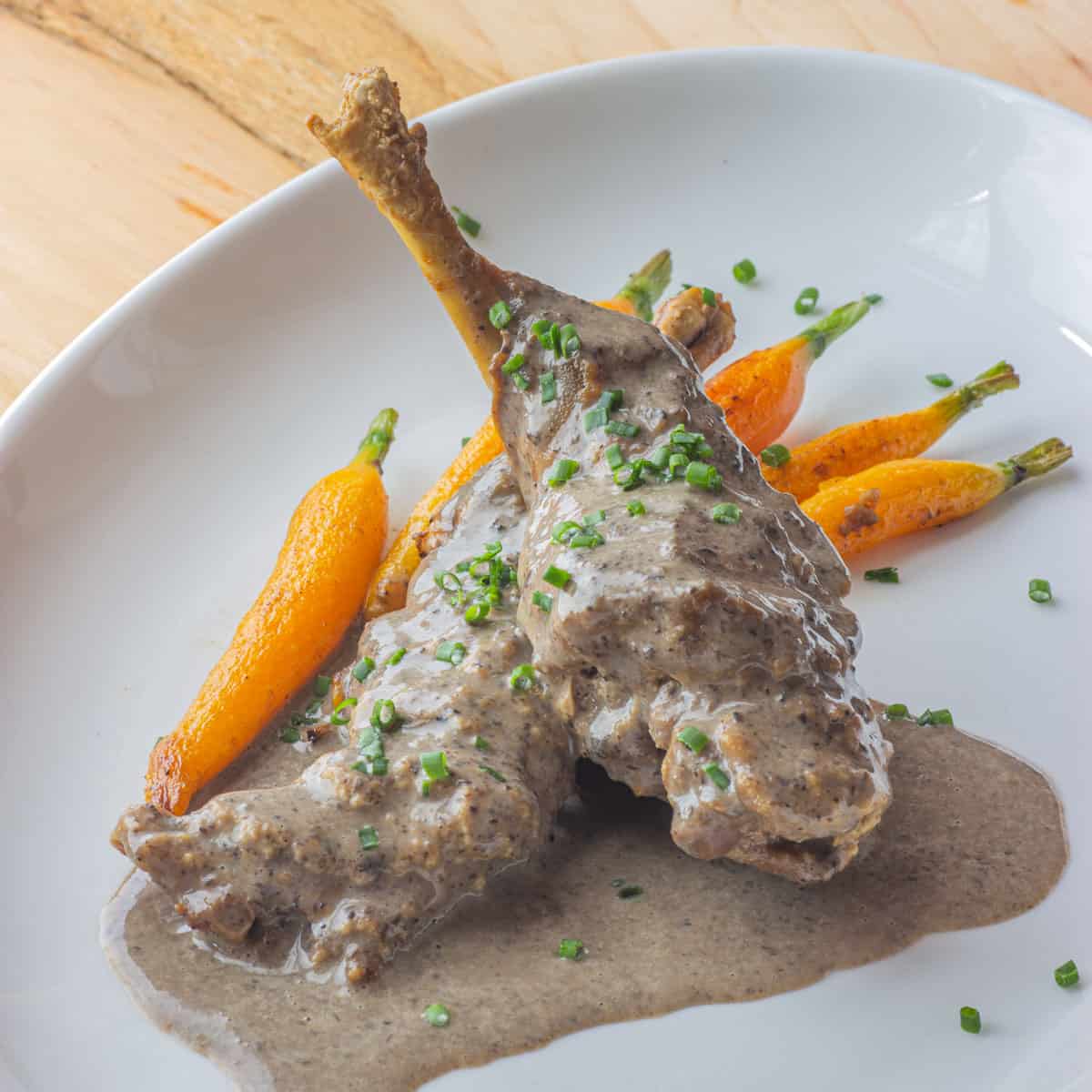 Nothing says Easter like a dish with rabbit and carrots.
I was just trying to source some new rabbit too, in time for the Easter Brunch menu at the Salt Cellar, but I couldn't make it work, so it'll have to wait for next year. I did have a rabbit in the freezer though, as luck would have it.
But this isn't just any old rabbit 'n' carrots. The recipe is based off an old favorite of mine, an Italian method for braising large cuts of pork in milk.
Basically, you take a cut of meat, brown it, then braise it with milk and herbs. As the milk cooks, it naturally breaks and separates into curds, which are usually reduced and then spooned around the meat as a natural sauce.
Like I mentioned, the dish is traditionally made with pork, but you can pretty much use any kind of meat you want. The sweet flavor of rabbit is great though, and an easy stand in for pork.
For a less homey version you can take it a step farther. The curdles don't have to be curdles if you don't want them to be. With the aid of a blender you can transform the curdles into a velvety-sweet sauce-a trick I like to use in restaurant kitchens if we end up with excess dairy.
With the whole sweet thing going on, sweet smelling black trumpets golden chanterelles, or really any related mushroom, like a red chanterelle would be great to add to the sauce. Black trumpets and golden chanterelles have the most powerful fruity aroma in my opinion, but since it's winter and I don't dry golden chanterelles for the off season, I went with trumpets.
Just as the rabbits, milk and black trumpets are important, so are the carrots. In a perfect world, you want to get lucky with a flavorful variety, some of my favorite orange fleshed carrots are romeo, babette, and thumbelina. You also want to make sure you have a variety with a core that won't be tough and stringy. Some carrots (especially funky heirloom ones) have cores that are like fiberglass, so be careful.
If you find yourself with some extra rabbits, make sure to save the bones for making the stock to add to the braise, which makes a huge difference. Remember to remove the loins, forelegs and bellies for other purposes though, they're a lot of fun too.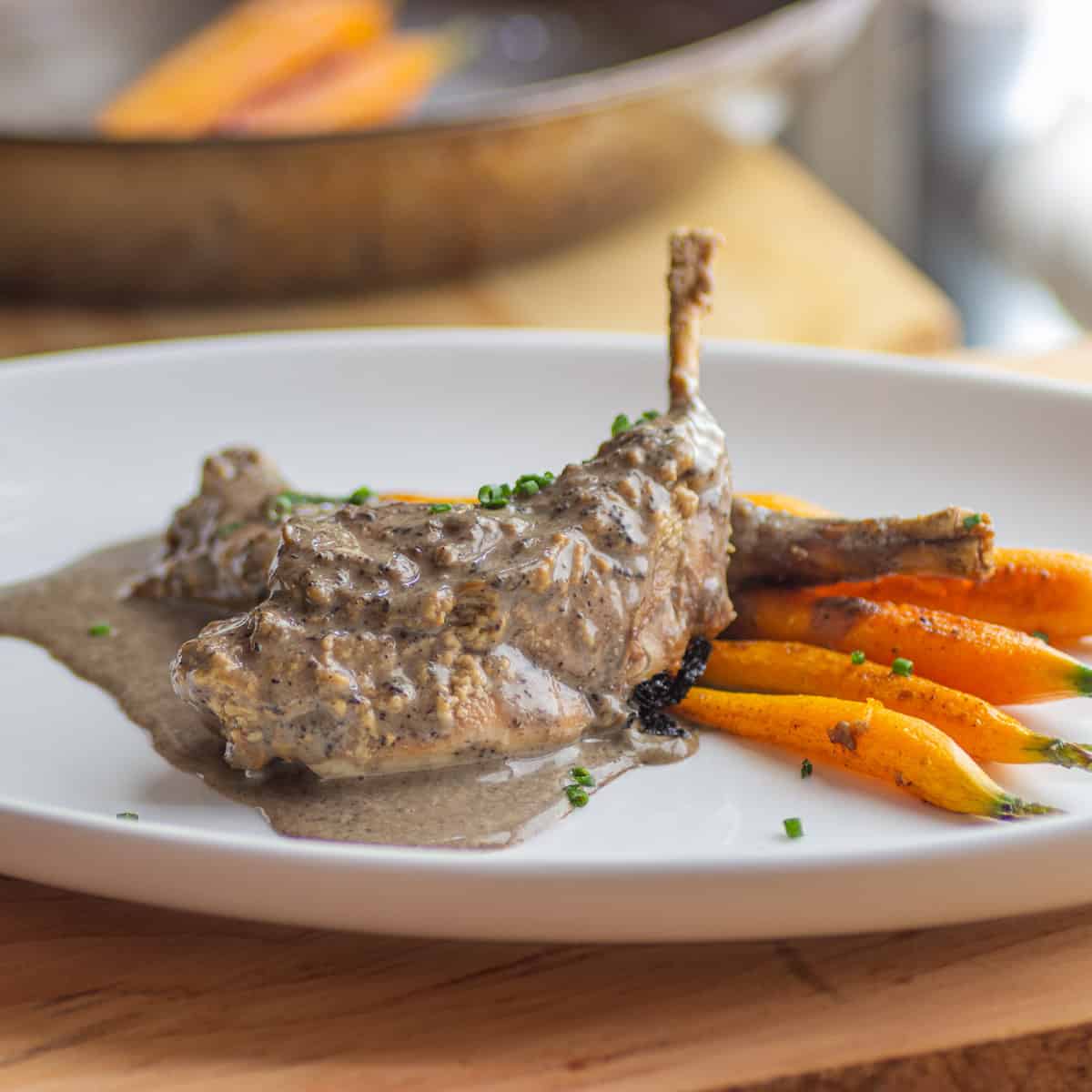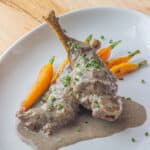 Print Recipe
Milk-Braised Rabbit With Black Trumpets And Carrots
Serves 4
Ingredients
8

medium to small rabbit legs

of 4 if they're large

1

lb

common green top carrots

or another flavorful variety, washed and peeled, with the top tender ½in portion of the leaves attached

2

qts whole milk

3

oz

dried black trumpets

1

qt

strong

homemade meat stock, like rabbit or chicken, plus a little extra for cooking the carrots

Bouquet garni

wrap these in cheesecloth and tie closed 5 sprigs of thyme, 10 black peppercorns, 1 bay leaf, and a clove of garlic

¼

cup

shallots

diced ¼ in

2

tablespoons

unsalted butter

Cooking oil

like grapeseed, or animal fat, like duck fat-a few tablespoons

Kosher salt and pepper

½

cup

dry white wine

All purpose flour

as needed for dredging the rabbit, a gluten-free flour would be fine too

Fresh cut chives

to taste
Instructions
Mushrooms

Rehydrate the dried trumpets in the meat stock for 20 minutes, then agitate to remove dirt, remove them from the stock, then strain the stock and reserve and reserve the two separately. Preheat the oven to 300 degrees.

Rabbit

Heat a few tablespoons in of oil in a 6 in high roasting pan or wide brazier, season the rabbit all over with salt and pepper, then dredge in the flour and tap off the excess thoroughly.

Brown the rabbit legs, making sure not to overcrowd the pan, then add the shallots, black trumpets, 1 tablespoon of the butter and cook for 2 minutes. Add the wine to the pan and de-glaze, then add the milk, bouquet garni, and remaining stock to the pan, or until the rabbit legs are barely floating in liquid.

Cover the pan and place into a 300 degree oven. Cook the rabbit legs until they're just soft and fork-tender, about 1.5 hours depending on size. With a slotted spoon, remove the rabbit from the braise and cool. Transfer the liquid to a brazing pan and reduce, whisking occasionally, until the curds thicken and only about 2 cups remain.

Transfer the broken liquid to a blender, then puree and transfer to a saucepan, season the sauce to taste with salt and pepper and reserve until needed. The rabbit can be made ahead of time and reheated, in fact, it's better the next day.

Carrots

Heat a tablespoon of fat in a wide saute pan until hot, then add the carrots and season with salt and pepper. Place the pan in a preheated 375 degree oven and cook until just tender, about 5 minutes. Before you plate them, add a little knob of butter and toss to coat.

Plating the dish

Reheat the rabbit legs in the pureed trumpet sauce, double check the seasoning of the sauce, and make sure it's at least thick enough to coat the back of a spoon, if not more. The sauce can also be thickened by whisking in cold unsalted butter and heating.

Put the carrots down on preheated dinner plates, top each pile of carrots with two rabbit legs, crossing the bones at 12 o'clock, nap with additional sauce, garnish with the chives and serve immediately.
More