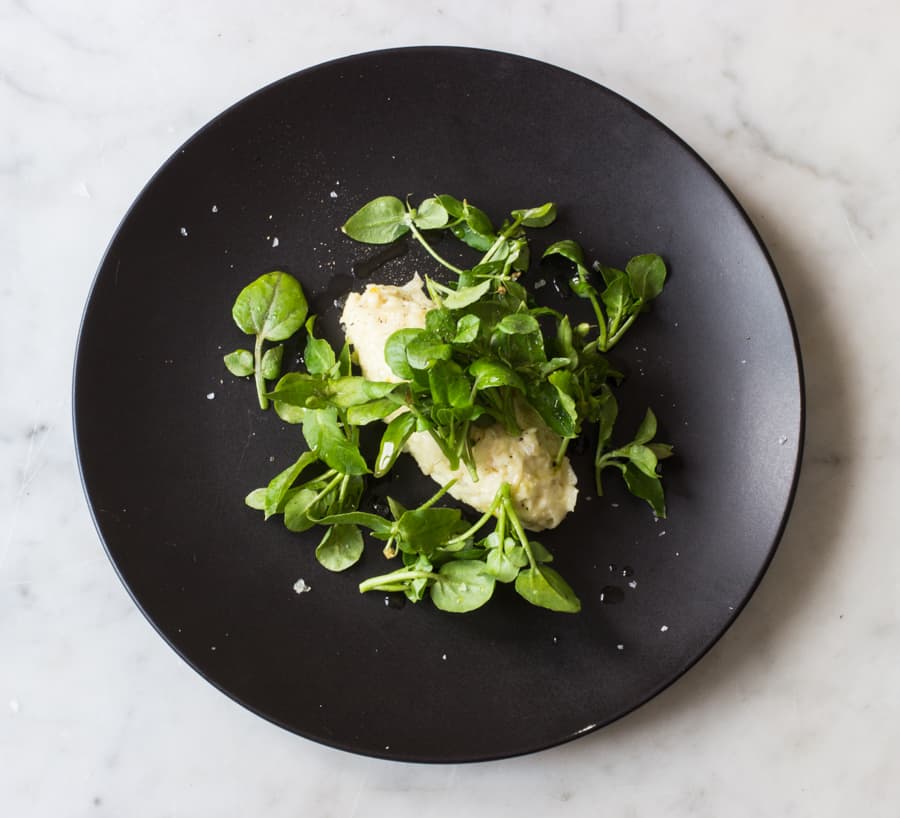 Like most people, I think of seasons as static: Winter turns to Spring, to Summer, to Fall, and then repeats. It really isn't true though, the change of seasons is gradual, and the transition between them blurry.
At the restaurant, the first day we saw snow melt a server pulled me aside and asked me: "so what about the Spring menu?" I wanted to say sarcastically that the rhubarb, morel and asparagus fairies would be bringing everything tomorrow, since that's not how it works. Minnesota is a cold climate state, we won't see "Spring" shell peas until Summer.
As far as growth, and green things, there isn't really anything outside yet. Some friends of mine who own a farm in Wisconsin turned me onto a fact last week that I hadn't thought of though: just because the ground is still mostly frozen doesn't mean everything is dead.
On their farm they have a bubbling spring, and told me that even through the dead of Winter, the constant bubbles support a flotilla of watercress, keeping it alive, green, ice cold, and spicy.
At other parts of the farm, the remnants of last year's chickweed, now exposed from the melting snow, have started to pop up. Although plenty of the chickweed shows signs of damage, every so often in the tangles of little vines there were perfectly good little shoots.
I thought it would be fun to play on the slow transition from Winter to Spring, so I dug around the fridge to see what I could find. There were some greens and vegetables, but to really evoke winter, I needed a root. Hidden in the fridge was a lone celeriac. Gnarled and brown, celery root are the picturesque winter vegetable-they're the opposite of vibrant, colorful, and alive looking.
Cook it like a any other root vegetable, puree them into a soup, shave them into a gratin and bake them, blend them into mashed potatoes, there's countless uses for celeriac. One of the most overlooked preparations is eating it raw though.
the flavor raw is potent, it's also crunchy, really crunchy, it needs a little help to be agreeable. If you shave it, or cut it into a super thin julienne and then give it a sexy dressing it's great though. Using a box grater is the easiest though (I like the microplane box grater).
As far as the dish itself, there's a classic French salad made with shaved celery root and a mayo-based dressing too that I like and have used a couple times in the past. I know Italians sometimes combine shaved raw celery root with nutty cheeses too, so I mixed both recipes into a fun hybrid.
The salad was good, but needed some zip to lighten it, so some preserved lemon got added, then I dressed the chickweed and cress and plopped them on top.
The salad is rich bordering on decadent, so the chickweed by itself wouldn't be too interesting, which is why the cress is needed. The spicy cress is strong enough for you to taste it, and the celery root/cheese while you eat it-pulling everything together in the end.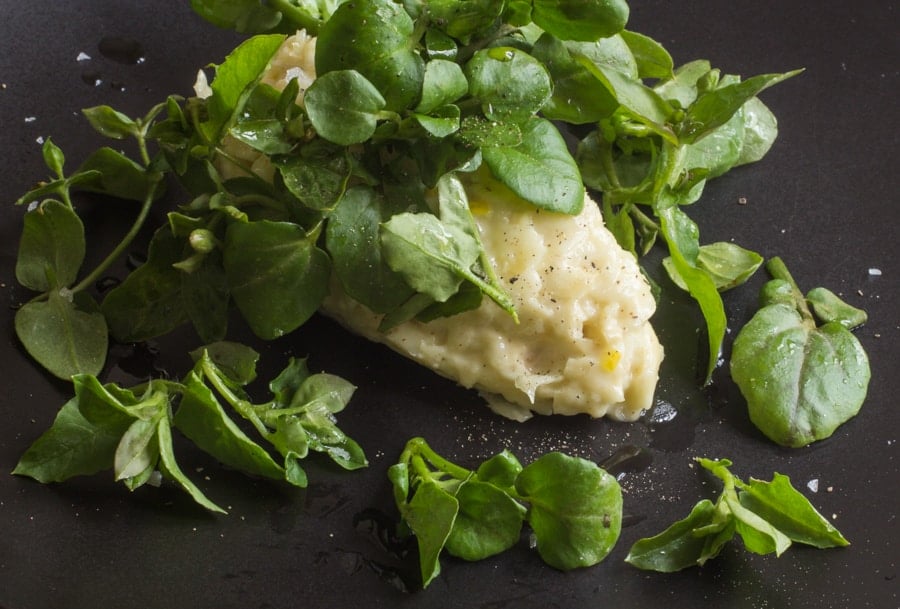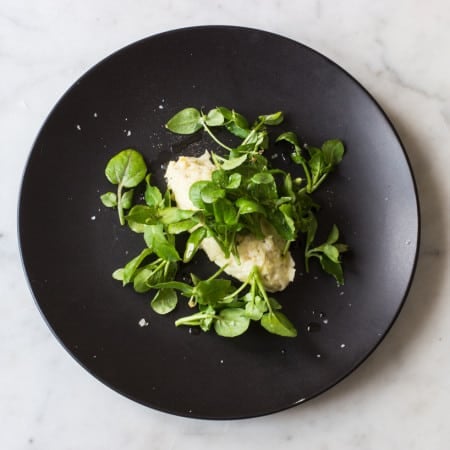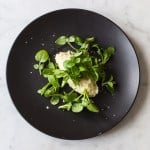 Print Recipe
Celeriac-Gruyere Salad, with Watercress and Chickweed
Serves 2 as an appetizer, scale as needed
Ingredients
1

cup

grated celery root

1

cup

high quality grated gruyere

or another nutty cheese, like aged gouda

Fresh watercress and chickweed

Virgin sunflower oil

as needed for dressing the greens (I only use Smude's oil)

Fresh lemon juice

to taste

Kosher salt and pepper

to taste

For the dressing

1

large egg

1

tablespoon

dijon mustard

1

tablespoon

water

1

tablespoon

fresh lemon juice

¾

cup

flavorless oil

like grapeseed

¼

cup

virgin sunflower oil

walnut, olive or hazelnut oil would be great too

Kosher salt and pepper

to taste

Preserved lemon rind

¼ of a lemon will give you plenty
Instructions
Dressing

Blanch the preserved lemon in boiling, unseasoned water, then remove any white pith and dice ⅛ in.

Combine the egg, water, lemon juice, and mustard in the bowl of a food processor and pulse. Turn the speed to high and drizzle in the oil slowly until a creamy emulsion is formed, it should be thick and stiff after all the oil has been added. Season the mixture with salt and pepper, taste, then adjust as needed. Transfer the dressing to a container and reserve until needed.

Celery Root

Combine the grated celery root and cheese in a bowl with ¼ cup of the dressing and the diced preserved lemon (this can be done ahead of time, and will allow the celeriac to soften).

Plating

Use two spoons to form egg shapes of the celery root-cheese salad, placing them in the middle of some chilled salad plates.

Lightly dress the cress and chickweed with some olive oil, lemon juice, salt and pepper and arrange small mounds of the greens on top of the salad.

Serve immediately.
Notes
The flavorful oil is one of the most important ingredients, walnut, hazelnut or extra virgin olive would all make a great salad too.
The dressing makes much more than you'll need, since it's difficult to make an emulsion at home with less than one egg to dress a salad for two people.
Preserved lemons are an important part of the dressing. I make my own when my grandmother sends me lemons from her tree in Arizona by quartering them and packing them in salt for a few months in mason jars in the fridge, they can also be purchased.