There are some recipes that make an impression, and really stick with you. This is based on one of those.
About 6 years ago I was working at the now closed Il Vesco Vino in St. Paul. It was an Italian joint, with plenty of pasta and everything you'd expect. One of the first dishes I got to make on the grill station was a deceptively simple tenderloin with mashed potatoes, half a roasted pepper, and a butter sauce made from anchovies. With only four components, it was a great example of minimalism, especially in the summer when peppers are at their finest.

By themselves, the steak, pepper and potatoes wouldn't be anything to write home about, but the umami of the anchovy sauce brought all the components together...it was so, so good.
Plenty of people are still wary of anchovies, but if you get some high quality ones, they're really great, and can add that extra something to a dish you just can't put your finger on.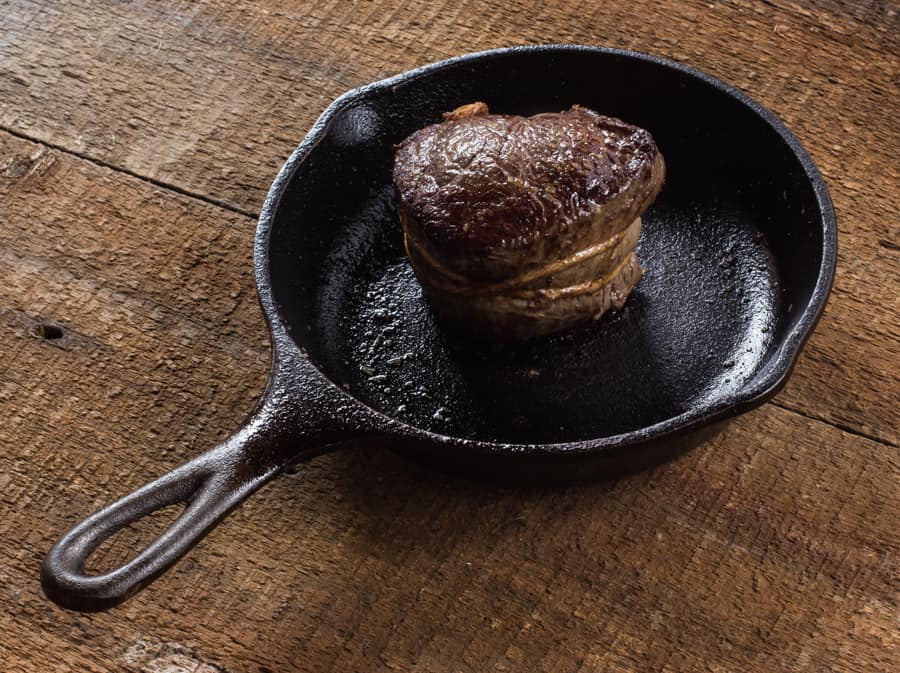 Since anchovies have a rich flavor, other things that are aggressive tasting compliment them, bitter broccoli raab being among my favorites. When I discovered the wild raabs/wintercress buds that grow from Barbarea vulgaris last year, I knew they would make a great addition to that old steak dish.
The variation here is simple, but relies on using a couple key ingredients: gelatinous homemade stock (this adds body and helps the sauce absorb butter), high quality anchovies, and a nice cut of meat. *Nice* doesn't have to be tenderloin though, that's just what we originally served it with. A juicy sirloin or really any cut you enjoy would be fine too.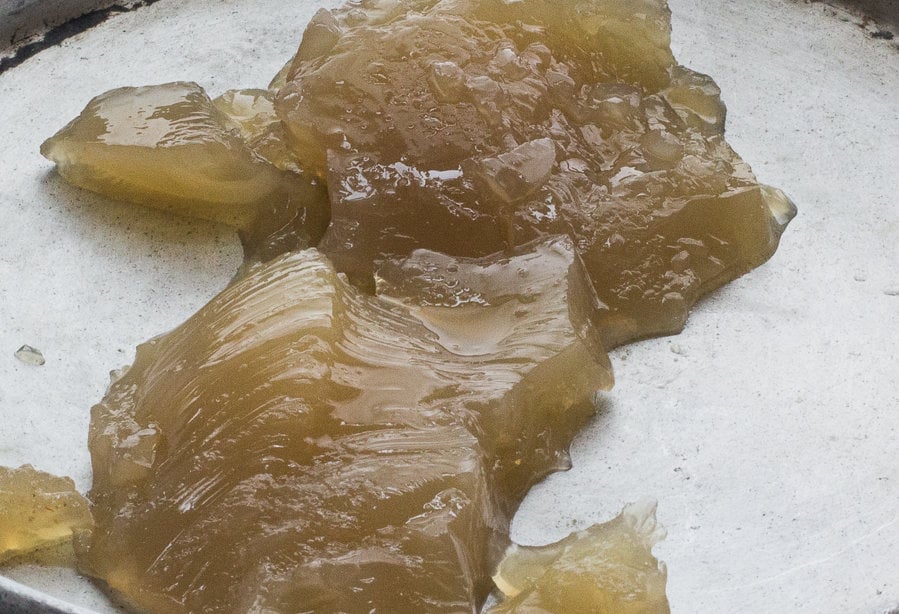 Tenderloin is really good with punchy sauces like this though, since it is after all, the most flavorless cut on the animal. That being said though, I'll still eat tenderloin, especially from bison.
If you're in the Midwest, Eiktens in Center City is a great place to get buffalo products, as well as some great local gouda.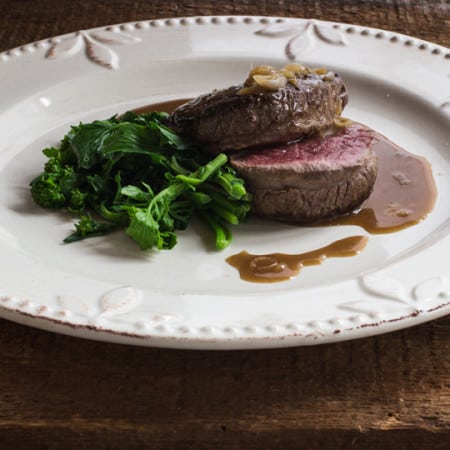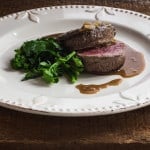 Print Recipe
Bison Tenderloin, Wintercress Buds and Anchovy-Ramp Sauce
Seared bison tenderloins with a rich sauce. Serves two as an entree.
Equipment
1 heavy pan, such as cast iron

for searing
Ingredients
2

eight ounce bison tenderloins

1

cup

strong

homemade stock

½

cup

dry white wine

2

tablespoons

chopped anchovy

roughly 5-6 filets

Kosher salt and fresh ground pepper

3

tablespoons

unsalted butter

2

tablespoons

high heat cooking fat

like lard or grapeseed oil

1

small sprig of thyme

optional but recommended

4

ounces

young mustard raabs

young dandelions or broccoli raab would be a great substitute

2

tablespoon

sliced fresh ramp bulbs
Instructions
Preheat an oven to 250 degrees. Season the bison steaks all over with salt and pepper. Open some windows so you don't smoke out the kitchen.

Heat the lard or oil in a wide saute pan until lightly smoking (a ten inch would do). Put the steaks in the pan and press down firmly on them. Cook the steaks for a few minutes until a deep brown crust forms on one side, then flip, press down on the steaks lightly again and sear until the other side is deeply seared as well. Now repeat with the sides of the steak.

Transfer the steaks to a roasting tray lined with a cooling rack to prevent the steaks touching the metal and overcooking, then cook in the 250 degree oven until a thermometer reads 110 degrees (trust me on this). Remove the steaks to rest in a warm place in a pan to catch the juice the give off.
Anchovy Pan Sauce
Meanwhile, wipe the saute pan out with a towel to remove burnt oil, then add one tablespoon of the butter, the ramps and the anchovies. Cook, stirring occasionally until the anchovies are broken up and the ramps are lightly colored. Add the thyme sprig to the pan if using. Deglaze the pan with the wine and reduce by half, then add the stock and the juice the tenderloins have given off while resting. Heat the sauce and reduce for a few minutes more on medium heat, discard the thyme and reserve the sauce.





Before serving, reheat the sauce and whisk in the cold butter, allow the sauce to thicken, then double check the seasoning and adjust if needed. If necessary, flash the tenderloins in the oven for a few minutes to warm them back up a little.
Wintercress Buds
To cook the wintercress buds, bring a a pot of lightly salted water to a boil, then blanch them for 30 seconds or so until just wilted, remove the raabs from the water and blot on a towel for a second to remove water, since it will dilute your sauce.
Plating
To plate the dish, cut each tenderloin in half, then fan each out on the middle of two preheated dinner plates, arrange the raabs around them, garnish with the sauce, and serve immediately.
Notes
Two great brands of anchovy I like are Scalia, and Ortiz. Spanish anchovies will tend to be less fishy than Italian too, since the fish are in colder water which makes them develop less fat.
To give a tenderloin more height, I like to tie them tightly in the middle with butchers twine, since it makes them cook evenly and gives an even shape for a nice presentation.
Nutrition
Serving:
8
oz
|
Calories:
439
kcal
|
Carbohydrates:
2
g
|
Protein:
45
g
|
Fat:
22
g
|
Saturated Fat:
13
g
|
Polyunsaturated Fat:
1
g
|
Monounsaturated Fat:
6
g
|
Trans Fat:
1
g
|
Cholesterol:
170
mg
|
Sodium:
107
mg
|
Potassium:
860
mg
|
Sugar:
1
g
|
Vitamin A:
532
IU
|
Calcium:
43
mg
|
Iron:
5
mg