Meaty and addictive with great chewy texture, this simple mushroom jerky recipe is one of my favorite plant based mushroom snacks. The recipe works with just about any mushroom from porcini to puffballs, is easy to make at home with a dehydrator, and there's lots of ways to tweak the flavor.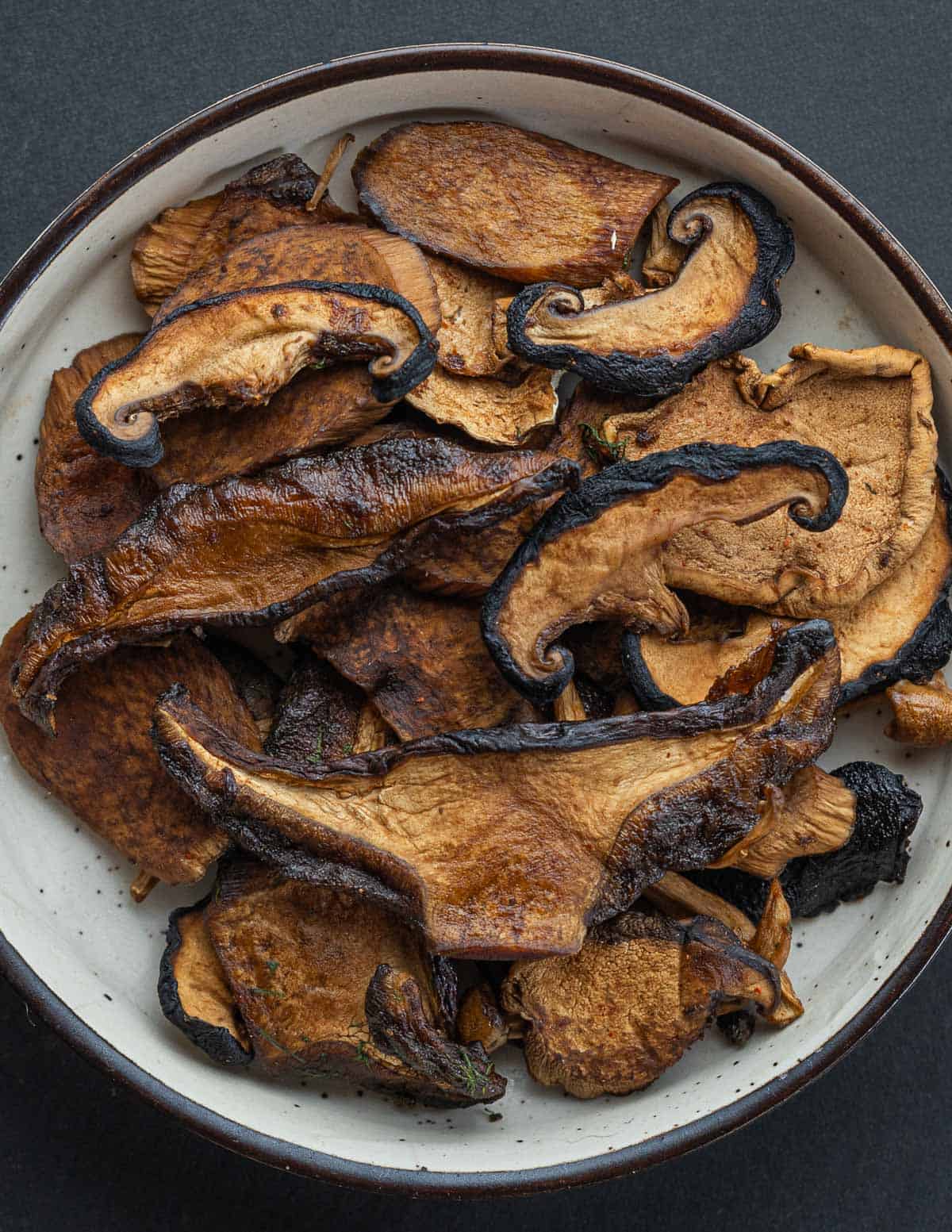 The Best Mushrooms for Jerky
Both wild and cultivated mushrooms can make great jerky, but I look for fleshy, thick mushrooms that won't shrink too much. With cultivated mushrooms, king oyster mushroom jerky is one of the best, as is shiitake.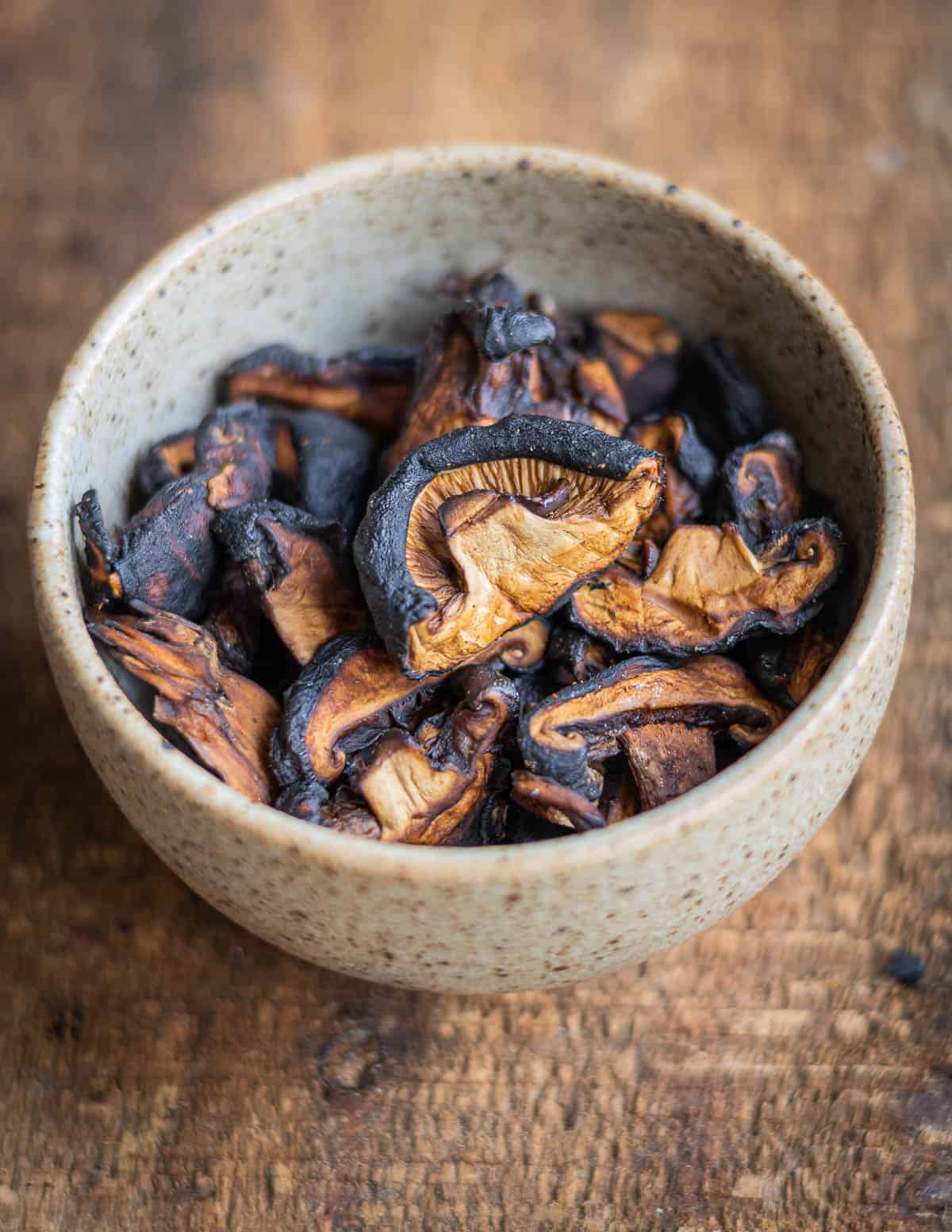 With wild mushrooms, hen of the woods pheasant back jerky are good, and, surprisingly, it's a good way to use puffballs. Avoid small, thin mushrooms like enoki as they lose too much volume after drying.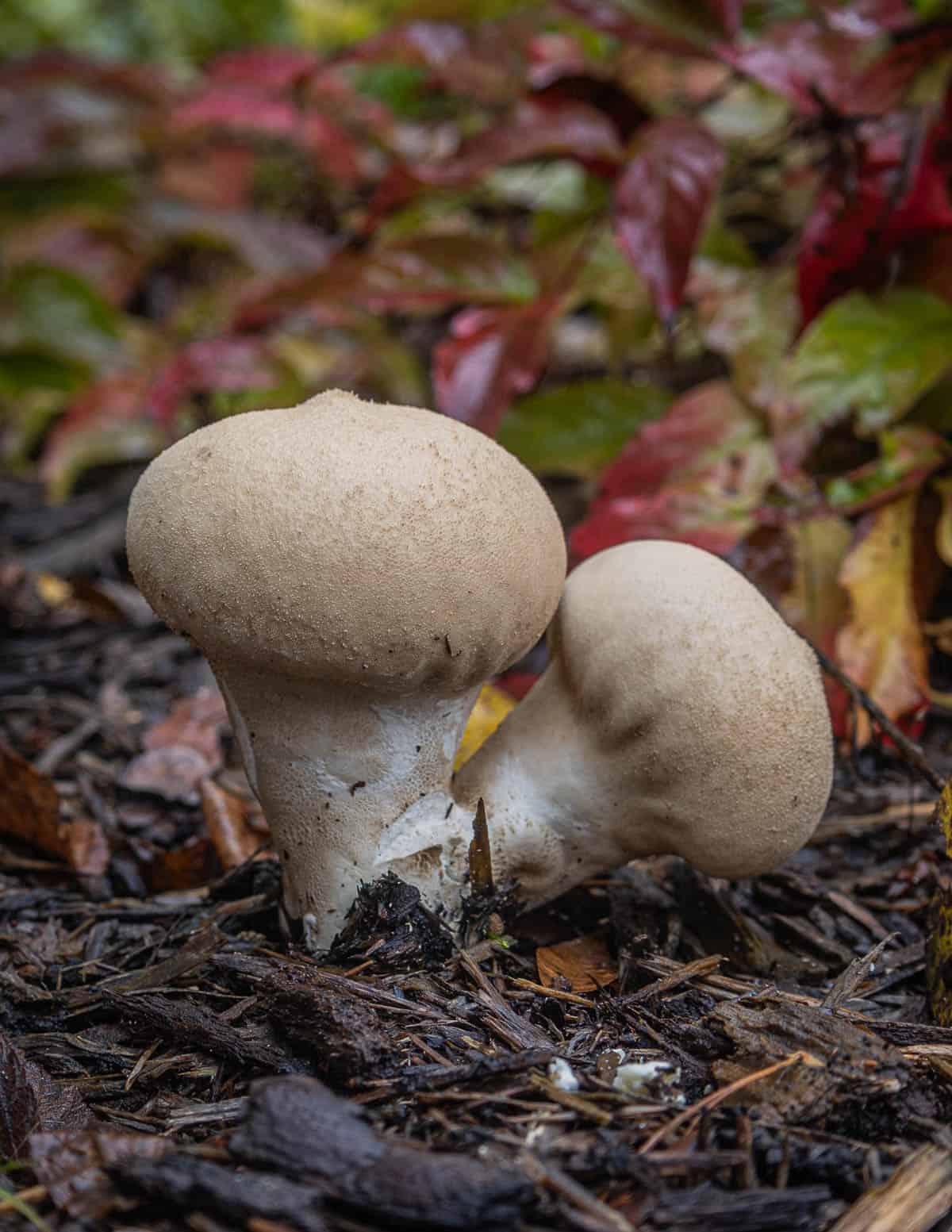 Here's a list of different cultivated and wild mushrooms I like to use. If you have a suggestion of a species to add please leave a comment.
Cultivated
King Oyster
Oyster
Shiitake
Portobello mushrooms
Wild
Porcini and other boletes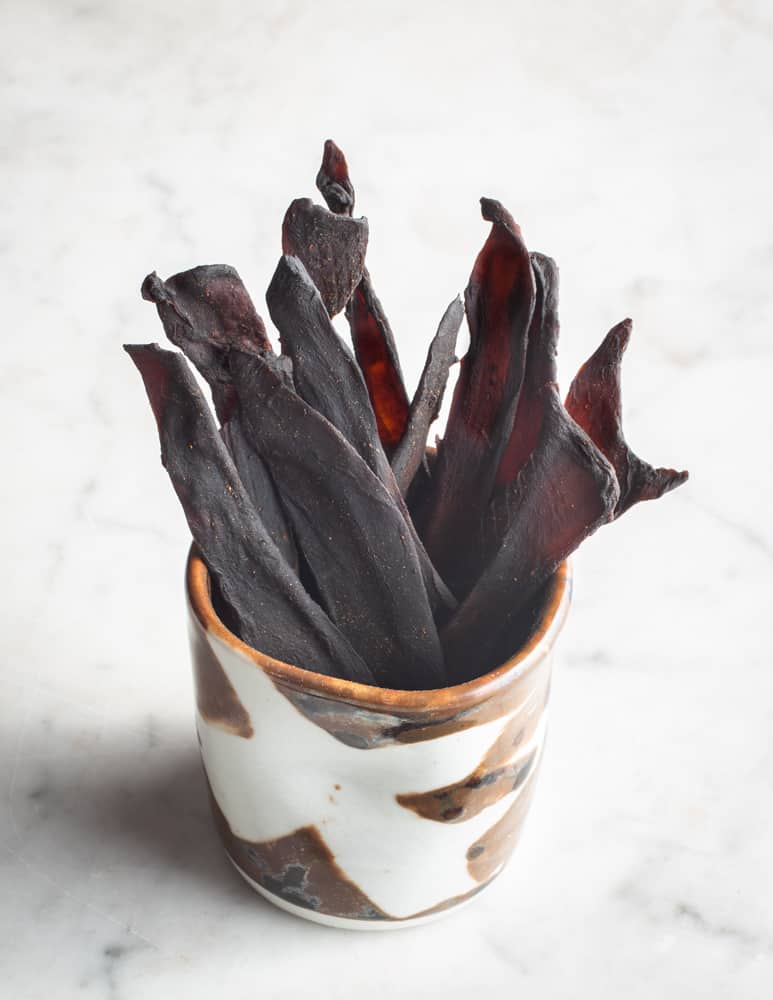 Ingredients
You'll need soy sauce, Worcestershire, maple syrup, smoked paprika, onion powder. Unlike most recipes that use only dried ingredients, I like to add fresh garlic and fresh ginger too. You can also get really creative adding different seasonings before the mushrooms are dried.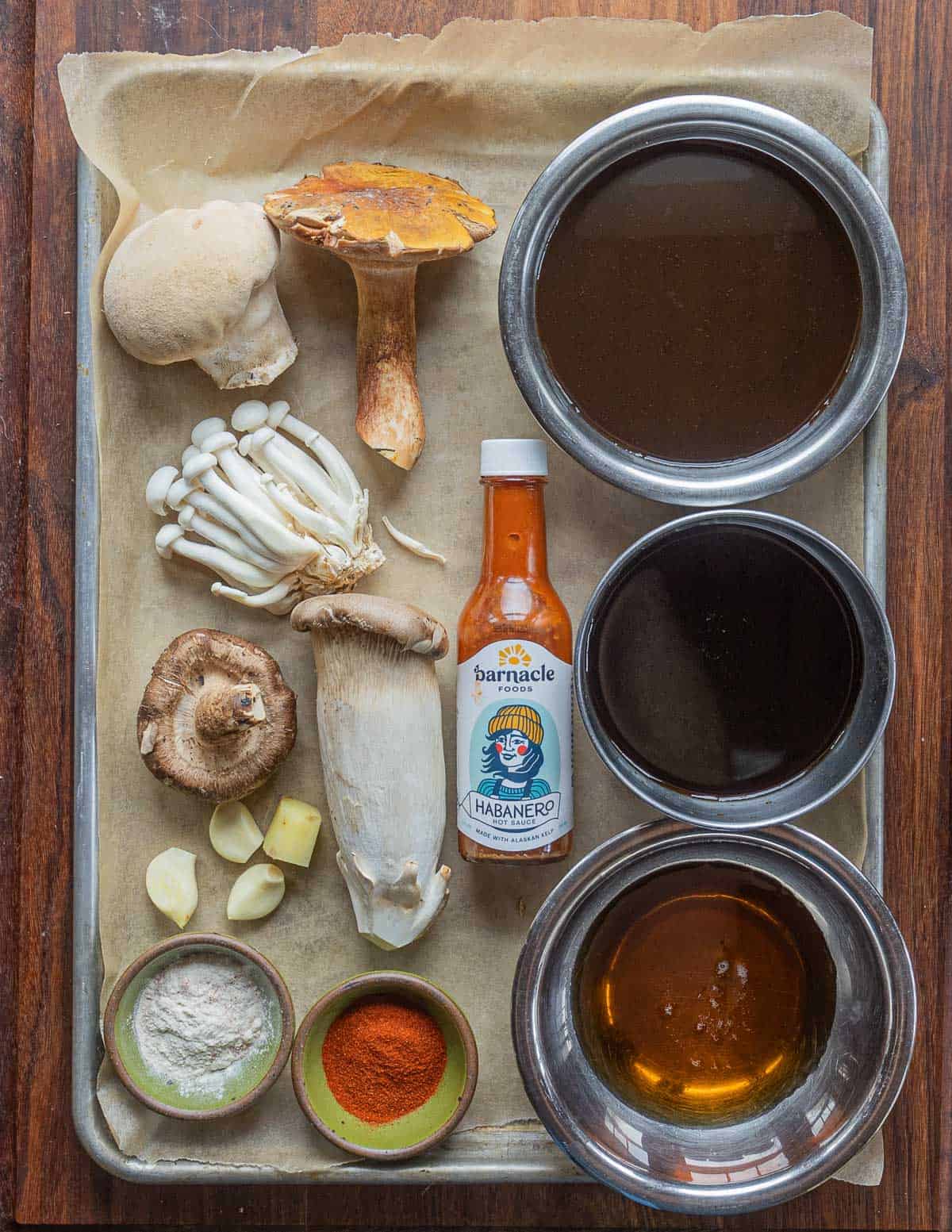 How to Make Mushroom Jerky
First you mix the marinade ingredients. Next the mushrooms are cut into slices about ¼ inch thick.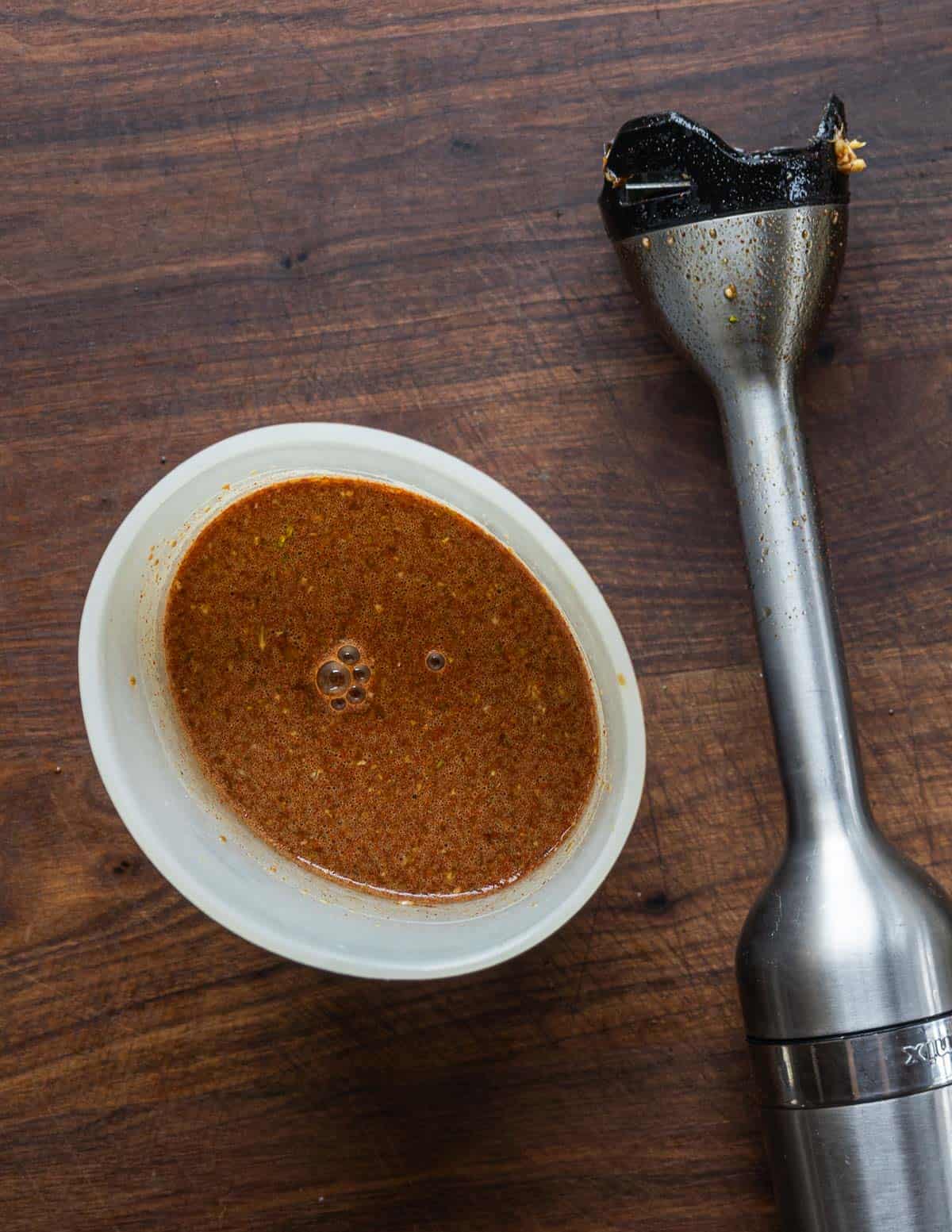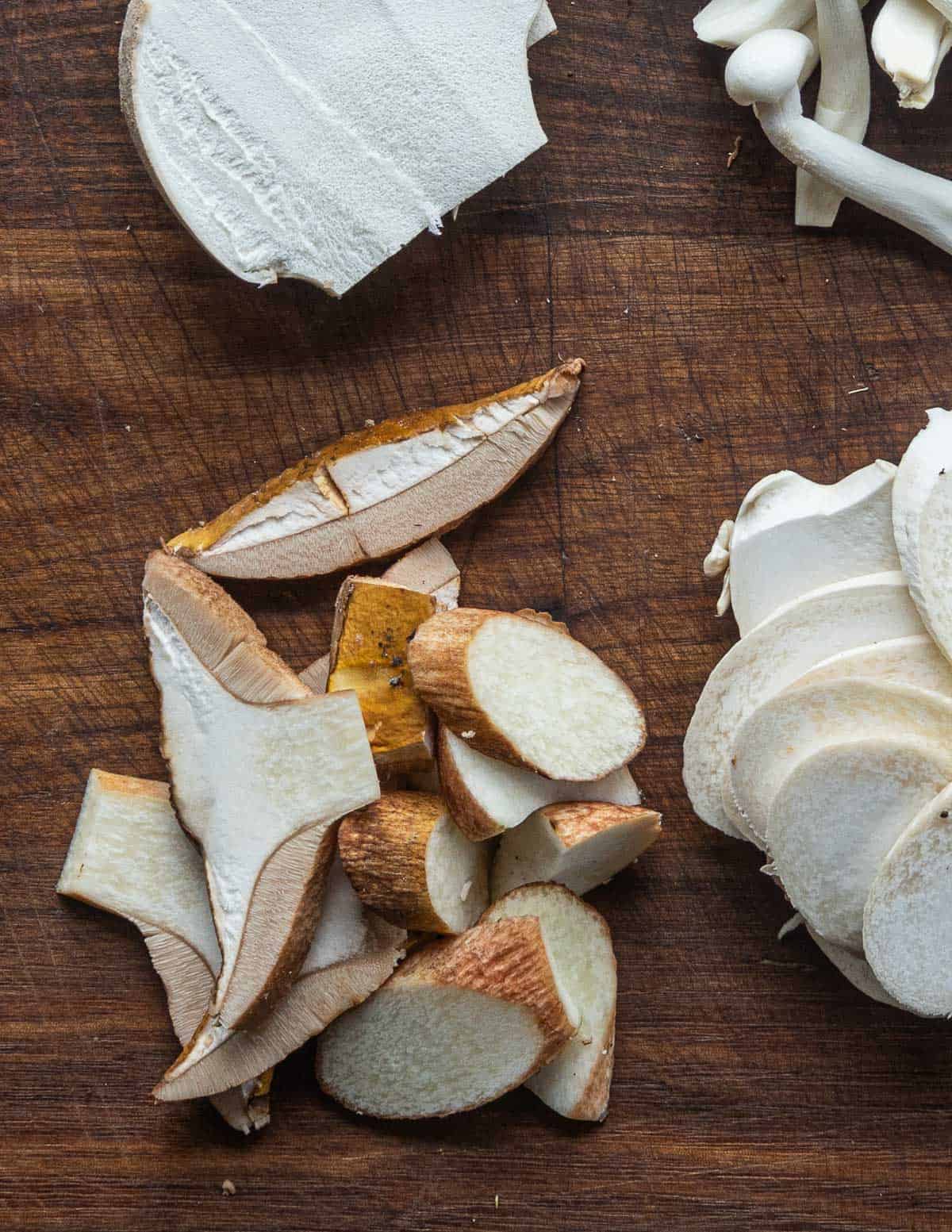 Par-cook the mushrooms on a baking sheet with parchment to help them hold their shape. Some mushrooms like hen of the woods are easier to boil or steam.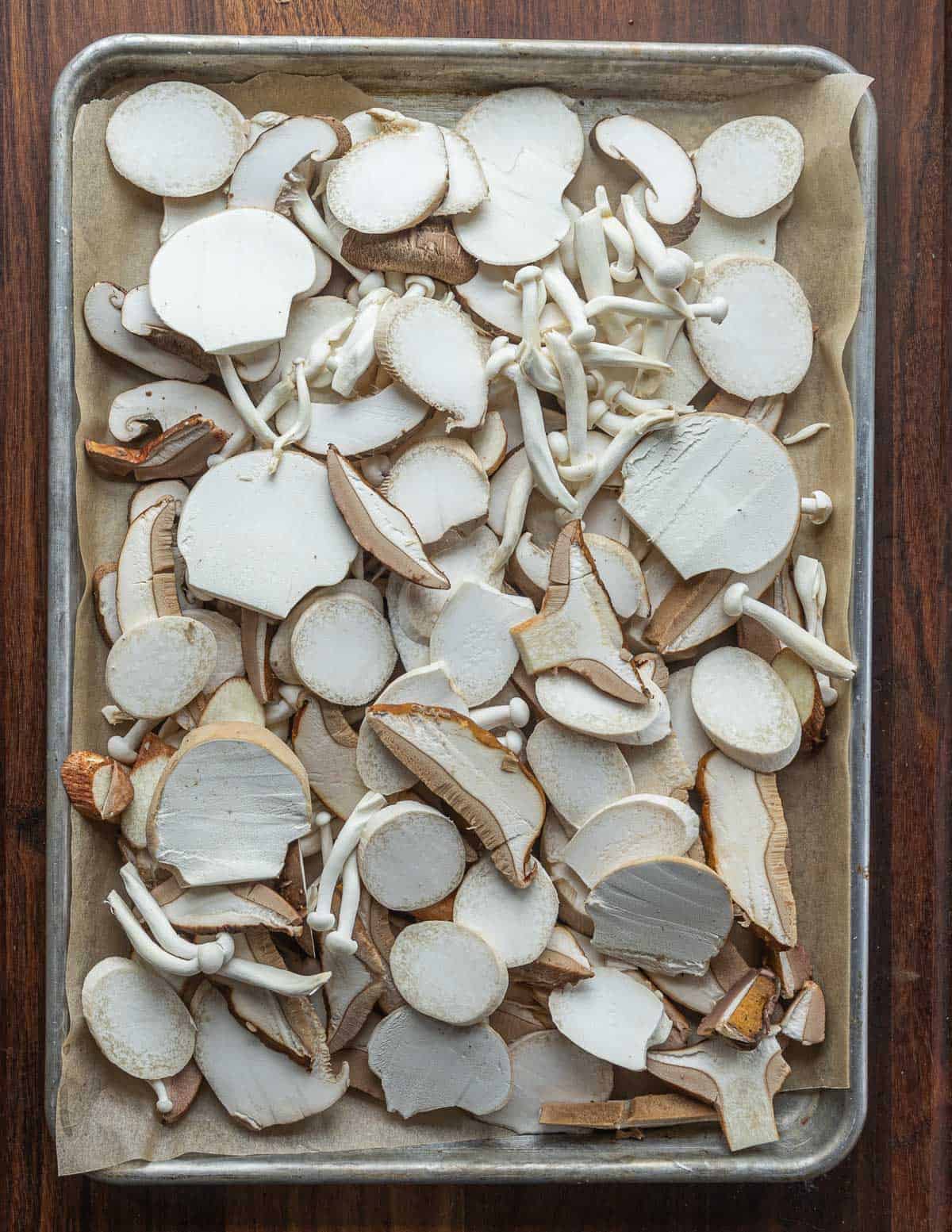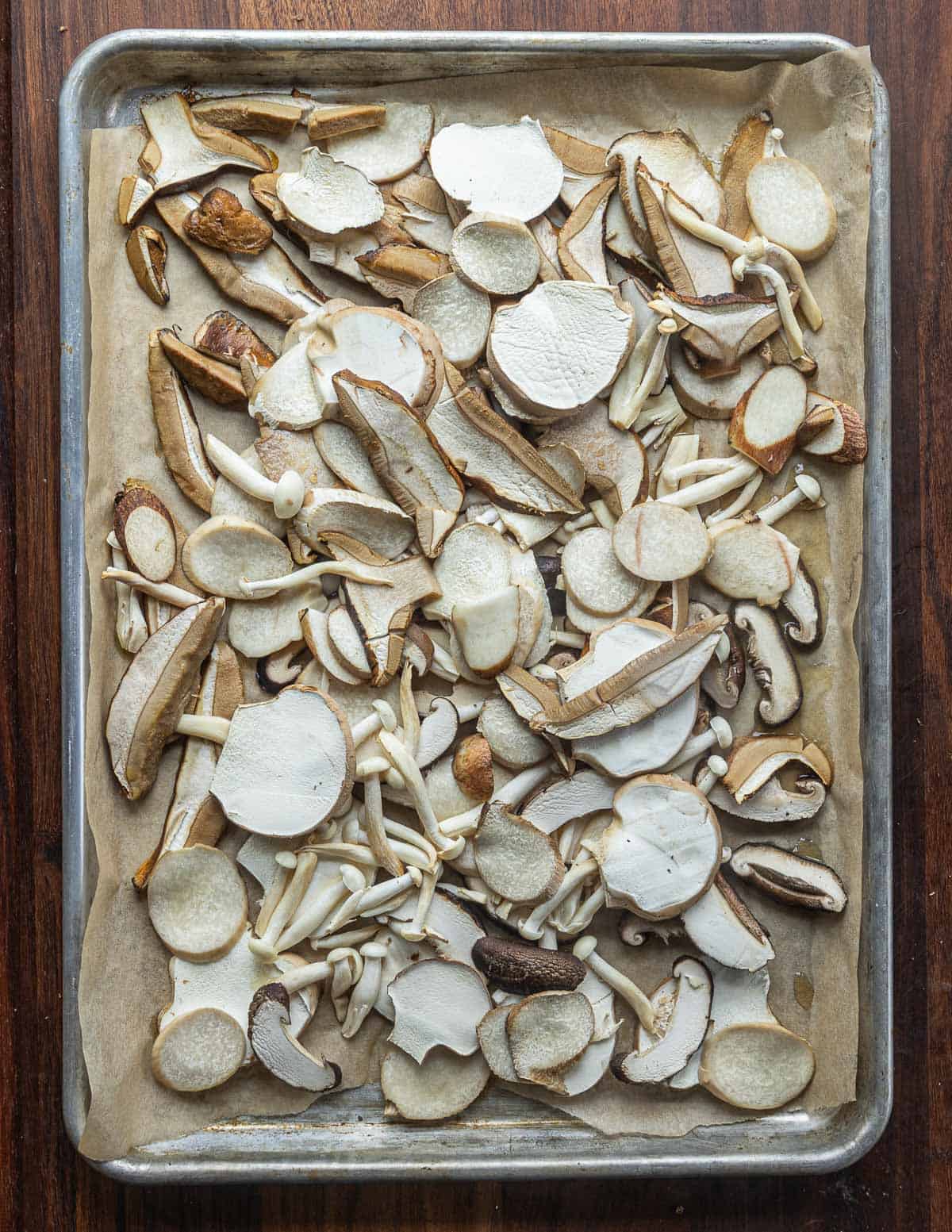 The cooked mushrooms are mixed with the marinade in a bowl and left for 24-72 hours.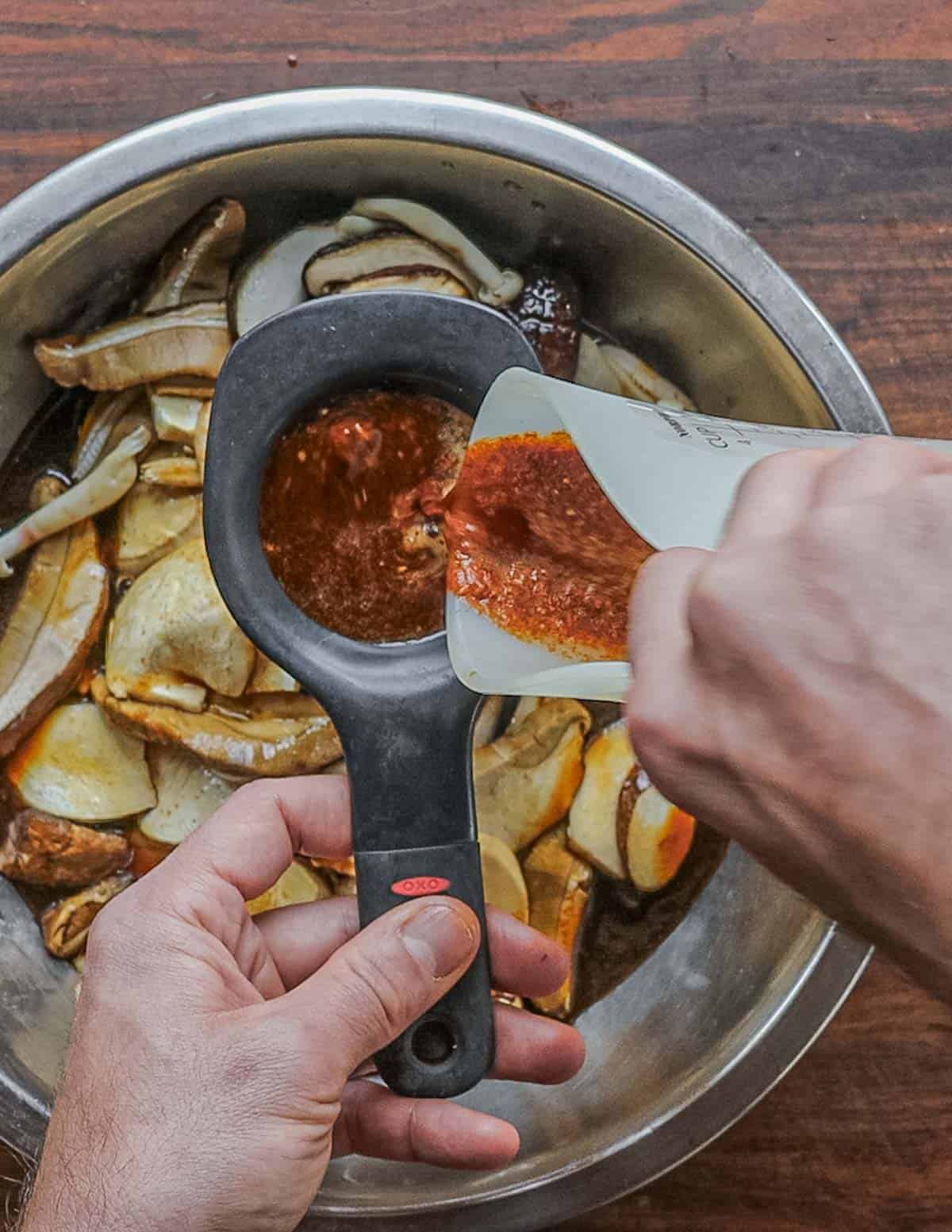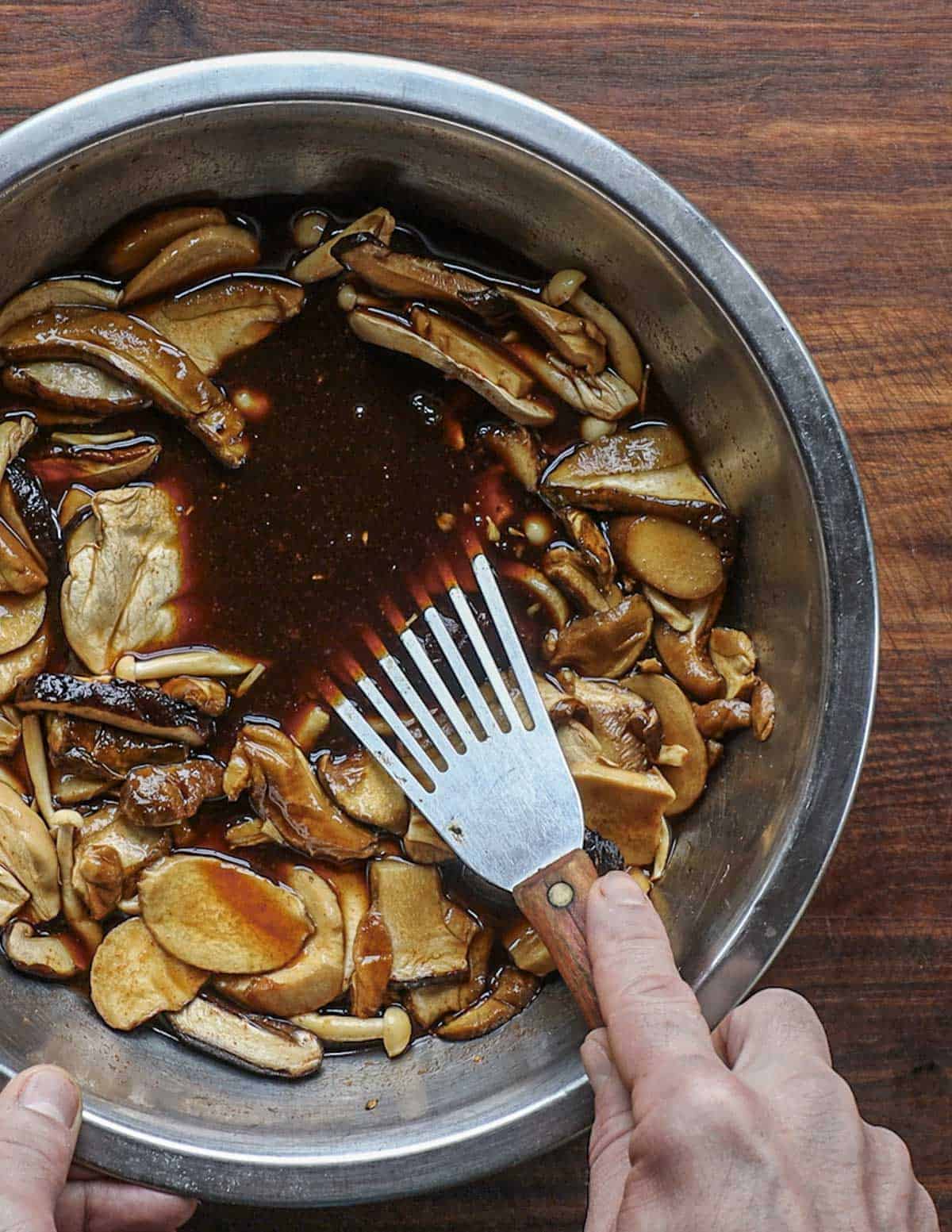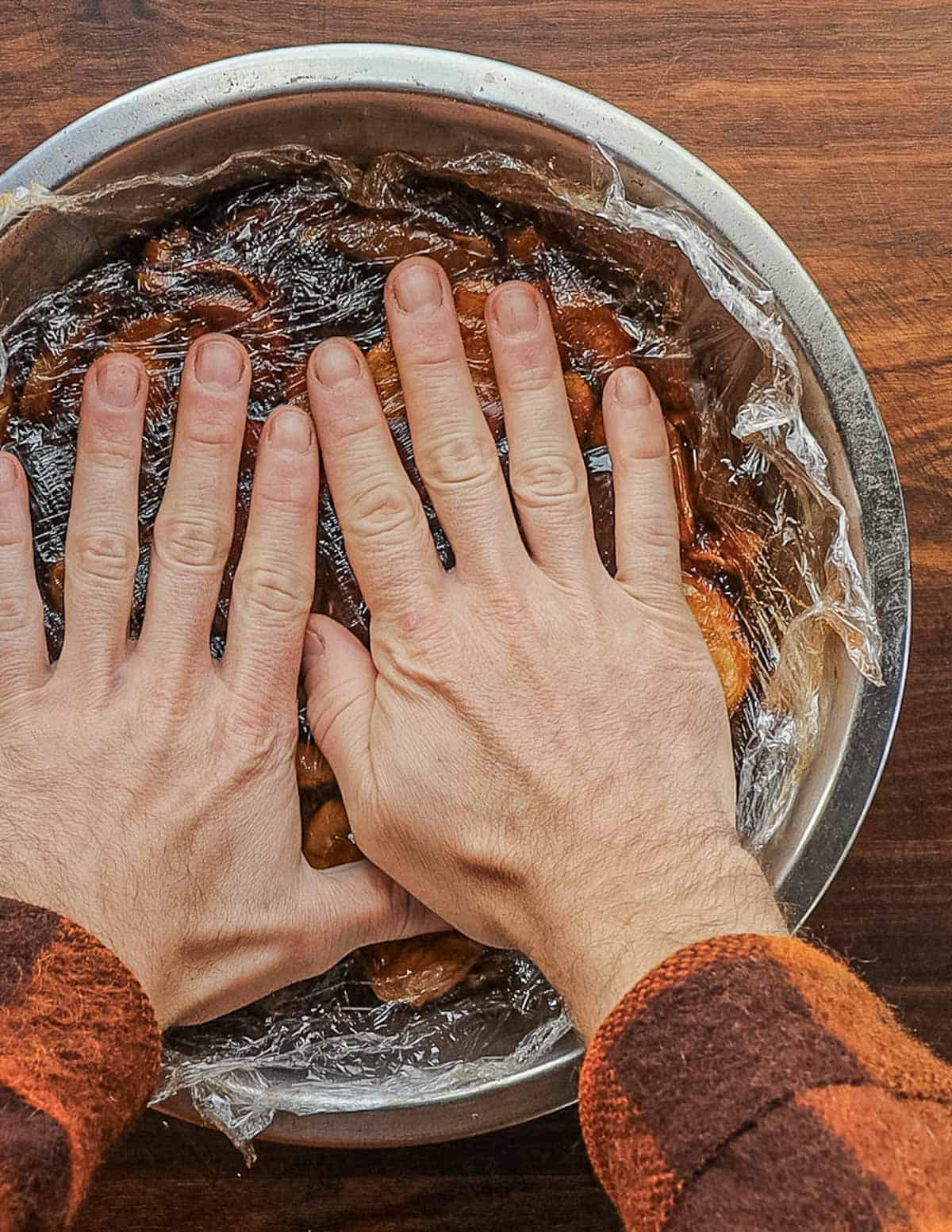 When it's time to dry the mushroom jerky in a dehydrator, drain them in a colander, then lay them on dehydrator trays and dry at 100 F for 5-6 hours, rotating the trays 180 degrees once at the half way point. The jerky is finished when the mushrooms have a leathery, chewy texture and aren't damp.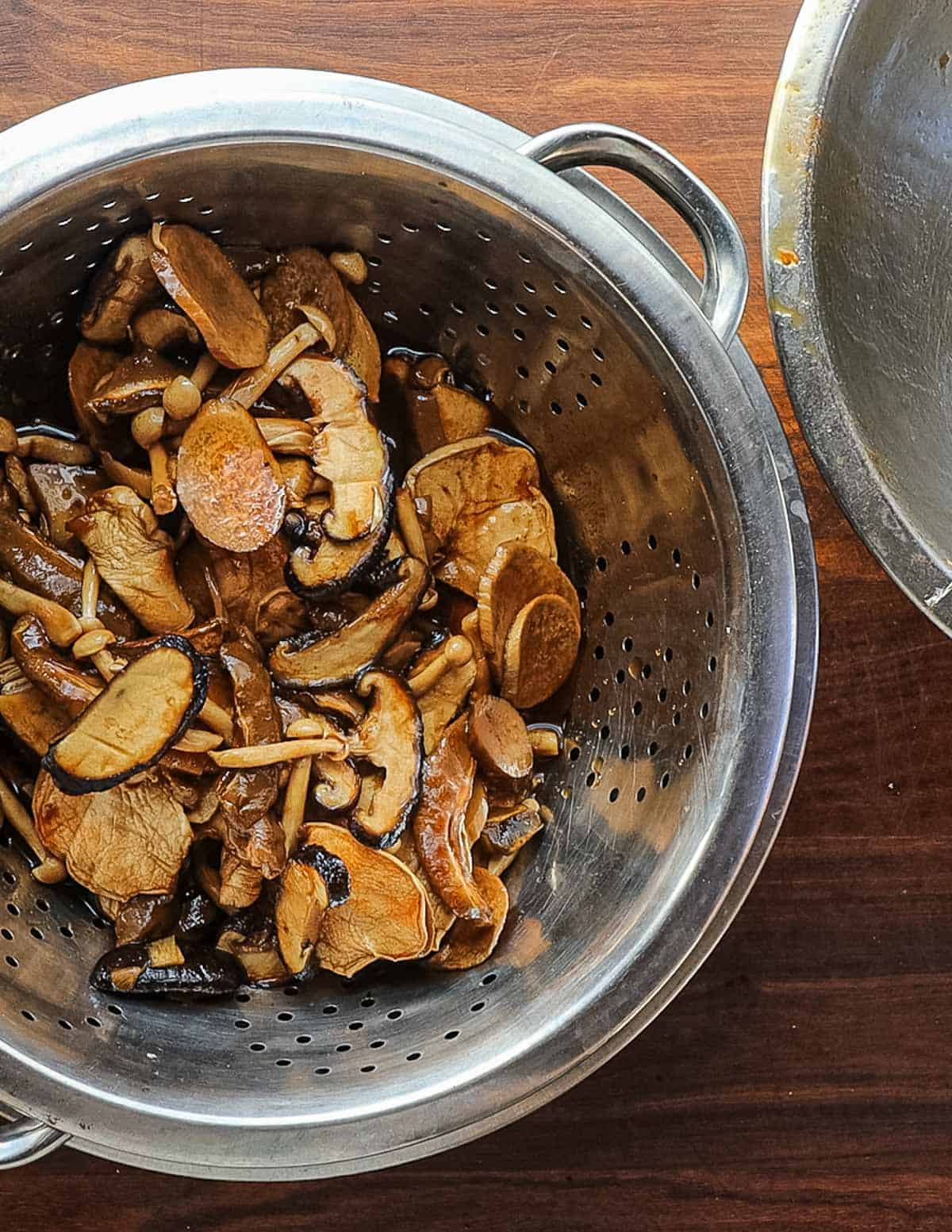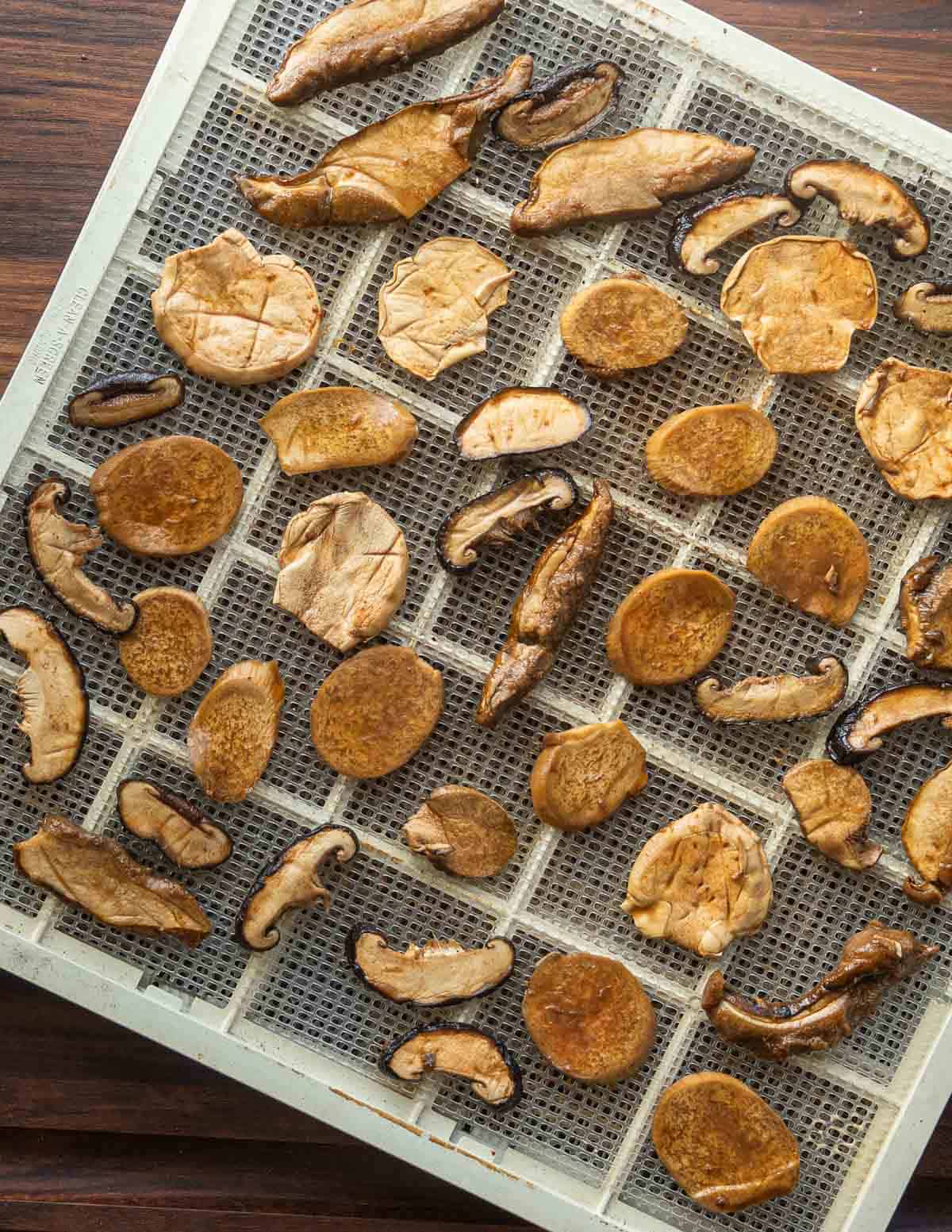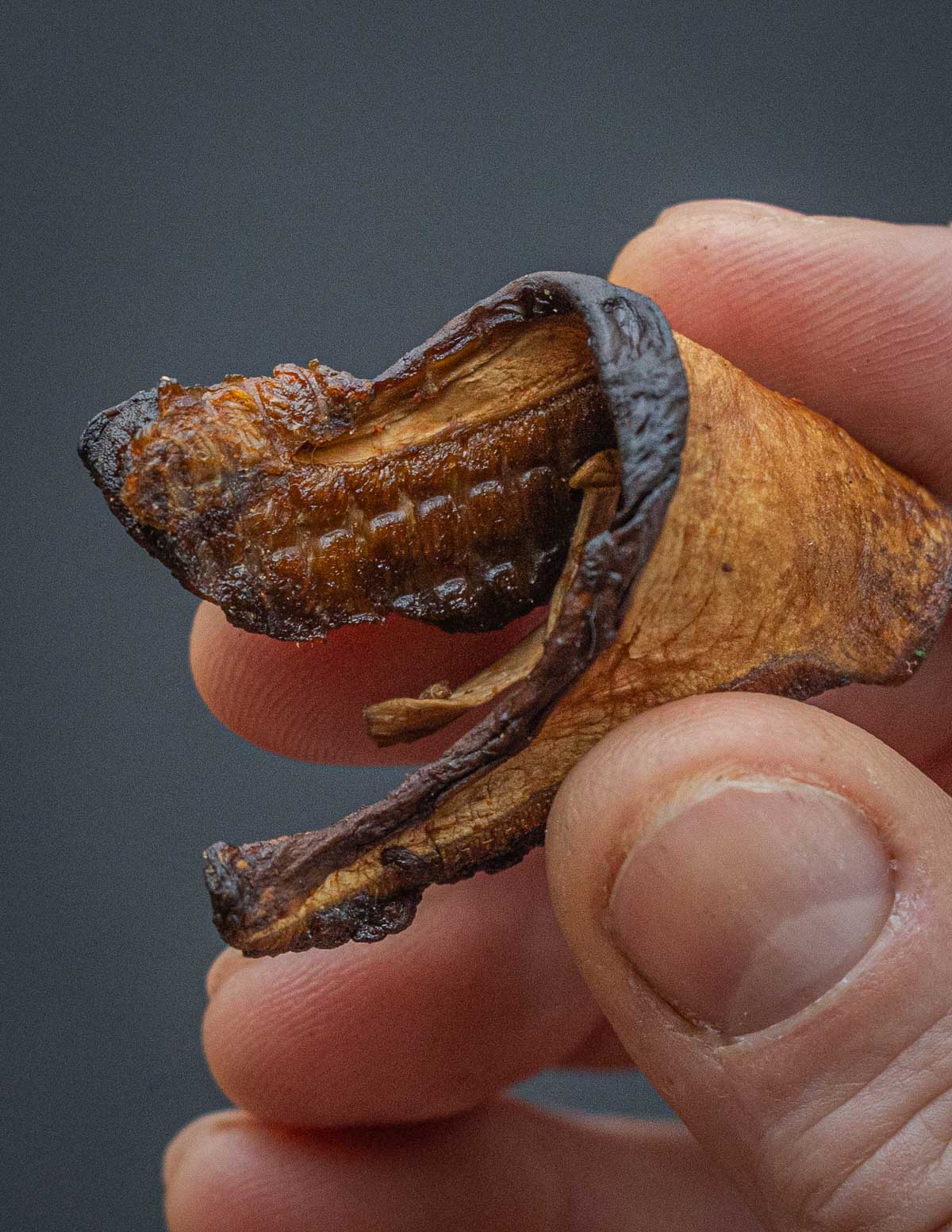 Some commercial mushroom jerky is left on the damp side, you can adjust the texture to your liking, but don't over-dry the mushrooms or they'll become brittle instead of chewy.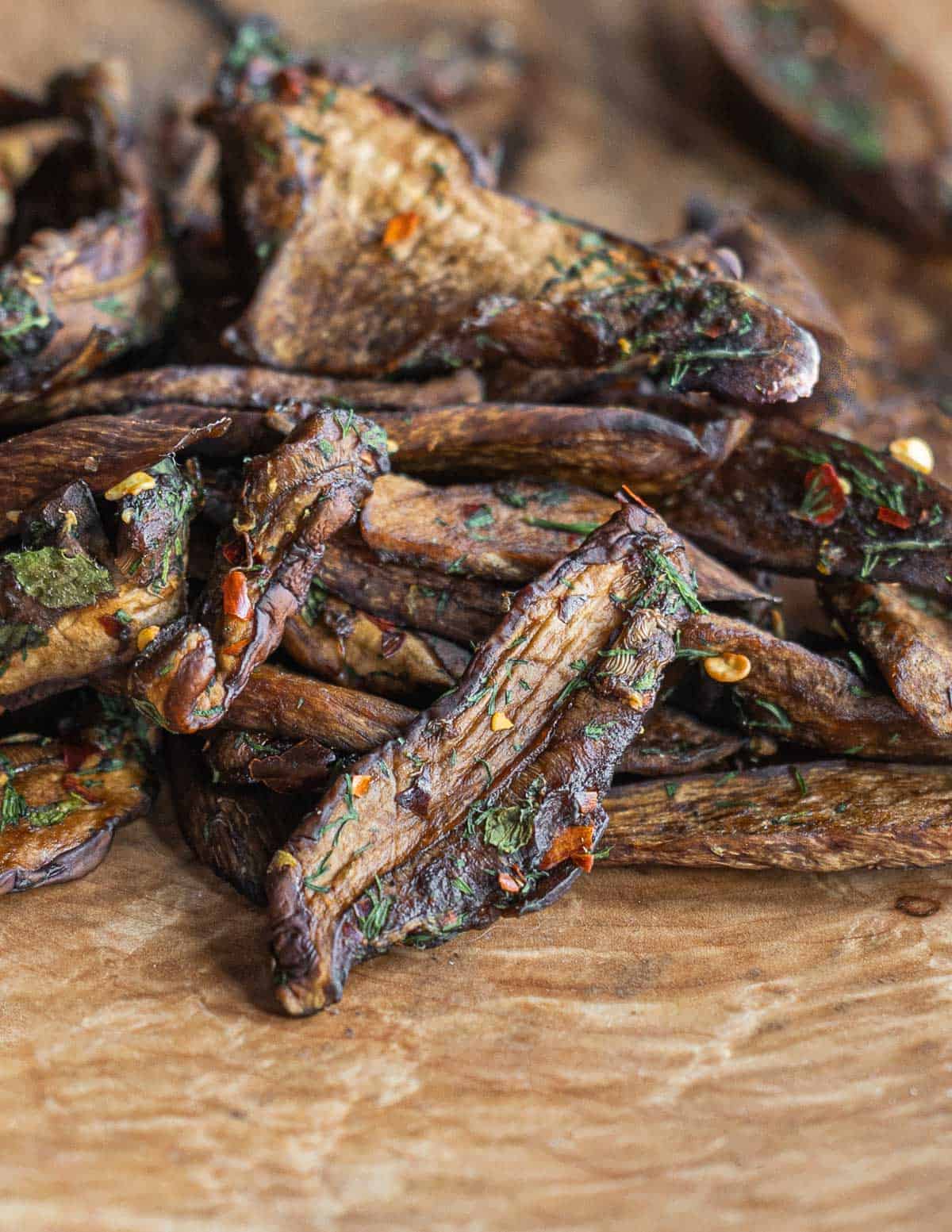 Tips and Variations
Adjust the texture by drying the mushrooms a little less, as is common with shiitake mushroom jerky.
Add chopped fresh herbs or spices to the mushrooms before dehydrating to make the recipe your own. Think hot and spicy seasonings, dried pickle powder, barbecue or jerk spice, fresh cracked pepper, etc.
For the richest color, leave the mushrooms in the marinade for 2-3 days, and up to a week.
More Mushroom Snacks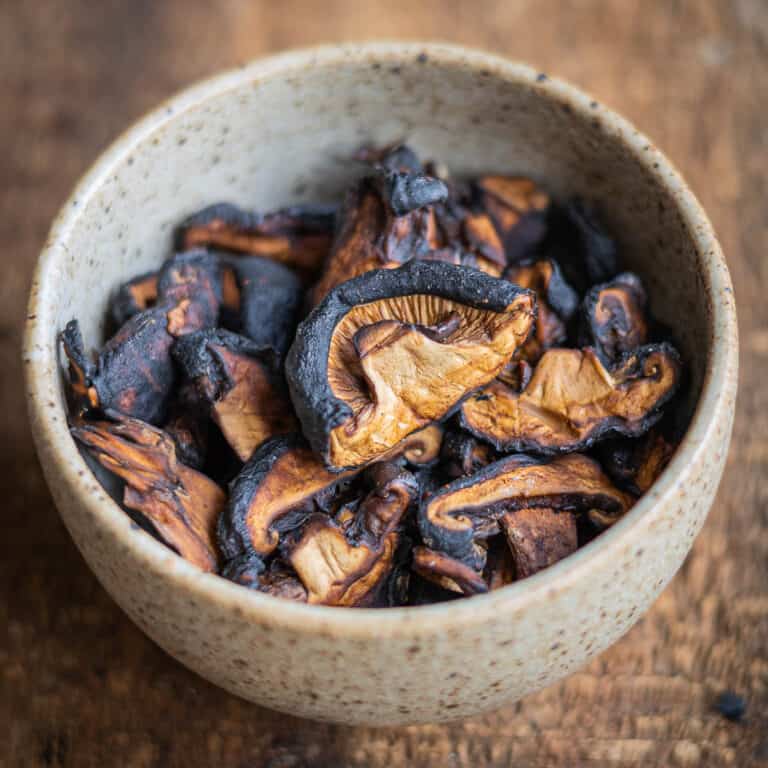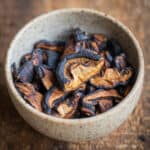 Print Recipe
Homemade Mushroom Jerky
A simple recipe for homemade mushroom jerky you can use for just about any mushroom. 1 lb makes enough for 1-2 people to snack on. Scale/multiply the recipe as needed.
Equipment
Dehydrator

1 mixing bowl
Ingredients
1

lb

Fresh mushrooms,

such as king oysters, shiitake, hen of the woods, porcini
Jerky Marinade
¾

cups

soy sauce

or low sodium soy sauce

¾

cups

worchesterchire

¼

cup

water

2

tablespoon

apple cider vinegar

¼

cup

maple syrup

or brown sugar

1

Tablespoon

hot sauce

or cayenne powder

2

Tablespoons

finely chopped fresh garlic

or 1 tablespoon garlic powder

1

Tablespoon

finely chopped fresh ginger

1

Tablespoon

onion powder

1

Tablespoon

smoked paprika
Finishing spices, herbs and seasonings
2

teaspoons

chopped fresh herbs like dill, mint, or thyme

1

teaspoon

crushed red pepper flakes
Instructions
Preheat the oven to 350 F

Combine the jerky marinade ingredients and puree in a blender, then strain and reserve.

Cut the mushrooms into ¼ inch slices. Some mushrooms can be pulled apart into pieces, such as oyster mushrooms or maitake.

Lay the mushrooms on a baking sheet with parchment paper and bake at 350 F for 10 minutes, or until just wilted.

Remove the mushrooms to a bowl and pour the marinade over them. Cover the bowl with cling film, pressing it down on the surface. You can use a resealable plastic bag too.

Stir the mushrooms occasionally to ensure even coloration.

Keep the mushrooms refrigerated in the marinade for 24-72 hours. They'll have the best color after at least two days.

Drain the mushrooms in a colander and blot with paper towels. You can use the excess marinade to make 1-2 more batches of jerky and it will keep in the fridge for a long time.

Toss the mushrooms with any additional spices or seasonings now, if using.

Lay the mushrooms on dehydrator trays and dry at 100 F for 5-6 hours, or until pliable, but not brittle.

Store the finished jerky in a bag or jar in the fridge. It will last for a long time.
Notes
Adjusting the flavor 
You can plug and play different liquids in the marinade for different flavors. For example, you can substitute fish sauce or coconut aminos for part of the soy sauce. 
I like to add chopped fresh herbs to mushrooms after they've been drained. Finely chopped dill, lemon zest and crushed red pepper flakes is a good combination, as is cracked black pepper, jerky spice or your favorite seasoning blend. 
For a spicy jerky, use cayenne pepper in the marinade, starting with 2-3 teaspoons. 
For vegan mushroom jerky, use vegan Worcesterchire sauce. 
Nutrition
Serving:
0.5
oz
|
Calories:
131
kcal
|
Carbohydrates:
25
g
|
Protein:
9
g
|
Fat:
0.5
g
|
Saturated Fat:
0.1
g
|
Polyunsaturated Fat:
0.2
g
|
Monounsaturated Fat:
0.03
g
|
Sodium:
100
mg
|
Potassium:
56
mg
|
Fiber:
2
g
|
Sugar:
5
g
|
Vitamin A:
575
IU
|
Vitamin C:
2
mg
|
Calcium:
51
mg
|
Iron:
2
mg