Fall is here, and one thing I know I can always count on are aborted entoloma (Entoloma abortivum or shrimp of the woods) no matter how bad the maitake are teasing me. If you have some, oven frying the arboreal crustaceans is a recipe you're going to want to bookmark.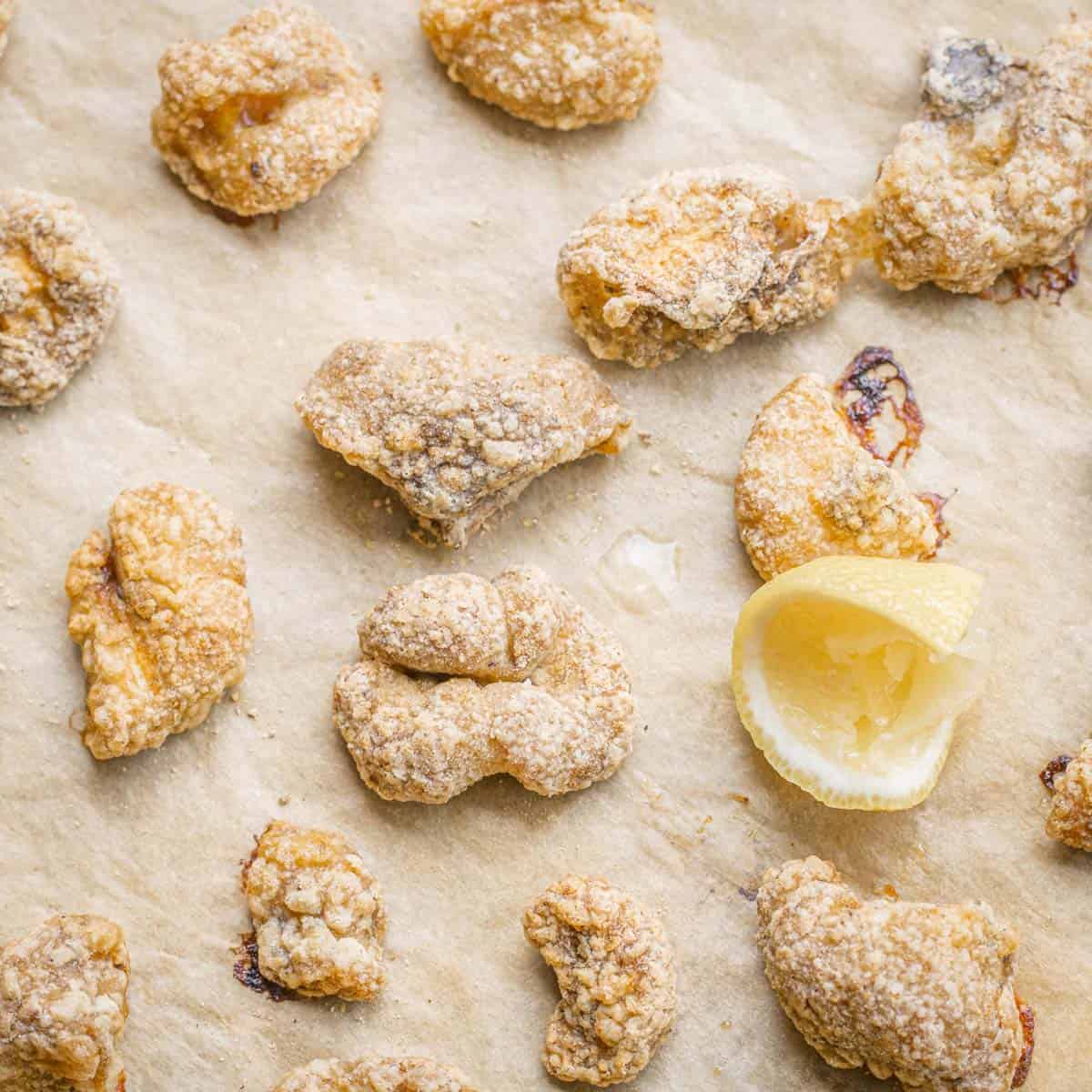 As long as you have a few deciduous trees, and have a couple honey mushrooms nearby, it seems like your guaranteed to have a few grocery bags of these just waiting for you wherever you go.
I haven't had lots of time to hunt this fall as I've been working constantly on the manuscript of my first book, but on my way to the Twin Cities a week ago I took thirty minutes to hop down into one of my favorite creeks that runs dry in the fall.
There, oozing out of the tree roots on the side of the creek like they seem to do every year, were gobs of them, a good grocery bag full. There was one thing on my mind: oven-fried shrimp of the woods.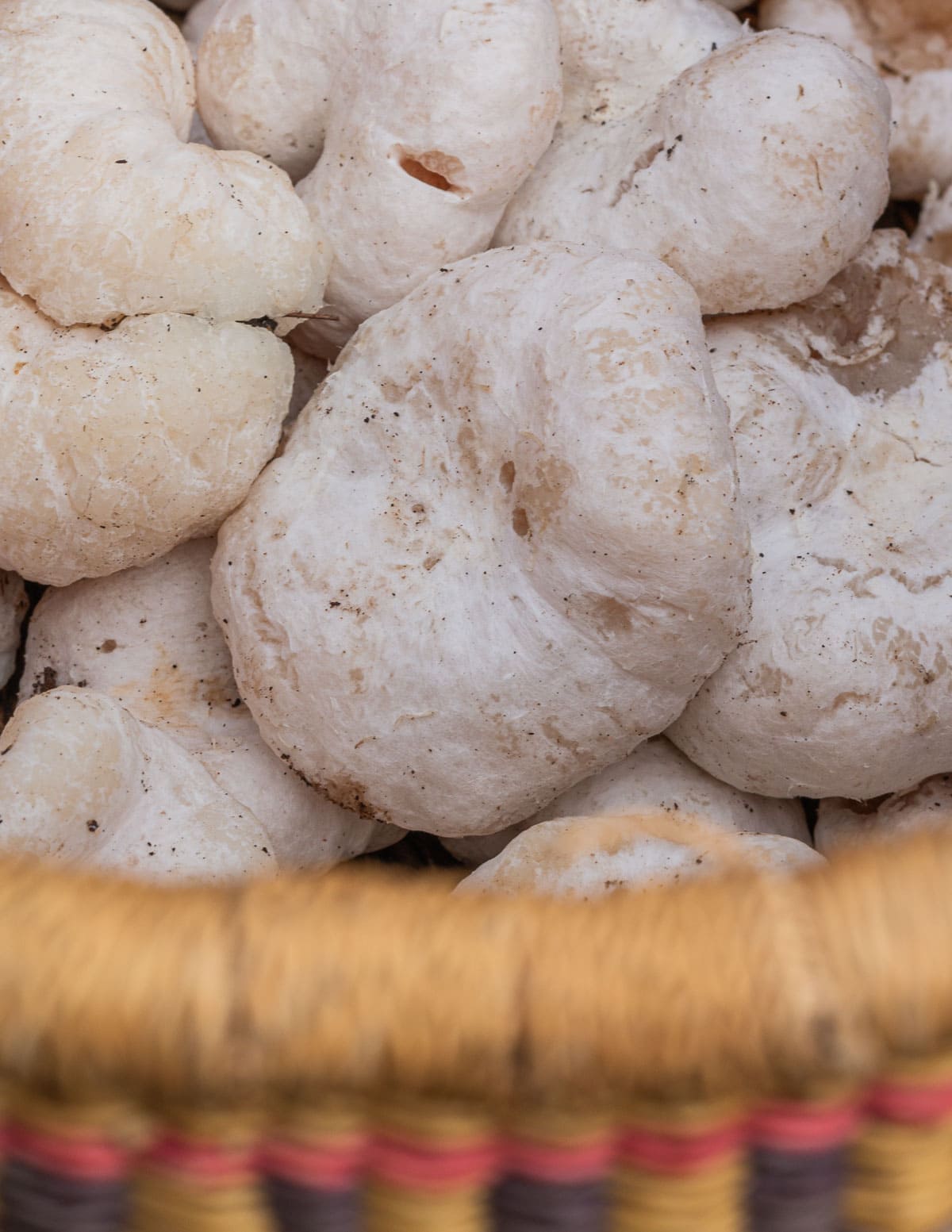 I love baking mushrooms (see my simple treatment for maitake here). Baking needs only a minimal amount of fat, which keeps the mushrooms lighter, making sure they won't get bogged down or oily.
It's a great space-saver too, meaning I can work a saute pan or two cooking dinner at the same time a whole tray of shrooms are rocking in the oven. You can also use this method for other species that can hold a lot of water, like young chicken of the woods mushrooms.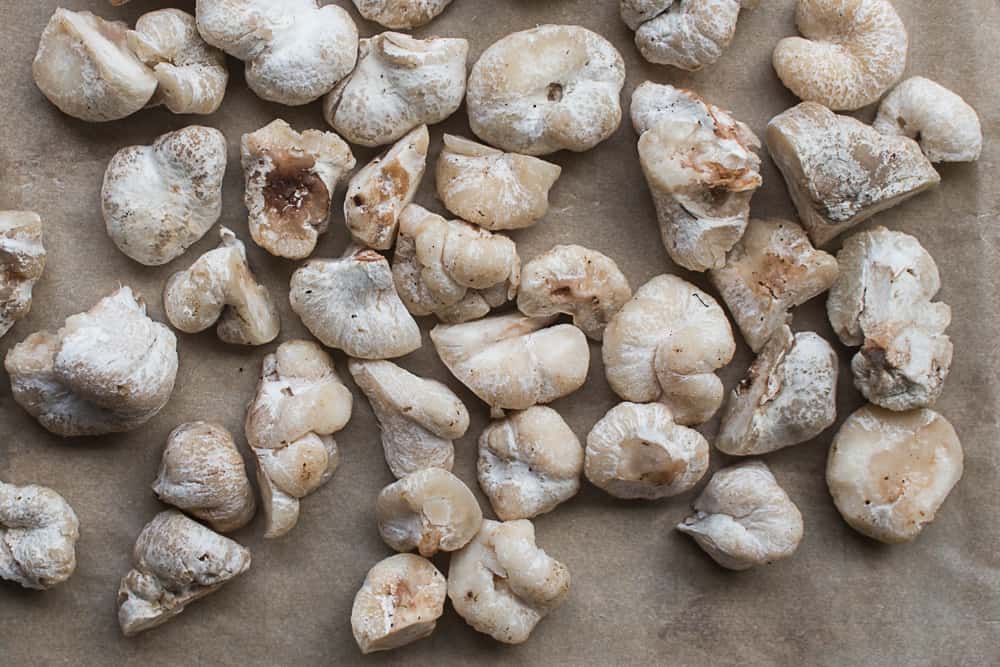 Aborted entolomas are shockingly plentiful, but mild, mild enough that they can be disappointing and watery if you don't put some color on them and really take your time cooking them down to remove moisture, especially if they've been picked after a rain.
Oven frying them, besides making me chuckle since I use some Old Bay here, is a great way to eat these that doesn't involve a frying pan. Just toss the mushrooms with fat, seasoning of your choice (Old Bay is great, but a little curry powder, or whatever spice blend is good too, just make sure you get some salt in there somehow) and blast them in a hot oven. 
They come out with a nice crust to them, and, they're addictive, without three stages of breading, messy batters, and gallons of oil. Sure, using the word "fried" here is a little creative license on my part as they won't be audible crunchy like deep fried foodstuffs, but, I'll tell you right now no one's going to care, especially after they taste them with a squeeze of fresh lemon or a dunk in your favorite dip.
I had thoughts of eating them by the bucket, but a parchment cone worked ok in the meantime.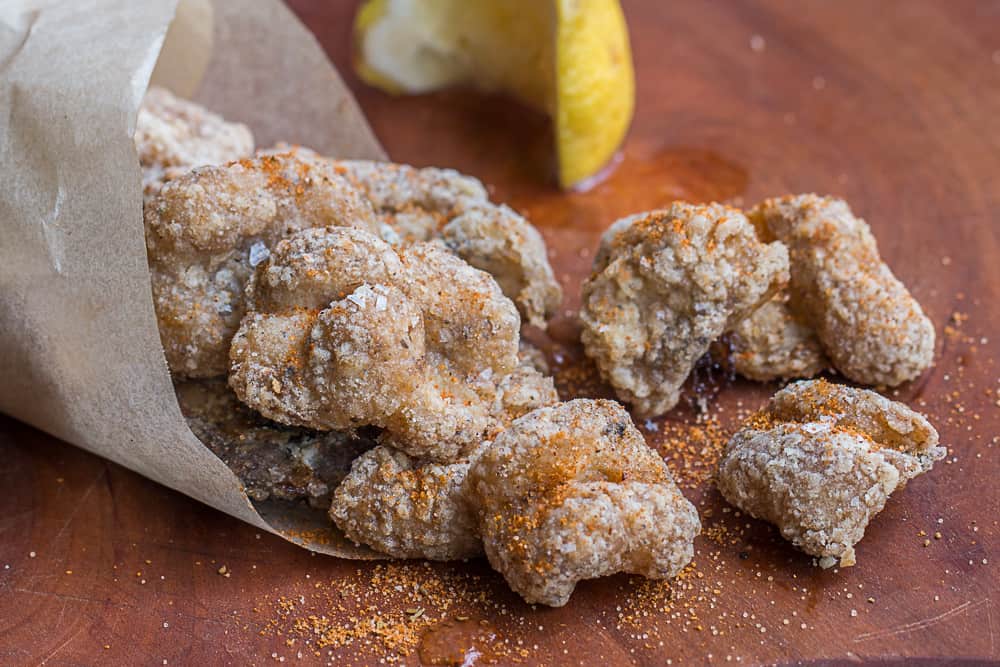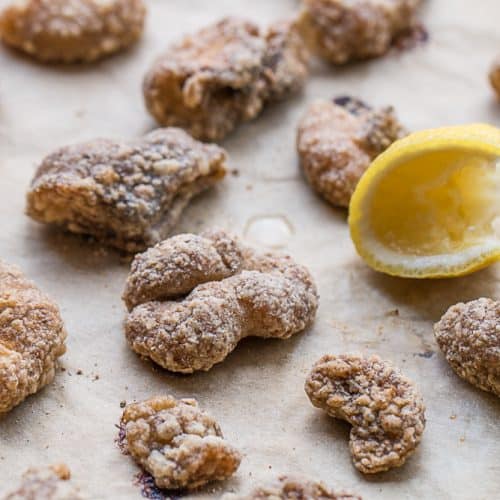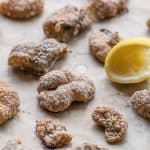 Print Recipe
Oven Fried Shrimp of the Woods or Aborted Entolomas
Baked mushrooms seasoned with Old Bay or your favorite seasoning you can eat by the bucketful. Serves 2-4
Ingredients
1

lb

shrimp of the woods

washed and cleaned as needed

Generous teaspoon Old Bay seasoning

plus more for dusting after cooking

2

Tablespoons

melted bacon grease

lard, or another cooking oil

3

Tablespoons

all purpose flour

GF flour is fine too.

Lemon wedges

for serving
Instructions
Preheat the oven to 475F.

Cut the mushrooms into morsel sized pieces a bit larger than youd want for a single bite to account for the loss of volume during cooking, typically for me this means very large mushrooms are quartered, medium sized ones are halved, and small ones are left whole (refer to my pictures here).

Toss the cut mushrooms with the melted fat, old bay, and then the flour.

Arrange the mushrooms on a cookie sheet lined with parchment, spread out so that none of them touch to ensure a good crust. Bake for 25-30 minutes, rotating halfway through cooking.

Serve sprinkled with extra Old Bay, or whatever seasoning, crunchy salt, and lemon wedges.

Lemon wedges truly make the dish here, so don't leave them out.
Notes
Mushrooms to Use 
Other mushrooms can be used here, especially those that hold large amounts of water like chicken of the woods mushrooms and fresh boletes. 
Cultivated mushrooms like cremini, portobello or white buttons aren't my favorite, but shiitakes with their stems removed can be very good. 
Nutrition
Serving:
4
oz
|
Calories:
45
kcal
|
Carbohydrates:
8
g
|
Protein:
4
g
|
Fat:
0.4
g
|
Saturated Fat:
0.1
g
|
Polyunsaturated Fat:
0.2
g
|
Monounsaturated Fat:
0.01
g
|
Sodium:
6
mg
|
Potassium:
367
mg
|
Fiber:
1
g
|
Sugar:
2
g
|
Vitamin C:
2
mg
|
Calcium:
4
mg
|
Iron:
1
mg
Related Posts
Aborted Entoloma or Shrimp of the Woods Mushrooms