I like to cook honey mushrooms in all kinds of wild mushroom recipes, but these marinated honeys are the first thing you should make if you're new to them, or if you're a honey-harvesting veteran who's looking for something new tricks. They're delicious, addicting, and a fun compliment to a charcuterie platter.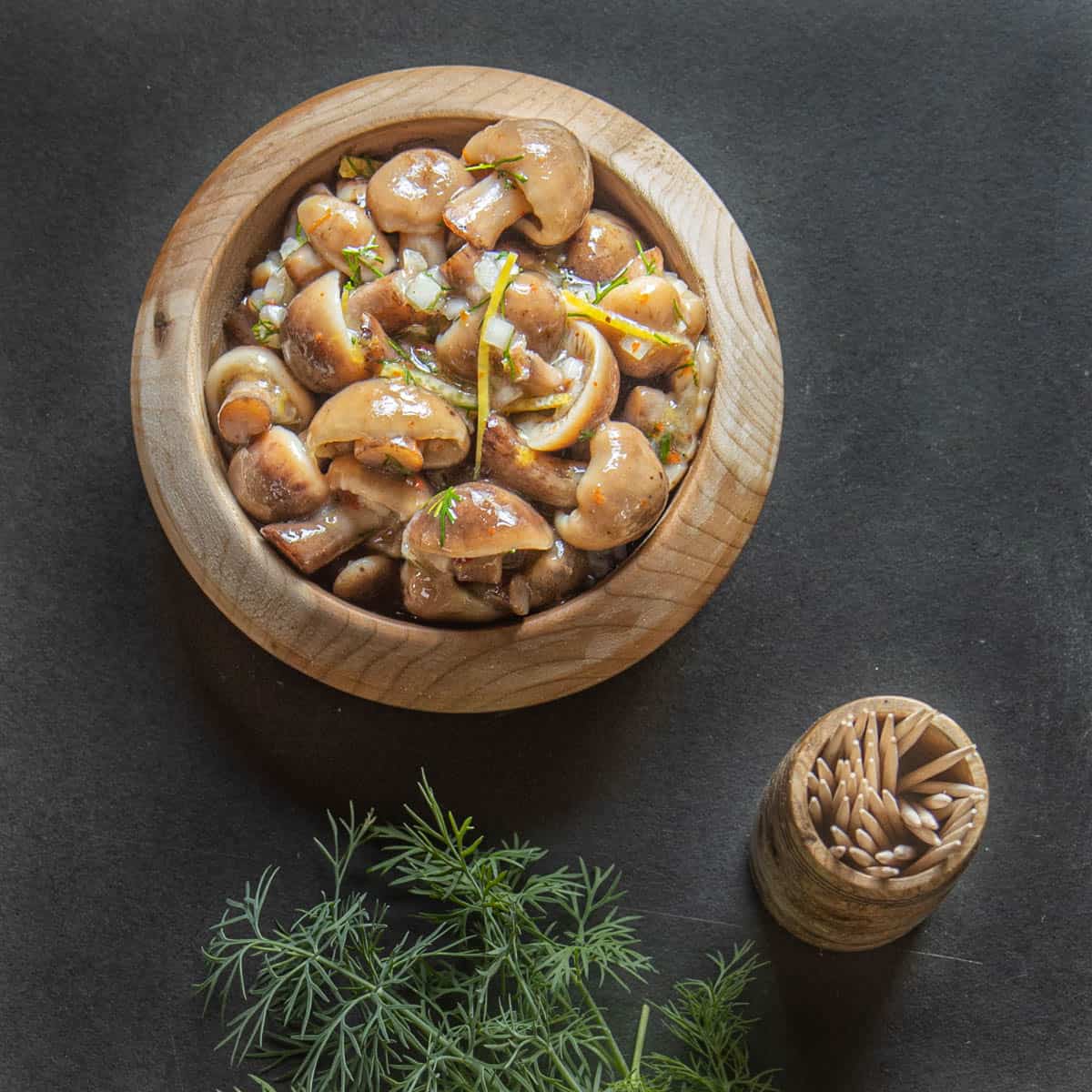 Most of us are probably familiar with little jars of "marinated mushrooms" which taste more like pickled mushrooms by necessity as the low amount of acid isn't stable enough for long term preservation on a shelf.
Besides the heavy amount of acid, those little jars of marinated mushrooms are also made from boring white buttons. Honey mushrooms, especially the young buttons with their delicious, chewy texture, are a great stand-in for white buttons in a lot of different recipes, these being one of the best examples I've had to date.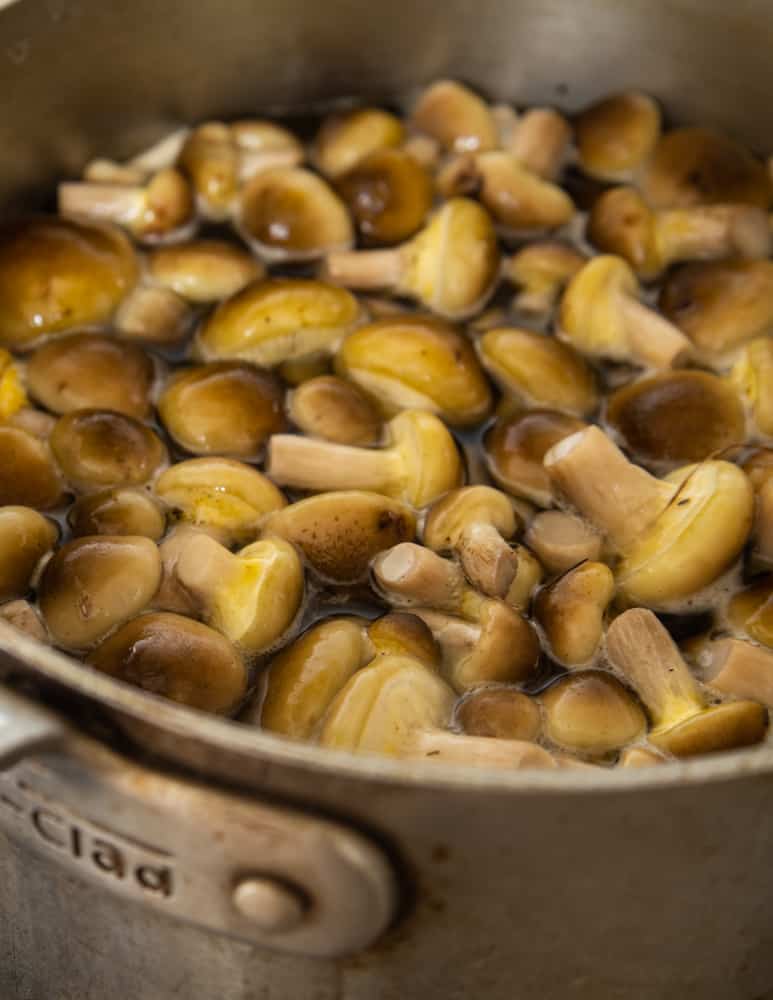 The recipe is really simple. First, you need honey buttons, not opened caps, buttons. Next you give them a good boil, about 5 minutes or so until they're wilted, then rinse them, pat dry, and mix with a few herbs and seasonings, letting them sit for at least a few hours before you dig in.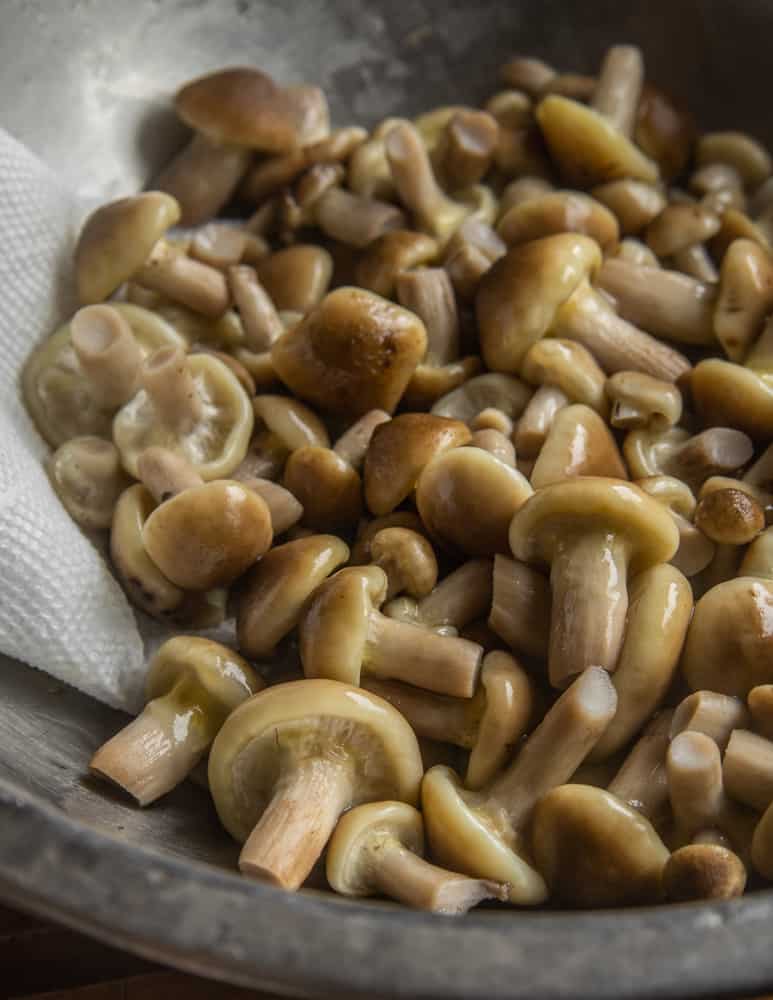 Adjusting the flavor profile
This honey mushroom recipe is a nod to my friends in the Ukraine and Russia, where they love honeys. The flavors here reflect that, and I recommend it as a starting point. Once you make one batch, I'm sure you can tweak things to your liking. Here's the big ingredients.
Sunflower oil (only Smude's oil will do here, other oils don't have the same flavor)
Flavorful herb (dill, oregano, mint, chives, tarragon, etc)
Garlic
Chili
Lemon zest
How to use them
Marinated mushrooms are more than something to just eat cold out of a jar. Here's a few ideas.
Add a spoonful of caps to hot soup as a garnish, especially things like borcht and brothy soups. If you change the flavor profile up they'll be excellent with Asian noodle soups too.
Warm them up and spoon them on top of a protein: fish, steak, chicken, pork-anything
Toss them with pasta to warm them up, especially minimalist pastas like very simple tomato sauce, garlic and oil, or pasta with pesto.
Warm or room temp with your favorite charcuterie and cheeses.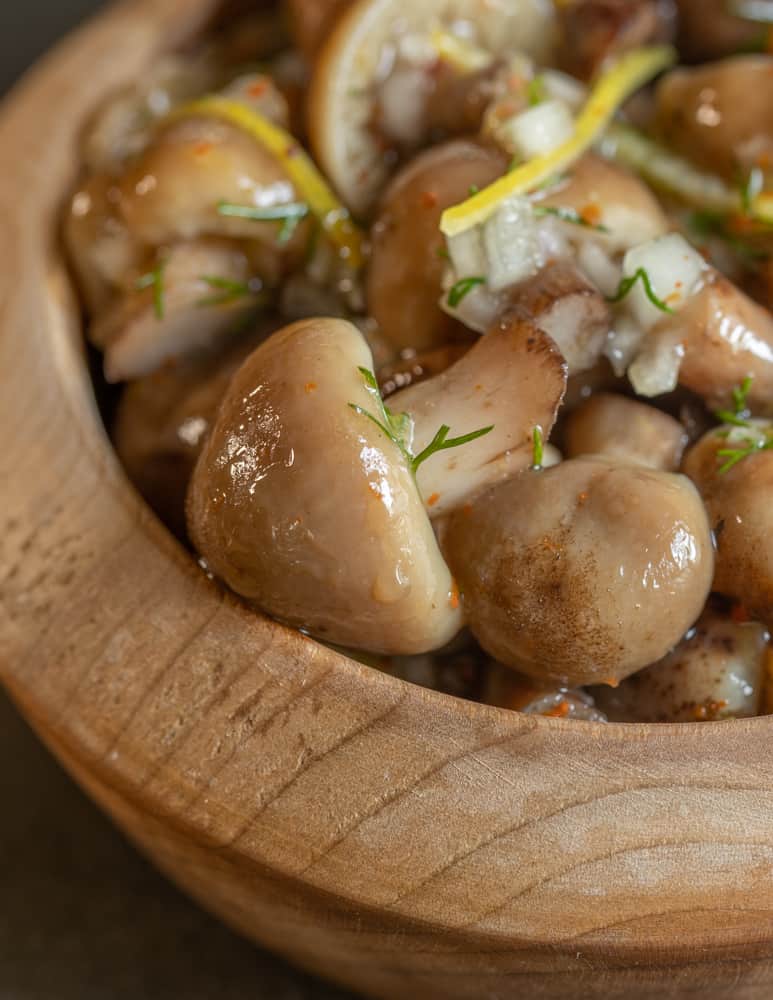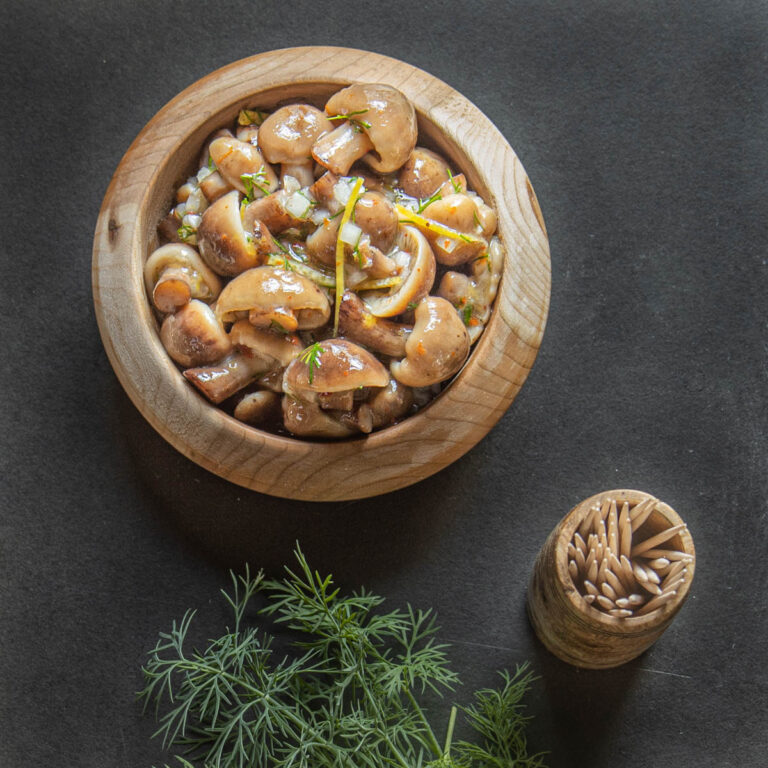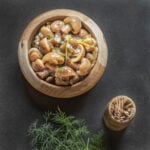 Print Recipe
Marinated Honey Mushrooms
Simple marinated honey mushrooms. Excellent served with antipasti, olives and sausage, warmed and served over fish, tossed into salads, and used as a soup garnish, or pretty much wherever you'd like. Serves 4 as an appetizer
Ingredients
10

oz

fresh honey mushrooms

preferably unopened buttons, stems trimmed down to 1 inch or less remaining

½

teaspoon

kosher salt

plus more to taste

1

medium

5 g clove of garlic, grated on a mandoline

1

small

15 g shallot, diced as small as possible or minced

10

cracks of the peppermill

1

small lemon

2-3

Tablespoons

fresh lemon juice or your favorite vinegar

or more to taste

¼

cup

Smude's sunflower oil

Crushed red pepper or other hot chili

to taste

Fresh chopped dill or your favorite soft herb like oregano, mint, etc

basil, mint, etc, to taste, about 1-2 tablespoons
Instructions
Bring 3 quarts of water with 1 tablespoon kosher salt to a vigorous, rolling boil in a large stock pot that can accommodate the mushrooms and water without boiling over.

Add the honey mushrooms, cover the pot, wait for the pot to come back to a boil, put the lid on, set a timer for ten minutes, keeping the pot at a rolling boil the whole time. Drain the mushrooms in a colander and allow to cool, then rinse.

Spread the mushrooms on paper towels or a cloth and press on them a bit to remove excess water.

Combine the mushrooms in a bowl with the remaining ingredients, zesting about half the lemon, and peeling 8-10 strips as thin as possible and cutting them into julienne (optional). Double check the seasoning for salt, acid and spiciness, adjust until it tastes good to you, then refrigerate.

The mushrooms will improve in flavor over time, and will last for a week or so.
Notes
This recipe is good for honeys, but also other mushrooms that will have their color preserved by blanching. Milk cap mushrooms, especially young ones, are a good substitute. 
Nutrition
Serving:
2
oz
|
Calories:
18
kcal
|
Carbohydrates:
3
g
|
Protein:
2
g
|
Fat:
0.2
g
|
Saturated Fat:
0.03
g
|
Polyunsaturated Fat:
0.1
g
|
Monounsaturated Fat:
0.002
g
|
Sodium:
197
mg
|
Potassium:
177
mg
|
Fiber:
1
g
|
Sugar:
2
g
|
Vitamin A:
0.4
IU
|
Vitamin C:
2
mg
|
Calcium:
6
mg
|
Iron:
0.3
mg
More