Classic beef carpaccio with a salad of crisp, juicy beefsteak mushrooms is a great way to enjoy a unique edible mushroom most people will never have in their life.
Carpaccio, the classic Italian appetizer of tenderized, thinly sliced raw beef served with olive oil, arugula and good parmesan, was one of the first recipes I was taught to prep when I worked for Chef Angelo Volpicelli, who owned his own restaurant in Rome.
One of these days I'll share his method for pure beef carpaccio but today, I have a riff on it made with one of the most elusive wild mushrooms I harvest: the beefsteak, also known as the (ox tongue / Fistulina hepatica) the wood rotting cousin to the more well known hen and chicken of the woods.
Quick aside: Fistulina hepatica is definitely not to be confused with the other mushrooms that share the common name beefsteak, (genuses Gyromitra, and to a lesser extent the Discina), which must never, ever, be consumed raw.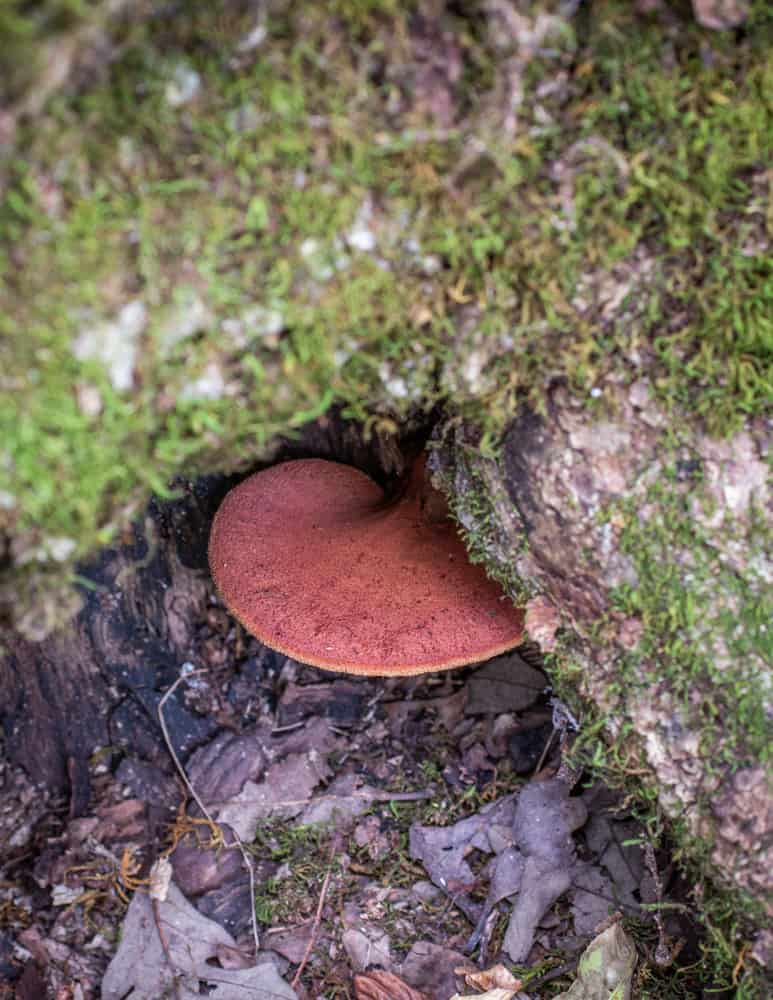 Beefsteaks are great raw
There aren't a lot of wild mushroom recipes on this site that don't require cooking. Beefsteak mushroom recipes stand apart from all other polypores, (and the overwhelming majority of other wild mushrooms) in that they are at their finest raw, and, counter-intuitively taste much better raw than they do cooked.
Harvested in their prime stage, with the pores still tight and firm and cut into slices, they have a great crisp texture and subtle tartness, the gentle sour flavor which is often over-represented in descriptions as similar to sorrel or oxalis. In my opinion the tart flavor is-exaggerated. To me their tang is more of a "suggestion of tartness", if that makes any sense. 
Either way, beefsteak mushrooms, as the name implies, are sometimes compared to meat. While their form may casually resemble a slice of muscle in the scarlet color and the fascinating fact that they give off a light to medium-hued red juice when cut or squished, to me, they're just another delicious wild mushroom. Beefsteaks, aren't steaks.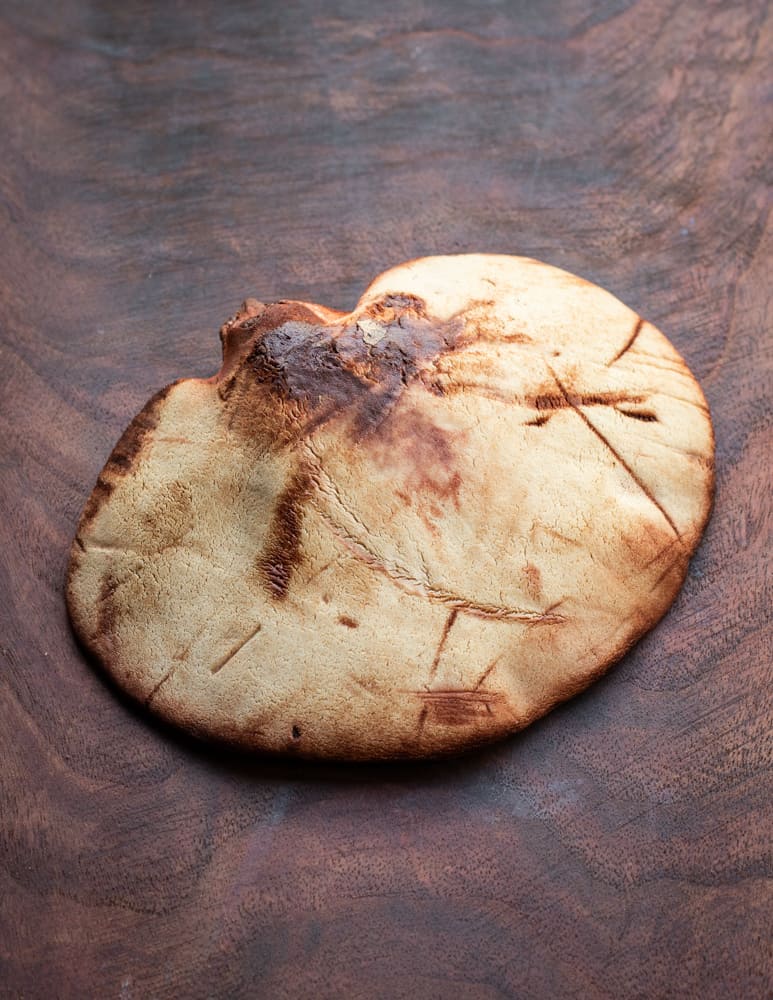 I like to think of these mushrooms as something to use more of as a garnish than a center of the plate protein substitute (something they seem to now get regularly compared to in the meat-substitute world I love to loathe).
Then there's also the fact that I don't care for them cooked, and would never grill a chunk of them. To me, Beefsteak mushrooms were born to eat, and enjoy in their pure, raw form.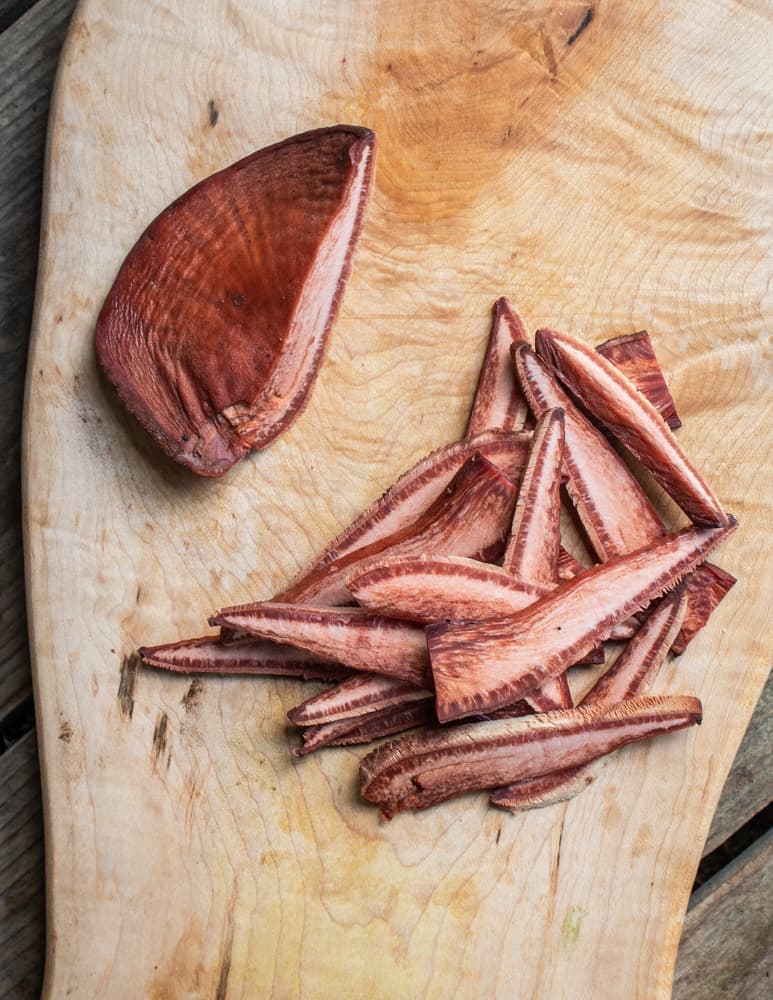 Here I use the mushrooms in as a garnish in a carpaccio made the old way: pounded cutlets of non-luxury beef (eye round) as opposed to using the less-flavorful, but still popular tenderloin.
Tenderloin is soft, and, when tenderized with a mallet, easy to tear. On a side note, multiple Italian chefs I've worked with have told me Italians poke fun of the American love for tenderloin they see as being soft with jabs to the tune of "American's prefer to eat mush-meat".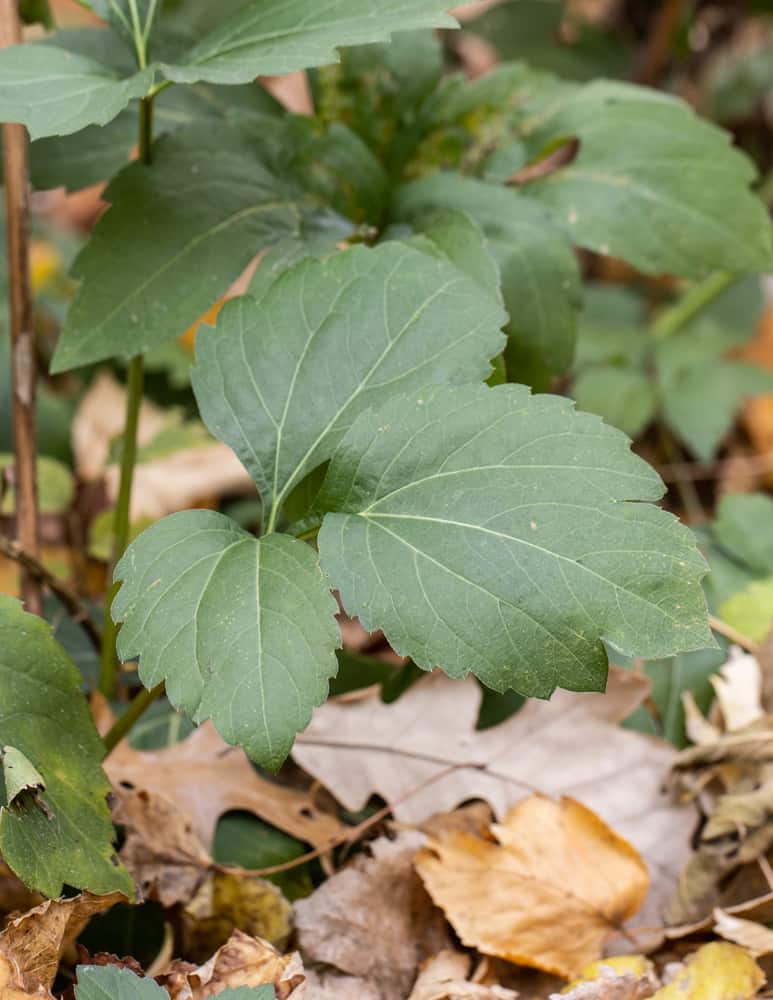 The recipe is easy: pound some sliced eye round ¼ inch thin between some layers of cling film or wax paper, add some sliced young beefsteak mushrooms, season with flaky salt, fresh ground black pepper.
Next, add the best extra virgin olive oil or another great tasting oil you like, some grated parmigiano reggiano, and peppery greens, maybe some soft, gentle herbs like chervil, parsley of chives if you have some. It's a great way to compare the textures and differences of raw meat and mushrooms, with the crisp, juicy texture of the beefsteaks being the star.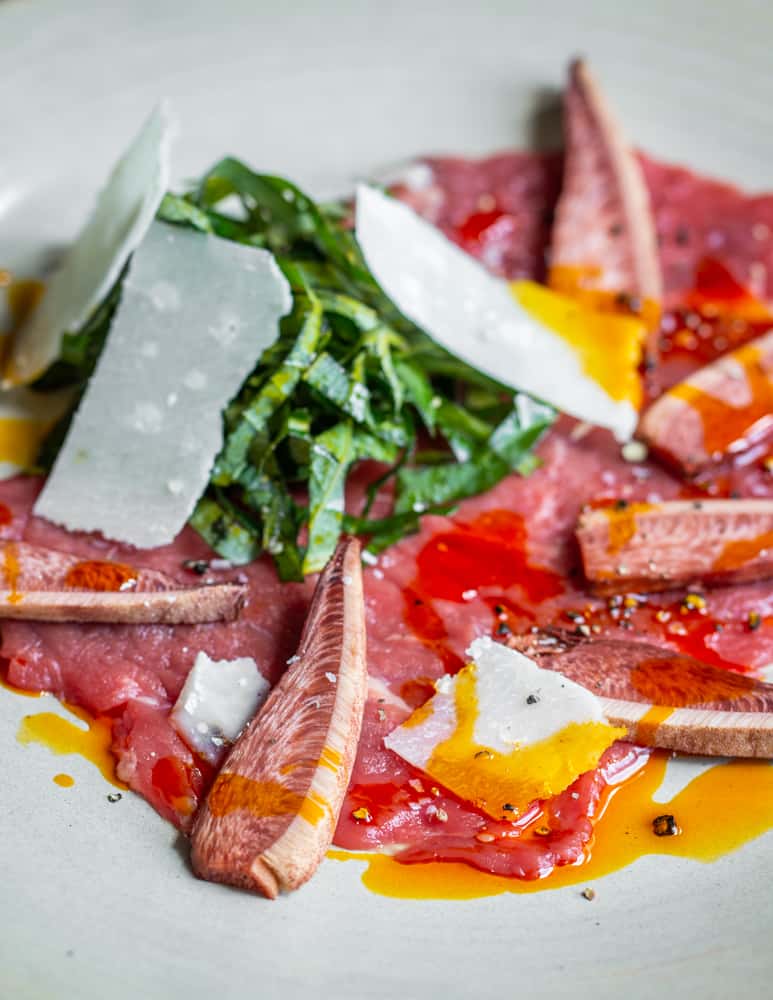 I added a few other things I had on hand here that were seasonal for the early fall: the basal leaves of sochan, shredded and seasoned as you would lacinato kale, and the last of my red acorn oil from Forager's Harvest.
If you're one of my vegetarian friends, or just rich in beefsteak mushrooms, you can always make an all-beefsteak version. Add extra shaved cheese slices, and eat it quickly before the mushrooms wilt from the salt as it softens the texture.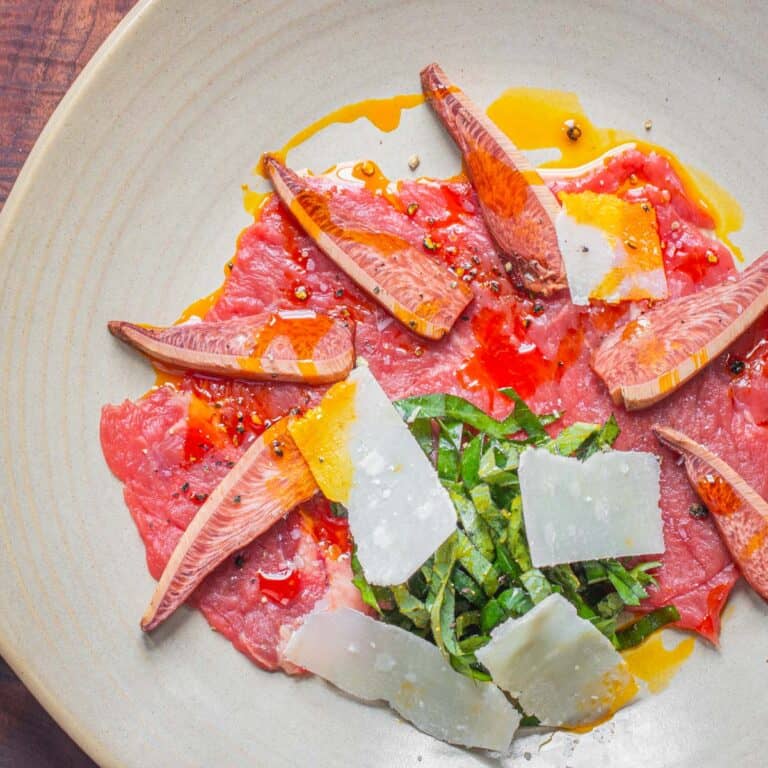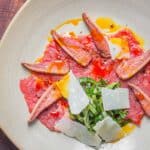 Print Recipe
Carpaccio with Beefsteak Mushrooms
Variation on the Classic Italian appetizer using pounded eye of round, fresh young beefsteak mushrooms, great tasting oil, good parmesan, and a garnish of strong tasting leafy greens.
Equipment
1 meat mallet

1 cling film
Ingredients
4

oz

high quality beef or bison eye round sliced into ½ inch round slices

2 oz / person

1

oz

High quality parmesan, such as parmigiano or grana padano, in a chunk-not grated.

or your favorite local brand

Good tasting salad oil

I used acorn oil, but EVOO or even a nut oil is good (sans sesame)

Flaky salt such as Faulk or Maldon or kosher salt and fresh ground black pepper, to taste

Small handful of bitter, spicy, or strong tasting greens, such as arugula, sochan, or dandelions, roughly 1 oz or to taste

Lemon wedges, for serving
Instructions
Put the eye round slices between two layers of cling film on a cutting board and pound lightly with a meat mallet, first using the toothed side, and then the flat side to help increase the surface area, until the slices are roughly ¼ inch thick. From here, the beef can be refrigerated on a plate wrapped in cling film for up to 24 hours.

To serve, arrange the slices of beef on a plate (they should be chilled). Just before serving, slice the mushrooms roughly the same thickness as the beef.

If using a hearty green like sochan or lacinato kale, shred it and mush it around in a bowl with a tiny drizzle of oil and a pinch of salt to soften the texture.

Season the meat lightly with salt and pepper.

Arrange a small mound of greens off-center on the beef, scatter the mushroom slices around, seasoning them with a shard or two of salt-just enough to season them lightly, drizzle with the oil, finish with the parmesan, and serve with lemon wedges on the side.
Notes
Other mushrooms you can use here 
Beefsteaks are fun here, but you can also use thinly sliced raw matsutake, Caesar's mushroom, and porcini the same way. 
Nutrition
Calories:
211
kcal
|
Carbohydrates:
0.5
g
|
Protein:
15
g
|
Fat:
16
g
|
Saturated Fat:
7
g
|
Polyunsaturated Fat:
1
g
|
Monounsaturated Fat:
6
g
|
Cholesterol:
49
mg
|
Sodium:
255
mg
|
Potassium:
185
mg
|
Sugar:
0.1
g
|
Vitamin A:
111
IU
|
Calcium:
172
mg
|
Iron:
1
mg
More