Bakula, a Moroccan mallow salad also known as Khoubiza or Bakoula, along with Bqula, among other names, is one of the most famous dishes of foraged greens I've found, and comes from Morocco.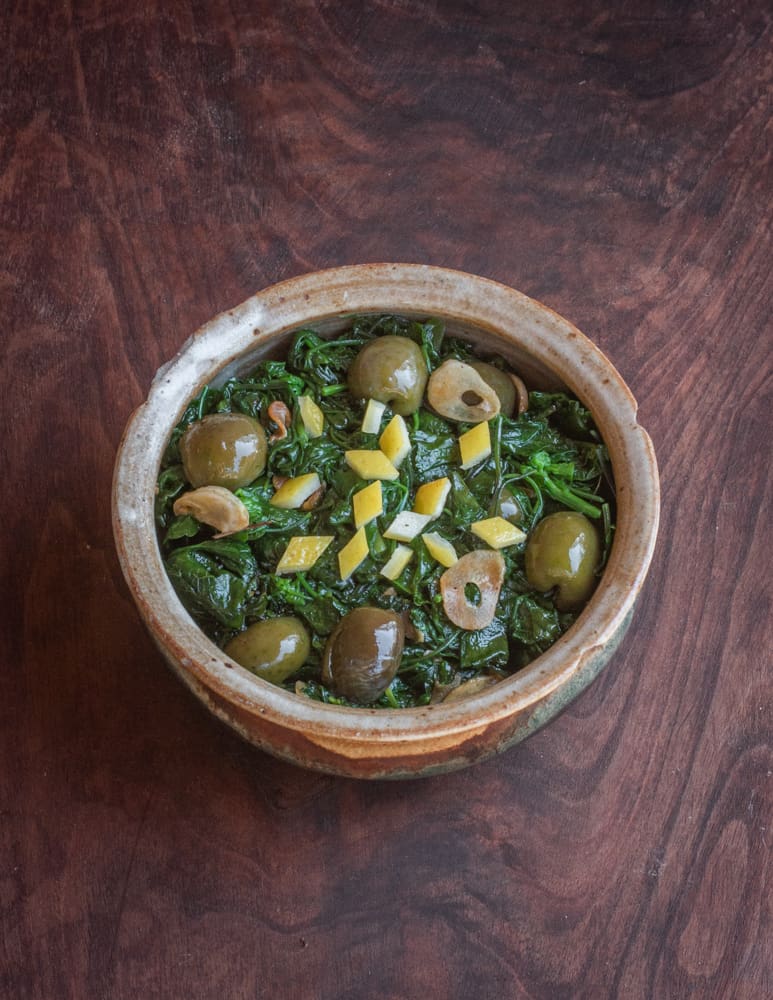 I first read about it while I was going through a research project / academic compilation called "Local Mediterranean Food Plants and Nutruceuticals"-a project funded by the European Union that tried to catalog and describe many of the individual species of wild plants consumed in the Mediterranean, as well as taking a look at some of the possible health benefits of traditional diets in the region.
Before you go looking for a copy, know that the book is definitely not a cookbook, it is a dry, very academic science paper anthology, filled with all kinds of terminology most people won't be able to understand. Personally, I can only understand about half of it, but the half I do understand is really interesting.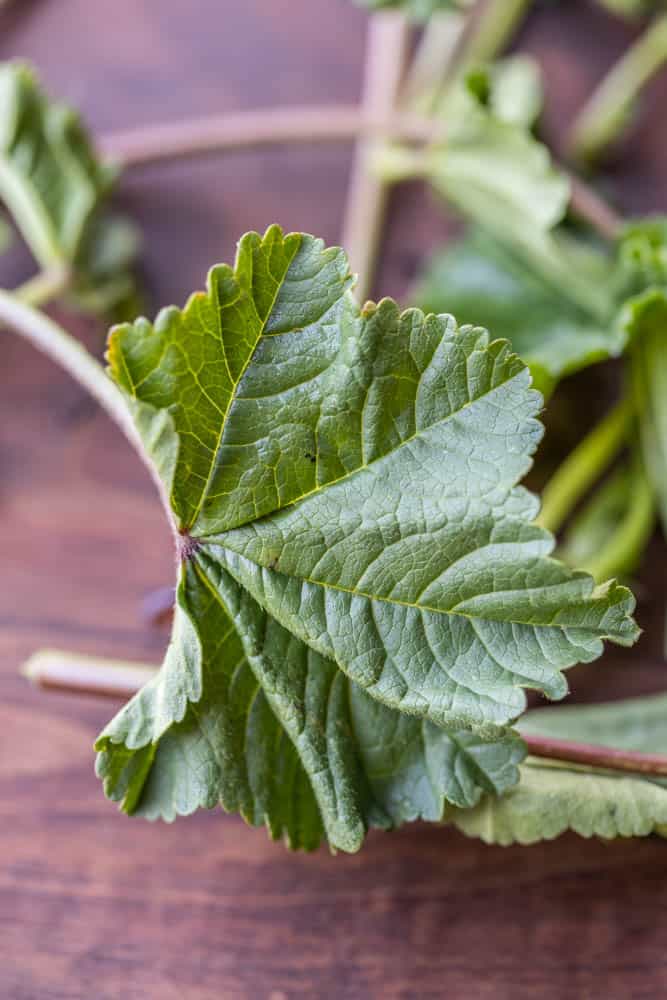 In one of the lists they had in one article, there was a mention of a dish called Bqula, and that was pretty much it. The name seemed an unusual one to me though, and it stuck in my mind. Later, while reading Stephen Bartstow's book "around the world in 80 plants" I noticed he made a mention of it too.
As it happened, I was still working as the chef of Lucia's Restaurant at the time, and I also happened to have a server from Morocco who confirmed it's popularity: "Oh Bakoula? Jah, we eat it all zee time" I remember him saying. Around that time is when I decided there must be some information online about the dish, so I started taking a look.
Indeed, there's plenty of information online, but finding it is a lot easier if you use the most commonly used name for it, which seems to be bakoula.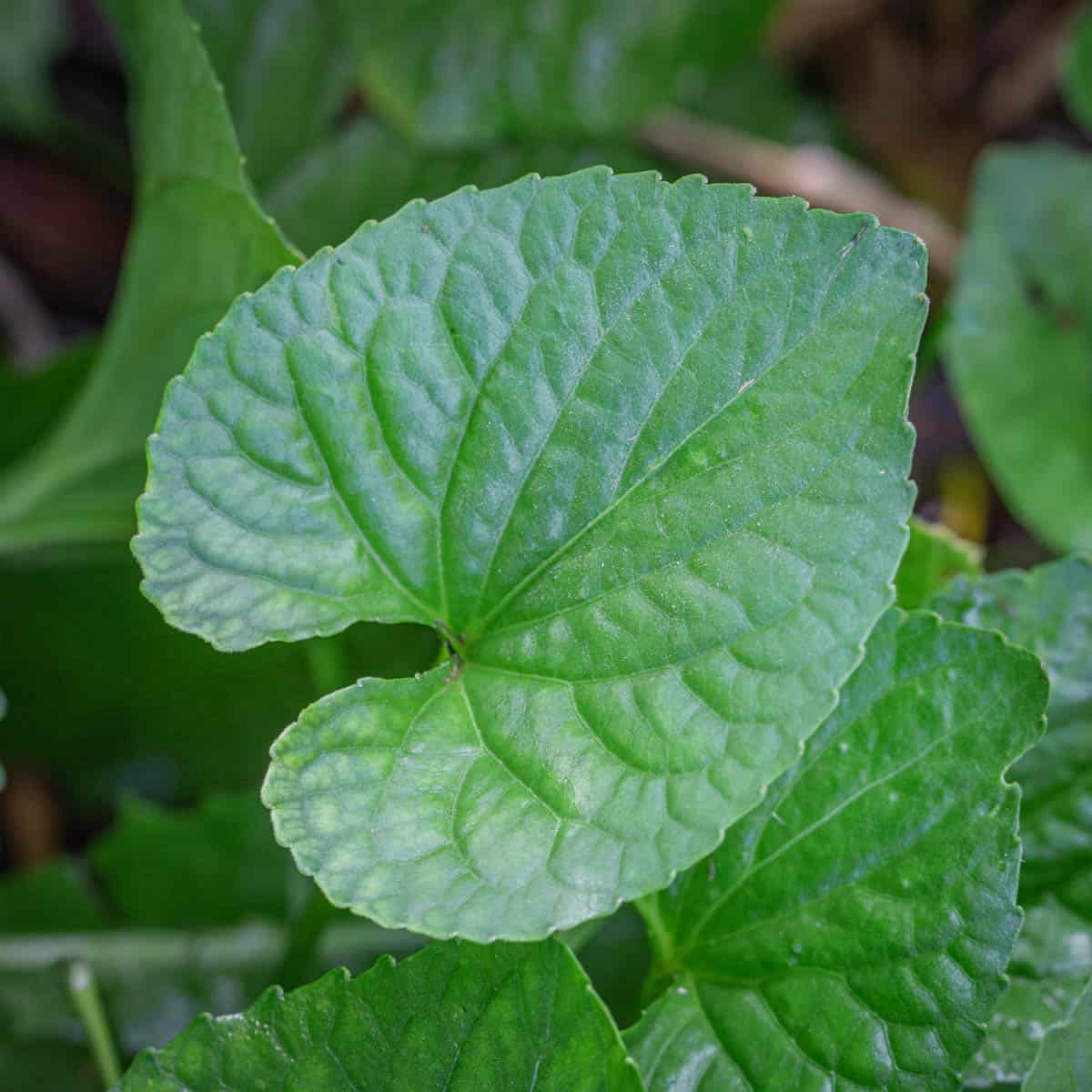 Traditionally made with Jute Mallow
Armed with a more commonly used name, I came upon a few variations of the dish, and made a note of the most common ingredients: jute mallow (Corchorus olitorius) and or purslane, spices, olives, preserved lemons-especially fitting as the dish is from Morocco, which is where preserved/salted lemons are very traditional ingredients. Sometimes cilantro and garlic are also used.
The dish itself is really simple, some mallow leaves or other soft foraged greens cooked with garlic, olive oil, spices and olives and finished with preserved lemons either mixed in or as a garnish.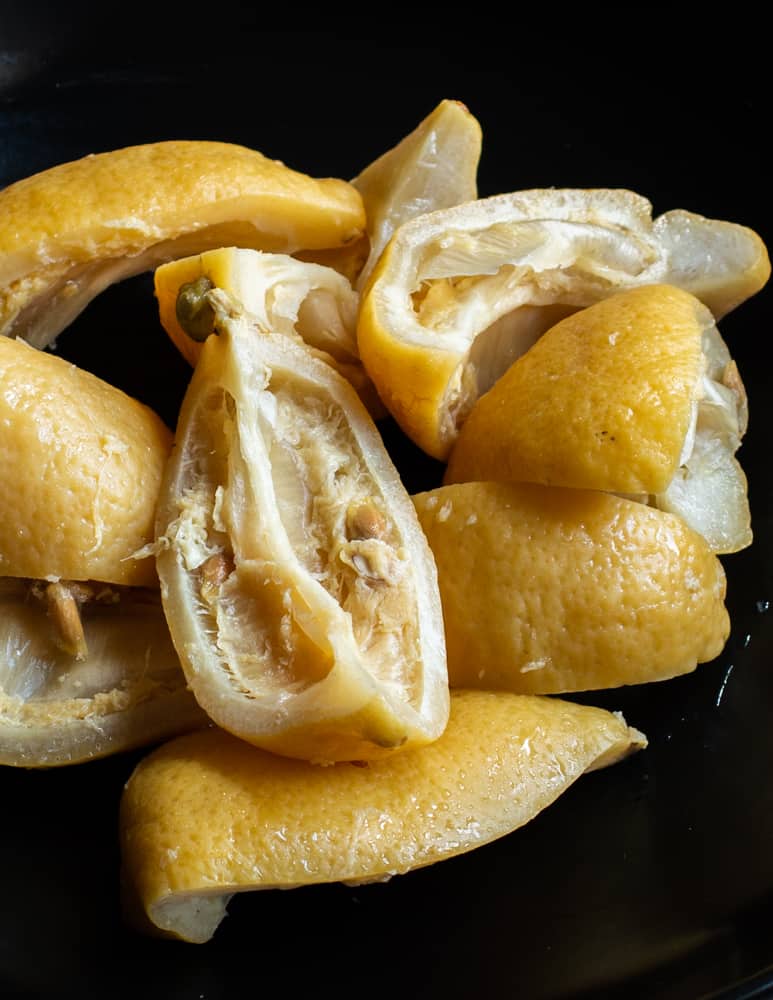 I've since made the dish with lots of different wild plants (and I'd suggest you do too) but for the most traditional flavor and texture, it should definitely include some mallow, which gets a silky texture after cooking.
Using Fermented Lemons
Pictured in my version of the dish (that also appears in my book) are fermented lemons as opposed to preserved lemons. If you're interested in trying your hand at those, refer to my post on fermented lemons.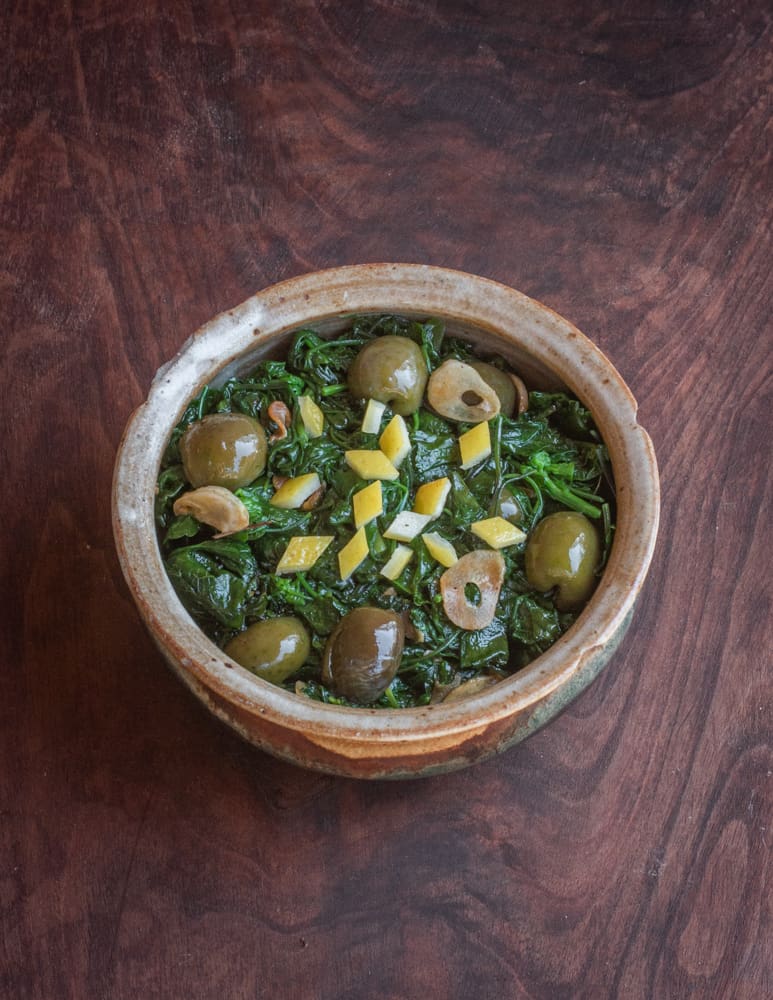 Related Posts
Lebanese Dandelions with Caramelized Onions (Hindbeh)
Cicoria en Padell (Greens with Garlic and Chili)
Fave e Cicori (White Bean Puree with Wild Chicory)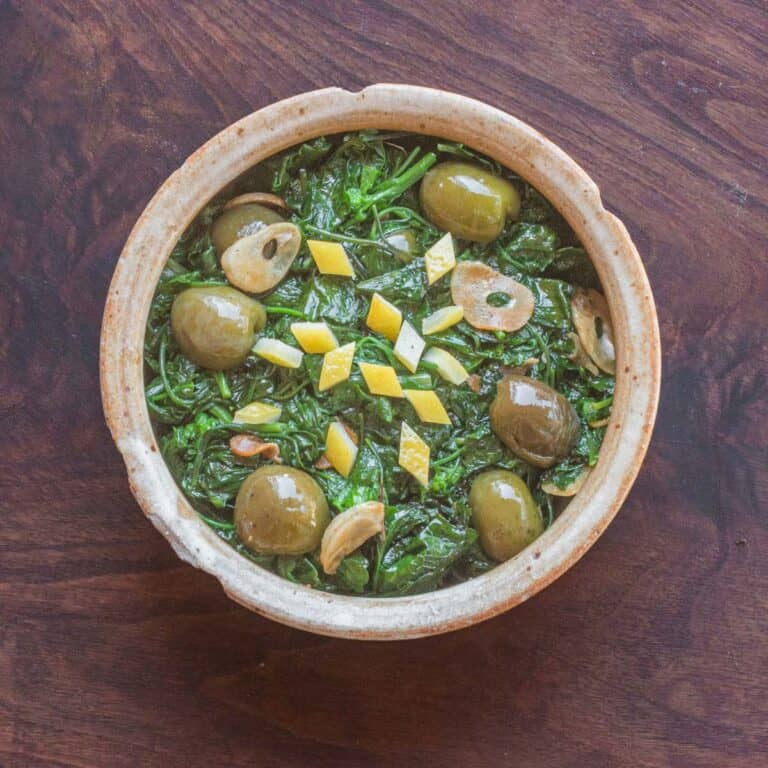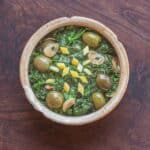 Print Recipe
Morrocan Foraged Greens with Preserved Lemon: Bakoula
A famous dish of wild greens from Morrocco flavored with cumin, garlic, olives, and preserved lemon. Traditonally Jute mallow, or mallow cooked with purslane are often used, but any malvaceae will work well, as with other, natural tender, leafy greens like garlic mustard and violets. Serves 4-6 as an appetizer
Equipment
1 4 quart pot for blanching

1 10 inch saute pan
Ingredients
8

ounces

mixed wild greens especially mallow

violets, or garlic mustard

⅓

cup

of your favorite olives

pitted and halved

Pinch

of fresh ground cumin

or to taste

Pinch

of good sweet paprika

1

large clove of garlic

3

tablespoons

extra virgin olive oil

Kosher salt

to taste

2

teaspoons

preserved lemon rind

soaked if needed, finely diced or sliced
Instructions
Blanch the greens briefly, then chill squeeze dry and reserve, you should have about 2 cups.

Meanwhile sweat the garlic in the oil until golden, add the pinch of paprika and cumin, stir, then add the greens, season with salt, stir to heat through, then cook gently until they're tender and taste good to you.

Add half of the olives, stir, then transfer to a serving bowl.

Garnish with the remaining olives and the preserved lemon and serve.
Notes
Mallow is the traditional green used here, but you can use your favorite blend of greens. Purslane, dandelions, stinging nettles, and amaranth are all good additions. 
Nutrition
Serving:
3
oz
|
Calories:
136
kcal
|
Carbohydrates:
6
g
|
Protein:
2
g
|
Fat:
13
g
|
Saturated Fat:
2
g
|
Polyunsaturated Fat:
1
g
|
Monounsaturated Fat:
9
g
|
Sodium:
219
mg
|
Potassium:
233
mg
|
Fiber:
2
g
|
Sugar:
0.5
g
|
Vitamin A:
5805
IU
|
Vitamin C:
20
mg
|
Calcium:
113
mg
|
Iron:
2
mg