As far as historical use of edible wild plants, Italian cuisine is one of the great masters, and erbe selvatiche en padella, or wild greens with garlic and chili, is arguably the crown jewel of the culinary repertoire.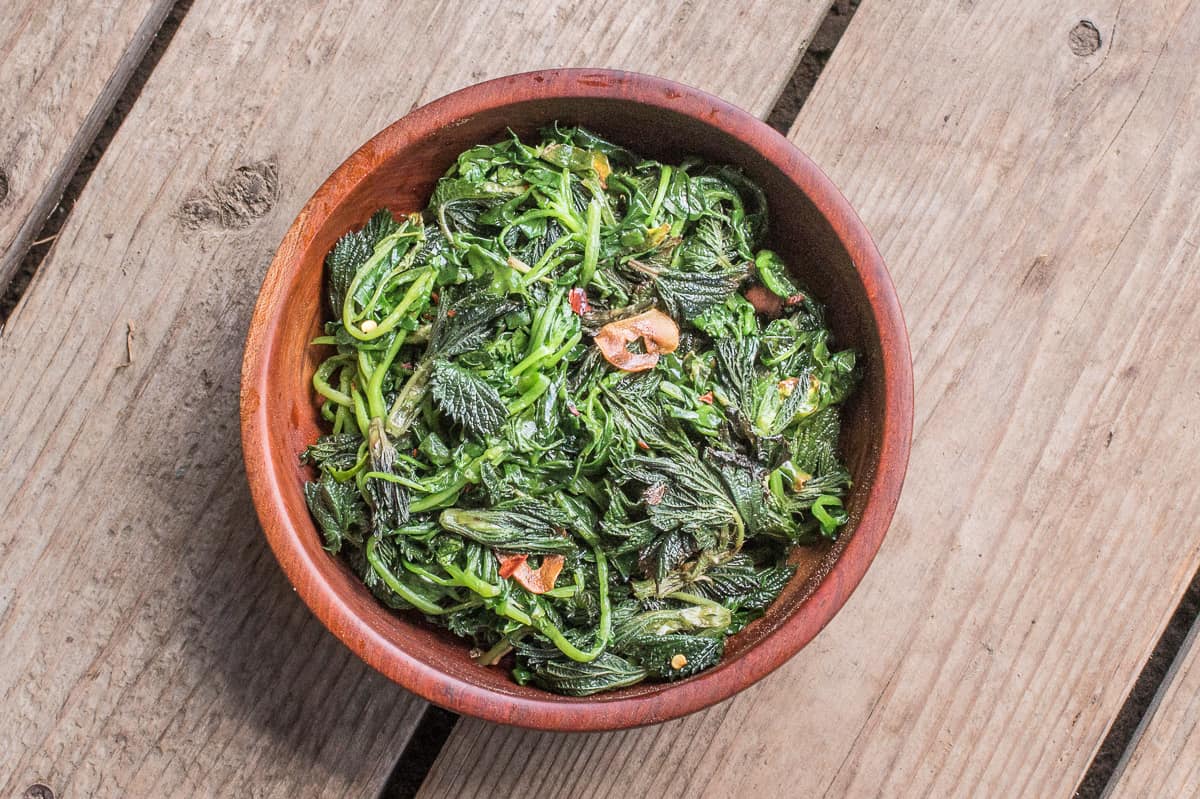 At its heart, it's nothing more than greens--whatever wild type is available, typically boiled, and then sauteed with garlic, olive, oil, and a touch of the omnipresent crushed red pepper flakes. That's it. The scant amount of ingredients, and ease at which it comes together, means this is a recipe for wilted wild greens that every forager needs to know.
There's tons of other fantastic, and slightly more involved, regional-specific Italian recipes for foraged greens that I'll share in the future, too, but this is the recipe I grew up cooking in Italian restaurants, and it is, by leaps and bounds, my favorite way to eat wild greens.
As an aside, if you're interested in historical ways Italians have eaten greens, look up the following: ministrella (Garfagnana), pistic (Fruili) and fave e cicorie (Apulia).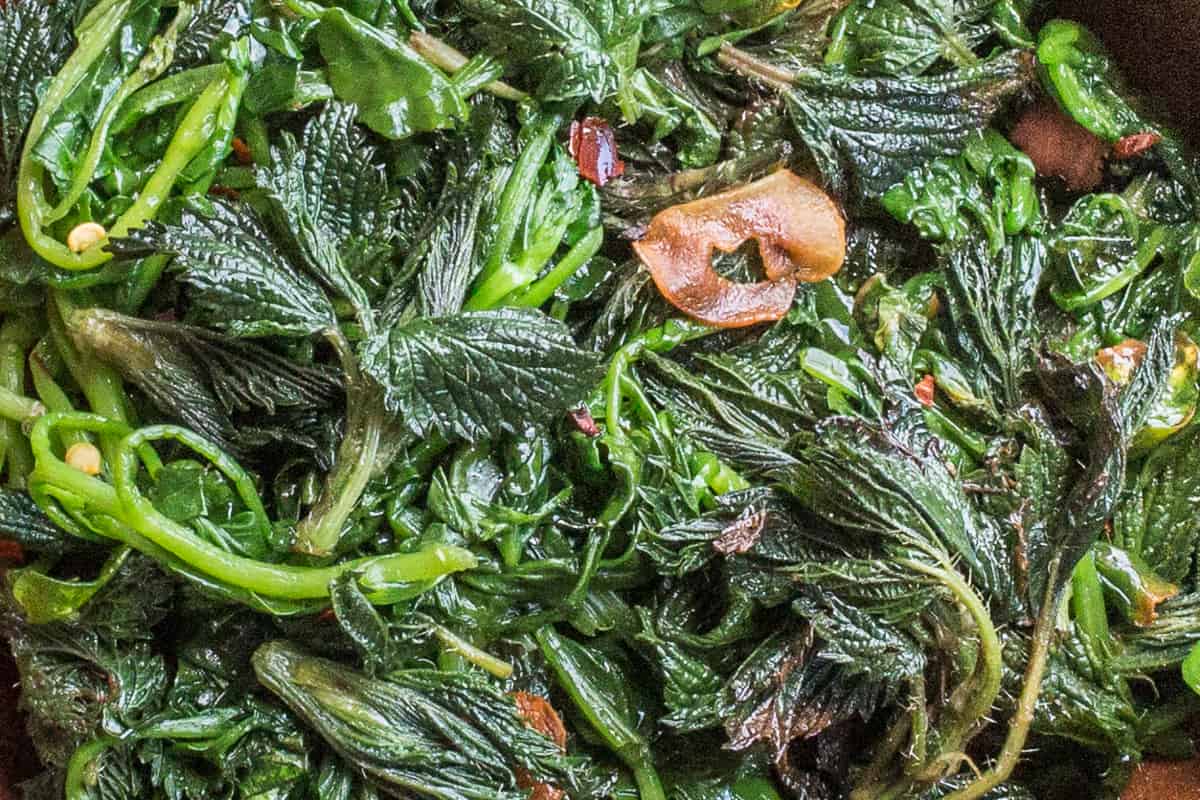 A recipe for every wild leafy green (and cultivated too!)
The best part, is how versatile it is. Tired of experimenting? Have bitter foraged greens? Sweet greens? Tons of greens--and sick of salads? Tough greens that need to be cooked to oblivion? Old greens? Young greens? Greens you're forcing yourself to eat for health purposes? An overflowing garden? Picky eaters?
This recipe is the answer to any and all of those scenarios. It's also a recipe for every season, and every edible stage of growth. In the spring, I make it with nettles, watercress, dames rocket and sochan (pictured). In the summer, I make it from lambsquarters and amaranth. In the late summer, it's made mostly from galinsoga and lambsquarters. Recently I made it with older leaves of puntarelle alla romana.
The secret: gentle browning of sliced garlic
The secret, just like with my mushroom conserve recipe, is the trick I learned from my old chef from Rome Angelo about how to cook the garlic. I like garlic, but I don't want tons of big chunks of it in my food, and I don't want it half, or partially cooked. I want my garlic well-cooked.
First, the garlic is sliced, not minced, not crushed, not grated or pressed. Sliced. Slicing the garlic into pillows as they're called gives the garlic more horizontal surface area, which means they can stand a longer, lower cooking than garlic cut into smaller shapes. That resilience means that we can take the garlic to the "toasty brown" stage--not burnt, but definitely not white.
As the garlic slowly cooks and colors, it takes on rich, amber tones and aromas, and passes them to the oil. Cooked like that, a little garlic goes a long way, and adds the sort of  je ne sais quoi you instantly recognize as delicious, but just can't put your finger on.
Piping hot out the pan, anointed with a squeeze of fresh lemon, it's one of the most delicious ways to enjoy greens.
Tips
When using wild greens, especially older, mature ones throughout the growing season, make sure to blanch the greens until they're tender and taste good to you. When the greens are very young I toss them in the pan raw with a spoon of water, cover it and quickly steam.
A lot of times, this is how I revive greens I've blanched and frozen, then thawed for eating in the winter.
This is one of the best ways to eat bitter greens, or combinations of greens that have bitter ones in it, like wintercress, dandelions, bitter mustards, cupplant, etc. If you use bitter greens, consider adding a finely chopped anchovy filet or a dash of fish sauce instead of salt.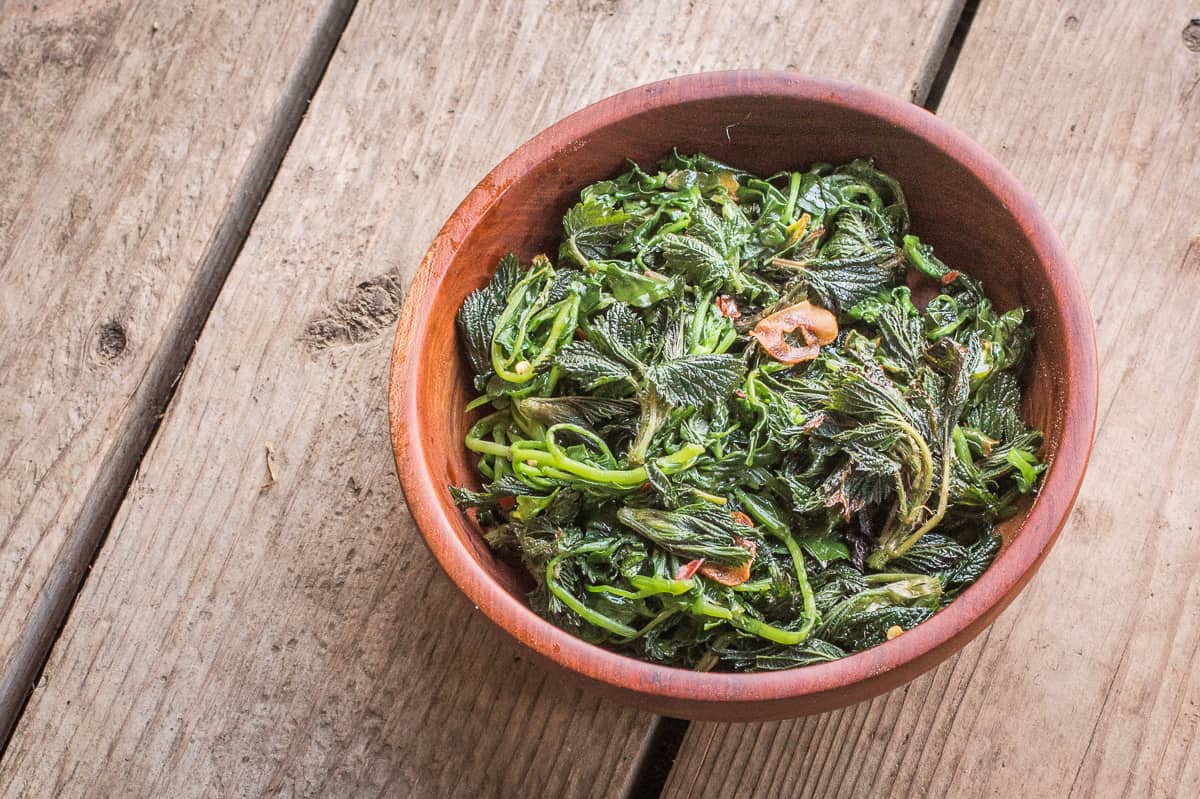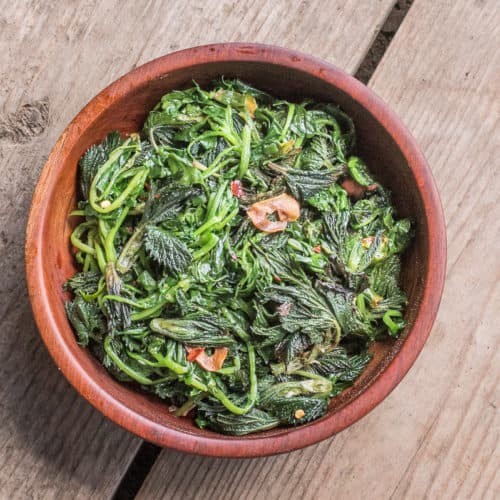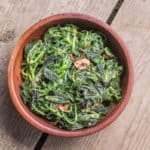 Print Recipe
Cicoria in Padella (Greens with Garlic and Chili)
One of the most classic Italian recipes for cooking foraged greens. Use the recipe below the first time to get the feel for cooking the garlic, afterwords, forget about the recipe, and channel your inner Italian grandmother. Serves 2-4.
Ingredients
8

oz

Scant 2 cups cooked greens, preferably wild, chard or spinach are good too

Kosher salt

to taste

2

Tablespoons

extra virgin olive oil

plus more to taste

1

medium clove

5 grams garlic

Fresh lemon wedges

for serving

Crushed red pepper flakes

to taste
Instructions
First blanch the greens in boiling salted water until they taste good to you. If using wild greens, this could take 10-15 minutes, fresh, cultivated greens may take seconds.

If the greens are very long, consider chopping them coarsely so they can fit on a spoon. Cut the root end off each clove of garlic, then slice as thin as you can with a knife or mandoline (long or short way—either is fine) then heat in a 8 inch pan with the oil until the garlic is lightly browned and aromatic, about 4-5 minutes on medium-low heat.

The deeper the color you can put on the garlic, the better the flavor, just keep in mind it can't burn.

Add a pinch of chili stir for a second, then add the greens, season, stir to heat through and coat with the garlic and oil. Taste the greens, they should taste pleasantly seasoned with salt, and scented with garlic.

Heat the greens until hot throughout, taste again and adjust the seasoning, then serve with lemon on the side, and extra olive oil if you like.
Notes
Variations
This is the perfect way to use up different blends of greens--try out mixes and experiment.
Pre-cooked or frozen greens are great too.
Try using animal lard or bacon grease instead of olive oil