Fave e Cicoria (also known as Foje M'bische and Fave e Fogghije) is a fava bean purée with garlicky, spicy wild chicory or dandelions is one of the most classic Italian cicoria recipes (wild chicory) I know of, with every book on Southern Italian cooking I own having their own variation.
Today I'll go over a little history of the dish, and how you can make it with many different wild edible plants-especially bitter greens.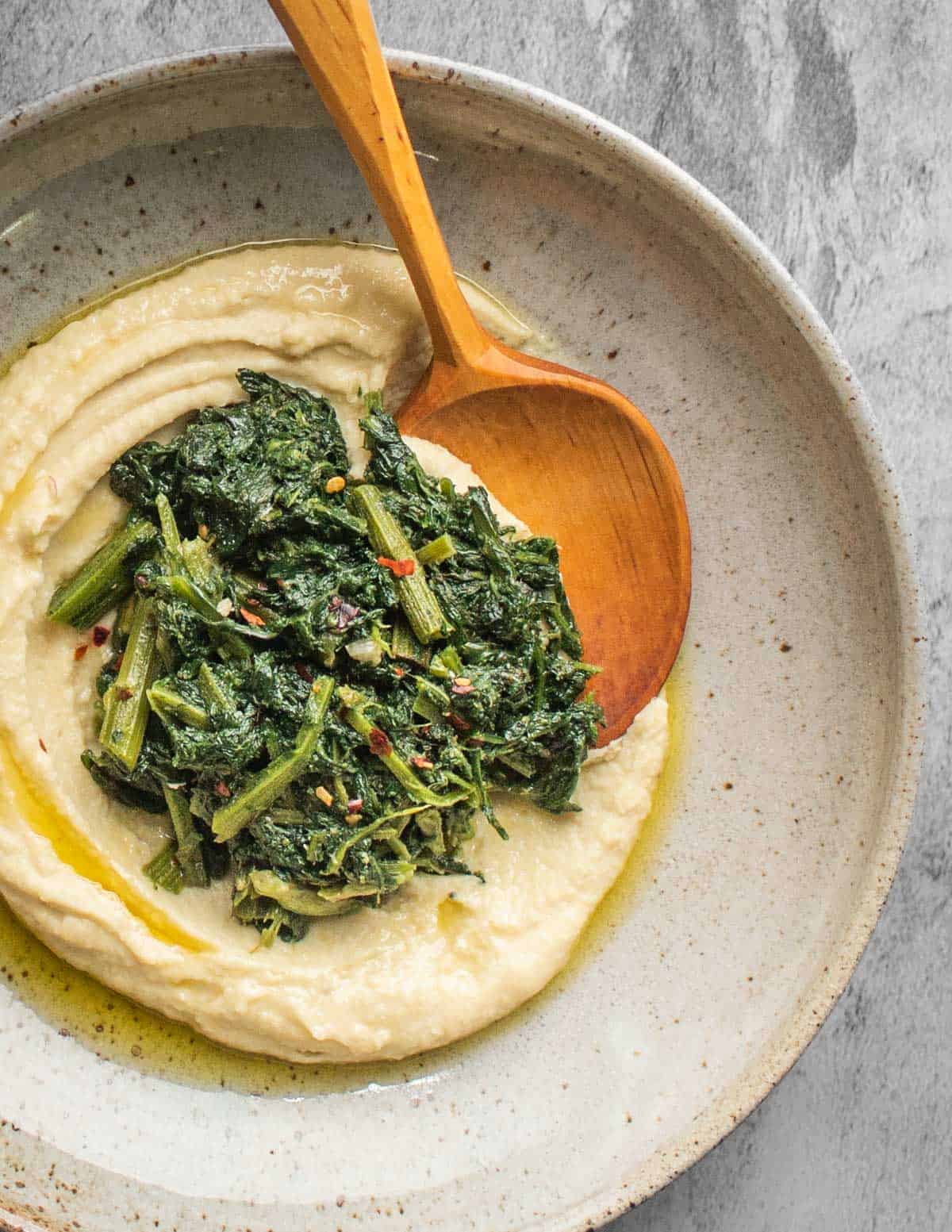 History
This is a dish of the cucina povera or poverty food tradition of Southern Italy, specifically Puglia, located on the "heel" of Italy's "boot". There's lots of dishes like this in the region, two other favorites of mine are Minestrella di Gallicano, and Prebboggion: The Wild Edible Plants of Liguria.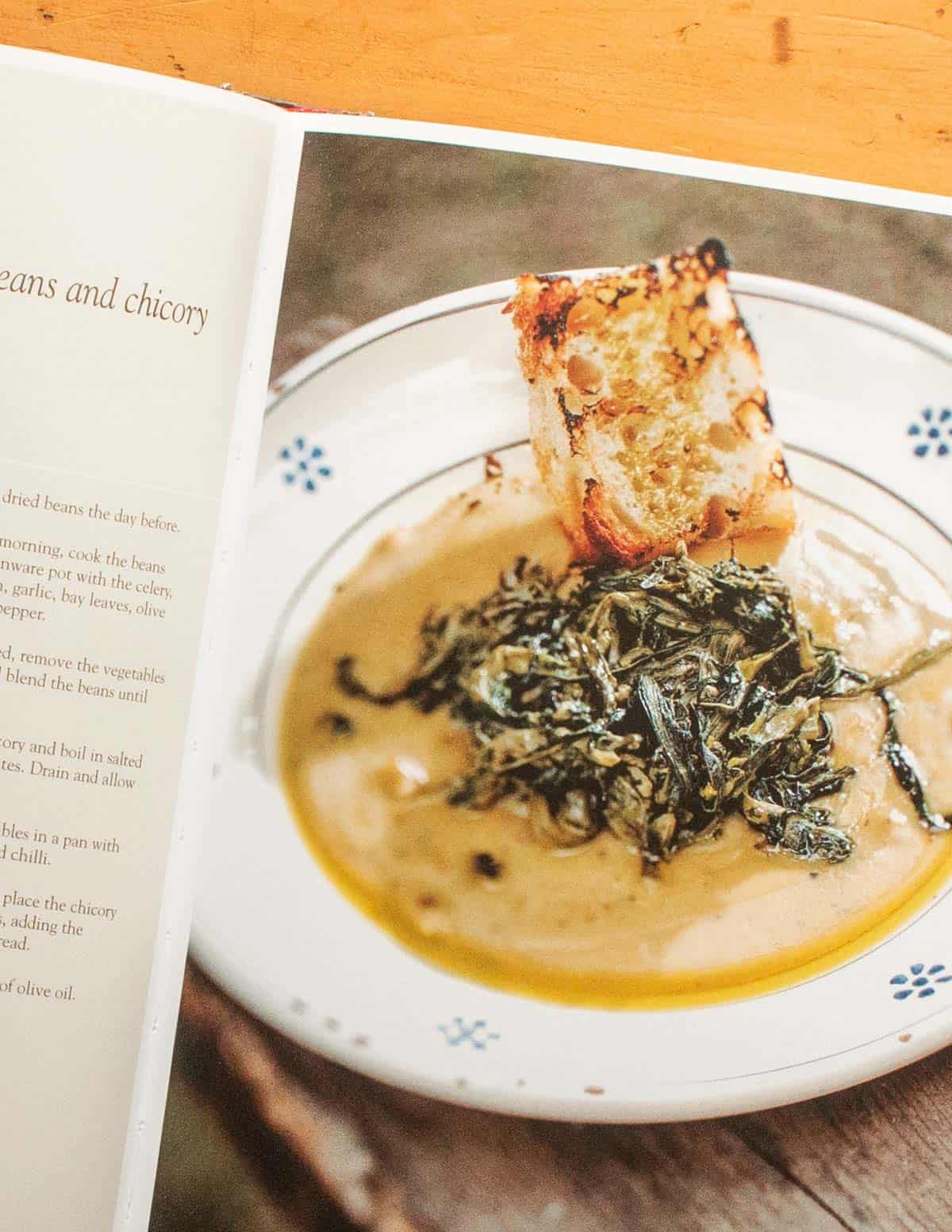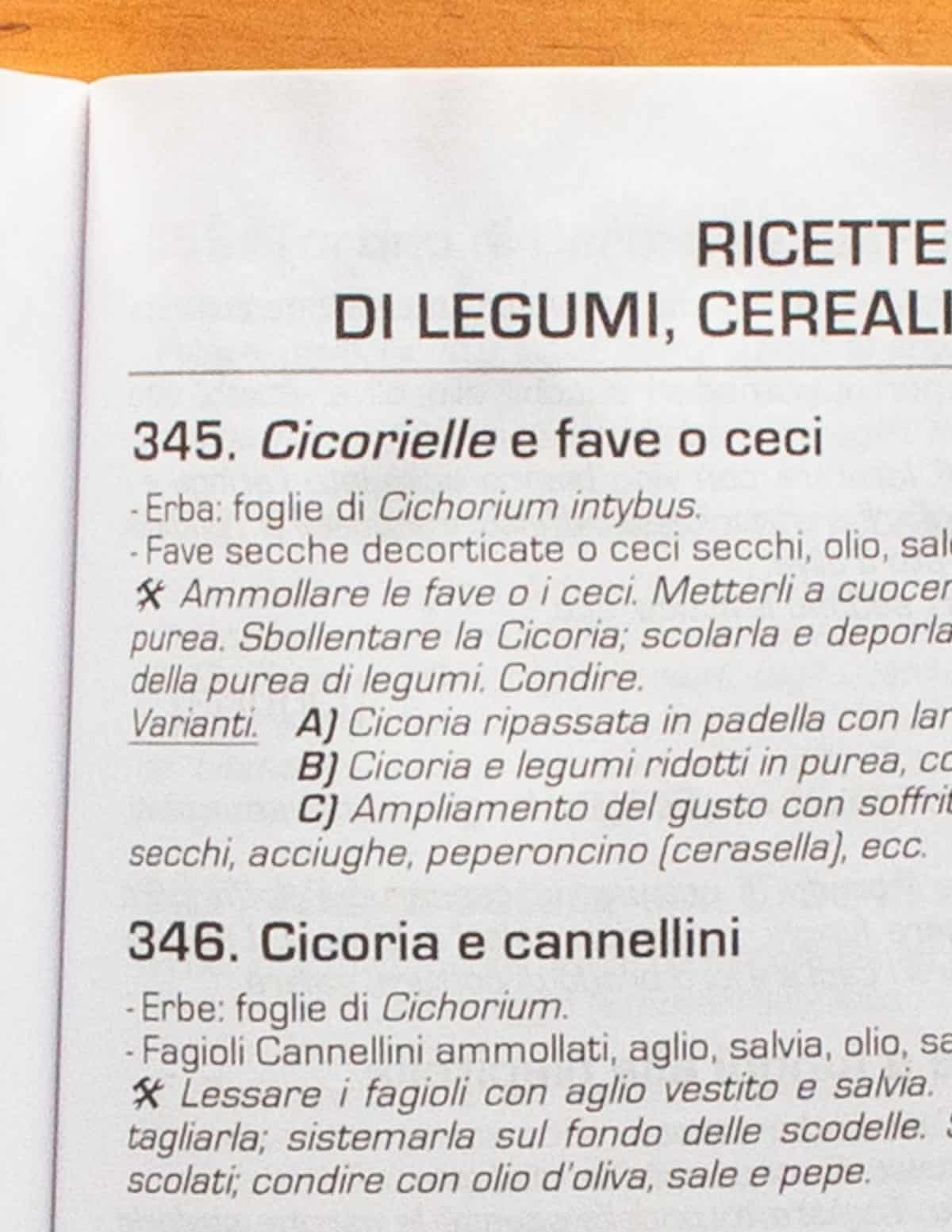 Southern Italian food is different from Northern Italian food. In this dish, you can see North African and Middle-Eastern influences and the fava bean puree was probably borrowed from Egyptian mashes of legumes. Another good example is Arabic influence on Sicilian cuisine left from the Emirate that ruled for over 250 years there.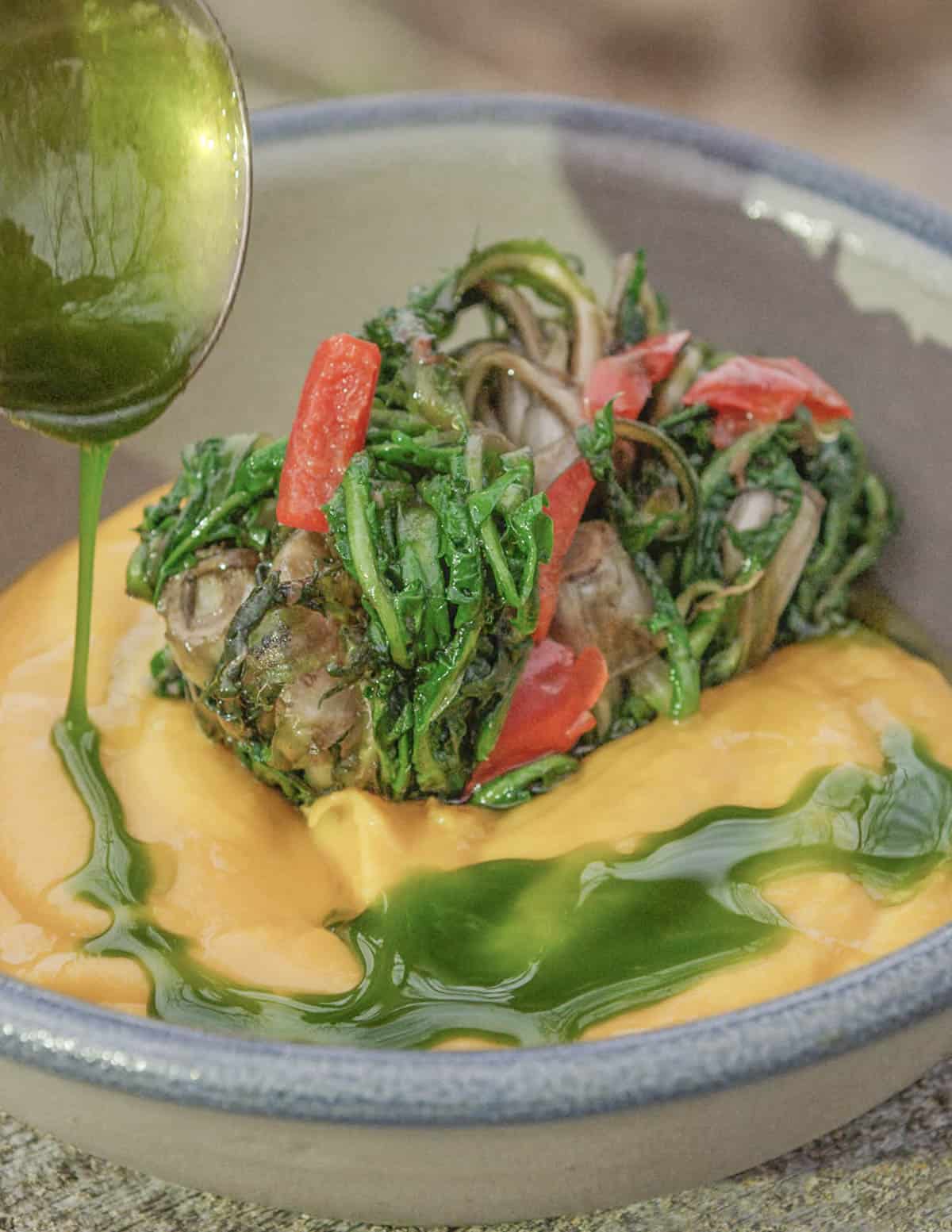 The Beans and Greens
Even though there's only a few ingredients, breaking apart the dish into components can help illustrate how dishes like this have evolved.
Poverty cuisine is the underlying theme here, and the Pugliese fave con cicorie is one of many combinations around the world that combine beans and wild plants together to make a filling dish, without meat.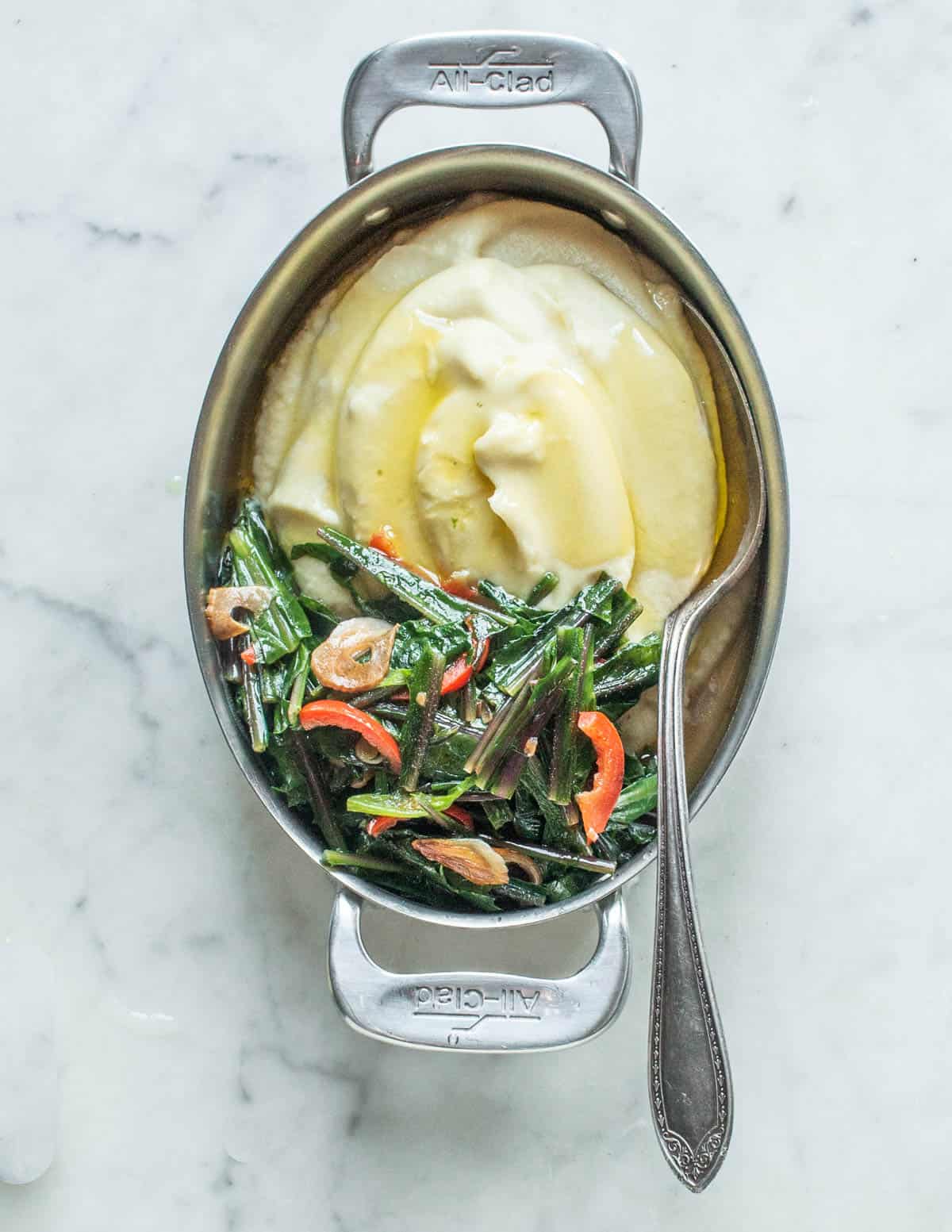 Favas
Favas are a popular ingredient in the Mediterranean diet. You can make a puree of many beans and legumes, but dried fava beans are traditional, although I've seen recipes calling for ceci (chickpeas) too. That being said, all dried favas aren't created equal, and I've have a few tips for you.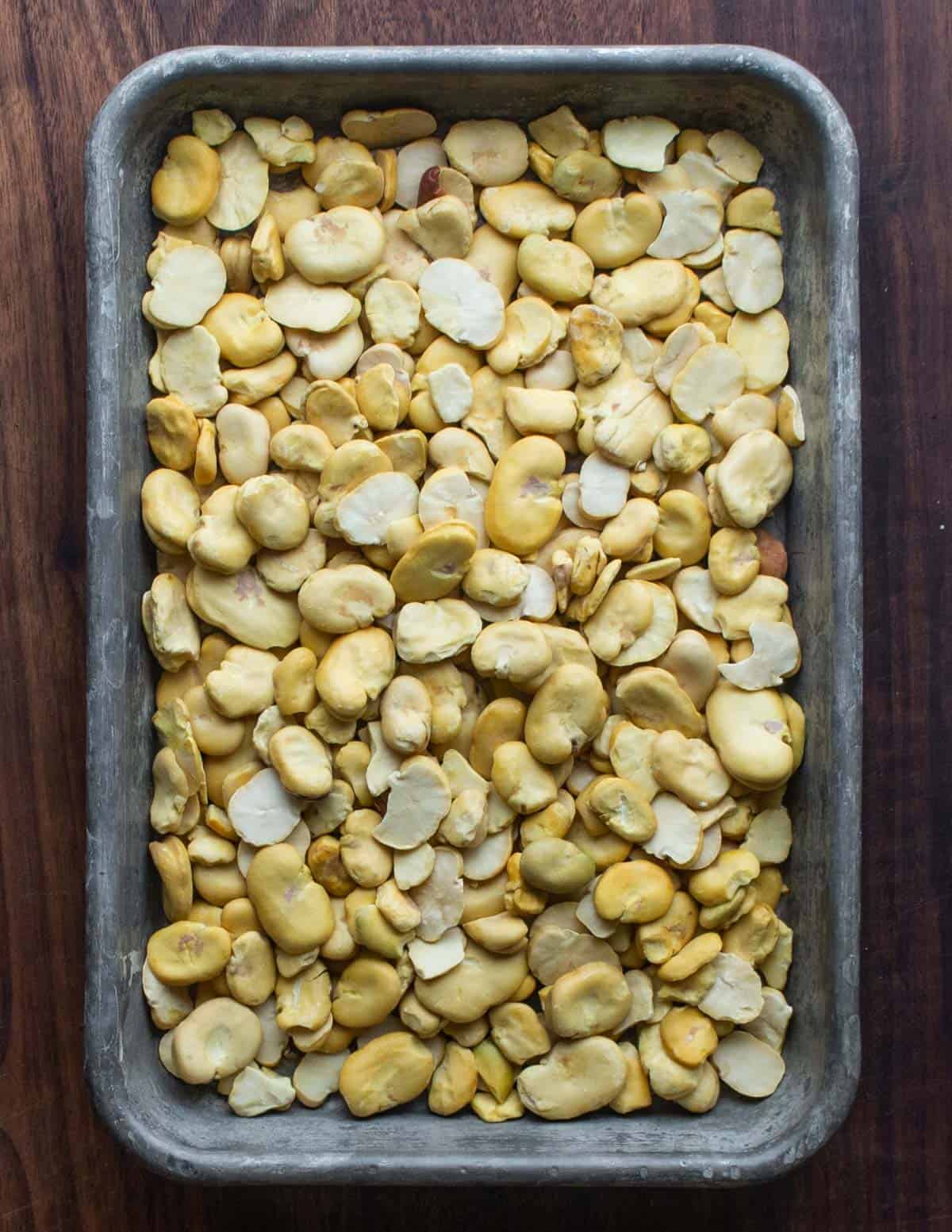 How to choose dried fava beans
A couple times now I've used cheap dried favas (in my experience they're often very small compared to others) and they were terribly bitter.
As long as I buy from Bob's Red Mill or Goya I've never had a problem. When I had bitter ones, it was from the Ziyad brand.
Do you have to peel favas?
Most ethnic markets I go to sell both peeled and unpeeled dried favas, which might be labeled broad beans. You can use unpeeled beans but removing the skin from each of bean is a pain, so I buy peeled beans.
On a related note, fresh fava beans may not need to be peeled of their inner skin if they're very young and tender.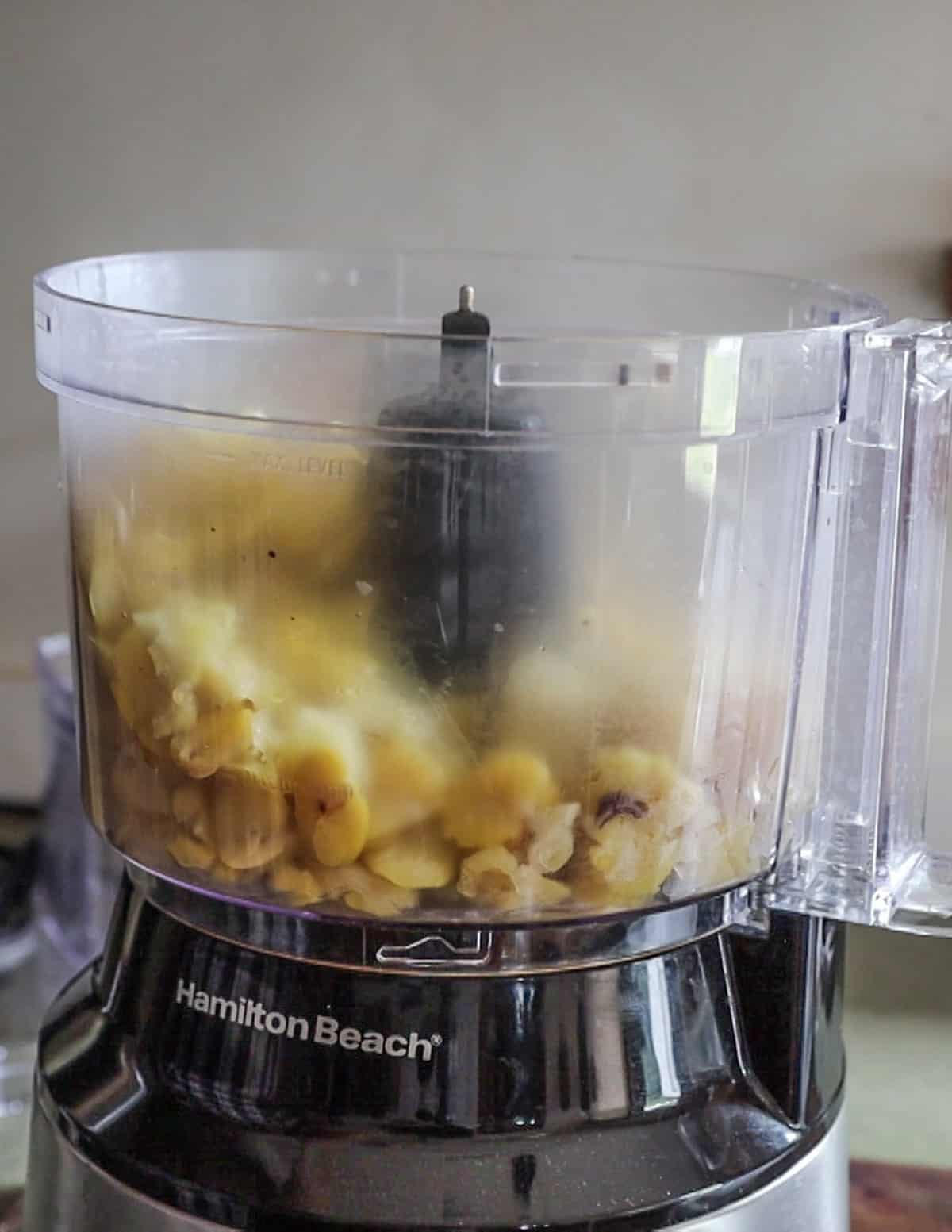 There's no need to soak the beans
Some recipes say the beans should be soaked before cooking. You can do that, but I find it unnecessary as dried favas cook in a fraction of the time of most dried legumes. They cook in about 30 minutes, similar to lentils.
Greens
Wild chicory, known locally as cicoria selvatiche (Chicorium intybus) is a cousin of dandelions and the bitter green of choice here, but the dish is made with other wild plants. I'd encourage you to use whatever you have, as long as they're bitter.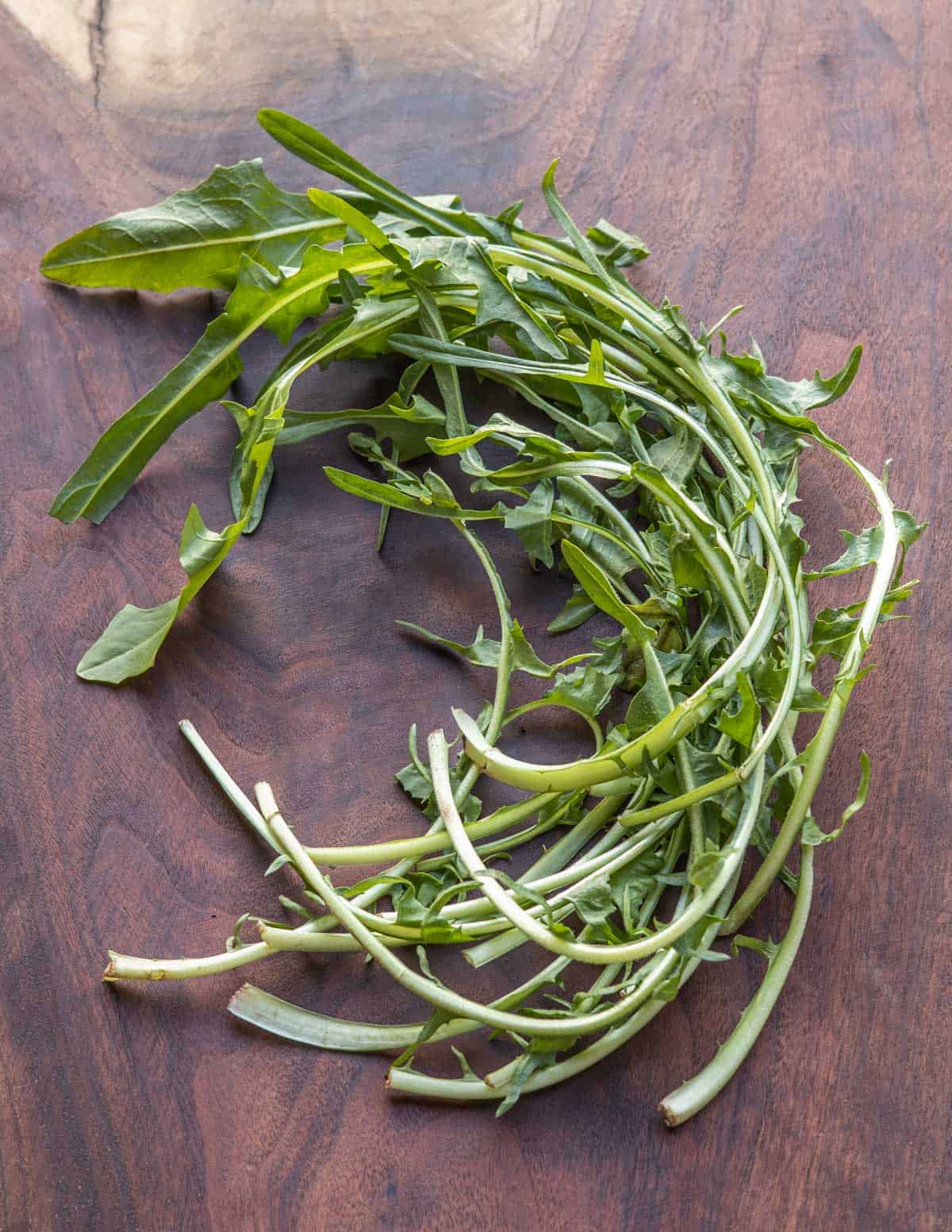 If I really want to stick to tradition, I'll go to my local Middle Eastern Market and buy chicory greens, but mostly I use dandelion greens or a mix of wild lettuce. In the photos and video here, I've used the young tops of tall blue lettuce (Lactuca biennis) which is a great bitter green.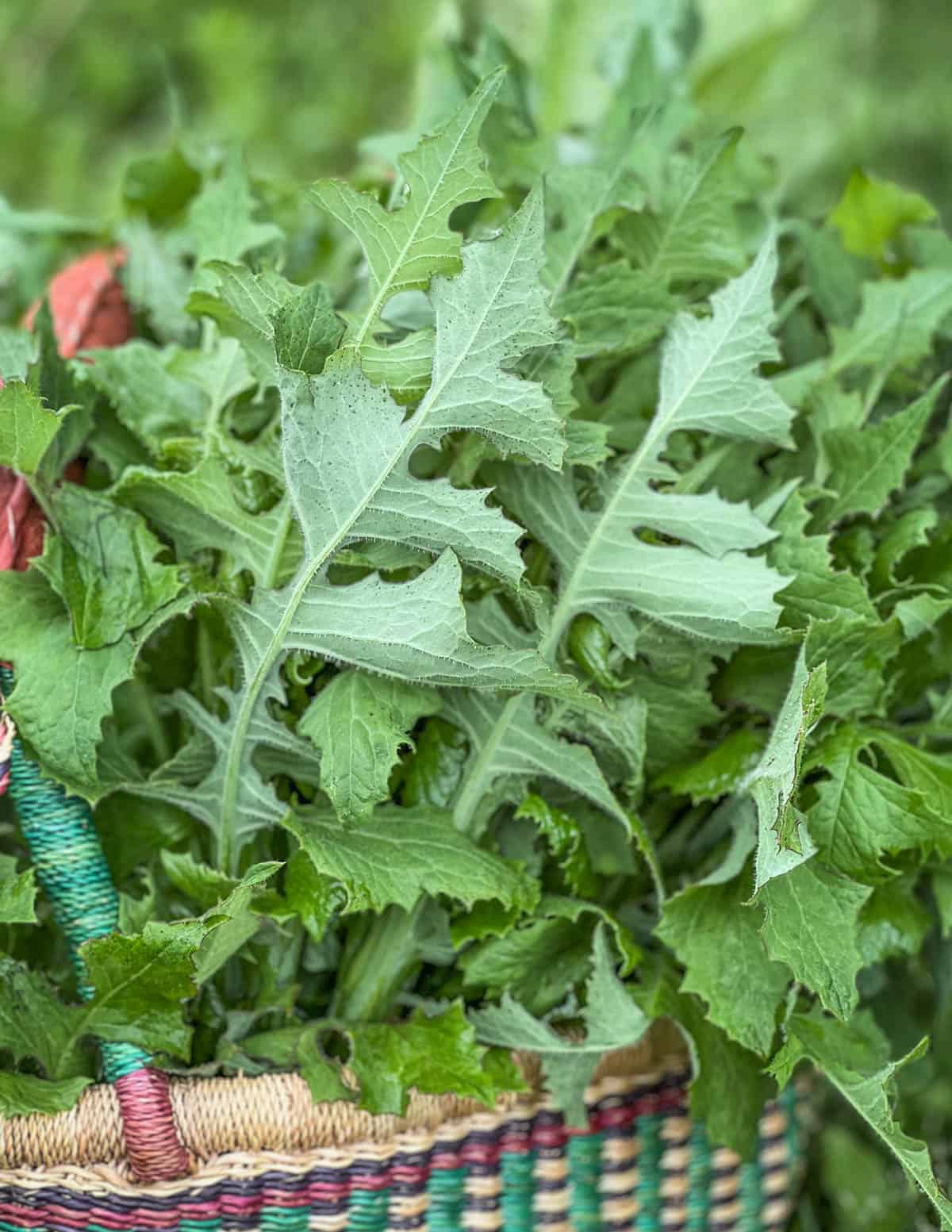 Cooking the greens until soft
As a chef I was trained to cook vegetables gently to keep them green. But, after eating a couple batches of this that somehow didn't taste right, I realized that it's better if the greens are over-cooked, meaning the greens are simmered until they're soft and no longer bright green.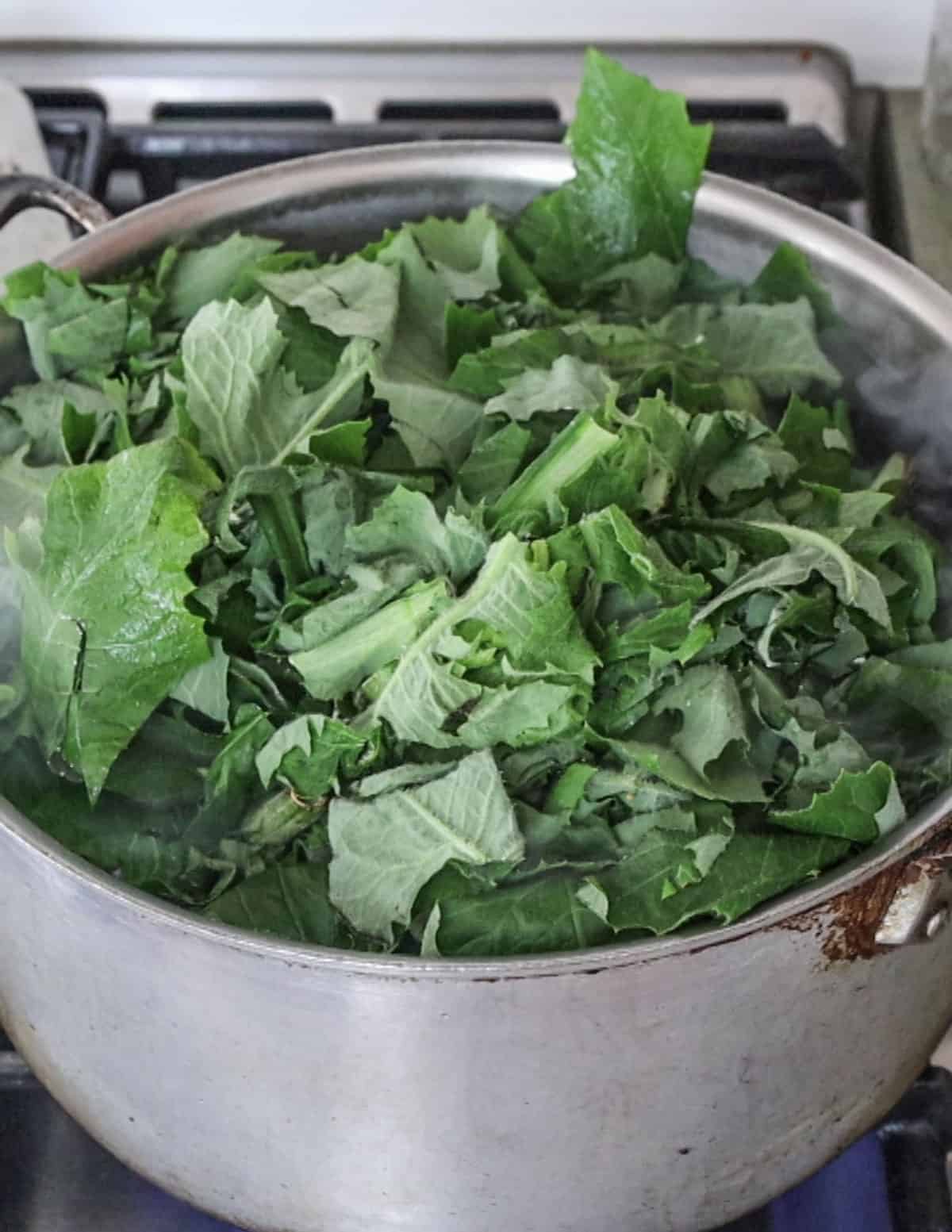 They're just better cooked until soft and tender, similar to other Italian recipes for slow-cooked green and Romano beans. Long cooking in a pot of water also helps to calm the flavor of strong-tasting bitter greens. If the greens are very bitter, they may be soaked after cooking too.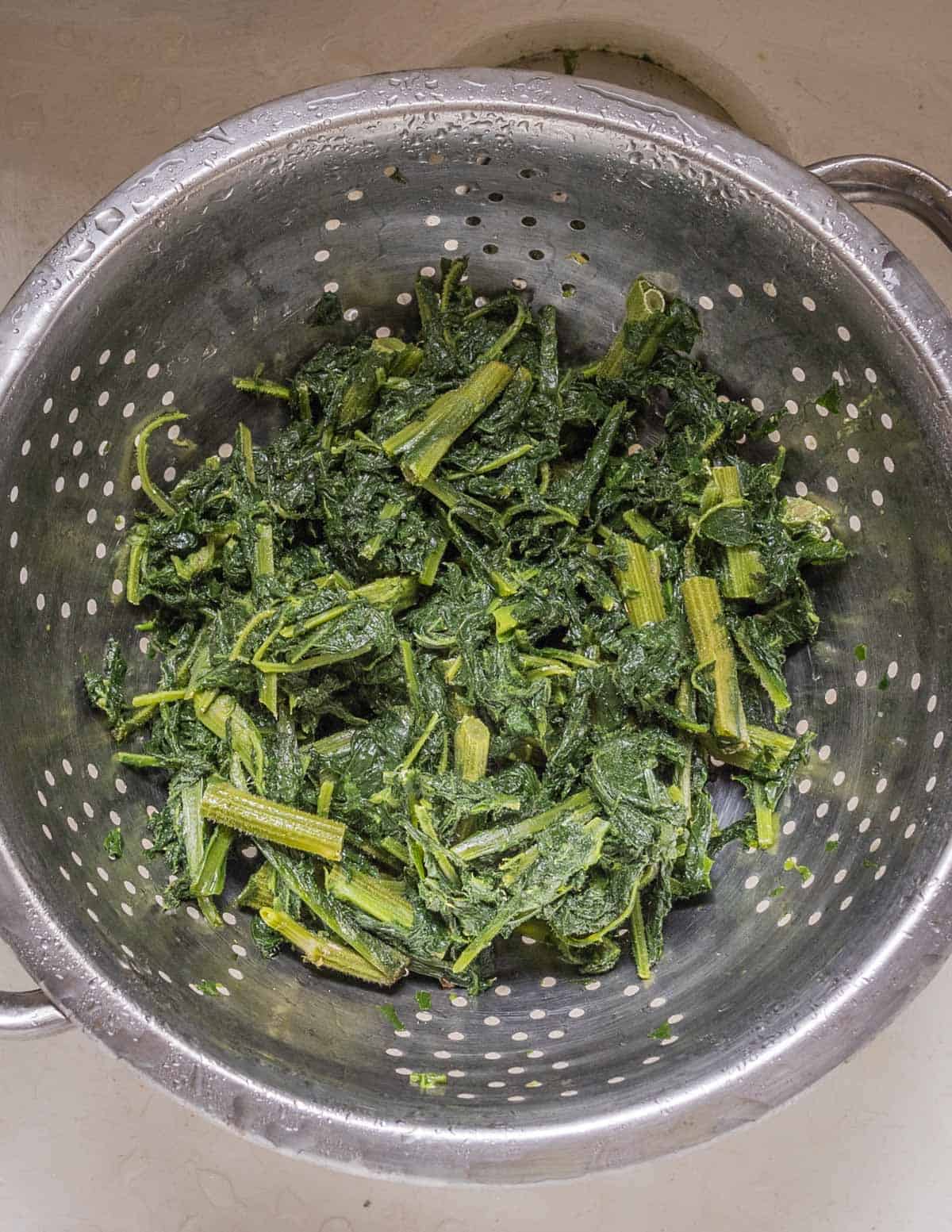 Adding texture from bread or croutons
Soft bean puree and tender greens cry out for a little texture. I usually serve this with grilled bread as a vehicle, but some fave e cicoria recipes call for adding hot croutons fried in olive oil which is good too-it's great either way.
Related Posts
Erbazzone: Italian Wild Greens Pie
Prebboggion: The Wild Edible Plants of Liguria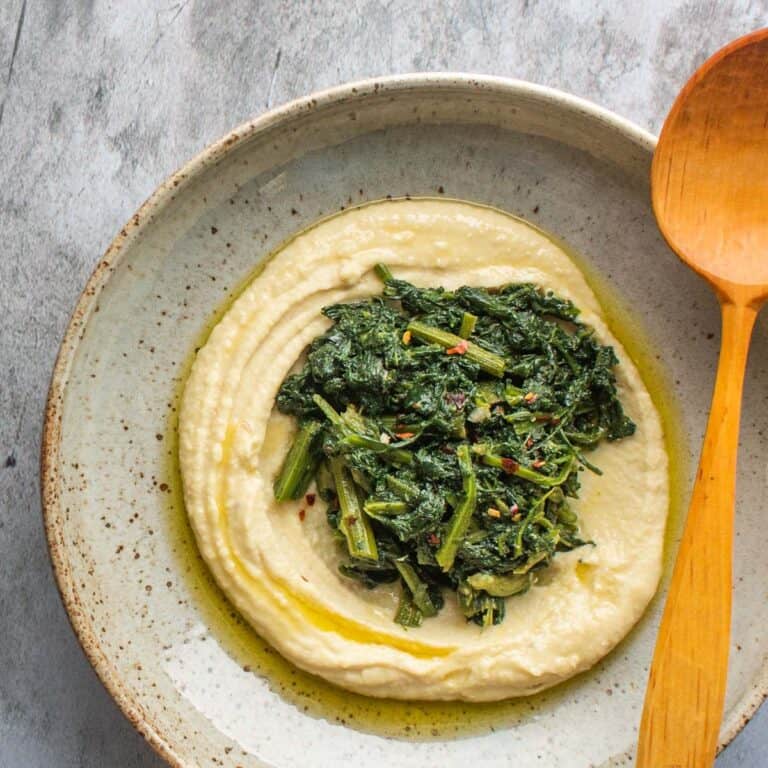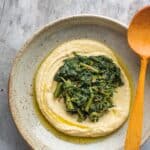 Print Recipe
Fave e Cicoria (Fava Bean Purée with Chicory)
A classic Southern Italian dish of cooked wild greens with garlic and chili, served with a smooth puree of dried fava beans. Serves 4 as an appetizer or side.
Equipment
1 1 gallon pot

for cooking the greens

1 10 inch saute pan

for finishing

1 Food processor

for the bean puree
Ingredients
Fava Bean Puree
5

ounces

dried, shelled fava beans

This is one full cup of dried beans

1

dried bay leaf

½

small yellow onion

1

large clove garlic

thinly sliced

Kosher Salt

2

tablespoons

good tasting oil

such as extra-virgin olive oil or Smude's sunflower oil, plus extra for serving
Greens
2

tablespoons

cooking oil

use extra virgin olive oil in a pinch if you have to

¼

teas[poon

crushed red pepper flakes

add these to taste as the heat of dried peppers can vary due to age, etc.

10

ounces

fresh bitter wild greens, such as dandelions, garlic mustard, or others, cut into 1-inch (2.5 cm) pieces
Serving
Fresh lemon wedges

for serving

Good rustic bread

such as sourdough, for serving
Instructions
Beans
Cover the fava beans, bay leaf, and onion with 3 cups (720 ml) of water, bring to a simmer, cover, and cook for about an hour or until tender. Keep the beans warm. Bring a few quarts of lightly salted water to a simmer.
Greens
Cook the greens in the water until very tender (this may take as long as ten minutes), then drain them very well. Taste some of the greens. If you find them very bitter, soak them in cold water for a few hours which will help a little. Reserve the greens until needed.

Remove the onion and bay leaf if using from the beans and discard, then drain the favas well and transfer to a food processor. Purée the favas, season with salt, and drizzle in the oil until thick, fluffy, and smooth.
Assembly
Meanwhile, sweat the garlic in the cooking oil until aromatic, then add the chili and cook for a few seconds. Add the greens, stir to combine, and season to taste with salt and hot chili until it tastes good to you.
Serving
Spoon the warm bean purée into a shallow serving dish, garnishing with the greens on one side. Serve with crusty bread and lemon wedges and extra olive oil.
Nutrition
Serving:
4
oz
|
Calories:
283
kcal
|
Carbohydrates:
29
g
|
Protein:
11
g
|
Fat:
5
g
|
Saturated Fat:
2
g
|
Polyunsaturated Fat:
3
g
|
Monounsaturated Fat:
10
g
|
Trans Fat:
0.03
g
|
Sodium:
59
mg
|
Potassium:
681
mg
|
Fiber:
12
g
|
Sugar:
3
g
|
Vitamin A:
7222
IU
|
Vitamin C:
27
mg
|
Calcium:
174
mg
|
Iron:
5
mg