I've worked my share of shifts on pizza stations. After a long night of flipping pies, one of my favorite things to make for staff meal was pizza bianca.
A pizza bianca, or white pizza, is made without tomato sauce, instead using olive oil and parmesan or a white sauce as you see here. Alfredo pizza can be a synonym.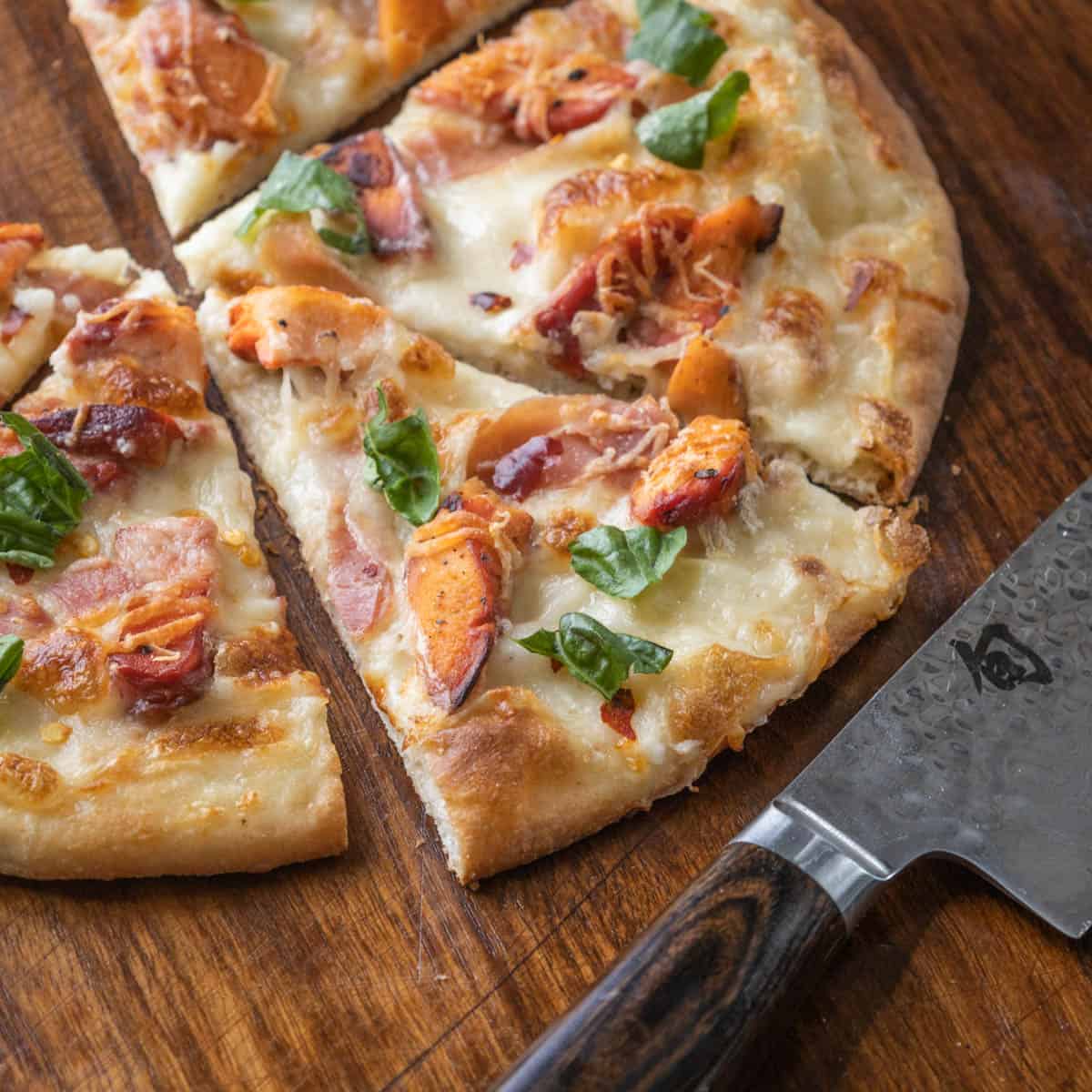 My favorite toppings were with thinly sliced prosciutto or speck ham, and mushrooms. Here I used frozen chicken of the woods mushrooms. Sometimes I'd add fresh arugula on top after it was sliced and cooked.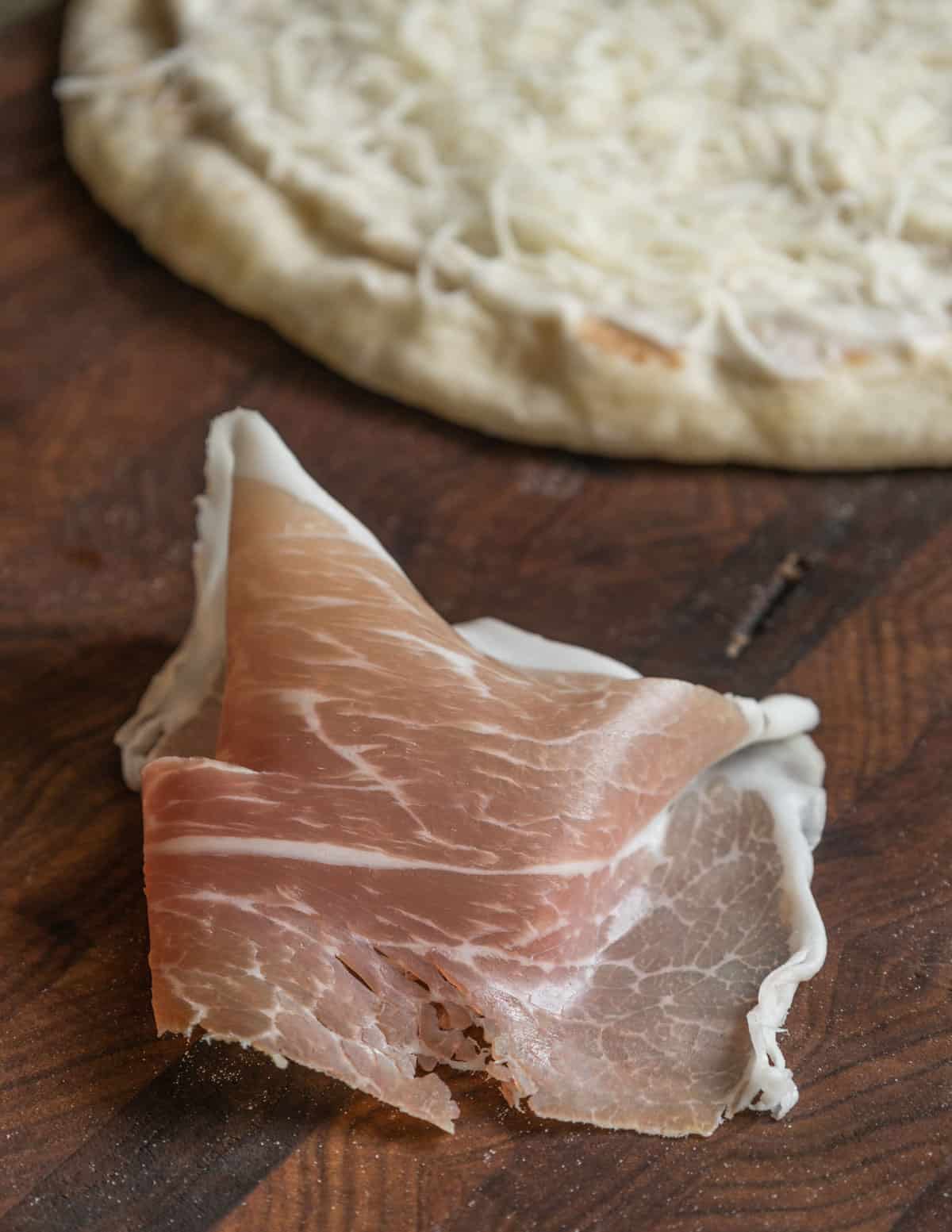 Why This Recipe Works
I know not everyone has a wood fired pizza oven, but that doesn't mean you can't make really good pizza at home.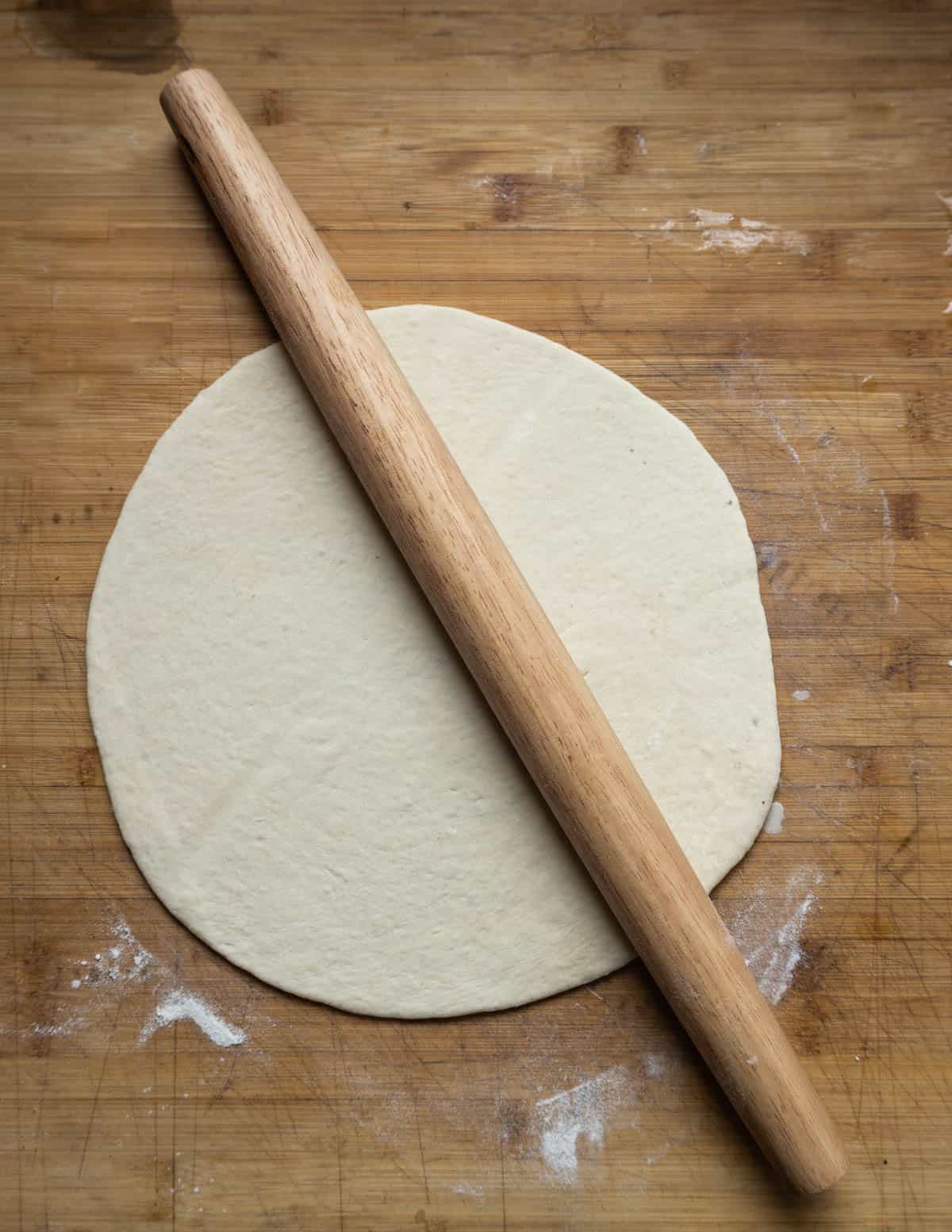 The secret to making restaurant quality pizza at home is to cook the crust twice.
I make a simple pizza dough and roll out rounds or ovals depending on how I'm feeling and what kind of equipment is available. Then the dough is par-cooked on a grill, griddle or a pan.
I often make them in an oval shape which is how I served them in my restaurants as an appetizer, cut into triangles.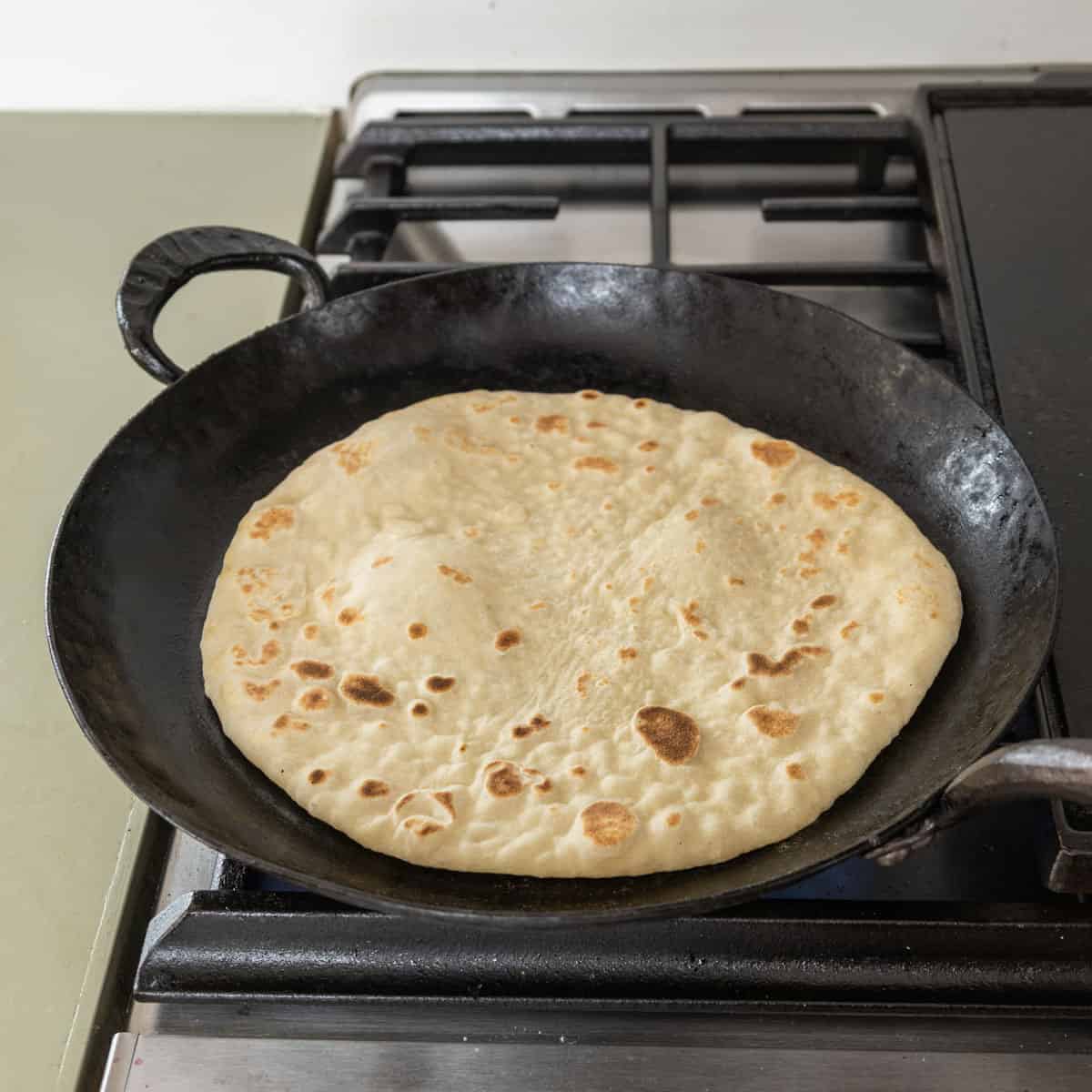 After the pizza base is par-cooked, you spread the crust with sauce and pizza toppings and put into an oven directly on the rack. There's no need for a pizza stone, but you can use one if you like.
It's important to put a baking sheet or a pan underneath to catch any drips of cheese coming off the pizza crust.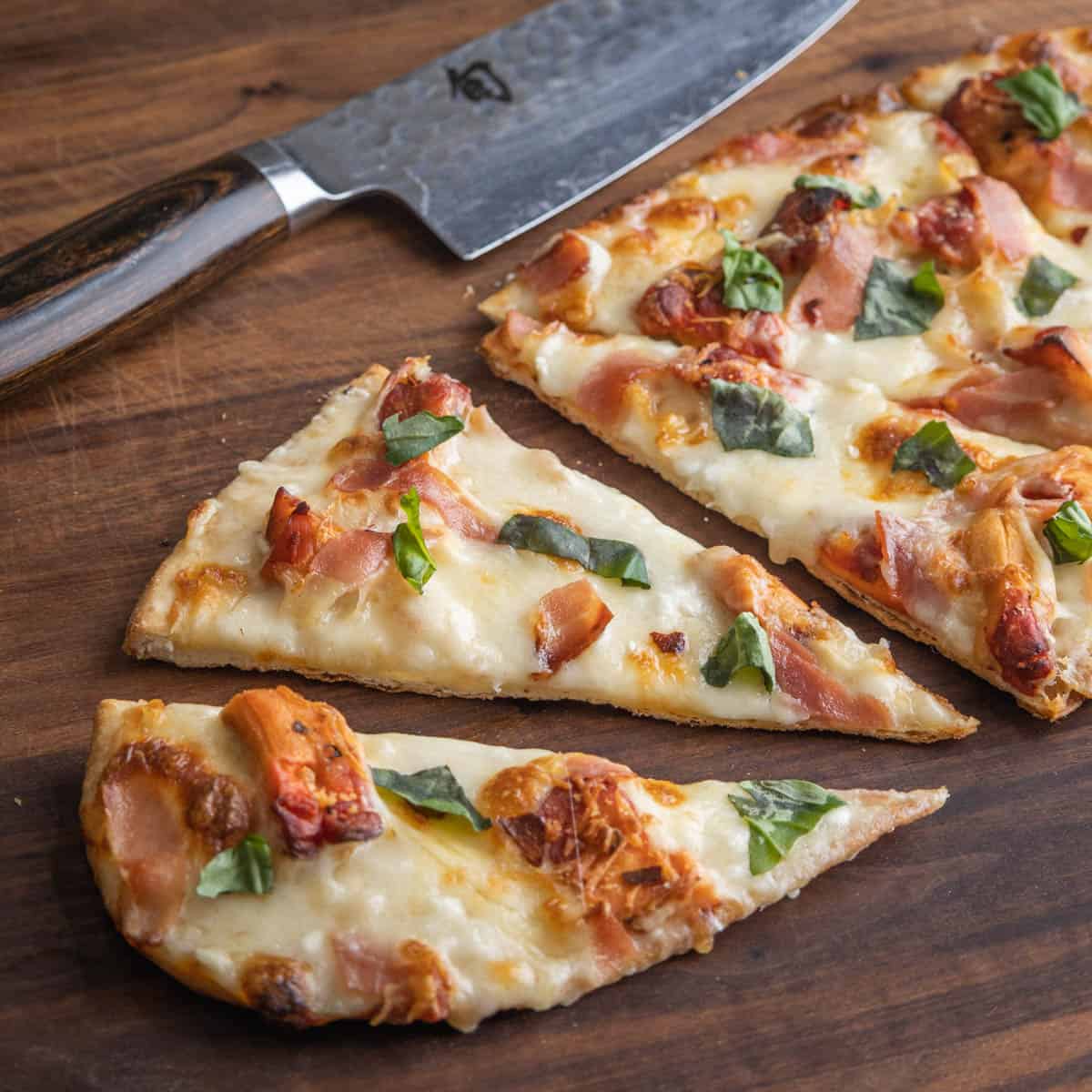 Par-cooking wild mushrooms
Most wild mushrooms should not be put on a pizza without being cooked first.
Here I used mushrooms from my freezer that I sauteed quickly before adding to the pizza. If you're not familiar with using your harvests from frozen I describe my process in How to Freeze Wild Mushrooms.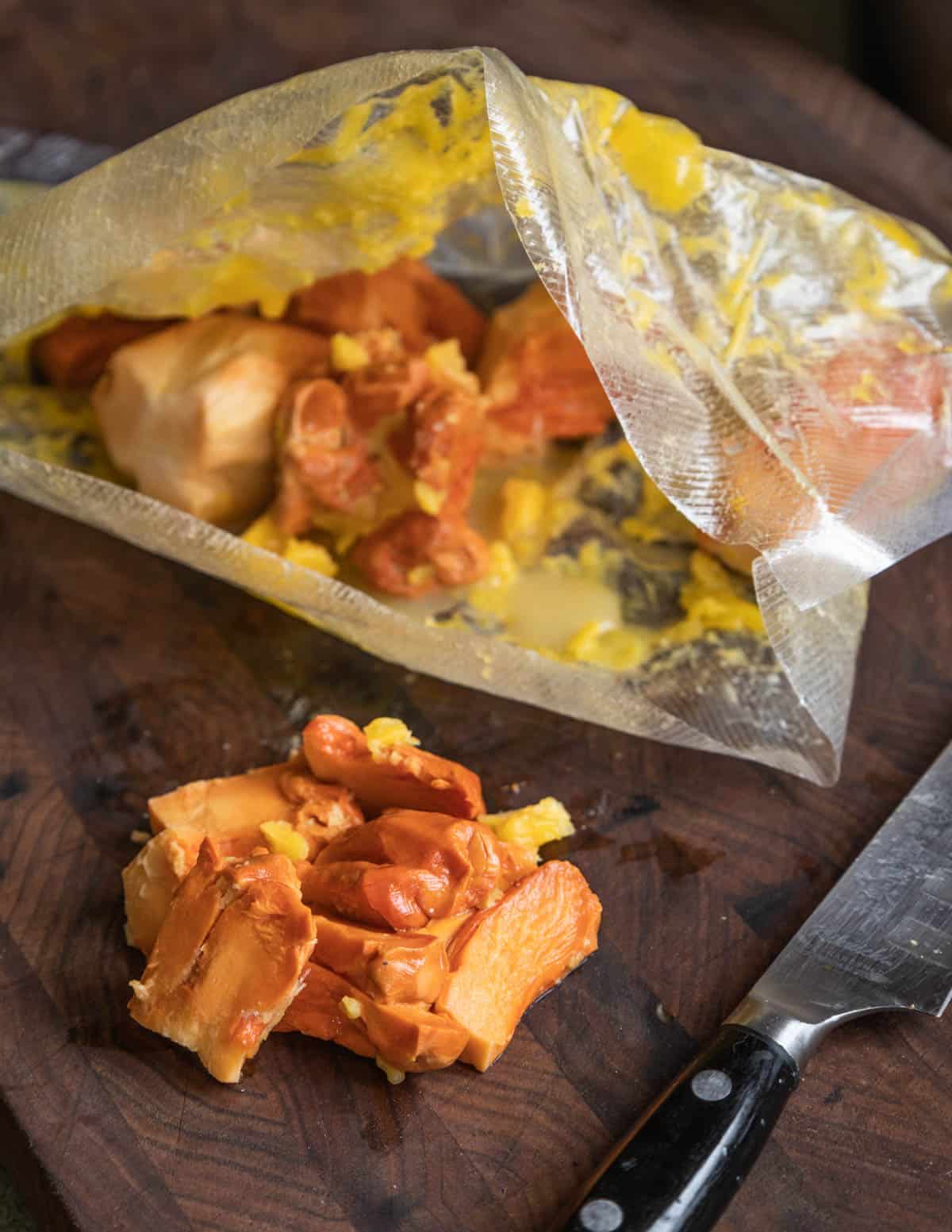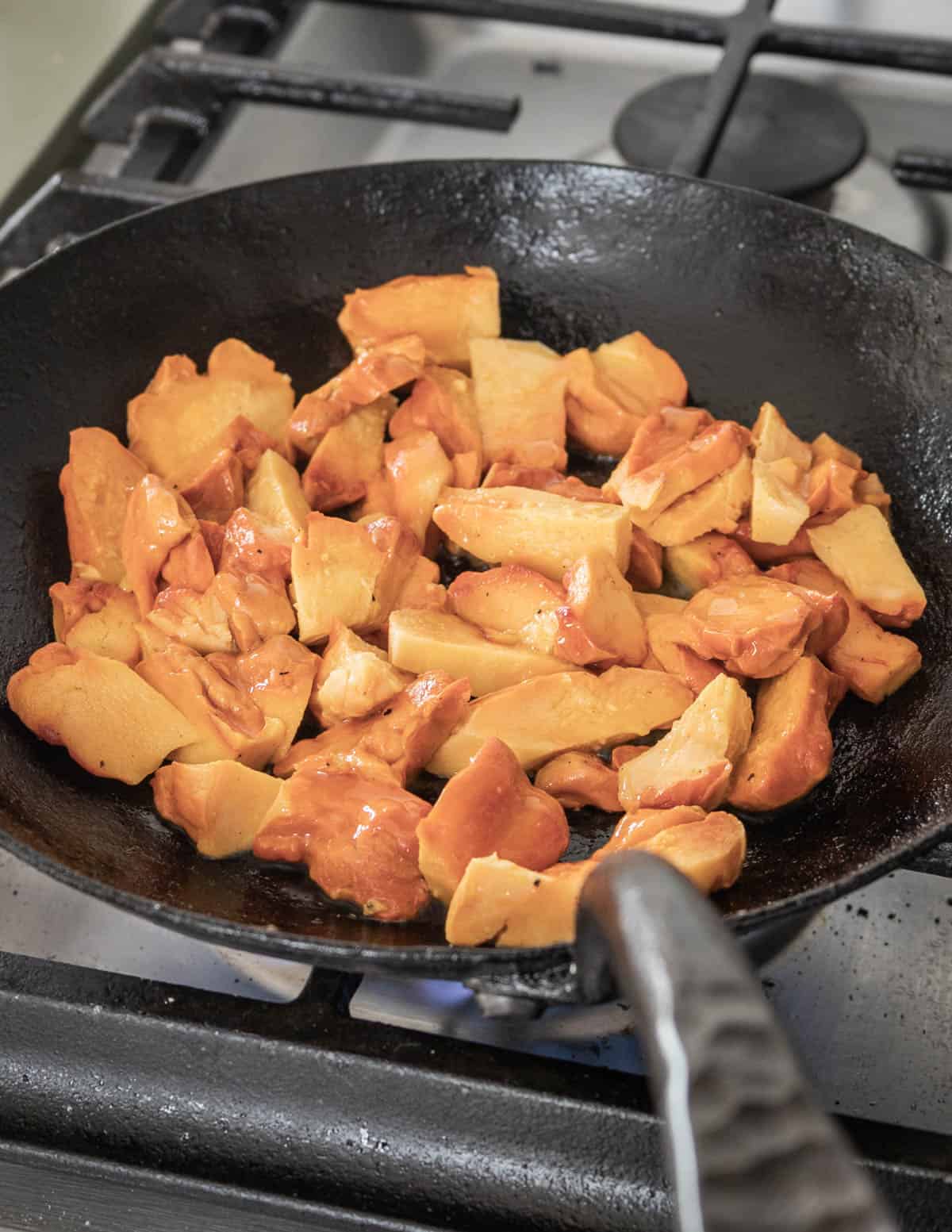 Related Posts
Chicken of the Woods Mushrooms
Sauteed Mushrooms with Chevre and Wild Herb Flatbread
Sicilian Chicken of the Woods (Fungo de Carrubo)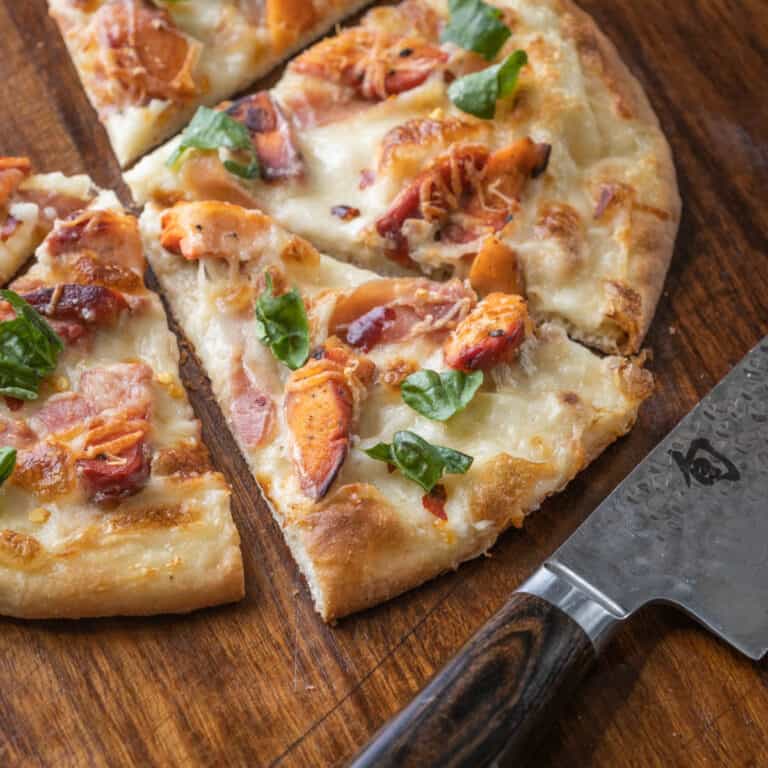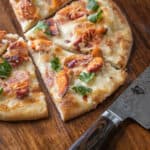 Print Recipe
Ham and Mushroom Pizza Bianca
White pizza with wild mushrooms, roasted garlic-parmesan sauce, prosciutto, mozzarella and basil. The sauce makes enough for two pizzas. The dough makes four 8 inch pizzas or three flatbreads just in case you need practice.
Equipment
1 griddle or 12 inch cast iron pan

for cooking the pizza bases

1 Rolling Pin
Ingredients
White sauce
1.5

tablespoon

all purpose flour

1.5

tablespoons

unsalted butter

2

tbsp

dry white wine

1

cup

half and half

3

tbsp

grated parmesan cheese

1

pinch

kosher salt

Fresh ground white pepper

to taste (optional)

1

tablespoon

mashed roasted garlic

see note
Pizza dough
2 ¼

cups

all purpose flour

or bread flour or 00 flour

¾

cup

lukewarm water

1

teaspoon

salt

2

teaspoon

instant yeast

1

tablespoon

extra virgin olive oil

1.5

teaspoons

sugar
Pizza
5

oz

cooked or raw mushrooms

or more to taste

Crushed red pepper flakes

to taste

Torn leaves of fresh basil

optional

2

slices

prosciutto or other high quality ham

2-3

ounces

fresh mozzarella cheese
Instructions
Pizza dough
Mix the water, oil and sugar. Add the flour and yeast and mix well until combined and a dough forms. It's ok if it isn't perfectly smooth.

Cover the bowl with cling film and put in a warm place to rise until doubled in volume, about 30 minutes. Knead the salt into the dough on a work surface, portion into 4 pieces, roll into balls and refrigerate or freeze until needed.
White Sauce
Heat the butter in a small sauce pan. Add the flour and stir to coat and cook for two minutes on medium heat, stirring occasionally. Add the, garlic and splash of wine and whisk.

Add the half and half and whisk, turning up heat to medium high. Cook until the sauce is thickened, whisking to prevent lumps. Season the sauce with a pinch of salt, a grating or tiny pinch of nutmeg and the white pepper if using. Remove the pan from the heat

The sauce will be a thick, spreadable batter when it cools.
Mushrooms
If using mushrooms from a store, cut them into slices and arrange on the pizza.

If using fresh wild mushrooms Cook the mushrooms in a dry pan until they wilt and release their juice. Add a teaspoon of oil and brown lightly, then reserve until needed.
Assembly
On a floured work surface, roll out a 5 oz ball of dough into an 8-9 inch circle. You can also roll 3-4 oz balls out into a wide oval, cook them on a griddle and call them flatbread pizzas.

Heat a pan larger than the round of dough (I used a 12 inch pan) on a burner. Cook the round of dough for a couple minutes on each side until puffed and browned. Some air bubbles will occur, but they will deflate after cooking.

Spread roughly ½ cup of the cooled sauce over the cooked dough, leaving 1 inch around the edge.

Put a layer of mozzarella on top of the sauce (roughly ¾-1 oz of cheese). Arrange the mushrooms on the pizza, sprinkle with a little extra mozzarella and parmesan, then finish with the sliced prosciutto on top. Add a pinch of crushed red pepper flakes if using.
Cooking
Preheat an oven to 500 F. You'll want the pizza on the middle rack.

Put a baking sheet on the oven rack underneath where the pizza will be to catch any dripping cheese.

Put the pizza directly on the oven rack and cook for 8-10 minutes or until golden brown and bubbly. If you want to brown it at the end, turn the oven on broil for a minute or two, making sure to watch it carefully.

Remove the pizza from the oven, cut into wedges, sprinkle over the torn basil leaves and serve.
Notes
Roasted Garlic 
Wrap a bulb of garlic in foil and cook in a 325 oven for 30 minutes or until tender. You can substitute a teaspoon of minced or grated fresh garlic, added to the butter before the flour. 
Variations 
Sometimes I add a few handfuls of fresh arugula after I cut the pizza into wedges. 
Cooking a few chopped black trumpet mushrooms into the cheese sauce is very good too. 
Nutrition
Serving:
4
Slices
|
Calories:
492
kcal
|
Carbohydrates:
63
g
|
Protein:
16
g
|
Fat:
20
g
|
Saturated Fat:
10
g
|
Polyunsaturated Fat:
1
g
|
Monounsaturated Fat:
7
g
|
Trans Fat:
0.2
g
|
Cholesterol:
45
mg
|
Sodium:
752
mg
|
Potassium:
230
mg
|
Fiber:
4
g
|
Sugar:
4
g
|
Vitamin A:
461
IU
|
Vitamin C:
1
mg
|
Calcium:
180
mg
|
Iron:
4
mg