Hickory smoked ice cream was inspired by one of the greatest desserts I've ever eaten in my life. It was a dinner at Saison, a three-star Michelin restaurant in San Francisco.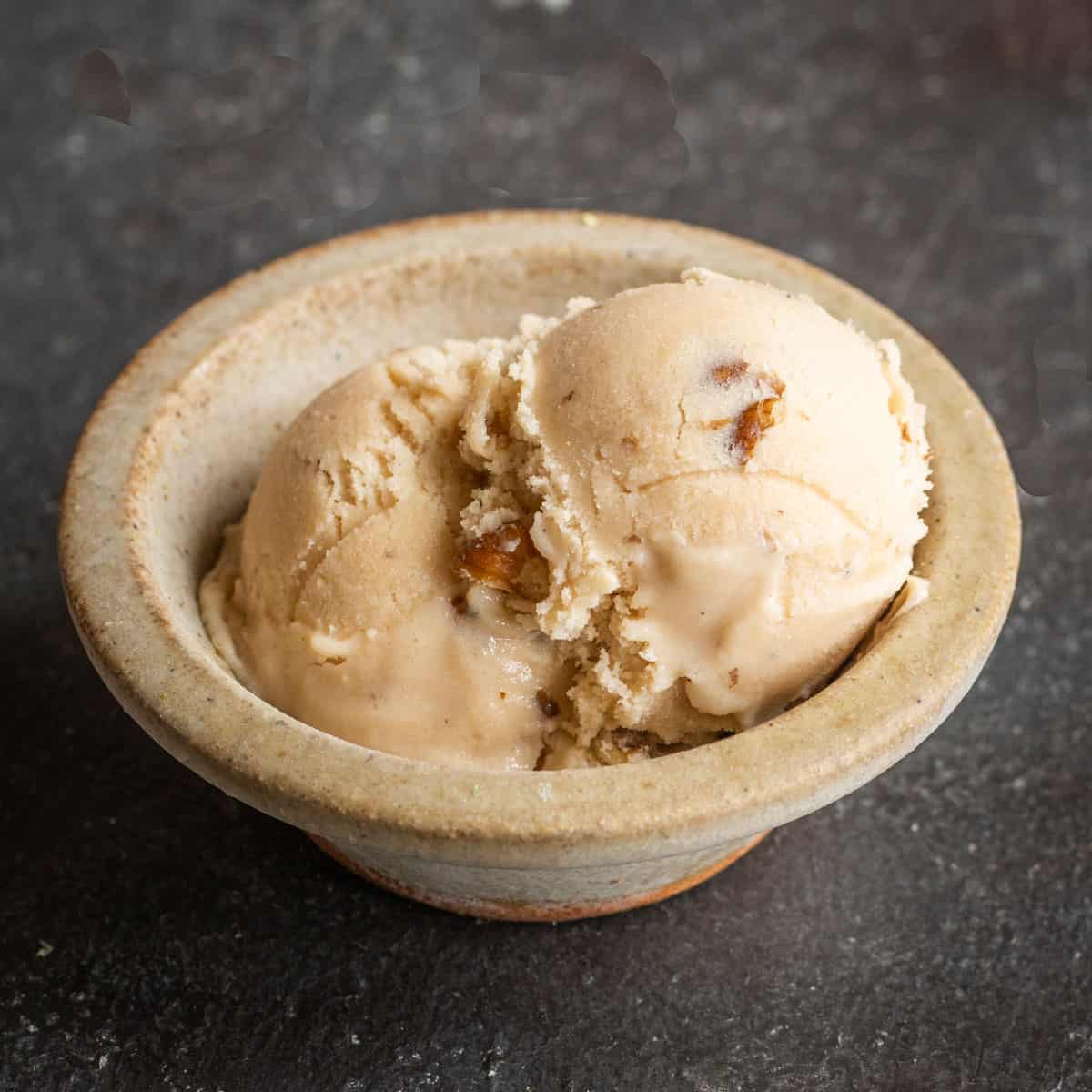 The tasting menu had to be about 15 courses. At the end the server brought us a little orb of white ice cream.
They explained the ice cream was smoked before they poured a thread of warm salted caramel over the top. It was one of the best things I've tasted in a restaurant.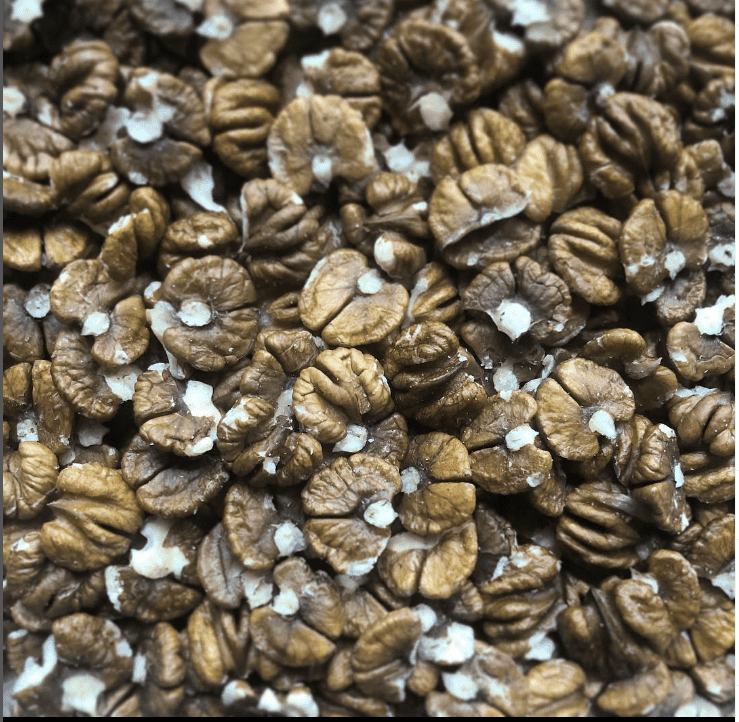 After we finished dessert, I asked the server how they make the ice cream, assuming it was cold smoked. Apparently the cooks take the milk from the restaurant's cow and put a burning log into it, which smokes the cream.
I was inspired by their method and wanted to see if I could do something similar. After a some trial and error, I came on some proportions that work well.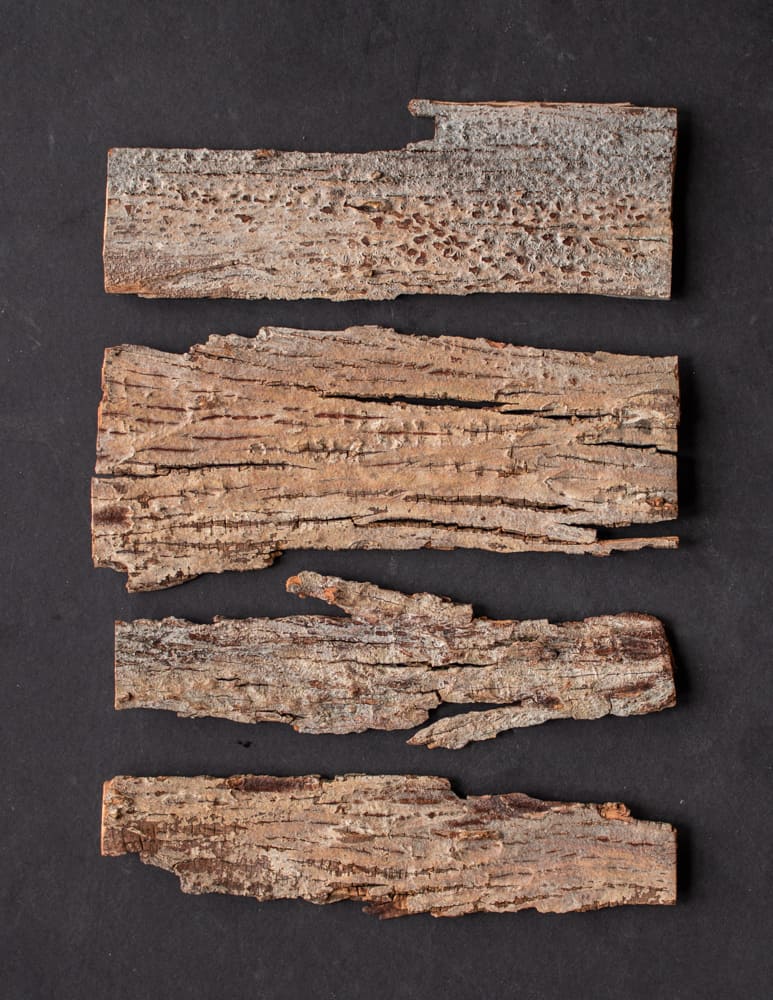 To smoke the cream, I use shagbark hickory bark. You can use wood chips, or a piece of your favorite smoking wood.
It turned out to be one of the most interesting desserts I've made, and the process of putting a piece of burning bark into the cream is exciting.
Shagbark syrup
It would be remiss of me to mention hickory bark and not mention hickory syrup. Hickory syrup is a known quantity in the foraging world and some people will sell it as a maple syrup substitute.
The syrup is made by making a tea from roasted hickory bark, adding sugar, and cooking to a specific temperature (225F). It tastes like smoked hickory with a hint of vanilla. There's a link below to my recipe if you're curious.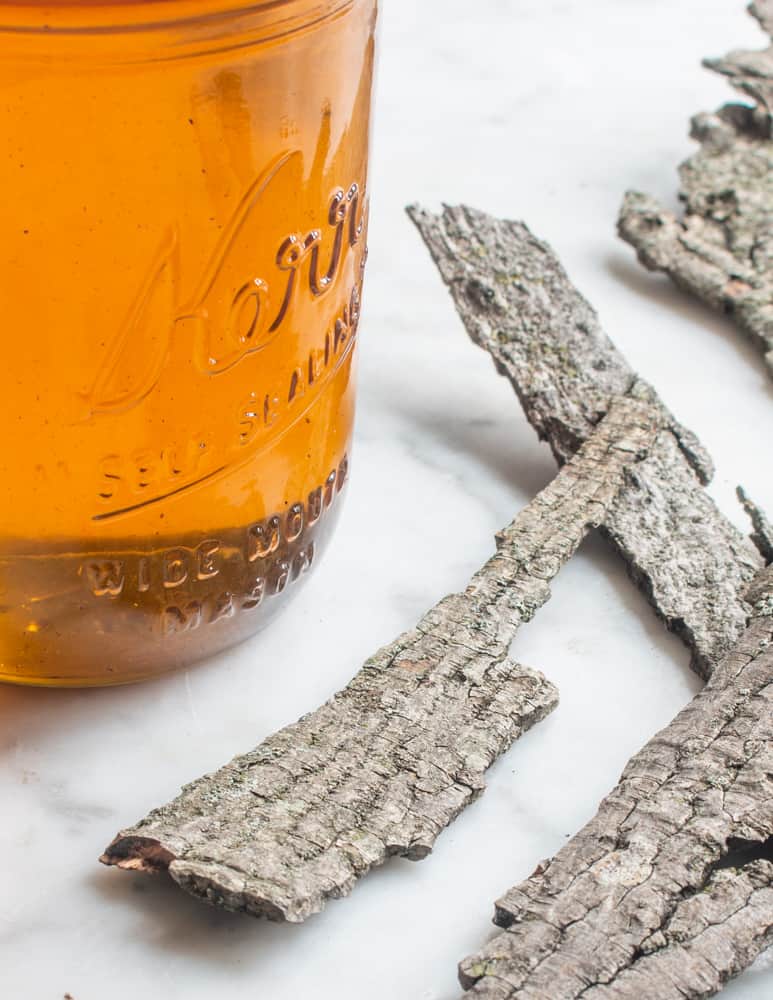 Related Posts  
Forager's Guide to Shagbark Hickory Nuts
More Ice Cream Recipes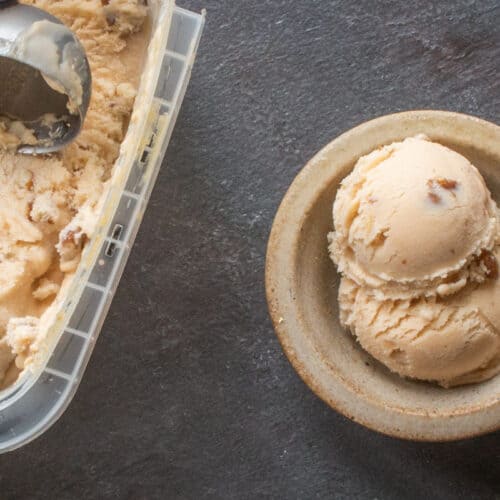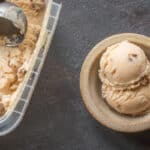 Print Recipe
Hickory Smoked Ice Cream
Ice cream scented with wood smoke, made with hickory bark or wood chips and shagbark hickory syrup. It ends up tasting like smoked vanilla ice cream. A little goes a long way. Yield: 4 cups
Equipment
1 strainer or fine sieve

1 Whisk

1 2 quart saucepot
Ingredients
2

inch

piece of clean hickory bark

3

cups

half and half

or 1.5 cups heavy cream and 1.5 cups whole milk

2

tablespoons corn starch

or six egg yolks

¾

cup

granulated sugar or light brown sugar

or 1 cup of hickory syrup

⅛

teaspoon

kosher salt

¼

cup

toasted

chopped hickory nuts (optional)

1

teaspoon

vanilla extract

or a 1-inch piece of vanilla bean
Instructions
Toasting hickory nuts (optional)
Preheat the oven to 350 F. Line a baking sheet with parchment (optional-this is a restaurant tic). Put the nuts on the baking sheet and toast for 5 minutes or until just barely starting to turn golden.

Set a timer and be careful not to burn the nuts. You just want to toast them a bit. Cool the nuts to room temperature and reserve.
Infusing the dairy
Take the piece of bark, and heat it over a fire until it's engulfed in flames. Extinguish the burning bark in the cream, and allow to infuse for 20-30 minutes, then remove the bark and discard.
ice cream base
Whisk the cream, egg yolks, sugar or syrup and salt. transfer to a sauce pot and heat on medium-high, turning down the heat when the mixture gets warm, until the cream mixture barely thickens. You will be whisking constantly, being very careful not to curdle the eggs if you don't want to use cornstarch.

As the cream warms I often remove the pan from the heat, continuing to whisk as it will continue cooking off of the heat.

Cool the custard mixture and rest, covered overnight for the best texture. To make the ice cream, process in an ice cream machine according to manufacturer's instructions, or until the cream starts to get thick like sour cream.

Stir in the toasted nuts (if using) after spinning while the mixture is still soft. Remove the ice cream from the bowl, transfer to a covered container and freeze.

Freeze the ice cream until set (at least a few hours). As it sits in the freezer it may get a little stiff over time. It's best served the day of or the day after making it. If your ice cream has been in the freezer for a while and seems stiff let it soften before scooping.
Notes
Ice Cream Makers
I use an ice cream maker with a compressor. The cheap models call for you to chill a mixing bowl filled with ice, which I find a little tedious. A compressor model allows you to turn it on and forget about it, but is more expensive.
Nutrition
Serving:
6
oz
|
Calories:
265
kcal
|
Carbohydrates:
7
g
|
Protein:
7
g
|
Fat:
23
g
|
Saturated Fat:
11
g
|
Polyunsaturated Fat:
4
g
|
Monounsaturated Fat:
7
g
|
Cholesterol:
237
mg
|
Sodium:
235
mg
|
Potassium:
197
mg
|
Fiber:
0.1
g
|
Sugar:
6
g
|
Vitamin A:
692
IU
|
Vitamin C:
1
mg
|
Calcium:
155
mg
|
Iron:
1
mg