When you look uses for persimmons (and plenty of other fruit) in older books, one of the most common things you'll see are persimmon pudding recipes.
If you're from America and you're looking at the image below wondering why this pudding doesn't come served in a cup it's ok. What you can describe as a pudding can depend on a few different things.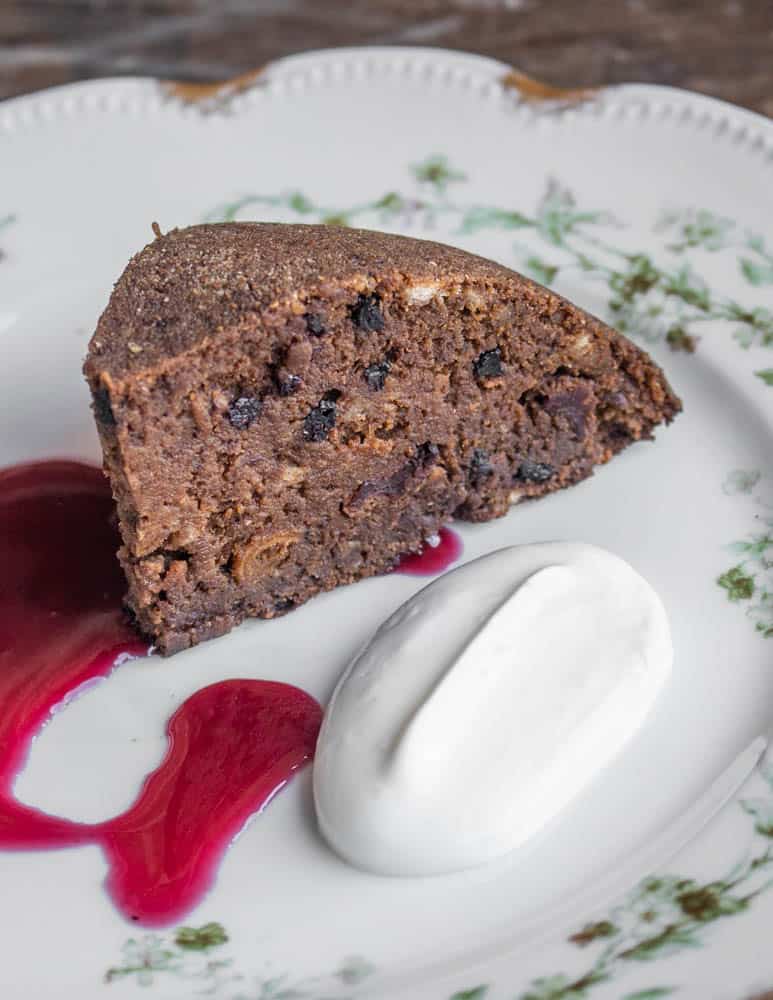 Traditional puddings were mostly cooked or steamed in a sack or muslin cloth, giving the finished "cake" a round form. These puddings were very firm, and would resemble a dense cake much more than a soft custard. There were also savory versions, like my Stinging Nettle Pudding.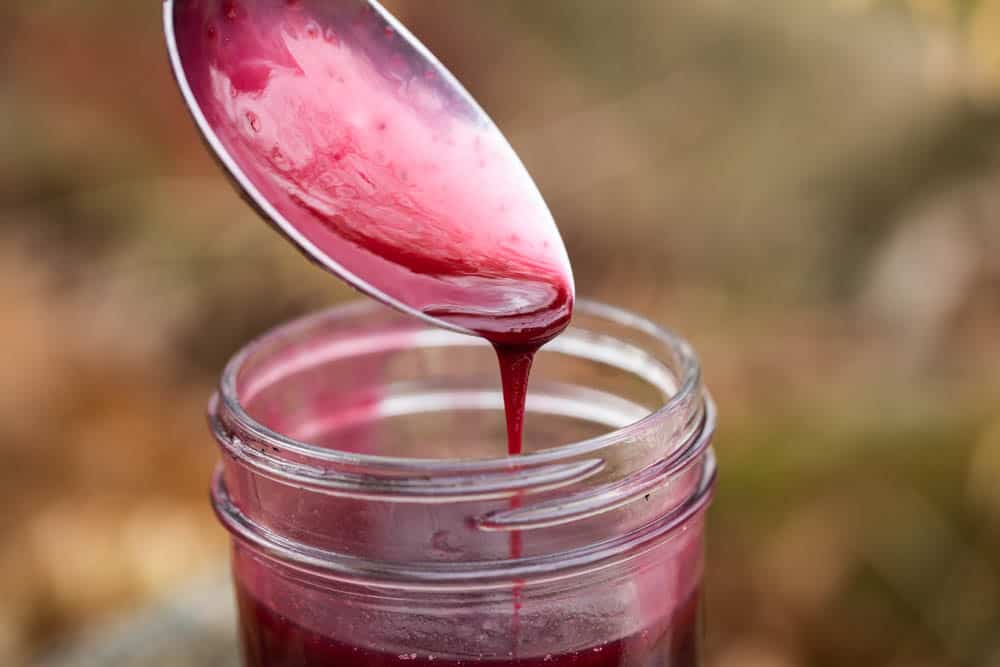 Somewhere along the line the word pudding was co-opted and started to be used to refer to soft custards in America, but not so much in Britain and in Europe, where the term still seems to generally describe a similar dessert as I have here.
I enjoy making traditional puddings like this, and they can be a great way to use up bits and pieces of preserved or frozen fruit that you may have from the previous season. The persimmon pulp here functions a bit like the mashed bananas in banana bread, keeping it moist.
Persimmons
I used frozen wild persimmon pulp here (Diospyros virginiana). If you don't have any persimmon trees near you, the closest substitute are hachiya persimmons.
It's important that the persimmons ripe and squishy like an overripe tomato, otherwise they'll be too tannic and astringent. As pretty as the bright orange fuyu persimmons from a store are, I wouldn't use them here as they're too sweet.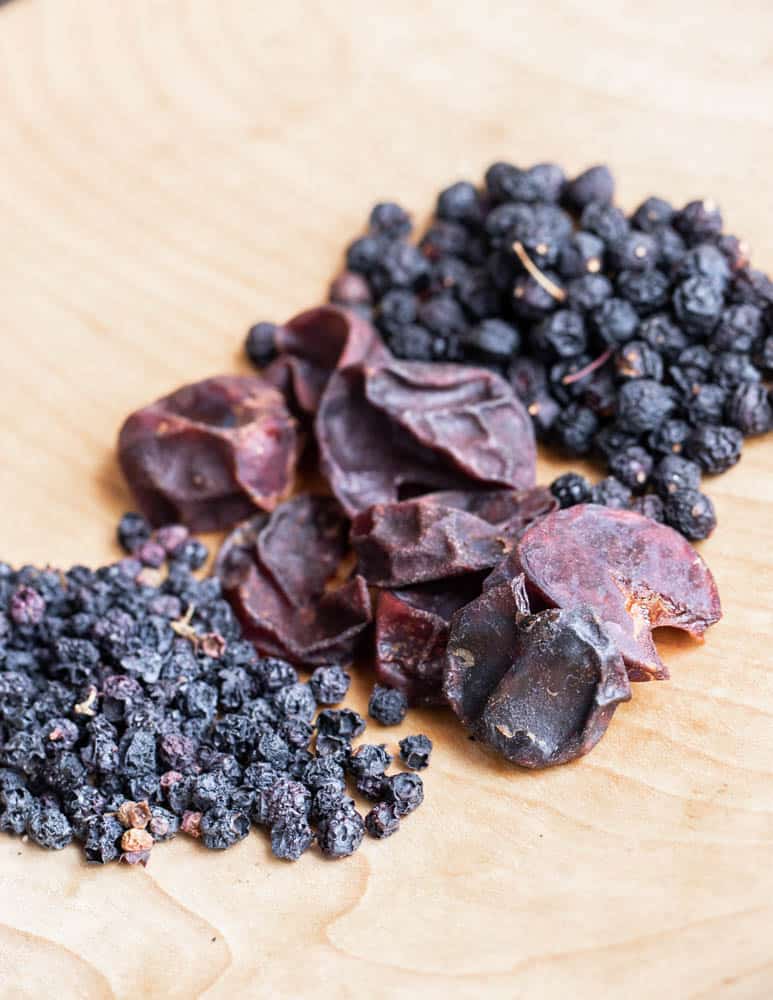 A (mostly) wild dessert
My goal for this was to keep it as wild as possible. Here's the key ingredients, all the fruits are naturally dried without any added sugar, which you can do by drying fruit in a dehydrator until brittle.
Persimmon pulp
Maple syrup
Dried wild blueberries (dried small currants can be substituted)
Dried, stoned wild plums (cranberries can be substituted)
Acorn flour (you can substitute finely ground almond or hazelnut meal)
Black walnuts are another good addition, start with ¼ cup coarsely chopped (toasted or untoasted)
These ingredients are what I had on hand-feel free to experiment with what's available. The basic foundations of the cake won't be compromised by adding a little extra of this or that.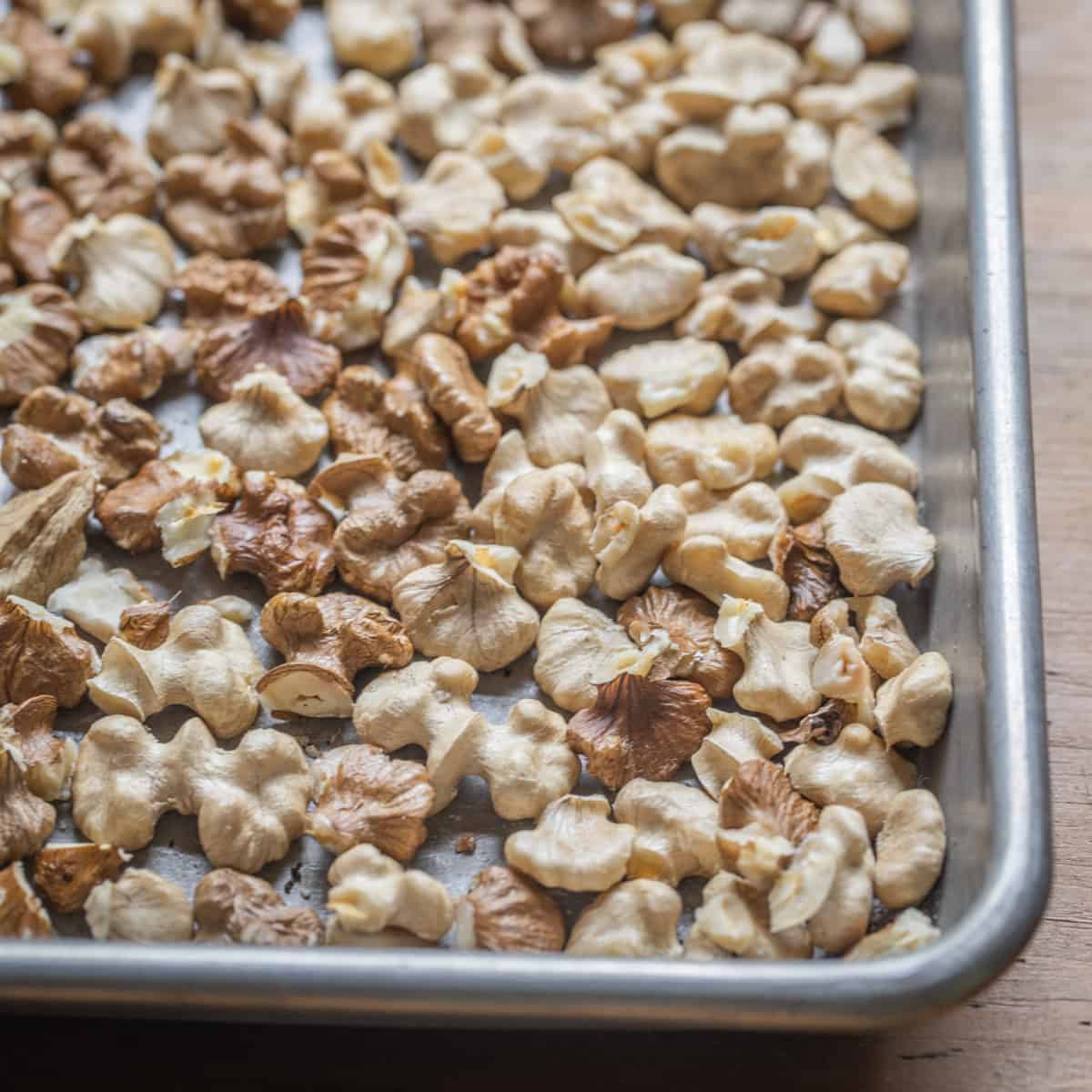 Baking
You'll notice this calls for an 8 inch metal mixing bowl. This isn't traditional, but it's a nod to the traditional round shape. It's a lot more fun than using a cake pan, easier than tying the batter in cloth, and is easy to clean.
Acorn flour
I use cold-leached acorn flour here since I love it in holiday desserts. Because it doesn't contain gluten it also lends a more tender crumb. If you don't have any, you can substitute almond meal, or use flour, just make sure to skip the step where you heat the acorn flour and persimmon pulp.
Sauce
Another thing that comes to mind with puddings is the hard sauce that comes with it, made from butter, sugar, and a splash of brandy. I use my Sweet and Sour Wild Cherry, Berry or Grape Syrup instead, mostly for color.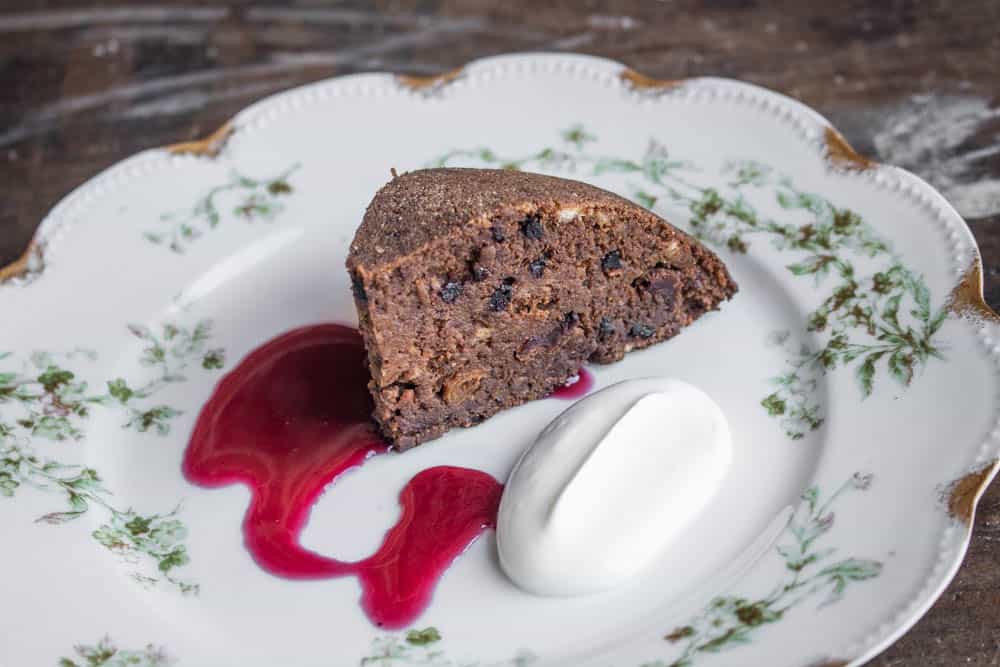 Related Posts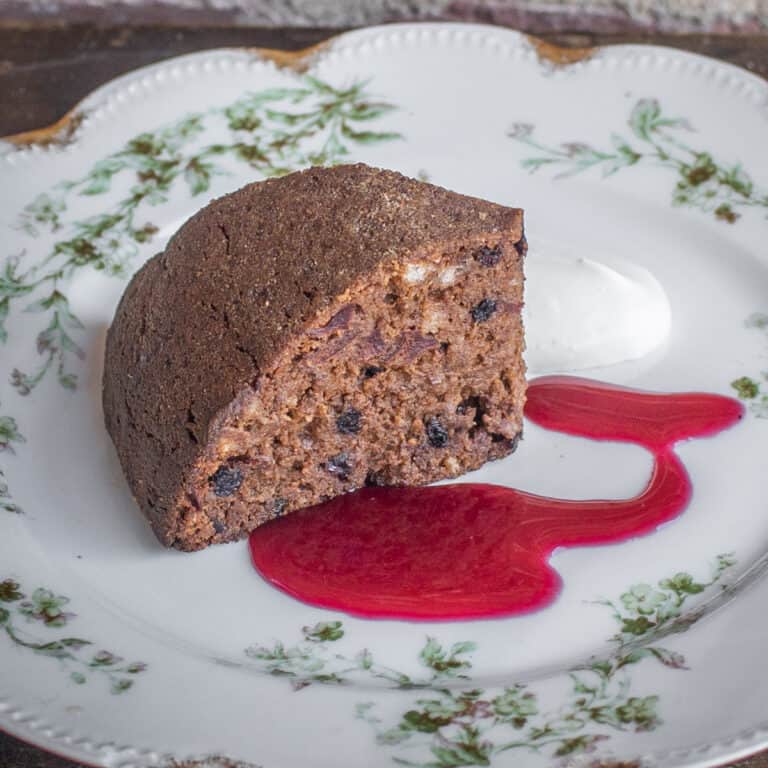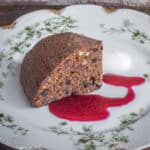 Print Recipe
Persimmon Pudding Cake with Dried Fruit
A rustic, baked cake made with persimmon pulp, dried wild fruit, maple syrup and acorn flour.
Equipment
8 inch metal mixing bowl

this partially mimics the round shape you get from forming the batter into a ball in muslin, but is more accessible for home cooking.

Egg Beaters
Ingredients
8

oz

1 cup ripe persimmon pulp

½

cup

maple syrup

or ½ cup of brown sugar

½

cup

acorn flour

you can substitute almond meal in a pinch

½

cup

+ 2 Tablespoons cake flour

use all purpose flour in a pinch

2

large eggs

2

oz

melted lard

coconut oil or butter

Pinch

salt

Dusting of sugar for the mold

½

cup

breadcrumbs

¼

cup

chopped black walnuts

optional
Dried wild fruit (use what you have on hand)
1

oz

dried wild plums

or ¼ cup other dried fruit

¼

cup

dried wild blueberries
Spices
¾

teaspoon

baking powder

½

teaspoon

ground cinnamon

⅛

teaspoon

ground cloves

½

teaspoon

ground ginger

¼

of a nutmeg

grated
Instructions
Soak the wild plums in water overnight or cover with water and simmer for 20 minutes.

Remove the wild plums from the water and chop coarse, then add the wild blueberries to the leftover rehydrating liquid and allow to soak for 30 minutes or so, until softened.

Combine the chopped plums, blueberries and walnuts if using.

Mix the breadcrumbs, flour and baking powder and reserve.

Mix the persimmon pulp and maple, then puree in a blender or with a stick blender to break up strands of persimmon, then whisk in the acorn flour and spices.

Heat the persimmon mixture until steaming and the acorn flour has thickened, stir in the fruit, flour-breadcrumb mixture, cover, and allow to cool. Beat the eggs until doubled in volume, then gradually beat in the persimmon-acorn-fruit mix and finally the oil or melted lard.

Liberally grease an 8 inch bowl and dust with breadcrumbs and a pinch of sugar. Spoon in the batter. Bake for exactly one hour, then unmold onto a cooling rack hot. Allow it to cool for at least 15 minutes before slicing. It's excellent reheated.