Jack O'Lantern mushrooms also known as foxfire mushrooms or Omphalotus species, are a poisonous mushroom commonly confused with edible chanterelles. They're a mushroom you need to know if you enjoy foraging as they're one of the best examples of a poisonous look a like I know of.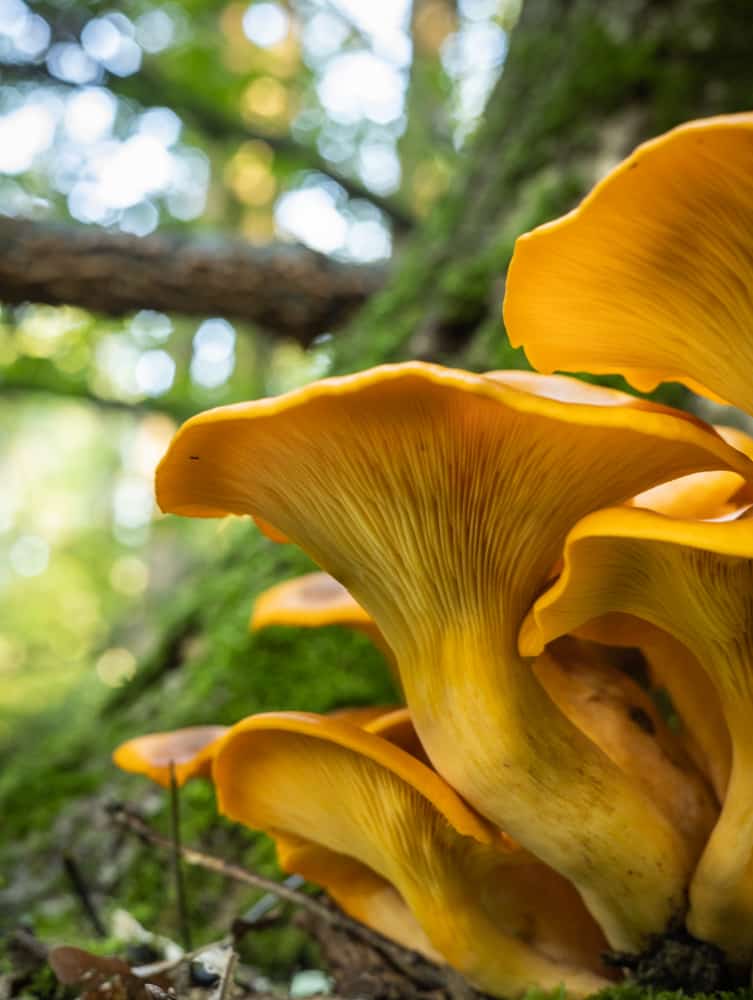 Experienced mushroom hunters can easily separate chants from jacks. But, people new to foraging and mushroom hunting can definitely mistake them for another. I know as I did it once myself. Unfortunately I remember them tasting pretty good (thankfully I didn't cook or swallow them).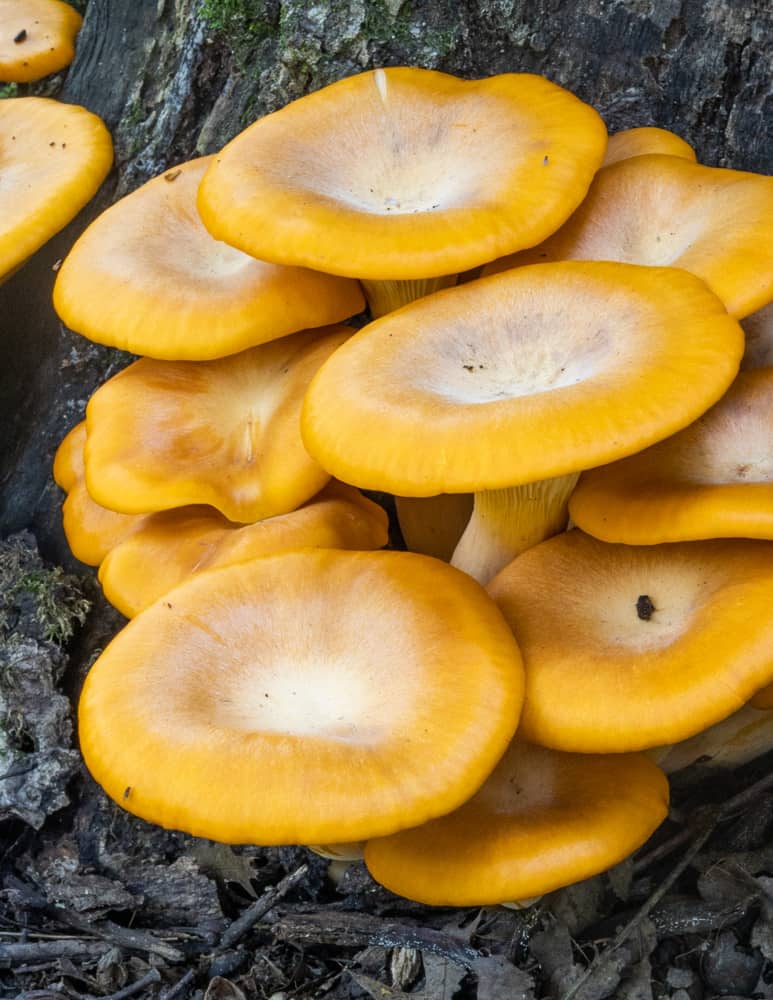 In this post I'll go over everything you need to know to separate Jack O' Lanterns from a chanterelle mushroom with confidence.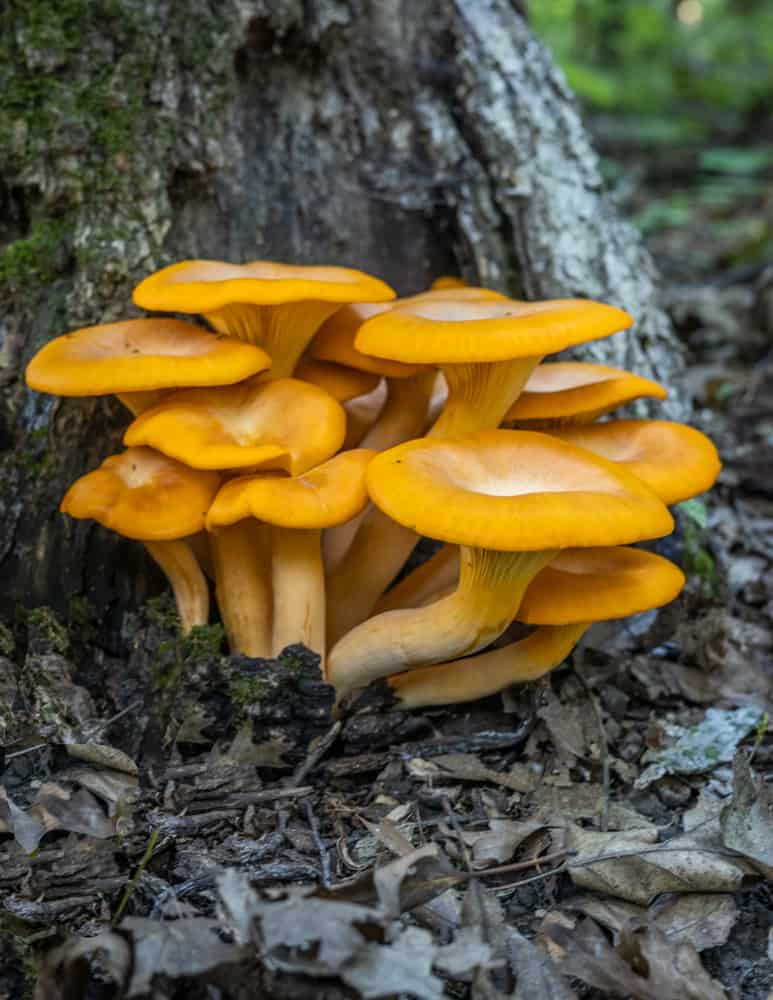 Description
Jack O'Lantern mushrooms are bright orange or pumpkin-colored mushrooms that grow in hardwood forests. Typically they grow in large clusters on the forest floor. They're often growing over roots or buried wood, as well as on and around the base of hardwood trees and stumps.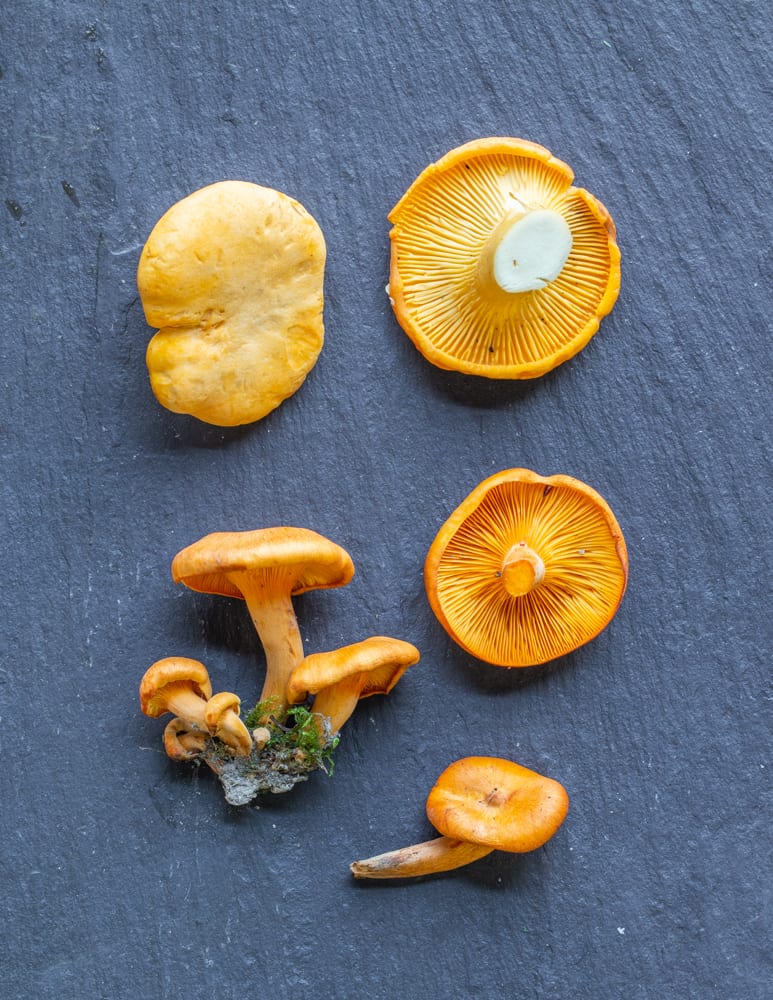 Habitat
Jack O Lanterns grow in hardwood forests during the summer and fall, often in the same woods, at the same time, as chanterelles. It's possible to see them in mixed woods with coniferous trees, but the mushrooms will always be growing on or around hardwood trees.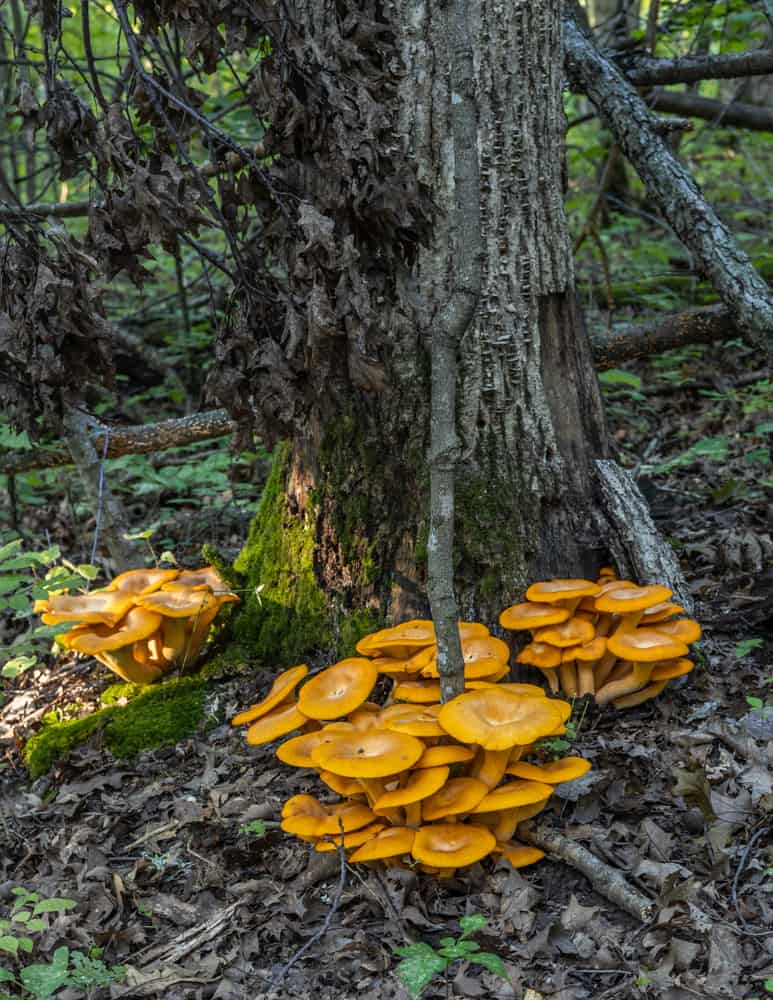 Chanterelles are mycorrhizal or symbiotic, living in harmony with trees. Jacks eat and decompose wood and appear to look more like an infection when fruiting, often appearing in very large clusters. Here's the most noticeable and important identification characteristics I know of.
Jack O'Lantern Identification
Jacks come in bright orange colors, typically orange or pumpkin colored. Chanterelles are often described as having an egg-yellow color.
Jacks are often funnel shaped at maturity. Chanterelles usually aren't.
Jack O'Lanterns grow from dead wood and stumps, as well as over the roots of trees on the ground. Chanterelles grow from the ground-always.
Jacks have true gills. Chanterelles have veins, or false gills.
Often grow clustered. Golden chanterelles may grow clustered occasionally, but it's rare.
Jack O Lantern mushrooms often grow in large clusters.
Jacks have a thick, fleshy, often curving stem.
Jack O'Lanterns are usually much larger than chanterelles, often 2-3 times larger at maturity.
Jacks have bright orange to orange-yellow flesh. Some chanterelles have egg-yellow flesh, others may be white or dull yellow.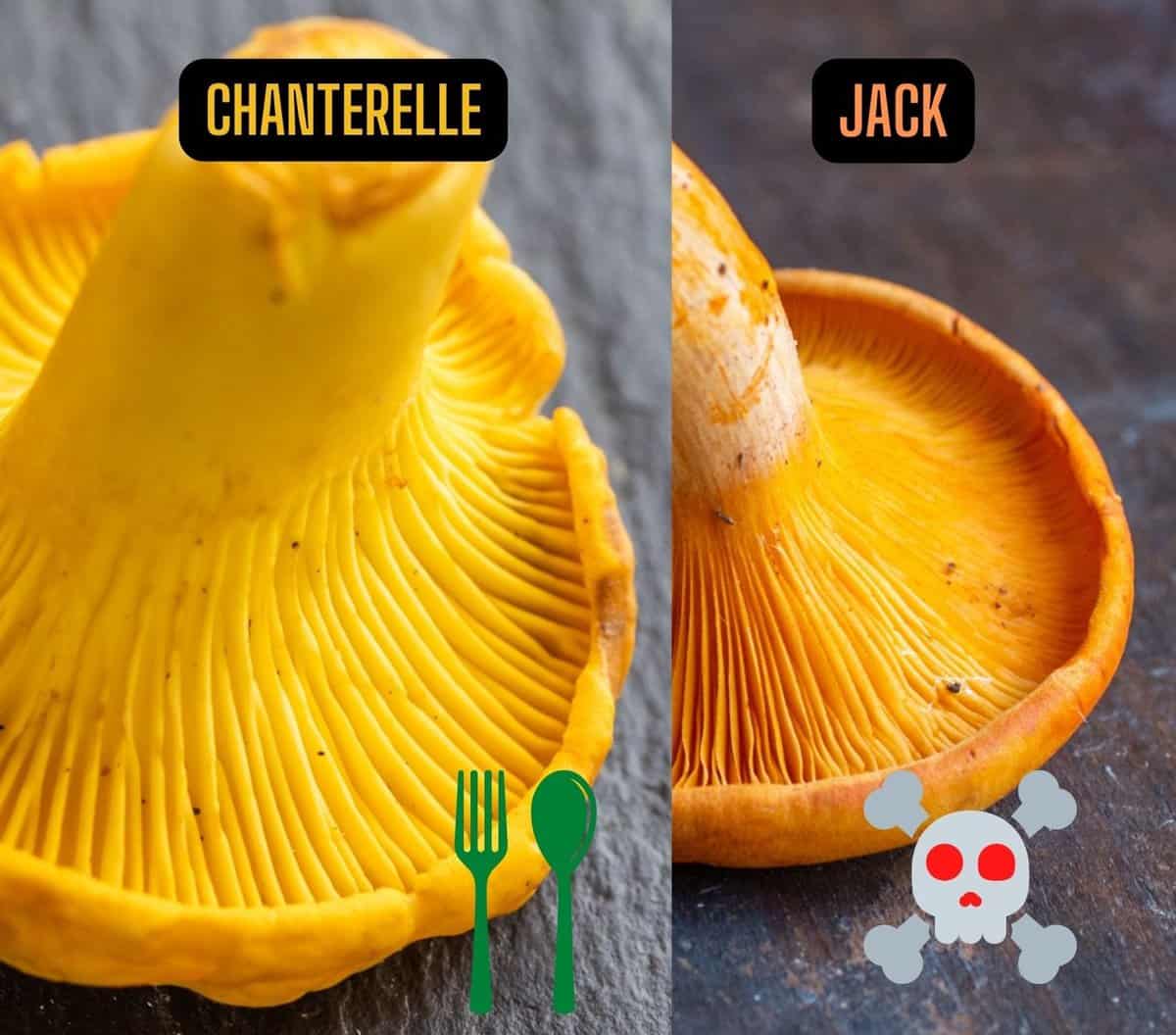 Jack O Lantern Species
There's a number of species of Jack O'Lantern. In North America, there should be Omphalotus illudens, and Omphalotus olivescens, to name two. At the time of this writing, the European species is still Omphalotus olearius. All species of Jack O'Lantern look similar, and separating them into species isn't necessary to separate them from edible chanterelles.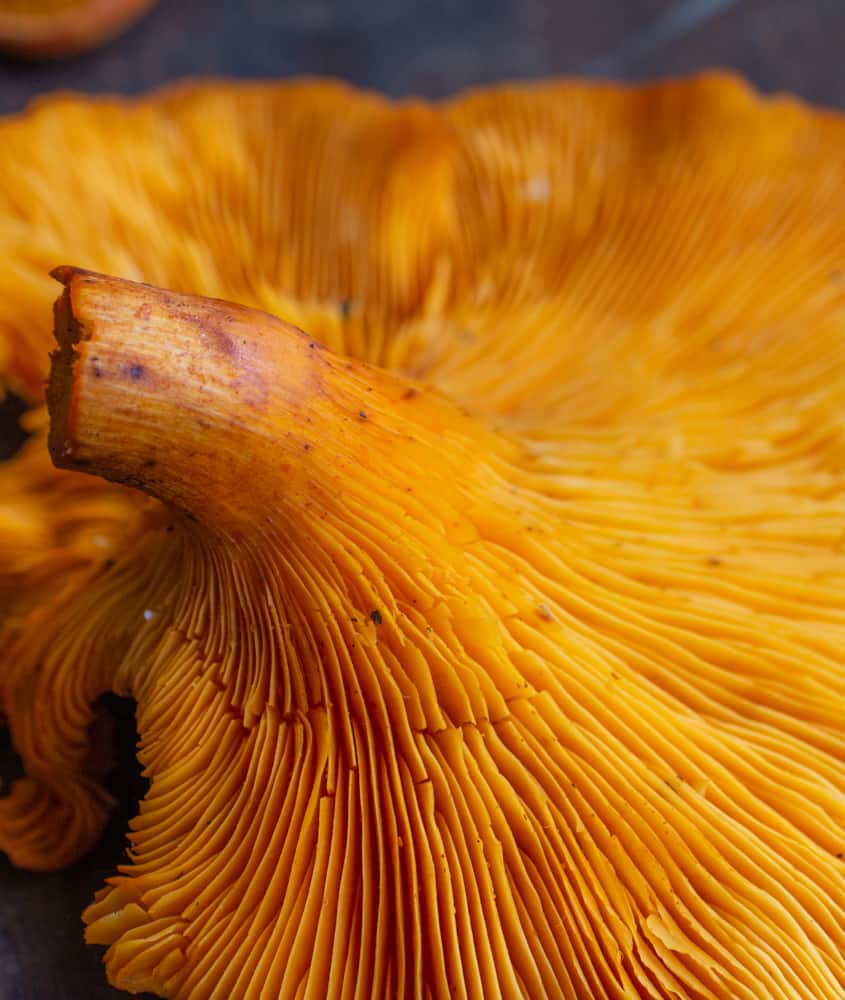 Toxins
The main problematic compound in Jack O'Lanterns seems to be muscarine, although there are probably other compounds too.
Muscarine is also found in Amanita Muscaria. If ingested, can cause profuse sweating, gastro-intestinal distress and upset stomach, including intense vomiting and diarrhea.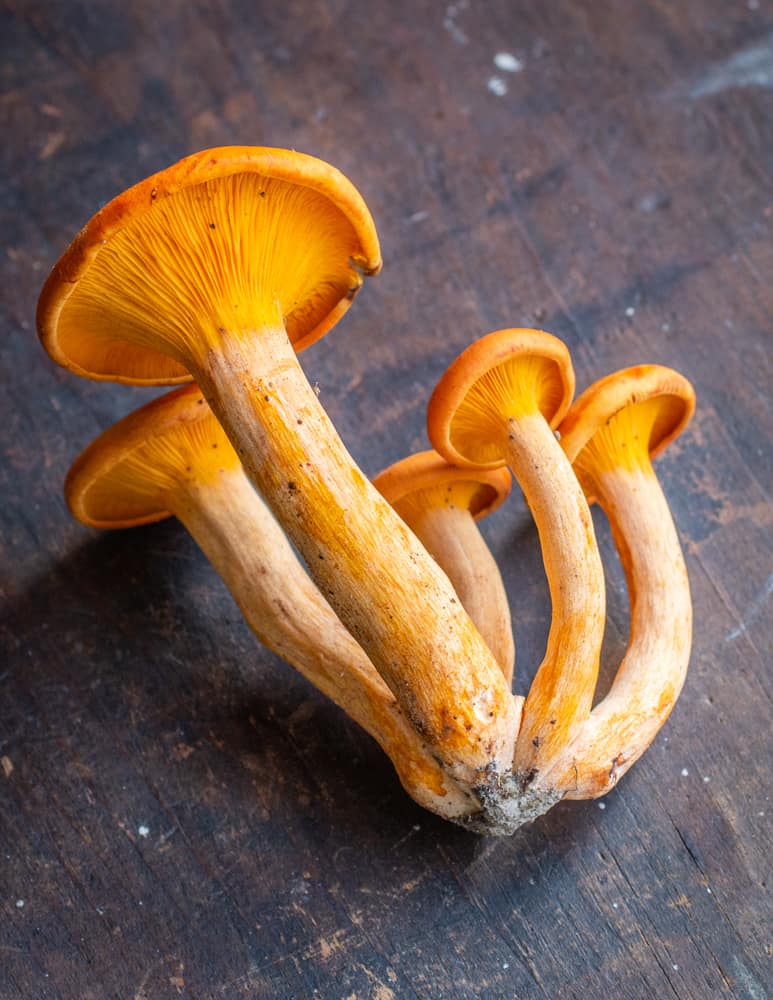 Bioluminescence
You may have heard the Jack O'Lanterns glow in the dark, and it's true. According to David Arora, people have said the light coming from the glowing mushrooms is bright enough to read a newspaper.
There's a number of theories as to how and why these mushrooms developed the glowing trait. One of my favorites is that at night, the glowing mushrooms, and glowing lines of mycelium on the ground attract insects to the mushrooms.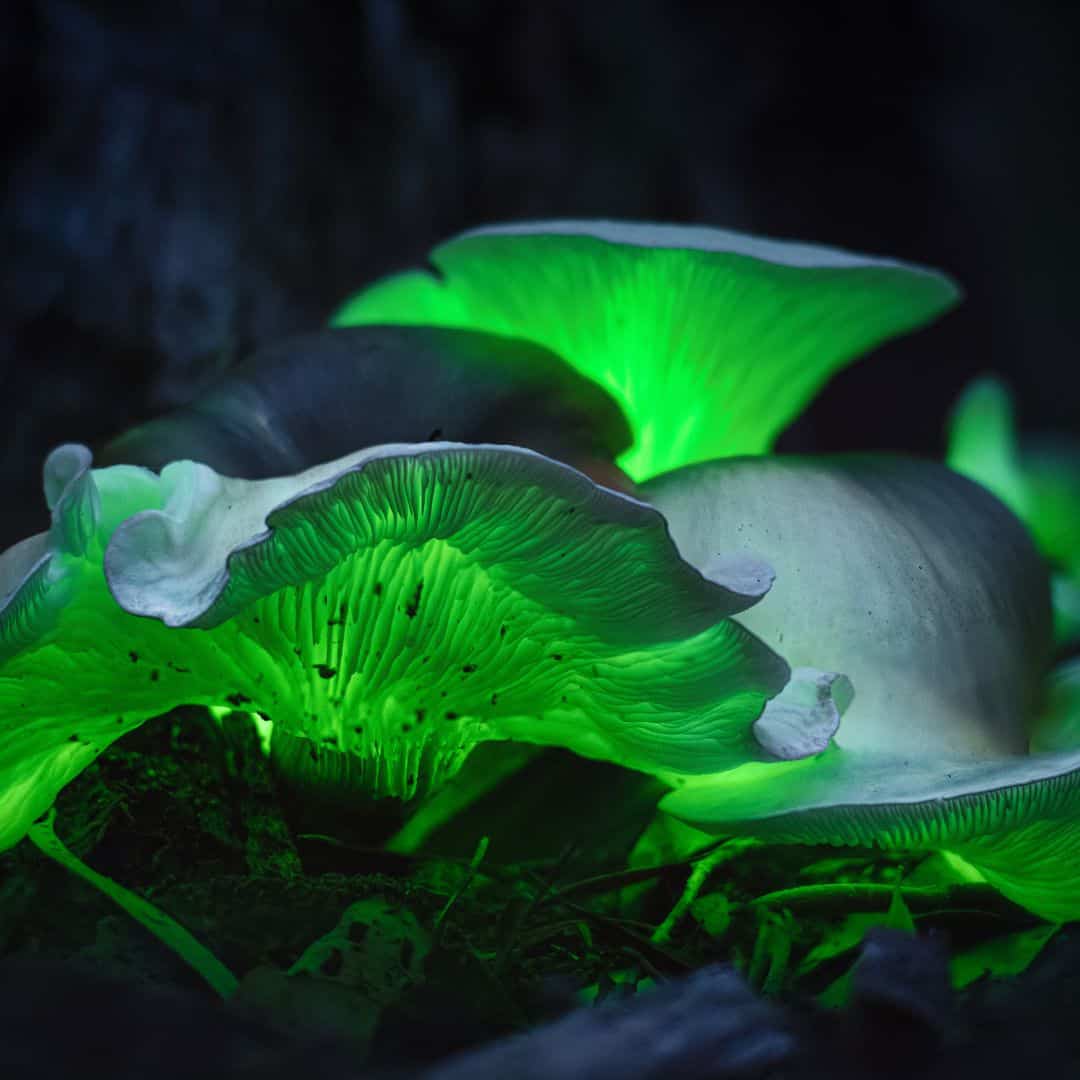 The insects travel to the mushrooms when it's getting ready to sporulate. In the process they help to spread the spores and assist the mushrooms in reproduction. Think of it like an insect disco.
If you want to see the glow for yourself harvest a few healthy adult mushrooms that are ready to spore. You should be able to see a natural white spore print on caps.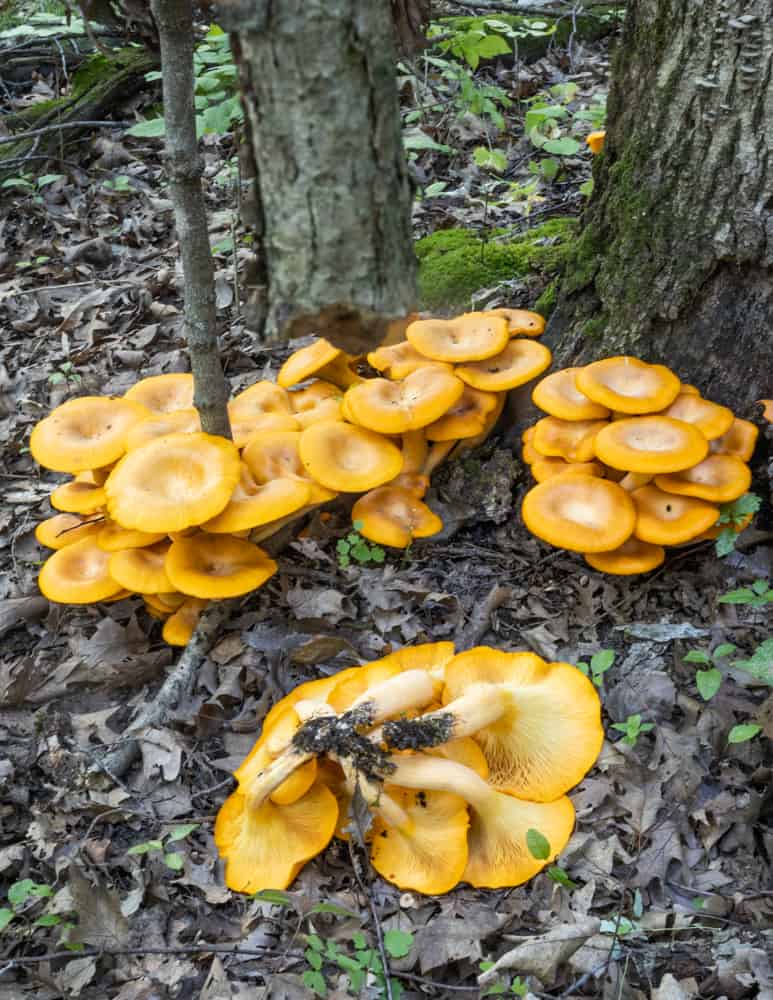 Take the mushrooms and bring them into a completely dark place like a closet, then wait a while. David Arora says the time to see the glow is about the time it takes to eat a grilled cheese sandwich.
It's a fascinating feature in the world of wild mushrooms. If you want to capture the glow in an image, you'll need to do a long-exposure using a tripod.
More
Foraging and Cooking Chanterelle Mushrooms