She is the Tuscan queen of weeds. Over the past year I've stumbled on a few recipes using wild plants that really inspired me. At the top of the list is la Minestrella, a sort of ultimate foraged greens stew found in Garfagnana (Tuscany) I stumbled on while doing armchair research on the Italian names of wild edibles.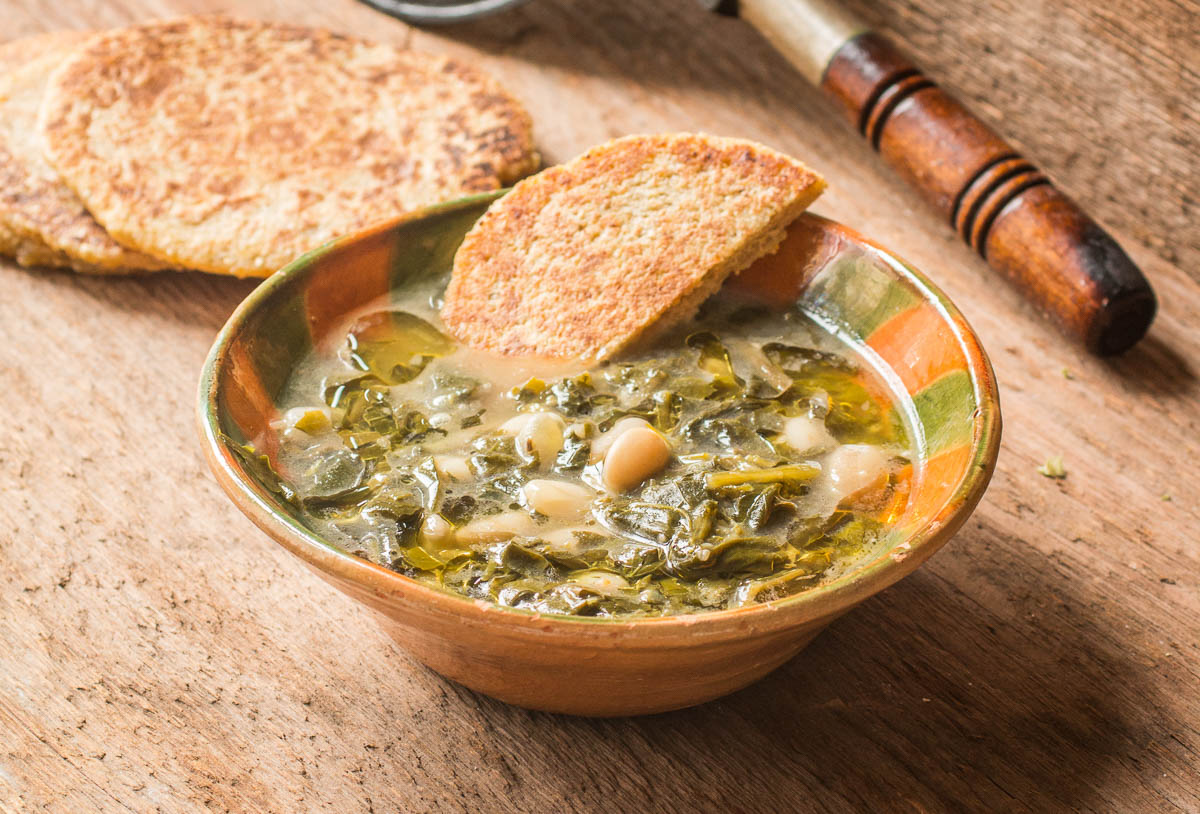 Entering specific names of edible plants into Google can be as sort of invocation that transports you to different edible time and place with the click of a mouse, and la Minestrella is the poster child for that kind of journey.
Somewhere (probably an online excerpt of Mediterranean Food Plants and Nutraceuticals) I saw something in Italian like this:
"Regional specialty....typically including anywhere from 30-50 individual species of plants, Gallorini beans, served with the mignecci"
I was hooked, and I knew I wouldn't be satisfied until I'd cracked the code and tasted a version myself, or at least the closest thing I could come up with.
I had lots of questions, mostly involving what specific plants were traditionally used and if I could find them, but first, I'd need to find some info on the soup, a mention, a recipe, anything, which is easier said than done. There's some documentation online, and a recipe or two, but they're mostly vague outlines with fuzzy pictures. The translations, even with my decent knowledge of Italian culinary terms, didn't give me much, especially when it came to decoding the mignecci, a sort of unleavened cornbread that's served alongside the dish.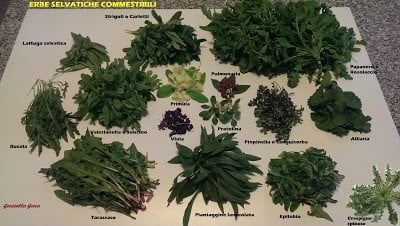 I made a note and created a file with images to refresh my memory, a process I find helpful when squirreling away little things I find here and there until I'm ready to work on them. Some accounts say that only elderly matriarchs now hold the native knowledge needed to pick the variety of wild plants needed for the dish, a parallel most of us can agree is a common thread woven through cultures, women often being the culinary gatekeepers to techniques and traditions, those unspoken secrets and intuitive flicks of the wrist like a sort of code hidden in recipe cards only Grandma's eyes can see.
The most helpful thing I found was a set of pictures of a brochure outlining the Minestrella festival (!), that, besides making want to plan my own festival around a dish of plants, gave me the key to unlock how the mignecci are made. I'd been confused about the cakes and the cooking process, as the translations kept referring to cooking the cakes in "books" or "texts". When I saw the two flat irons in the upper right corner of the first page, I put two and two together. The "book" was referring to the two pieces of iron, that when heated in a fire, could be pressed together to make the cakes with the circular pattern I kept seeing in image search results. Booyah. Brochure source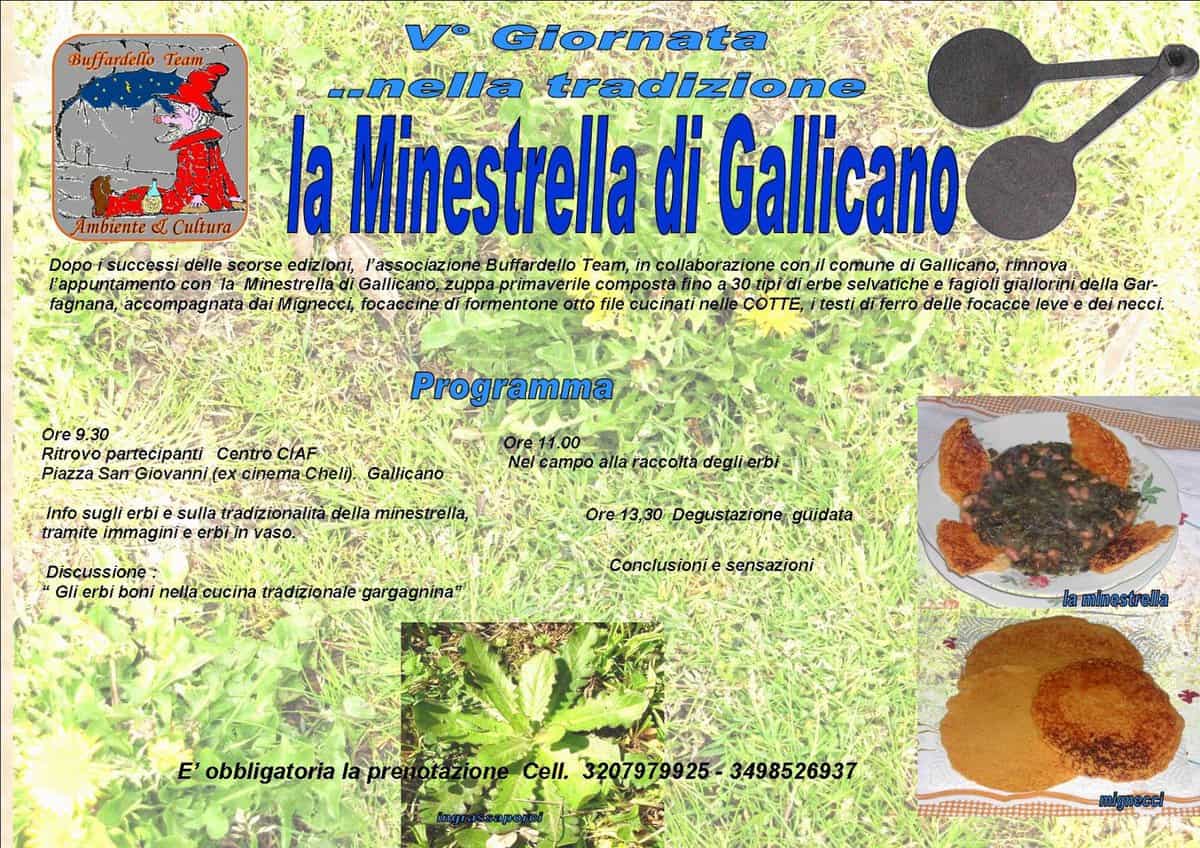 Use the biggest variety of wild plants possible
From there I was off to the races. As far as the plants, calling for as many as 30, 40, or 50 plants says one thing to me: this is a dish born from poverty, from necessity, like the edible season incarnate. It's the poster child of subsistence food, better known in Italian as la cucina povera.
In my mind, the exact combination of greens, herbs (and flowers, especially violets) probably isn't important as using the largest variety possible to make a dish where the sum is greater than the parts. That being said, there's a few plants specifically that I kept running into. A few are listed in the previous picture of greens, some are taken from other sources after I saw them repeatedly.
Dandelions (Tarraxacum)
Primola (primrose)
Rucola (arugula)
Alliaria (garlic mustard)
Wild lettuce (Lactuca spp)
Violet flowers (interesting not violet greens, but they may be added)
Docks (Rumex, various species)
Wild chicory (Cicoria)
Campion (I assume S. vulgaris and/or Inflata)
Geranium leaves (unknown species)
Purslane
Variety is definitely the spice of life here. I've made the dish a number of different times now, and I found if I get lazy, and use a larger quantity of one plant, that flavor can become dominant. The key is to use the biggest variety you can find, and don't be scared about including some strong and/or bitter flavors.
Purging the greens
Another part of the dish I ran into a few times is the method of how the greens are cooked. The Minestrella usually contains bitter greens, some reputedly very bitter--probably not what you typically think of for soup. The method (what I call the purge) is to blanch the greens (I assume in unsalted water) then let them soak to soften the flavor of strong tasting plants. Of course some flavors are muted doing that too, and in classic French cuisine it might be heretical, but it's a creative, resourceful way to calm flavors, and one I also came across researching Italian recipes for strong tasting plants like angelica.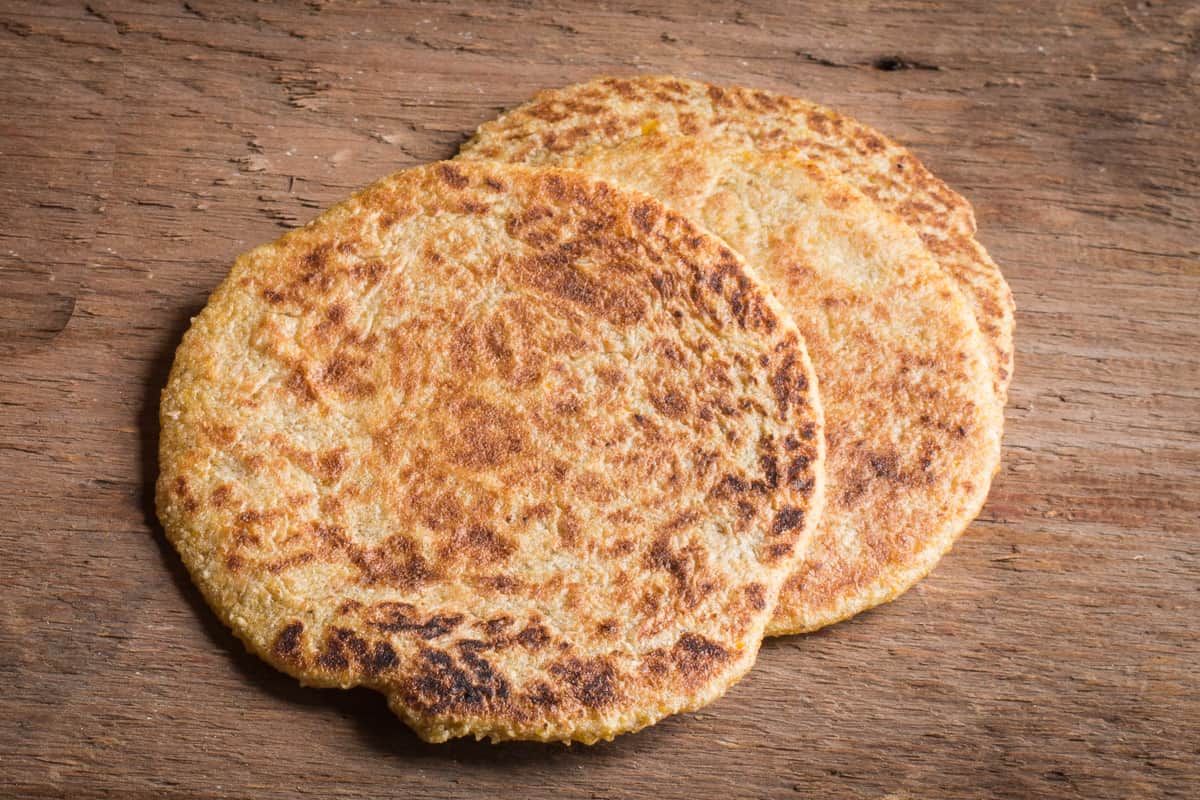 Mignecci
Onto the cakes. The mignecci here are really simple, nothing more than some cornmeal, water, flour, salt and a pinch of herbs. The magic is in the cooking. I didn't have the flat iron tools that are traditionally used to cook them, but I did have something similar in my family's krumkake iron, which has the added bonus of making the cakes look like engraved coins or doubloons-- fitting for a recipe that's a kind of culinary treasure chest, right?! But, if you've lost your krumkake iron, you can make the cakes by inverting a cast iron skillet on top of a gas burner, pressing another lightly oiled, very hot skillet on top of the batter to cook it. Or, with an electric stove, just make little hand patties, close your eyes, and pretend.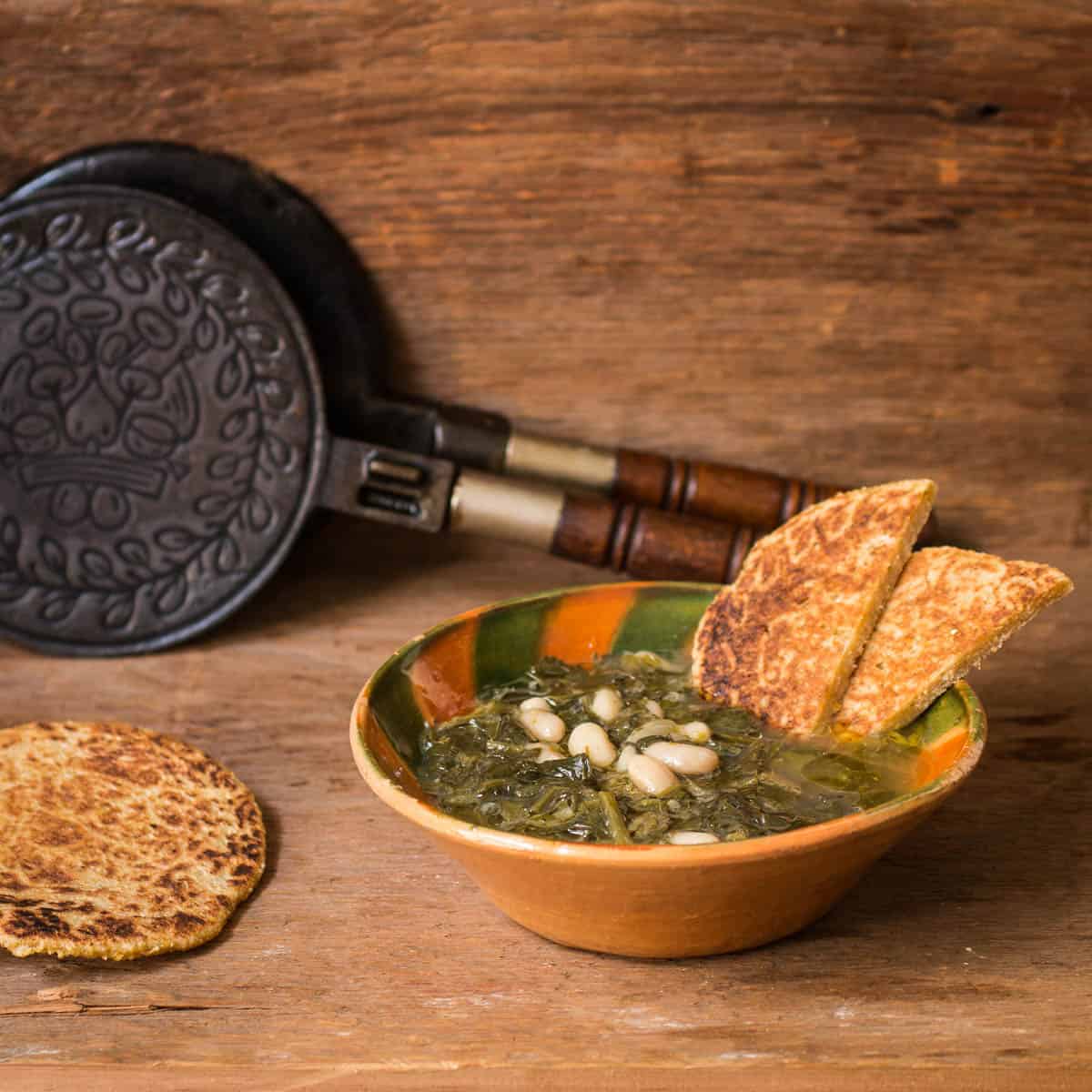 Now, when someone asks you what recipe uses the most wild plants out of anything you've heard of, you can bring up la Minestrella. I hope it can inspire you to think about how a simple mix of greens, in the right context, can be like eating a bowl of history.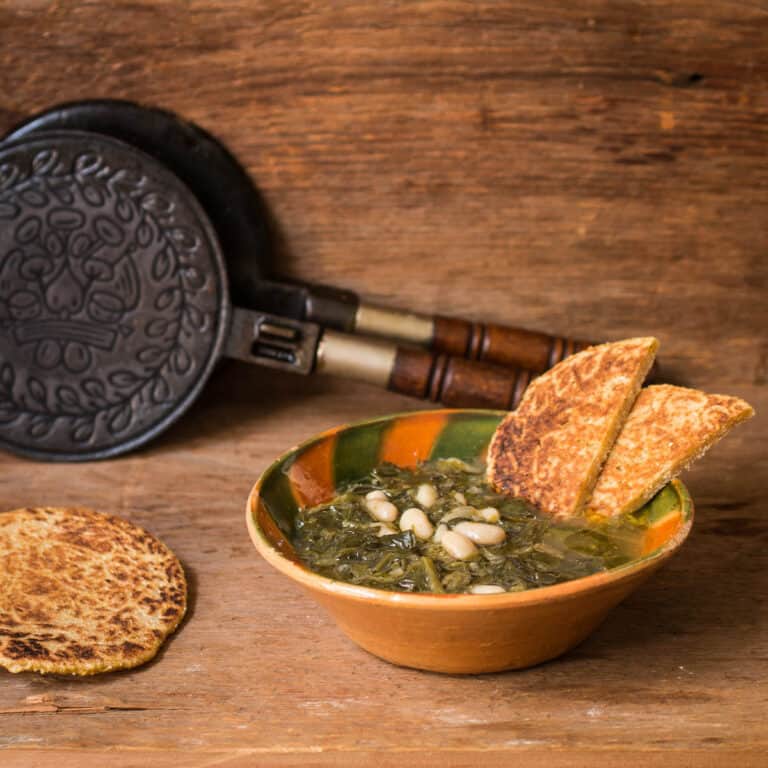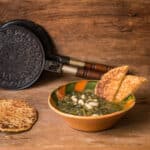 Print Recipe
La Minestrella, The Italian Stew of Many Greens
A traditional stew from the Garfagnana region of Tuscany using a multitude of wild greens, beans, and corn cakes.
Equipment
1 gallon pot

for blanching

1 3 quart soup pot

for the soup
Ingredients
12

oz

wild greens

largest variety possible

1

medium yellow onion

4oz

1

small carrot

4 oz

1

small rib of celery

2oz

2

large cloves of garlic

½oz, chopped

2

cups

10 oz cooked cannelinni beans or roughly ¾ cup (3oz) dried beans

1

cup

bean cooking liquid or stock

Kosher salt

to taste

4

cups

homemade pork

chicken, or vegetable stock and/or a combination using the bean cooking liquid

¼

cup

olive oil

plus plenty for serving

Fresh cracked black pepper

for serving
Instructions
Bring a large pot of salted water to a boil and blanch the greens at a rapid boil for 1 minute, then refresh in cold water and allow the greens to sit in it for at least an hour or so to help calm the flavors, especially if using strong tasting greens. If you like mild greens, you may not need to soak them.

Remove the greens, squeeze dry and chop medium-fine and reserve.

Puree the carrot, garlic, onion and celery in a food processor or blender and reserve.

Heat the oil in a soup pot and cook the vegetable puree for 10 minutes or until starting to brown around the edges, stir it here and there so it cooks evenly, you want to tame the garlic here. Add the stock, bean cooking liquid, or enough liquid to make a puree, and ½ cup of the beans, heat, and puree with a handblender (food mills are often used).

Add the greens and the rest of the beans, season with a good pinch of salt and cook for 30-45 minutes, or until the greens are very tender. Double check the seasoning, adjust as needed for salt and pepper, also consider adding some liquid if it looks dry, and, preferably, chill the soup overnight to let the flavors meld.

To serve the soup, ladle 1 cup of soup into a bowl, garnish with plenty of olive oil, fresh cracked pepper, and one of the mignecci, cut in half, to scoop up the greens with.
Notes
Traditionally dried gallorini beans are used here, but they're impossible to get (trust me, I tried). White cannelinni beans are about the closest thing, but dried chickpeas are great too, and always nice with greens. 
Nutrition
Serving:
8
oz
|
Calories:
122
kcal
|
Carbohydrates:
9
g
|
Protein:
2
g
|
Fat:
9
g
|
Saturated Fat:
1
g
|
Polyunsaturated Fat:
1
g
|
Monounsaturated Fat:
7
g
|
Sodium:
671
mg
|
Potassium:
256
mg
|
Fiber:
2
g
|
Sugar:
3
g
|
Vitamin A:
6095
IU
|
Vitamin C:
22
mg
|
Calcium:
112
mg
|
Iron:
2
mg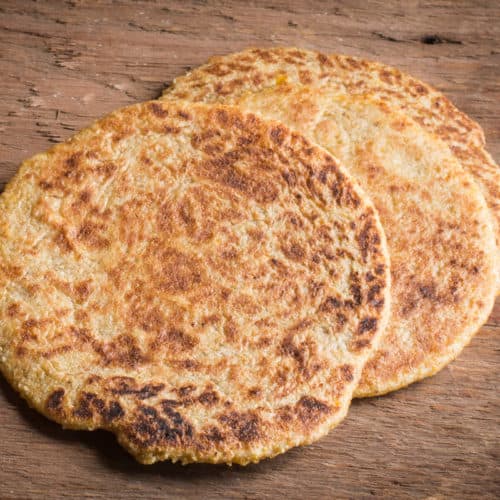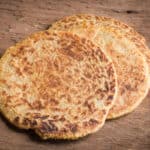 Print Recipe
Mignecci
Unleaved Italian style corn cakes Yield: about 12 cakes
Equipment
2 cast iron skillets (or a krumkake iron!)
Ingredients
210

grams

1.5 cups corn flour (I use high-lysine cornmeal from Whole Grain Milling)

210

grams

1.5 cups all purpose or whole wheat flour

310

grams

Roughly 1.3 cups cold water

2

tablespoons

lard or olive oil

plus more for greasing the pans, as needed

1

teaspoon

kosher salt

1

pinch

dried bergamot or dried oregano

optional
Instructions
Mix all ingredients well and allow to rest for an hour or so to allow the cornmeal to hydrate before making the mignecci. To make the mignecci, clean the bottom of a ten-inch or similar size cast iron skillet (you will be cooking on the bottom of the pan, and you don't want debris on your mignecci).

Invert the skillet on a gas burner or grill, with the bottom facing up, having another pan of equal or slightly less size heating as well. Grease the cooking sides of the pans lightly.

Take rough ¼ cups (2 oz) of the dough (it should be almost like very thick batter) and, put on the inverted pan, then, take the other pan, and set it on top of the batter to press it down. (remember we're mimicking cooking between two hot irons, or stones.

Just like with crepes, the first one or two might not get the correct color since it takes some time for the pans to heat to the proper temperature. The pans should be very hot, slightly smoking, and kicking off enough heat that your instincts should be warning you to be very careful, unless you're a burn-scarred kitchen troll of a line cook, like I used to be.

Once you get going, the mignecci will cook fast, 30 seconds or so is all it will take to cook and nicely brown each mignecci. It takes some practice. If the thought of cooking like with the hot pans intimidates you, just make little patties and fry them up, like pancakes, they'll still taste good after they soften, soaked in the final broth as you eat.