I love pickled ostrich fern fiddleheads, and my recipe for crisp vinegar fiddlehead pickles is one of the most popular recipes on this site (if you're not a fermenter, try those first). I love the old pickles too, and by old I mean naturally fermented pickles. These ones are made from fiddlehead ferns.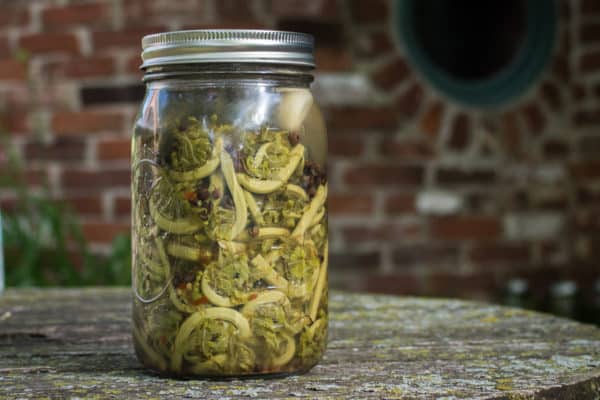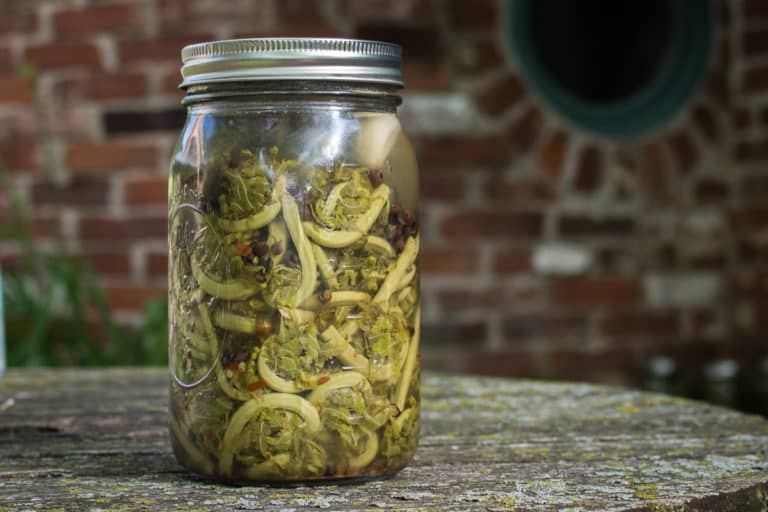 I'd tried fermenting ostrich fiddleheads before, and, unfortunately my failures poisoned my ambition to try them again for a few years.
The problem was that the fiddles got soft, which, along with horrible swamp flavors some plants make (watercress, cow parsnip) can be the bane of many lacto-fermented plants.
After my knotweed pickles turned out so good (thanks to my friend Jacqui over in France for turning me onto that) I decided to turn my attention back to the fiddleheads and give them another go. Fermenting fiddlehead ferns is a little different than knotweed though, since, unlike the bamboo-ey shoots, fiddleheads need to be blanched in boiling water before pickling or suspending in liquid, since otherwise they'll give off an ugly looking black water, and could turn black themselves.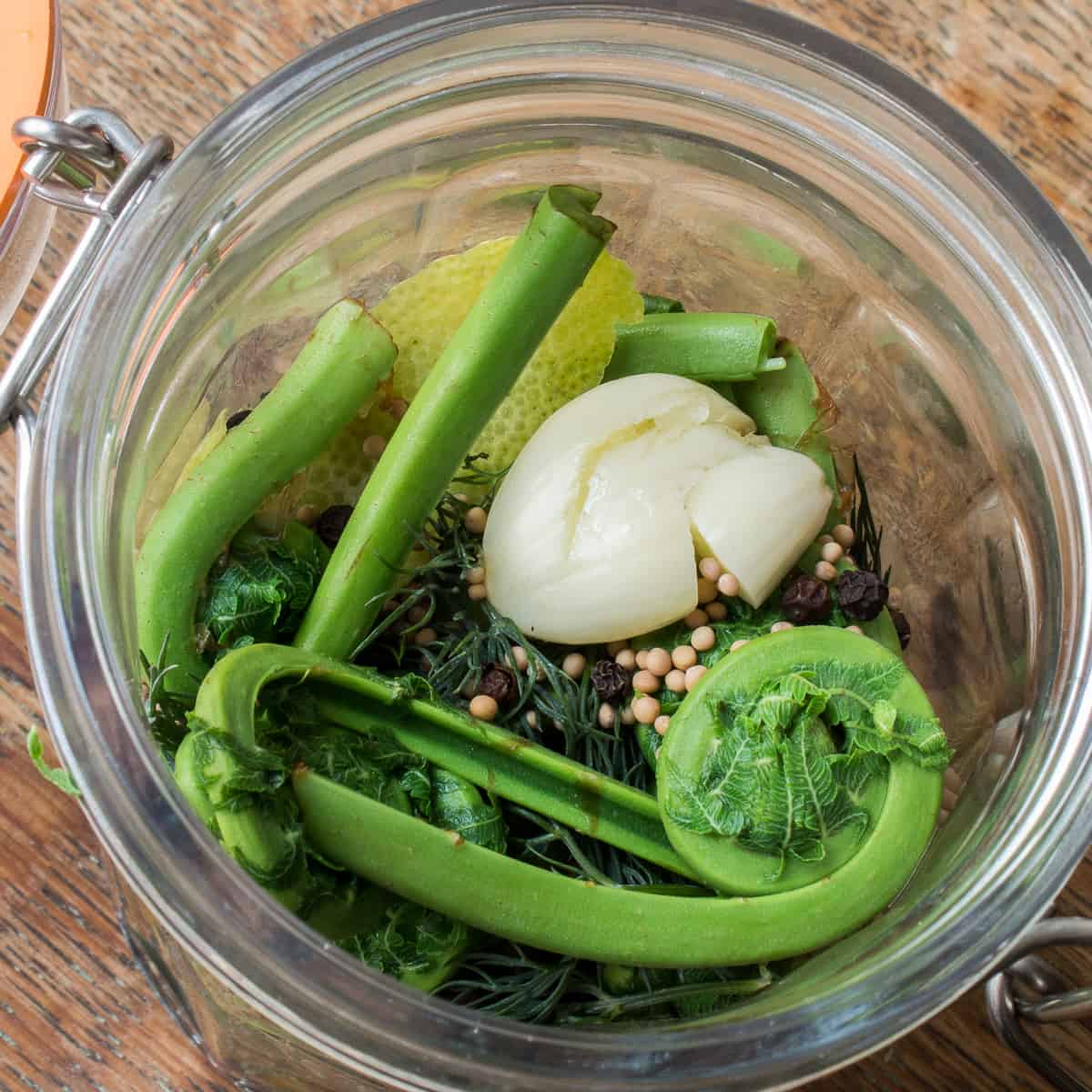 Blanch those fiddles
The issue of how long to blanch fiddleheads comes in to play here. How long is enough? Is a shorter amount of boiling time enough to detoxify them?-- (basically a non-issue with ostrich fern fiddles from my experience, but one worth mentioning as the "folk wisdom" surrounding them is pervasive). Here's the scoop: if you blanch fiddleheads and don't shock them, you can get away with one minute. If you shock them, blanch them for 2 minutes.
I blanched my fiddles before too, but unfortunately, like I mentioned, they went soft after a couple days at room temperature. Since they need to be blanched though, and blanching does always soften things a little, I decided to hedge my bet in two different ways:
1.Use enough salt
Most likely the big issue was that I didn't have enough salt in my first couple batches that went soft, so I used the same ratio as my knotweed pickles: 3% salt of the total weight (sans jar), water, fiddles, spices and all.
To get that, you weigh the fiddles and water in the jar they'll ferment in, multiply the amount of grams by .03, and add that amount of salt in grams, dissolve the salt, set it, and forget it. Easy.
2. Add Grape leaves
A bit of folk wisdom that's useful is the use of leaves to ward off softening in ferments. Grape leaves are the most common I know of, but currant leaves (or likely gooseberry as well) and even oak leaves are said to work.
Commercially, alum is sometimes used for the same purpose. For the record, I've only used grape leaves, but I've used them often, successfully. Not only do the grape leaves help to keep things crisp, but they also seem to ward off some of the pesky yeasts and molds that can develop on the top of the liquid that, if they propagate enough, give off flavors to finished product.
In the end, I can't tell you for certain what the victorious addition was, but it works, so I'm making it live. It's been a month now and my lacto fiddle pickles are still as crisp as when I put them in there, so that's good enough for me.
They won't be exactly like other lacto pickles though, the grape leaves (or something else) seems to slow some of the souring quality compared to other things I've made so the first thing you'll taste is a salty, briny fiddle, but it's a crisp one.
They're especially good with fish, cheese and charcuterie plates. Good on a sandwich too.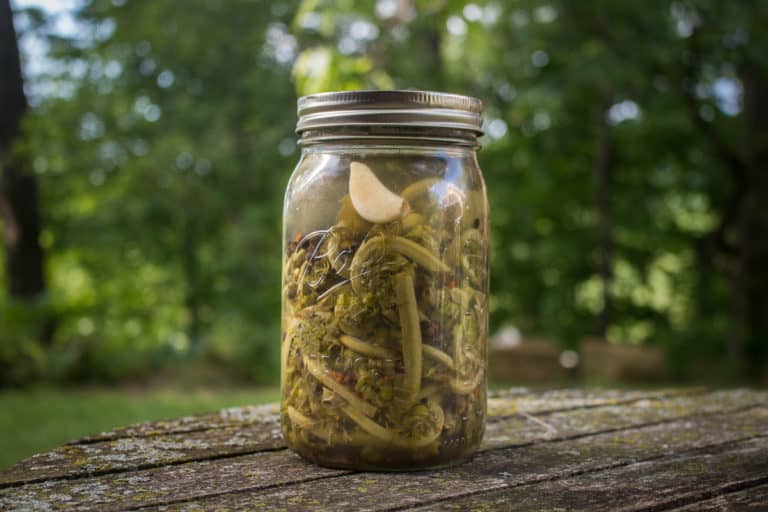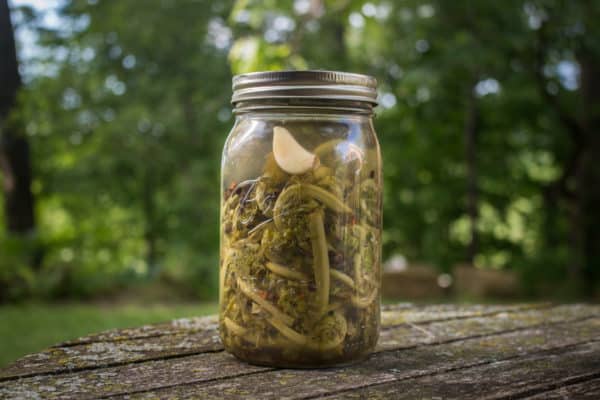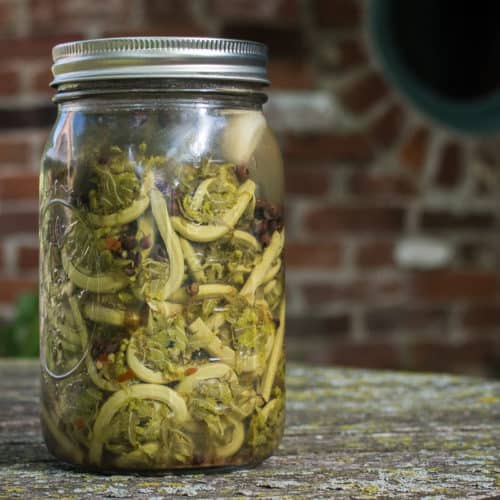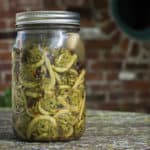 Print Recipe
Lacto-Fermented Fiddlehead Ferns
Lactofermented fiddlehead ferns. This will make 1 quart jar.
Equipment
1 quart mason jar--wide mouth
Ingredients
Young

firm ostrich fiddleheads, tightly coiled, enough to fill a quart jar

Fine salt

or kosher salt (fine salt dissolves quicker) see note

2

fresh grape leaves

A few sprigs of fresh dill

A pinch of crushed red pepper or a dried chili or two

optional

A clove of garlic

1

inch

peel of lemon zest

optional

1

teaspoon

black peppercorns

1

teaspoon

mustard seeds

optional

Water
Instructions
Clean the fiddleheads and trim the stems. If needed, rinse them to remove any remainder of brown husk. If you have long stems, and want to add them, cut them into lengths about the same size as the croziers (fiddleheads).

Blanch the fiddleheads and garlic (garlic will discolor eventually and turn blue, but this is purely aesthectic) and stems if using for exactly one minute at a rapid boil, then remove and spread out on a cookie sheet, allowing to cool naturally.

Toast the peppercorns and mustard seed.
Measure your salt (optional)
Tare your scale to zero, weighing in grams. Put the jar on the scale. Pack the garlic and fiddleheads into the quart jar, along with the seeds, dill and lemon, then add water until It completely covers the fiddleheads. Take the total weight of the ingredients, multiply it by .03, then add that many grams of salt. Put the lid on the jar and shake well to help the salt distribute, and continue until most of it is dissolved.

If you don't want to weigh your salt, just add 1.5 tablespoons. Learning to weigh things to ferment them at a specific percentage of salt is a useful, easy to learn skill though, just sayin.

Put the grape leaves in the top of the jar, then put a small rock on top to hold everything in place. If you filled it full and water sloshes out, it's ok.

Allow the mixture to ferment at room temperature for a few days (with the jar placed in a larger container to catch any migrating liquid) or until you notice visible fermentation. When you like the flavor, refrigerate them if you want.
Notes
Spices
Adjust the spices to your taste. The following combo will give you a good tasting version along the lines of kosher dills, with a bit of kick if you add chili.
Nutrition
Serving:
1
oz
|
Calories:
3
kcal
|
Carbohydrates:
0.5
g
|
Protein:
0.2
g
|
Fat:
0.2
g
|
Saturated Fat:
0.01
g
|
Polyunsaturated Fat:
0.04
g
|
Monounsaturated Fat:
0.1
g
|
Sodium:
0.2
mg
|
Potassium:
10
mg
|
Fiber:
0.2
g
|
Sugar:
0.03
g
|
Vitamin A:
3
IU
|
Vitamin C:
0.03
mg
|
Calcium:
3
mg
|
Iron:
0.1
mg
More