My all-time favorite Japanese knotweed recipe, these fermented pickles are a must if you have access to this plant. Read on and I'll explain why it will change your knotweed foraging game.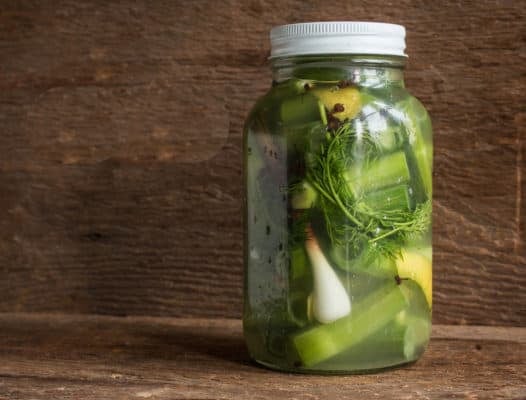 One of the best parts about this site I never would've imagined as it was hatched when I lived in my friends basement years ago was that I'd be able to talk to people outside of the Midwest. In hindsight, the Internet being, well, the Internet, I should've known, but it came as a real surprise when I started trading information on my favorite plants and mushrooms with people literally around the world in real time.
One of my favorite foragers I've never met is my friend Jacqui, who lives across the pond in France, and without her, I may have never tried brine fermenting Japanese knotweed--which I now agree is arguably the best way to preserve the fresh tender stalks for savory uses. Thanks Jacqui.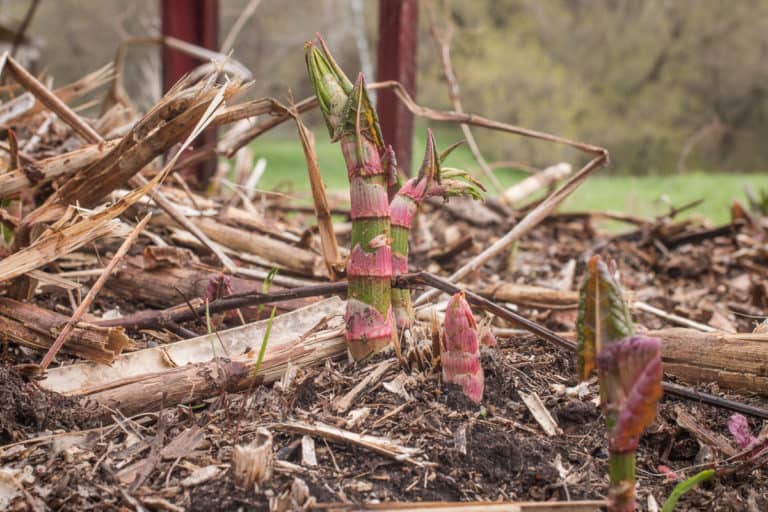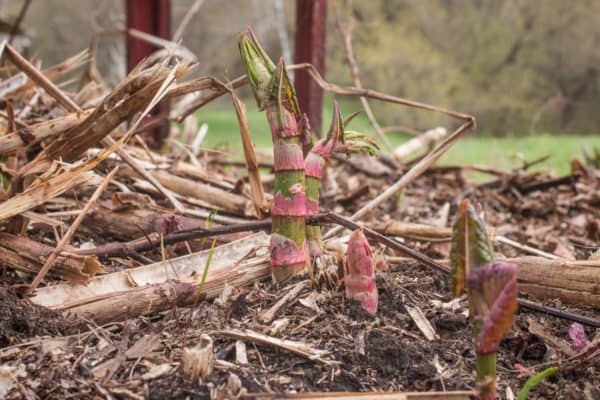 Most of the time if I work with Japanese knotweed (Reynoutria japonica and other synonyms) it's going to be a sweet application, which will probably involve me pureeing it with cooked apples which helps smooth out the flavor knotweed afficionados might describe as swamp rhubarb or some type of sorrel-esque something.
Puree is easy to work with, removes any stringy fibers if you get greedy and harvest older stalks (especially if strained) and is more pleasing to the eye than the soft mushy chunks of knotweed you'll get cooking the plant fresh.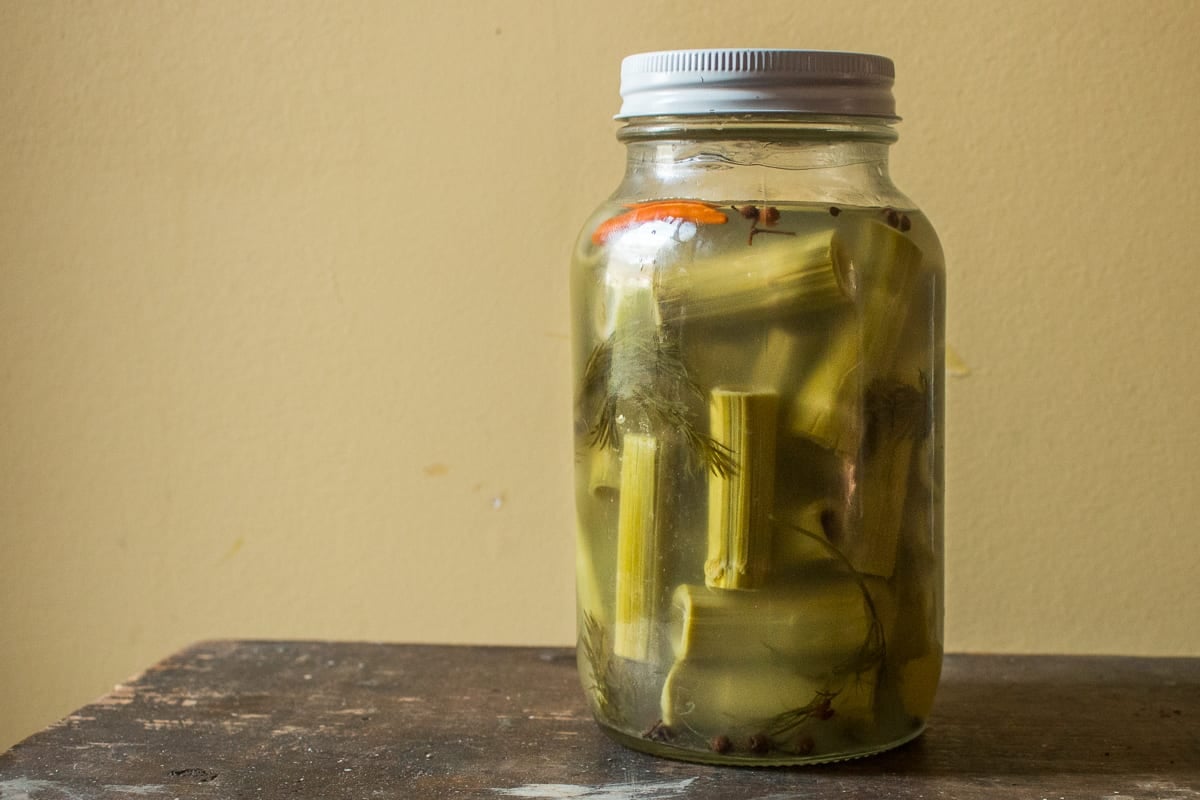 Brine fermentation doesn't activate mucilage
The interesting thing here, and really the reason that lacto-fermenting knotweed is complete magic, at least for me, has to do with mucliage. Knotweed is one of the most mucilagenous plants I know of. Seriously, the plant should come with a tag reading: "Our condolences on finding knotweed near you.
This plant is a gremlin: don't feed it after midnight, and absolutely, positively, don't get it wet". Most of the time with mucilage, as with okra or other plants in the Malvaceae (mallow, violets, etc) I think of it being released from cooking, but dip fresh cut knotweed stalks in water, you can see thin, mucligenous tendrils dripping immediately from the cut fresh stalks.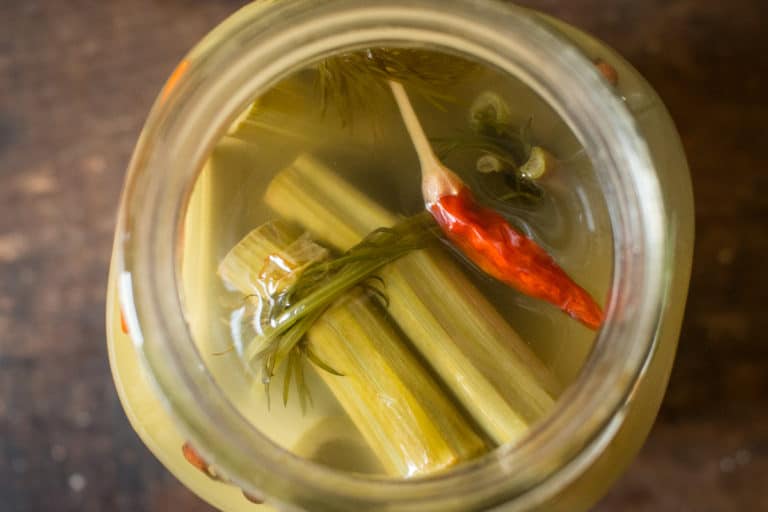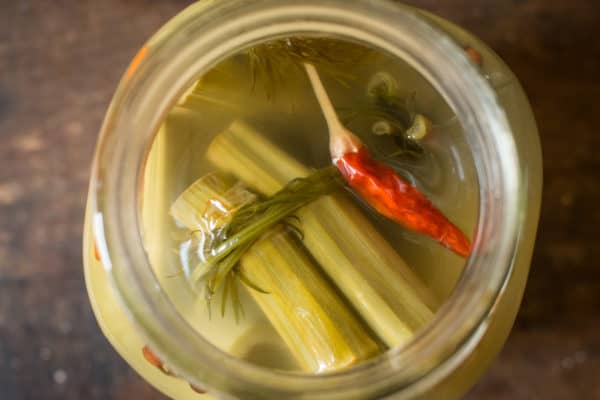 There really seemed to be no way around the Slimer effect, and pickling was out for me as even cold pickled stalks made goey liquid overnight, although it wasn't anything insurmountable. Brine the stalks though, and for whatever reason, there will be no mucilage--zero, and the stalks will keep a pleasant crispness as they ferment and gradually sour.
Add a few seasonings along the lines of a kosher dill pickle recipe, and you have a edible project knotweed virgins will happily eat (preferably under the name pickled Japanese rhubarb) and that even I, sworn to sweet knotweed recipes as I once was, will happily eat. Classic dill pickle spices and seasonings are really good here, and the only break from that tradition I chose was a good teaspoon of wild Szechuan peppercorns / Xanthoxylum / prickly ash berries.
The finished pickles are great with a slice of fish, as a condiment to ramen in place of fermented bamboo, or, as Jacqui suggests, mixed into some simple fish cakes. If you have knotweed near you, definitely give a quart jar a go.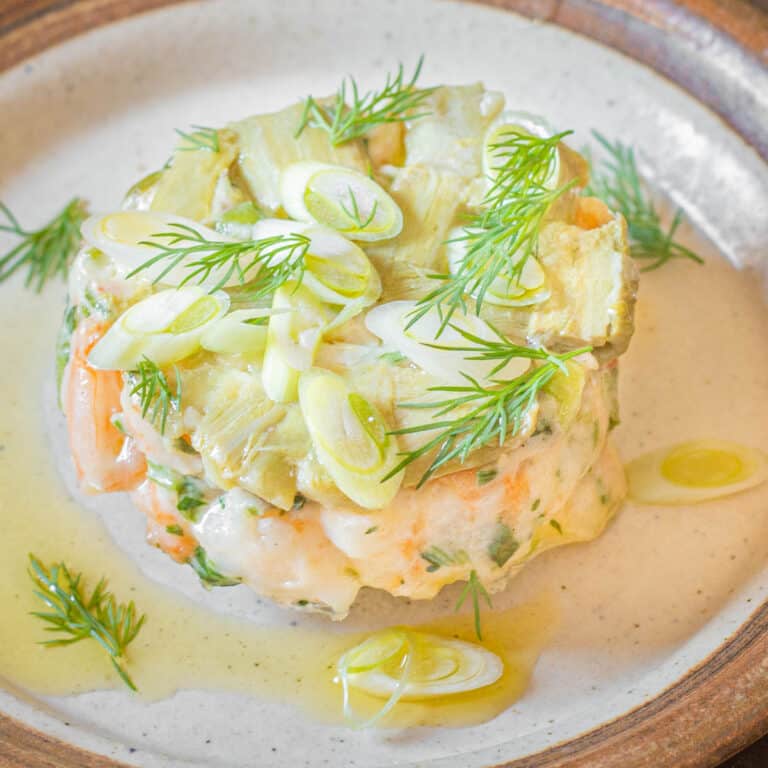 Tips
You want thick, chubby shoots here--look to older knotweed patches near the epicenter.
For the best texture and flavor, peel the knotweed. If your shoots are thin, this may not be possible. Unpeeled shoots will still ferment fine, but won't be as good as peeled thick shoots.
This is just a guide for a quart jar, so scale it up for your needs and modify to your tastes. Dill, lemon, garlic and hot chili is an excellent places to start though.
More Knotweed
Japanese Knotweed: Hunting, Harvesting, Cooking and Recipes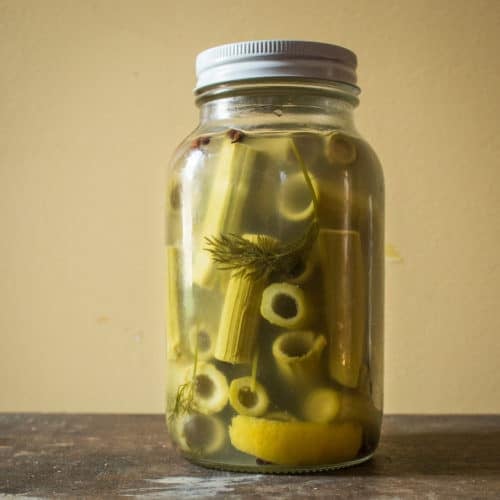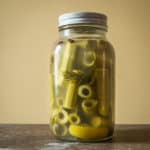 Print Recipe
Fermented Knotweed Pickles
Brine fermented knotweed is one of the best ways to preserve the young shoots. The recipe below is for roughly 1 qt jar.
Ingredients
280

grams

(10 oz) Young knotweed shoots, peeled, tips discarded

preferably thick chubby ones under 1 ft tall

550

grams

(scant 2 cups) water

24

grams

(2 Tablespoons) Kosher salt

3% salt
Seasonings (adjust to your taste)
4-5

sprigs of fresh dill

1-2

fresh garlic cloves

I used a ramp bulb

1

teaspoon

black peppercorns

1-2

small hot chilis or equivalent

a couple strips of lemon zest

1

teaspoon

dried wild Szechuan peppercorns

(prickly ash berries)
Instructions
Cut the the shoots into 3-4 inch pieces, toss with the remaining ingredients except the water and salt, and pack into the quart jar. Mix the salt and water until dissolved, then pour over the contents of the jar.

Screw on the lid(s) and leave out, opening the jars occasionally to burp them. The knotweed pickles will begin to sour in a few days, and develop good flavor after only a couple days in the brine at room temperature. They can be refrigerated, or stored at room temperature, like classic kosher dill pickles.

To use the pickles, take them out of the jar and cut into slices, or whatever shape you like. I like thick tubes, since they give me more freedom and control over future cuts and sizes, but you could sure cut them into slices or chunks so they could be spooned out directly from the jar and used.
Notes
This is an example of how to make a one quart jar, it can easily be scaled for larger batches and multiple jars. 
Nutrition
Serving:
1
oz
|
Calories:
2
kcal
|
Carbohydrates:
0.4
g
|
Protein:
0.1
g
|
Fat:
0.02
g
|
Saturated Fat:
0.01
g
|
Polyunsaturated Fat:
0.01
g
|
Monounsaturated Fat:
0.004
g
|
Sodium:
200
mg
|
Potassium:
9
mg
|
Fiber:
0.2
g
|
Sugar:
0.03
g
|
Vitamin A:
3
IU
|
Vitamin C:
0.01
mg
|
Calcium:
3
mg
|
Iron:
0.1
mg