A deep green nettle bread studded with nuts, along with the more crumbly, shortbread-style lembas bread are traditional travel foods wood elves have been making for a very long time.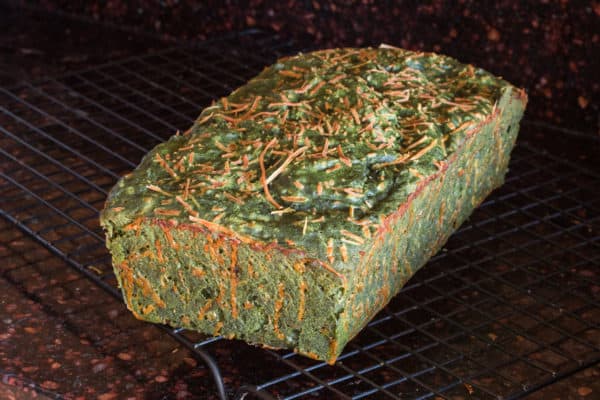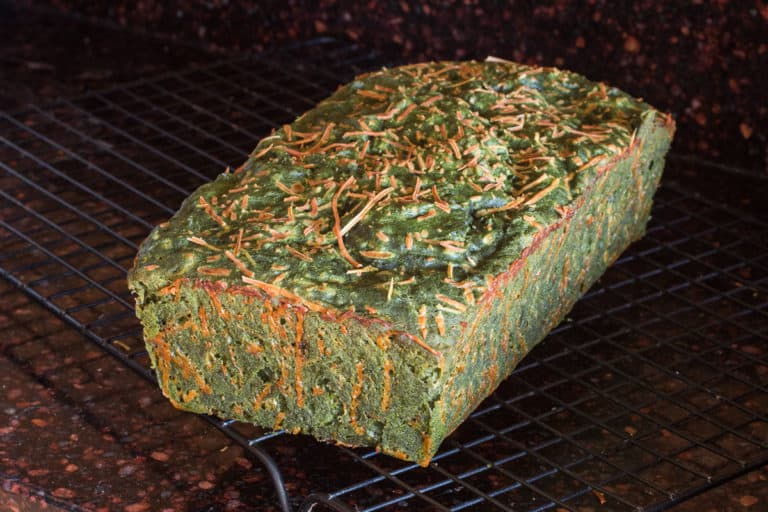 Both are useful, portable foods you can pack in a bag and take with you on a journey, or in my case, a fitting seasonal quest for morels. Conversely, the Drow (evil underground elves) make a similar travel bread colored black with pounded dried mushrooms from the Underdark caves, molded into a round form with cuts around the edge to resemble their god Lolth, the demon queen of spiders.
Most of us know stinging nettles are a great wild green to harvest, but besides the rich, saline flavor of Urtica dioica that I love, a thing that sets them apart from the rest of the pack is literally how green they are. Stinging nettle bread was born from wanting to show that off.
I already love nettle soup and dark purees made from leaves, but I wanted to capture that Sylvan green in loaf form, possibly for something that could use nettle puree later in the year like a dish for the Wild Harvest Festival, although I'm unsure if it will go on this year with the pandemic craziness--we'll see.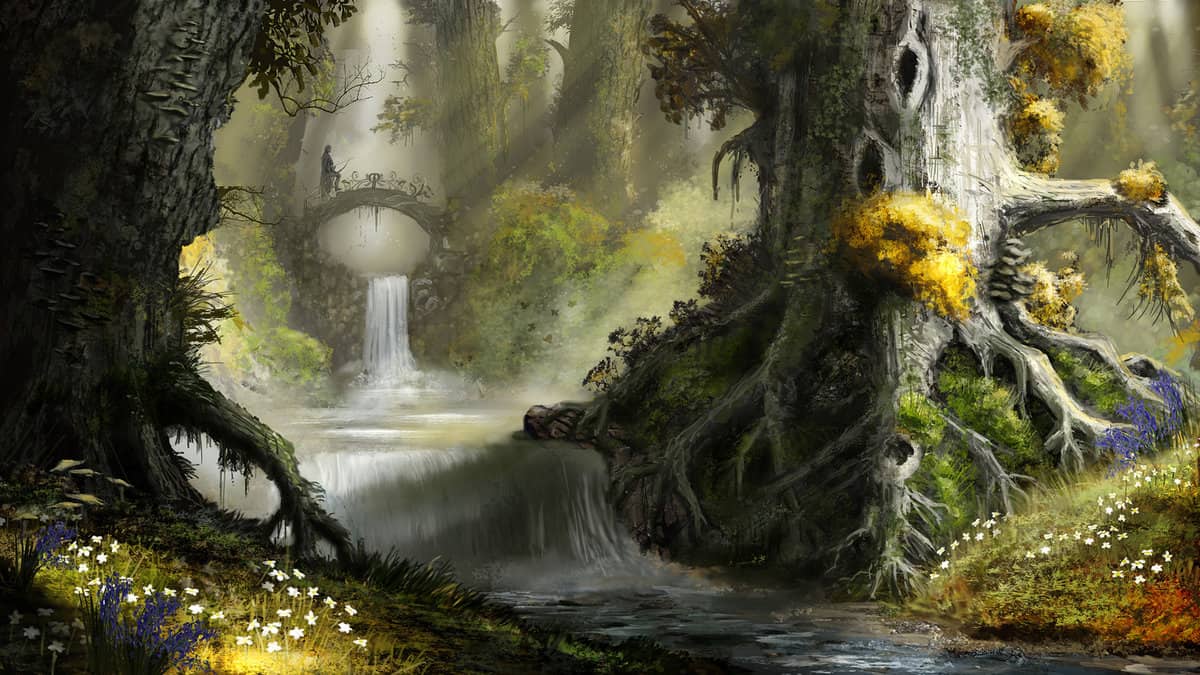 I know a few people that make cakes and sourdough or traditional loaf type bread with nettles as a coloring, but I wanted something more along the lines of a large amount of nettle puree simply bound by flour and a bit of binder. Taking those things into account, I knew a quick bread would probably be the first place to start experimenting.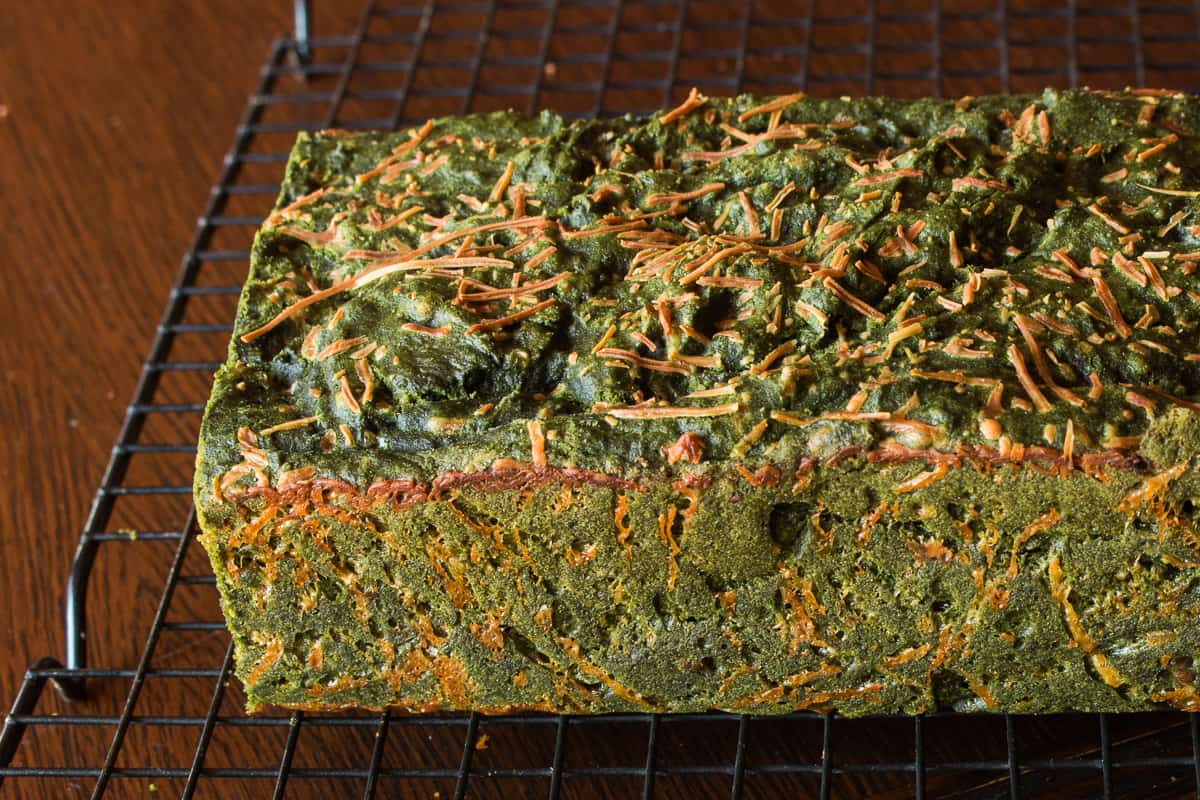 Breads based on mashes and purees
I didn't know of any templates to follow, at least in the savory world. There is banana bread, squash bread, and other and other breads based based on mashes and purees though, so that's where I started.
I knew there could be a hurdle to jump making a savory bread vs a sweet one, since, besides adding sweetness, sugar also contains water, and can help keep things moist and tender. Mashed foods like potatoes, squash, and bananas are thick, emulsified purees too, whereas nettle puree is more loose.
From there, I knew on opposite ends of the spectrum there would be two things I might not want: too little flour would make bread so loosely held together it would be more of a bready custard, and bread having more flour than necessary would make a stiff, dry product.
For the record, the custardy nettle bread on the far right in the picture below is a great product too, just slightly different than the winning loaf in the middle. A food processor can make a coarse puree, but a Vita Mix is by far the best.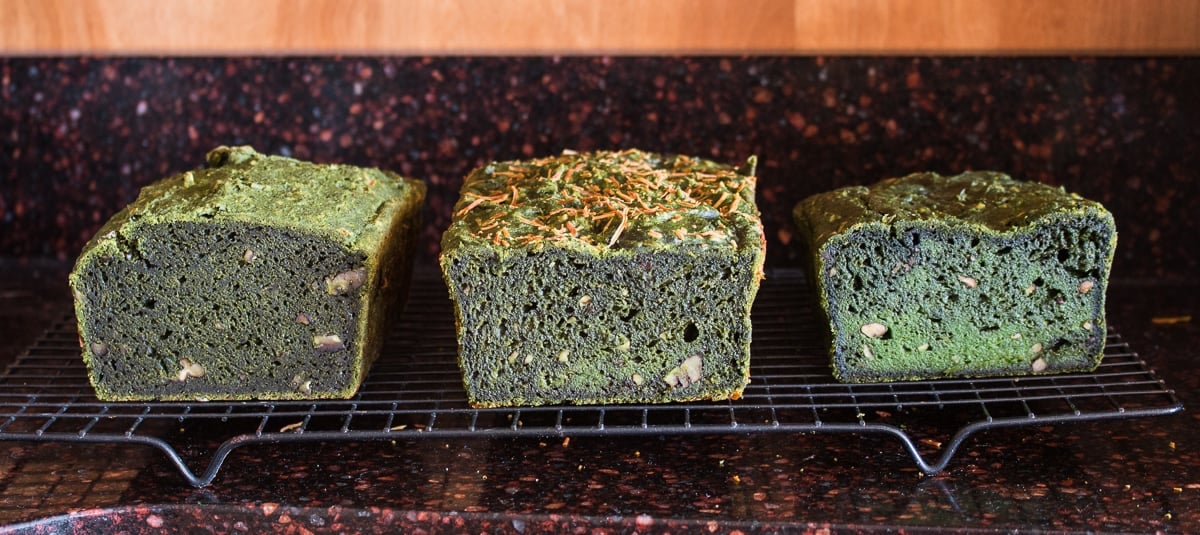 What I ended up doing was to look at banana bread and squash bread recipes and take a look at how much puree vs flour they use relative to the volume of binder/flour. Afterwords I came up with an average to give me a ball park figure for how much puree I'd want to make a simple bread to fit in a loaf pan.
From there, I needed to address the moisture issue I suspected I'd encounter, and, without sugar in the bread at all, I added a good amount of oil since, as apple sauce can be substituted for oil in many sweet recipes for quickbreads like scones and muffins, oil could will help keep things moist.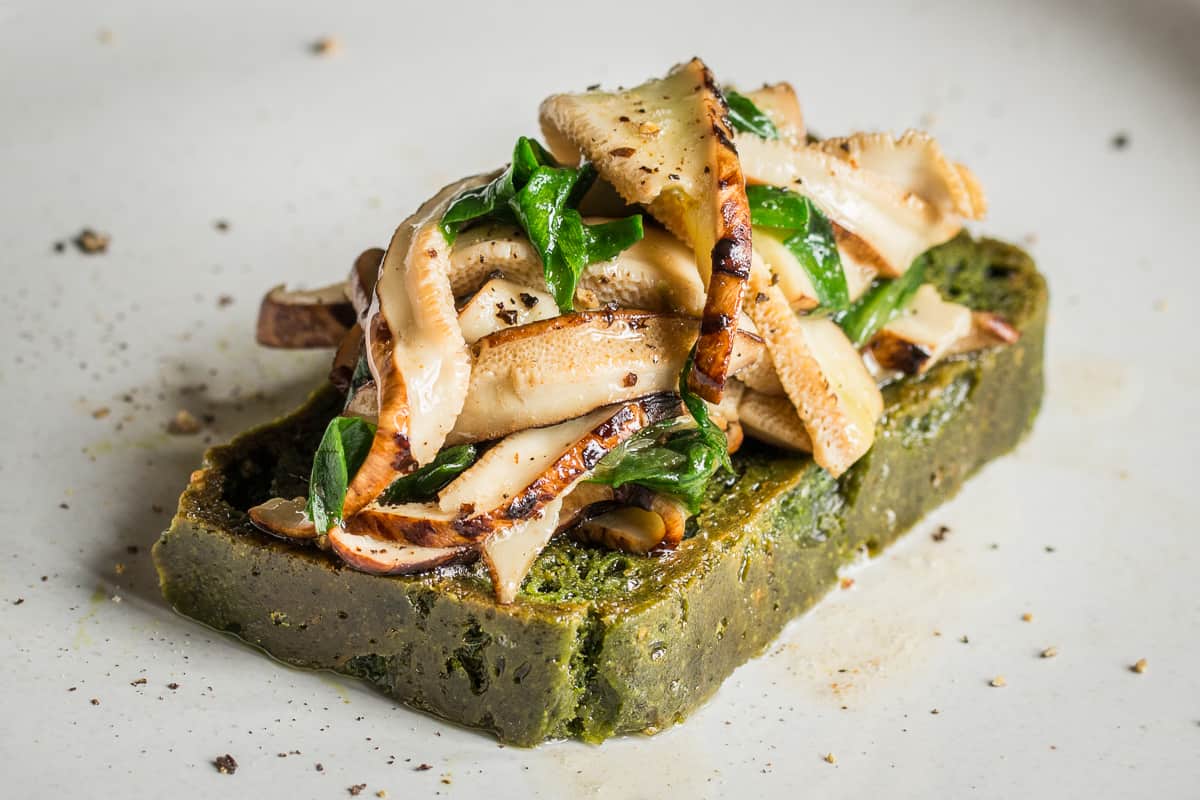 The oil really does double duty here as it will keep the cake moist, but you also need it for making a smooth puree in general, since drizzling in oil while blender blades are spinning will reduce friction and give you a finer, smoother end product. The caveat here is that you can only substitute oil as long as the oil is completely bound and emulsified in the batter, which can be easier said than done, and I've included a note about that in the recipe method.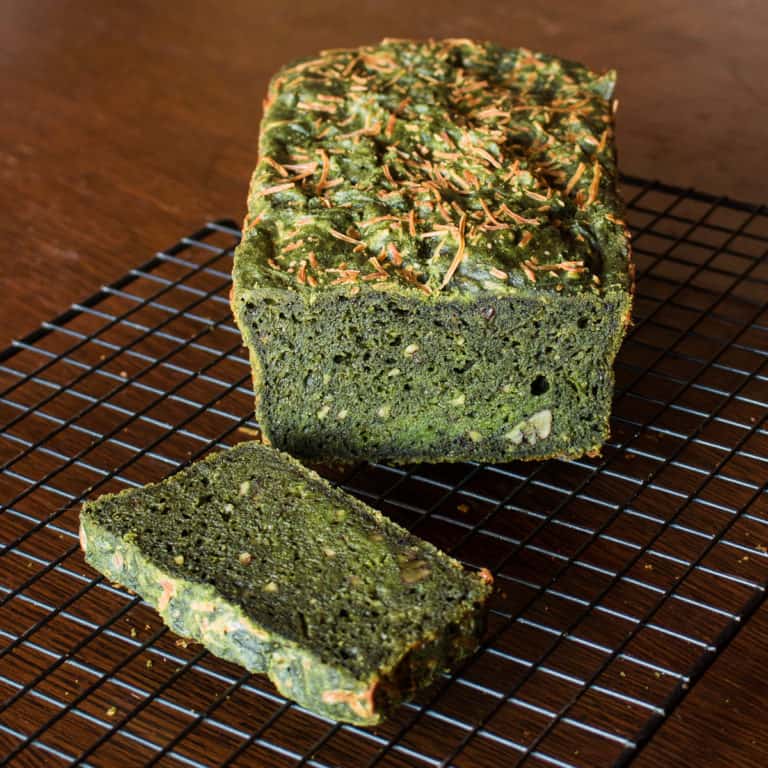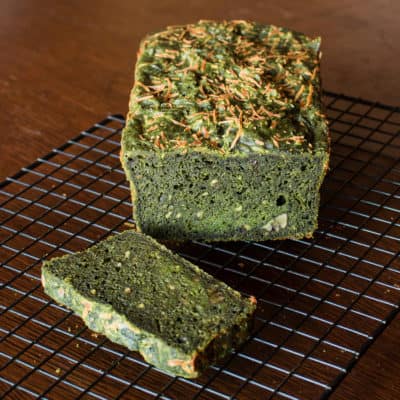 Finally came the seasonings--the creative part. This would be a savory bread, deep, green and woodsy. With no sugar, familiar quick bread seasonings like cinnamon and dried fruit were out, so I needed to go to the opposite end of the flavor palette. What goes good with leafy greens, bread, and olive oil? Roasted garlic, black walnuts, parmesan cheese, and a few scrapes of nutmeg, that's what.
How to use
Different than other quick breads
This is a dense, moist bread, but it still has enough structure that it can be popped in a toaster. That being said, I envisioned it to do double duty as a literal serving of greens, and something that could function like greens on a plate.
For example, consider using it for things like open faced sandwiches--or just put stuff on it. It is 1000 miles away from banana bread, or regular bread for that matter, so be aware of that. It is it's own thing.
Concentrated nettle flavor--enjoy in small amounts
The flavor of nettles is strong here, strong enough that some people won't like it. Start by lightly toasting a slice of the bread in a skillet, then topping it with sauteed mushrooms, or a mix of something with protein like bacon and greens, or quickly sauteed mushrooms and sausage--you get the idea. One of our favorite ways to have it was smeared with whipped anchovy butter.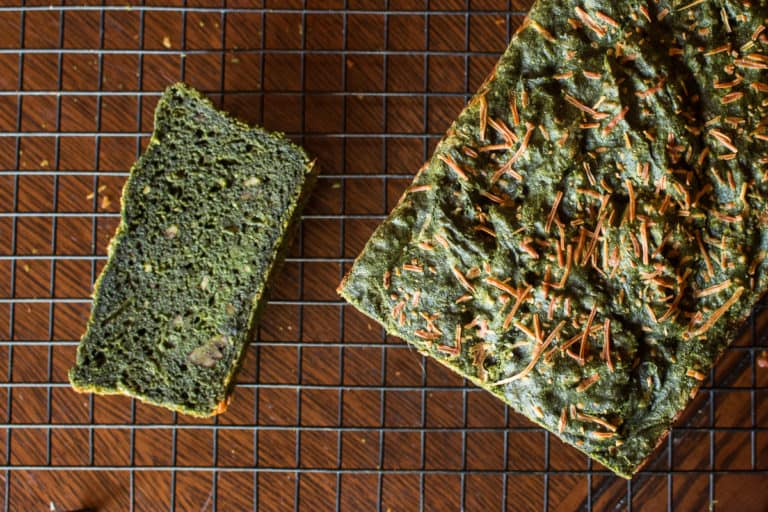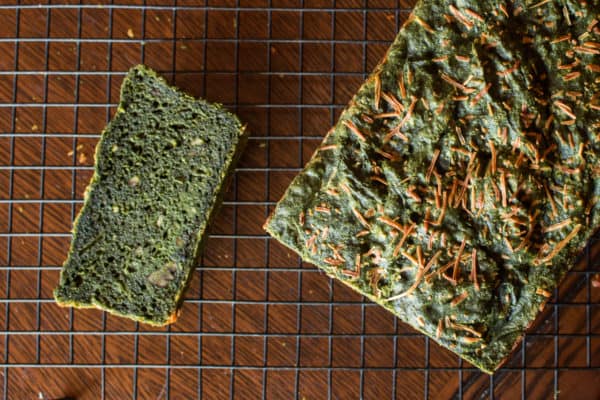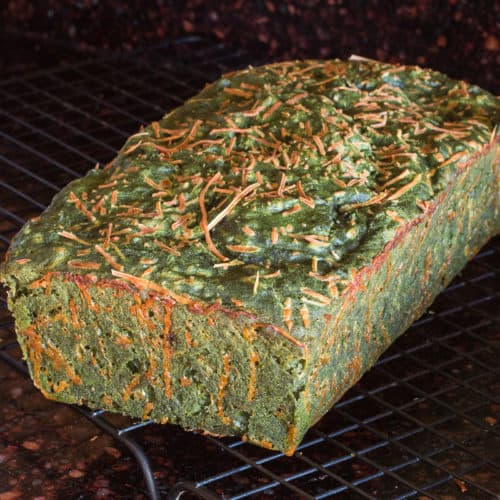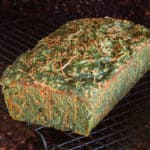 Print Recipe
Nettle Bread
A dark, rich bread made from stinging nettle puree, roasted garlic and parmesan
Equipment
Highspeed blender or food processor
Ingredients
1 ¾

cups

all purpose flour or equivalent

2

large eggs

½

teaspoon

baking powder

¼

cup

2 oz grated parmesan plus more for lining the pan

¾

teaspoon

kosher salt

¼

teaspoon

grated numeg

1

teaspoon

freshly ground black pepper

1

small bulb garlic

1

cup

1 oz chopped ramp leaves or green onions

optional

¾

cup

mild olive oil, or extra virgin mixed 50/50 with another oil

plus more for greasing the pan (see note)

¼

cup

milk or equivalent

12

oz

fresh nettle leaves and tender stems

⅓

cup

2oz chopped black walnuts or other nuts (optional)
Instructions
Cut ¼ inch off the top of the garlic bulb, leaving the root attached. Drizzle it with oil just to grease it, then wrap in foil and bake at 350 until just tender, about 30 minutes or so, then remove and cool.

Blanch the nettles in boiling, lightly salted water until tender, about 30 seconds to 1 minute, then cool in cold water, squeeze very dry, and chop medium-fine.

Mix the flour, salt, pepper, nutmeg, and baking powder.

Meanwhile, squeeze the roasted garlic paste from the cooled bulb and reserve 2 tablespoons of it, saving the rest to smear on some toast or another purpose.

Put the nettles into a food processor or blender, add the garlic paste, milk and eggs, then process, slowly drizzling in the oil to make a smooth puree. It may take a while, and you may need to scrape down the sides of the bowl. A vitamix is the best tool.

Meanwhile, rub a loaf pan with oil or butter, then sprinkle with parmesan.

Transfer the nettle puree to a bowl then fold in the ramp leaves, parmesan, and finally the flour.

Pour into the loaf pan, bang the pan onto a table to settle the batter, sprinkle the top with parmesan, then bake in a preheated 350 F oven for 45 minutes, or until just cooked through and browned.

Remove the loaf from the pan and cool on a resting rack completely before slicing.

The bread can be frozen after cooling, just like banana bread.
Notes
You have to be very patient adding the oil here, especially if you don't have a vitamix or highspeed blender. If you've ever made mayonnaise or aioli, the process will be similar. If too much oil gets added at once, the batter will break (my failures weren't pictured, but they were real) and the finished loaf will be a dense, greasy rock. 
Nutrition
Serving:
1
slice
|
Calories:
361
kcal
|
Carbohydrates:
25
g
|
Protein:
7
g
|
Fat:
15
g
|
Saturated Fat:
4
g
|
Polyunsaturated Fat:
5
g
|
Monounsaturated Fat:
16
g
|
Trans Fat:
0.004
g
|
Cholesterol:
25
mg
|
Sodium:
150
mg
|
Potassium:
223
mg
|
Fiber:
4
g
|
Sugar:
1
g
|
Vitamin A:
952
IU
|
Vitamin C:
0.1
mg
|
Calcium:
281
mg
|
Iron:
2
mg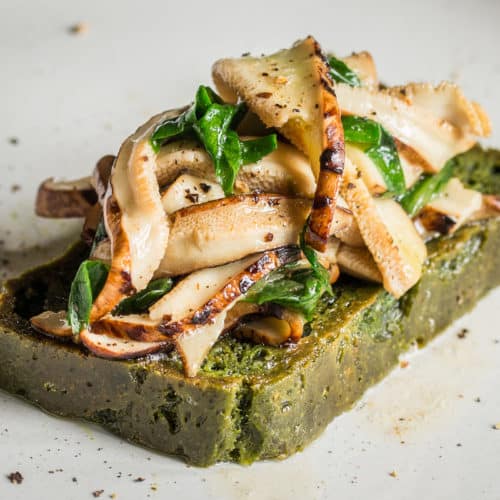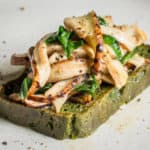 Print Recipe
Nettle Bread with Dryad Saddles and Ramp Leaves
A good example of how I've been eating the nettle bread, and how I would serve it.
Ingredients
4

thick slices of nettle bread

4

oz

shaved tender edges of young dryad saddle / pheasant back mushrooms

Kosher salt and pepper

3

tablespoons

unsalted butter

Dash of lemon juice

Small handful of sliced ramp leaves or onion greens
Instructions
Heat the nettle bread in a pan, or in the oven.

In another pan, heat the butter, then add the dryad saddles and cook until wilted on medium-high heat.

Season to taste with salt and pepper, then add the ramp leaves cook for a minute until wilted, then turn off the heat, add the lemon juice.

Spoon the mushrooms and greens over the slices of lightly toasted nettle bread and serve. Great with bacon and eggs, or for lunch.