A quick saute of dryad saddles (Cerioporus squamosus / pheasant back) with garlic, soy and a healthy handful of onion leaves is probably my new favorite way to eat these spring mushrooms that are so abundant during morel season, and especially nice to see when the morels are hiding.
Their flavor is so funky and different, some people don't care for them, but personally I just think naysayers are just not creative enough or haven't tasted them cooked in a way they like.
Dryad saddles have a very strong farinaceous odor, similar to Clitopilus prunulus and others. To me (and most people) it resembles cucumber or watermelon rind--not a typical mushroomy aroma. Cooking will soften the flavor, but it won't remove it, and for me, and other people that like this mushroom, that's a good thing.
After you hit them with a touch of garlic, soy sauce, and some sliced scallions or onion greens, they'll taste similar to many other mushrooms, and most of your friends and family won't have a problem at all gobbling them up.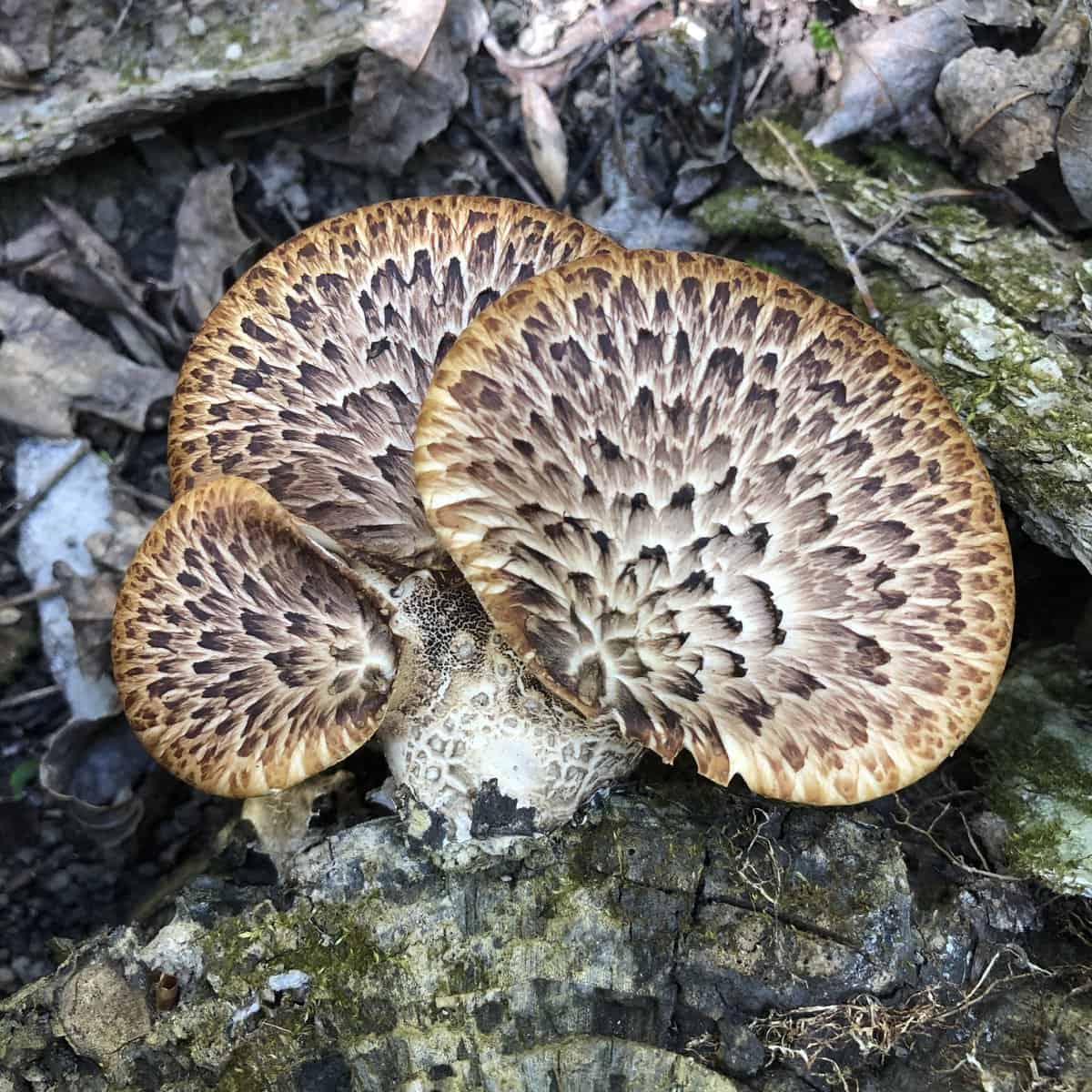 Just like matsutake mushrooms, dryad saddles are better not paired with cream, cheese, or other things lots of things many other mushrooms might taste very good with.
Asian cuisine and inspiration is a good place to go with them, and that's the whole idea behind this simple saute of them with those simple flavors. Hen of the woods would be good here too.
Shave the thin, tender edges off your dryad saddles, sweat them dry to cook off some moisture, add some oil, garlic sweat for a minute or two, then some soy (fish sauce if you have) chilis and some fresh onion leaves, ramp leaves, or scallions. That's it.
It's great on top of a piece of fish, or as a simple side dish with dinner--preferably without creamy and cheesy things in it's presence.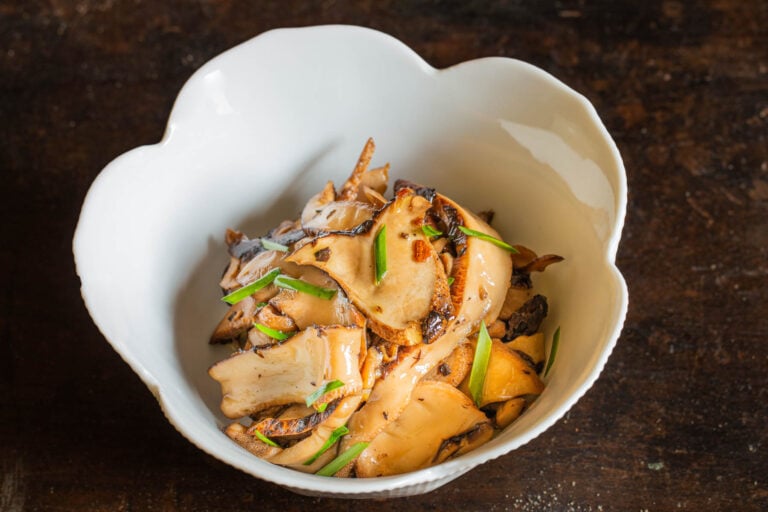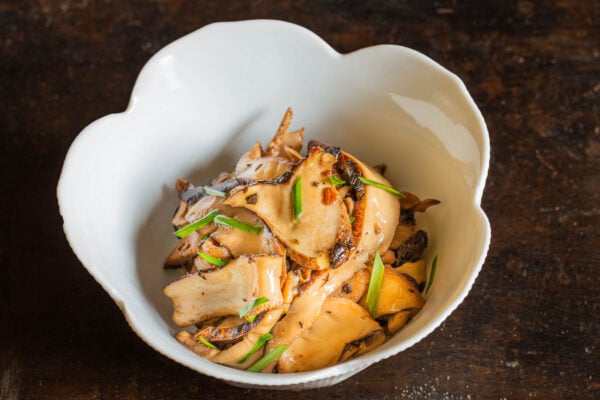 More
Dryad's Saddle or Pheasant Back Mushroom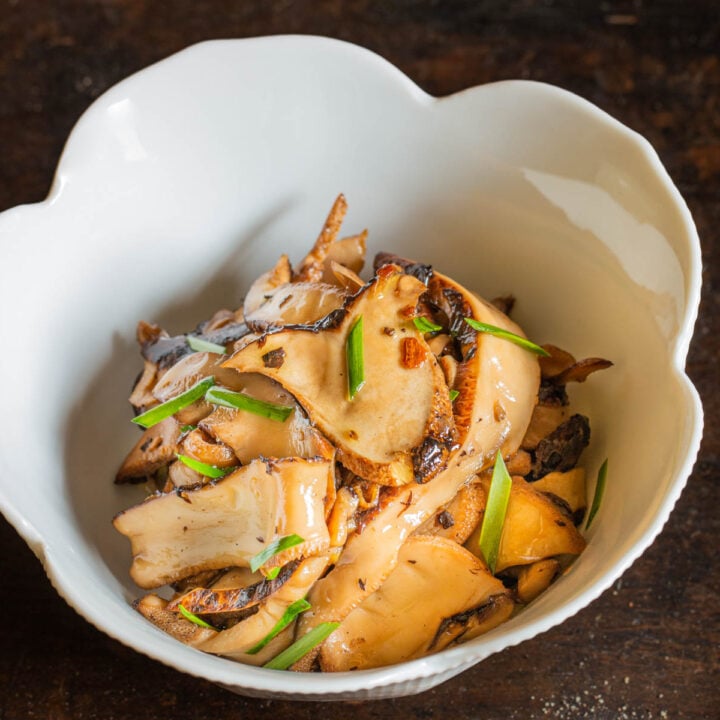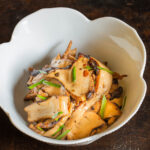 Print Recipe
Dryad Saddles with Ginger, Soy, and Onion Leaves
A quick saute of dryad saddle mushrooms with ginger, soy, and wild onion or scallion leaves
Ingredients
1

lb

shaved dryad saddles

1

tablespoon

water

½

tablespoon

minced garlic or two medium cloves

1

teaspoon

grated or minced fresh ginger

1.5

tablespoons

soy sauce

1

teaspoon

fish sauce

optional

Good pinch of crushed red pepper flakes

2

tablespoons

cooking oil

A few scallions

wild onion or ramp leaves, cut into 1 inch pieces
Instructions
Add the dryad saddles to a large 12 inch skillet such as cast iron along with the water, then heat the pan on high, stirring here and there until the mushrooms are wilted and the pan is nearly dry.

Push the mushrooms to the side of the pan, add the oil, garlic, ginger and sweat for a few minutes more. Finally, mix with the mushrooms, then add the soy, fish sauce if using, and crushed red pepper flakes.

Stir, cook for another minute to let the flavors meld, then add the onion greens, stir and cook just until wilted, and serve.
Notes
Using other mushrooms 
Shiitakes, hen of the woods, and matsutake are also good prepared this way. 
Nutrition
Calories:
91
kcal
|
Carbohydrates:
4
g
|
Protein:
4
g
|
Fat:
7
g
|
Saturated Fat:
1
g
|
Polyunsaturated Fat:
2
g
|
Monounsaturated Fat:
4
g
|
Trans Fat:
0.03
g
|
Sodium:
501
mg
|
Potassium:
379
mg
|
Fiber:
1
g
|
Sugar:
2
g
|
Vitamin A:
0.2
IU
|
Vitamin C:
2
mg
|
Calcium:
6
mg
|
Iron:
1
mg