Yes, you can pickle fiddlehead ferns and keep them crunchy. The technique requires a little patience and attention to detail. Once you try my pickled fiddlehead recipe you'll never go back. For a reference, check out the comments and reviews.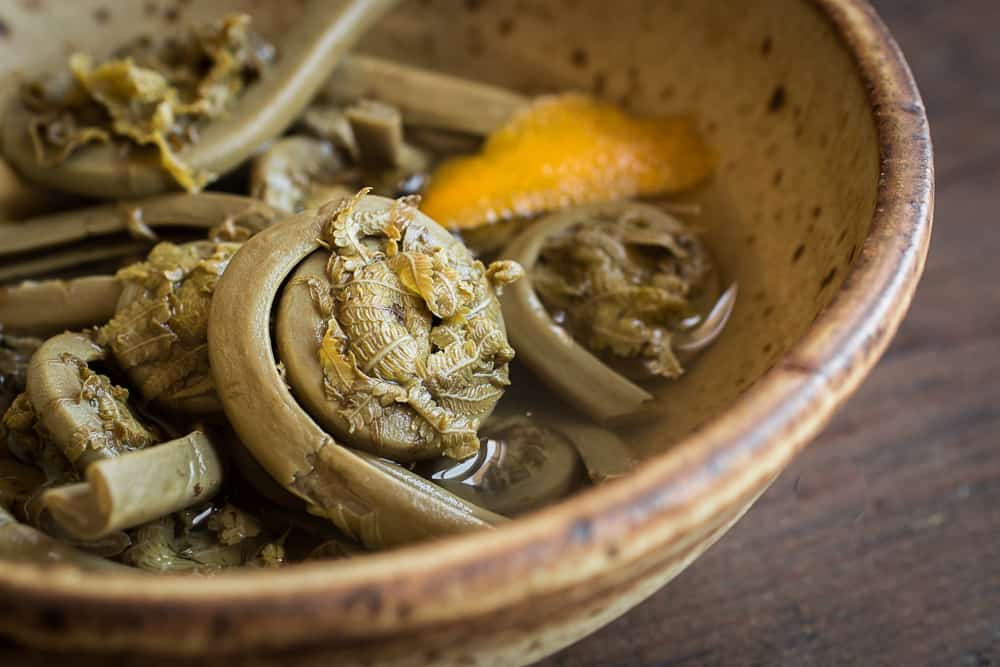 As the fiddlehead ferns are starting to dwindle in our areas in Minnesota, facing a commercial fridge packed full of them means I need to work quickly to preserve some for the coming months.
When I pick a large amount of something, I usually set aside a nice amount to preserve, whether it be by canning, freezing, pickling, salting, brining, drying, or fermenting.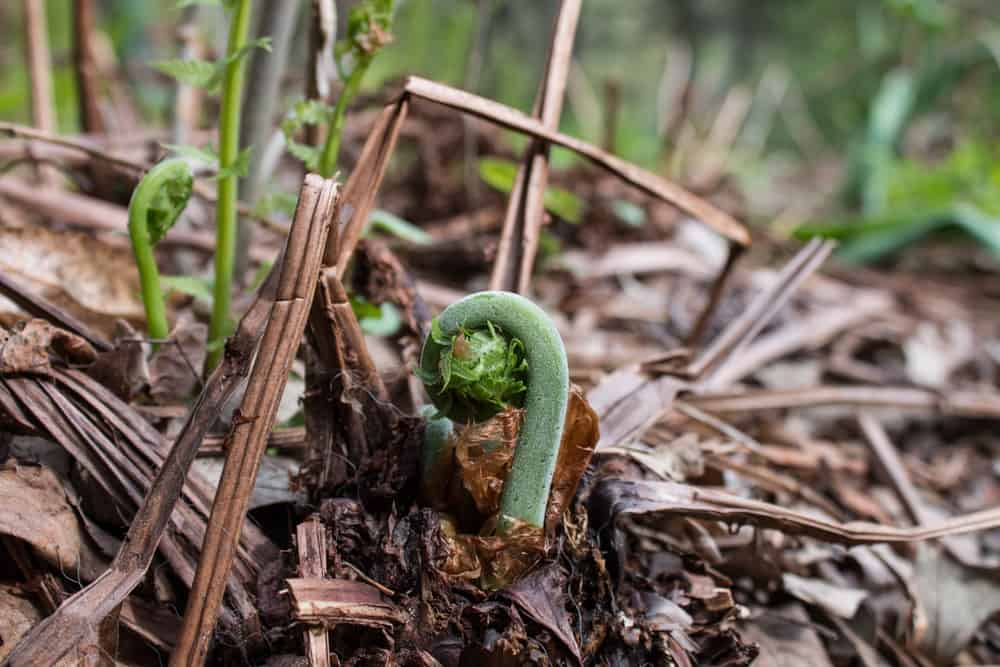 There are plenty of recipes for pickled fiddleheads out there, but this one is different.
A common problem with pickling green vegetables is that they tend to get mushy from the canning process.
Asparagus suffers from this, and gets stringy and unappealing, especially if the spears are packed into a jar and bent, fiddleheads pose the same problem.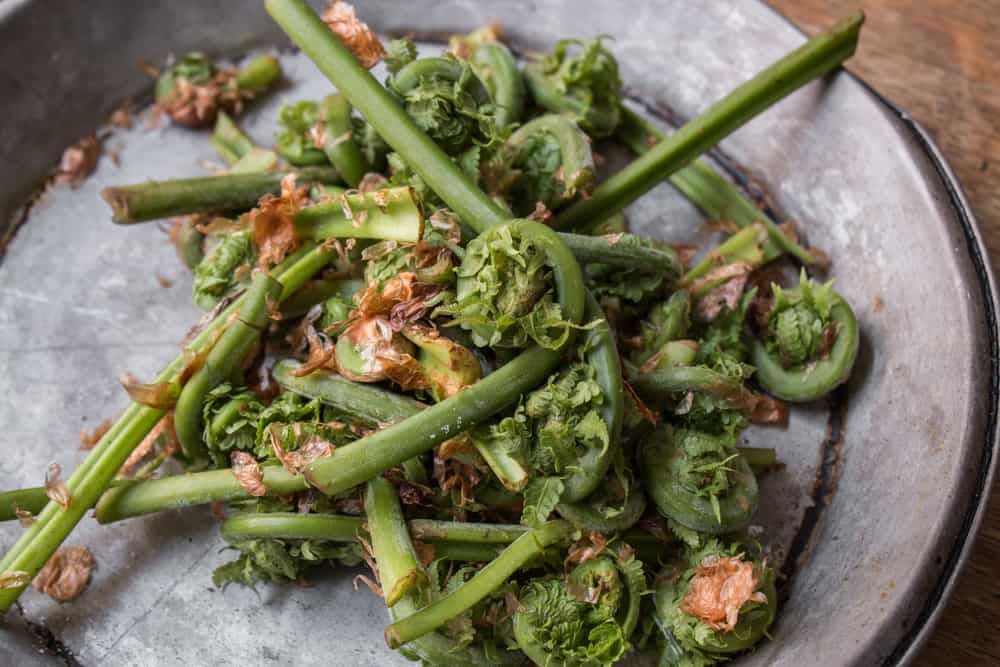 You want to pickle fiddles to preserve your bounty, but they can be tricky to execute.
A couple minutes too long in water bath canner, or a few too many ingredients in the pickle liquid can ruin a whole batch, and cost you a lot of time.
How to keep the crunch
The kicker too is that with all the pickle recipes out there, its hard to know which one is the best.
Of all the things I hear people complain about when talking about recipes for pickled fiddleheads, what seems to stand out is how to keep them crunchy.
I've made hundreds of different types of pickles, pickling liquids, fermented pickles, etc. There is a special trick to keeping them crunchy. You may be skeptical at first, but it works.
Basically, pickling is a method of preserving things in a liquid with a low ph.
The heat of the water bath canner can be thought of as over-kill, since bacteria wouldn't be able to live in liquid with a ph under 4.6 anyway.
Now I'm not saying that you should stop using a water bath canner for your pickles, I'm just saying keep an open mind for a moment.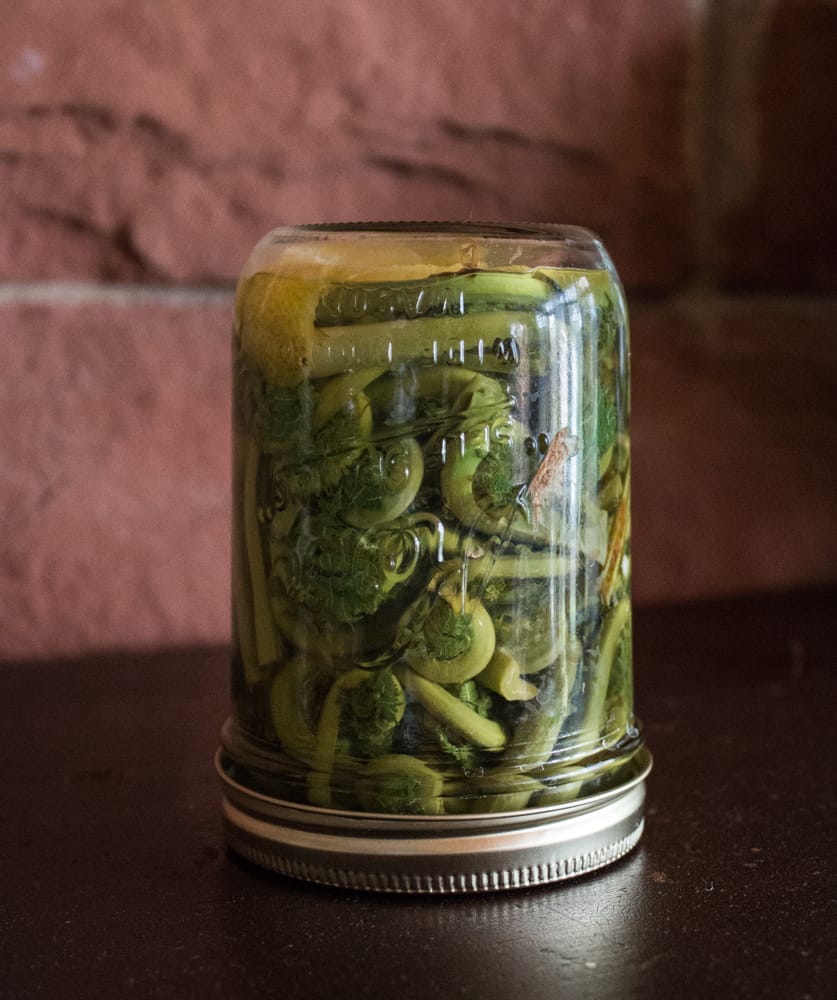 My secret:the upside down canning hack
A while ago my friend showed me a technique that he uses for pickled asparagus at home. I don't often like to say that I use shortcuts, but this one actually works.
He puts boiling pickle liquid into the jars and fills them all the way to the top, that's right: all the way. Then he turns the jars upside down and leaves them over night to cool.
What happens is that the jars form a hermetic seal just like if you were to water bath process them. The pressure and heat of the boiling water is what does the trick.
Since the jars haven't been sterilized by boiling in the water bath though, you need to fill them to the very top of the jar, which you wouldn't ordinarily be able to do since the pressure could make them explode in the water bath.
Disclosure/disclaimer
I have to mention that, while the health department doesn't recommend storing pickles that are hot-packed like this, I have friends that have preserved 50+ pounds of fiddleheads using this recipe, and we even used to sell them in the market at one restaurant I worked at.
Just follow the directions, and if your jars don't seal, keep them in the fridge. I make these pickles every year.
Fridge Pickles
If you don't want to keep your fiddlehead pickles at room temp in the pantry, you can always just blanch them, then cover with cold pickle liquid and pack them in the fridge.
Kept in the fridge the fiddle pickles will stay extra, crisp-just make sure they're covered with pickling liquid completely.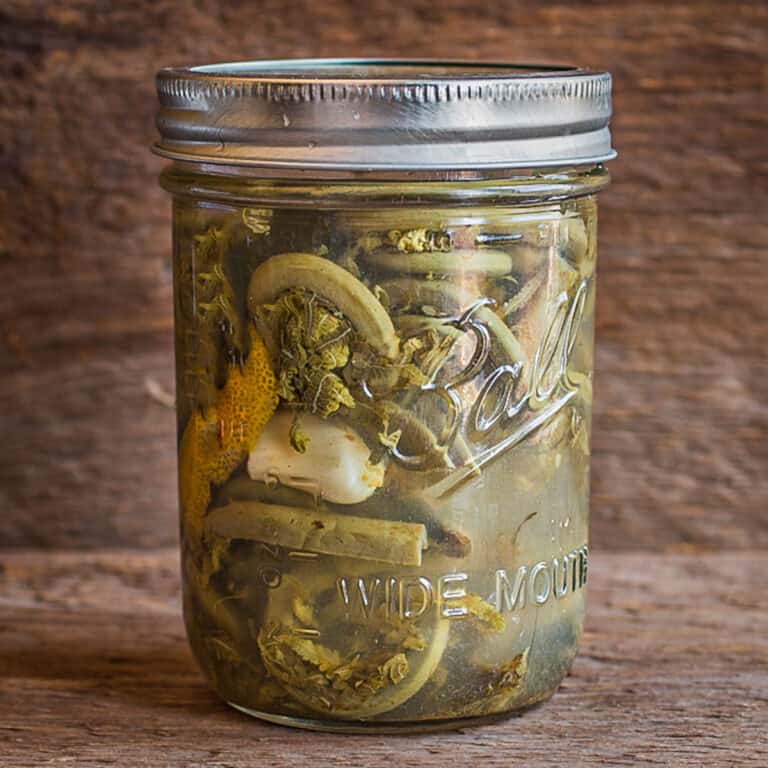 Print Recipe
Crunchy Pickled Fiddlehead Ferns
Pickled fiddlehead ferns that stay crunchy. Perfect for adding to sandwiches or enjoying where you'd use pickles. Yield: 4 pint jars, I like the Ball wide-mouth style 
Equipment
4 Pint mason jars with lids

wide mouth
Ingredients
2-2.5

lbs

fresh fiddlehead ferns

tightly coiled and firm

2

cups

rice wine vinegar

*see note

4

cups

water

2

tablespoon

salt

4-5

small cloves of garlic

lightly crushed

1-2

sprigs of fresh dill or your favorite herb per jar

A 1inch peel of lemon zest for each jar

1.5

gallons

water

for blanching the ferns
Instructions
Pickle liquid
Bring the 4 cups water and salt to a boil, then remove from the heat and add the vinegar. This is your pickling liquid-reserve it until needed.
Blanch the fiddles
Bring the 1.5 gallons of water to a rolling boil. Add the fiddlehead ferns to the pot, then cook for exactly 1.5 minutes (90 seconds) covering the pot to increase the heat, stirring the fiddles occasionally to ensure even blanching.  Immediately remove the fiddleheads to drain and stop their cooking.
Packing the jars
Pack pint jars full of the still-hot fiddleheads, placing a piece of lemon zest, a clove of garlic, and a sprig or two of thyme in each jar (or whatever flavorings you're using).

Reheat the pickle liquid to rolling boil in small pot and pour into the jars, covering all of the fiddleheads, up to the very top of the jar. Screw on the lids and and turn the jars upside down. Leave the jars to cool, for a few hours like this.
Cooling, sealing and storing
After the jars are completely cool, inspect the jars, you should find they've formed seals, just as if you were to use a water bath canner, but without the excess heat and time that would make them soft. Voila! Crisp pickled fiddleheads.

Look over the jars carefully to make sure they've all formed seals. Refrigerate any that haven't sealed.
Notes
Make your own seasoning blends
The seasonings are optional here, all that really matters is the water and vinegar, note there is no sugar in the recipe, either. 
Vinegars
Rice wine vinegar will have the mildest flavor and acidity. You can also use apple cider, white, or white wine/champagne vinegar which are more acidic. 
Nutrition
Calories:
17
kcal
|
Carbohydrates:
2
g
|
Protein:
2
g
|
Fat:
0.2
g
|
Sodium:
596
mg
|
Potassium:
140
mg
|
Sugar:
0.01
g
|
Vitamin A:
1367
IU
|
Vitamin C:
10
mg
|
Calcium:
22
mg
|
Iron:
1
mg
More
Fiddlehead Ferns: Identifying, Harvesting and Cooking