Burdock flower stalks or burdock stems are in season right now, and they're a great, widely available foraged vegetable I look forward to harvesting en-masse every year. At the abandoned farm where I do most of my harvesting, the soil is rich and black, and that means big burdocks, with big flower stalks. In a sitting, last year supplying the Bachelor Farmer Restaurant, I harvested over 100 pounds in a couple hours--not a bad yield at all.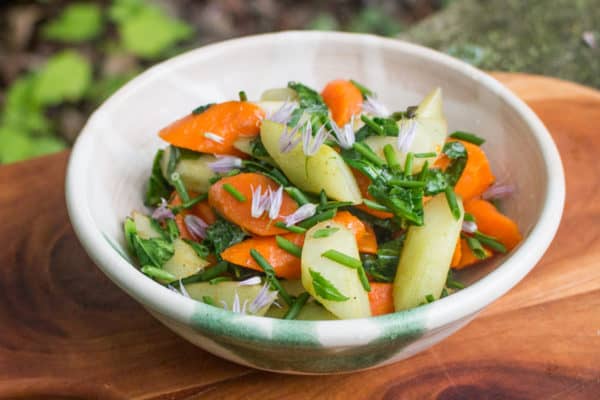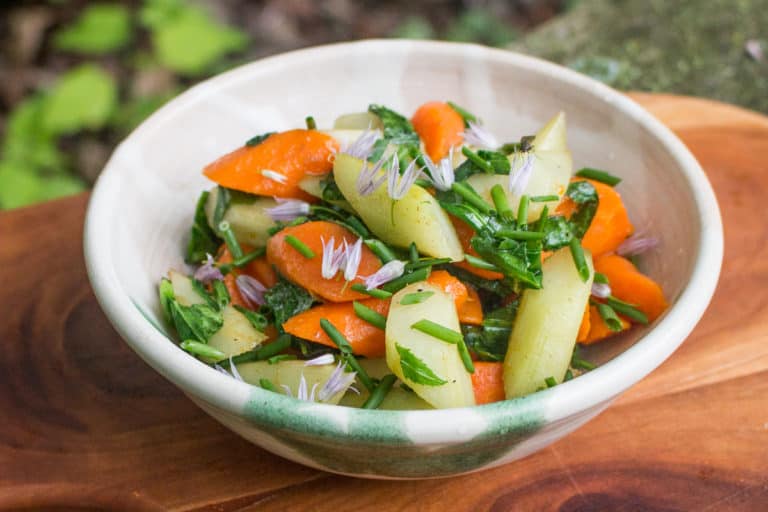 The flavor is very different from the roots--similar to celtuce, or other stem vegetables. The inside of a thick lettuce stalk is a good comparison. The flavor is hard to describe, a sort of mild, earthy, grassy taste, not unpleasant, just earthy. Compared to the flavor of the roots, it's a mild taste.
That mild flavor is good cooked as a vegetable, but without a bunch of love applied to them, I'm probably not going to jump up and down about eating an entire bowl of them. The mild flavor needs some help: lots of fresh herbs, aggressive partners like garlic and chili, or, as I serve it here, mixed with carrots that have a similar shape and texture, and add some needed color to the mix.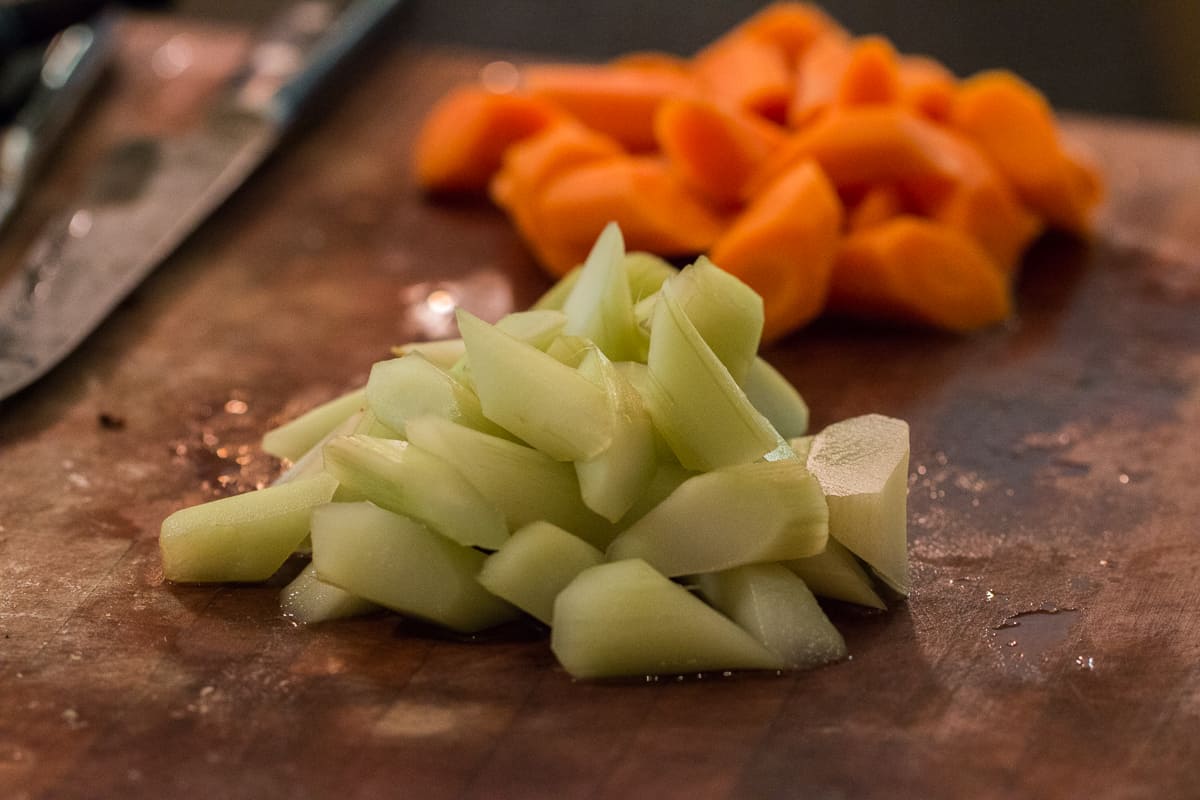 The secret here is blanching. Alone, and by themselves burdock flower stalks and carrots have slightly different cooking times. The burdock stalks, at least when I like to harvest them (as fat as possible) will take slightly longer to cook than carrots. Young burdock flower stalks may cook very fast, but those young ones won't give you the same yield in size or volume--exactly when to harvest them is a bit of personal preference, but if you harvest them too late, you will know.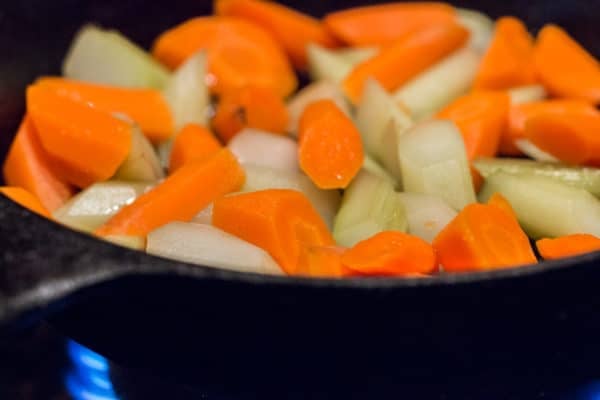 The difference in cooking time might not seem like a lot, but what it means, at least to me, is that if I just threw them in a pan raw together, one of them might over cook by the time the other gets tender, giving you a shriveled, oily end product. Blanching means each vegetable is at the perfect (for you) stage of doneness before they go into the pan, which means all the need is a quick re-heat, which preserves the texture, preventing overcooking and saturating with oil.
Other than that, it's really just a simple side dish of vegetables, and it's a great way to introduce people to burdock flower stalks: a little old, a little new.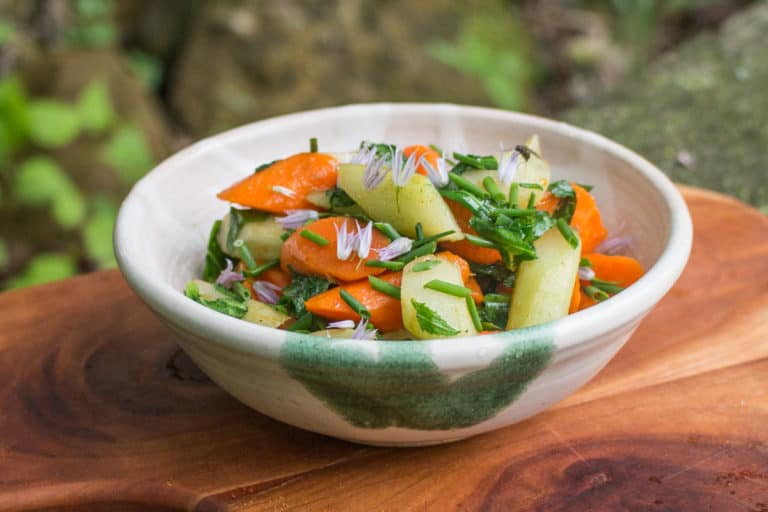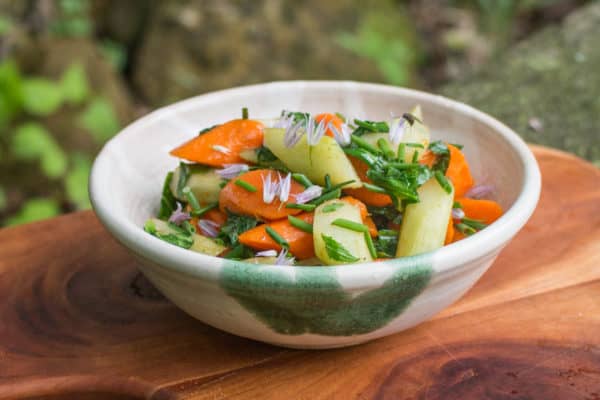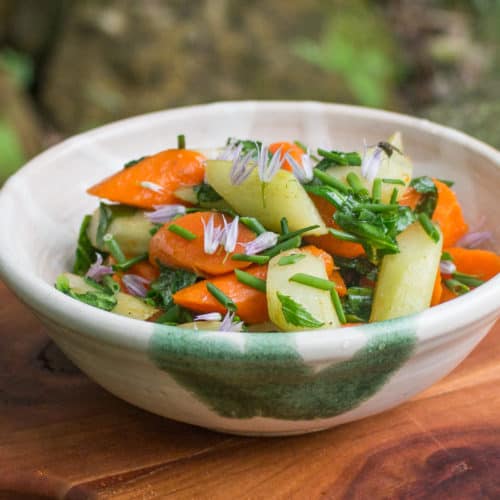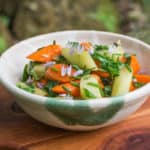 Print Recipe
Sauteed Burdock Flower Stalks and Carrots
Burdock flower stalks and carrots sauteed with a crushed clove of garlic, butter, and a pinch of sugar and salt sugar makes an excellent vegetable side. Serves 2-4
Ingredients
8

oz

peeled carrot

cut on the oblique

8

oz

peeled burdock flower stalk

cut on the oblique

Lemon water

for the flower stalks (optional—this prevents the stalks from discoloring)

1

small clove garlic

A good pinch of sugar

2

tablespoons

butter

Kosher salt and fresh ground black pepper

Small handful of fresh greens

like parsley, or for finishing, optional (see note)

Fresh cut chives or another herb, like mint or basil

for finishing (optional)
Instructions
Peel the carrots and cut on the oblique into about ¾ inch pieces. To cut obliques, also known as roll-cut, slice a carrot on the bias/diagonal, then roll it 180 degrees, and cut the same way. You'll end up with each slice having 2 different facets.

Peel the burdock flower stalks of their outer thick skin, then peel individually with a vegetable peeler. Reserve the stalks in the lemon water.

Meanwhile, bring a small pot of lightly salted water to a boil.

Blanch the carrots until just al dente-about 30 seconds to your taste, then remove and refresh in cold water.

Blanch the burdock stalks for 60 seconds, or to your taste (very young stalks may cook quicker) then refresh in cool water.

Drain both of the vegetables.

Crush the clove of garlic with the back of a knife and heat it in a pan with the butter—cook it for a minute or two until you can smell it, do not allow it to burn.

Add the burdock flower stalks and carrots and cook until they're tender and taste good to you, seasoning along the way with a good pinch of sugar, salt and pepper. Finish by tossing in the handful of greens and herbs.

Serve hot.
Notes
On the greens. I added some sliced radish tops that I had in the fridge leftover from munching radishes with butter. The green here is more of a color garnish than anything else, so add whatever you have, or skip it. Slice the greens to help them wilt quickly right at the end, and meld nicely with the stalks and roots. Parsley or a similar substitute is ok too.