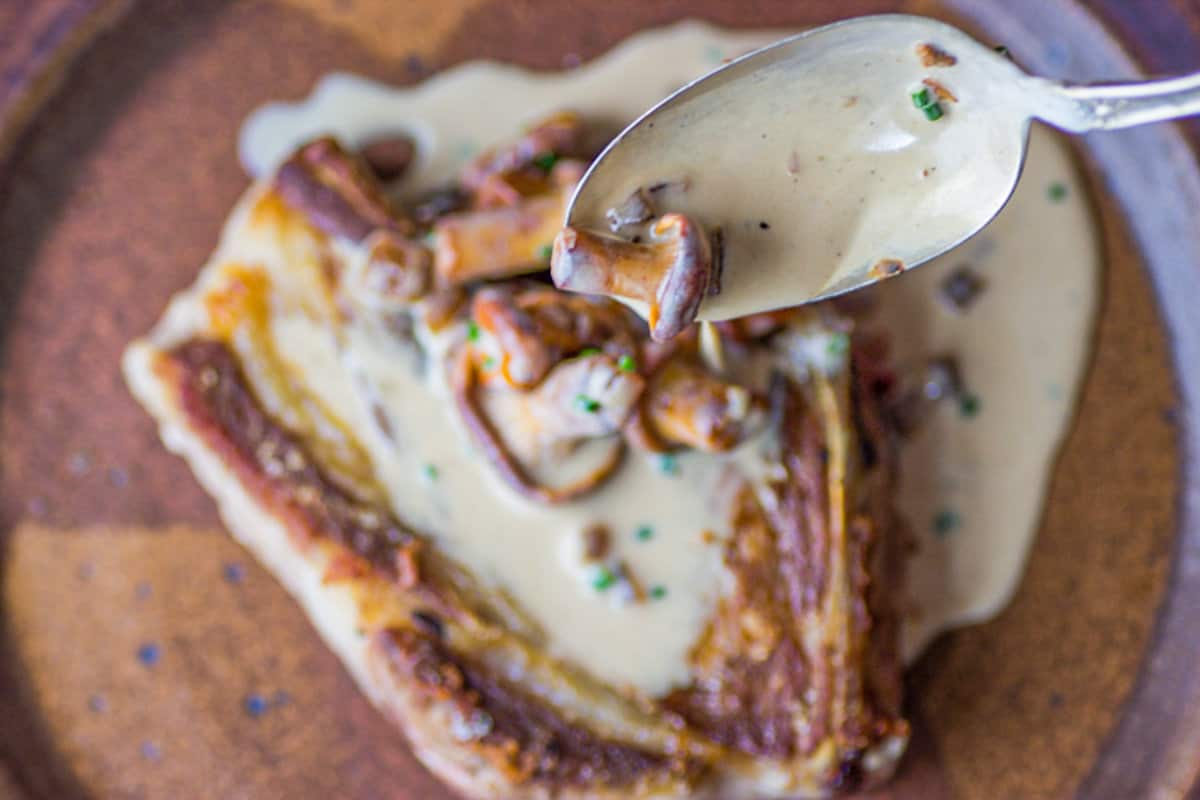 Here's a classic way to use chanterelles in a sauce that I should have shared a long time ago. I finally wrote down a recipe for it when my buddy Mike Kempenich asked me to write him something to demo on the Bob Winkelman Show. There weren't too many guidelines except that the recipe should be based around chanterelles or lobster mushrooms, with the meat being pheasant or venison. Easy enough.
I can tell you, cooking in the privacy of your own home for guests is much different than executing something on live TV. Last year I did a demo for Kare-11 (which was a bit of a joke) the combination of having to cook, chat, and make eye contact with the camera is a real multi-tasking challenge, even if you know a recipe by heart.
After shooting him a couple of sample ideas, we decided that a simple pheasant breast with chanterelle sour cream sauce would be the most approachable for home cooks, as well as something Mike wouldn't have a problem executing on air. As it turned out, Mike said the recipe went off without a hitch. When it airs in the near future I'll post a link in the press page of this website.
After I wrote the pheasant recipe, I decided to make a variation  using a new ingredient we had been playing with at Heartland: sheep skyr. Skyr is somewhere in between yogurt and cheese, the difference is that skyr includes a bit of rennet in the mix, an enzyme from an animal's stomach with causes things to curdle. It's creamy and thick, like sour cream, but with a bit of a different flavor;  it definitely has a "cheesy" quality to it.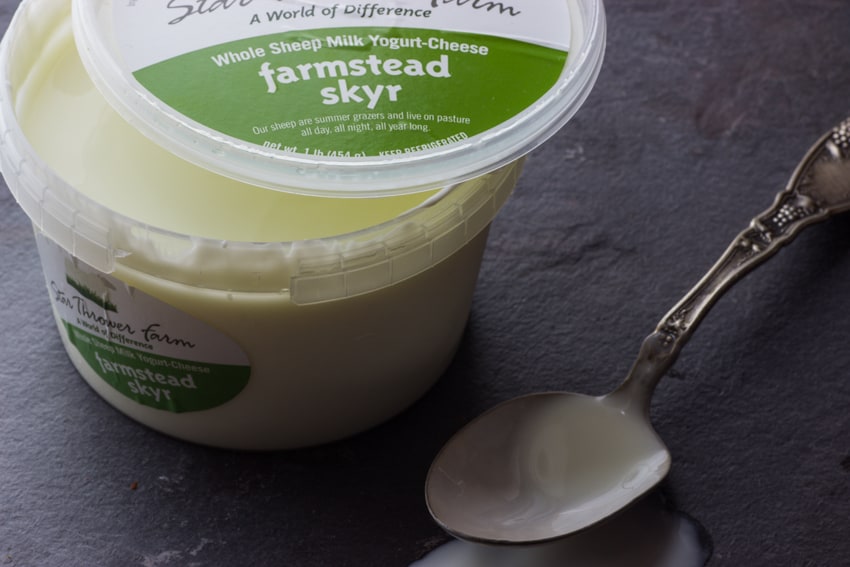 Most of the skyr available in retail markets is made from a mixture of cow's milk. Over at Star Thrower Farm in Glencoe Minnesota, it's made with pure sheep milk, and I would expect nothing less from Scott Pikovsky, owner of the farm and sourcing genius behind Great Ciao in Minneapolis.
The other change to the original recipe is that I used a mangalitsa pork chop instead of pheasant. Mangalitsa is one of the kings of heirloom pigs. The meat is well marbled since they're grown for their lard; they have a layer of fat on their back so big it deserves it's own zipcode. It goes without saying Mangalitsa yield a decadent pork chop, if you call around you might be able to score some, I would try this market in St. Paul.  Mangalitsa can be tough to find, but, duroc, ossabow, swabian hall, berkshire, and red waddle breeds are all excellent too.
In all reality, this is just a simple chanterelle sauce, the meat and accompaniments could be changed according to what you have on hand, I served it with some roasted potatoes tossed with minced cow parsnip leaves, but you could use whatever you want.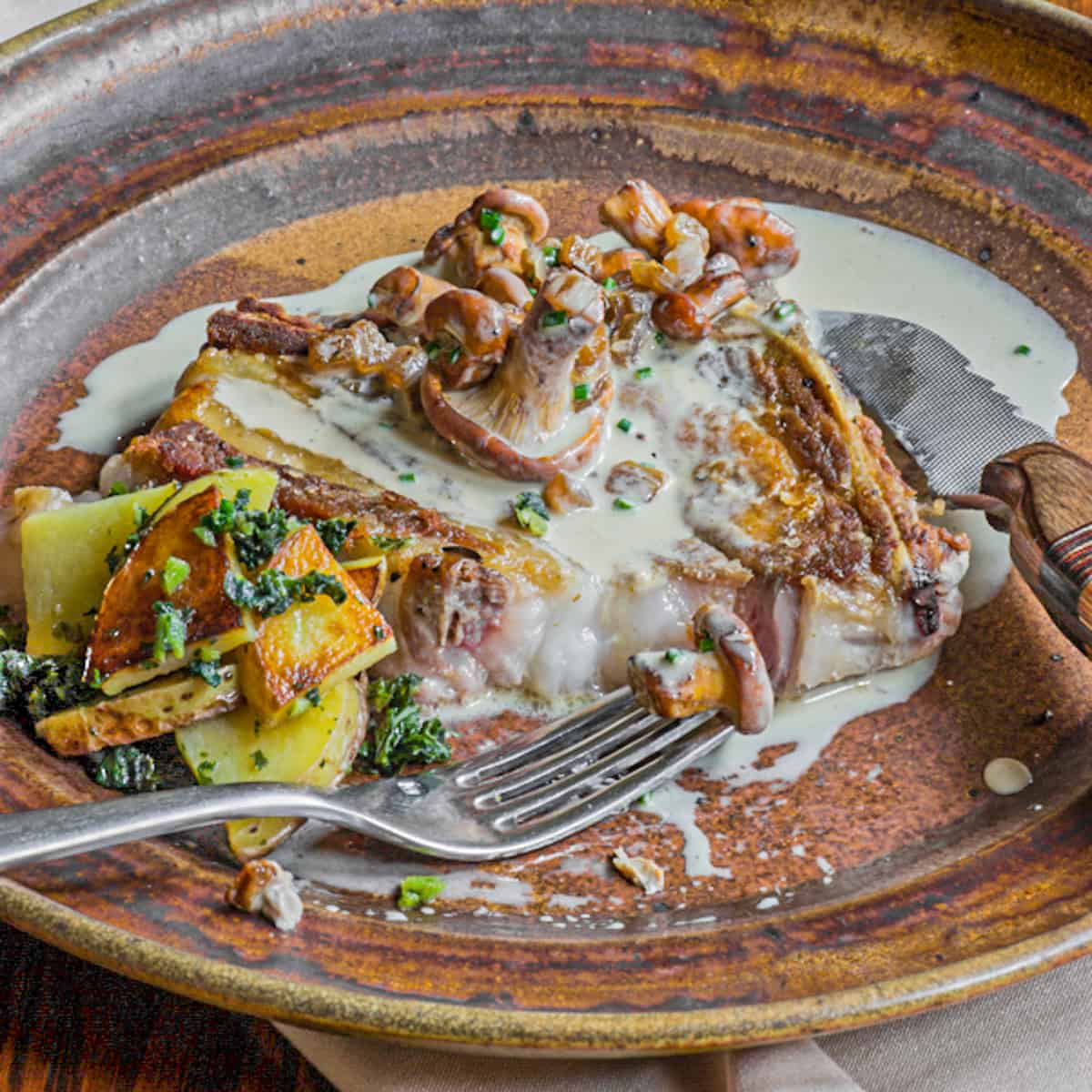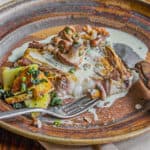 Print Recipe
Mangalitsa Pork Chops With Chanterelle-Skyr Sauce
Serves 2 as an entree
Ingredients
2

bone-in

mangalitsa pork loin chops, about 8 oz each

6

ounces

fresh chanterelles

cleaned

¼

cup

shallot

diced ¼ in (sweet yellow onions could be substituted)

½

cup

meat or vegetable stock

¼

cup

dry sherry

½

cup

sheep skyr

sour cream or creme fraiche can be substituted

Kosher salt and pepper to taste

Grapeseed oil

lard or another high smoke point oil for sauteing

tablespoon

fresh snipped chives

to garnish
Instructions
Preheat the oven to 250 degrees. Heat two tablespoons of the oil or lard until lightly smoking in a saute pan big enough to hold both pork chops. Season the pork chops with salt and pepper and then sear well on high heat, pressing down on them when you put them in the pan with a spatula to ensure an even, golden sear. When the chops are golden brown, flip them over just to "kiss" the other side, then remove the chops to the preheated oven while you prepare the sauce.

Wipe out and remove any oil from the pan, but leave any remaining brown bits, add two more tablespoons of the oil and saute the chanterelles for 5 minutes on medium high heat until lightly colored. Add the shallot or onion and cook for 5 minutes more.

Next add the sherry to the pan and cook until nearly evaporated, about 2-3 minutes. Add the stock to the pan and cook until nearly evaporated, about 2-3 minutes. Finally add the skyr and swirl to combine in the pan. Simmer the sauce for a minute or two until it thickens lightly, if the sauce gets too thick, add a tablespoon of water at a time and swirl to return it to the desired consistency. Taste the sauce for salt and pepper and adjust if needed. Add the chives to the sauce at the last minute.

Remove the pork chops from the oven, they should be about medium-medium well by this time. Transfer the chops to a preheated dinner plate, golden side up, top with some of the sauce, and serve immediately.